Juneteenth has only recently become an official holiday in most states – and I'm honoring and celebrating it with some traditionally black Juneteenth recipes. I'm especially using my love and roots of Africa to bridge and honor black dignity in America (and share with you wherever you are!) We can always take some time out of the daily grind and celebrate human freedom.
What is Juneteenth?
It's a day to acknowledge the freedom of all slaves. Abraham Lincoln issued the Emancipation Proclamation on January 1, 1863, in the middle of the civil war. It took over two more years before troops reached Texas on June 19, 1865, and announced freedom from slavery to the farthest state of the Union.
Juneteenth officially became a holiday in 1980, and in 2020, numerous states responded to the call of cities and colleges and moved to recognize it as such. Four states in the US still do not recognize it as a holiday.
How to Celebrate Juneteenth?
Wherever you are – if you'd like to honor the holiday – traditional foods served at this celebration are red and black.
Red to acknowledge the bloodshed in the fight for freedom, and black for the color of our skin. However, the official holiday colors are Red, White, and Blue to signify that the formerly enslaved were, and still are, Americans.
The following collection will prepare you to celebrate Juneteenth and, coincidentally, Black Music Appreciation Month in style.
Juneteenth Recipes
Juneteenth Breakfast

This American breakfast staple combines sweet and soft, yet crisp buttermilk waffles topped with crispy, crunchy, savory fried chicken and a drizzle of syrup for a spectacular soul food breakfast or brunch experience! The sweetness of the waffles is perfectly balanced by the spicy saltiness of Jamaican Fried Chicken.
2. Hashbrown Breakfast Casserole
An easy make-ahead breakfast casserole with tender hashbrowns and bacon in a creamy, cheesy sauce baked until hot and bubbly. It's the perfect make-ahead the night before, then pop it in the oven and enjoy the incredible aroma that fills the house while it's baking.
Flaky, buttery, and fluffy buttermilk biscuits are hearty and versatile breakfast food that can be slathered with butter and jelly or smothered in creamy and spicy sausage gravy. They're incredibly easy and delicious, and they're typically found at Juneteenth celebrations.
Juneteenth Drinks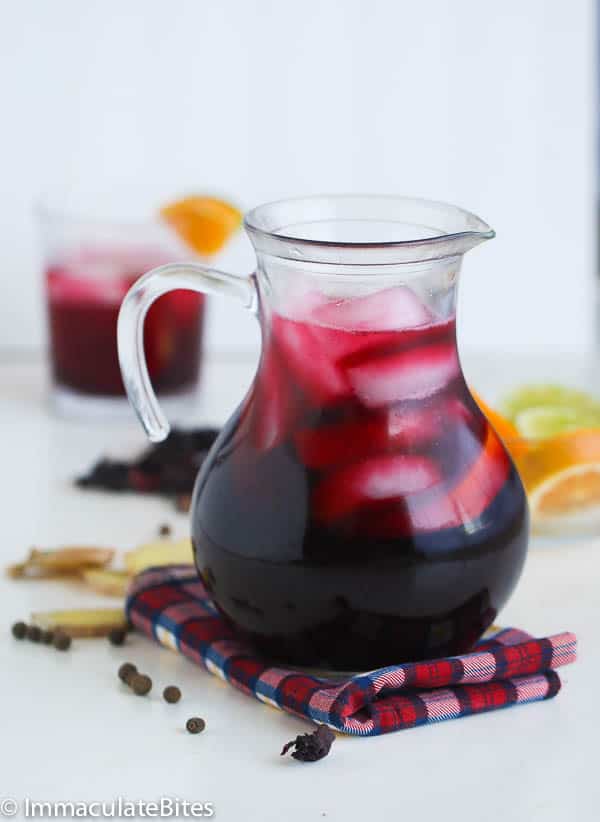 The best and most refreshing drink around is bright red and super delicious. Hibiscus or Jamaican sorrel is sour on its own, so it needs just a tad of sugar or honey. A good replacement for lemonade, this sweet and sour drink is refreshing and healthy.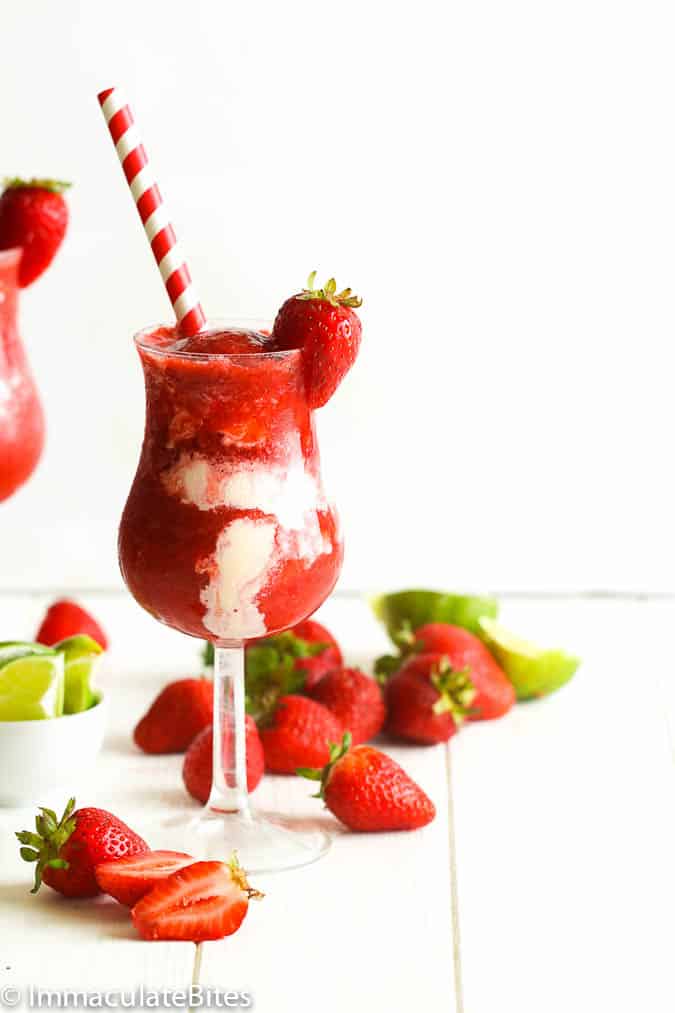 A classic and popular fruity cocktail made with frozen sweet strawberries, white rum, lime juice, and ice. A refreshingly good, impressive, vibrant drink perfect for a hot Juneteenth day!
6. Strawberry Watermelon Juice
A nutritious combination of the sweet watery goodness of watermelon with pulpy bursts of fruity strawberries balanced with a little zing from a lemon, and you can make it in less than 10 minutes. You can use water, but coconut water makes it so much more thirst-quenching. So sip all your worries away while you relax and enjoy the celebration.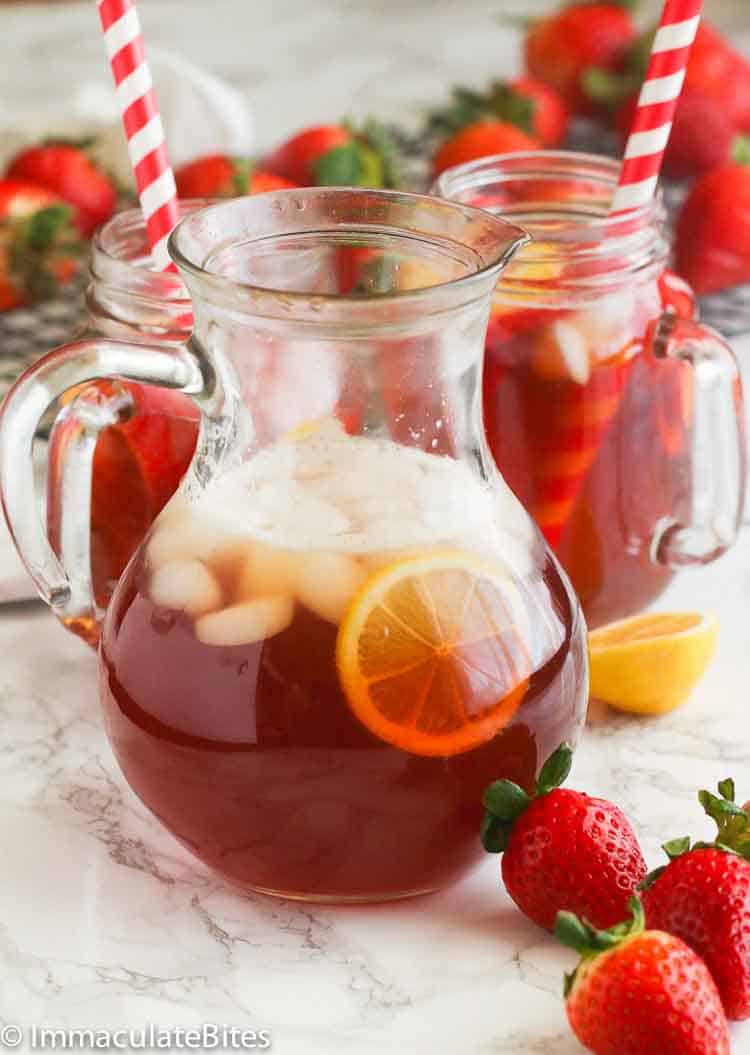 It wouldn't be a Juneteenth celebration without this popular Southern drink. With just 5 simple ingredients, you can easily make this soothing and refreshing drink any time of the day.
Want to bump up the flavor? Then add some lemon wedges or a sprig of mint, and of course, a shot of Bourbon (or any of your favorite liquor) for some fun.
Juneteenth Snacks
8. Brilliant Beet and Black Bean Dip
This incredibly delicious red and black dip with corn chips or cut-up fresh veggies is the perfect Juneteenth snack. The earthiness of beets and the substance of black beans make a hearty dip perfect for vegans and die-hard carnivores alike.

Spicy, crispy, and crunchy, these irresistible fritters are made with fresh black-eyed peas, onions, hot pepper, and salt. Yum! In Brazil, this African-style fritter is larger and filled with shrimp and all sorts of good stuff. Now we're talking!
10. African Fish Roll (Fish Pie)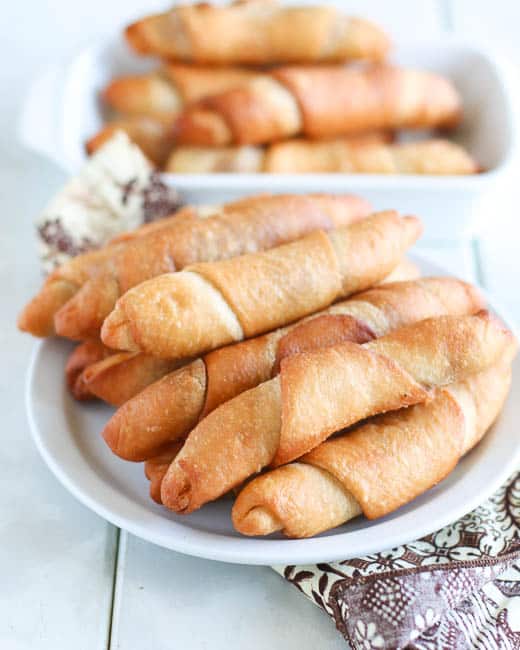 This is a popular West African street food – specifically in Cameroon, Nigeria, and Ghana. These fried fish pies are crunchy, slightly sweet, spicy, and oh so good! It's surprisingly easy, with dough similar to Puff Puff, rolled out, then filled up with sardines.
Juneteenth Main Courses
11. Blackened Catfish with Shrimp Sauce

Flavorfully coated blackened catfish perfectly combined with savory shrimp sauce. How can you say no to that? Quick and easy to make – just 15 minutes from the stovetop to the celebration station. This is so delicious with hush puppies or cornbread and a side of collard greens.
A super-easy way to make ribs that will never disappoint you! The Jamaican Jerk spice has the perfect blend of onion, garlic, ginger, cinnamon, allspice, and nutmeg spiced up with a hot sauce. So tender and tasty, and the perfect black cookout food.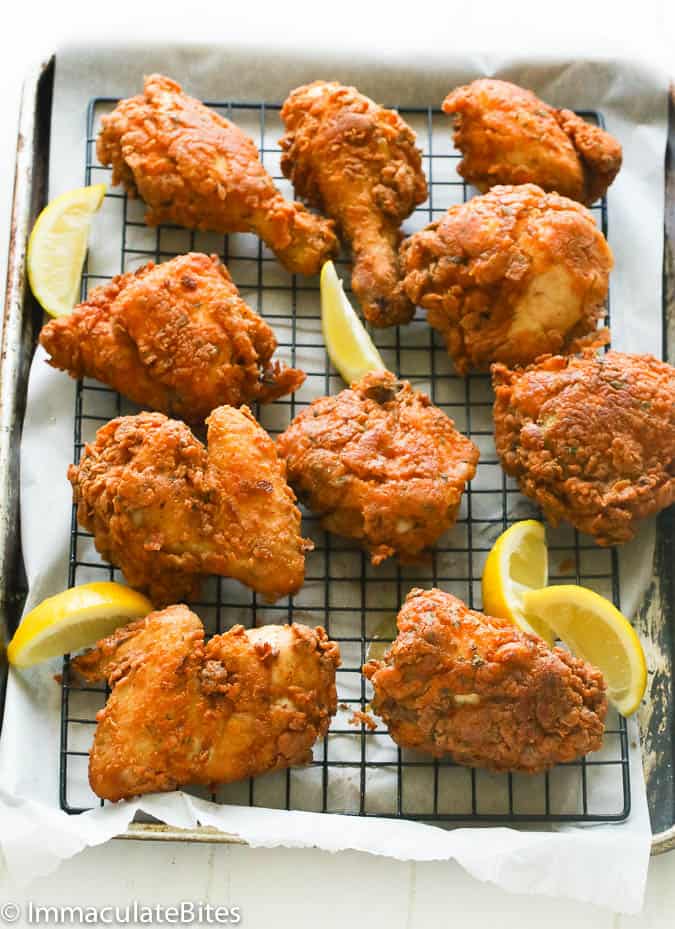 This classic Southern chicken recipe is crunchy and crusty on the outside and juicy and flavorful on the inside, infused with spices and seasonings and soaked in buttermilk to amp up the flavor. A cast-iron skillet for this awesome recipe will make it so much better.
14. Pulled Pork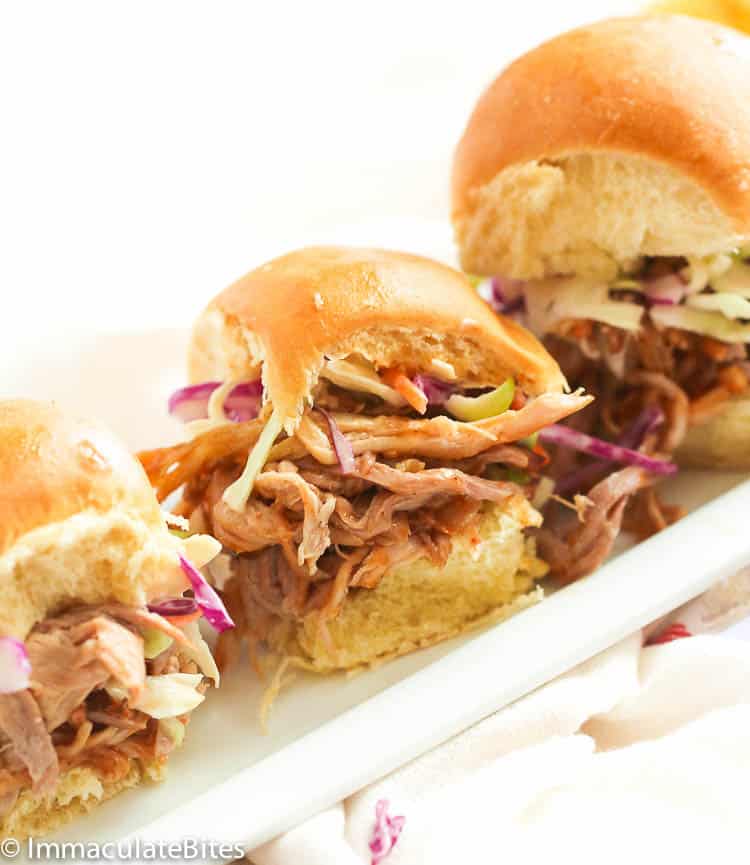 Easy and tender pulled pork with a slightly crusty exterior generously seasoned with a homemade delicious rub that tastes as good as those in your favorite BBQ spot. Try my Easy Dinner Rolls recipe for drool-worthy pulled pork sandwiches that keeps everyone coming back for more.
15. Southern Black Eyed Peas Recipe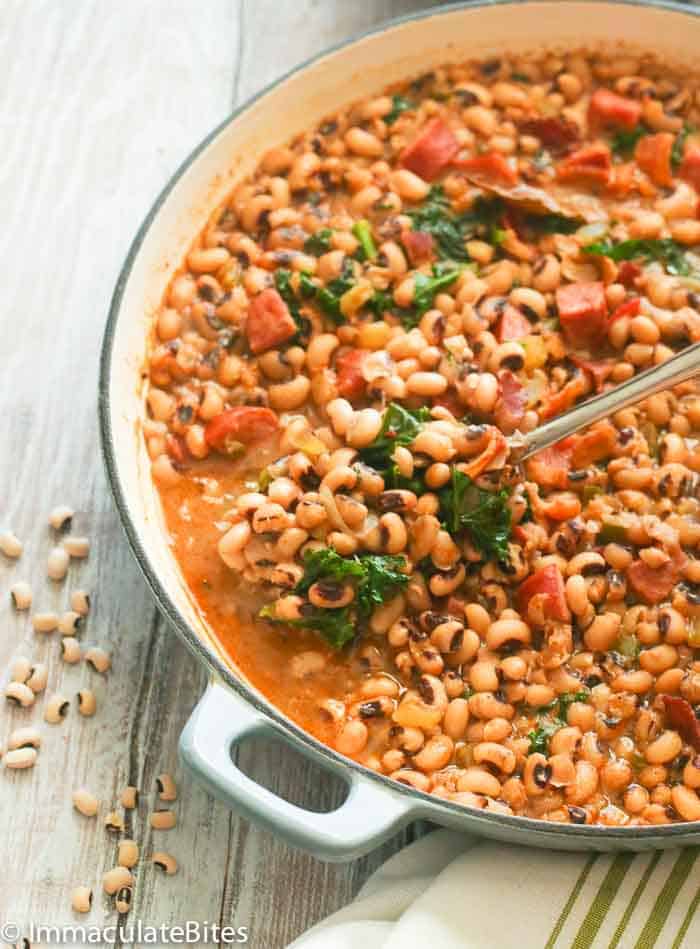 Usually served during New Year's Eve, this black-eyed peas recipe is incredibly delicious, smokey, and spicy great for the Juneteenth celebration. If you want to go all-out vegan, you may omit the meat and replace the chicken broth with vegetable broth. Serve it with cornbread or with these black-eyed peas fritters or akara.
Juneteenth Sides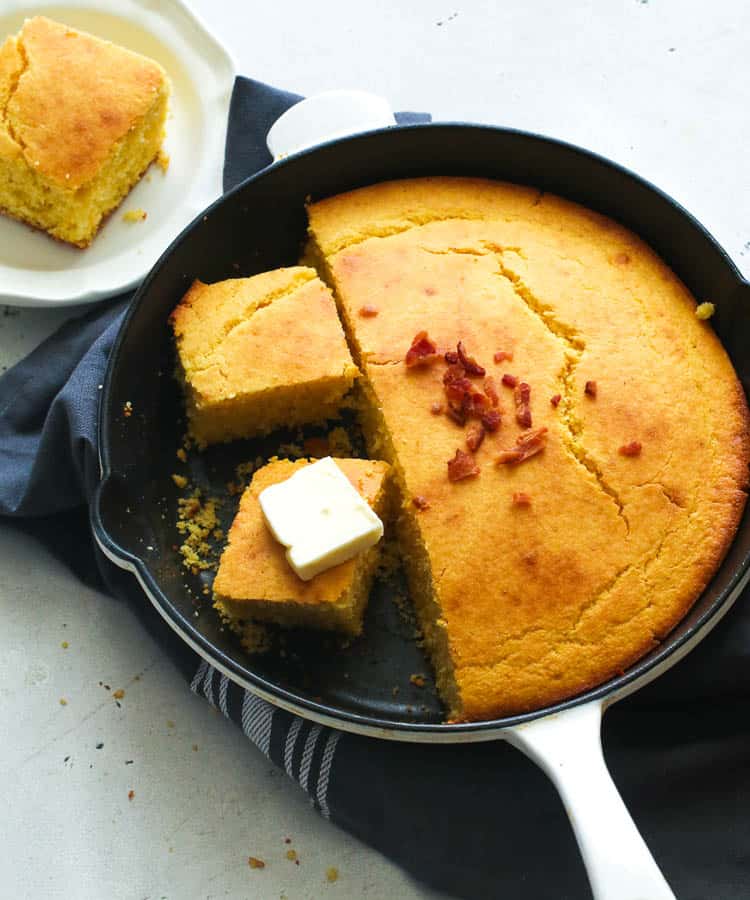 Crumbly, moist, and buttery Southern cornbread made from scratch with cornmeal, flour, butter, eggs, buttermilk, and a little sugar. Makes a wonderful snack or side to your bean dishes, stews, soups, and ribs. You can never go wrong with this quick and easy Southern classic!
17. Stewed Spinach (African-Style)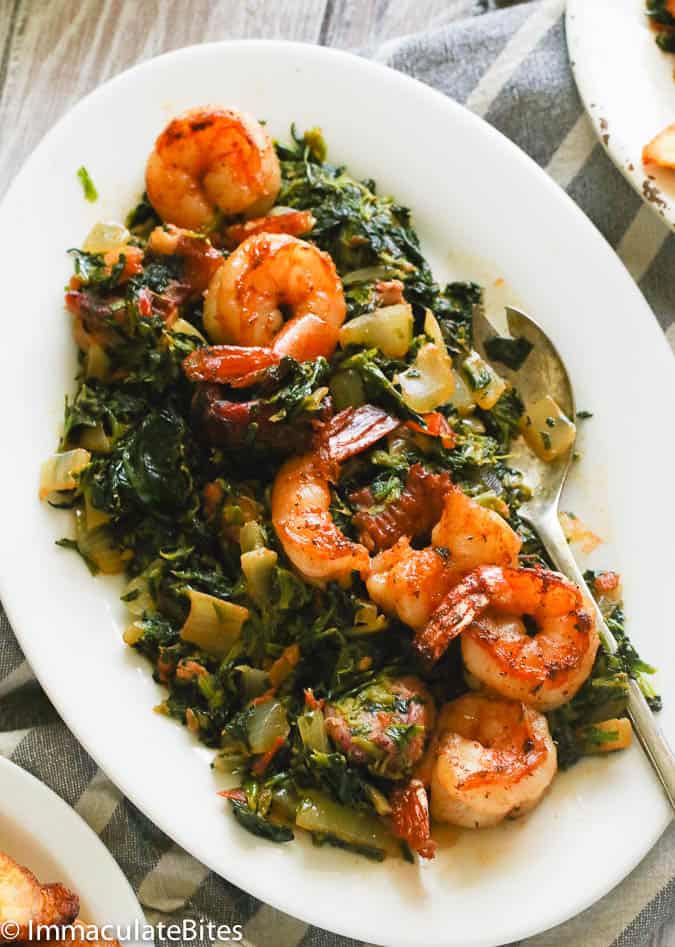 A super simple way to enjoy spinach – bursting with a good amount of greens and delivering the perfect amount of spice. The shrimp and smoked turkey with Creole seasoning create a quick and easy way of putting greens on the table. Of course, if you don't have smoked turkey, you can always use bacon instead. Yum!
18. Easy Coleslaw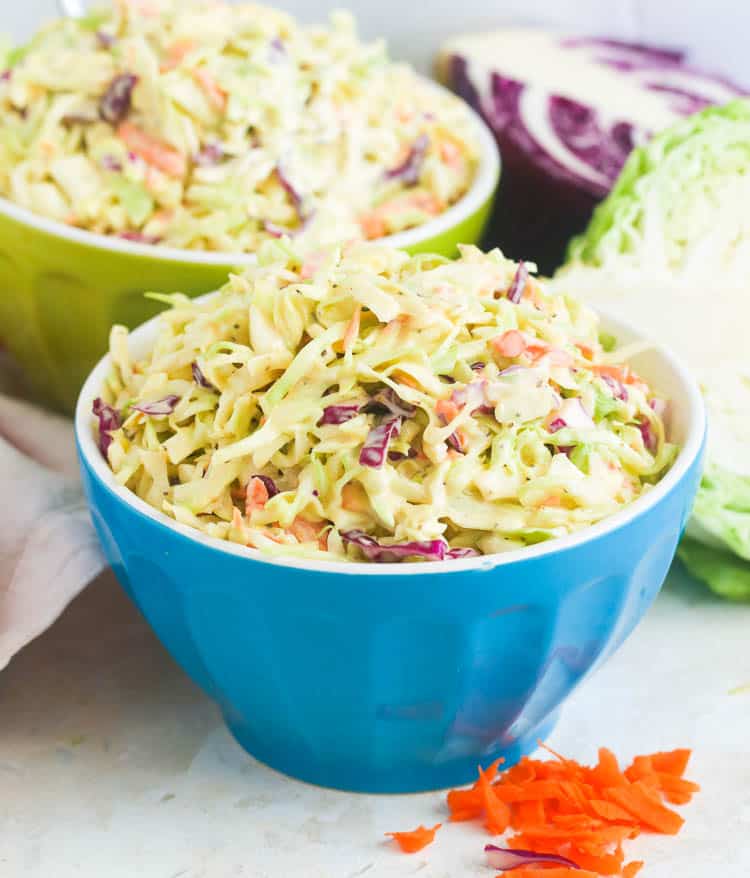 Thick, silky, and crunchy, this homemade EASY COLESLAW is more than just a sweet, tangy side dish. It's a bedazzling superstar when we talk about having a full meal as it elevates the flavor and texture of any simple meal.
19. Watermelon Salad
This refreshing watermelon salad is brimming with sliced sweet watermelon, cucumbers, feta cheese, red onions, and mint leaves, all tossed in a simple yet unusually good sweet, tangy, and spicy dressing. Talk about the perfect mix of sweet and salty!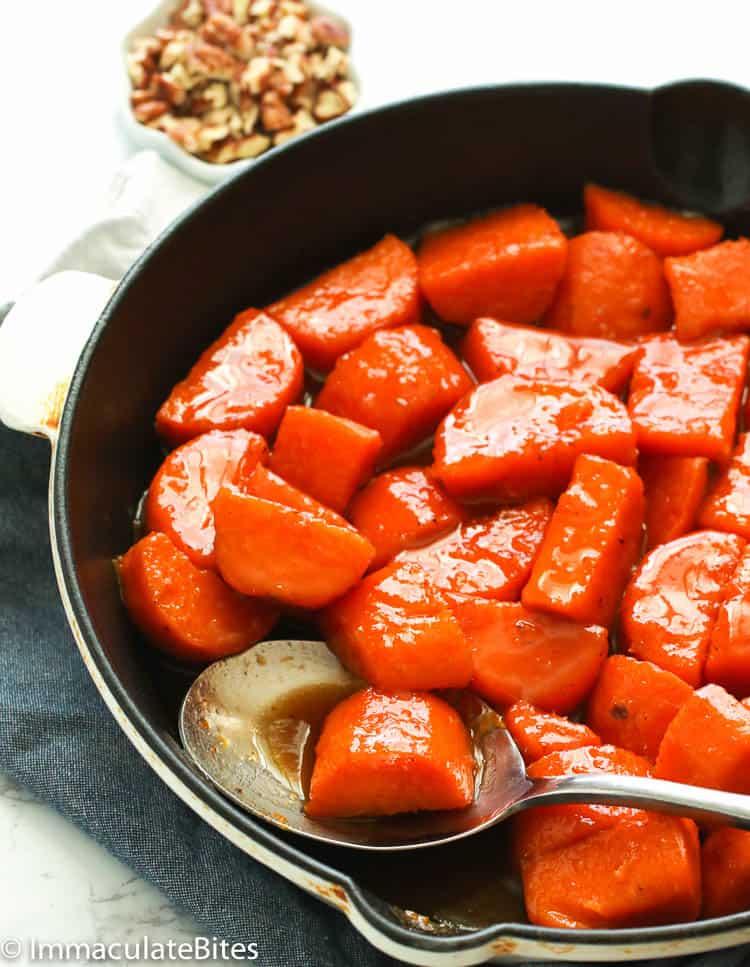 Tender sweet potatoes bathed in a glossy fragrant buttery brown sugar glaze with a zesty hint of lemon and orange. It adds a beautiful splash of color to any festive meal and can be served as a holiday side dish or as a dessert!
Juneteenth Desserts
21. Red Velvet Cake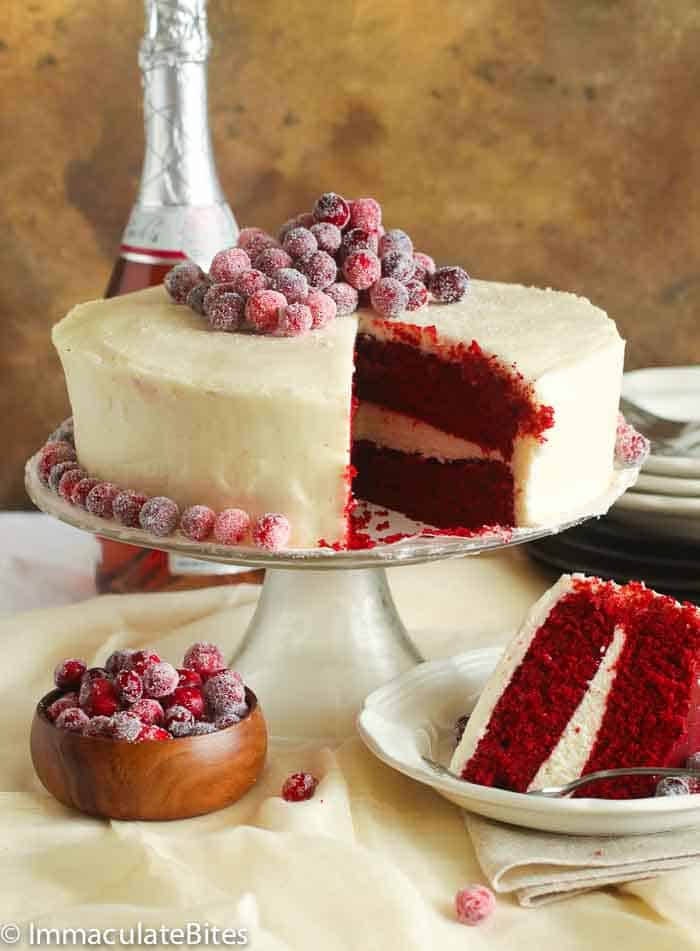 This elegant and moist layered chocolate cake baked from scratch is a classic dessert at Juneteenth celebrations. The combination of vanilla and chocolate, with the tang of the buttermilk, provides the perfect red dessert that will WOW your guests.
22. Sweet Potato Pie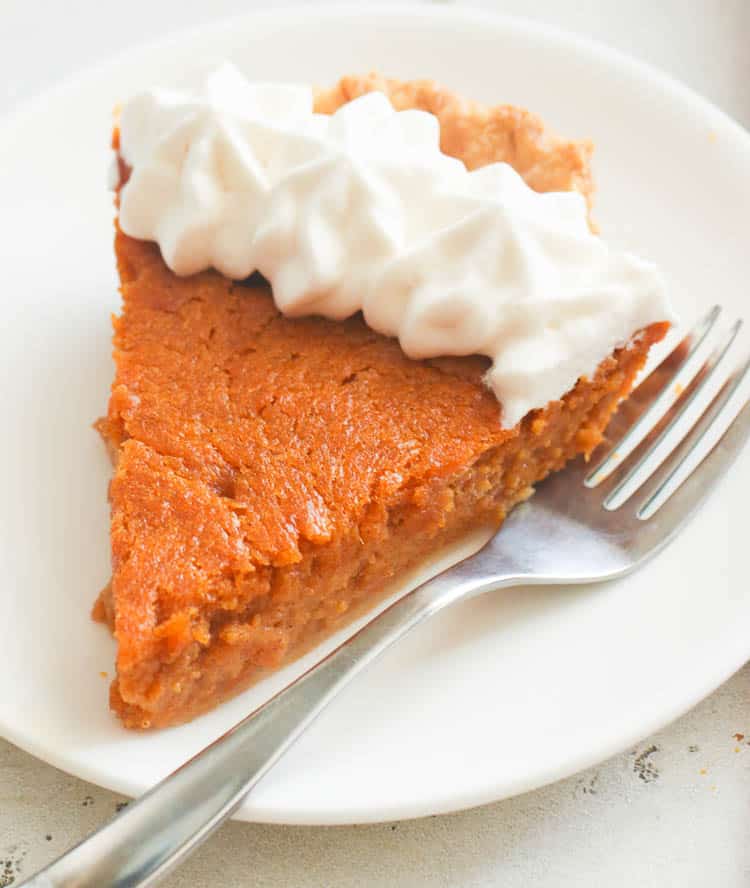 Creamy, tasty, and insanely delicious sweet potato pie makes celebrating Juneteenth a lot better. This traditional southern masterpiece made from real sweet potatoes and an indulgent Homemade Pie Crust takes "dessert" to another level.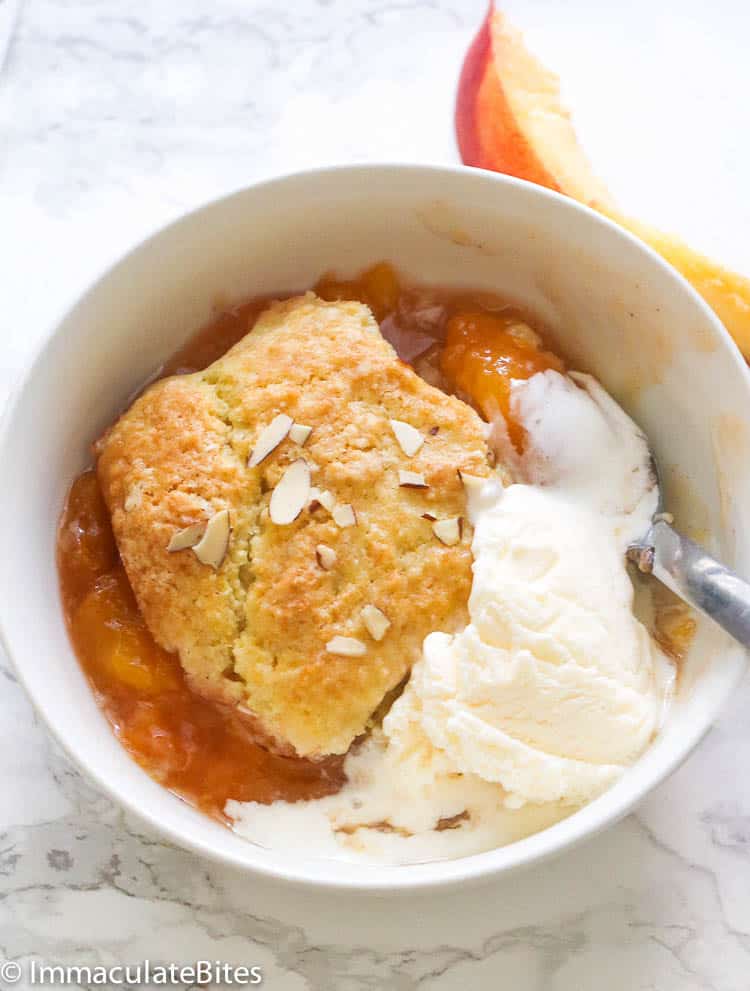 A delicious summer dessert made with tender, juicy fresh peaches and a crusty, buttery biscuit-like topping that screams Southern comfort food. That alone makes it perfect for your Juneteenth celebration.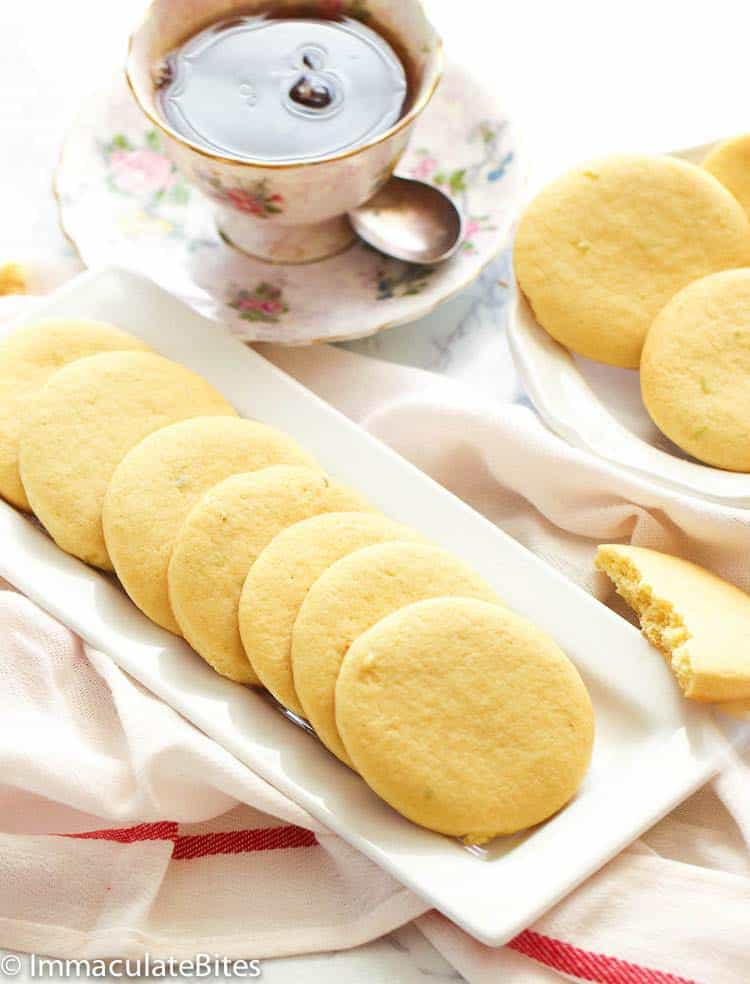 Easy and addictive Southern baked treats slightly sweetened with faint notes of nutmeg, vanilla, and lemon zest. These certainly beg for a cup of coffee or tea and are a traditional sweet served on Juneteenth.
Conclusion
My favorite Juneteenth recipes are African style, of course. 😉 Stewed spinach topped with shrimp, oh yeah! But I have to say, fried chicken with waffles is a close runner-up. What do you plan on making for your Juneteenth celebration? Please let me know in the comments.
This blog post was originally published in June 2021.