Bring luck and prosperity to your home with any of this collection of 11 New Year's Black-Eyed Pea Recipes to add to your dinner table. I've included classic favorites, such as Hoppin' John, Three-Bean Salad, and some new African delicacies to try this year. Your loved ones will indeed have a blast with these easy-to-make recipes and so festive to start the year with a bang. 😉
What could be luckier than celebrating New Year's Eve with your family and loved ones? And, of course, we make it extra special by sharing delicious and mouthwatering home-cooked meals prepared with pure love. So, more than luck and prosperity, let these 11 New Year's Black-Eyed Peas Recipe Collection bring you closer to your loved ones.
FAQs
Where did black-eyed peas originate?

These pale-colored beans with distinct black spots, also known as black-eyed beans or cowpeas, are from Africa. Although they are associated with "poor man's food," African-Americans still consider these delicious beans a soul-food staple.
Why do you eat black-eyed peas on New Year?

Eating these beans on New Year has always been a Southern tradition, dating back to the civil war. They are believed to bring good luck and prosperity because black-eyed peas symbolize money or coins. Southerners often add pennies and dimes in a pot of Hoppin' John just before serving, and the one who gets the most coins is believed to receive the best luck throughout the year. Other traditions involving these beans include serving them paired with collard greens to represent paper money and cornbread as gold.
Are you supposed to eat black-eyed peas on New Year's Eve or day?

Traditionally, Hoppin' John is served on New Year's Eve with a big enough pot to have leftovers for the next day. Then, on New Year's Day, the leftovers are called Skippin' Jenny. 😉
Black-Eyed Peas Stew Recipes
1. Southern Black-Eyed Peas Recipe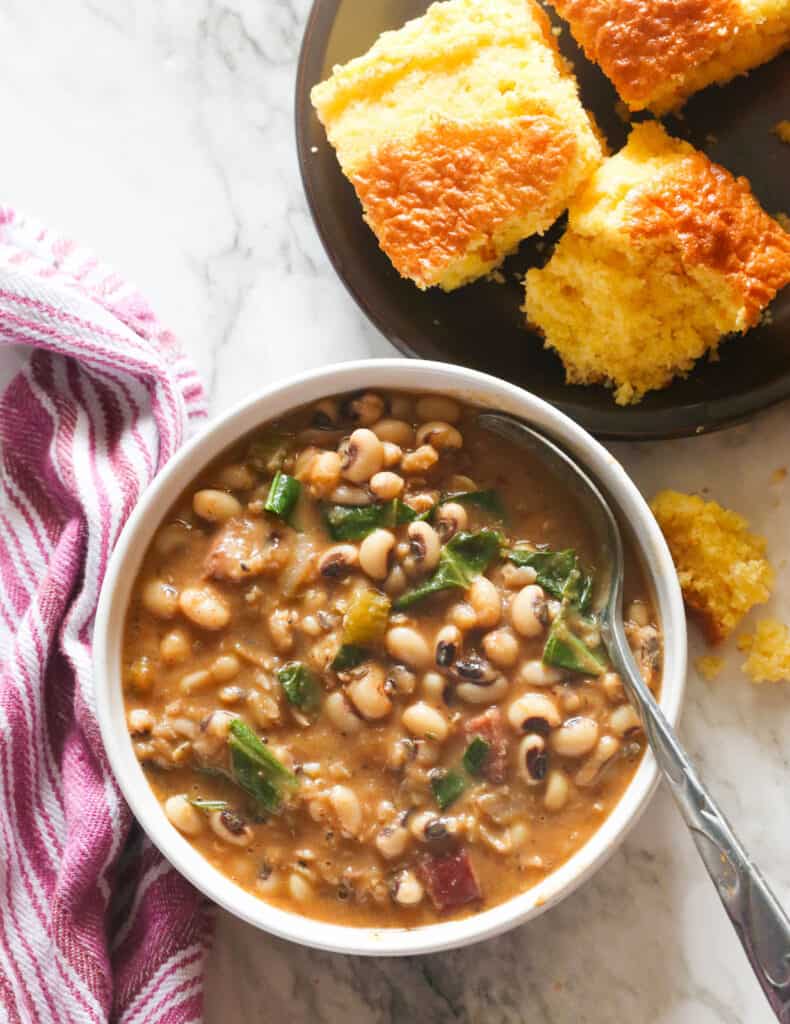 First on our list is none other than this humble Southern black-eyed pea recipe. I love it because it genuinely embodies pure soul food goodness from bacon and smoked sausage or turkey. Making our dish incredibly savory, smoky, and hearty with the right amount of heat from jalapenos and Creole Seasoning. 👌
Southern Black-Eyed Peas Recipe
Southern Black-Eyed Peas Recipe or Hoppin' John is a hearty and soul-warming delicacy. This black-eyed peas recipe is smokey, spicy, and pure satisfaction with a deep yet not overwhelming bacon flavor. And it's a traditional Southern dish served on New Year's Day to bring good luck!
Check out this recipe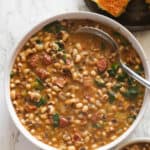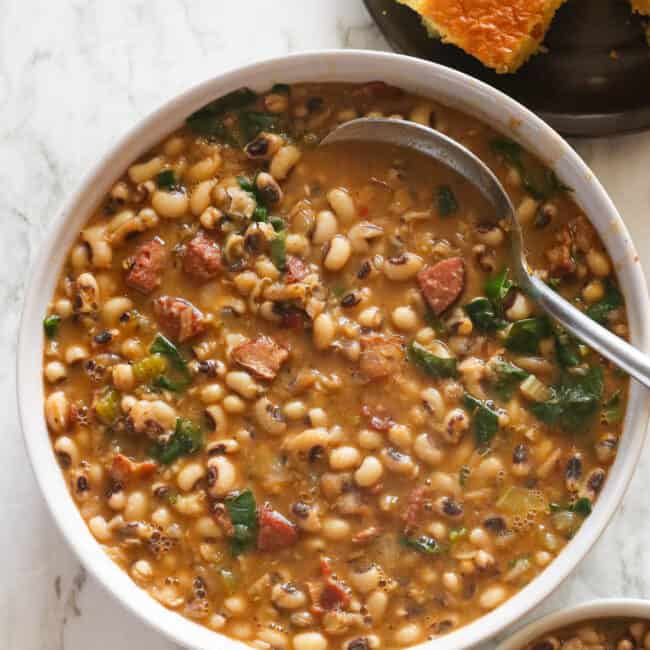 2. Red Red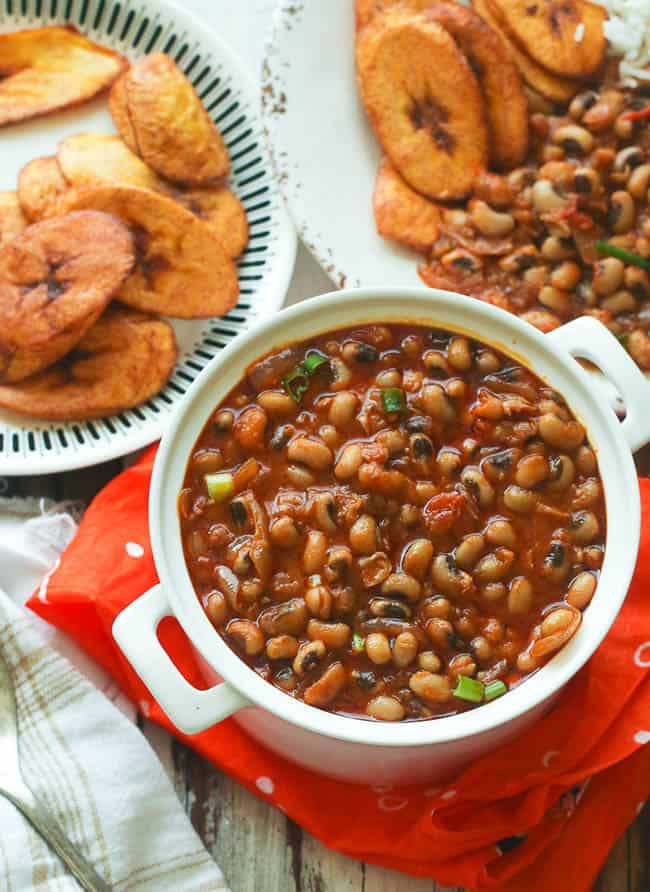 Interestingly, this lovely dish from Ghana is named after its vibrant red color from the tomatoes and red palm oil called zomi. However, I cheated a little and used regular cooking oil for this recipe. 😉 Anyway, it still turned out amazing, especially with the addition of paprika, chicken bouillon, and habanero peppers.
Red Red (African Stewed Black-eyed peas)
Red Red Recipe– A hearty tasty and no fuss vegetarian black-eyed peas stewed beans- African Style.
Check out this recipe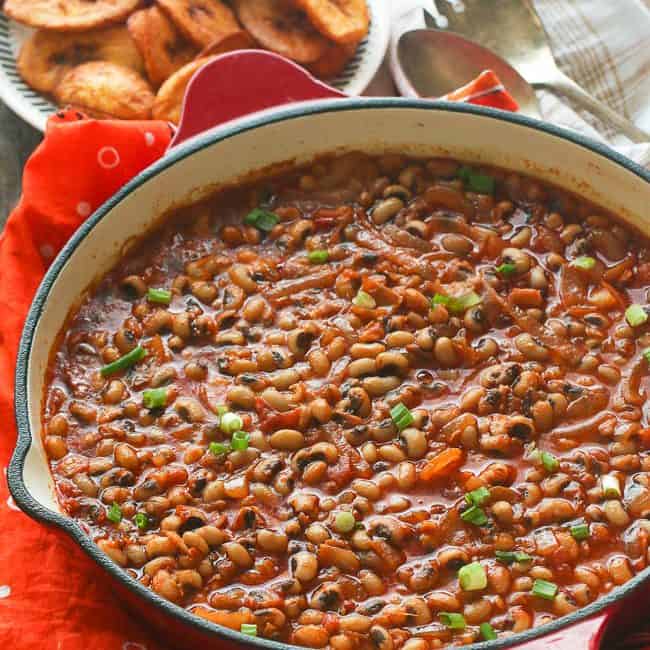 3. Instant Pot Black-Eyed Peas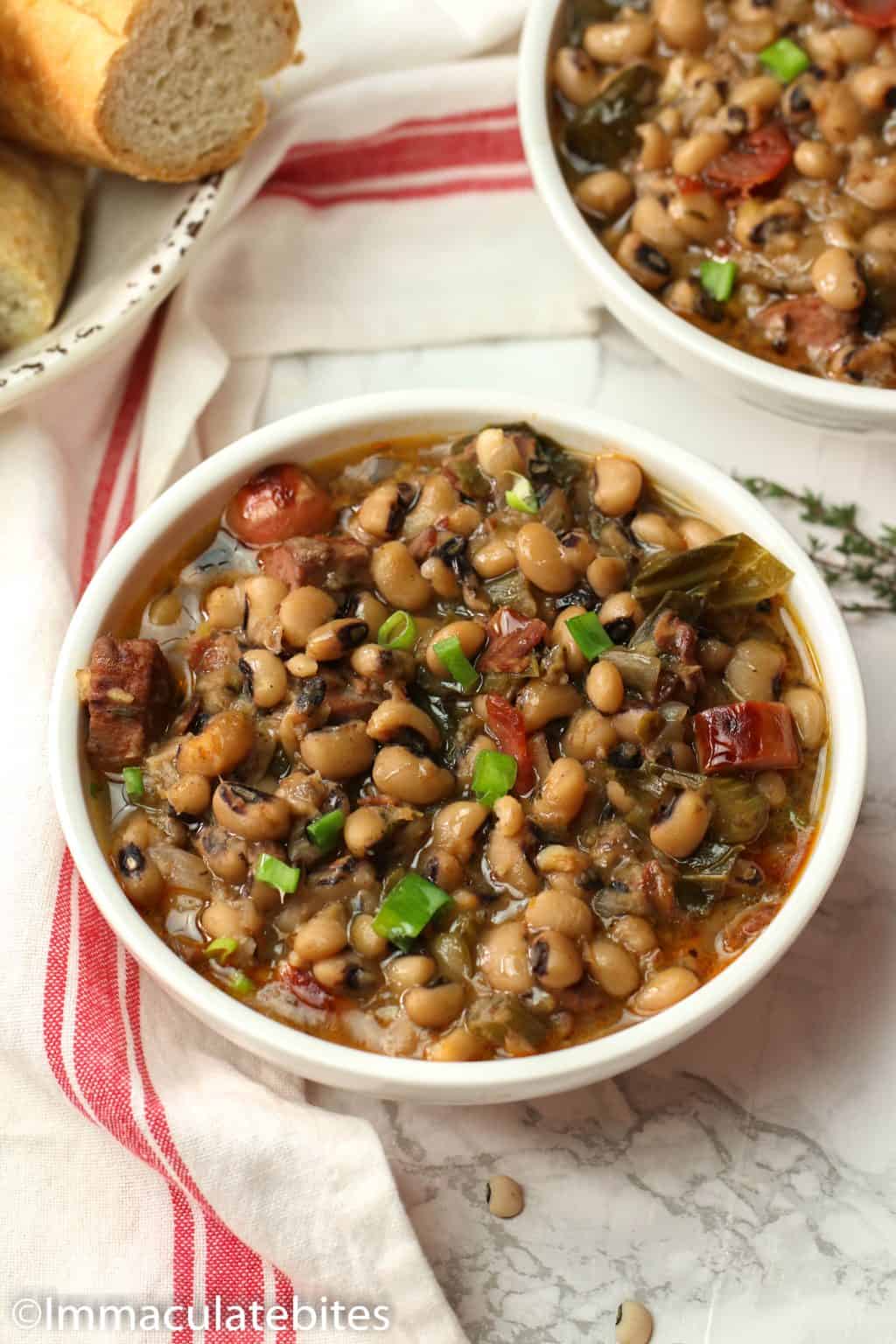 Double your luck in this simple Southern black-eyed peas recipe made easy with an instant pot. In fact, you can make it in 35 minutes. Oh yes! Moreover, it's ridiculously tasty and flavorful with the addition of collard greens, bacon, and leftover turkey. Not to mention highly seasoned, too, with thyme, garlic, onion, paprika, and Creole Seasoning. Yum!
Instant Pot Black Eyed Peas
Treat yourself to a hearty bowl of INSTANT POT BLACK EYED PEAS made in just a few minutes. A wonderful way to give your leftover turkey a new life without all the kitchen mess. Let this flavorful dish simmer and cook while you enjoy some rest.
Check out this recipe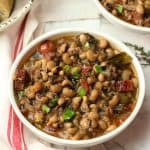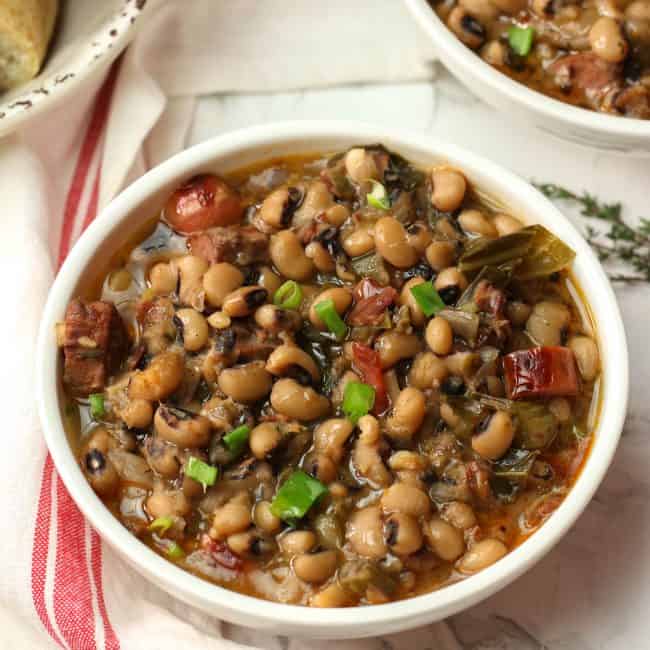 4. Hoppin' John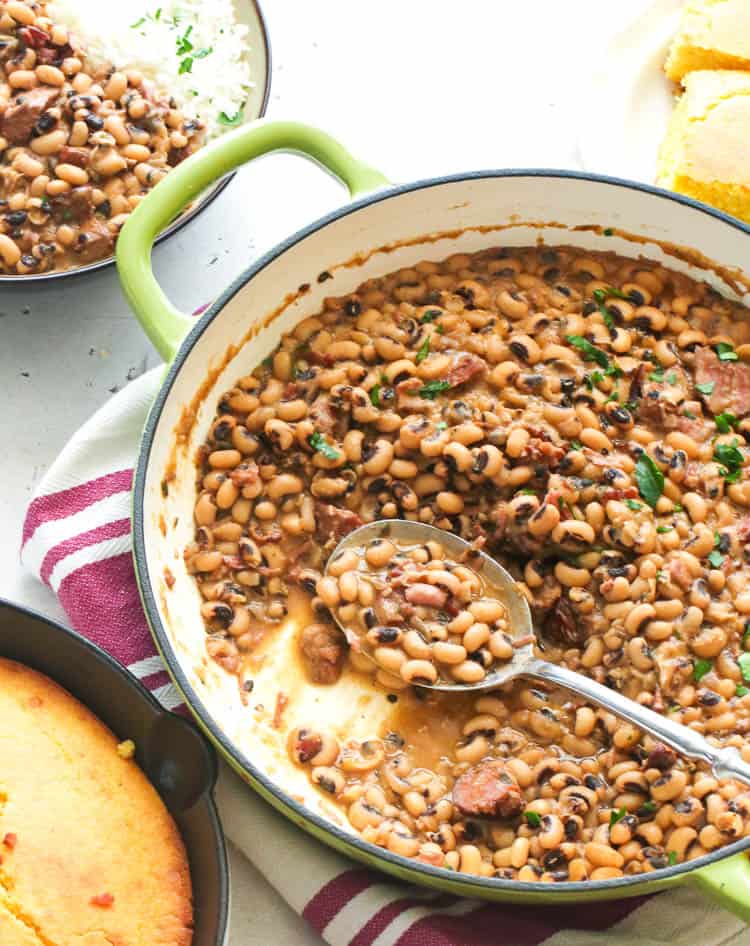 Our classic Hoppin' John here is screaming nothing but warm, comforting deliciousness from herb-infused broth and meaty goodness. What I love about this recipe is that you can easily customize it to suit your taste. Some of my favorites are cheese and chili peppers to make it more delectable. Smokingly delicious, indeed! 👌
Hoppin John
Hopping John – Savory, smokey, a bit spicy and hearty black-eyed pea stew that is perfect any day of the year. A Southern classic recipe that is super easy to make and richly-flavored. Pair it with rice and cornbread for a much comforting cold-weather dinner!
Check out this recipe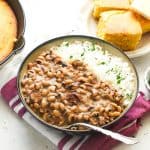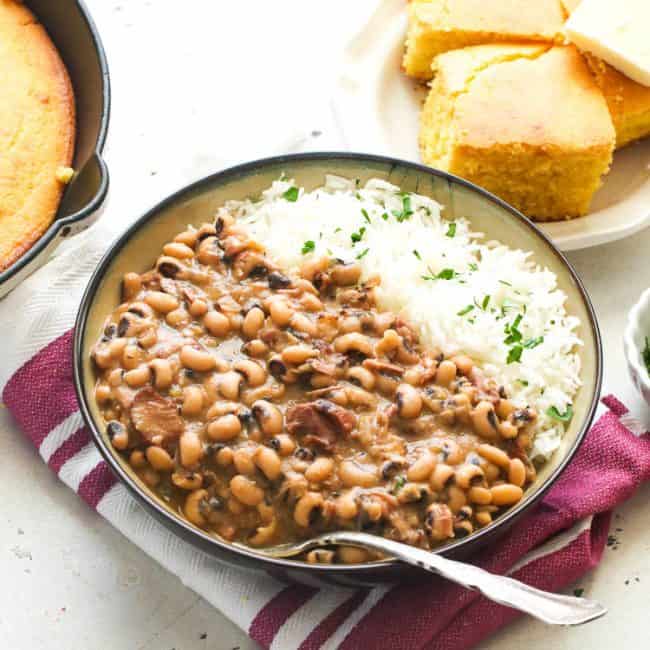 Black-Eyed Peas Side Dish Recipes
5. Black-Eyed Peas Fritters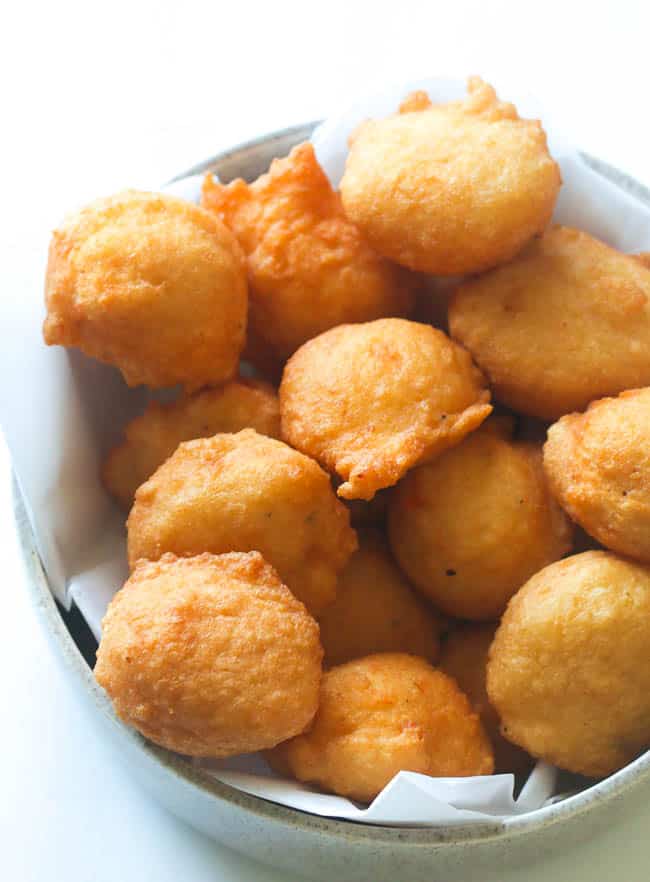 Are you looking for a healthy and gluten-free breakfast or snack alternative? Then these delicious balls of happiness here absolutely fit the bill. Not only do they taste good, but they are incredibly healthy, too. Oh yes! Feel free to add your favorite spices to suit your palate. I like adding grated cheddar cheese to make them more kid-friendly. 👌
Black-eyed peas fritters(Akara)
Black Eyed Peas Fritters- Spicy, crispy and crunchy, irresistible Fritters made with fresh black eyed peas, onions, hot pepper, and salt .
Check out this recipe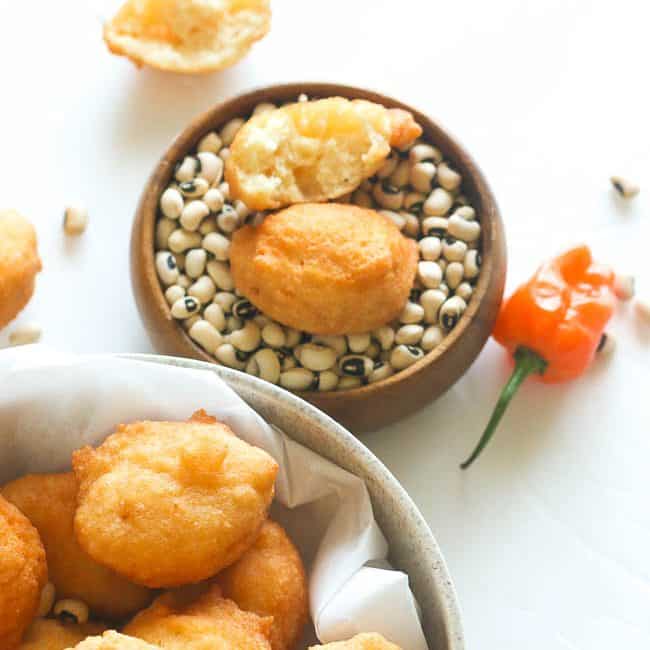 6. Jamaican Rice and Peas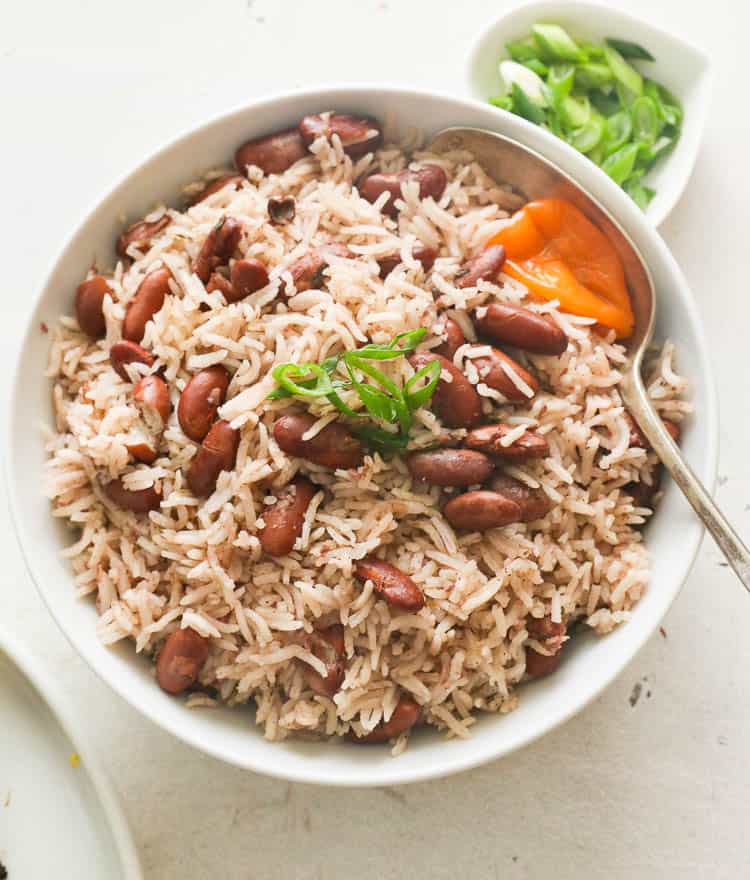 My love for rice and beans knows no boundaries. You can check out my Rice and Beans Roundup here. And this Jamaican Rice and Beans here is just one of my favorites. Simply pair them with any of these fantastic Grilled Chicken Recipes, and you're in for the best comfort food combo ever. Awesome!
Jamaican Rice and Peas
Jamaican Rice and Peas – An extraordinary rice dish packed with protein and fibers, with exploding savory flavors from scotch bonnet peppers, allspice, and thyme. Serve it with Curry Goat or Jerk Chicken and you'll have a wonderful Carribean Feast at the comfort of your home.
Check out this recipe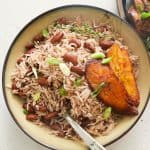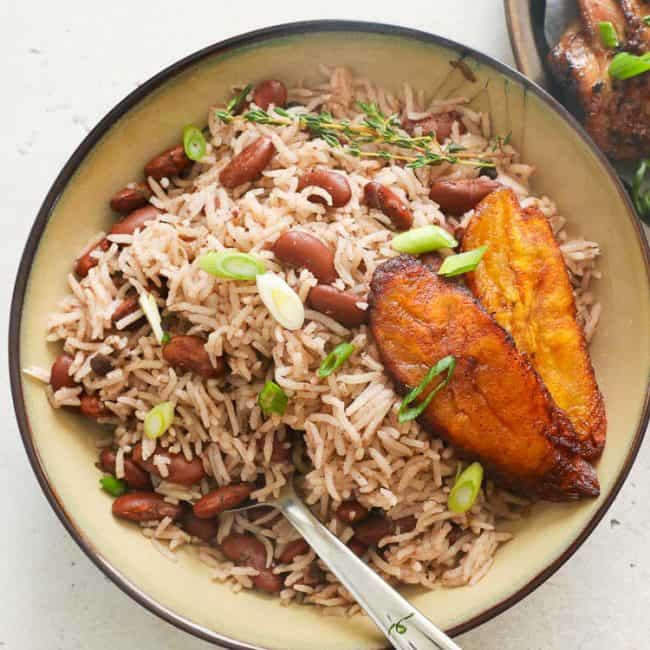 7. Koki Beans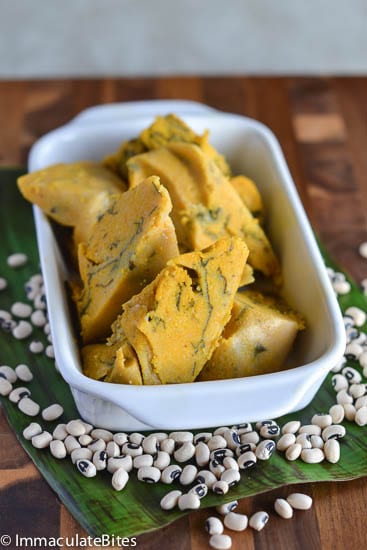 Have you ever tried this yummy pudding-like delicacy from Africa? Not only does it taste incredibly delicious, but it's highly nutritious, too. Although preparing may be time-consuming to some, your first bite will convince you that it's worth the time and effort. For sure!
Koki Beans
Koki Beans – moist, tasty pudding-like steamed treat made with coarsely grounded black-eyed peas and some spinach. Great as a meal on its own or with boiled plantains!
Check out this recipe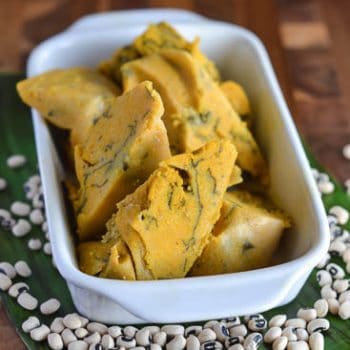 8. Moin Moin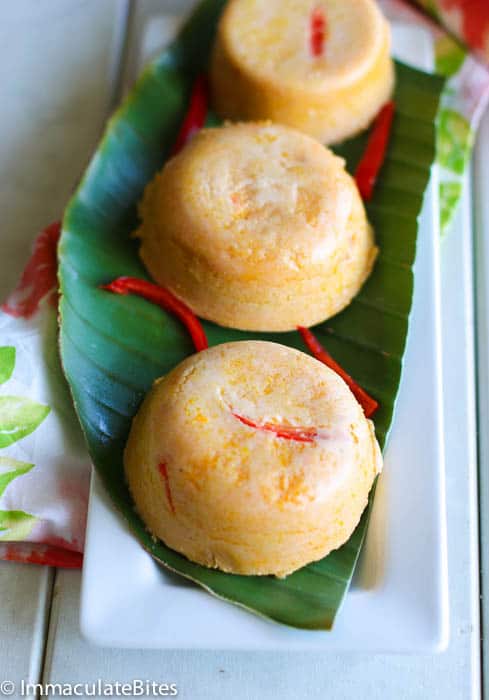 Moin Moin here is prepared similar to Koki beans, except this one is baked or steamed in ramekins or muffin pan. It's extra savory and flavorful because of the exquisite flavors from bell peppers, Scotch bonnet peppers, and crayfish. You can also add salmon and eggs for a delightful surprise like my other version of Moyin-Moyin here.
Moin-moin (Moyin-Moyin)
Moin-Moin, Moyin- Moyin or Mai-Mai (as is known to Cameroonians): is a flavorful blend of skinless black-eyed peas, onions, green and habanero pepper that is steamed. The end result …. a pleasing pudding, with intense flavor, and lots of hidden treasures!
Check out this recipe
Black-Eyed Peas Salad Recipes
9. Black-Eyed Peas Salad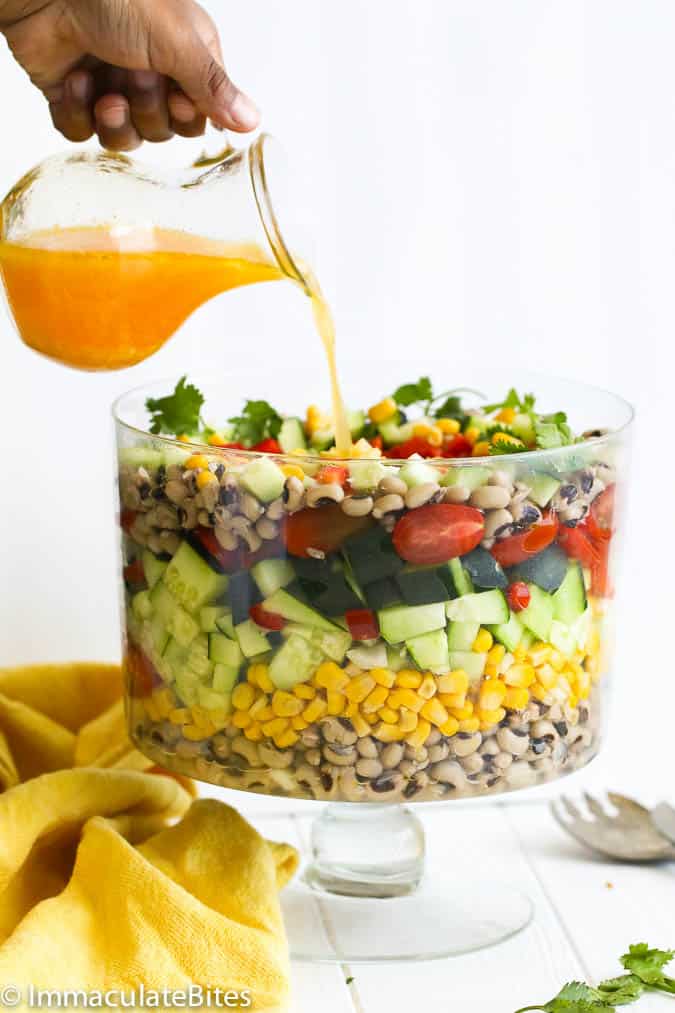 But of course, you can also add black-eyed peas to your salad along with your favorite fresh veggies such as corn, bell pepper, cucumber, and avocado. Oh, and the dressing is incredible, too, because it's brimming with refreshing citrusy delight from fresh orange, lemon, and lime and wonderfully sweetened with honey. ❤
Black Eyed Pea Salad
A bold Southern-style salad that produces various and wonderful textures starring black-eyed peas, corn, cherry tomatoes, cucumber, and avocado. With a luscious sweet citrusy orange-flavored salad dressing. Can be made ahead of time, has no wilting involved, and is perfect for tailgates, picnics, barbecues, and potlucks.
Check out this recipe
10. Cowboy Caviar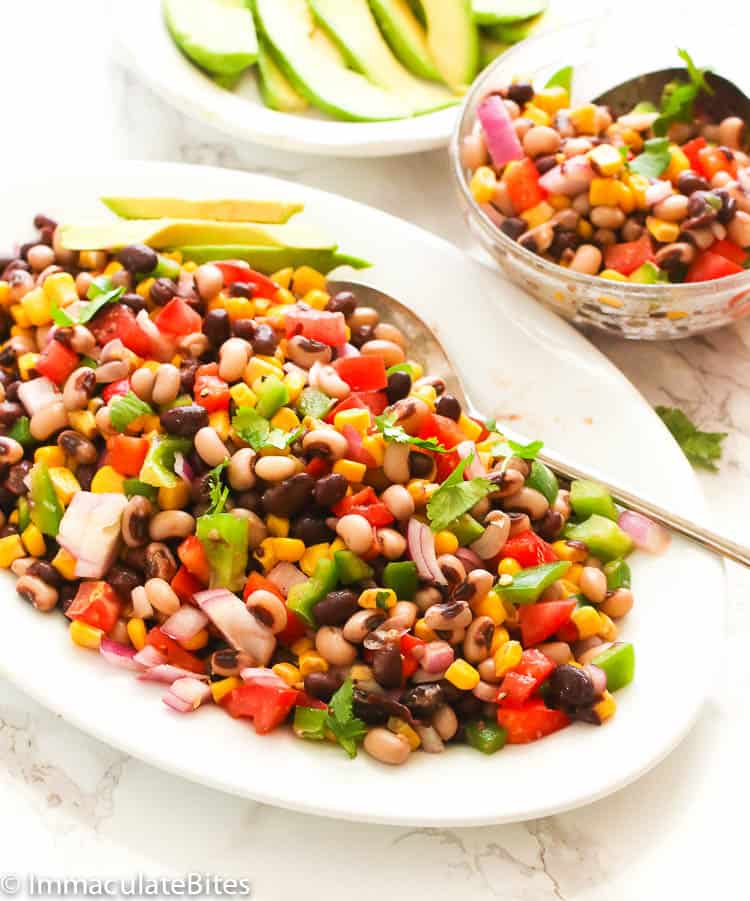 And if you're looking for a healthy dip that can double up as an appetizer or side dish, then may I entice you with my hearty Cowboy Caviar here? Not only is it overflowing with revitalizing fresh veggies such as Roma tomatoes, bell peppers, and sweet corn, but it's also brimming with sweet and citrusy flavors from its lavish dressing. Plus, you can enjoy it completely vegan. Oh yes!
Cowboy Caviar a.k.a Texas Caviar
Cowboy Caviar a.k.a Texas Caviar – healthy, wonderfully fresh and simple to make dip that also doubles up as a salad. A great make-ahead dish for potlucks, picnic or summer parties. Easy, healthy and flavorful!
Check out this recipe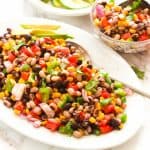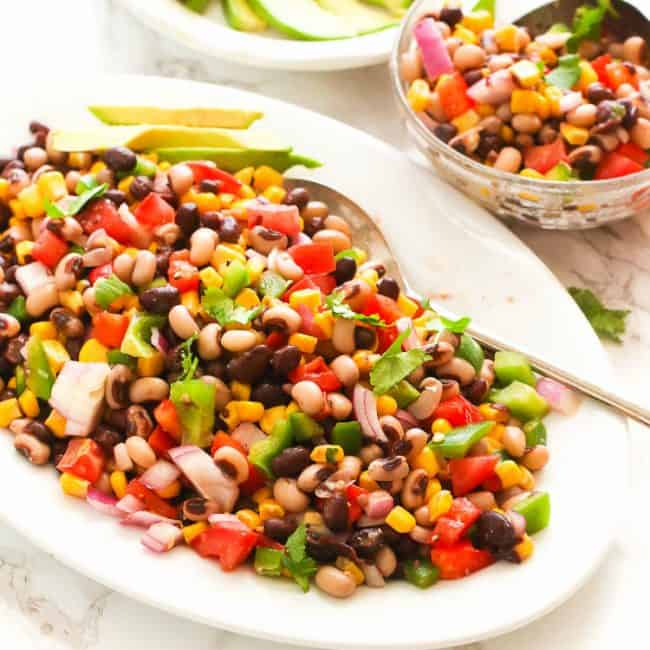 11. Three Bean Salad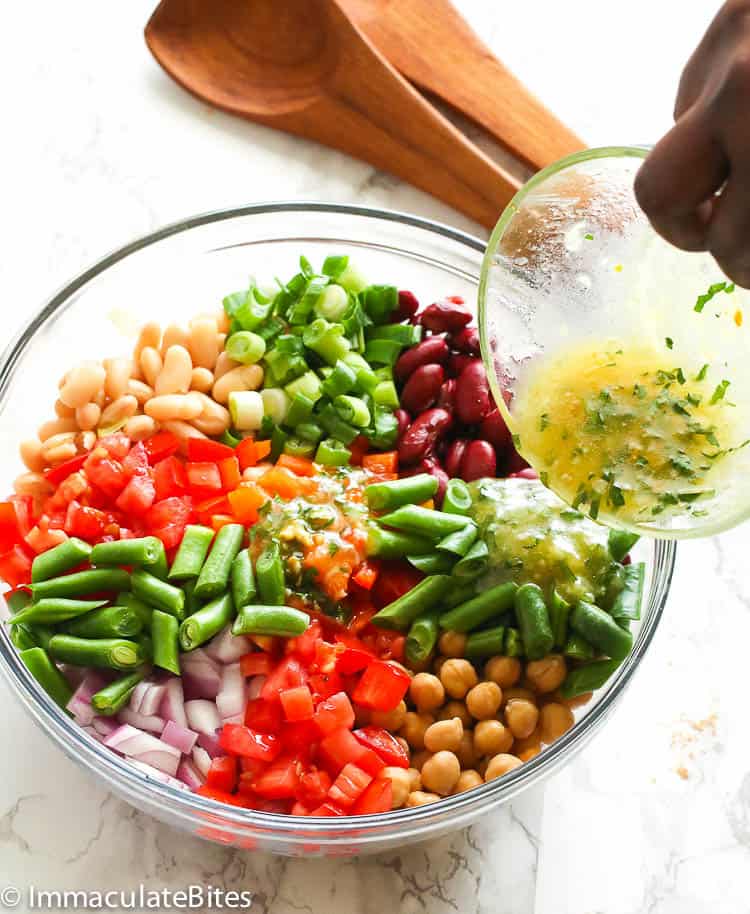 What makes this salad even more exceptional is the combination of three of your favorite beans instead of just one. Oh yes! Aside from black-eyed peas for luck, you can add more soul-satisfying beans like garbanzos, cannellini, and kidney beans to make this dish more nourishing. And, of course, it gets better with a lip-smacking dressing with honey and citrusy goodness from the lemon. Yum!
Three Bean Salad
Three Bean Salad – the perfect healthy make-ahead side dish for your summer backyard barbecues or potlucks. A classic salad with garbanzo beans, kidney beans, cannellini beans and green beans tossed in a vibrant dressing. A wholesome summer side dish!
Check out this recipe