What's a New Year's Eve without easy party appetizers? To help you get the party started, I'm making here a list of 20 ('cause it's 2020, friends) easy, delicious and great make-ahead appetizers to ring in the New Year. Now you can party all night long with some of Immaculate Bites' best tasting party food. Happy New Year, everyone and welcome 2020!
Gosh, I can't believe it's almost 2020. What a year it has been! And now that this decade is about to close, I'm sharing with you today some of my favorite appetizers. Some of them are easy to whip yet so tasty. Others can also be made ahead in big batches so you can still enjoy them even post New Year celebration. Ready to ring in the New Year??? Let's keep going.
Whether baked or fried, these SAMOSAS make a fantastic make-ahead party appetizer. It's crispy on the outside while filled inside with well-seasoned chicken, peas and enough spices to entertain your palate. No wonder it's on my top list of favorite fried appetizers. There's just an abundance of spices wrapped in these snacks/appetizers.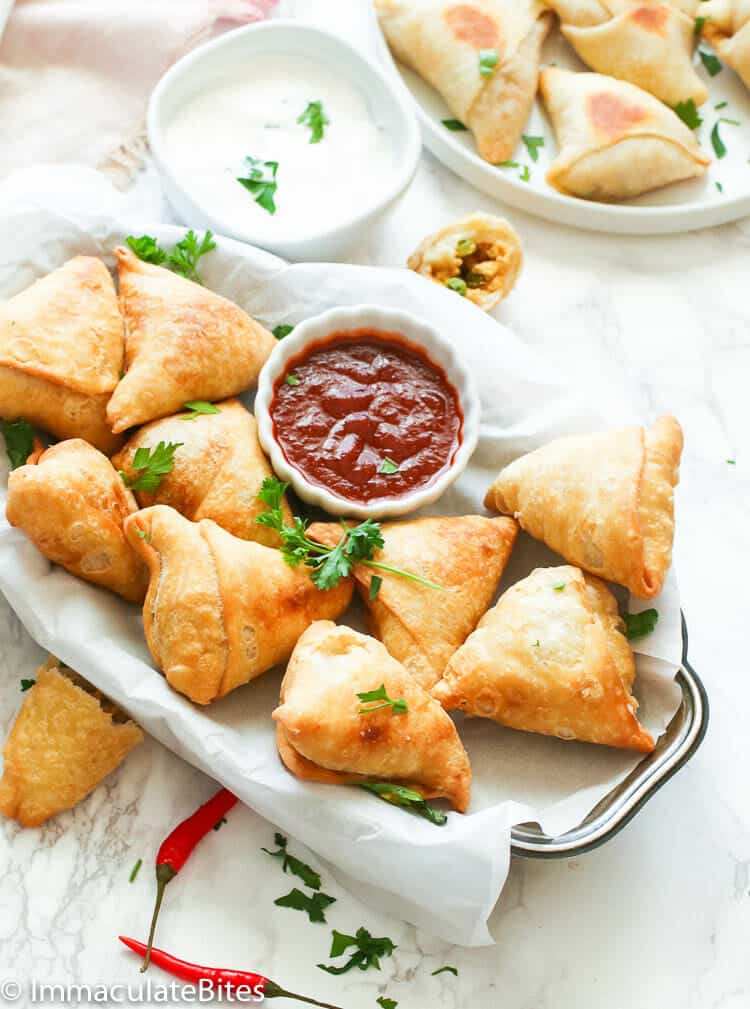 If there's samosa, there's also the empanada! These BEEF EMPANADAS are perfect on-the-go meal, snacks or appetizers made with buttery flaky homemade dough from scratch and filled with delicious savory ground beef mixture. It's actually a favorite all-year-round with or without any dip. If you love some dips to go with it, pair it with my homemade Chimichurri Sauce or my Ranch Dressing. Kids and adults alike would go crazy over this popular Spanish treat!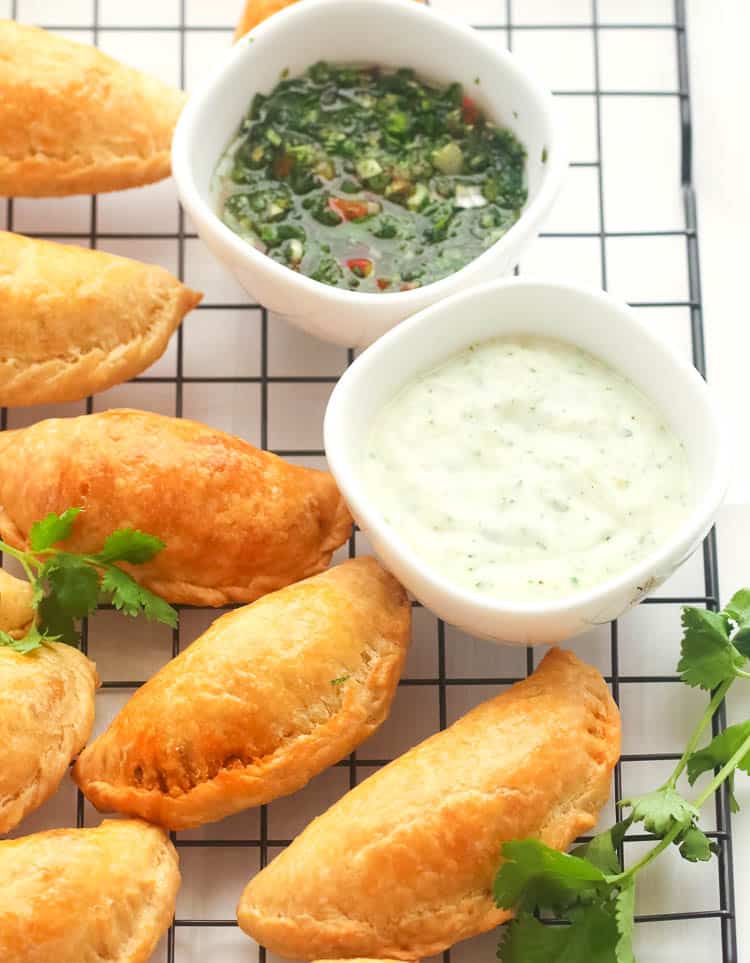 Spicy, crispy, saucy chicken wings! How can you not love it? These BUFFALO WINGS aren't only regulars during game days but also on New Year's Eve. And the best part?? They're BAKED yet they are as crispy as the fried version. Baked to crispy perfection then coated with a spicy delicious 5-ingredient buffalo sauce that will make you want to lick your fingers. Now that's finger-licking good party food!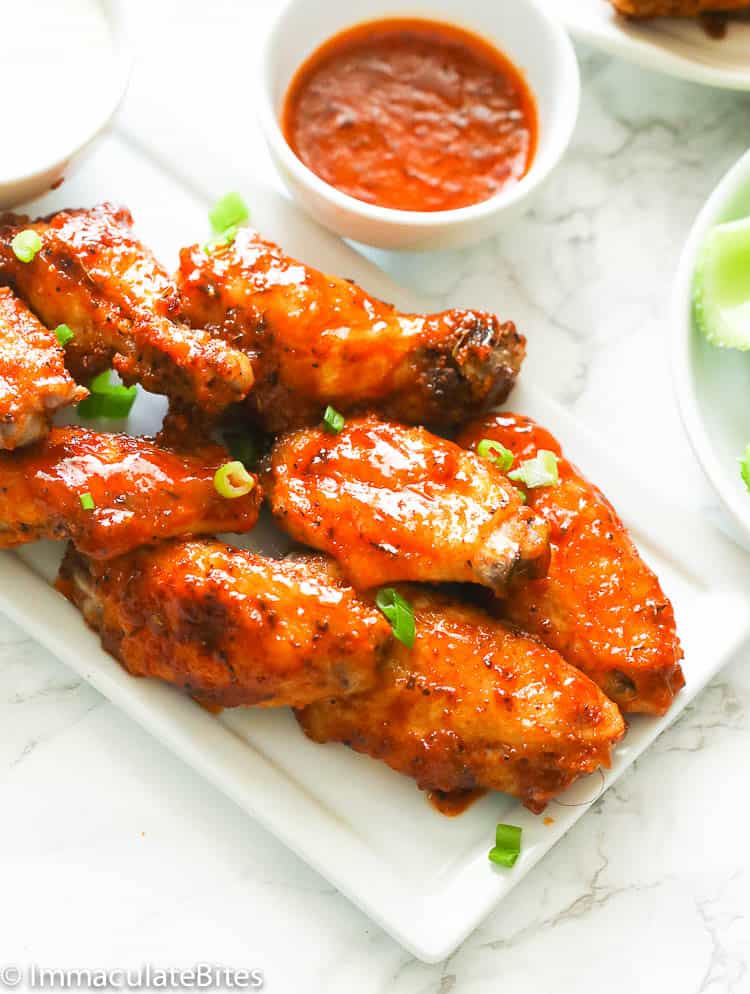 A classic pizzeria snack made from scratch that's soft, fluffy with a nice little chew in between. Smothered in garlic, butter and herbs mixture then baked to golden perfection. Great as a snack, appetizer or as a side dish, too. You and your guests will find yourselves reaching for one after another of these tasty GARLIC KNOTS!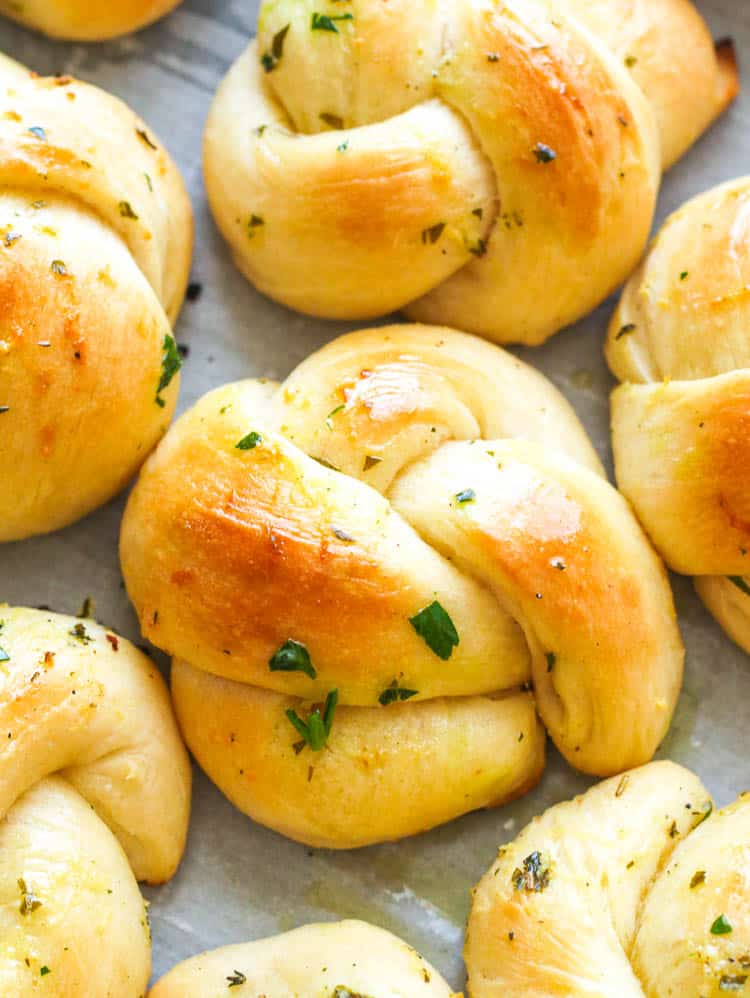 Want a no-brainer with little to no effort holiday appetizers? You got it all here in these BAKED CHICKEN TENDERS. Incredibly crunchy, tender and flavorful boneless skinless chicken breasts coated in a highly-seasoned breading. They're super EASY to prepare.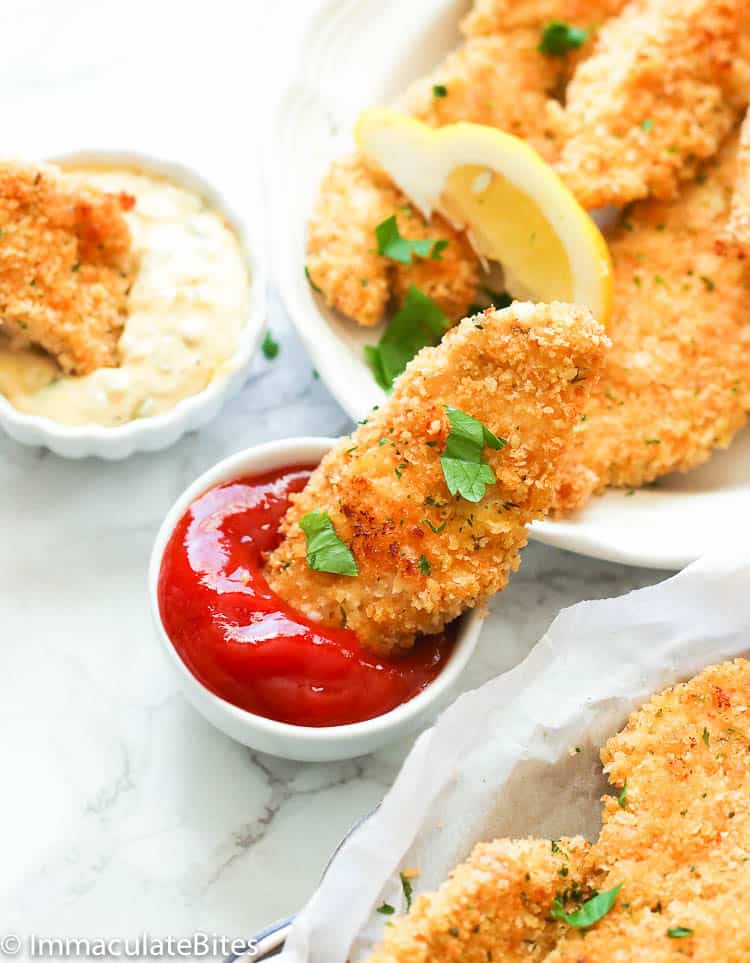 These are always a huge hit in every party that I host. Easy Beef Sausage Rolls made with store-bought puff pastry and filled with a highly customizable meat filling. You can swap beef with ground turkey, chicken or pork – whatever rocks your boat! Quick, easy and a real crowd-pleaser. Great as a snack, lunch or breakfast, too.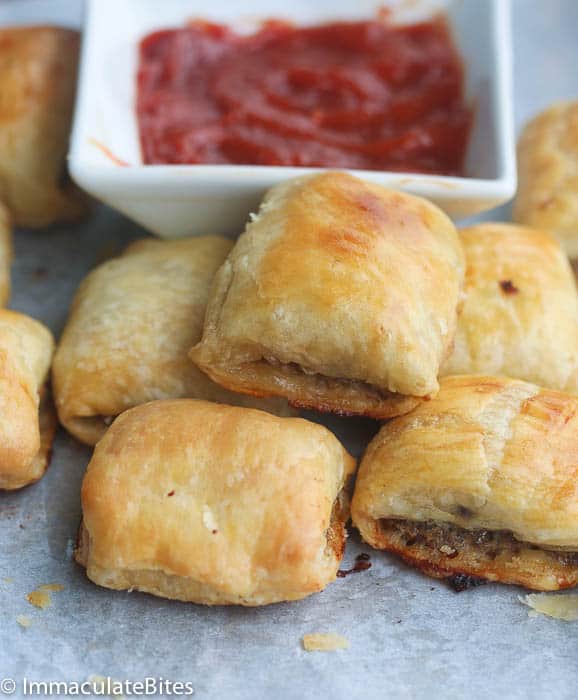 Ridiculously crispy on the outside, tender and juicy on the inside, and oh-so-flavorful! Just look at that photo below and you'll see what I mean. And the best part about buying chicken wings in bulk for this coming New Year's Eve celebration is that you can prepare them in different varieties to provide your guests with options. Don't worry, I made sure to make a good list just for that. Just check the complete list after you click on this recipe. I've also included some dips to go with it (my favorite for this is this Remoulade Sauce). Then you can thank me later!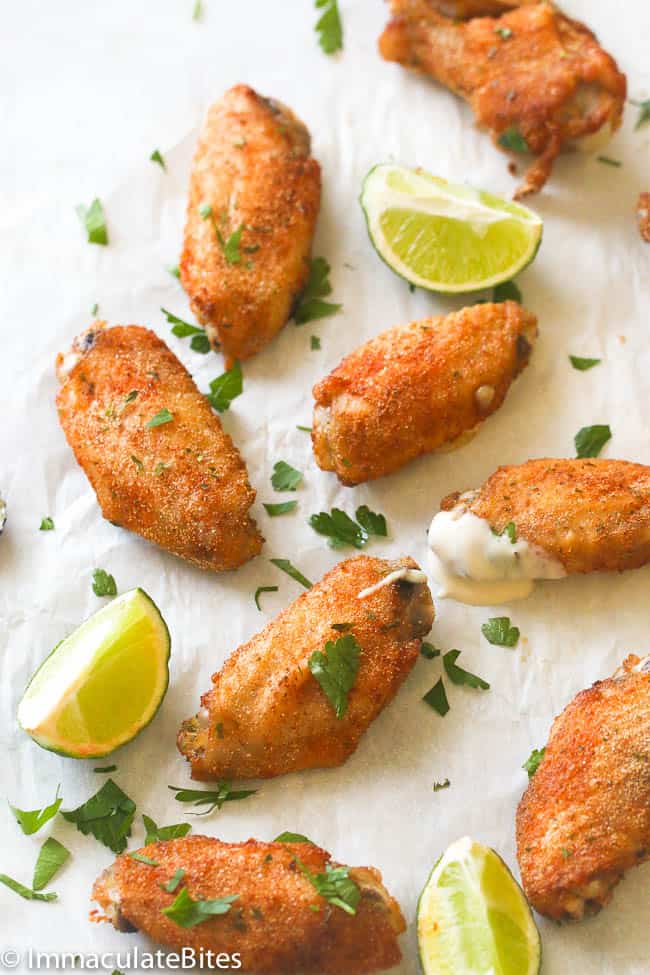 Want a last-minute super quick and easy appetizer idea? This game day favorite Pigs in a Blanket only needs F-O-U-R (4) simple ingredients to make. It's as easy as rolling the sausage with the crescent dough and popping them in the oven. Simple yet entertaining! You may enjoy them as it is or go above and beyond by also making its go-to pair Honey Mustard Sauce which I also included in the recipe, of course.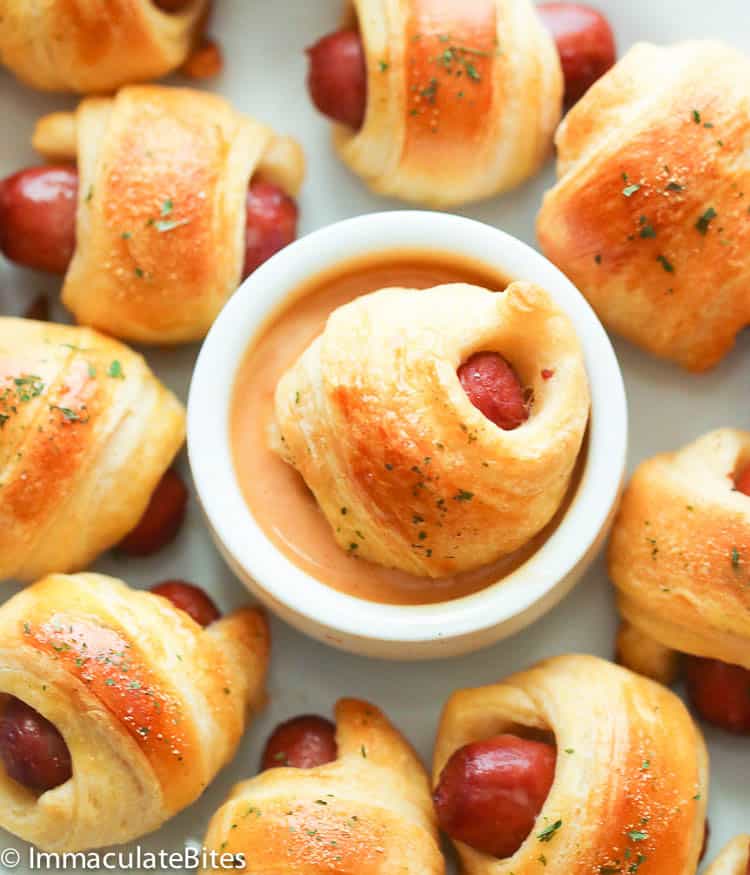 These Tostones recipe is continuously breaking the internet and has been one of my top-shared videos on Facebook. It starts off with a crispy twice-fried plantain as the base, then topped with tropical guacamole and finally a Creole-seasoned juicy shrimp. Totally a crowd-pleaser, perfect for entertaining, parties and game day appetizer with layers of goodness!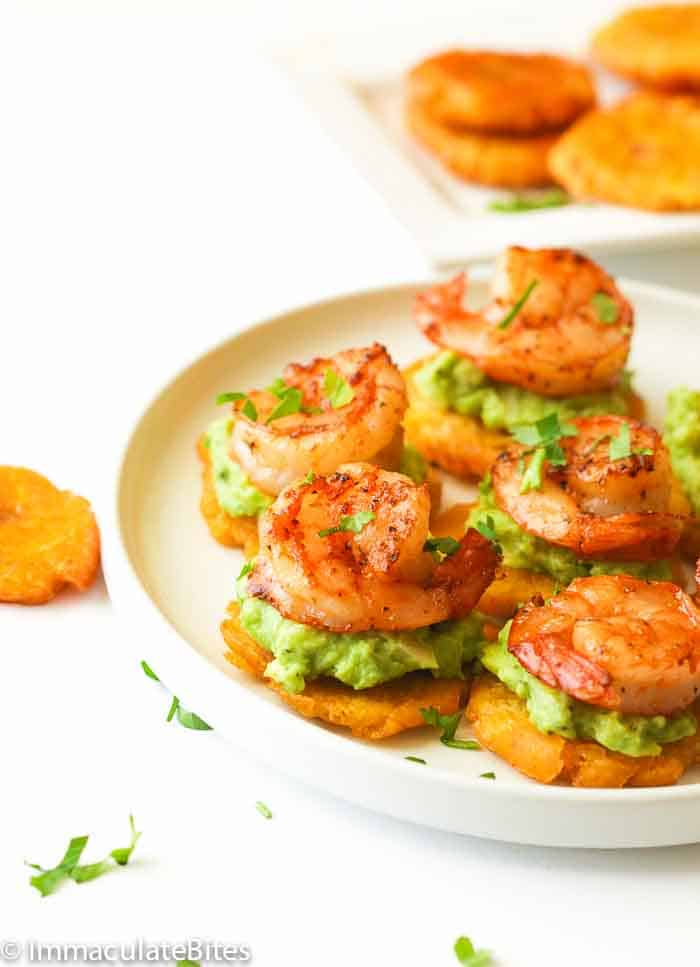 Generously-flavored boneless and skinless chicken thighs wrapped around with bacon and baked to perfection. So if you're worried that you're too pressed for time to whip up an incredible party food, this is what you might be needing. You can season your chicken with whatever you have in hand and just let the bacon do the work for you. And not only that, but it can also double up as a quick dinner fix. A winning recipe with a little effort!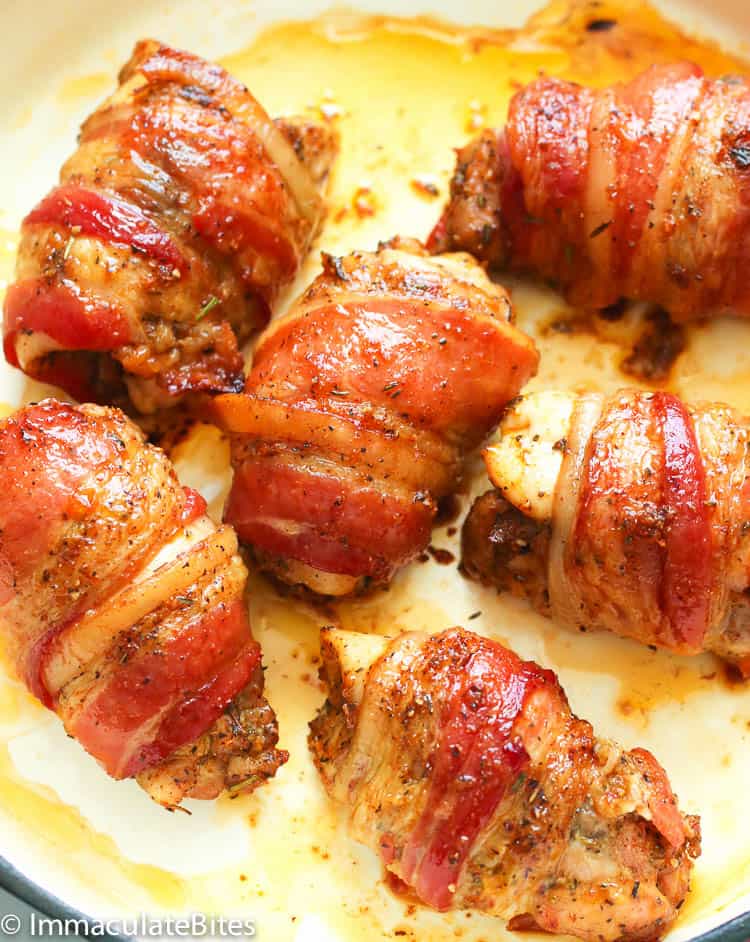 If you think you couldn't love anything as much as you love pizza, then think again! 'Cause you're about to get swoon over with this rolled version of your favorite Friday night pizza. Fun party appetizer Pizza Rolls made with homemade pizza dough and pizza sauce, sausage, pepperoni and cheeses and then brushed with a flavorful buttery mixture. Surprisingly simple yet super satisfying! You can also serve this as a light kiddie meal, too.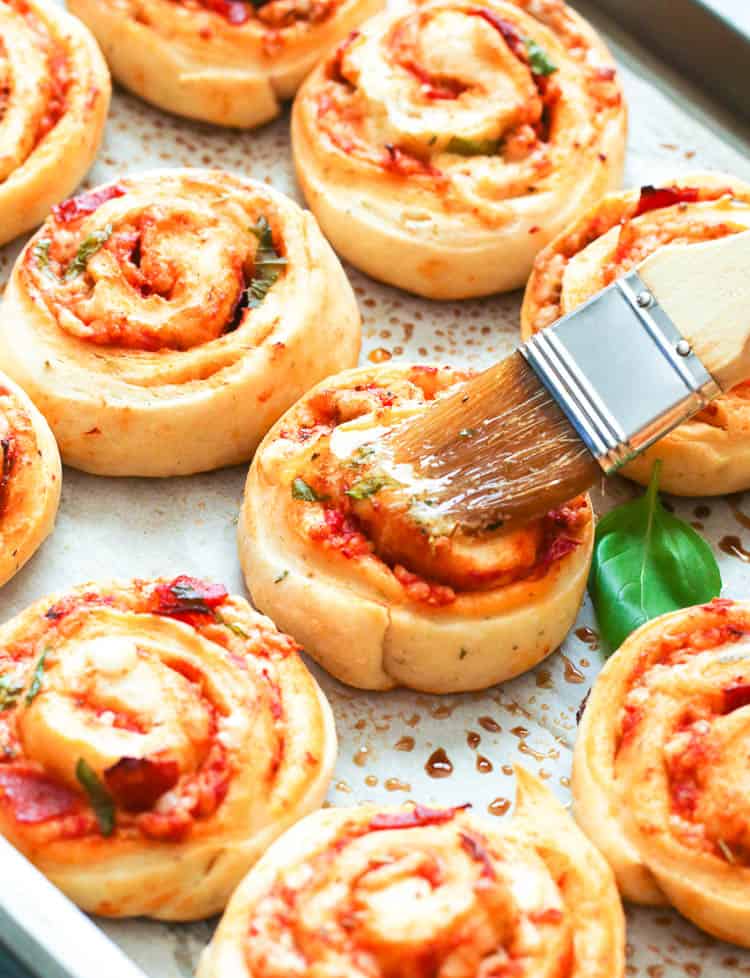 Of course, how will I ever forget my favorite plantain chips on my appetizer list! These crispy, crunchy and addictive fried or baked plantain chips paired with sweet tango mango avocado salsa is a fabulous entertaining item that has always been on repeat. They have always been my comfort food and a nice alternative to tortilla chips. So if you think you're up for a healthier kind of chip, go buy some unripe (green) plantains or slightly ripe plantains, slice them up to your desired thickness and fry or bake. Although, usually, I'd go with baking, especially when I'm cutting back on the calories.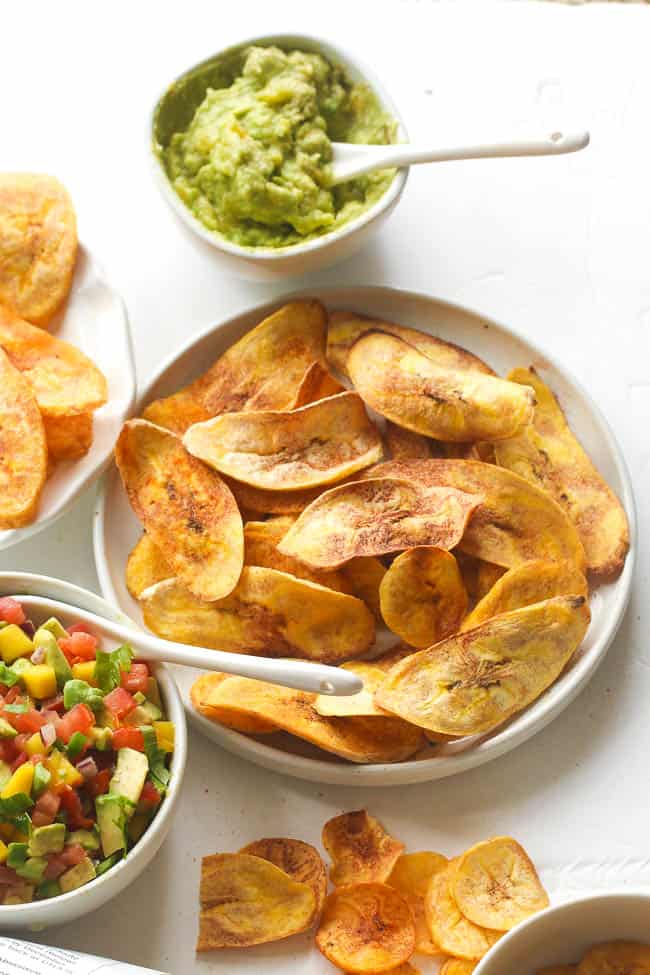 If you went with the above plantain chips or simply with your favorite tortilla chips, then what you need is a big bowl of this healthy wholesome dip Cowboy Caviar. Healthy, wonderfully fresh and simple to make dip that also doubles up as a salad. It has beans, black-eyed peas, sweet corn kernels, bell pepper, onion, tomato, and an irresistible dressing. This dressing has that vibrant, sweet, tangy with some heat and oomph in every bite. Making this a wholesome kickstarter to your New Year's Eve party!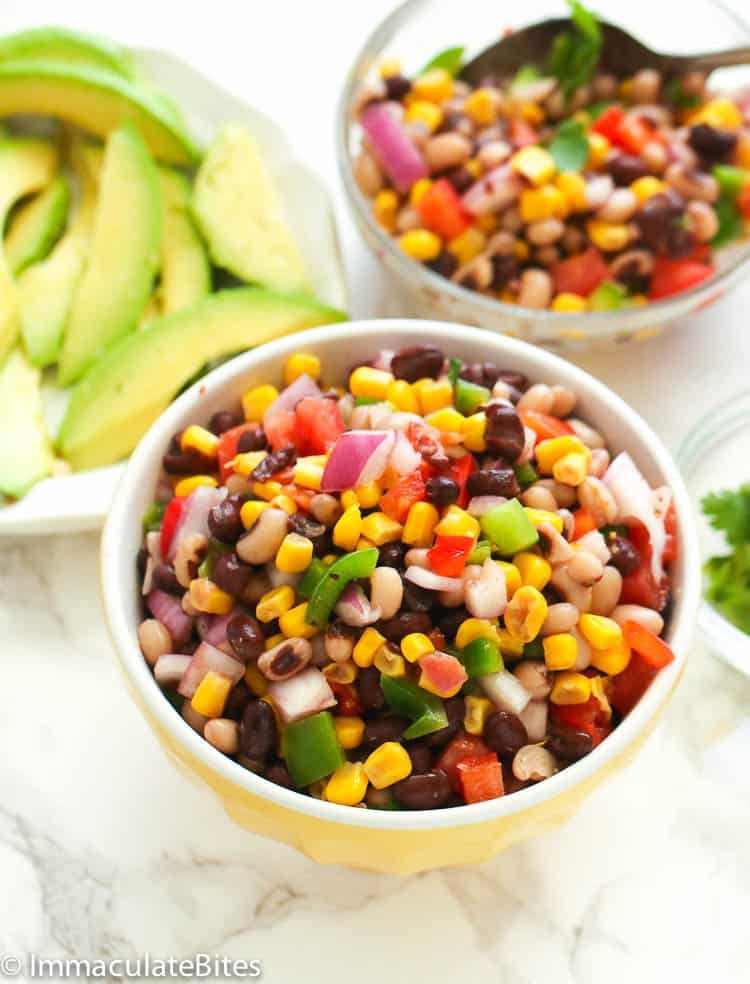 Meatballs are a must when it comes to entertaining. They're easy to make and very customizable. My version of Pineapple Glazed Meatballs is simply juicy and out-of-this-world delicious. Here I use half ground beef and half ground pork which makes it extra juicy. And instead of frying them up, I decided to bake them – more convenient, no hovering over the stove and extremely tender. You may serve these baked meatballs with its pineapple barbecue sauce or pair it with this homemade spicy African Pepper Sauce. You decide.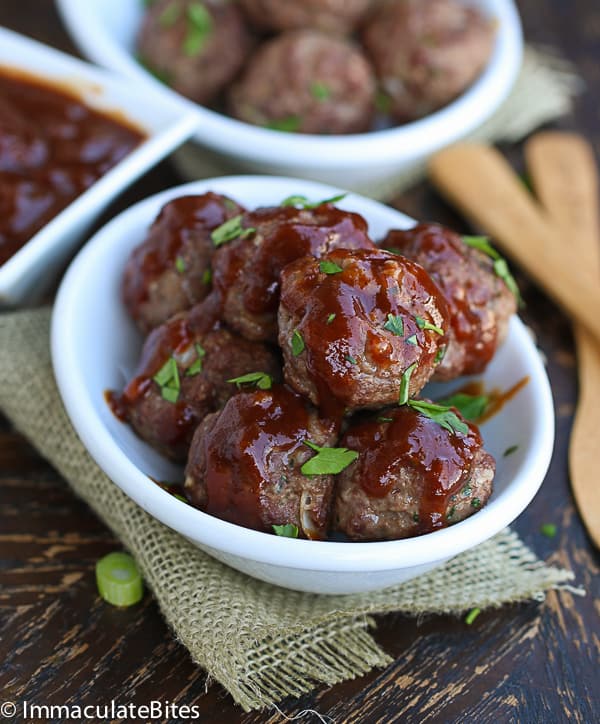 Rich, cheesy, insanely addictive bite-sized mushrooms stuffed with buttery cajun-seasoned crab meat, and crispy Panko breadcrumbs topping. If you're not a huge mushroom fan, wait till you have a bite of this. This would absolutely make you a convert. You'll love its buttery, cheesy flavor with a kiss of heat and a wonderful layer of texture. Aside from the juicy sweet crab meat, this filling also has diced red peppers, onions and celery sticks for a little crunch. You'll get hooked with this bite after bite.
Running out of time? Don't worry. These Sausage Ball recipe here is the easiest appetizer you can throw in last-minute. It's as easy as dump and mix! I use cream cheese to make these sausage balls crispy on the outside yet somewhat creamy moist and tender on the inside. You can also serve these as an after-school snack, game-day finger food, for lunch and even dinner. And they're baked!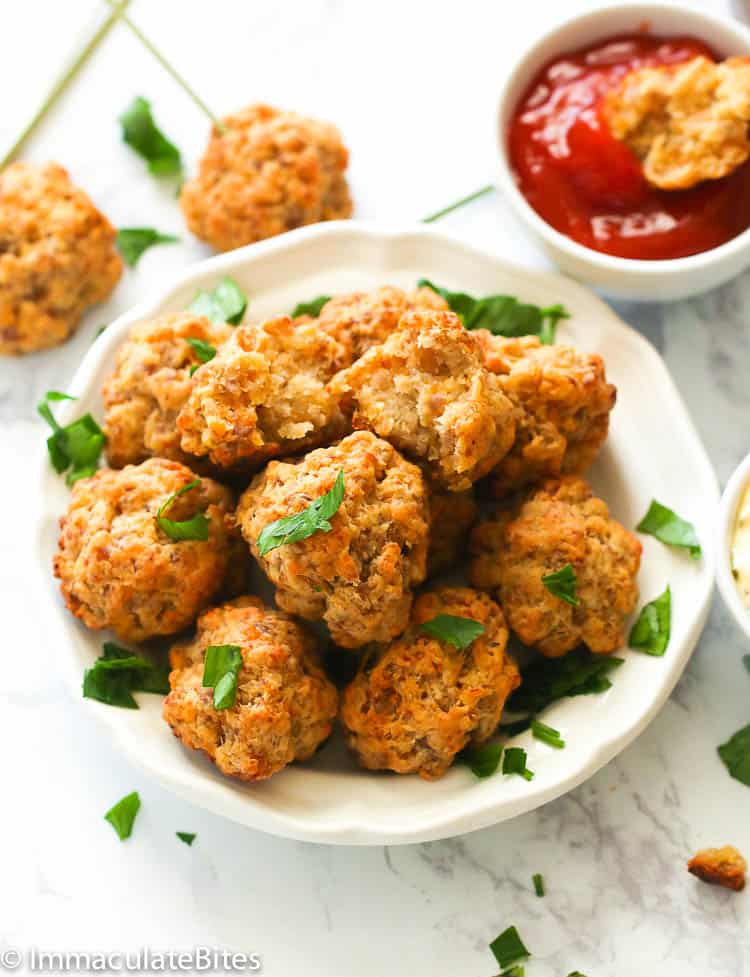 Do you think I've forgotten these? No way in this world I will. These Coconut Shrimp is always on repeat during any parties here at home and you probably know why. These are fresh shrimp dipped in coconut batter, then rolled in an aromatic breading made of coconut flakes, breadcrumbs, and spices. It requires very little time and is always a crowd-pleaser. It would satisfy your craving for something light and sultry. If coconut batter sounds too much for you, feel free to play around by swapping it for water, beer or milk. Super crispy on the outside, sweet and tender shrimp on the inside!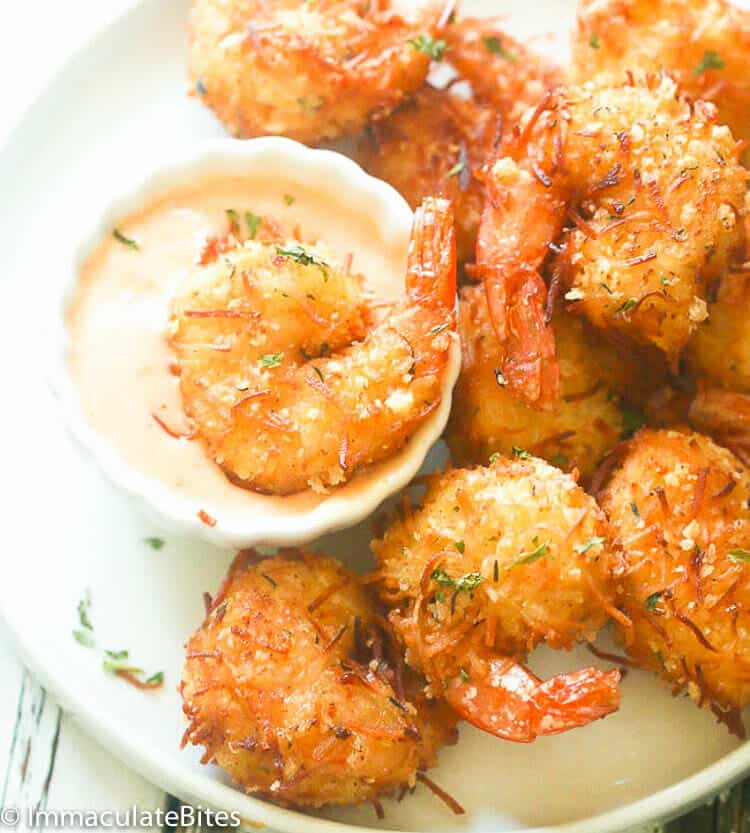 This fan-favorite dip has gained a pretty good reputation during parties. It's perfectly creamy cheesy and super satisfying dip filled with spinach, artichoke hearts, cream cheese, sour cream and layers of cheeses with a touch of heat from the pepper flakes and salt-free Creole seasoning. You can serve this with tortilla chips, crackers, French baguette, and especially crudites (if you want to go a little bit healthier during this time).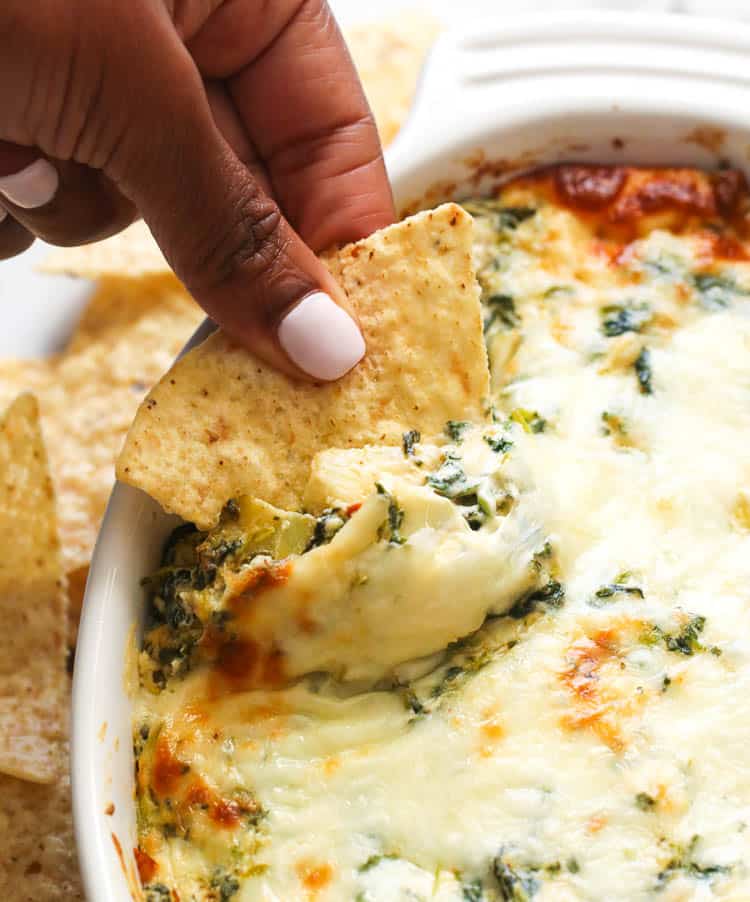 Oh, I love croquettes! Be it this Potato Croquette, Hush Puppy (a.k.a Croquettes de Maise) or this Salmon Croquette. These croquettes are pan-fried, protein-packed, breadcrumbed rolls made with canned or fresh salmon and aromatics. It makes a quick and tasty appetizer, breakfast or even a dinner fix. What makes this dish a surefire hit is that it's easy to assemble and very budget-friendly, too. Dip it with this Remoulade Sauce or this Caribbean Pepper Sauce as an ultimate New Year's Eve party appetizer!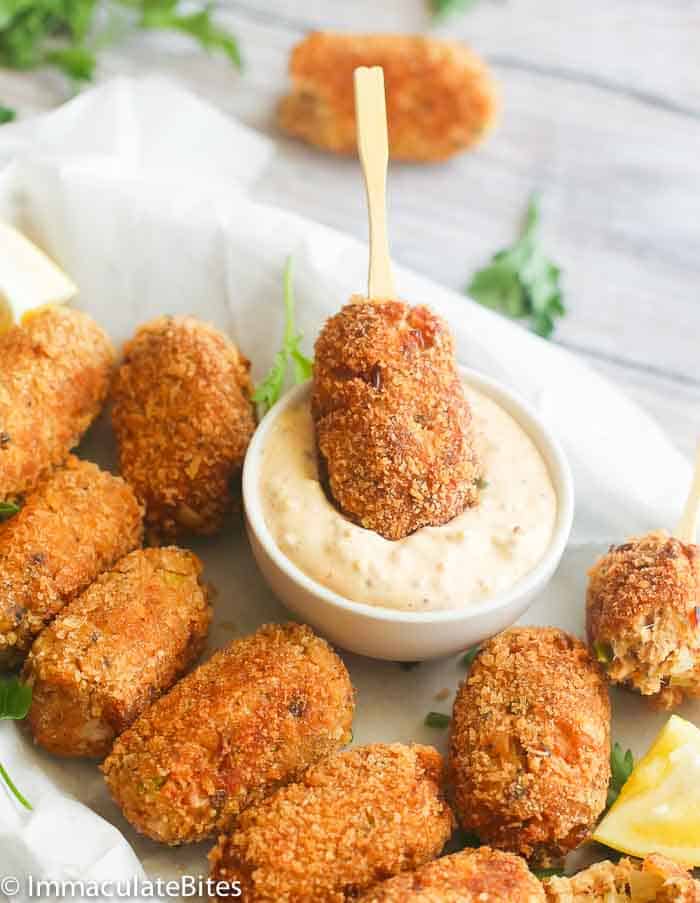 Skip the line and make this popular American Chinese takeout right at home. Your guests would surely be impressed by how this crab rangoon tastes way better than their usual takeout. These are fun bite-sized filled appetizers that are crispy on the outside and meaty-soft on the inside! Also called as crab puffs, crab rangoon puffs, cheese wontons OR crab wontons, these treats are dumpling-like appetizers filled with a combination of cream cheese, imitation or real crab meat, scallions, spices, and other seasonings. You can either bake or fry them!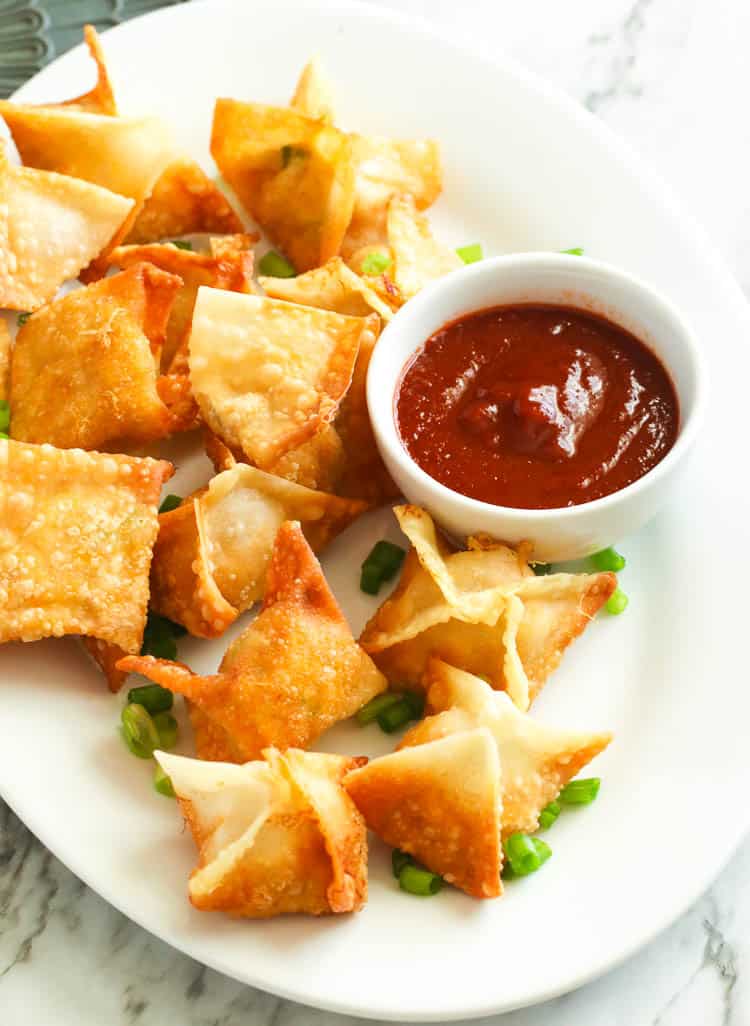 Wishing you all a meaningful and fun New Year's celebration. And from the bottom of my heart, THANK YOU for making my recipes a part of your regular weeknight or special day menu through all these years. Thank you, everyone, and welcome 2020! ❤️ ❤️ ❤️