In celebration of National Soul Food Month, I give you food recipes to enjoy all day from brunch to dessert and from the Southern classic favorite Chicken and Waffles to the best-tasting Sweet Potato Pie. Mouthwatering and easy-to-make comfort foods that will surely satisfy and warm your soul.
What is Soul Food?
Aside from being associated with African-American cooking, it is actually a fusion of the culinary traditions of West Africa, Western Europe, and the Americans. Soul food recipes usually include beans, greens, cornmeal, and pork.
So to celebrate today's special day, here are soul food ideas you can share with your family, soul sisters, and soul brothers not only for this month but all throughout the year as well. Enjoy! 😉
Brunch Ideas
1. Southern Baked Mac and Cheese

Nothing compares to this ultimate soul food favorite. I used a combination of sharp cheddar cheese, jack cheese, and mozzarella for this super creamy and cheesy baked mac and cheese.
And my winning secret? I spiced it up with my Immaculate Bites Creole Seasoning and cayenne to fill it with Southern flavors. Yes! That added heat really hits the spot! It's best eaten with Garlic Bread or on its own!
Bite on this classic American breakfast staple, crunchy, flavorful chicken seasoned with Creole Seasoning paired with soft buttermilk waffles with a perfectly crispy exterior. Satisfaction guaranteed!
The ultimate family-friendly brunch that everybody loves! Add a drizzle of syrup to complete your fantastic soul food cravings. Awesome!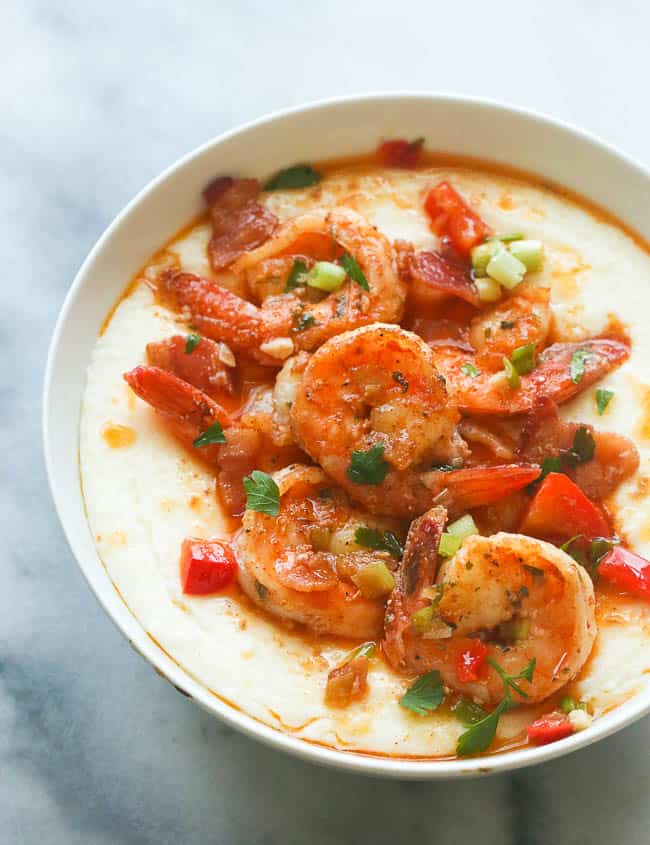 What's more comforting than waking up with a warm bowl of delicious cheesy, rich, and creamy Cajun Shrimp and Grits. The combination of butter and cheddar cheese gives a silky-smooth texture and literally defines melt-in-your-mouth goodness. Mmm-mmm!
4. Hoppin' John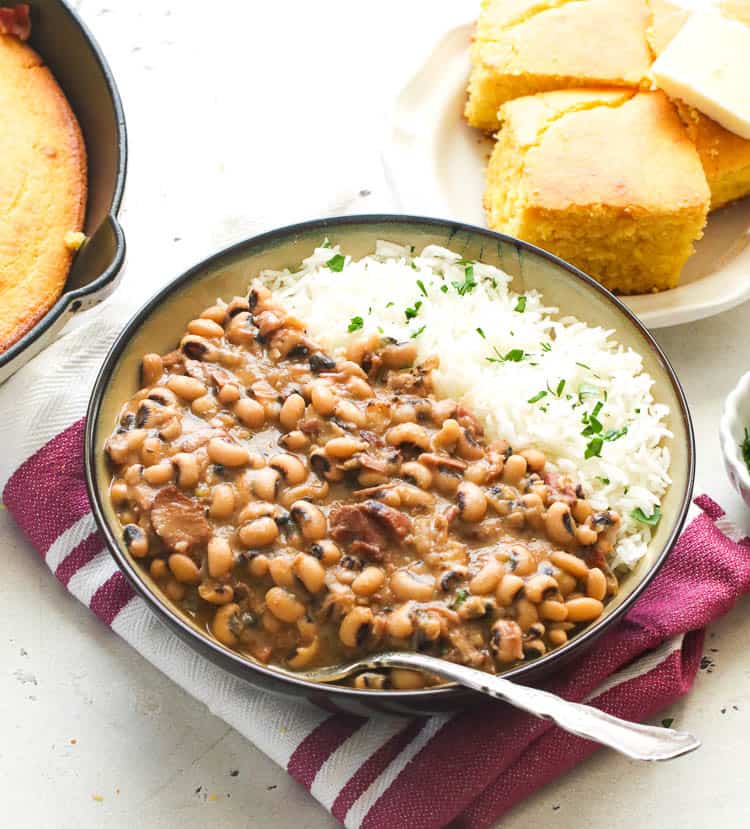 Another classic Southern recipe and pride of the soul food nation. A hearty and healthy dish that is rich in protein from beans, bacon, ham jocks, and turkey. Richly flavored with Creole Seasoning and herbs like thyme and bay leaves.
This yummy dish is best eaten with rice, Dinner Rolls, or Sauteed Kale.
5. Southern Baked Beans with Bacon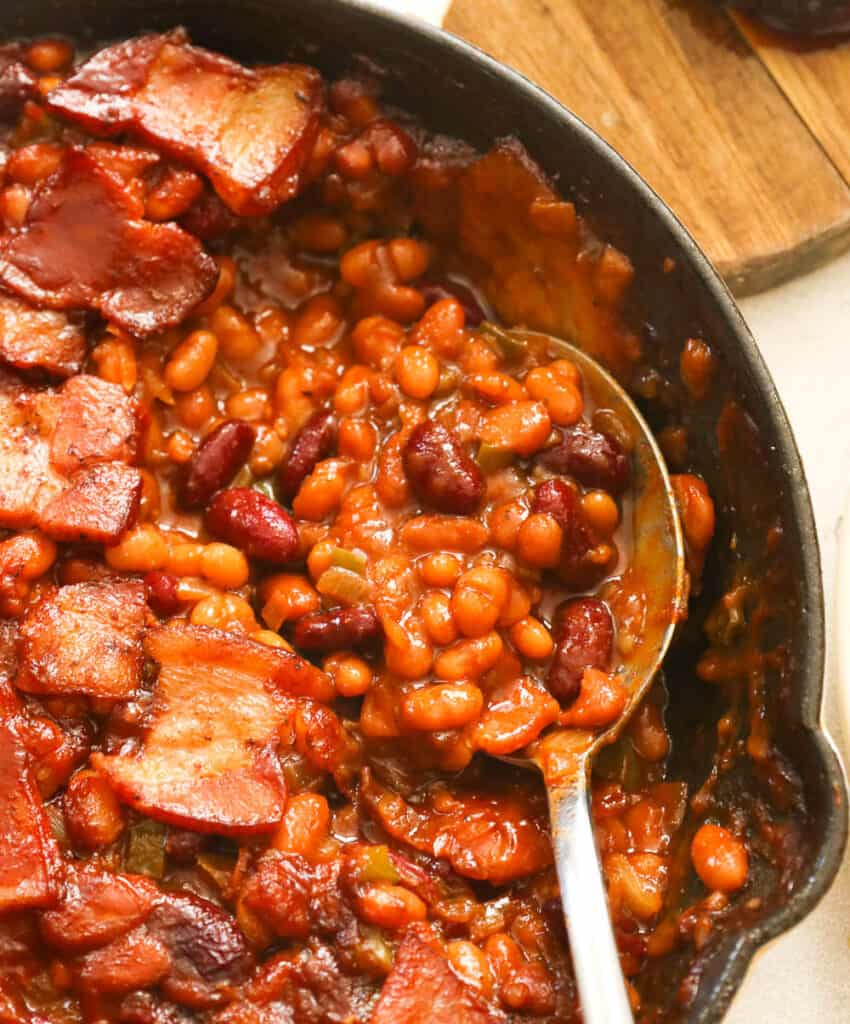 Favorite Southern dish with complex flavors of smokey-rich, creamy, and tangy flavors topped with crispy bacon. Made with red kidney beans and pinto beans, seasoned with bbq sauce and catsup.
A perfect breakfast on its own or can be eaten with any meaty dish like Smothered Pork Chops and Crispy Fish and Chips.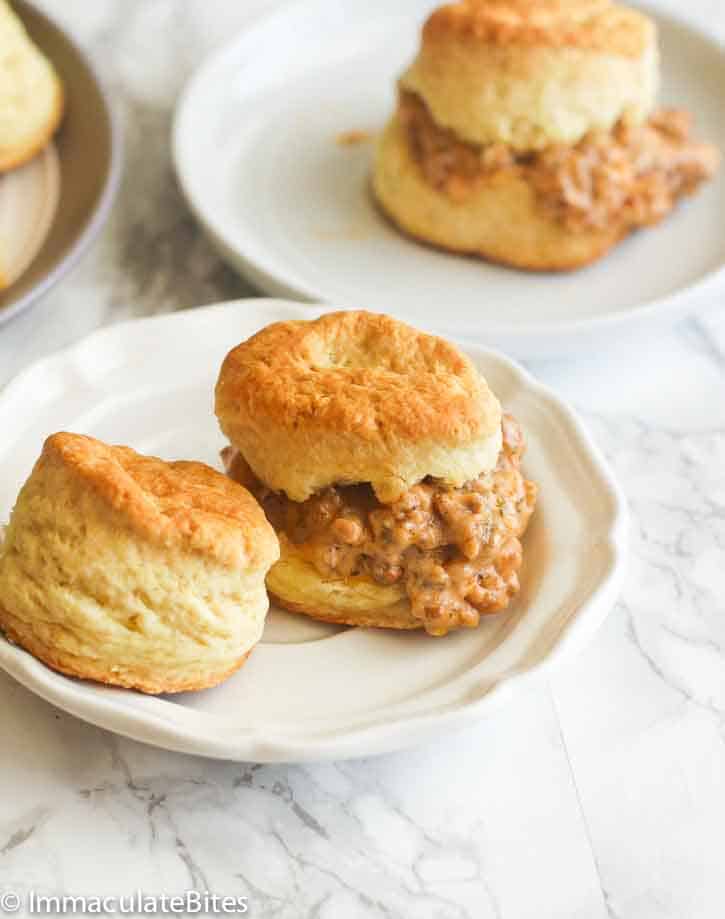 Don't you just love soft and buttery biscuits with flaky layers? And would you believe that you'll only need 3 ingredients to make the gravy?
Enjoy these timeless biscuits smothered in creamy and gravy made with sausage, flour, and milk. A wonderful brunch duo you can also eat any time of the day. Try it now!
Dinner Ideas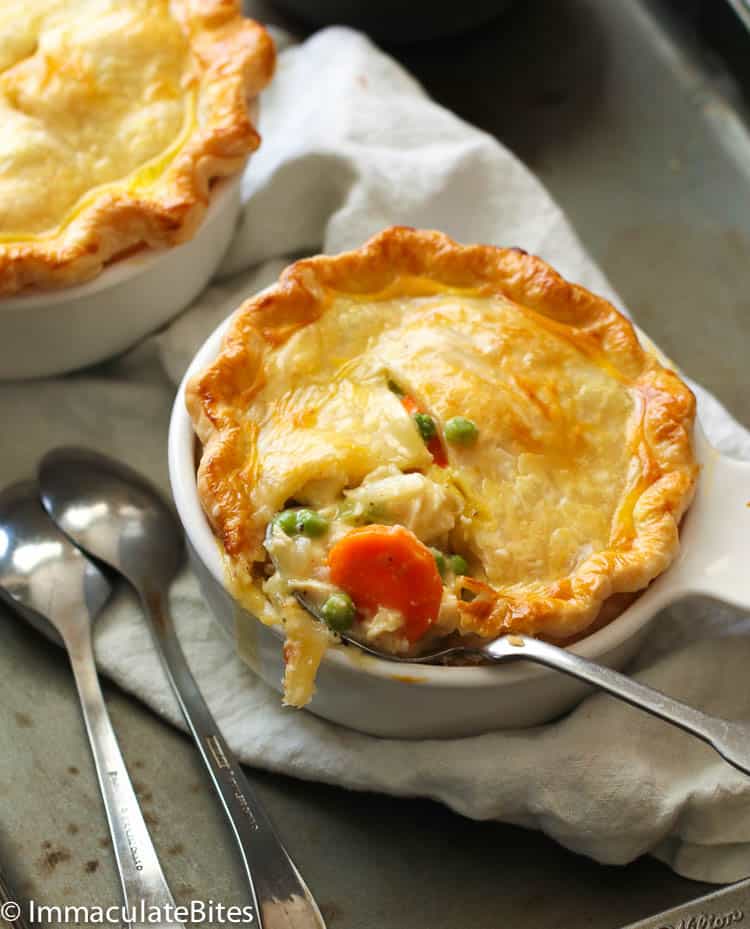 This creamy and rich Chicken Pot Pie is the best food for the soul you'll ever have. The chunky meat, carrots, and peas cooked in a creamy, smooth, and rich sauce will surely satisfy your soul and your belly.
Try it now with my Homemade Pie Crust. Or you can also replace the filling with African Meat Pie or Jamaican Beef Patty for variation. 😉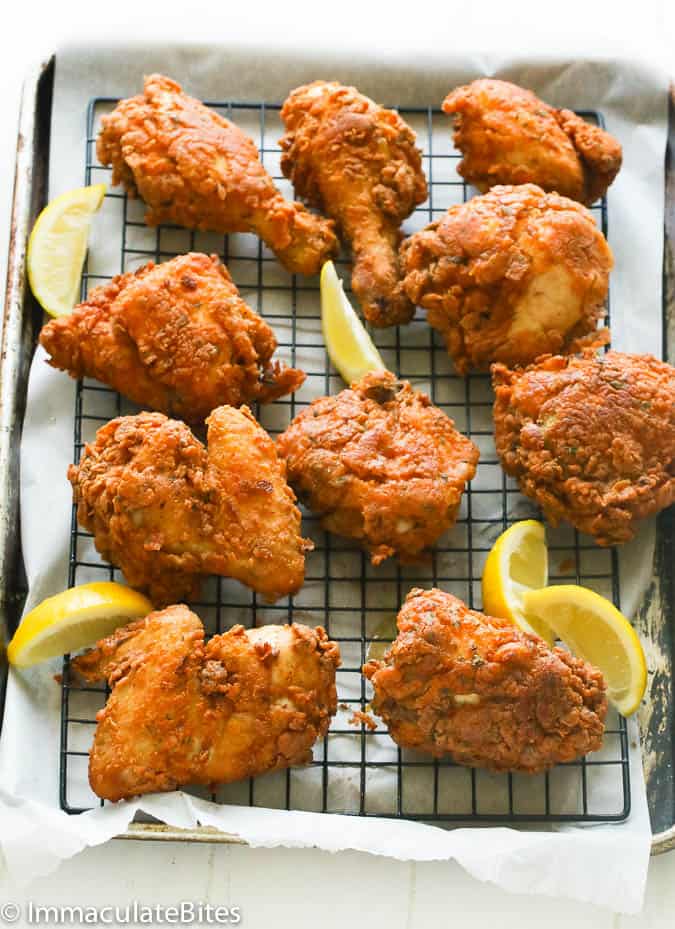 Southern Fried Chicken is known for its crunchy and crispy exterior.
And the not-so-secret ingredient for making it juicy, soft, and flavorful on the inside, is no other than soaking the chicken in buttermilk infused with spices and seasoning. So addictingly delicious!
Cutting back on calories? Why don't you check out my Air Fryer Southern Fried Chicken version?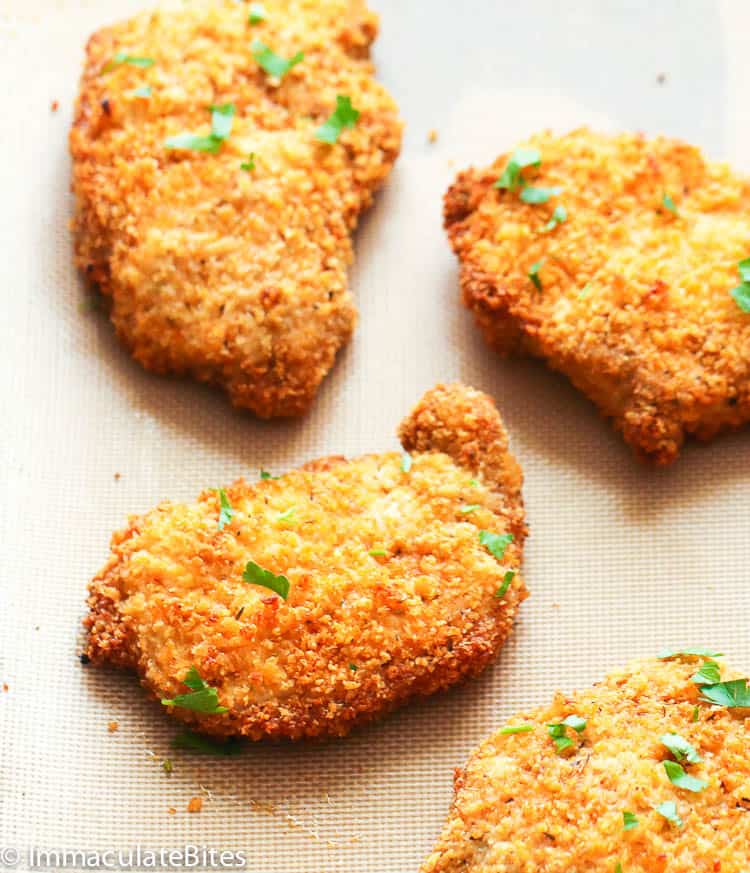 Your soul food menu won't be complete without these juicy boneless Breaded Pork Chops. Made even tastier with bread crumbs seasoned with butter, Immaculate Bites Italian Seasoning, and lemon zest.
And the best part of this recipe is, they're baked! Oh yeah! But you can also pan fry them if you like. 😉 This dish is best paired with Cajun Rice or Southern Baked Mac and Cheese. What a fantastic combo!
10. Shrimp Etouffee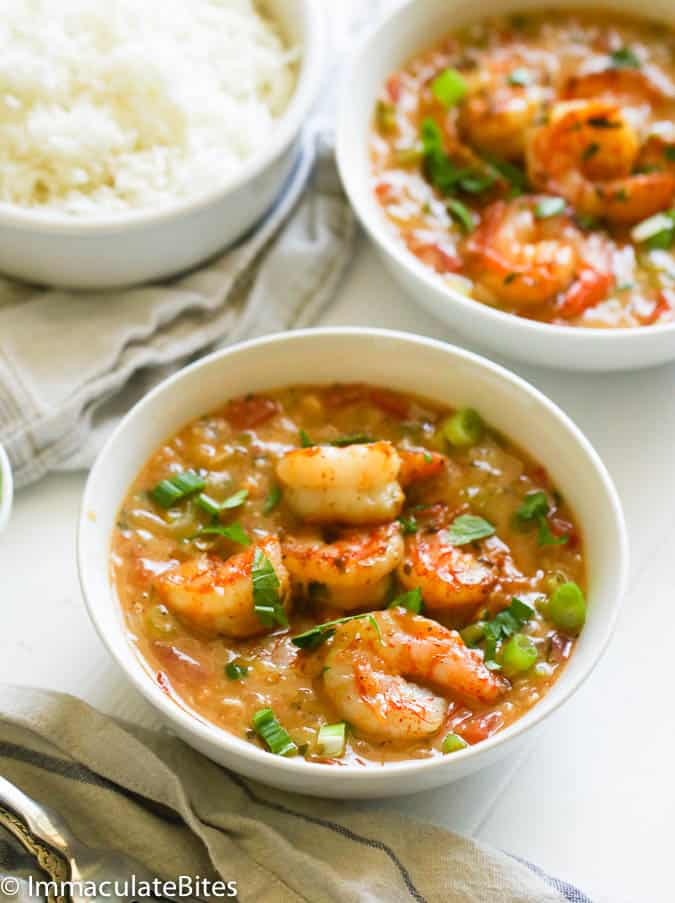 The French term Etouffee literally translates to "smother." True to its name, juicy shrimps are smothered in rich and flavorful roux sauce made with bold flavors.
Don't forget my Immaculate Bites Creole Seasoning for rich authentic southern flavors. Best eaten with rice or Dinner Rolls. Amazingly good!
11. Chicken Shrimp and Sausage Gumbo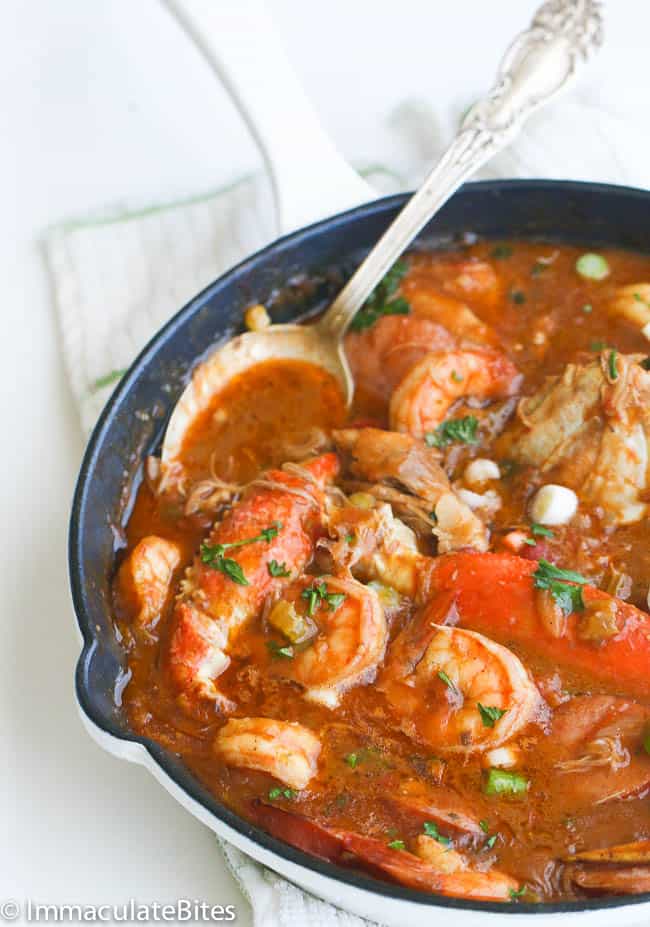 A mix of seafood, chicken, and sausage in a rich and flavorful stew-like sauce. The roux is infused with Creole Seasoning, chicken broth, and herbs for more authentic flavors.
Everything you want in soul food is right here. A dish like no other!
You can eat it with Cornbread Muffins or plain rice for the best dining experience.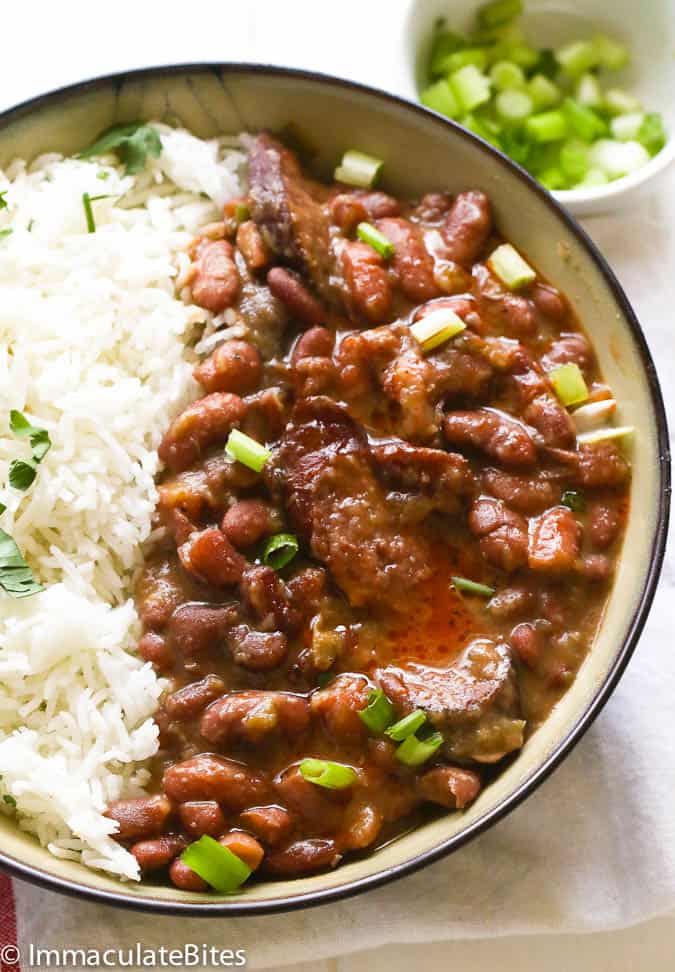 This classic comfort food from Louisiana has delightful complex flavors that always hit the spot! Made with red kidney beans, andouille sausage, and ham hock, this smoky, spicy, and overly comforting beans and rice combo is a must-have on a weekly rotation.
Kick it up a notch with an extra dash of cayenne and more rice serving on the side to satisfy your soul!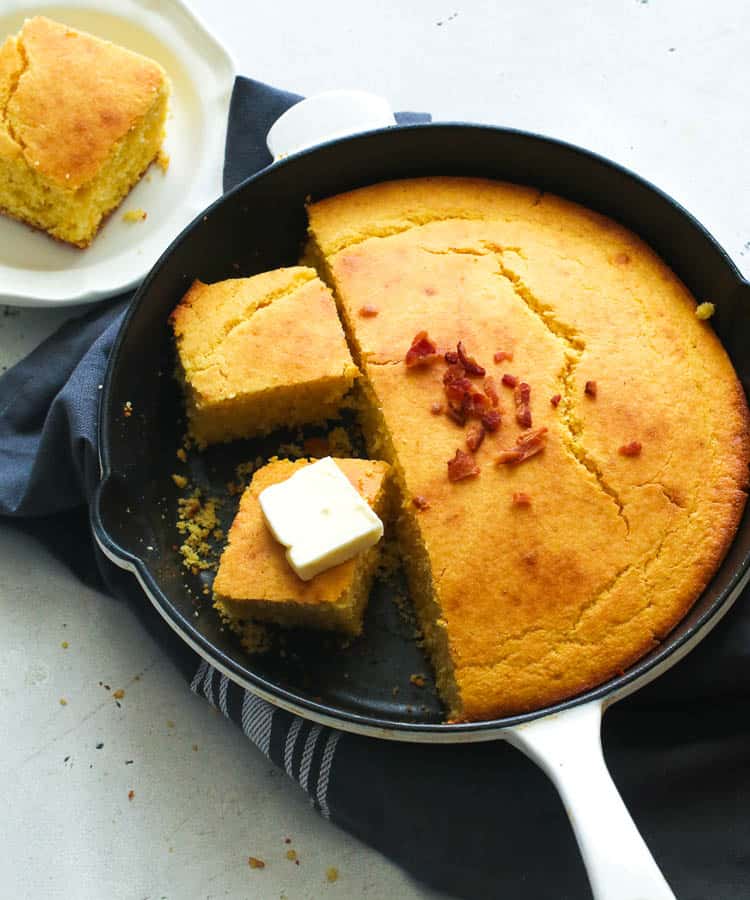 You'll know a good Southern cornbread when you see one and this one right here won't disappoint. It's crumbly, buttery, and moist! A quick and easy dish you can make in less than 30 minutes.
It's mildly sweet and savory which makes it a perfect accompaniment for Red Beans and Rice, Chicken ala King, or Chili Beef.
Is considered one of the healthy black meals because of its high protein content. It is believed to bring good luck and now I know why.
Just a spoonful of this hearty and warm soul food and you'll taste the deep and smokey flavors from Creole Seasoning, thyme, bacon, and sausage slices.
Eat them with Mashed Potatoes or Collard Greens, to make you feel even luckier! But you don't have to wait for New Year's eve to make one. 😉
Appetizer and Side Ideas
15. Fried Okra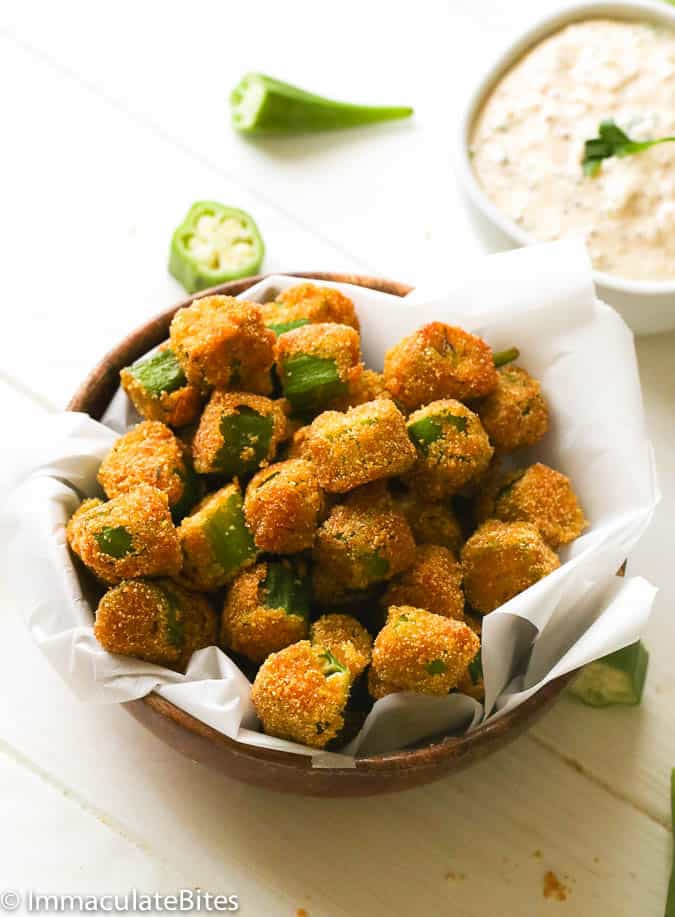 This healthy(ish) snack is so easy to make and it's kid-friendly! Just cut the okra, dip them in a well-seasoned cornmeal and flour batter, and then fry.
Yes! As simple as that and you'll get to enjoy this vegan soul food.
How about Barbecue Ribs or Patty Melt to go with your fried okra? 😉
16. Corn Fritters
Level up your favorite sweet corn and turn them into a sweet and savory snack. Season your flour and milk batter with spices and cheese for perfectly crispy corn fritters. Serve these with my homemade cilantro avocado dip to make it even better. So easy to make and tastes amazingly good!
17. Hush Puppies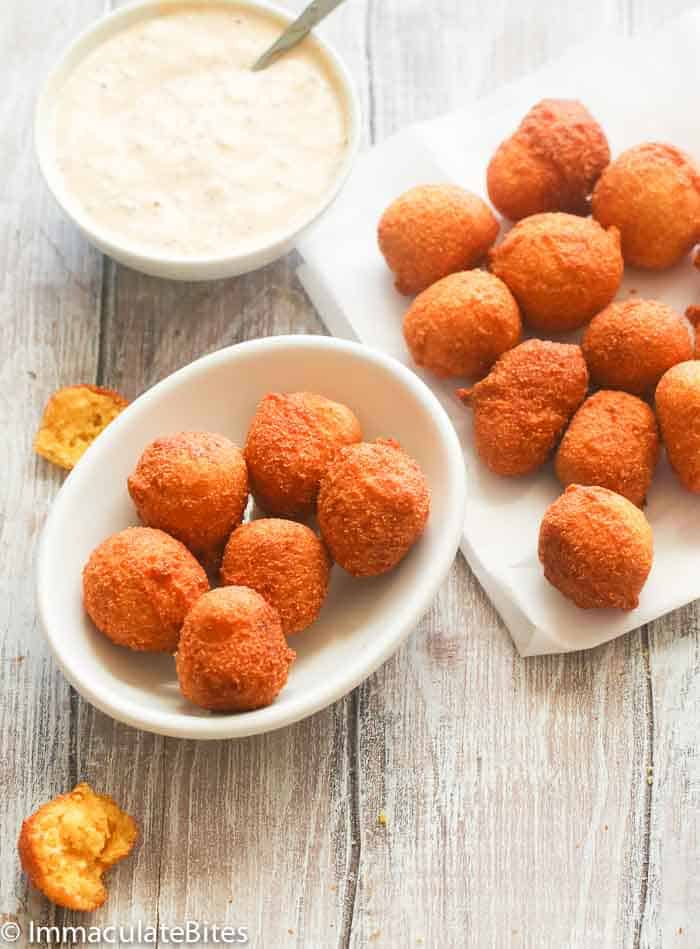 What's not to like about these crispy and crunchy bite-sized cornmeal fritters with a soft and moist center? They are absolutely delicious and super easy to make. Perfect for snacking, appetizer, or a side dish with or without occasion.
You can also serve them with Southern Fried Catfish, Coconut Shrimp, or enjoy them as is right off the plate. I won't judge!
18. Deviled Eggs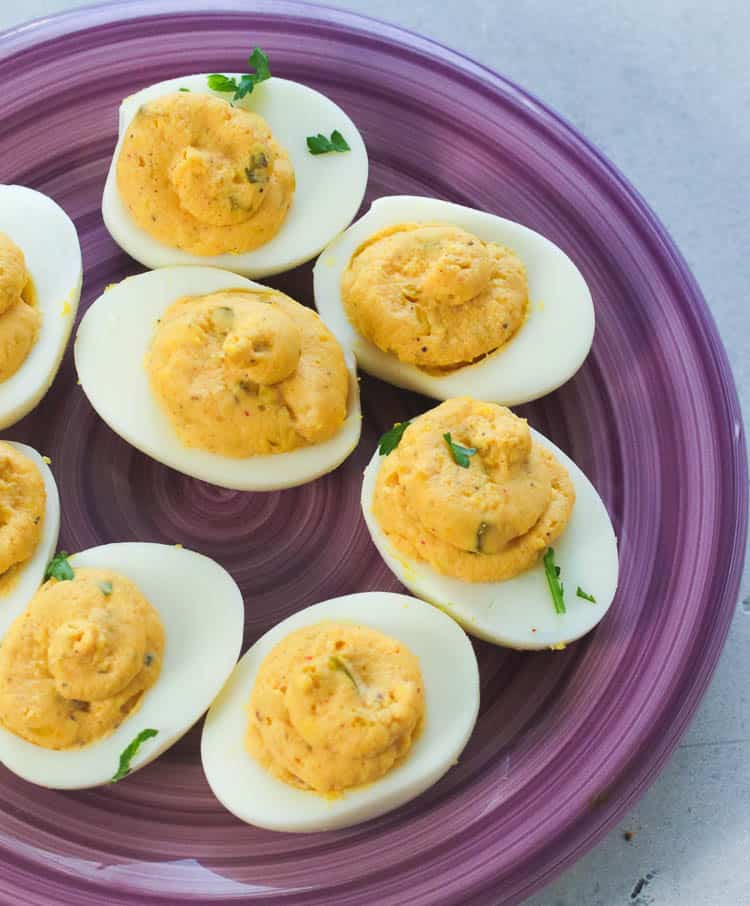 Munch on these flavorful, satisfying, and not-so-ordinary deviled eggs made with mayonnaise, mustard, pickle relish, and Creole Seasoning. The best part is they're simple to make, budget-friendly, and low carb!
A perfect snack for picnics and goes well with Potato Salad and Coleslaw. It can be a great side, too, for Meatloaf and Smoked Pork Chop.
Snack and Dessert Ideas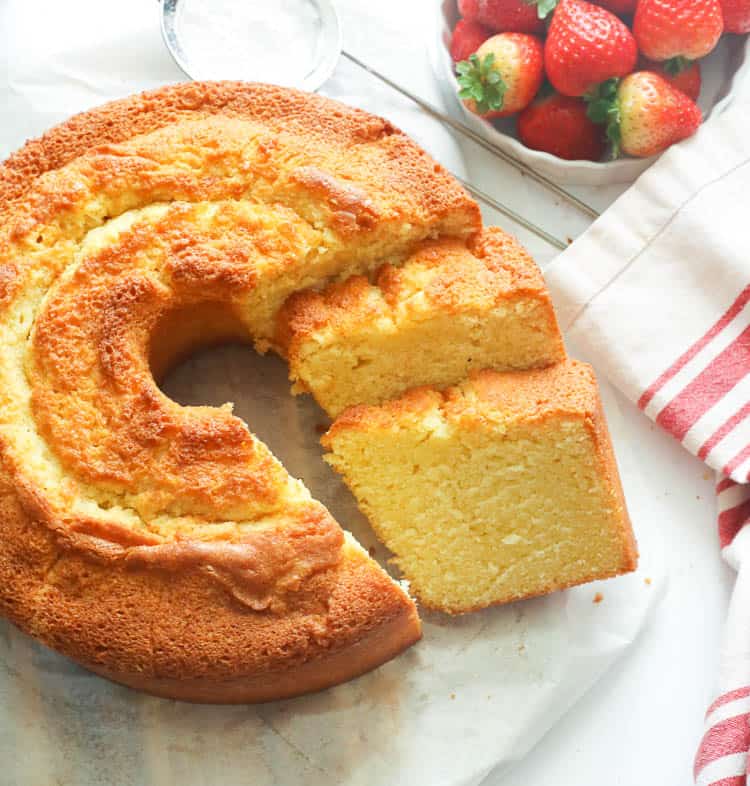 Good ole Southern Pound Cake with a crusty exterior and a soft and moist crumb. Oh, what a beauty! It is guaranteed easy to make with only 8 basic ingredients which probably are just sitting in your pantry like flour, baking powder, milk, and butter.
Top it off with Whipped Cream, Caramel Sauce, Candied Pecans, or fresh fruits for a glamorous finish. 😉
20. Pecan Pie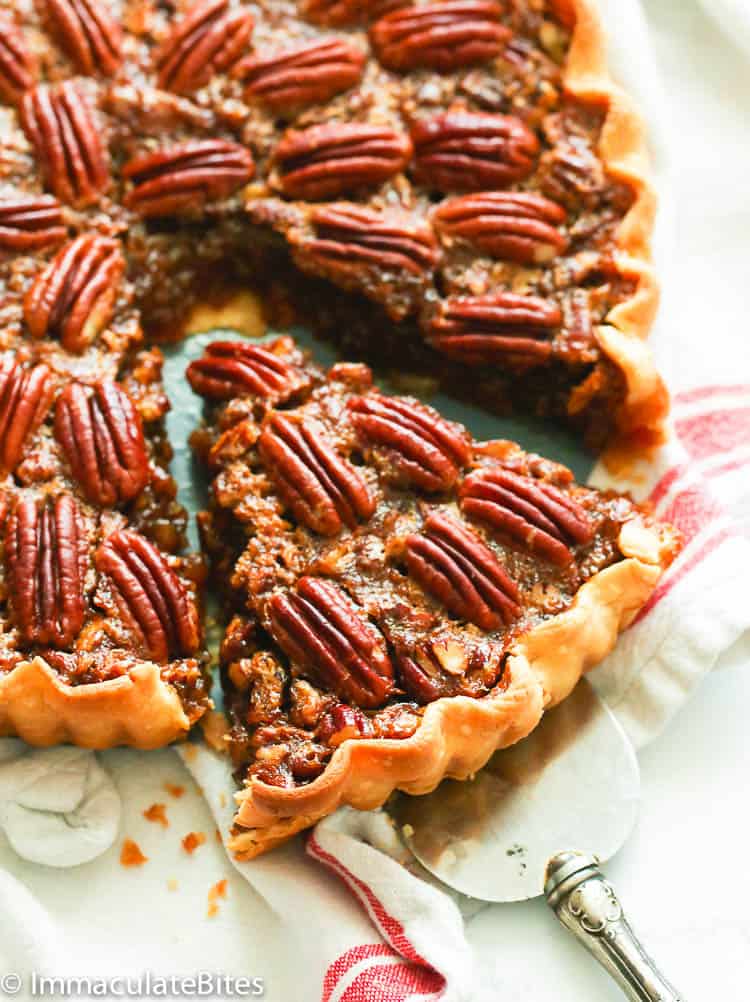 Indulge yourself with this decadent sweet dessert. It has a toffee-like filling with just the right amount of sweetness and is then generously topped with pecans. Everything in this pie is desirable – from its custardy nutty filling down to its flaky buttery homemade Immaculate Bites Pie Crust!
It's super rich and delectable, you can eat all your worries away! Top it off with a scoop of vanilla ice cream for a crave-worthy treat. Double yum!
21. Sweet Potato Pie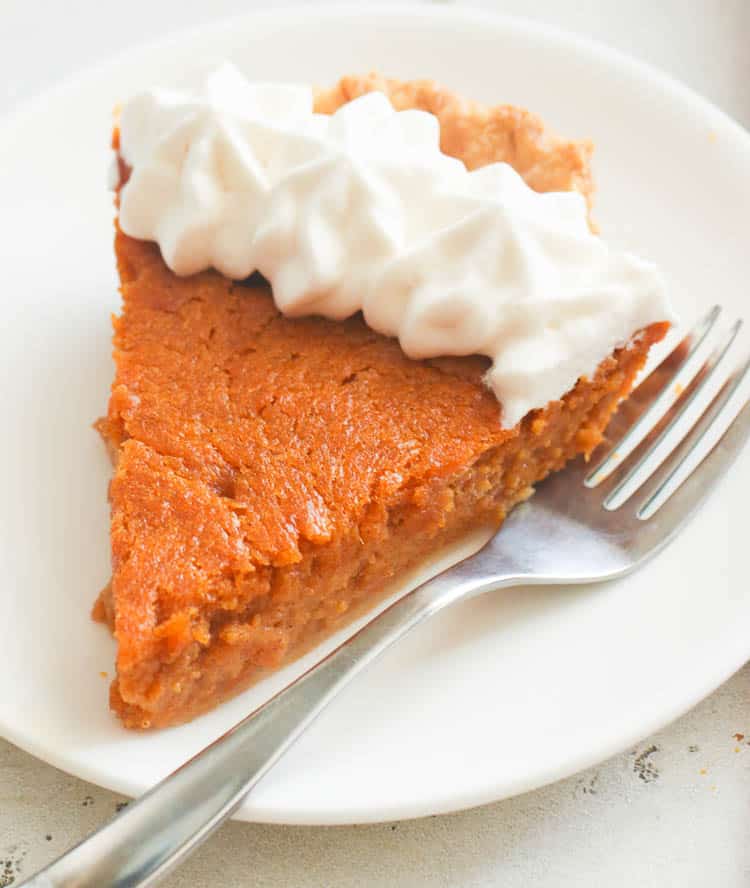 Stunningly gorgeous and insanely delicious sweet potato pie is all you need to make the holidays or any day even better. The addition of nutmeg, ginger, and cinnamon spices adds another layer of deliciousness and the Immaculate Bites Homemade Pie Crust makes it more extraordinarily special.
Make it more inviting and enticing by adding Homemade Whipped Cream or Caramel Sauce drizzle on top.
22. Caramel Cake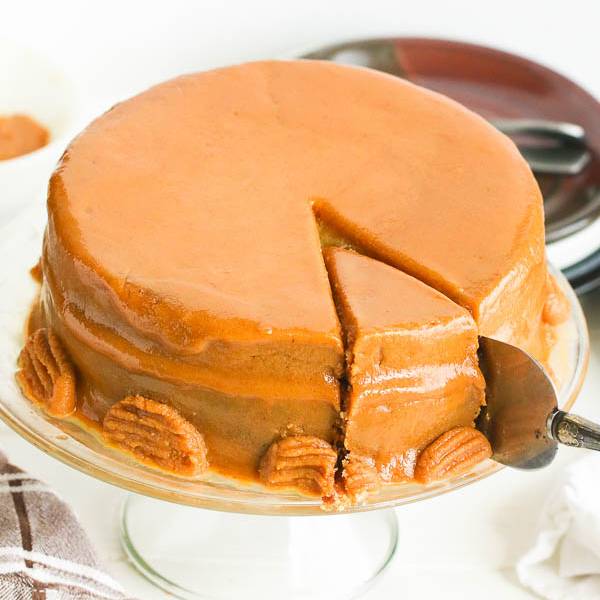 This recipe won me over because of the perfect balance of sweetness and saltiness of the luscious and silky smooth caramel frosting.
And it gets even better! The layers of buttery, moist yellow cake are also filled with caramel goodness. 😍 This cake always makes me care less about sugar and carbs. Fortunately, every slice is worth the carbs! 😉
23. Banana Pudding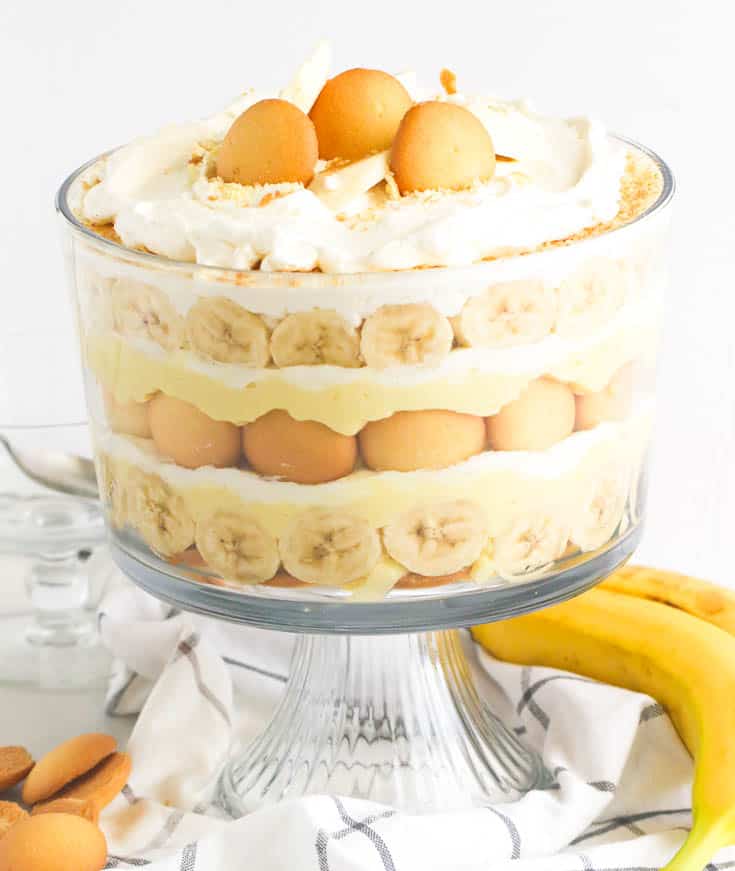 Making a dessert has never been this easy with this no-bake Homemade Banana Pudding. The creamy and velvety custard has just the right amount of sweetness and "egginess". Certainly a dessert the whole family will love!
Those wonderful layers of vanilla wafers, fresh banana slices, whipped cream, and vanilla custard make a fantastic make-ahead dessert perfect for potlucks and family gatherings.
24. Peach Cobbler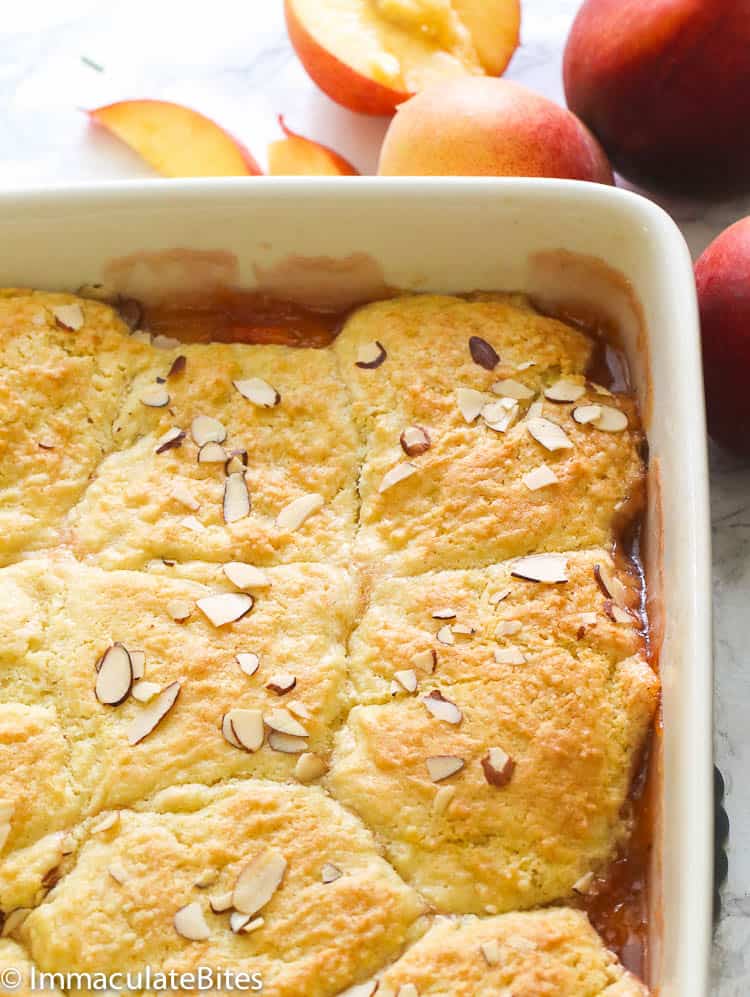 The juicy fresh peaches complement the buttery and crusty biscuit-like topping. And that peach filling? It's delightfully bursting with lovely distinct flavors from cinnamon and nutmeg. A delicious summer dessert that can be enjoyed all year round.
I love it with hot tea or coffee and my Chai Tea Latte for afternoon snacking or breakfast (coz why not?). What makes soul food special is that it always reminds everyone of home cooking, even with its simple ingredients. So, what are you waiting for? Play your favorite soul music and get cooking! 🙂
Print
Soul Food Recipe
In celebration of National Soul Food Month, I give you food recipes to enjoy all day from brunch to dessert and from the Southern classic favorite Chicken and Waffles to the best-tasting Sweet Potato Pie. Mouthwatering and easy-to-make comfort foods that will surely satisfy and warm your soul.