Slow Cooker Jamaican Curry Chicken — lip-smacking creamy curry chicken in a perfect blend of curry spices. Make it a one pot meal with vegetables .
Ever since I started cooking, I've been drawn to curry with it's hot-spicy flavor-combination. Evidence of this can undeniably be found throughout this blog and most notably with Homemade Curry Powder.  
So after making my own Jamaican Curry spice blend … it's pretty obvious that I had to put it to the test and this Jamaican slow cooker chicken will have make you want to LICK your plate clean- Guaranteed!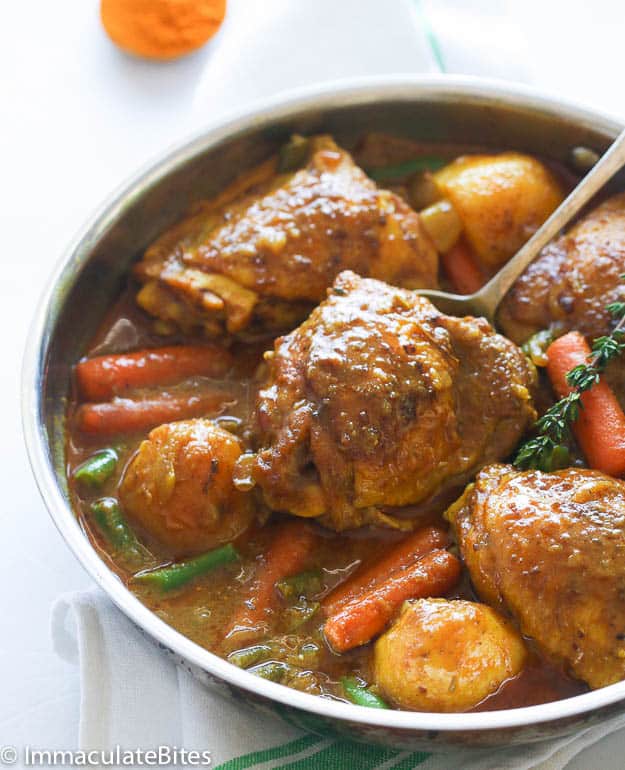 Picture this, chicken thighs slowly cooked in spices like coriander, cardamom, cumin, ginger, fenugreek, turmeric and cayenne pepper are combined with onions, garlic, and coconut milk to create a vibrant, subtle yet strong curry flavor profile. The coconut milk not only adds richness and a lovely aroma, but it helps to mellow out the curry spice, so it's not too overpowering. Good enough for EVERYONE!
This slow cooker Jamaican curry Chicken starts with chicken parts. As always I use chicken thighs, which are my go to chicken part because it rocks. You can use chicken breast if you prefer but cut back on the cooking time.
This chicken took about 3 hours on high and still yields a very tender chicken. If you want shredded chicken then give it another 30 minutes or more.
Don't want to use a crockpot? Just add all the remaining ingredients, cover and cook for about 40 minutes or more and you are all set. Or check out this Jamaican Curry chicken here. Since I don't like my veggies too mushy, I always add it towards the last hour or less before the timer goes off. You decide. Feel free take it switch out potatoes and veggies to suit your needs. Serve with white rice if desired Enjoy!!! Notes.  You may remove chicken skin if skin has visible fat to prevent curry from being too oily.
Slow Cooker Jamaican Curry Chicken
Ingredients
Seasoned chicken
3 - 3 ½ pound chicken thighs (see notes)
1 teaspoon or more curry spice/powder
Salt and pepper to taste (or use chicken seasoning)
¼ cup or more canola or cooking oil
1 onion sliced
1 Tablespoon minced garlic
2-3 sprigs thyme
½-1 teaspoon paprika
1½ -2 Tablespoons Curry spice/powder
1-cup coconut milk
½ cup chicken broth or water
1 bay leaf
1 Tablespoon tomato paste
1 scotch bonnet pepper
1-pound potatoes or more peeled cut in medium pieces
1-pound carrots and green beans (more or less)
1-teaspoon chicken bouillon optional
Salt to taste
Instructions
Season chicken with, salt, pepper and curry spice and set aside
In a large skillet or non stick pan, heat oil over medium heat, until hot, and then add the chicken and brown on both sides about 4-5 minutes until chicken is brown.
Remove chicken and set aside. Drain oil and leave about 2 tablespoons
Add onions, followed by minced garlic, thyme, paprika, curry powder, stir for about 5 minutes, for the flavors to blossom. You may add scotch bonnet now or add it towards the last 45 minutes when adding the vegetables
Add coconut milk, water , bay leaf ,and tomato paste; continue cooking for another 2 minutes.
Salt I used about 1 teaspoon and ½ teaspoon chicken bouillon (adjust to taste)
Place in slow cooker insert, and then add chicken thighs. Gently throw in potatoes.
About 45 minutes or an hour before chicken is ready throw in vegetables, continue cooking until chicken and vegetables are ready.
Remove adjust for salt if necessary and serve