8 Healthy Okra Recipes – Showcasing Southerner's favorite (other than gumbos and stews) okra recipes featuring fantastic appetizers and snacks to love. There are so many ways on how to cook them ladyfingers – enjoy them baked or fried. Quick, easy, and oh so delicious okra recipes to try, they're guaranteed to satisfy your soul food cravings all year round.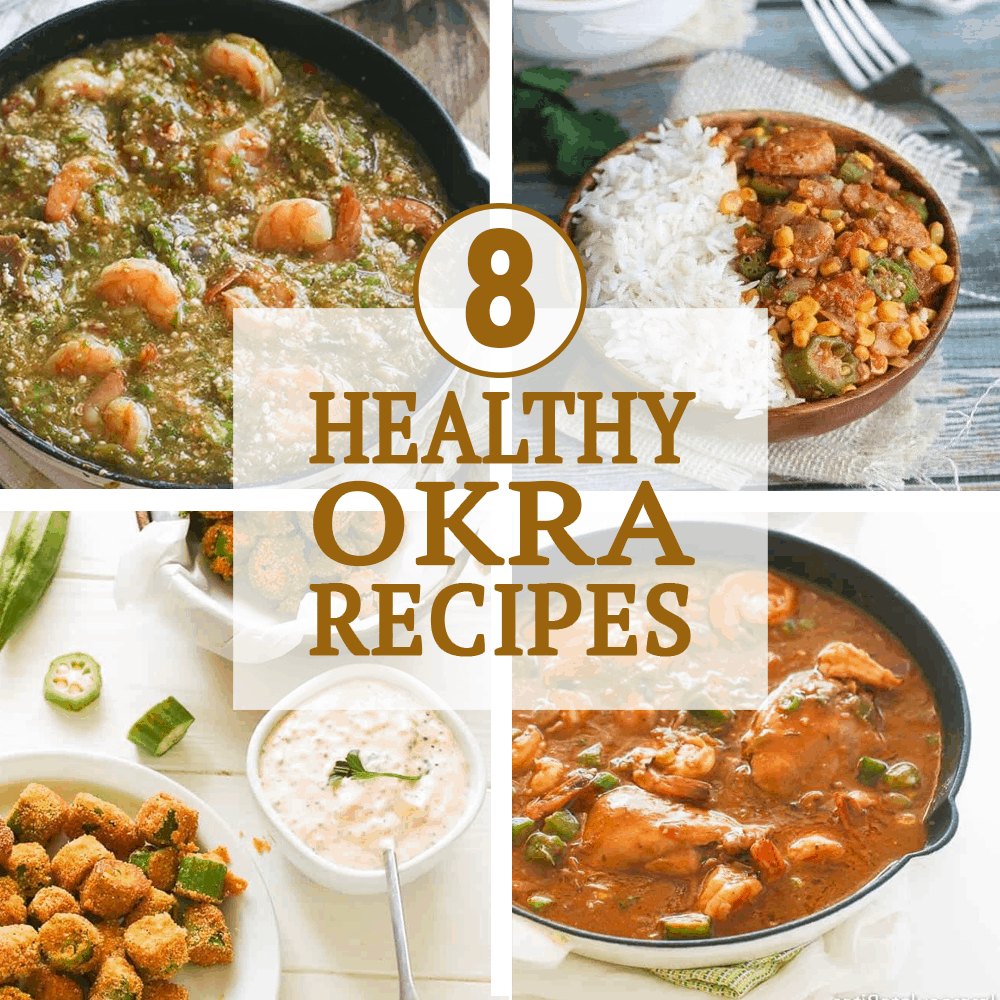 Okra recipes are truly a favorite in the South, as evident by the number of versions of gumbo and soup.
Although, some people don't like them because of their sliminess. On the contrary, okra is actually a delicious veggie with a sweet flavor profile.
You just have to get around the slimy feel to really appreciate the okra's taste.
Thankfully, you don't need to do that with my okra recipes. Because these recipes are so darn delicious, and they get rid of or hide the sliminess. Especially my fried okra bites; even your kids will be snaking on them and asking for more. What a great way to get them to eat and love okra. ❤
There are various ways to cook okra. They can be steamed, grilled, baked, or fried, and they will always come out fantabulously tasty.
The pickled okra recipe is equally delightful, too. But these 8 Healthy Okra Recipes below are certainly my top favorites. And I think they'll be your new family-favorite recipes this season, too. 🤩
1. African Okro Soup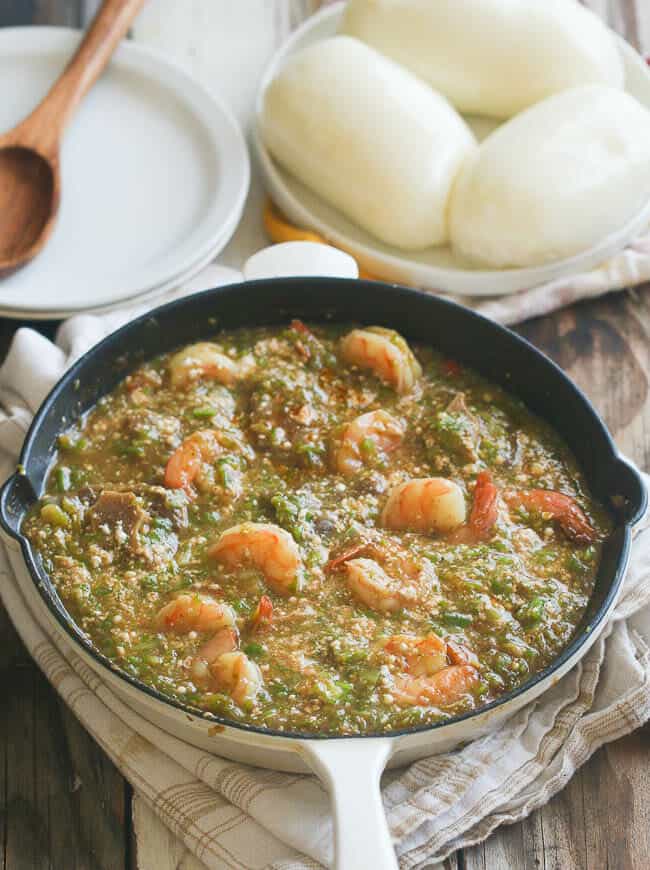 If you're not a fan of okra, then let me change your mind with this hearty okra recipe here. It's loaded with spinach, egusi, and meaty goodness from beef or oxtail, shrimp, and crayfish. You'll definitely love the creaminess and spice of this okra soup enriched with beef or chicken bouillon, paprika, and red pepper flakes. 👌
Okra Soup
Dive into a swirling pot of flavorful magic with a soup extravaganza! Brace yourself for a beautiful dance of succulent okra, tantalizing spices, and tender chunks of meat – all simmered to perfection. So prepare to embark on a taste journey to make your taste buds do the happy dance!
Check out this recipe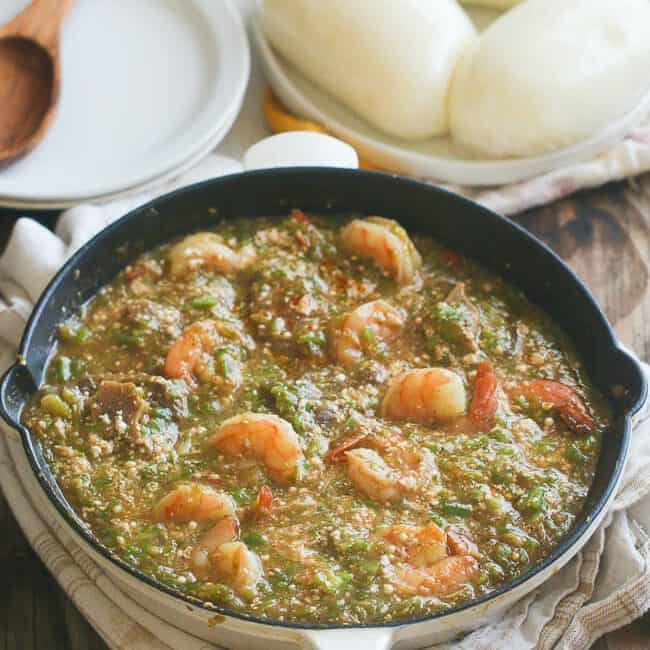 2. Chicken Shrimp And Okra Gumbo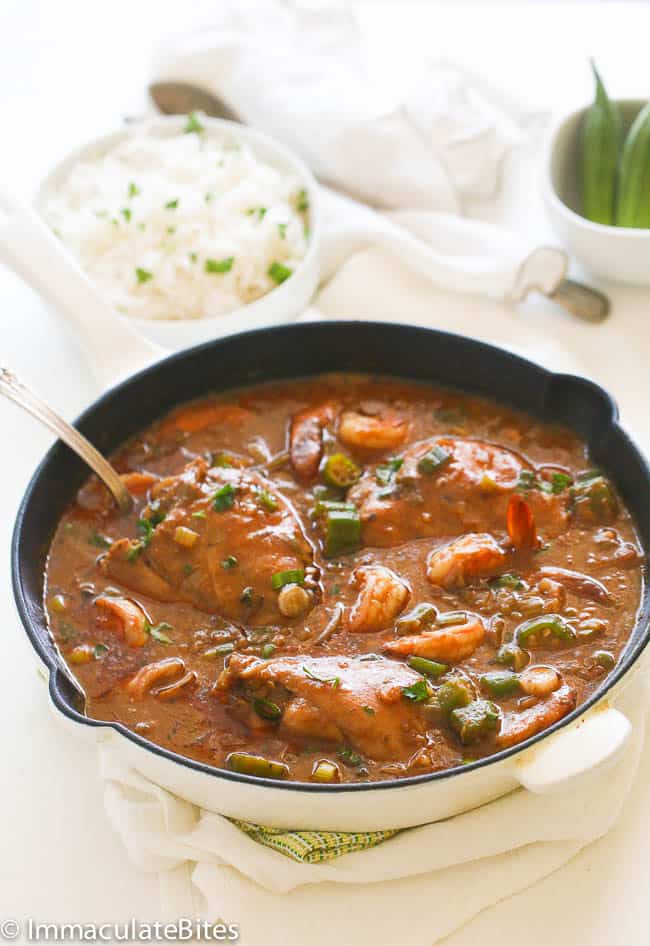 What's not to love in this flavorful okra and tomato recipe? Especially when it's brimming with authentic Southern gumbo flavors brought about by Creole Seasoning. Aah! Just awesome! So soul-satisfying along with our favorite comfort foods—rice, cornbread, and potato salad.
Okra Gumbo
Easy Okra Gumbo done right! With rich, authentic flavors and incredibly delicious taste, this protein-loaded southern comfort food dish will have your family begging for more. That's a guarantee!
Check out this recipe
3. Creole Chicken Okra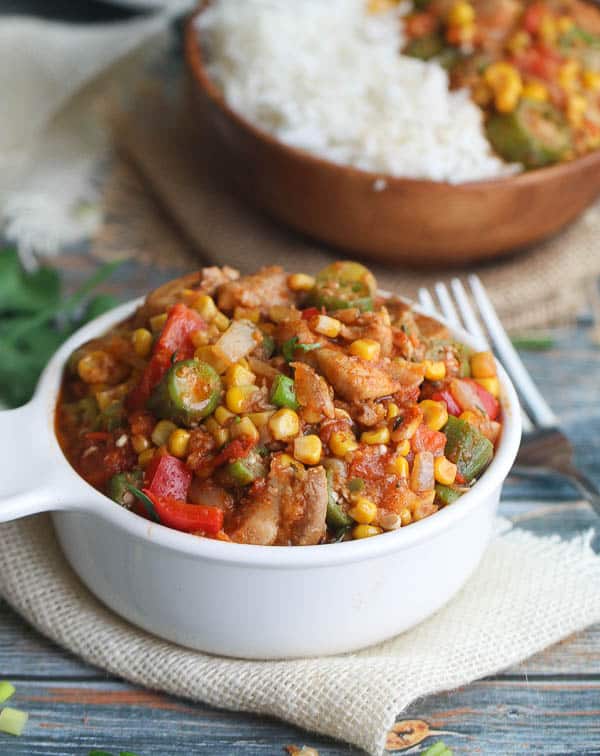 One of the best okra recipes and definitely one of my favorite soul foods, too! I love the perfect blend of complex Creole flavors happening all at once in this amazing recipe. Aside from Grilled Salmon, it goes pretty well with rice dishes, such as Jollof Rice and Dirty Rice.
Creole Chicken Okra
Creole Chicken Okra is hearty, healthy, and filling dish with tons of vegetables and spices, and it all comes together quickly. A great weeknight meal and perfect soul food.
Check out this recipe
4. Fried Okra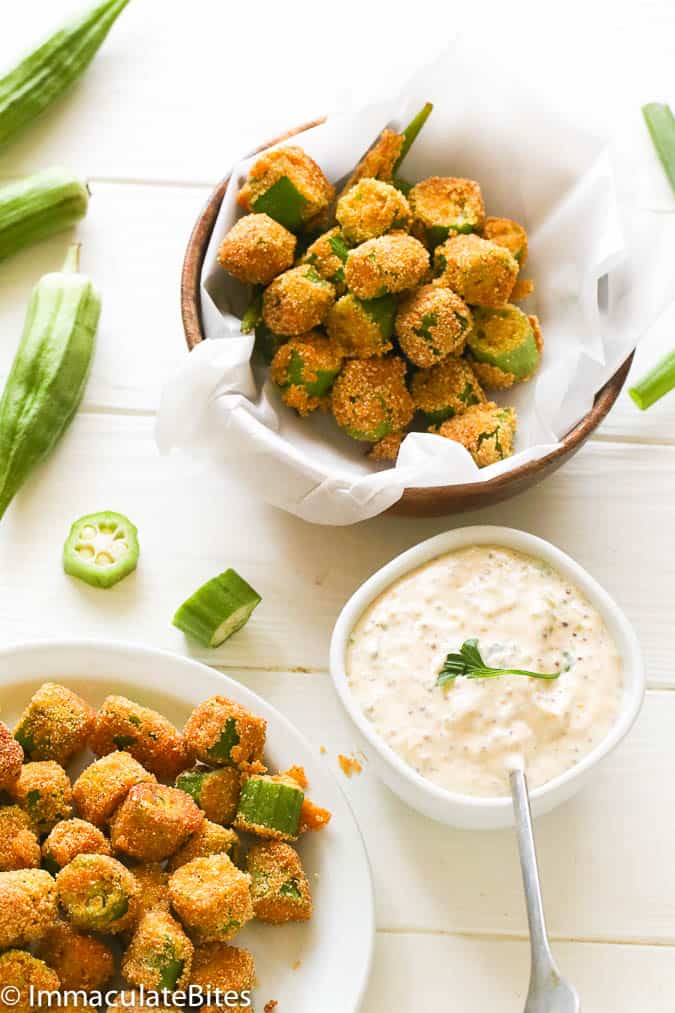 This cornmeal-coated okra is one of the easiest fried okra recipes you'll ever make, literally. Because it's as easy as cutting, coating, and frying the okra slices, and you're all set to enjoy these healthy bite-sized goodies. Easy peasy! And it's vegan, too! Yaaay! So easy to make yet make a fantastic snack, appetizer, and side dish perfect for the whole family. This is the recipe that has the power to convert okra haters into okra lovers.
Southern Fried Okra
Simply delicious chunks of okra dredged in cornmeal and flour batter and fried until golden brown. Crunchy on the outside and airy on the inside for a classic Southern comfort food.
Check out this recipe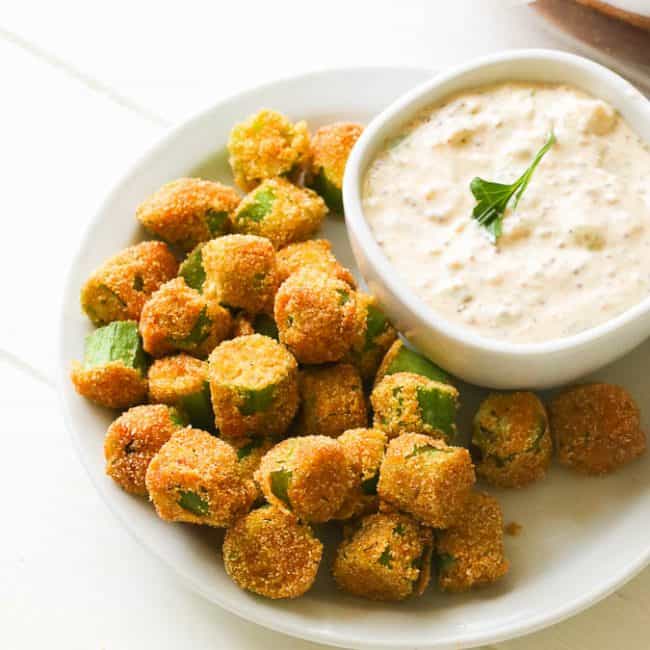 5. Muamba Chicken (Muamba De Galinha)
And, of course, the list of okra recipes wouldn't be complete without this Muamba Chicken here. This spicy and savory tomato-based soup is truly the epitome of comfort food. But if you want to mellow down on the spiciness, you may opt to use less spicy chilies like jalapenos or serrano peppers instead. 😉
Muamba Chicken (Muamba de Galinha)
Muamba Chicken aka Muamba de Galinha – An aromatic Angolan Chicken Stew , flavored with garlic , chilli , vegetables and cooked in palm oil.
Check out this recipe
6. Okra Fries
Enjoy vegan snacks made of slices of okra seasoned with salt and chicken-style seasoning, drizzled with some olive oil, then baked to perfection for a fantastic finish. You may use Taco Seasoning or Italian Seasoning, too, to amp up the flavor. What a great way to convince picky-eaters to eat okra. Oh yes!
Okra Fries
My delicious Okra Fries are a great way to add veggies to your diet as a snack, appetizer, or side dish. It is also a great way to get picky eaters to try something new!
Check out this recipe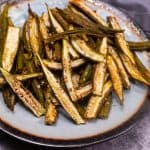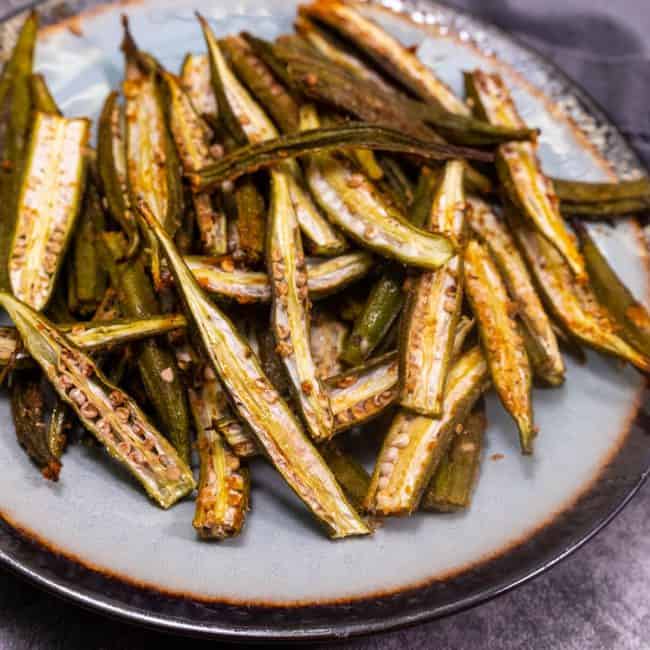 7. Okra Curry Recipe
What could be more comforting than finishing a bowl of this traditional spicy curry dish made with coconut milk, tomatoes, and fresh okra? Not only is this okra recipe easy to make, but it's also bursting with great flavors from spices such as allspice, thyme, garlic, and pepper. Above all, you can enjoy it guilt-free and completely vegan. Double yaaay!
Okra Curry
This Okra Curry Recipe is so flavorful and easy to prepare, ready in only 20 minutes. Okra or ladyfingers cooked in a seasoned coconut curry sauce. Okra curry is delicious served with rice or quinoa
Check out this recipe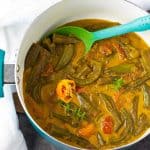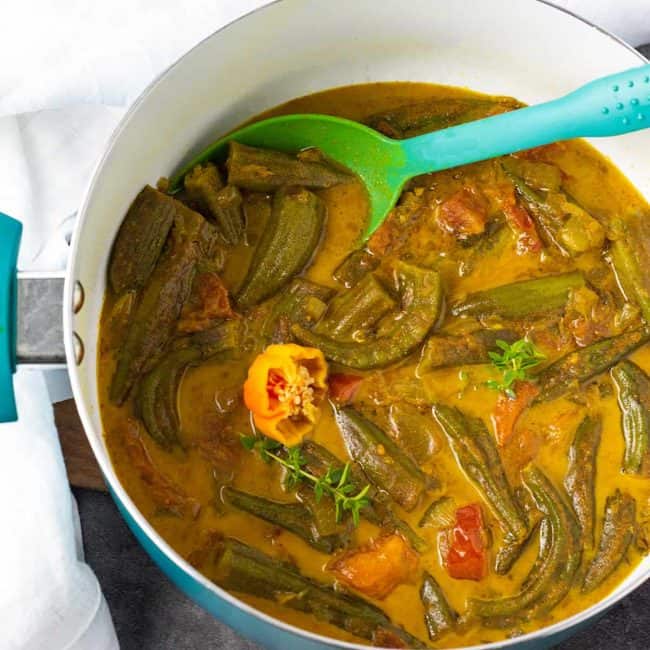 8. Okra Recipe Mediterranean-Style (Bamya)
Lastly, entice your tastebuds in this okra and tomatoes recipe with a Mediterranean twist, Bamya. The added citrusy flavor in the background is spot on! And most of all, this okra recipe is so easy to make with a fair list of ingredients yet offers a flavorful dish with the right amount of spiciness not too overpowering. Oh yes!
Okra Recipe, Mediterranean-Style (Bamya)
This okra recipe takes on a delicious, bright Mediterranean/Middle Eastern twist. It is the perfect balance of savory, tangy, and just a little bit spicy! We call it Bamya, a quick okra and tomatoes stew with onions, garlic, jalapenos, warm spices, and spiked with lime juice
Check out this recipe