7 Satisfying Tuna Recipes – Who would have thought a simple can of tuna could be such a life-saver? It's healthy and super speedy because we all probably have at least one can sitting on the shelf. Tuna is the perfect addition to a salad, pasta dish, or sandwich, and fresh tuna also works for these recipes.
Tuna is one of the most versatile and easy to prepare food out there, not to mention nutritious and economical, too. That said, you'll be at ease because you are bringing fresh, delicious, and healthy meals to the table without breaking the bank. And with these 7 Satisfying Tuna Recipes, you'll be an instant favorite chef that everyone loves to have at every party and gathering. 😉
FAQs
What can I do with a can of tuna?
There are so many tuna recipes out there. And all you need is a bit of imagination and a few ingredients to turn your canned tuna into a fantastic dish. My favorite canned tuna dishes are tuna macaroni salad, tuna melt, and tuna noodle casserole. Keep reading to learn more about these recipes and how to make them.
How do you make tuna tasty?
You can make both canned and fresh tuna extra delicious with a few additions of seasonings as simple as salt and pepper or more complex spices such as Creole Seasoning and Seasoned Salt. A splash of freshly squeezed lemon juice or lime also adds a refreshing citrusy flavor to our tuna. Yogurt and mayonnaise turn it into an excellent salad base. All you have to do is top your salad with a scoop of tuna with yogurt or mayo.
How do you cook tuna from a can?
Honestly, I usually put it in a salad without cooking it. But you can dump the tuna straight from the can into a pan to warm it up. It goes great in a cream sauce over pasta, mac and cheese for a meat-free dinner, or with sauteed veggies, such as spinach, bell pepper, carrot, and mixed with beaten eggs for an amazing frittata.
Canned Tuna Recipes
1. Tuna Noodle Casserole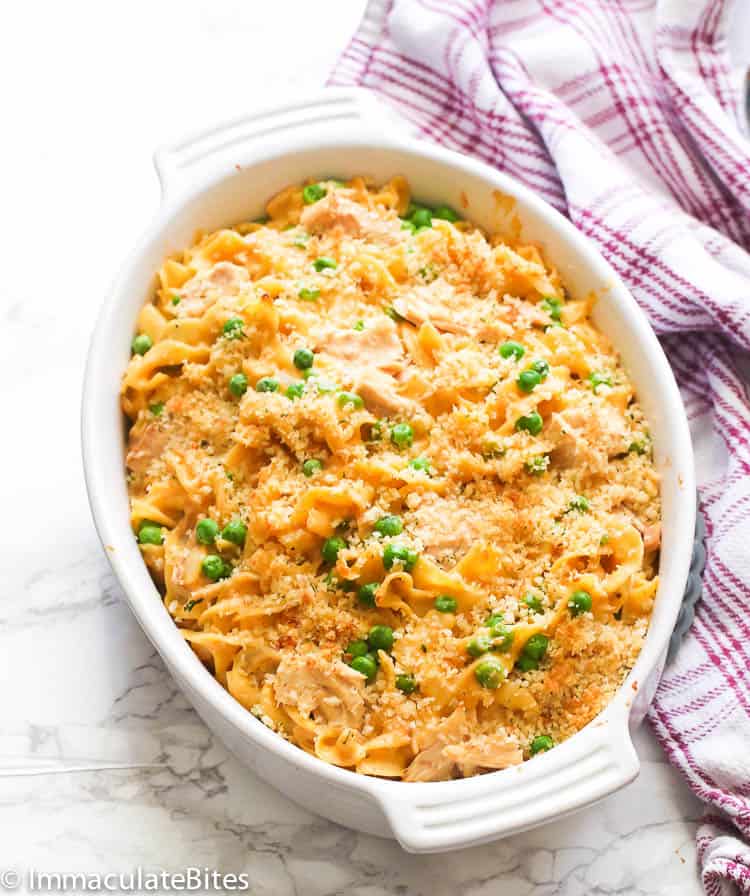 There's really something comforting about casseroles, like our tuna casserole recipe here. Whip this one up in a flash and watch how fast your family finishes off this creamy, cheesy, heavenly goodness. Yum!
Like any casserole, this one is best served straight from the oven. I love pairing it with veggies, like Greek Salad or Bacon-Wrapped Asparagus, to make it more filling.
Make-Ahead: Assemble the casserole in a baking dish and wrap it with a cling wrap. Store it in the fridge for up to two days or freeze it for up to two months. Simply thaw it in the fridge overnight, and bake when ready to serve.
Tuna Noodle Casserole
Tuna Noodle Casserole – a fuss-free budget-friendly casserole dish with flaky tuna, pasta, peas and cheese then topped with buttery breadcrumbs for a wonderful texture. Truly a family-favorite meal meant for busy weeknights!
Check out this recipe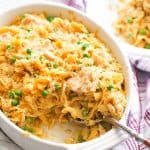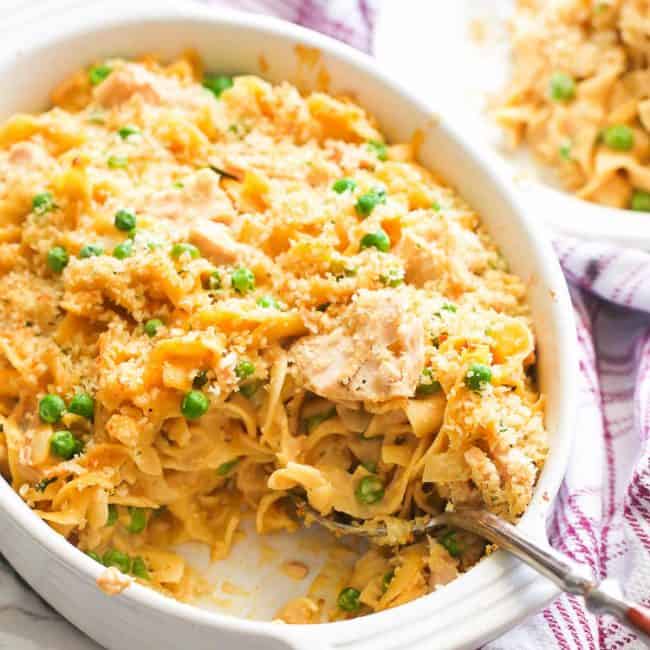 2. Tuna Macaroni Salad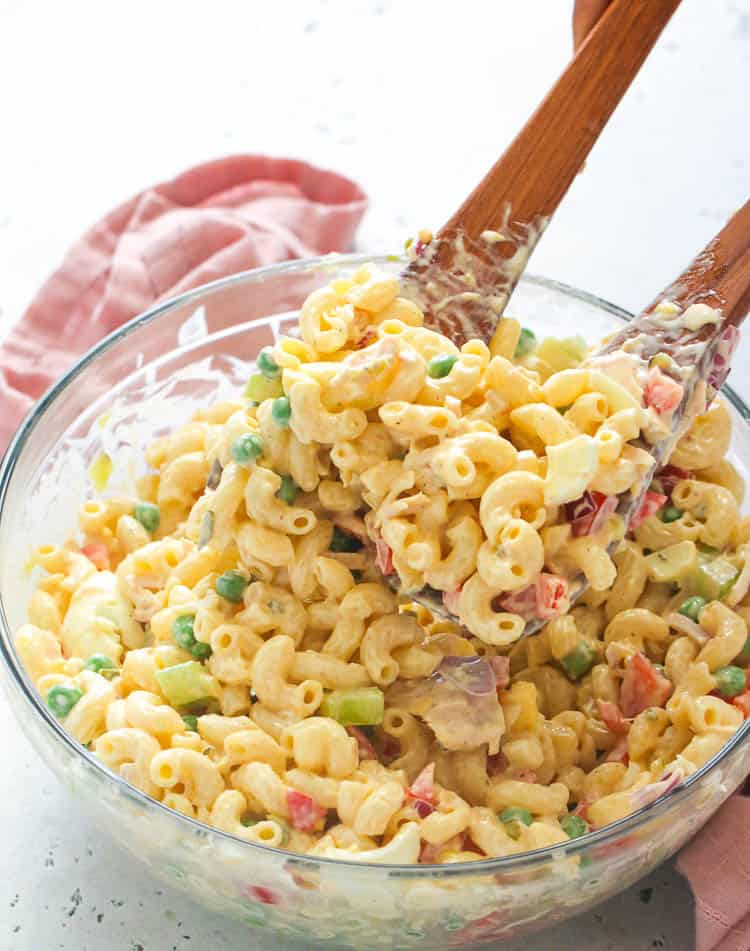 Be a potluck star with this easy tuna salad recipe that will surely impress everyone at the table. They'll surely enjoy the lovely combination of sweet and tangy flavors of this tuna salad from mayonnaise, mustard, lemon, and sweet relish.
I know this dish is already a filling on its own, but hey, there's always room for more if you'll ask me. Serve it with Tortilla Chips or Sauteed Brussels Sprouts to make it even more enjoyable.
Make-Ahead: Transfer the salad into an airtight container, and it will be good for 3-4 days in the fridge. I don't recommend freezing it because the mayonnaise tends to separate when frozen, altering our salad's texture.
Tuna Macaroni Salad
Nothing says contemporary food than this Tuna Macaroni Salad. With its sweet and savory mixture, this easy salad recipe is surely a crowd-pleaser with a lingering sensation of tuna and the silky smooth macaroni all coated in an amazing mayo-based dressing. This is a must-try tuna pasta salad for picnics, lunch, and even dinner!
Check out this recipe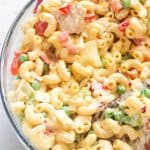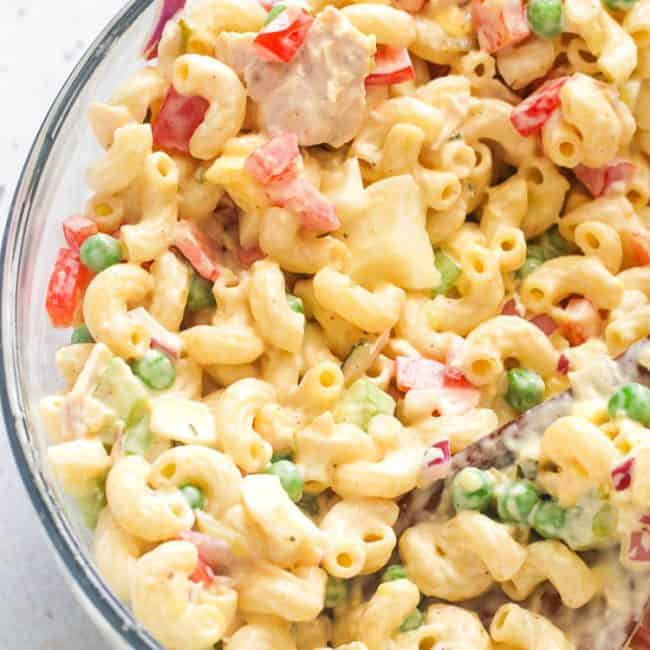 3. Tuna Melt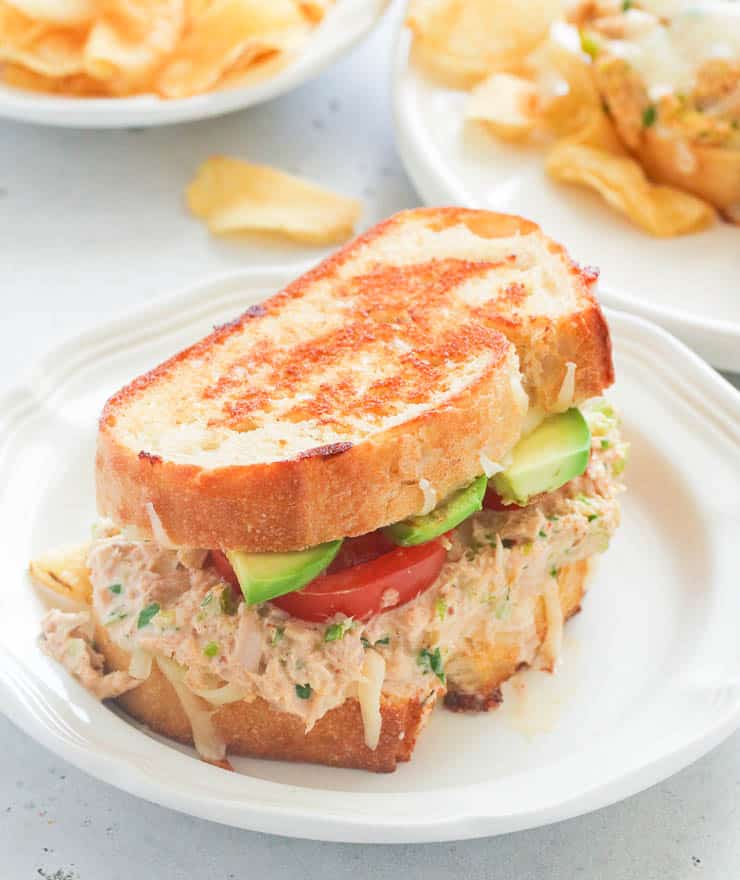 Level up your tuna sandwich and effortlessly turn it into this fancy tuna melt without the hefty price tag. Indeed, you can quickly whip up one of the easy tuna recipes with canned tuna, cheese, and fresh veggies. Oh yes! 👌
Go all out and impress your loved ones with a complete brunch spread by serving this Tuna Melt along with Potato Wedges and a warm bowl of French Onion Soup.
Make-Ahead: Prepare a hefty serving of tuna salad ahead of time to cater to sudden tuna melt cravings. Simply store it in a clean bowl or an airtight container and keep it in the fridge for up to four days. When ready to serve, prepare and assemble as instructed to enjoy it warm.
Tuna Melt
Tuna Melt is an incredible summer sandwich made with a ridiculously flavorful tuna salad and cheese on slightly crisp sliced bread, then topped with tomatoes and avocado. An easy picnic must-have or quick lunch fix that can be prepared either in the oven or on the stovetop. This will become your new favorite!
Check out this recipe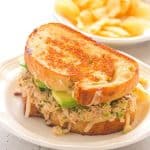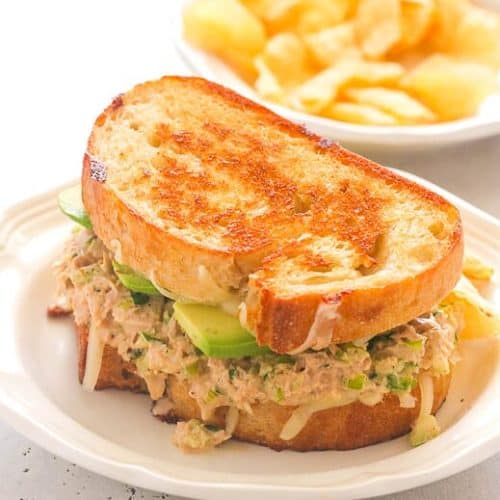 4. Avocado White Bean Tuna Salad
Are you looking for a tuna recipe that is fresh, light, and healthy? Then let me introduce you to yet another tuna salad recipe that will bring a fresh feeling to your palate while giving you also the protein and nutrients your body needs. ❤
Aside from vinaigrette, you can also try it with Homemade Ranch Dressing and Caesar Salad Dressing for an extra twist to this recipe. And if you want a more substantial meal, you can always pair it with a slice or two of Whole Wheat Bread or Cornbread Muffin.
This salad tastes best after all the flavors have settled in. So, I usually make it a day ahead and enjoy it chilled the next day. It will keep in the fridge for up to three days if properly stored. And since avocado is highly perishable, I suggest adding the avocado chunks on the day of serving. 😉
Avocado White Bean Tuna Salad
Avocado, White Bean, Tuna Salad- With Corn and Tomatoes . Drizzled with Herb dressing. Hearty and Satisfying Salad.
Check out this recipe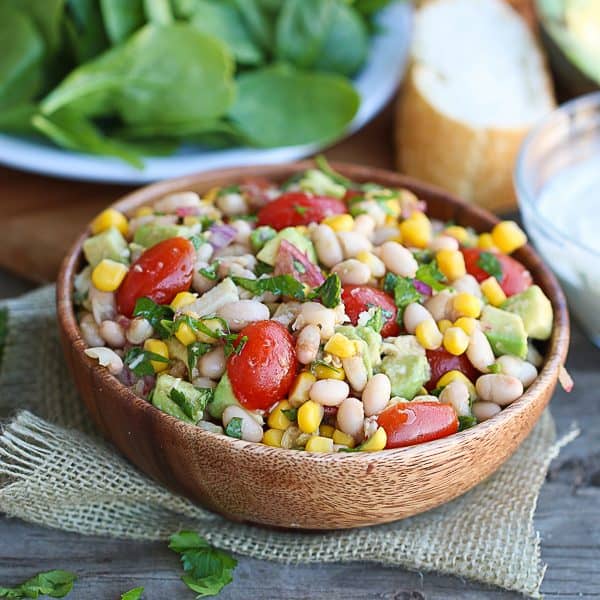 5. Vegan Tuna Salad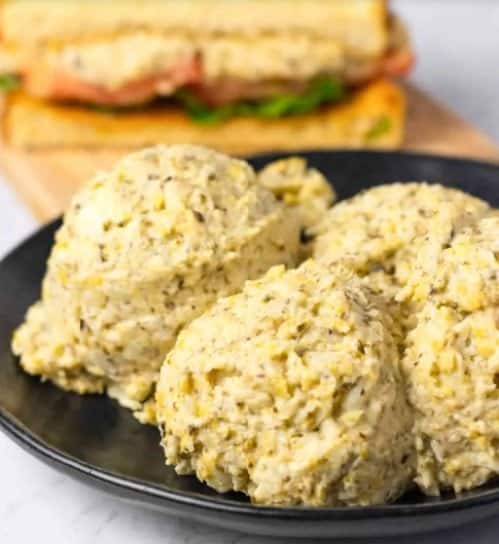 And yes, it's possible to enjoy vegan tuna salad without real tuna in it. Pretty impressive, huh? All thanks to amazing canned palm hearts mixed with chickpeas to give the "tuna" more body.
All hail to the versatility of this tuna recipe; you can enjoy it as a sandwich spread in lettuce wraps, sliced bread, or tortilla wraps. And to complete our vegan combo meal, you can also pair this "tuna" salad with Baked Stuffed Plantains or Tomato Basil Soup.
And the best part of this tuna recipe is that you can make this ahead, which will keep for about a week in the fridge. Oh yes! This "tuna" salad is perfect for brunch or snacks, especially for busy weekday mornings. 😉
Vegan Tuna Salad
If you are looking for a vegan tuna salad that will appease your cravings for an all time childhood favorite, or for your kids lunches, you've definitely found it here. Using a mix of spices, chickpeas, and hearts of palm, this vegan tuna salad recipe will become a staple easy lunch option.
Check out this recipe
Fresh Tuna Recipes
6. Grilled Tuna Steaks
I know for sure that you'll enjoy this grilled tuna recipe. Especially with its goodness flavors from grated ginger, toasted seasme oil, rice vinegar, and soy sauce
Enjoy these tuna steaks on their own or pair them with some Sauteed Brussels Sprouts or Wedge Salad on the side. You can also turn them into more amazing fresh tuna recipes by swapping the salmon with tuna steaks in Salmon Pasta and Salmon Salad, talking about endless possibilities with marinated tuna steaks. Wow!
Grilled tuna is best enjoyed straight from the grill to enjoy its juicy and tender goodness. Although it's almost impossible to have leftovers, they'll safely keep in the fridge for up to three days and up to two months in the freezer. Reheat on a stovetop, grill, or oven. Don't forget to thaw before reheating.
Marinated Tuna Steak
Make restaurant quality Grilled Tuna Steaks at home in less than 30 minutes. All you need are a few simple ingredients and a couple of high quality tuna steaks.
Check out this recipe
7. Ahi Tuna Poke Balls
All this Ahi tuna needs is a good marinade, and it's good to go. Easy peasy! Truly one of the best fresh tuna recipes you'll ever taste with no cooking skills required. It's genuinely nourishing, too, along with slices of cucumber, radish, avocado, served on a bowl of rice. What a winner dish, indeed! 🤩
I'll gladly finish a bowl of this Ahi tuna poke balls with Pineapple Cucumber Salad or Watermelon Salad on the side. The perfect balance of sweetness and tartness goes well with poke and will surely bring you spoonfuls of happiness with every bite. Yum!
And since Ahi tuna is served raw, it is best to consume it immediately to prevent bacteria from accumulating. So, I suggest preparing this dish only in a serving that you can finish on the same day.
Ahi Tuna Poke Balls
These Easy Ahi Tuna Poke Bowls are homemade and perfect for a quick weeknight dinner. Made with healthy ingredients like fresh fish, avocado, and rice, ditch your boring salad for this meal. Drizzle it in spicy mayo for an extra kick!
Check out this recipe
Whether you opt for fresh or canned tuna, all these tuna recipes will surely be a crowd favorite in an instant. From my personal favorite, Tuna Melt, to the quick and easy Tuna Macaroni Salad, you don't need to spend much on preparing these recipes. Yaaay! (Also check out my Cod and Salmon Recipe Collections.) Enjoy!