Bammy – A great tasting vegan, and paleo Jamaican flatbread made with grated cassava, dipped in coconut milk and fried until golden brown.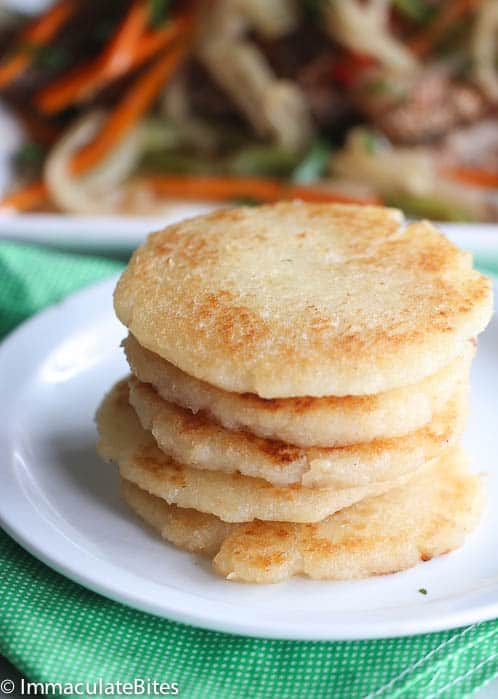 Immediately I saw this recipe on, That Girl Cooks Healthy – a lovely blog featuring healthy Caribbean recipes, I was intrigued and just knew I had to make it. Trying different recipes, especially those that involves coconut and cassava is what I am into these days. So I paid a visit to my closest Caribbean market and bought some commercial bammy -just to get a feel for it. After making this bammy at home there is just no comparison. Homemade tastes a 100x times better and I love it.  
Bammy is thick flat bread made out of freshly grated cassava and soaked in milk or coconut milk. It is sometimes used in the Caribbean households to replace bread.  
I cheated and used frozen grated cassava instead of grating the cassava ,from scratch then  added a tiny bit of sugar, that is just me. I feel it adds rather than detract from the recipe. You may omit the sugar if you are not too keen.
This flatbread is usually eaten for breakfast or as a side dish or  serve with this Callaloo or escovitch-fish Enjoy!
Watch How To Make It
Bammy Recipe
Bammy -A great tasting vegan, and paleo Jamaican flat bread made with grated cassava, dipped in coconut milk and fried until golden brown.
Ingredients
2

pounds

frozen grated cassava defrosted

3/4- 1

teaspoon

salt

1

cup

coconut milk

milk or water

1

tablespoon

sugar

optional

2-3

tablespoon

ghee or vegetable oil
Instructions
Depending on your frozen cassava you may have to

Using a cheesecloth or kitchen cloth, squeeze the heck out of the grated cassava.

Place in large bowl, add salt and sugar. Mix well

Heat up a fry pan or skillet on medium heat

Divide mixture into 8 and form circles. Oil fry pan add cassava mixture in the fry pan, then begin to flatten dough and form in a circular motion using the back of a spoon. Make sure all the parts of the mixture are oiled.

Cook for about 3-4 minutes on each side until lightly brown. You may have to do so in batches

Submerge bammy in coconut milk for about 15-20 minutes

Remove and lightly pat dry using a clean cloth or paper napkin Refry or grill on both sides for another 4-5 minutes until golden brown or according to preference.

Serve Warm.
Nutrition Facts
Bammy Recipe
Amount Per Serving
Calories 258
Calories from Fat 36
% Daily Value*
Fat 4g6%
Sodium 626mg27%
Potassium 351mg10%
Carbohydrates 52g17%
Protein 1g2%
Vitamin A 15IU0%
Vitamin C 26.7mg32%
Calcium 21mg2%
Iron 0.3mg2%
* Percent Daily Values are based on a 2000 calorie diet.