If you're looking for seafood recipes, you've come to the right place. I've compiled these fabulous seafood recipes, from soups to easy, baked fish. These incredible recipes will have you feeling like your at the ocean with the warm sand under your feet!
Seafood is fantastic, and there are so many imaginative ways to cook this fresh bounty from the sea! From the classic lobster bisque to spicy Cajun shrimp, there's something here for everyone — that may be why they say there's plenty of fish in the sea. 😅
Here are some of my favorite seafood dinner ideas, easy fish recipes, and exciting shrimp preparations. They will make you feel like you're on holiday at the beach.
The best part? Most of these seafood ideas are easier than you think! There's no reason you can't cook seafood more often. What are your favorite seafood dishes?
FAQs
Shrimp Recipes
1. Grilled Shrimp Kabobs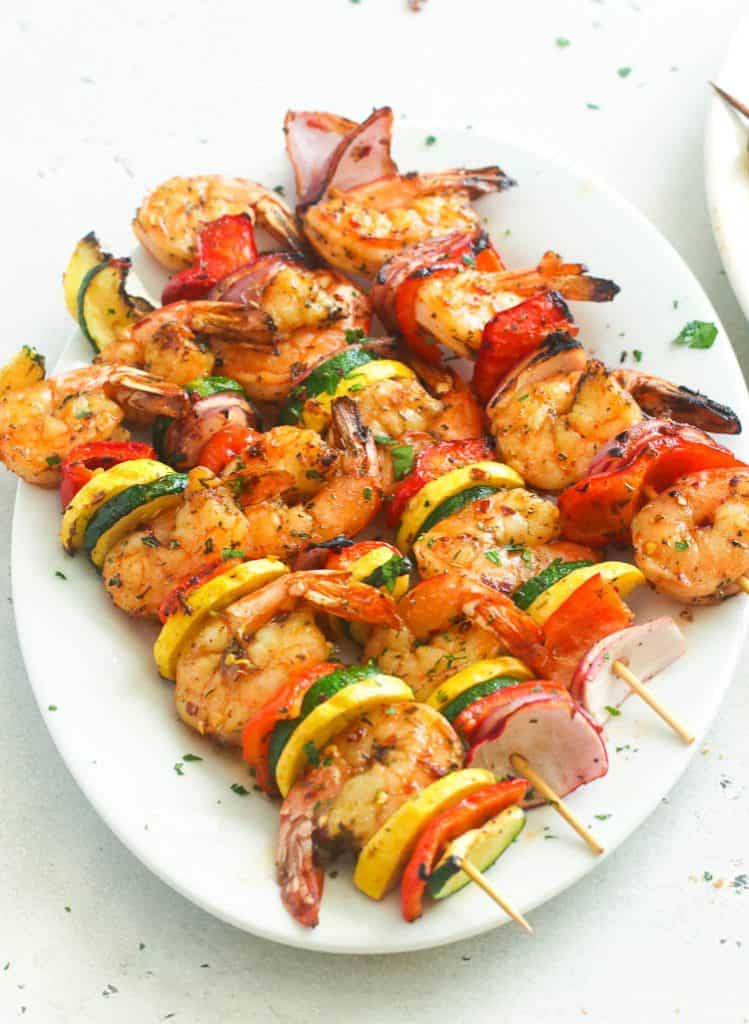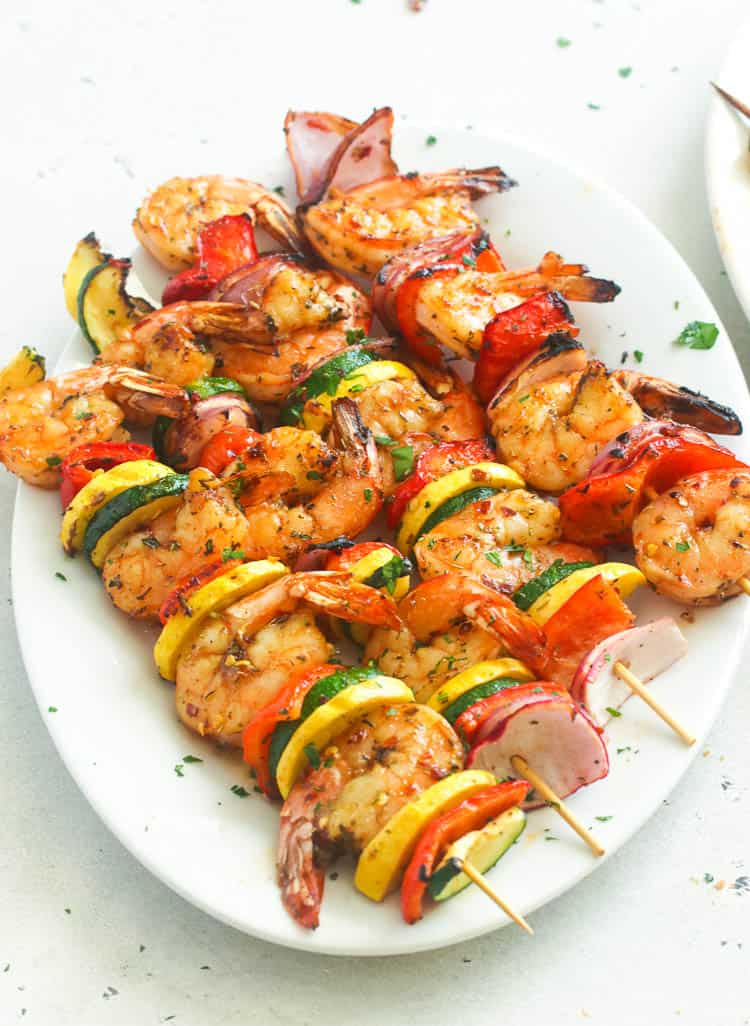 Food on a stick is always more fun. Here, we're making shrimp skewers with bell peppers, zucchini, and squash for one of the most colorful seafood dishes ever.
The shrimp in this recipe get their flavor from dried herbs, cumin, garlic, and spicy red pepper flakes! Drizzle them with lemon juice, and you're all set!
2. Chicken Shrimp and Sausage Gumbo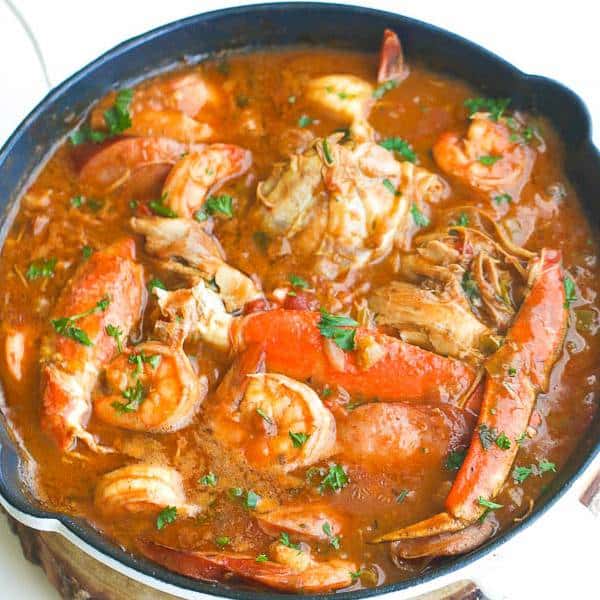 This rich and flavorful stew makes the most out of my favorite ingredients, shrimp, sausage, and chicken. Expect the most heart-warming explosion of flavor in every spoonful. How could I possibly make a list of seafood ideas without gumbo?
This one's a little tricky, but it all happens in one large pot. Onion, garlic, bell peppers, celery, and protein come together with our favorite southern spices for a rich and satisfying meal to share.
3. Cajun Shrimp and Grits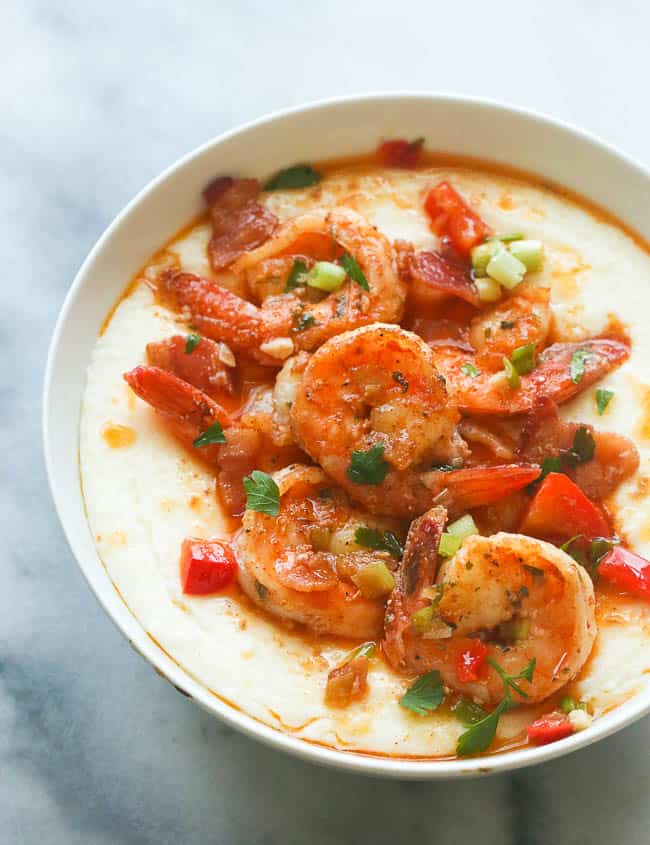 Nothing tastes more like the South than classic shrimp and grits. When cooked Cajun-style, you get an authentic southern comfort. Seafood dishes need not be complicated; the best are often the easiest!
For the grits, we're using quick grits, milk, butter, and cheddar. They're the perfect bed for some spicy Cajun shrimp spiked with smoked paprika!
4. Jamaican Curry Shrimp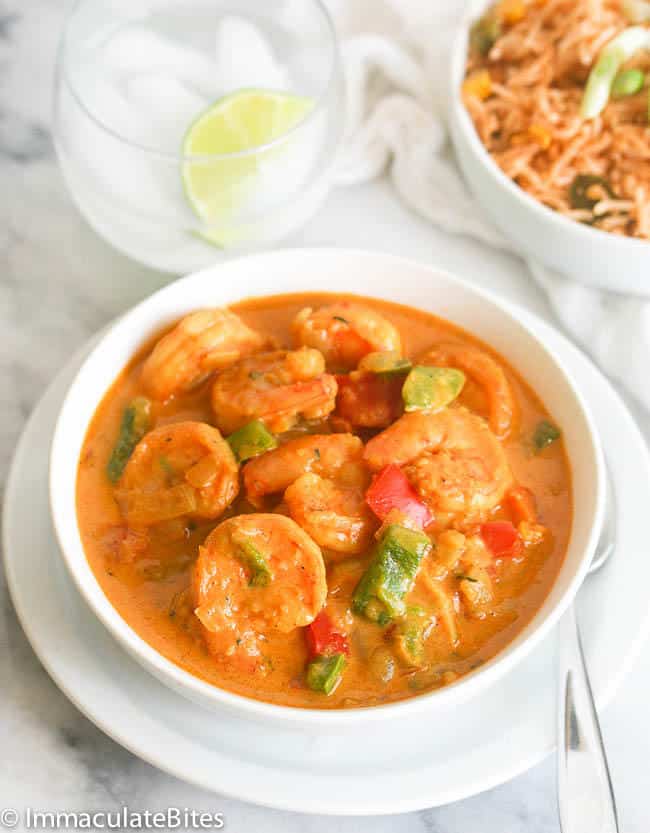 This is a curry recipe elevated to new heights. Really! And it's the perfect stage for the juiciest and most tender shrimp. Seafood ideas like these will make you fall in love with cooking again.
Curry powder, coconut milk, and tomato paste are a great combo. Now, add more spices and aromatics, and you'll have one mean curry.
5. Shrimp Etouffee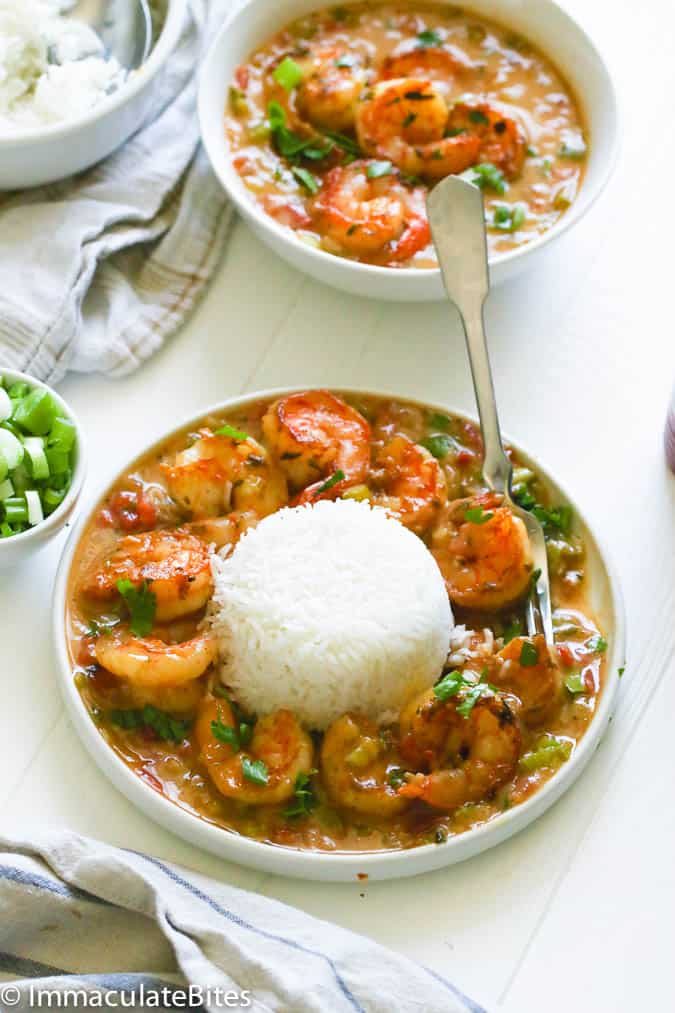 If you tried the etouffee above and loved it, just wait until you try this one with pink shrimp! This Southern meal is as colorful and aromatic as it is tasty. Make this one for friends and family — it's one of those amazing seafood ideas.
For this etouffee, you'll need your everyday seasonings and spices plus some herbs and a hot sauce; they kick up the flavor of shrimp beautifully!
6. Shrimp Po'Boy Sandwich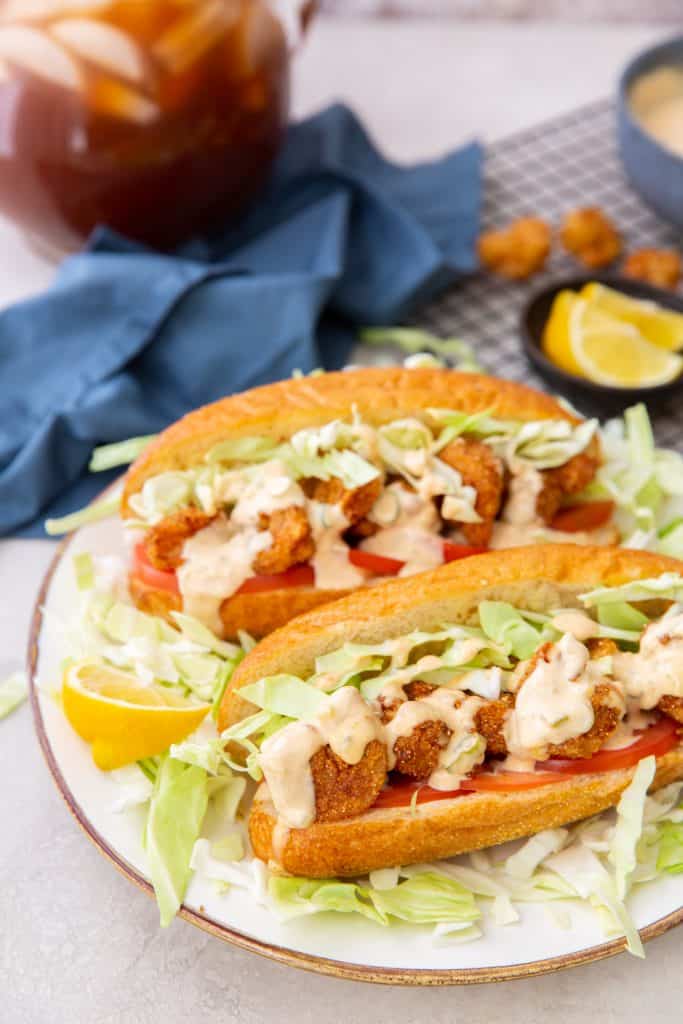 There are many good sandwiches out there, but some are just legendary. Make a few shrimp po'boys for your friends and enjoy one of the most straightforward seafood dinner ideas that's also great to grab-n'-go.
What makes this sandwich special is the homemade remoulade sauce, a creamy spread with lots of flavors and mild heat.
7. Garlic Butter Shrimp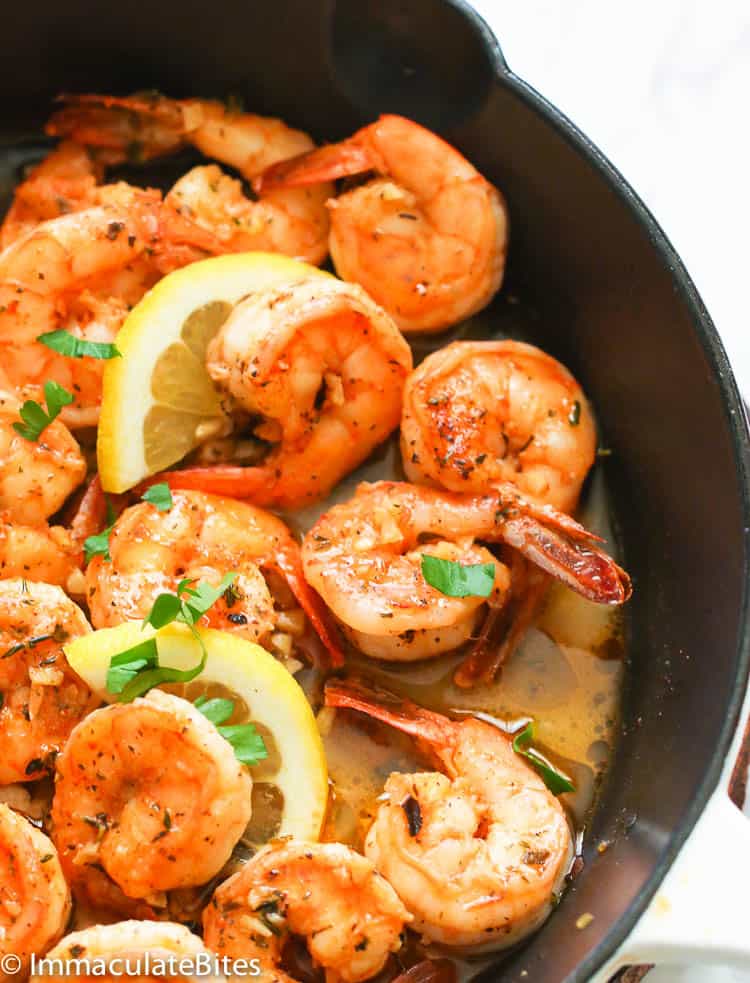 Now, for an authentically decadent meal, nothing beats garlic butter shrimp. It's one of those seafood dishes to make when you want to really impress someone. Incredibly delicious butter just makes everything better, especially shrimp.
You only need ten ingredients for this creamy shrimp, plus salt and pepper. And if you already have shrimp around, I'm reasonably sure you have all you need.
8. Cajun Shrimp Boil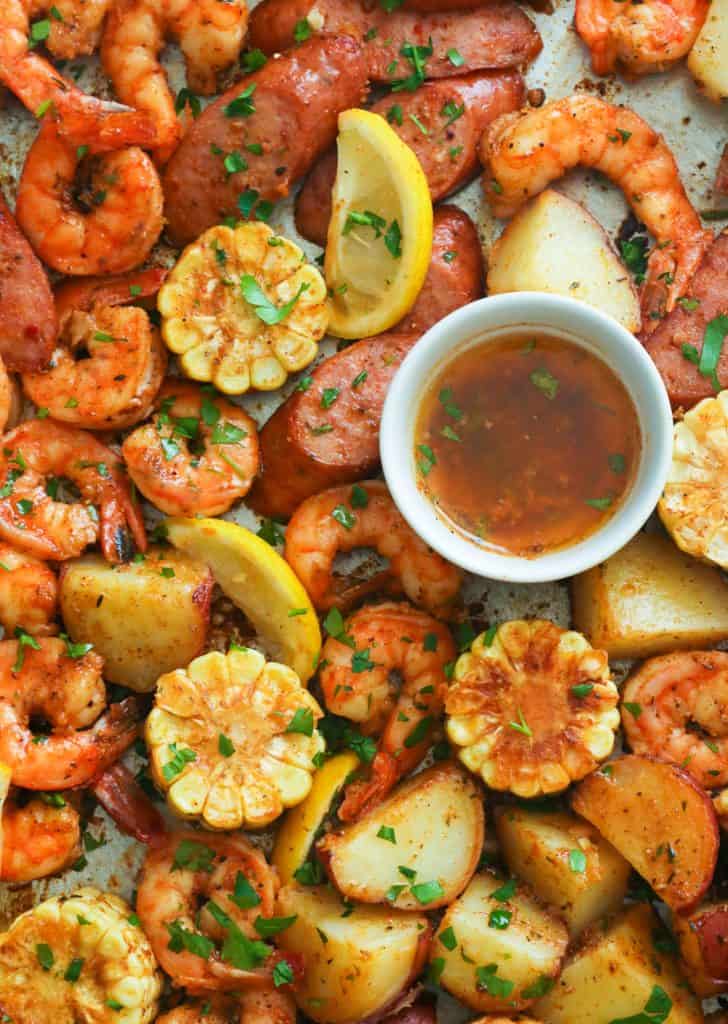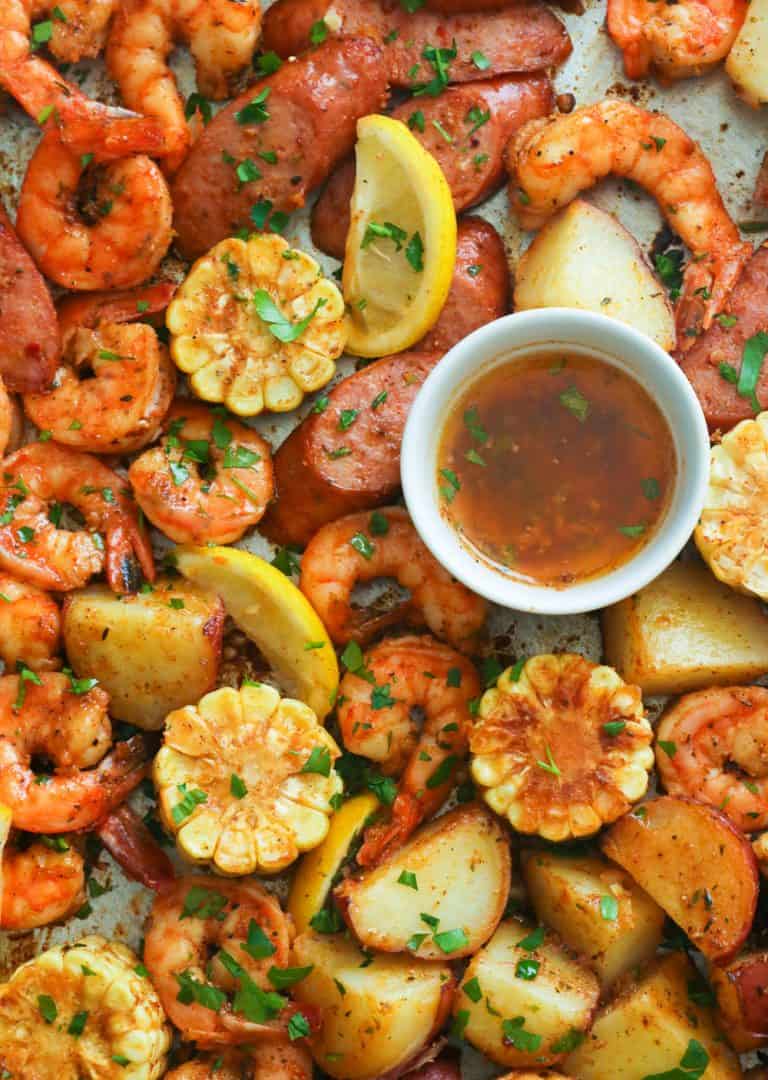 Yes, a shrimp boil is as easy as it sounds. In fact, you can make a whole pot of shrimp boil seasoned with the most delicious Cajun spices in 35 minutes or less. How's that for a quick meal? And the flavor, oh the flavor!
Shrimp, corn, and Andouille sausage are the stars here. And they're supported by butter, garlic, herbs, and a few tender potatoes. This is one of my absolute favorite seafood dinner ideas.
Easy Fish Recipes
9. Oven-Baked Salmon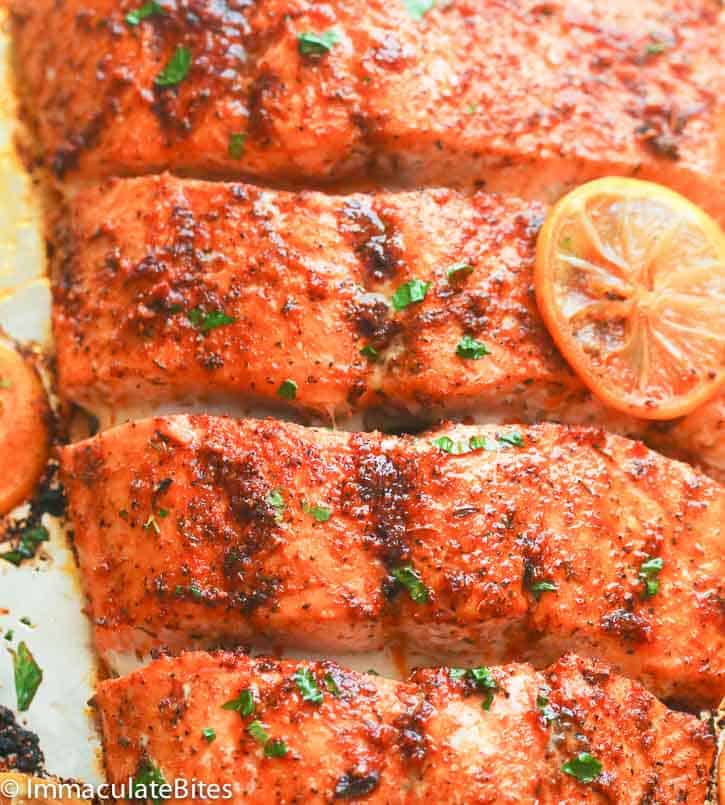 Cooking salmon is truly effortless. Simply bake it in the oven, and you'll have the most tender and flaky filet ever! Talking about quick fish recipes, this one's ready in 25 minutes.
Rubbing the salmon with garlic, onion, paprika, and lots of butter is the secret here. Cooking restaurant-quality salmon has never been so easy.
10. Jamaican Escovitch Fish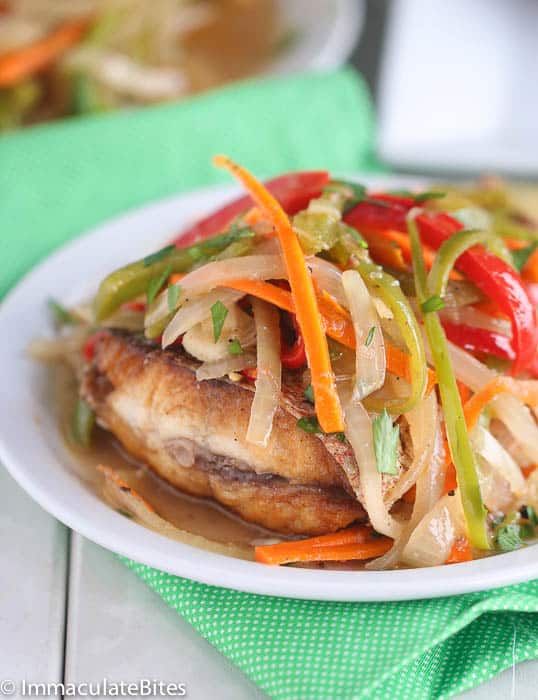 The secret behind an authentic escovitch is the vinegary sauce that brightens the fish's taste. The rest is your favorite colorful veggies — and don't forget to add a few hot Scotch bonnets; they make all the difference. You don't find super easy fish recipes like this one often.
Use whole red snapper or your favorite white fish for this one. You can also mix and match your favorite veggies. If you think it's hard to make Jamaican escovitch, think again!
11. Southern Fried Cat Fish
Have you ever tried catfish? Don't wait! This flavorful fish is a Southern staple, and it's tons of fun to cook. Fry some catfish and enjoy the perfect lunch and beer snack. Seafood dishes can be more than just dinner!
The best part of this recipe is the spicy tartar sauce. It turns fried fish into a gourmet meal! Mayo, mustard, and hot pepper relish make this dip an authentic treat.
12. Whole Baked Sea Bass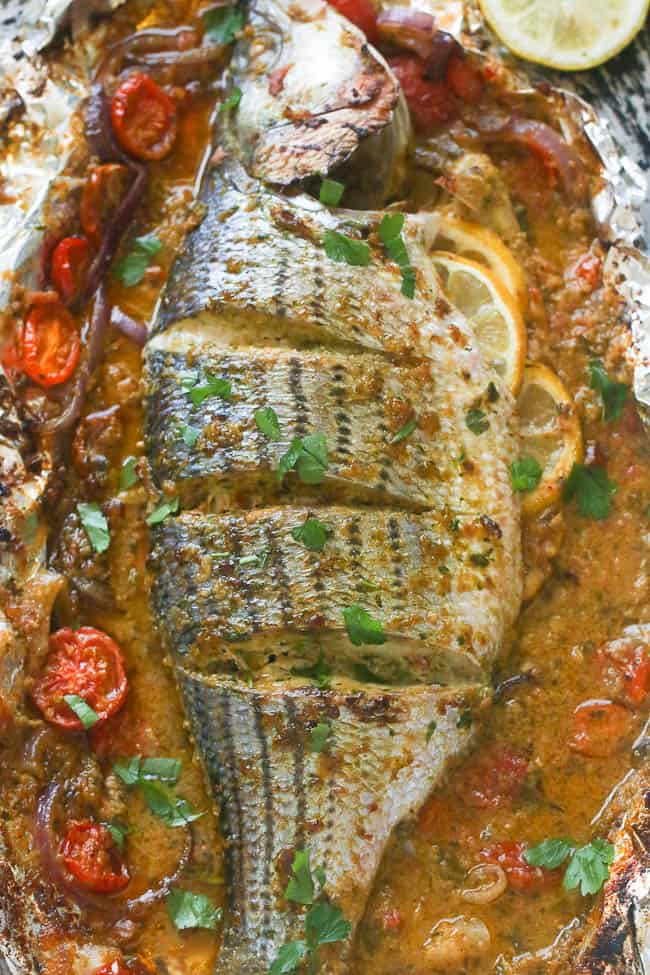 Have you run out of easy fish ideas? Bake a whole fish, and you're good to go. This fantastic baked sea bass ends up juicy and fork-tender. Easy and healthy, this one's a no-brainer.
You can use sea bass, red snapper, or tilapia for this one. I recommend using fresh parsley and basil for the best results if you can.
13. Caribbean Grilled Whole Red Snapper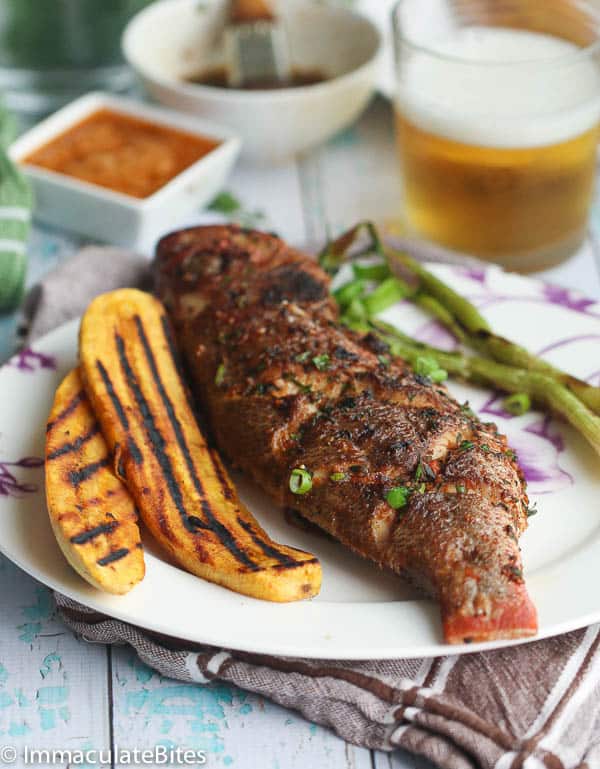 What's so helpful about having easy fish recipes on hand is that they're ready in minutes. Only seafood is this easy to cook. Now, check out this Caribbean-inspired whole fish that ends up attractively smoky and flavorful.
To grill a whole fish, you need the right spices. And for the Caribbean feel, that means allspice, cloves, ginger, paprika, and fresh herbs. Serve this one with plantains! Yum!
14. Baked Halibut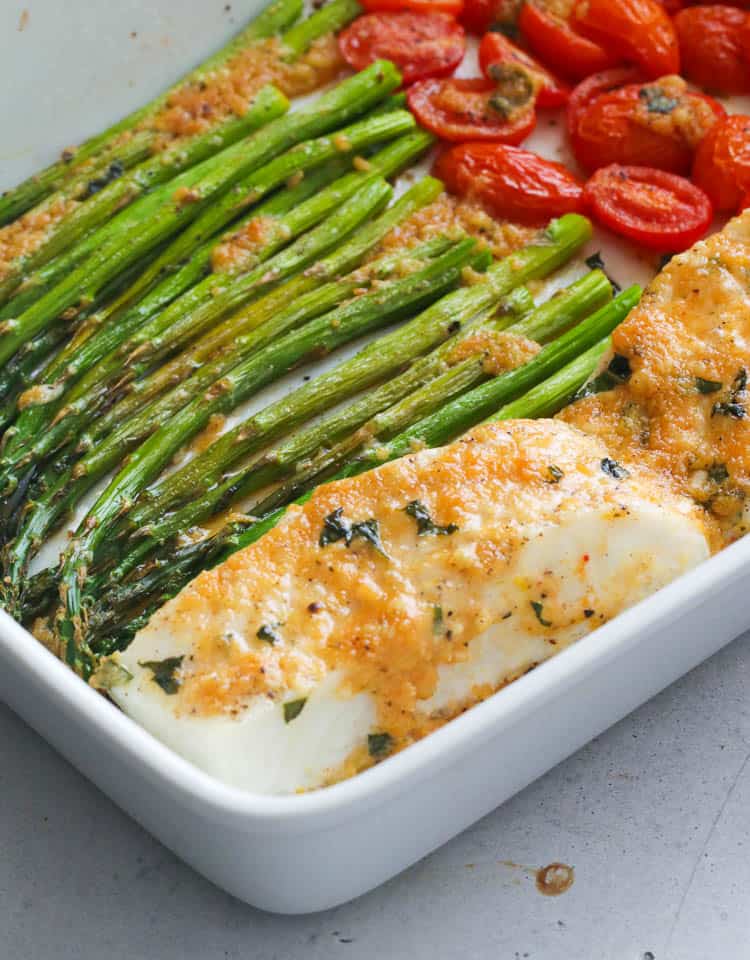 Halibut is an excellent fish. Bake it with your favorite veggies, and you're in for a restaurant-quality meal that won't kill your budget. Seafood dinner ideas that take just 20 minutes are my favorite, and surely, they're yours as well!
To bake a halibut filet, season it with lemon juice, salt, and pepper. That's it! You can bake the veggies while you're at it for a complete meal.
15. Caribbean Fish Stew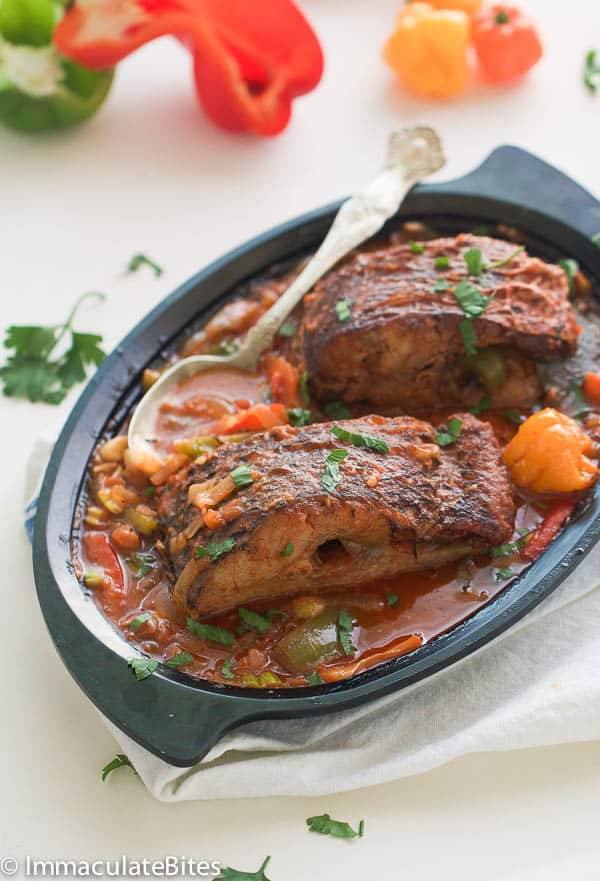 No one cooks seafood better than the good folks in the Caribbean islands. Let's just say it comes naturally. Well, now you can cook fish like they do in the Caribbean.
This stewed fish is sea-scented comfort food that will surely bring a smile to your face. How's that for fun seafood recipes? To get this one right, marinate the fish with ginger, garlic, thyme, pepper, and lemon juice; that's the secret.
16. Jamaican Saltfish Fritters
Saltfish fritters are a street-food specialty in Jamaica, and you can just make a batch and take it with you. Great snacks, fun lunch, and one of the most crowd-pleasing easy fish recipes. These fritters are just fun.
I use boneless salted cod for these, but you can use any white fish. The rest is just flour and Caribbean seasonings. You can make 12-15 of these in less than an hour! Whoopee!
17. Grilled Tilapia (African-Style)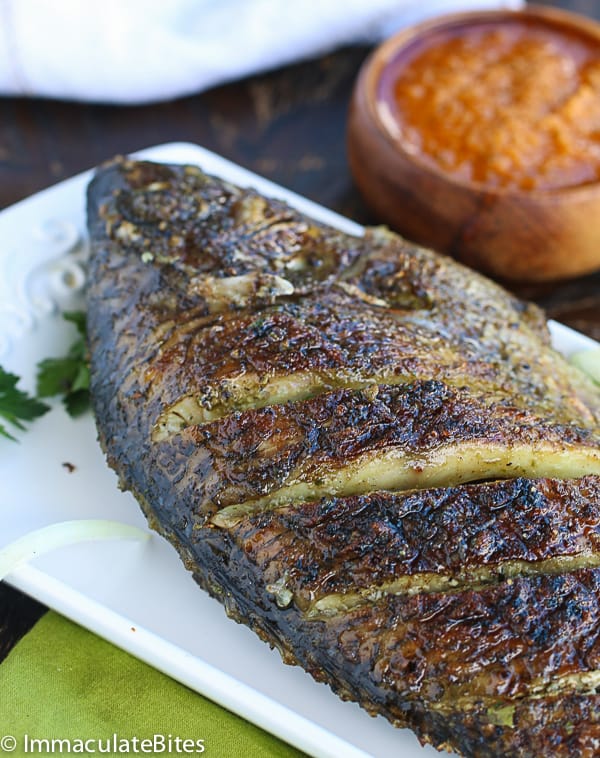 Cooking African-style is life-changing. Really! The spices make a whole tilapia a meal that will take you on a world tour of flavors. I'm sure you've mastered all the easy fish recipes. Now you can cook fish like a pro.
Get ready to use all the spices in your pantry; they'll give the white fish the loveliest African flavors.
Other Seafood Recipes
18. Crawfish Etouffee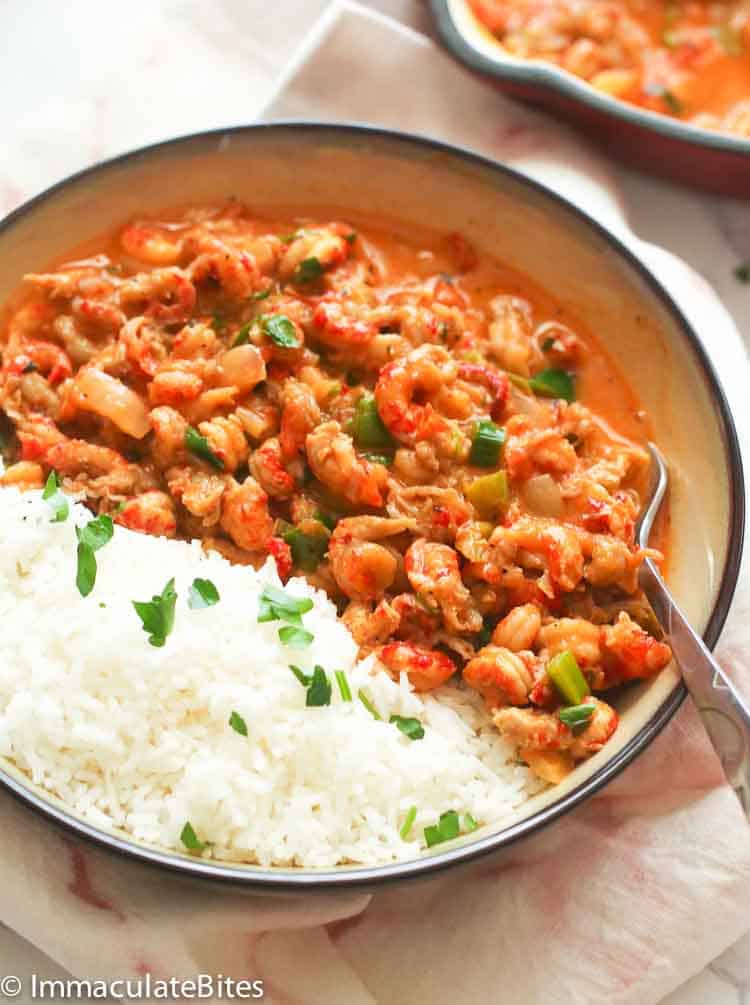 Etouffee is just a fancy word for an utterly delicious seafood stew. For this one, we're going with crawfish. That makes it a seafood dish that is perfect for both weeknights and special dinners.
Cooking the crawfish low and slow in a Dutch oven with plenty of veggies and spices gives this comfort dish a fancy yet oddly familiar personality.
19. Lobster Bisque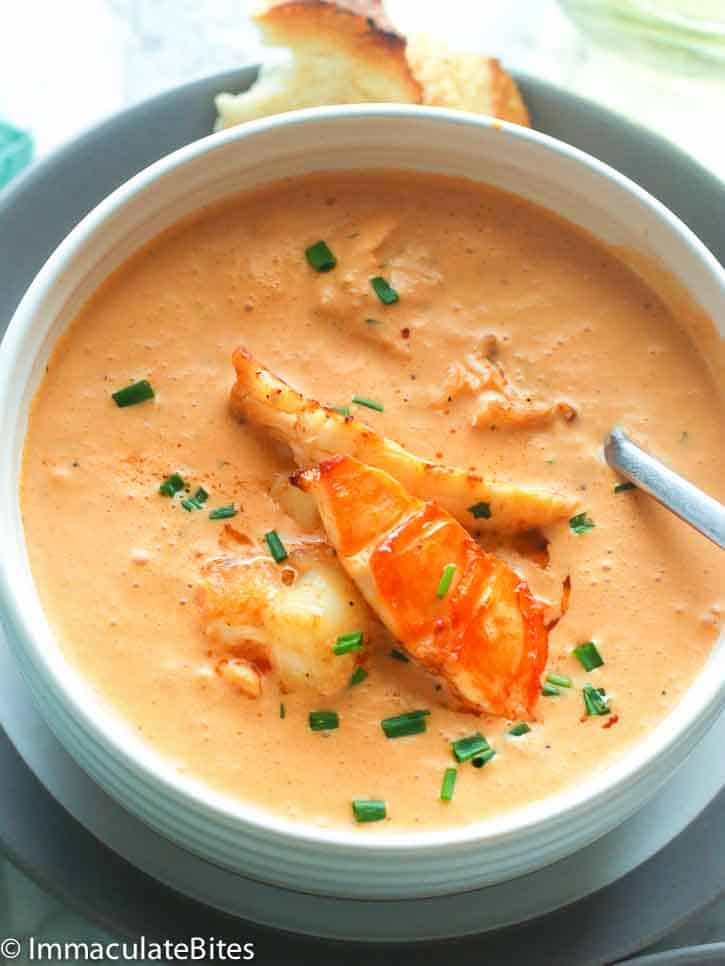 When it's chilly outside, there's nothing like the all-time classic, the Lobster bisque. This one's a charmer! Let's just say there are few better ways to use lobster tails.
Heavy cream, lots of butter, a whole lot of herbs, spices, and a few lobster tails make the silkiest bisque ever.
Want a shrimp version of this? Check out my Shrimp Bisque.
20. Baked Crab Legs in Butter Sauce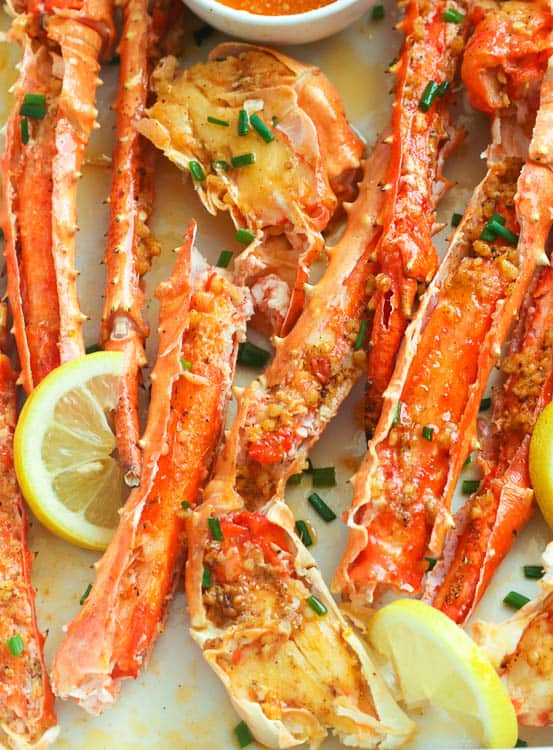 Crab legs can be intimidating, but they're a source of some of the most exquisite seafood dishes. Just cook them with garlic butter sauce, and you'll have an award-winning appetizer in twenty minutes.
Garlic, butter, seasonings, and lemon juice are all you need to cook crab legs like a pro.