12 Easy Pasta Casserole Recipes – I have collected quick, easy, and fuss-free pasta casserole recipes that are sure to give you super comforting, delicious meals. And all that in less than an hour. Yes! You read right! They are absolutely family-friendly and budget-friendly, too, and offer restaurant-quality meals perfect for regular dinners – whether or not it's a special occasion. Awesome!
Creamy and cheesy are two words that perfectly define what comfort food really is. Good thing they are precisely what these pasta casserole recipes offer.
You won't even need fancy and expensive ingredients nor special cooking skills to make these pasta dishes. And yet, they come out outstandingly tasty. Amazing, right?
Most importantly, they are easily customizable with whatever you have in your pantry and whatever suits your palate. These pasta dishes are pretty versatile and pair well with main dishes, such as Chicken Recipes and Pork Chop Recipes to make them more satisfying and filling.
Undeniably, pasta is genuinely one of the best comfort food ever!
I can't imagine myself living without my beloved pasta. No way! Especially when they are as good as these Easy Pasta Casserole Recipes that I've compiled for you. Aaah! They are just simply amazing and highly addicting. 😉
FAQs
Do you cook the pasta before making a pasta bake?
Yes, because it will take longer to cook if you add the dry pasta without boiling it first. Plus, you'll be needing more liquid to fully cook the pasta. And adding more liquid means diluting your sauce, too. Thus, affecting the quality and taste of your pasta bake. In short, cook your pasta first for the best results unless the recipe asks for uncooked pasta. 😉
Pasta Casserole vs. Lasagna?
Pasta casserole is any pasta recipe baked for a final finish and is usually creamy and cheesy. The only difference would be the style of noodles. With that said, it is safe to say that Lasagna is an example of a pasta casserole.
Can you cook pasta without boiling it?
Yes, it is possible with no-boil lasagna noodles because they shorten the cooking time. The no-boil method also works well with baked penne. However, you'll still need to cook or bake them along with the sauce as the liquid. An exception is if you add a tad extra liquid and assemble the casserole the night before. That allows the pasta to absorb the liquid and cook faster.
Chicken Pasta Casseroles
1. Chicken Pasta Bake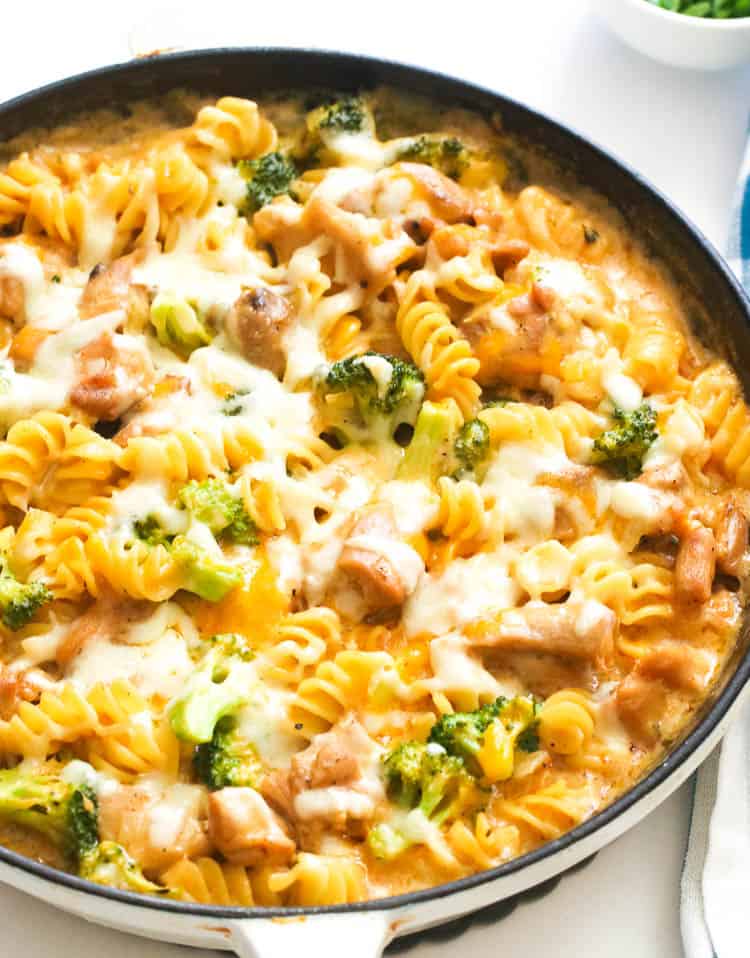 Let's start with this humble and simple Chicken Pasta Bake overflowing with creamy and cheesy goodness. Aside from adding a touch of color to this pasta casserole, the broccoli florets also bring a natural sweetness to this dish while making it more nourishing. This one makes a winner family-friendly dish that you can easily make for lunch or dinner. 😉
Chicken Pasta Bake
Chicken Pasta Bake – creamy, cheesy-packed pasta dish with broccoli florets and chicken chunks. This is a family's favorite meal that is very simple and delicious to make any day of the week!
Check out this recipe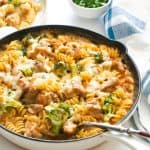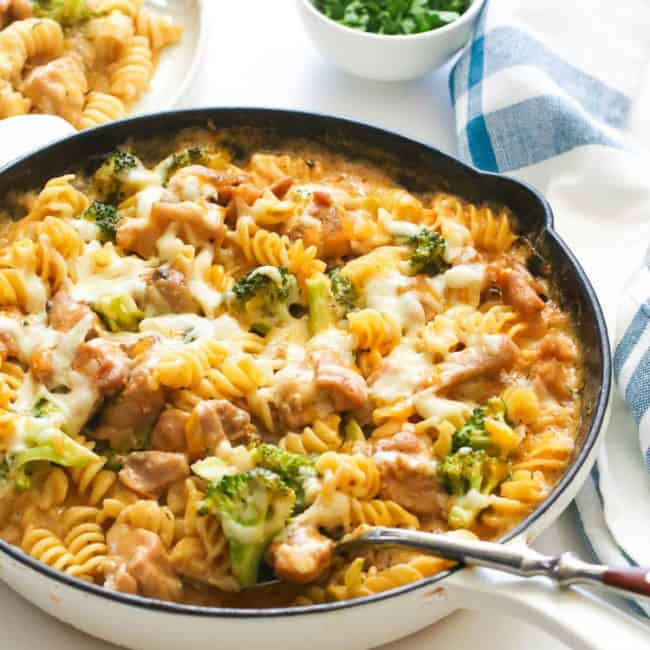 2. Chicken Lasagna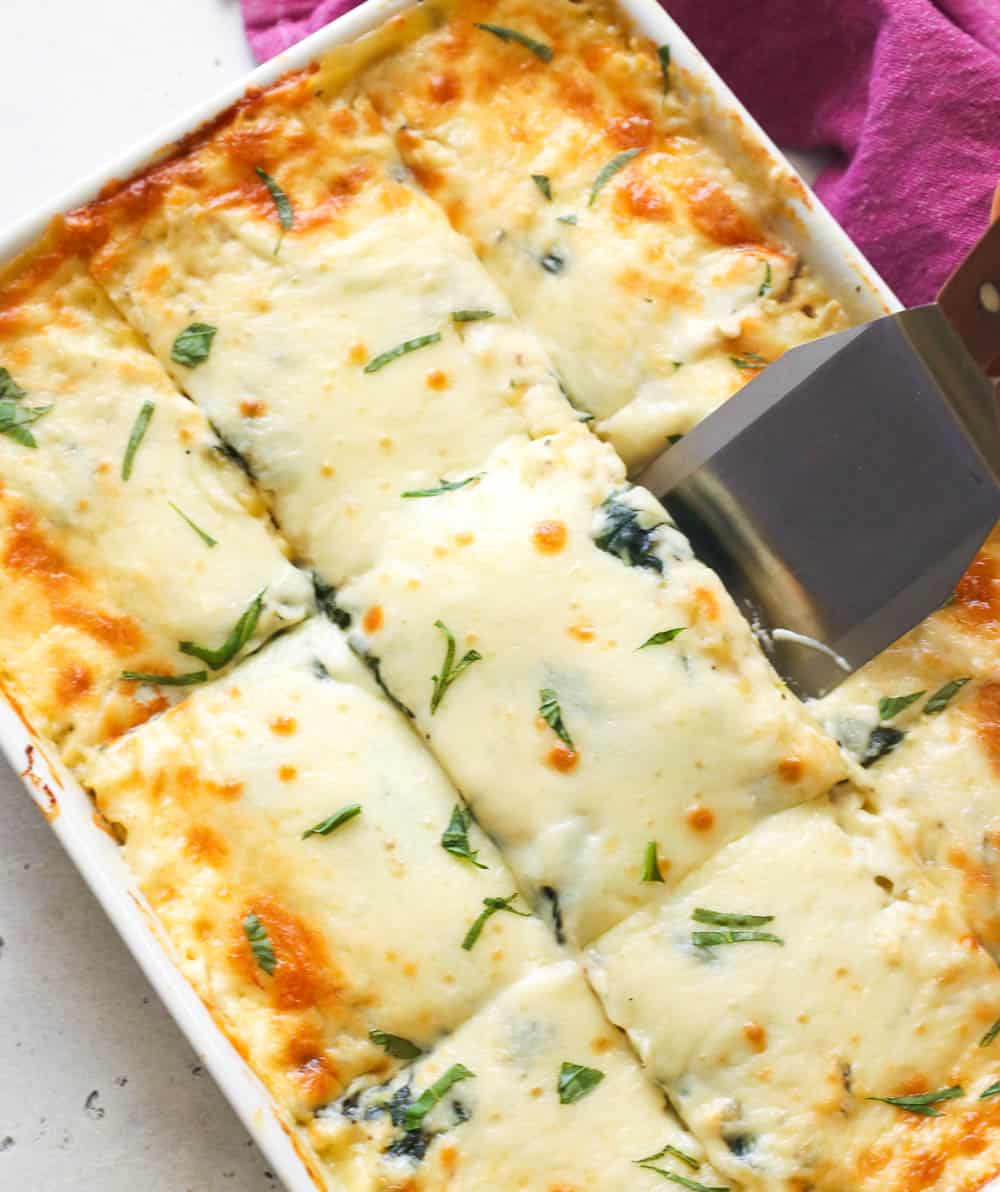 Lasagna is undeniably one of the most versatile pasta casserole recipes. You can easily customize it with just about anything as long as you have lasagna noodles and cheese. You can even make it with leftover meat like Ham, Turkey, and Roast Chicken. But what really makes this lasagna special is the ricotta mixture for the white sauce instead of the usual Bechamel. And you'll definitely love the addition of mushroom and spinach. ❤
Chicken Lasagna
Chicken Lasagna is an easy makeover of chicken fettuccine Alfredo. The rich Alfredo sauce layered with lasagna noodles, mushrooms, spinach, and a three-cheese sauce is easy enough for an everyday meal but elegant enough for that special date night.
Check out this recipe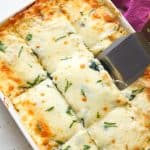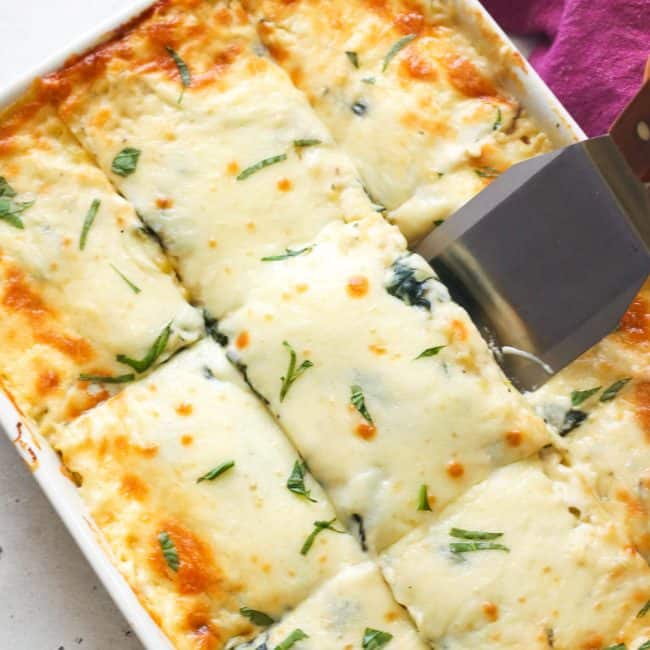 3. Chicken Spaghetti Recipe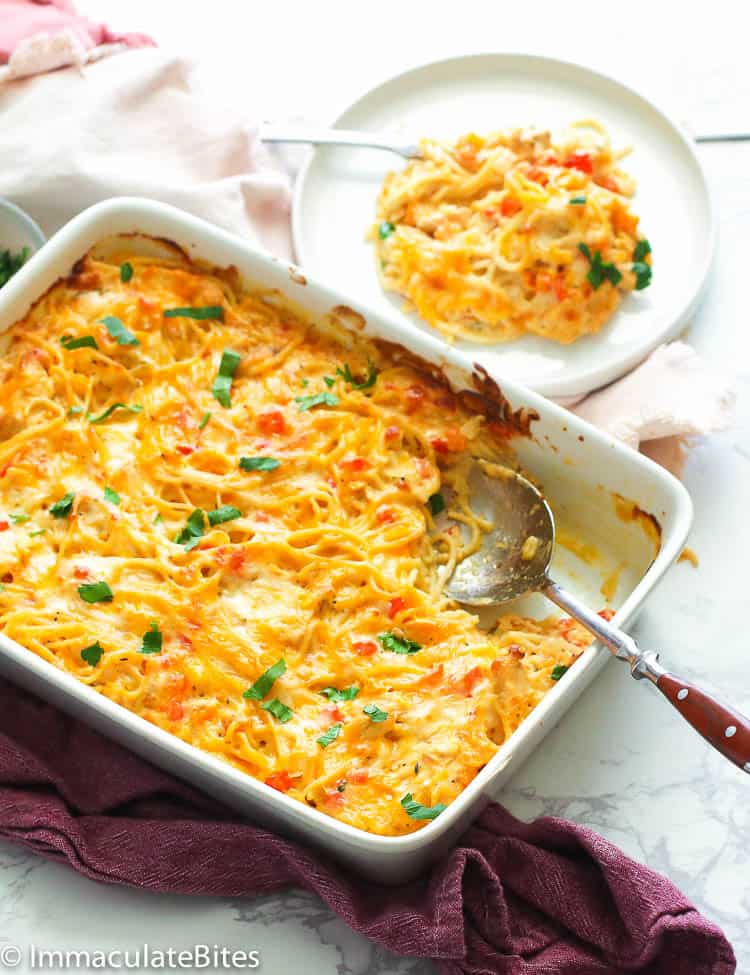 Just when you thought our beloved spaghetti was already perfect, think again, because this pasta casserole is sure to blow your mind. Mainly because it's bursting with fantastic flavors from Creole Seasoning and thyme. And, of course, creamy goodness from evaporated milk and trio cheese combo – parmesan, cheddar, and jack cheese. And if you're a little adventurous, I highly suggest adding a dash of pepper flakes to liven up your taste buds. Yes!
Baked Chicken Spaghetti
This flavor-packed, cheesy, soul-satisfying recipe boasts everything you could ever want in a casserole. Cheese, chicken, and pasta create a super easy midweek dinner. And talk about the ultimate comfort food!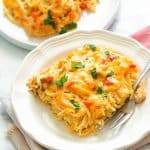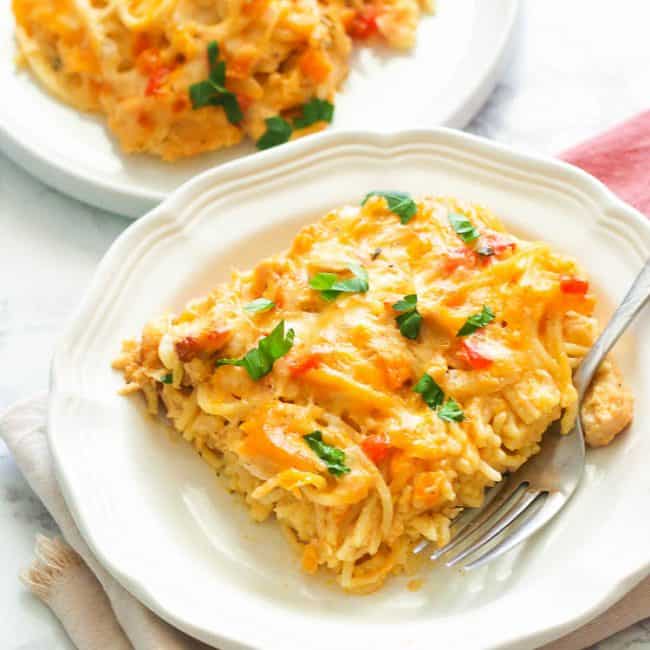 4. Fiesta Chicken Casserole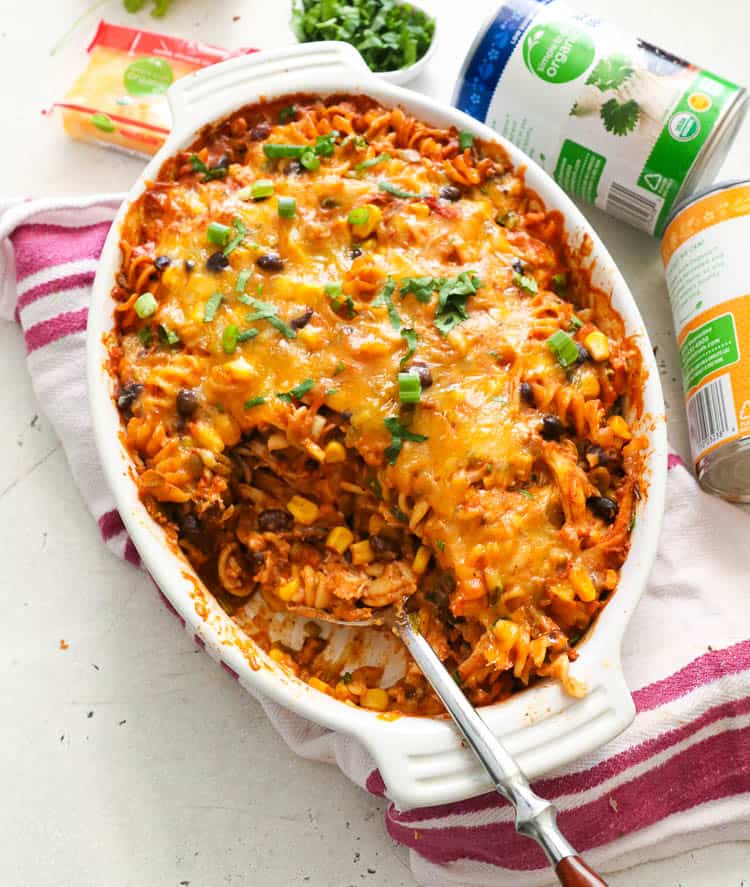 And yes, true to its name, every spoonful of this amazing pasta bake is truly a fiesta in your mouth because of all the amazing flavor combinations happening at once. It is also packed with beans, corn, chiles, cheese, and shredded chicken, thus giving you spoonfuls of fantastic comforting goodness with every bite. The incredible flavor is also brought about by sour cream, salsa, and paprika. Definitely, one of the best pasta casserole recipes to try.
Fiesta Chicken Casserole
This Fiesta Chicken Casserole is an excellent casserole dish brimming with Southwestern flavors, corn, beans, cheese, pasta, and leftover chicken. With just less than 10-minutes of prep time, you can make this cheesy hearty dish for busy weeknights!
Check out this recipe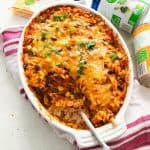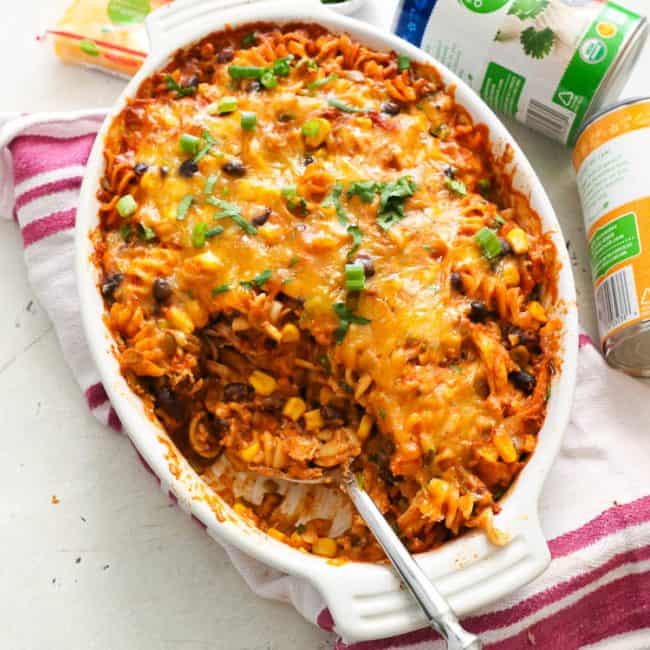 Ground Meat Pasta Bake Recipes
5. Easy Lasagna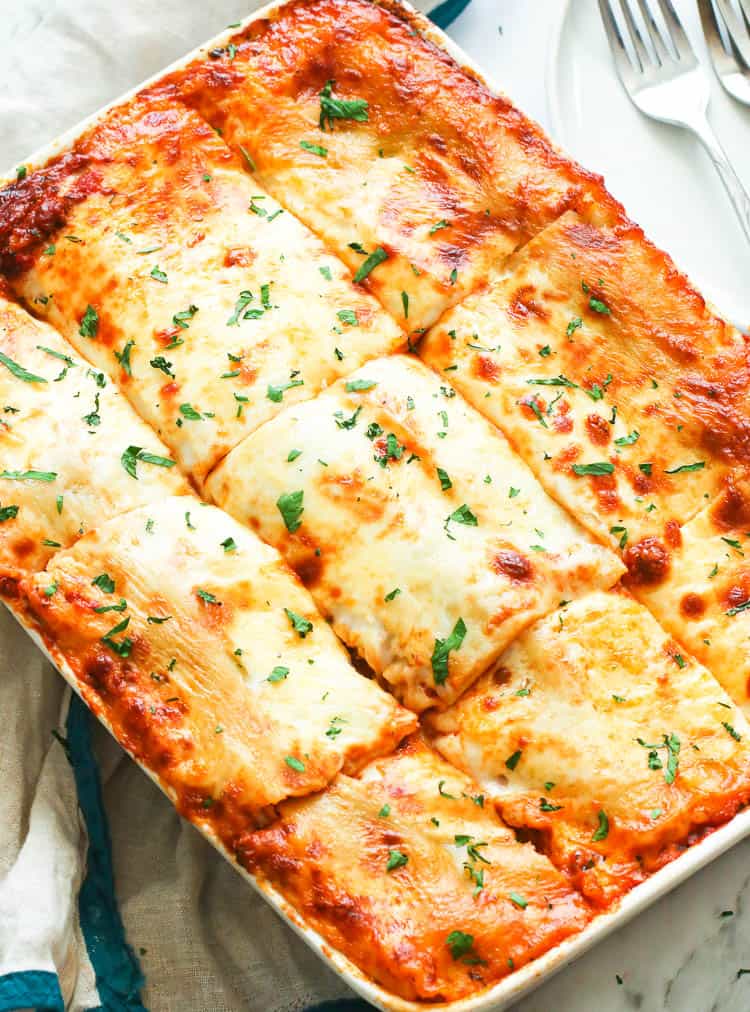 Enjoy a fancy dinner date in the comfort of your home with this creamy and cheesy pasta bake recipe. Don't you just love its gorgeous layers of meaty sauce, lasagna noodles, and cheesy sauce? Everything is harmoniously balanced like a perfect symphony. Aah! Truly indulging, indeed! This pasta casserole is made even more delectable with the addition of Italian Seasoning, basil, fennel leaves, and Worcestershire sauce. Awesome!
Easy Lasagna Recipe
A classic dish made with layers of gooey cheeses and rich, meaty sauce, baked to golden-brown perfection! This deliciousness is a true crowd-pleaser, appealing to even the most discriminating eater. And it's a great make-ahead dish, making it the perfect choice for casual family dinners or special holidays.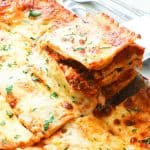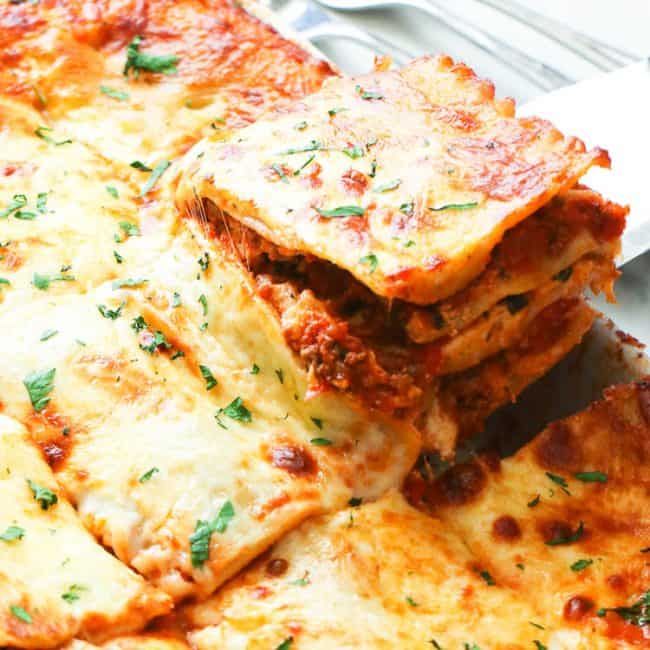 6. Stuffed Shells with Meat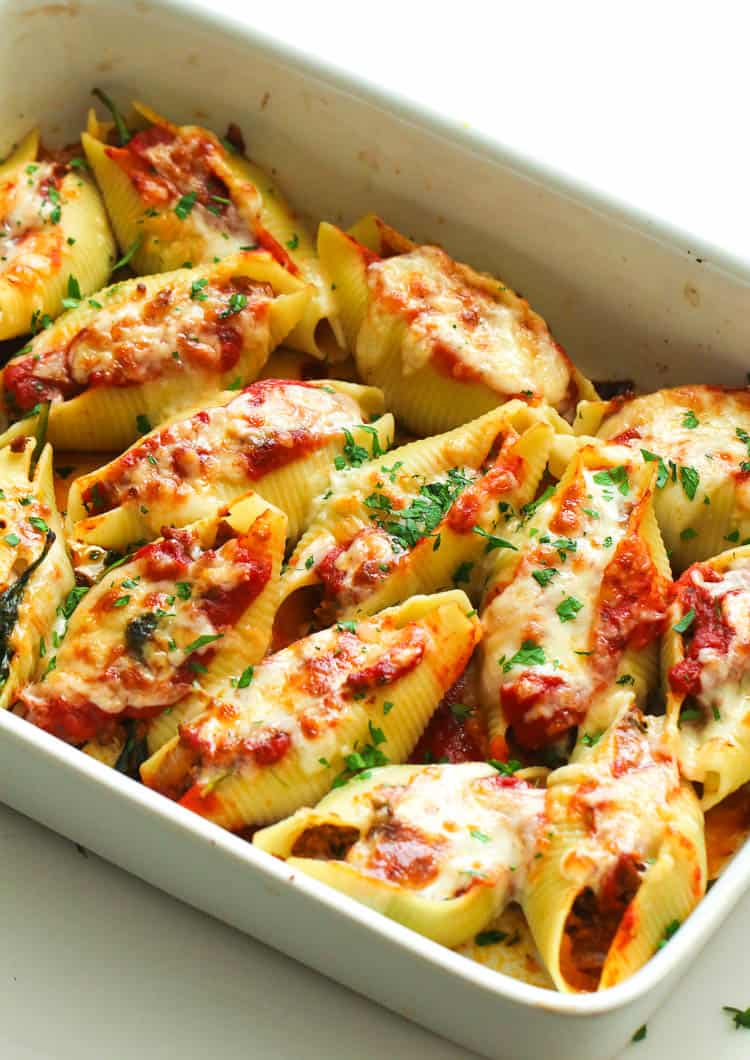 Not only is this pasta bake pleasant to look at, but it's also brimming with deliciousness with its cheesy and meaty fillings. Each jumbo pasta is beautifully presented and filled with flavorsome fillings simmered in a tomato-based sauce infused with Italian Seasoning and Thyme. Then baked to perfection for a bedazzling finish. I love this pasta casserole recipe because you can always customize it according to your palate. Oh yes!
Stuffed Shells with Meat
Stuffed Shells with Meat – easy casserole dinner made with jumbo pasta shells, seasoned ground beef and sauce, spinach, and cheeses. It's warm, filling, cheesy and very comforting. Plus it's also a wonderful make-ahead dinner that the whole family would love!
Check out this recipe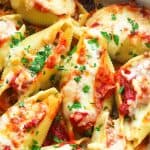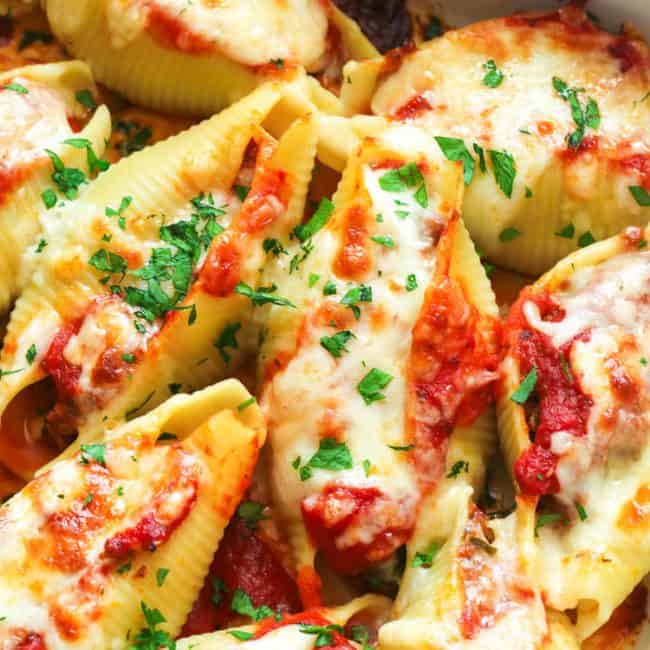 7. Ground Beef Casserole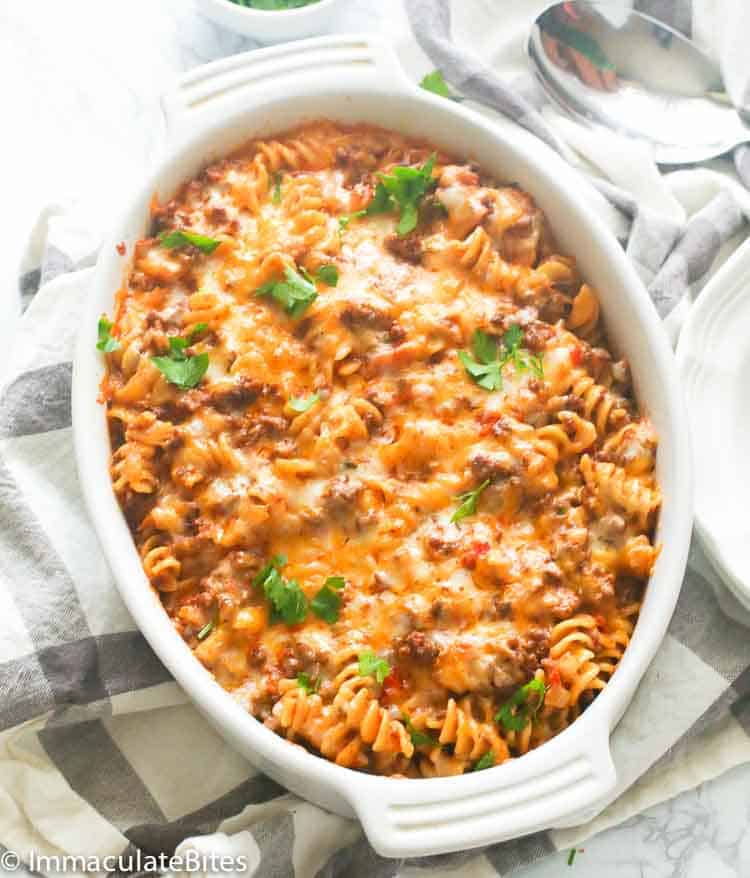 Wondering what to bring to your next potluck or weekend gathering? I got you covered! You'll definitely impress everyone at the table with this cheesy and spicy pasta bake. It features ground meat, jalapenos, cheese, and fusilli pasta cooked in a creamy tomato-based sauce. I just love how every flavor is flawlessly balanced in this pasta casserole. Plus, the added heat is spot on and not too overpowering. 👌
Ground Beef Casserole
Ground Beef Casserole made with an aromatic blend of spices, beef, tomatoes and some good old cheese. A great meal that the whole family will rave about. Cheesy, meaty goodness that is super easy to make!
Check out this recipe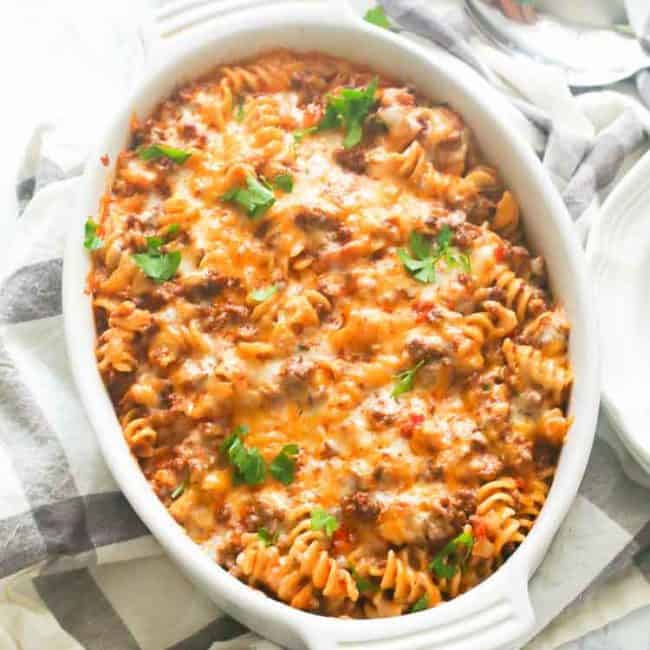 8. Easy Baked Ziti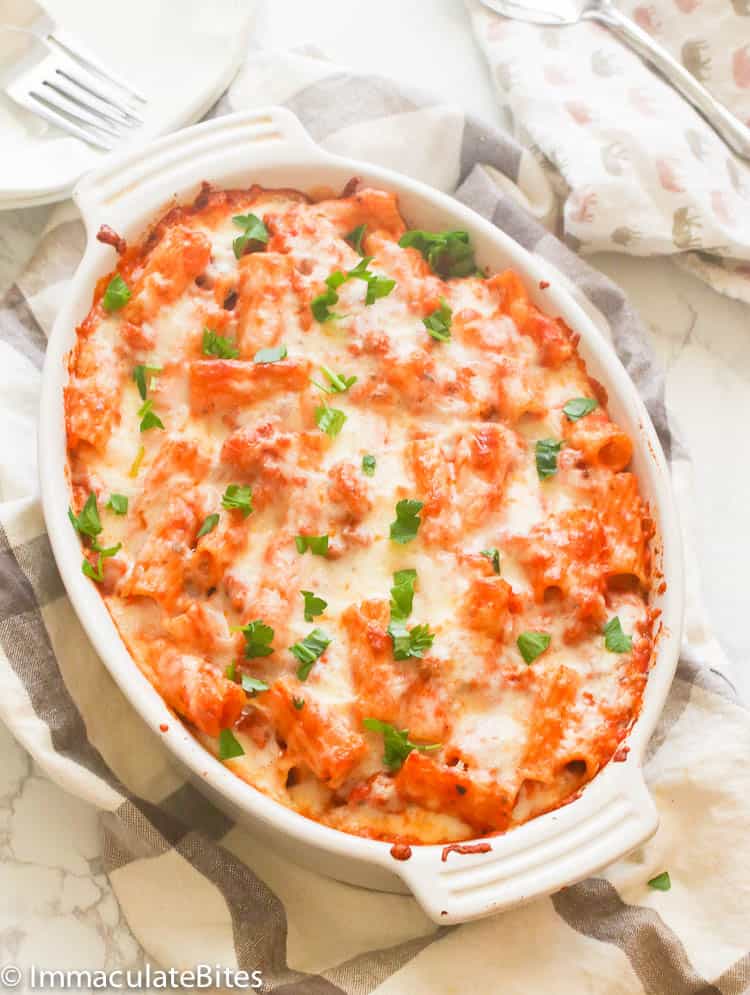 And, of course, the list of pasta casserole recipes wouldn't be complete without this Baked Ziti. I bet your family will be talking about this pasta bake all day, raving about how good it is. Well, I can't blame them because this pasta casserole is so darn good. Especially with the added bacon bits, sausage, and lots of CHEESE! Yaaay! And it's so easy to make, too, along with other basic pantry staples.
I'll let you in on a secret… Using the same ingredients and procedure, you can just swap the ziti with penne, and voila! Instant Baked Penne to adorn your table. Effortlessly delicious as well. Oh yes!
Easy Baked Ziti
This decadent, simple pasta casserole is perfect for a meaty, gooey, and cheesy comfort food. This potluck favorite is an absolute crowd-pleaser and serves as a hearty side dish or main course. As a fast-food classic, you know it's easy to throw together.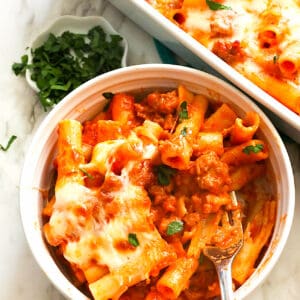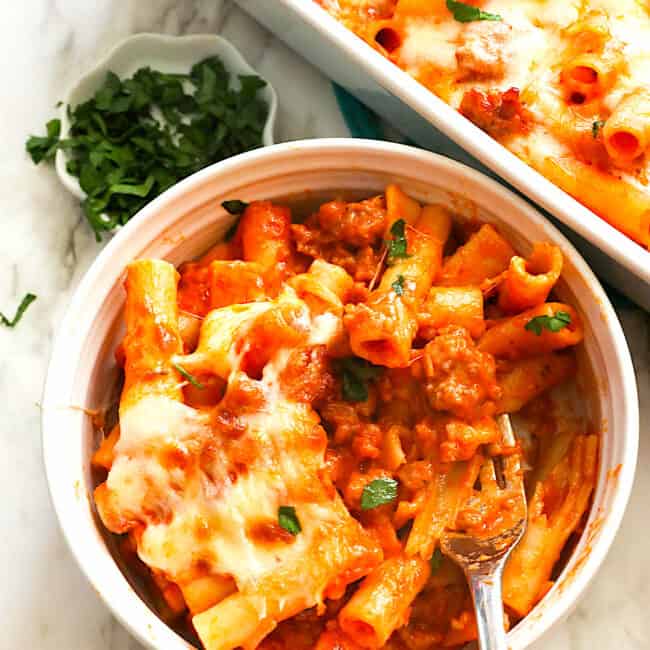 Meatless Pasta Casserole Recipes
9. Southern Baked Mac and Cheese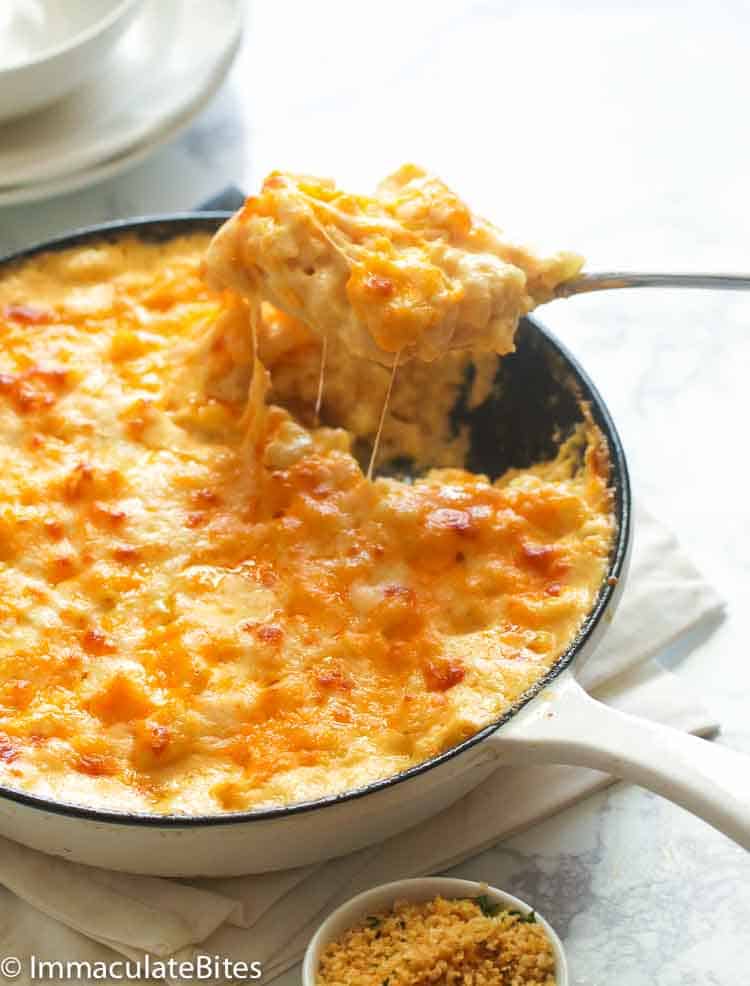 Nothing beats this ultimate family favorite, Southern Baked Mac and Cheese. Simply irresistible with its gooey and bubbly trio-cheese combo – mozzarella, sharp cheddar, and jack cheese. So quick and easy to make yet brimming with impressive Southern flavors and delicious enough even without the meaty additions. However, adding bacon bits and ham will undoubtedly take this pasta casserole to a higher level of deliciousness. Such a winner dish, indeed! Yum!
Southern Baked Mac and Cheese
Southern Baked Mac and Cheese is super creamy, cheesy, soulful baked mac and cheese filled with great Southern flavors topped with crispy bread crumb. You will never break open a box again!
Check out this recipe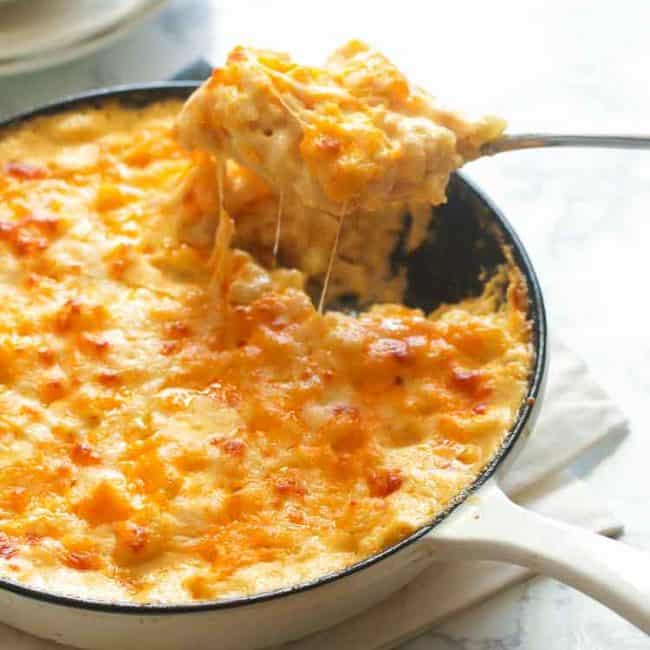 10. Trinidad Macaroni Pie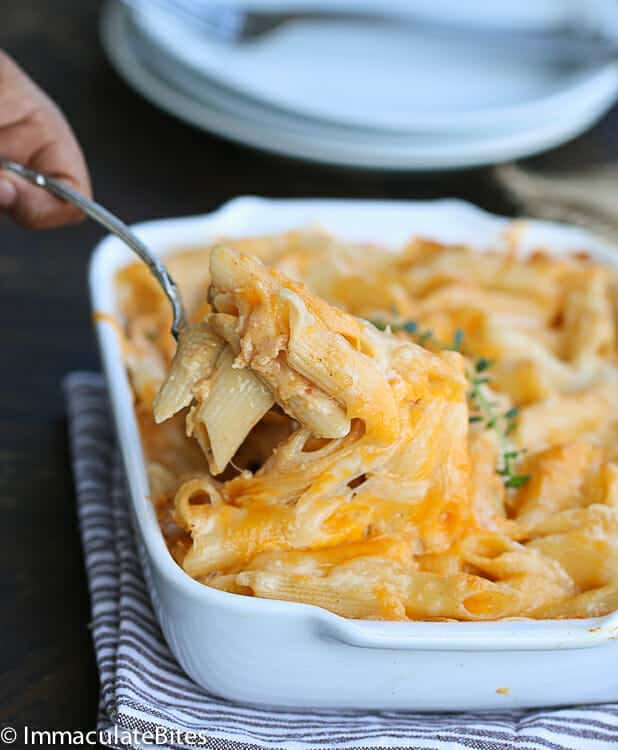 This Trinidad-style mac and cheese recipe is prepared similar to our famous Southern Baked Mac and Cheese, but with a spicy and tangy twist. The jalapeno bits and dry mustard ramp up the flavor of our pasta bake. Thus, adding more wow factor to our baked penne. And to complete our comfort food delight, I highly recommend pairing it with any one of my Airfryer Chicken Recipes. Woohoo! 🤩
Trinidad Macaroni Pie
Trinidad Macaroni Pie- Baked mac and cheese- the Caribbean Way – with tons of flavor. Comfort food never tasted so good! Add a little spice to your life.
Check out this recipe
Seafood Pasta Bake
11. Lobster Mac and Cheese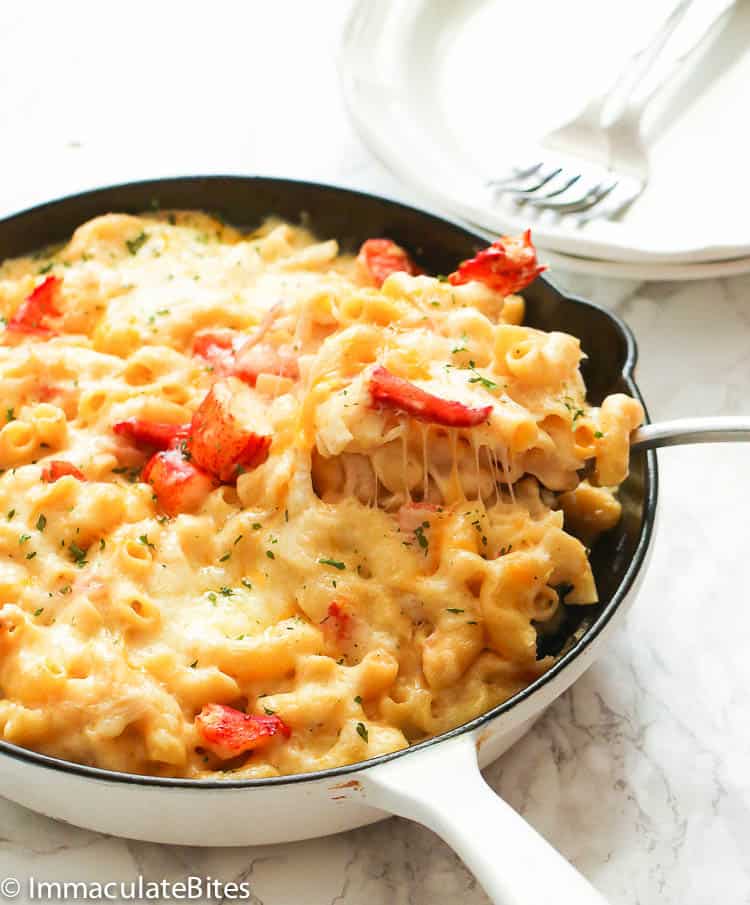 Enjoy a fancy dinner without actually spending much with this cheesy lobster mac and cheese. Oh yes! I'd double the batch if I were you because it's so darn good! In fact, a single serving of this pasta bake is never enough. Okay, don't tell me I didn't warn ya! This pasta casserole is simple and easy to make yet delivers an affordable restaurant-quality meal. And above all, it's absolutely kid-friendly, too! 😉
Lobster Mac and Cheese
A most comforting dish loaded with cheesy goodness, chunks of lobster meat, and al dente pasta. This dish is baked to perfection to achieve that cheesy goodness top. An absolute decadent meal, perfect for a fancy date night or simply as a treat to make an ordinary day feel extra special!
Check out this recipe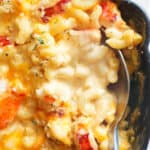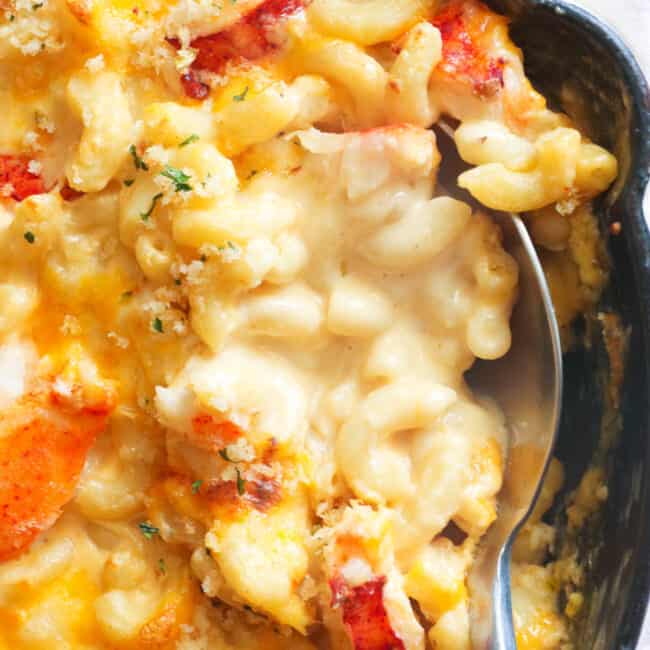 12. Tuna Noodle Casserole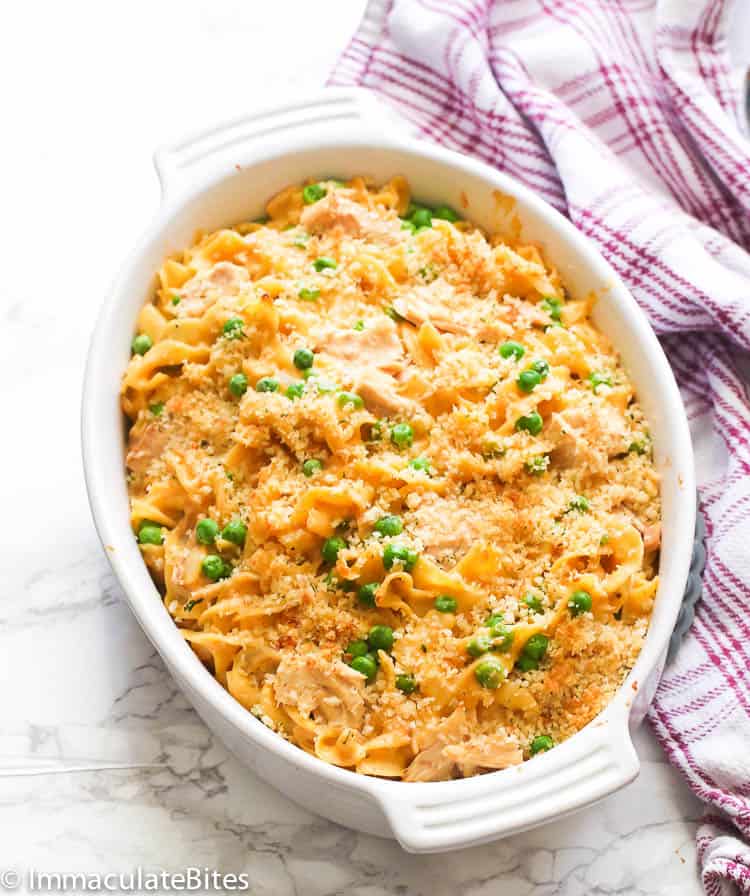 So, if you're looking for a fuss-free and quick pasta bake fix, this tuna casserole definitely fits the bill! Canned tuna for the win! Aside from being wonderfully creamy and cheesy, you're also gonna love its perfectly crumbed topping. The extra surprise crunch definitely adds another layer of deliciousness to this pasta casserole. Satisfying to the core, indeed! This will be your new favorite emergency dinner meal in no time. 😉
Tuna Noodle Casserole
Tuna Noodle Casserole – a fuss-free budget-friendly casserole dish with flaky tuna, pasta, peas and cheese then topped with buttery breadcrumbs for a wonderful texture. Truly a family-favorite meal meant for busy weeknights!
Check out this recipe