Fall in love with the wonders of a slow cooker with these easy slow cooker recipes for an amazing and outrageously delicious meal perfect for the upcoming holidays. It's such a useful kitchen tool that makes cooking a breeze. Not only is it great for stews and soups, but it also works perfectly in cooking whole chicken and ham.
I just love the fact that a slow cooker does about 80% of the work for you because it usually involves a one-step process. All you do is dump everything in the crockpot and let it work its magic. Even better, you can leave it cooking without worrying that your food will burn while getting other things done. Wow! Talk about effective multitasking.
Moreover, a slow cooker is surprisingly affordable and very energy-efficient too. It doesn't cost a fortune.
In fact, it uses less electricity than the oven. Not yet convinced? Then take a good look at these 12 Easy Slow Cooker Recipes! 😉
FAQs
How does a slow cooker work?
It works by generating low heat from the base and sides, cooking the food inside slow and steady at a constant temperature. This, keeping the food moist and evenly cooked.
Is it cheaper to cook in a slow cooker?
Yes. In fact, it's one of the most energy-efficient kitchen appliances because it uses less electricity than an oven. It only uses 150-210 watts, and even lower if you set it on low power, about 75-150 watts. Moreover, the appliance purchase price is also economical. So, double yaaaay!
Slow cooker or pressure cooker?
Well, it really depends on your preference. If you're in a hurry, a pressure cooker is the best option. But if you need to go to work or run errands while dinner is cooking, go for a slow cooker. Both are fantastic time-saving options that offer great value for the money.
1. Slow Cooker Lamb Leg
Oh! This one here is a real game-changer because it's by far the easiest way to prepare lamb legs with minimal prep. Plus, it's bursting with fabulous flavors from Creole seasoning, thyme, garlic, and rosemary. And it comes with lip-smacking gravy made with all the savory lamb juices and red wine. So delectably good!
Slow Cooker Lamb Leg
Slow Cooker Lamb Leg – slow-roasted succulent lamb meat with the well-browned and crispy exterior; flavored with creole seasoning, garlic, and rosemary. A recipe with minimal prep but delivers great flavors in every bite.
Check out this recipe
2. Slow Cooker Oxtail Soup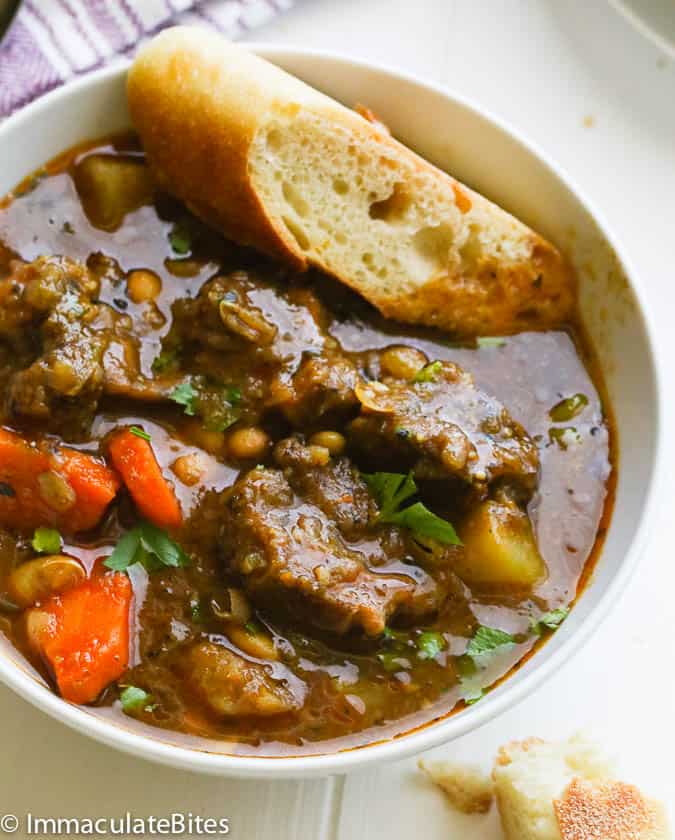 Warm your body and soul with this super comforting Slow Cooker Oxtail Soup loaded with beans, potatoes, and carrots. So filling and satisfying with its spicy and flavorful broth generously seasoned with paprika, curry, and Worcestershire sauce. A crusty bread like No-Knead Bread or Homemade Garlic Bread is the perfect accompaniment to this soul-satisfying soup.
Slow Cooker Oxtail Soup
A hearty stew oozing with rich broth and succulent, tender meat that's comforting any time of the year, cold and warm weather. Oh, and remember to serve it with a loaf of bread, preferably a baguette, because you'll need it to soak up the soup for a more fantabulous dining experience.
Check out this recipe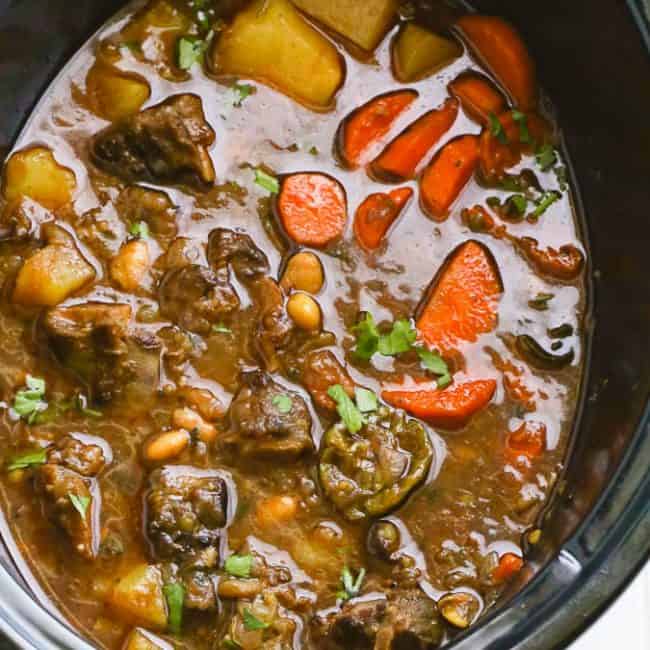 3. Slow Cooker Jamaican Beef Stew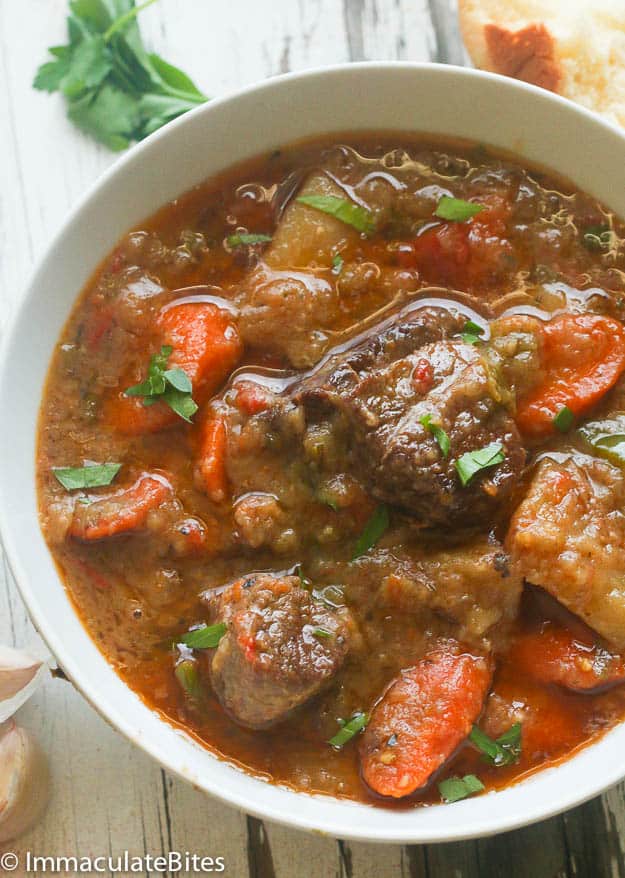 This delectable stew features tender and juicy beef, bell peppers, carrots, potatoes, and green onions. It has a well-seasoned tomato-based sauce that is sure to entice your taste buds with its perfect blend of wondrous complex flavors. Simply irresistible! Make sure to make enough because everyone is gonna want seconds and another serving of rice once they taste this crave-worthy stew.
Slow Cooker Jamaican Beef Stew
Rich and exciting, beautifully tender, cooked low and slow for hours! This one-pot meal is loaded with vegetables, warm, comforting, and hearty.
Check out this recipe

4. Slow Cooker Pot Roast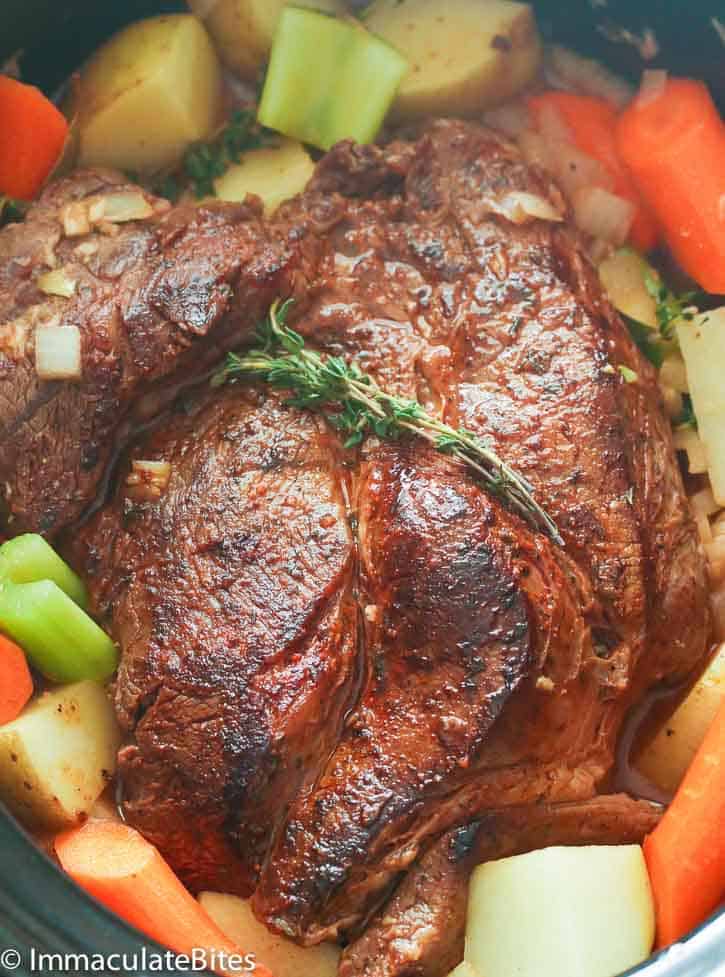 Tender and juicy beef with a succulent gravy-like broth are sure to impress everyone at the table. It's so easy to make this fancy dinner perfect for the whole family. You can also spice it up with a dash of pepper flakes or a splash of hot sauce to amp up the flavor. Serve it at a family gathering, and you'll surely hear the family singing your praises. 😉
Slow Cooker Pot Roast
Slow Cooker Pot Roast – fall off the bones and incredibly flavorful chuck roast and vegetables smothered in a gravy-like broth. One of the easiest family meal you'll ever make!

Check out this recipe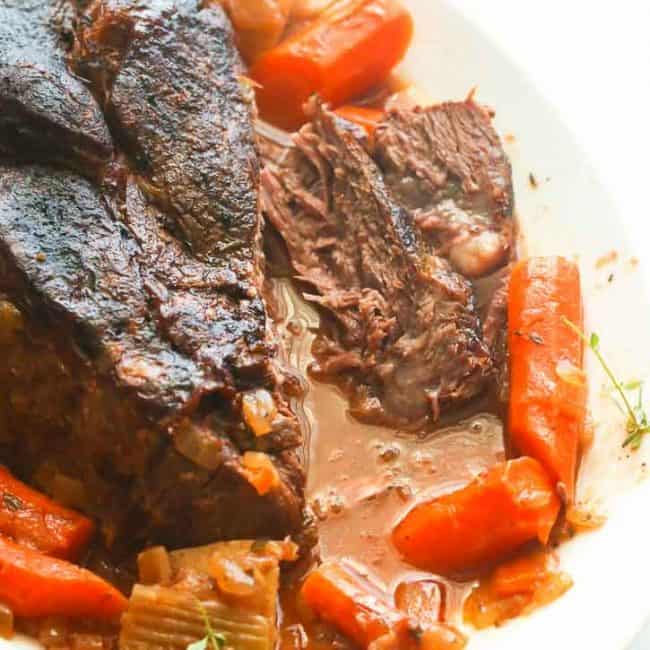 5. Slow Cooker Beef Stew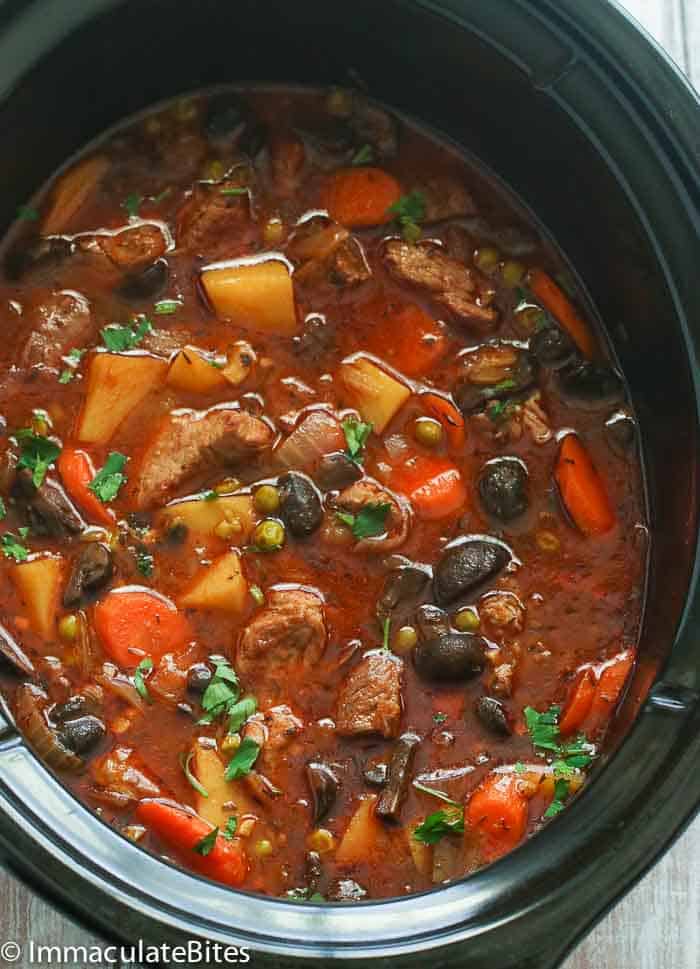 Just like my other beef stew recipe, this one is bursting with great flavors from ginger, thyme, and paprika. It's also packed with veggies, such as carrots, potatoes, and peas. Feel free to spice it up with a dash of Creole Seasoning or Taco Seasoning to boost the flavor with a Cajun or Mexican touch. Oh yes!
Slow Cooker Beef Stew
Slow Cooker Beef Stew – a savory, hearty bowl of beef stew slowly cooked to perfection with the aroma from onion, ginger, fresh thyme and smoked paprika and some vegetable add-ons of potatoes, carrots and peas. A perfect winter season comfort food!

Check out this recipe

6. Slow Cooker Jamaican Curry Chicken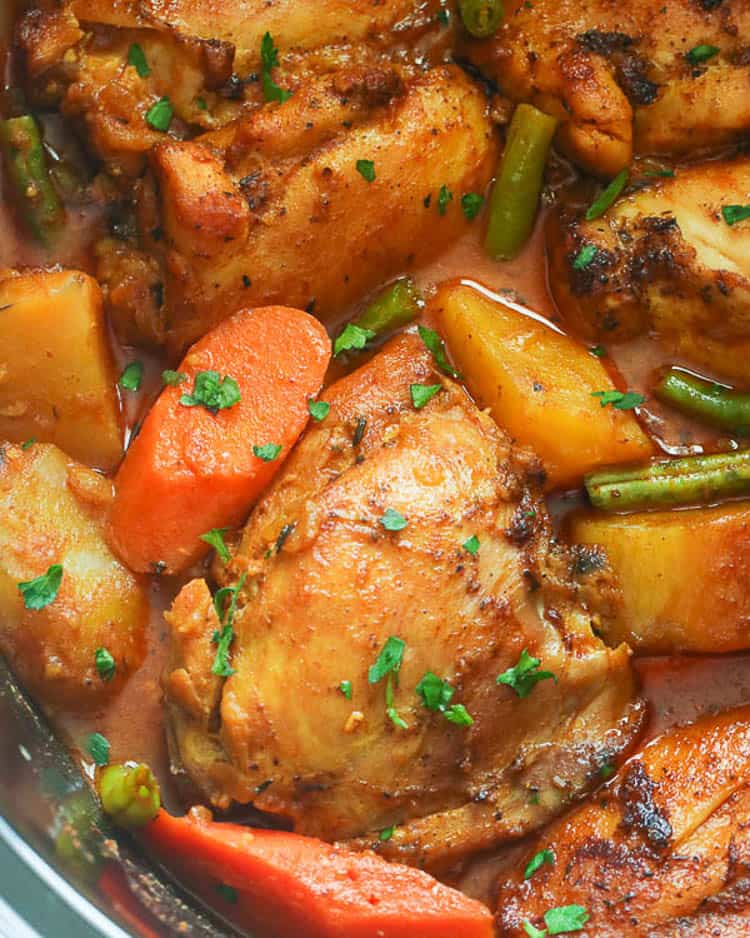 Without a doubt, this dish will knock your socks off with its mouthwatering goodness. It has the perfect blend of sweetness and spiciness from the curry, along with paprika and thyme. And, of course, you can skip the Scotch bonnet pepper if you want it a little mellower.
Slow Cooker Jamaican Curry Chicken
Slow Cooker Chicken Curry – lip-smacking creamy curry chicken in a perfect blend of homemade Jamaican curry powder and other spices. Make it a one-pot meal by throwing in vegetables for a hearty and irresistibly delicious chicken dinner!
Check out this recipe

7. Slow Cooker Jamaican Brown Stew Chicken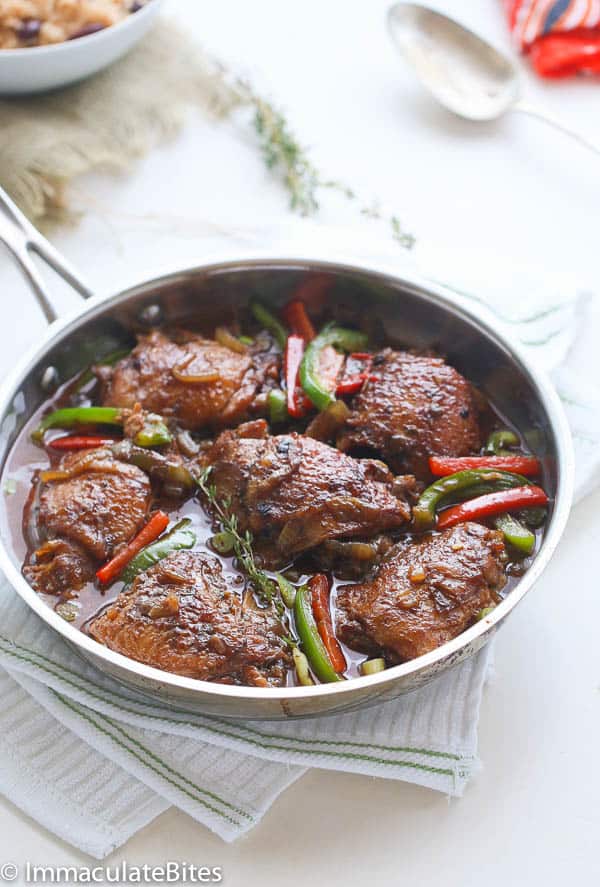 Let me tell you the secret to this incredibly rich and tasty chicken stew. It's none other than browning sauce and ketchup! Oh yes! It may be a simple seasoning, but it's full of fantastic flavors. Hence, making our dish more enticing, especially when you pair it with Caribbean Rice and Beans to complete this exquisite dinner combo. 👌
Slow Cooker Jamaican Brown Stew Chicken
Slow Cooker Jamaican Brown Stew Chicken – An incredibly rich-in-flavor all time Jamaican classic- Jamaican Brown Chicken Sauce right in your slow cooker.
Check out this recipe
8. Slow Cooker Chicken and Bean Stew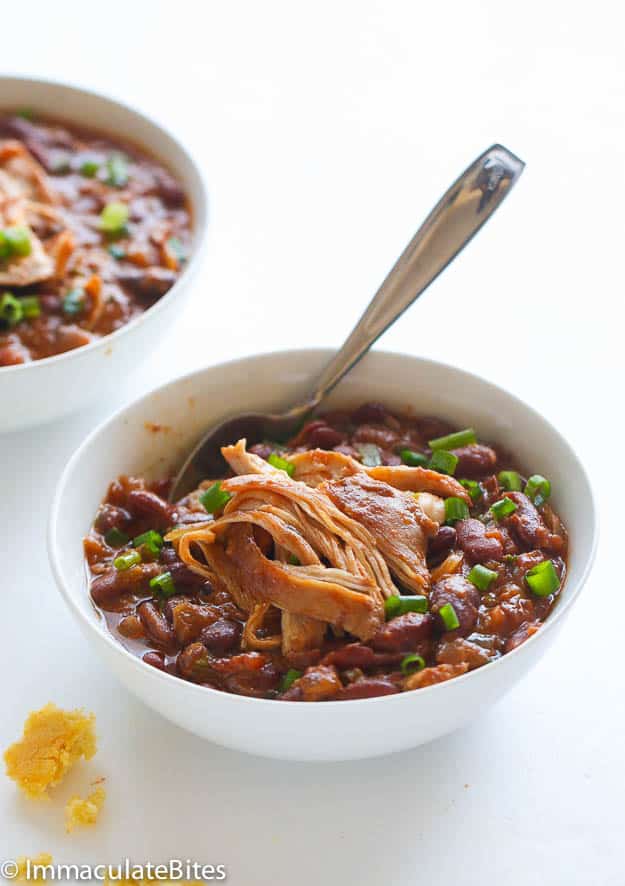 Nothing warms the heart and soul better than this chicken and bean stew with an explosion of piquant flavors from cumin, allspice, paprika, and thyme. You're definitely gonna love the jalapenos, too, for the perfect kick of heat to our extremely gratifying stew. For sure!
Slow Cooker Chicken and Beans
Easy Slow Cooker Chicken and Bean Stew simmered with garlic, onions, tomatoes, ginger, thyme and Caribbean spices. Comfort food never tasted so good! Pull out your slow cooker cause you're going to want to make this ASAP!
Check out this recipe
9. Slow Cooker Whole Chicken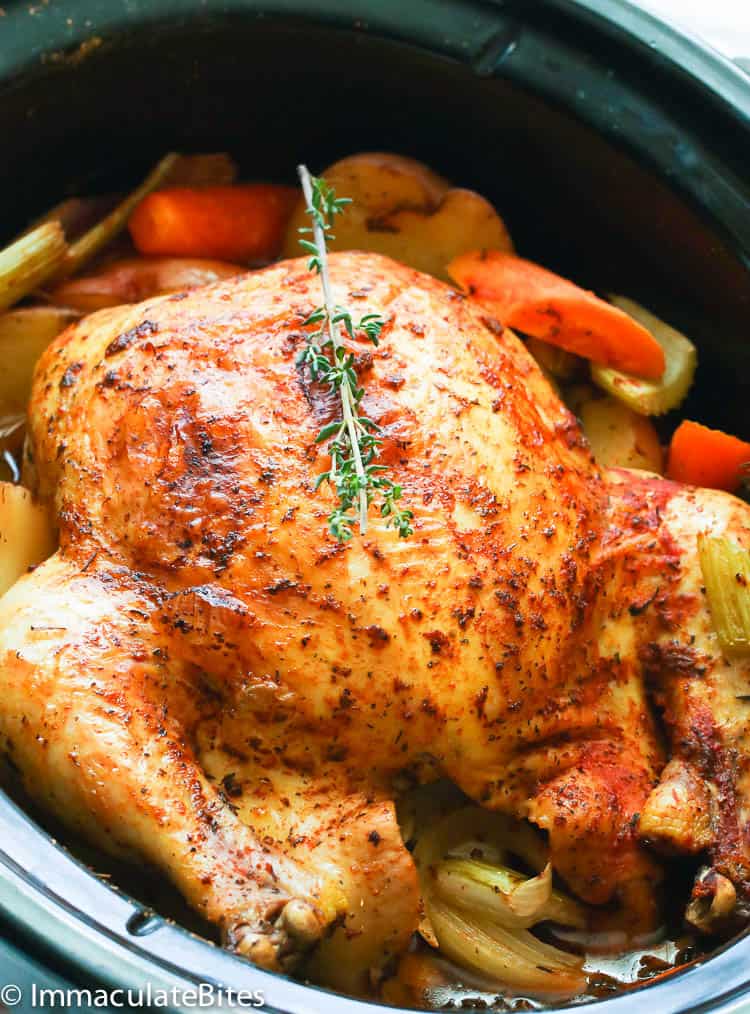 If you're a fan of rotisserie chicken, then you should definitely try this crockpot chicken recipe. Not only it's brimming with exciting flavors from herbs and spices, but it's packed with healthy veggies too. Get ready to unbutton your pants to make room for more chicken in your belly. Ahh! Indeed, an exceptionally nourishing meal perfect for the whole family. ❤
Slow Cooker Whole Chicken
A completely easy meal with tender, juicy chicken on a bed of flavorful drippings and vegetables, all cooked in a crockpot. Way better than any store-bought rotisserie chicken you'd ever have!
Check out this recipe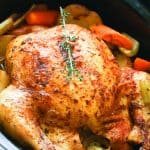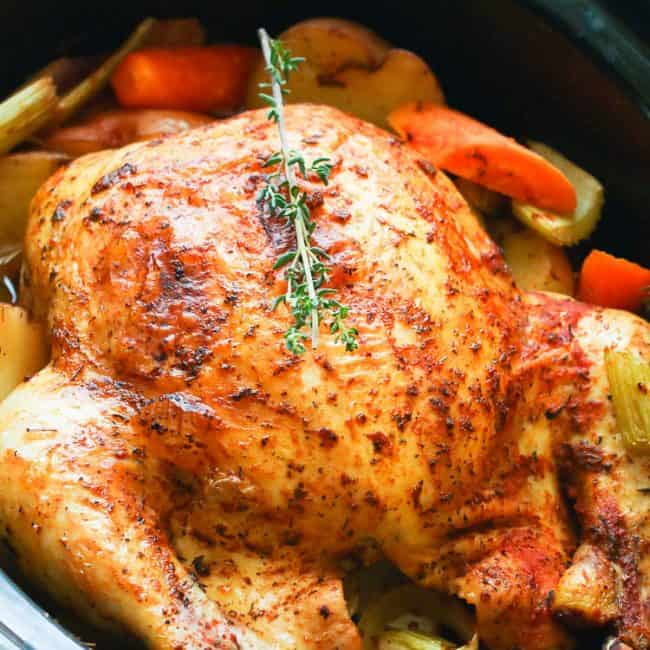 10. Slow Cooker Pork Chops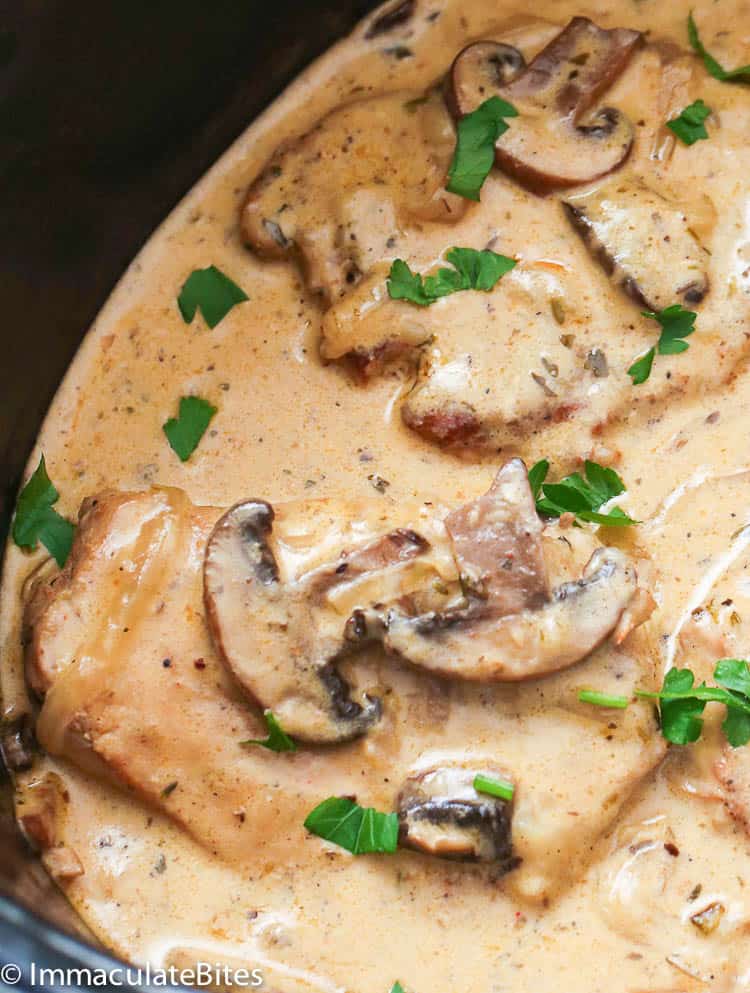 I'm officially postponing my diet until further notice. The obvious reason is that I can't seem to stop thinking about these awesomely delicious pork chops. Well, can you blame me when they're so juicy and tender? Not to mention the incredibly luscious mushroom gravy that is slathered all over these bad boys. Truly a dish like no other!
Slow Cooker Pork Chops
Slow Cooker Pork Chops – fork-tender juicy pork chops smothered in a delicious creamy mushroom gravy sauce. Absolutely comforting, budget-friendly and fuss-free weeknight dinner that the whole family would love!
Check out this recipe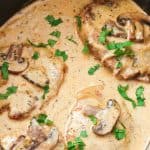 11. Slow Cooker Pork Loin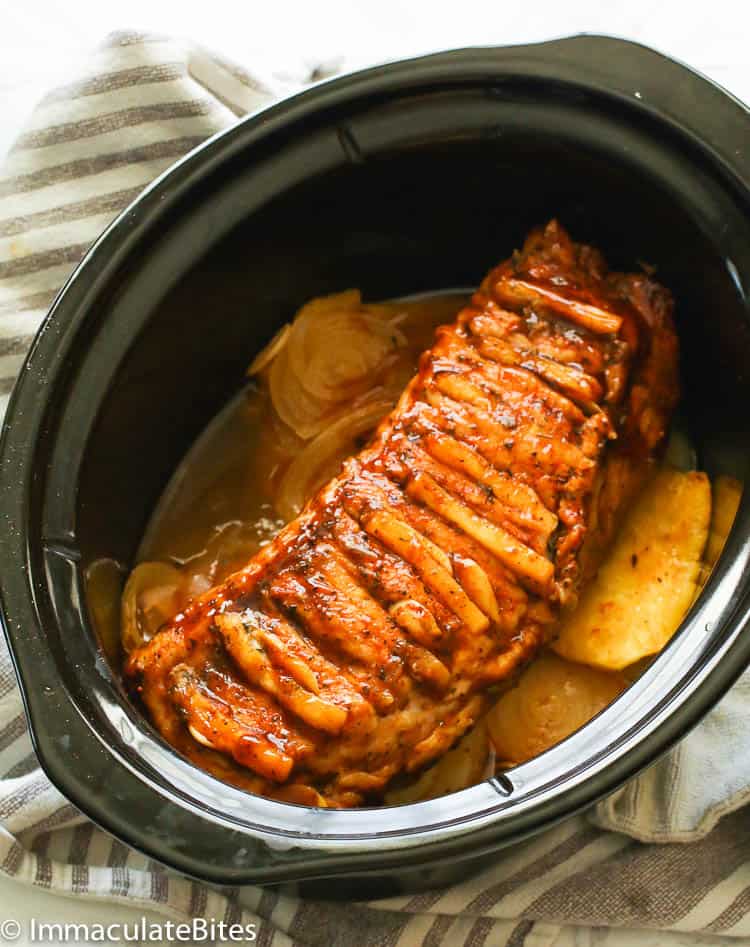 Pineapples, caramelized onions, and tender pork loin slices are all you need to make this insanely delicious meal. The tropical twist is sure to blow your mind with its deliciousness. And you'll love it even more with its luscious balsamic brown sugar glaze poured on top. An easy and affordable family-friendly meal you'll want to make all the time. Oh yes!
Slow Cooker Pork Loin
This pork loin is like no other you've ever tried in your life! It's stuffed with pineapples and garlic, cooked slowly to tender perfection on a bed of pineapples and onions, and topped with a balsamic brown sugar glaze. It's easy enough for a midweek meal yet fancy enough for the holidays.
Check out this recipe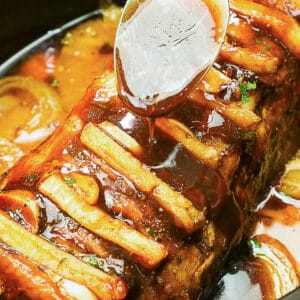 12. Slow Cooker Ham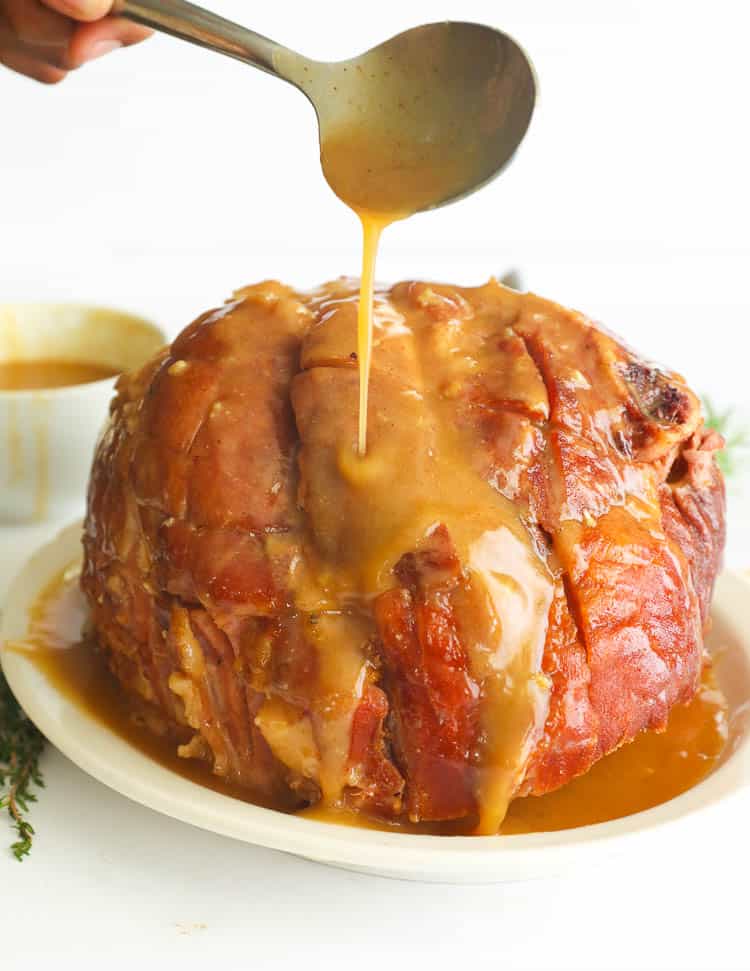 And, of course, holidays wouldn't be complete without this stunning dinner table centerpiece here. Incredibly moist and tender ham cooked in a specially made brown sugar glaze. I love how the fruity and citrusy flavor from pineapple and lemon blend well with other spices. Thus, creating a whole new layer of delectable goodness.
Additionally, you can repurpose the leftovers in so many ways. Such as adding it to your salad, sandwiches, and other mouthwatering dishes like Red Beans and Rice and Ham and Bean Soup. A winner dish, indeed!
Slow Cooker Ham
Slow Cooker Ham – Effortlessly tender slices of ham carefully cooked with a sweet glaze and flavorful spices all in one slow cooker. Moist, meaty, and melt-in-your-mouth dinner ready to give your palate a satisfying experience. Serve this easy comfort food as it is or pair it with a side of carb for a delicious meal.
Check out this recipe