12 Sensational Chicken Wing Sides – Everyone's favorite finger food deserves to be showcased by some stellar side dishes. Whether you're hosting a game day bash or just serving up wings for dinner, these sides will round out your meal perfectly.
Maybe it's the crispy skin enveloping the juicy inside or the savory sauces that get all over the place when you dig in. But there's something about chicken wings that motivates me to serve them more often than most folks. And since my family believes chicken wings are perfect for any occasion (even a regular weeknight meal), I've experimented with a ton of side dishes for all kinds of wings.
In this roundup, I'll go through my favorite kid-pleasing sides and several veggies and salads that perfectly balance out saucy wings. I'm even throwing in a few bonus sides that elevate your chicken wings from appetizer to full-on meal status.
FAQs
How many side dishes should you serve with chicken wings?
For a regular family dinner, I usually plan on two sides plus a dipping sauce or two. If I'm throwing a party with wings as the centerpiece, it's usually five sides. That offers enough options for everyone, no matter their taste preferences or dietary restrictions.
What's the most popular side to serve with chicken wings?
Coleslaw always seems to be a favorite side dish for wings—probably because the acidic tang and fresh crunchy cabbage balance the rich, savory flavors of the wings so well.
What veggies go best with chicken wings?
IMO, any veggie goes excellent with chicken wings. Honestly, my vegetable side choice usually depends on what kind of wings I'm making. For example, if I make sweet, sticky wings, I love to serve them with roasted Brussels sprouts or asparagus, contrasting the sweet flavor with bitter, savory notes. Or spicy Buffalo wings go wonderfully with pea salad because the creamy dressing takes the edge off the heat. 😆
Chicken Wing Sides Kids Will Love
1. Chili Cheese Fries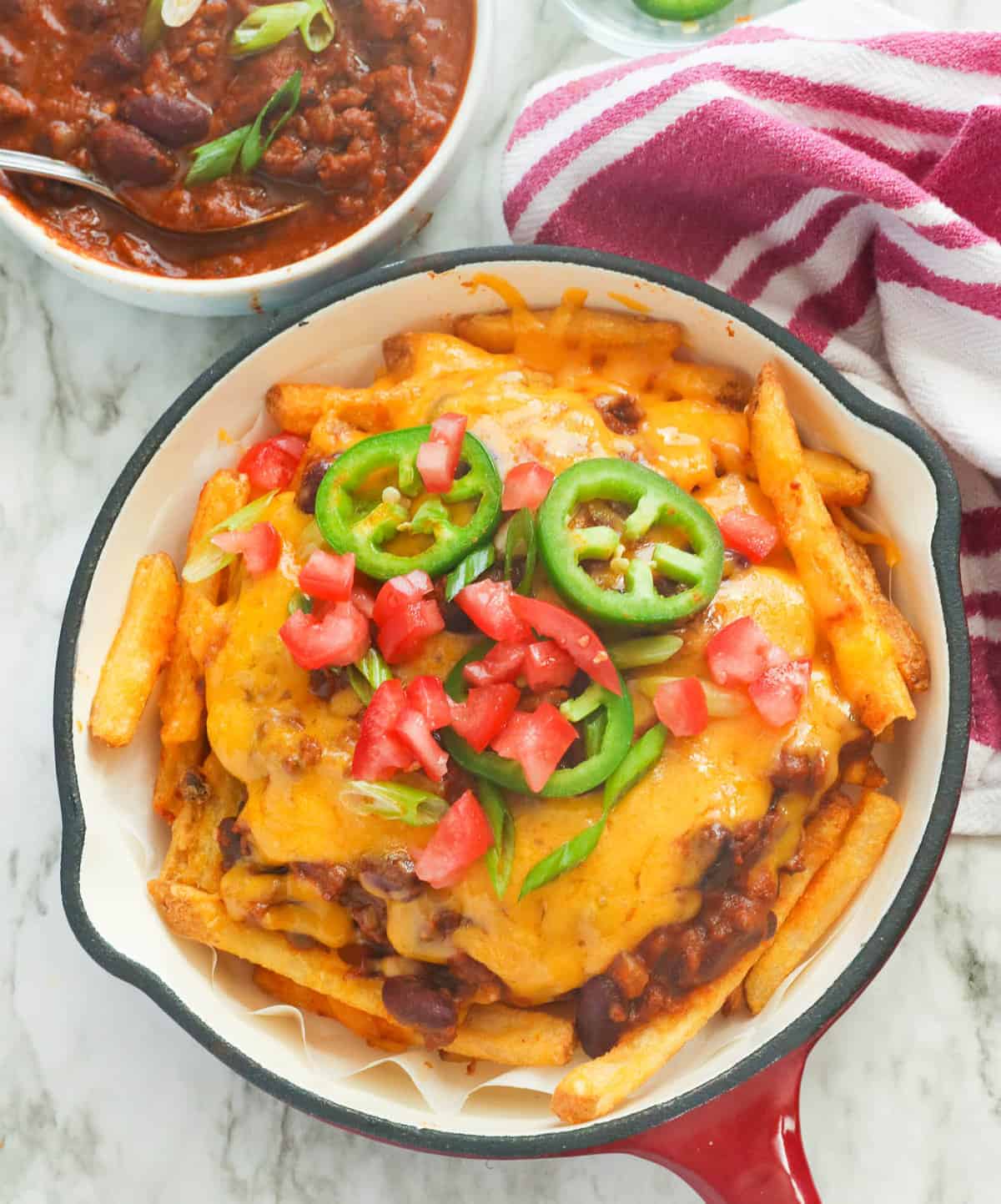 Think loaded nachos but over a bed of fries instead of chips. These fries are so delicious and pretty darn filling too! Plus, they pair beautifully with wings. Since these fries are smothered in chili and cheese, then topped with fresh tomato, jalapeno, and green onions, I like to pair them with a less saucy wing like my crispy air-fryer chicken wings. The crispy fries smothered in chili are so good with wings. Trust me on this one. 👌
Chili Cheese Fries
Get ready for some exciting, spicy, and soul-satisfying fries! Flavorful homemade chili loaded with ground beef, beans, and spices topped with gooey melty cheese top a bed of crispy fries. A guaranteed crowd pleaser!
Check out this recipe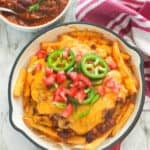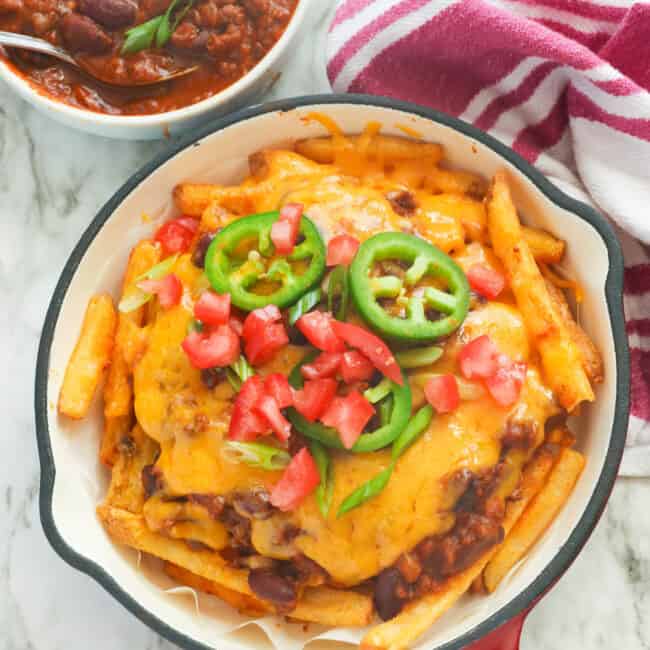 2. Cajun Baked Sweet Potato Fries
Fries and wings are always a good pairing, but these Cajun sweet potato fries are insanely tasty with a good saucy wing. They are crunchy and slightly spicy on the outside with a tender, barely sweet inside. Not only do they taste amazing, but do you know any kids that will turn their noses up at fries? Yeah, me neither. 😆 I often serve these with smoked chicken wings and homemade ranch dressing or white pizza sauce. (Yes, that's a thing! 😅)
Cajun Baked Sweet Potato Fries
Cajun Baked Sweet Potato Fries are a simple and savory side dish perfect for your next snack or weeknight meal. Sweet potatoes drizzled in butter and olive oil, sprinkled with Cajun seasoning, then oven-roasted for a crispy outside are addictive.
Check out this recipe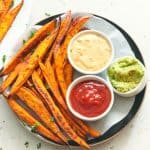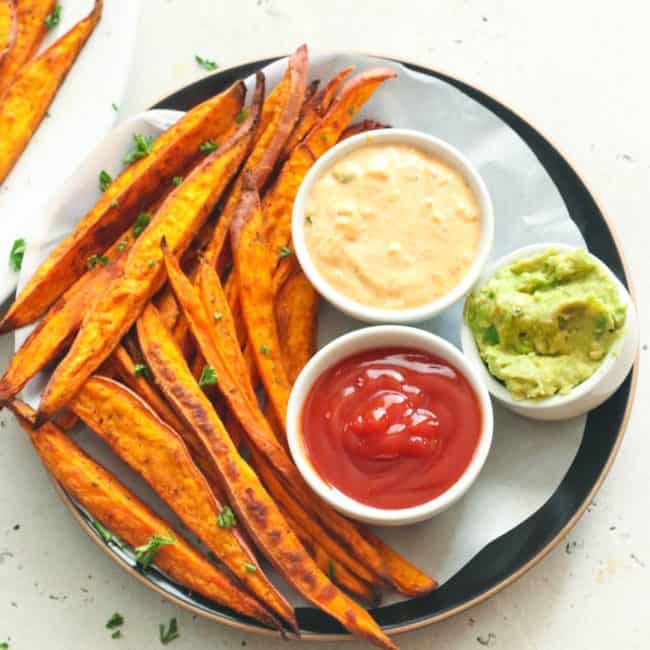 3. Grilled Coconut Corn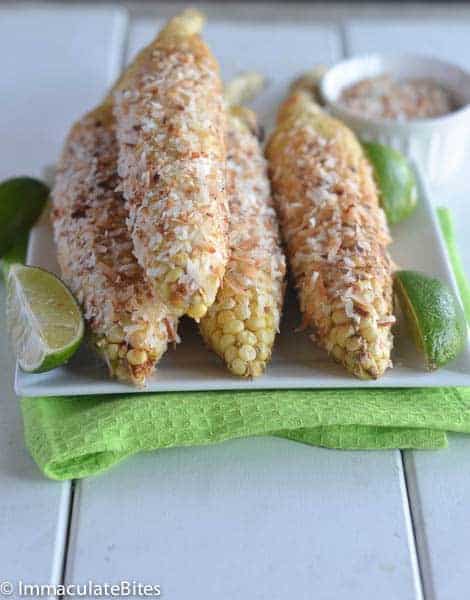 Corn and wings! Kids and corn! Two matches made in heaven. 😂 This grilled coconut corn is super easy and has a tropical kick. Because of that, it tastes incredible with baked jerk chicken wings. If I feel like simplifying, though, I serve it with grilled chicken wings since the grill is already fired up.
Grill Coconut Corn
Grilled Coconut Corn – a Caribbean-inspired grilled corn that is sweet, savory, succulent, spicy, crunchy and tasty. Sprinkled with coconut flakes for an extra indulging corn on the cob!
Check out this recipe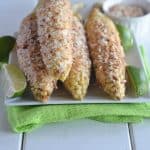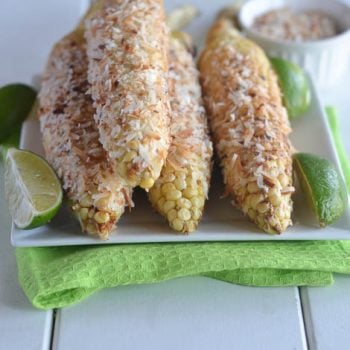 4. Bacon Mac and Cheese
There is something so satisfying about wings with mac and cheese. This recipe gives you classic, comforting mac and cheese with homemade cheese sauce and bacon crumbles. Making your own cheese sauce is super easy and tastes way better than the packet from a box. Try pairing it with lemon pepper wings. The combo is absolutely soul-satisfying.
Bacon Mac and Cheese
Our classic favorite mac and cheese gets a quick revamp with the addition of crispy bacon bits for added savory goodness. And it has the same creamy and cheesy delight from a trio cheese combo – Parmesan, Mozzarella, and Cheddar. This super easy and delicious dinner is perfect for the whole family with or without occasion.
Check out this recipe
Chicken Wing Side Salads
5. Avocado Corn Salad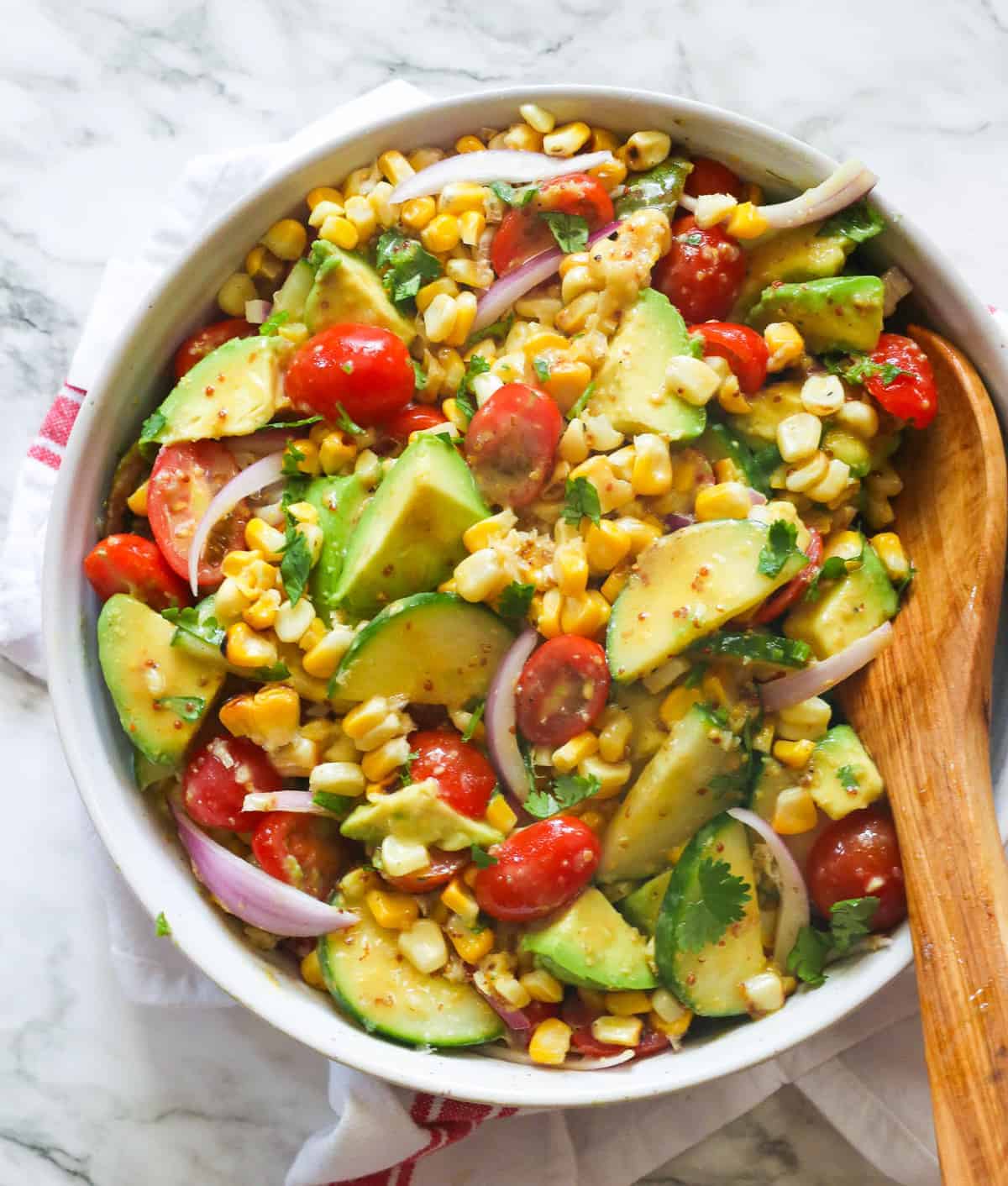 Summery and refreshing, avocado corn salad is amazing with wings. The tangy lime and lemon, creamy avocado, and fresh crunchy sweet corn flawlessly complement chicken wings. Serve them with chicken wings shawarma for a meal that satisfies without that heavy post-meal slump, no matter how many wings you ate. 🙈
Avocado Corn Salad
Avocado Corn Salad is delightfully refreshing and alive with flavor and textures! This distinctive salad is summer in a bowl! Fresh corn unites with creamy avocado and tangy lime and lemon juices to form the perfect summer indulgence!
Check out this recipe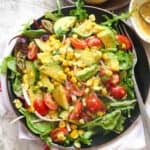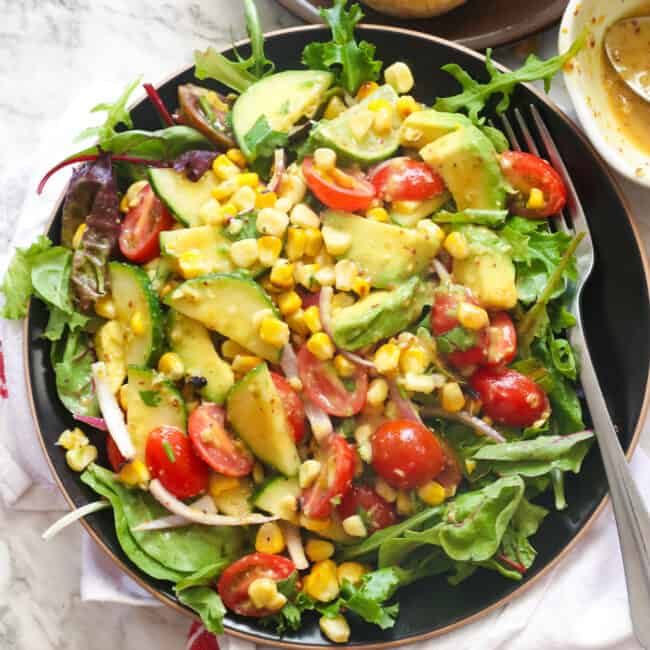 6. Pea Salad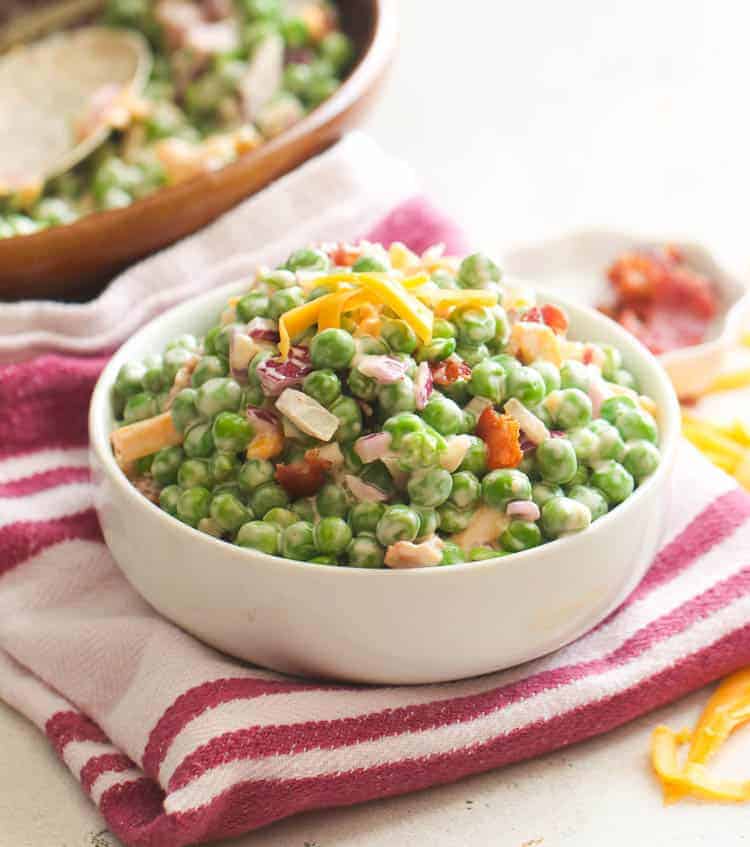 This salad is colorful and fresh, besides being an excellent addition to a list of healthy sides for chicken wings. The mayo-based dressing cools down any flavor fires started by extra spicy wings. 😜 This is one of my go-to sides anytime I make crispy hot honey Old Bay wings. Plus, loaded with peas, onion, cheddar, and bacon, it's plain good to eat too!
Pea Salad
A delicious bowl of PEA SALAD deserves its place on your lunch or dinner table. It's savory and tangy with a kick of heat from Homemade Creole Seasoning—a simple salad that will surely entertain your palate! This dish is an excellent side on regular weekdays or even the holidays.
Check out this recipe
7. Easy Coleslaw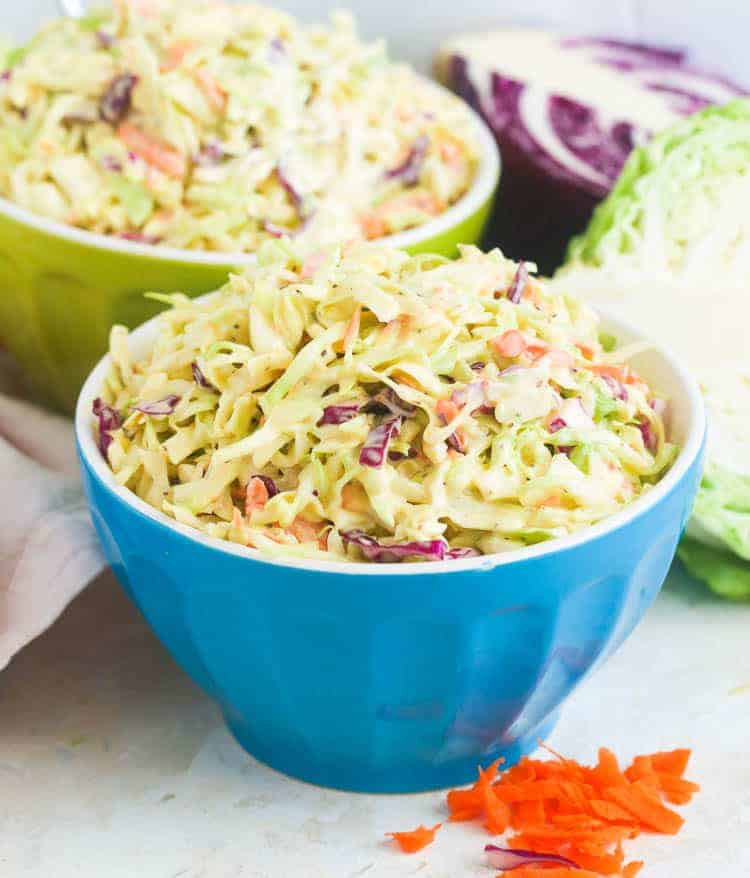 A trendy side, this easy coleslaw recipe is perfectly crunchy with a silky dressing that is a breeze to make. It adds texture and balances the chicken wing meal while giving everyone a good dose of veggies. It goes best with classics, like Buffalo-style or smoked chicken wings.
Easy Coleslaw
Thick, silky, and crunchy, this homemade EASY COLESLAW is more than just a sweet side dish. It's a bedazzling superstar when we talk about having a full meal as it elevates the flavor and texture of any simple meal. So give your next dish some sweet personality with the best coleslaw recipe in town.
Check out this recipe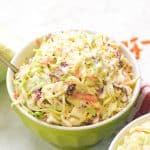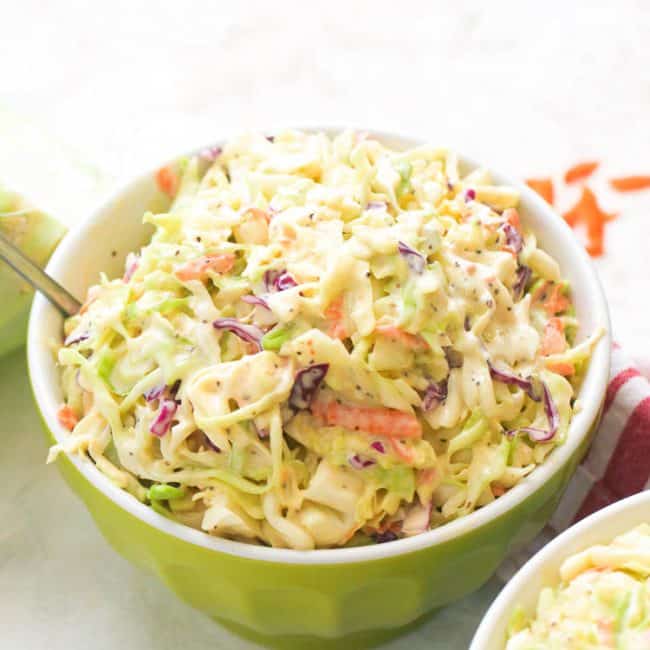 8. Cornbread Salad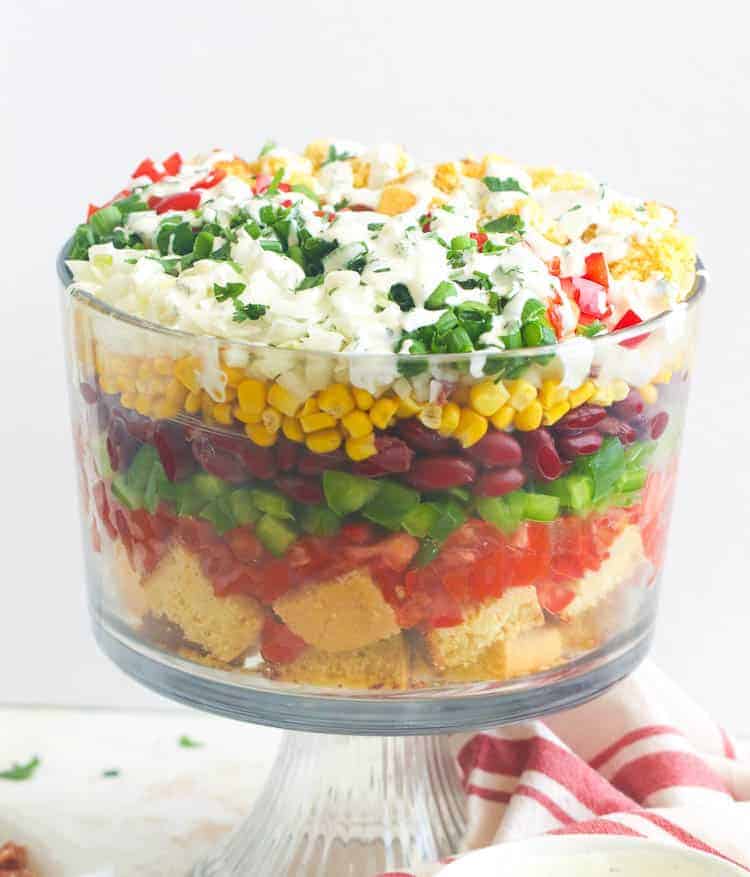 This recipe would be a good choice if you could only choose one side for your wings. It's got cornbread, beans, fresh veggies, a tasty dressing, and bacon, making it a good all-in-one side. It's one of my favorite ways to use up homemade cornbread, so if you've got some, why not plan a chicken wing meal with this as a side? It is irresistibly good. 🤤
Cornbread Salad
Cornbread Salad- an extraordinary salad made with layers of homemade cornbread, beans, corn, bell peppers, tomatoes, green onions then topped with bacon bits, cheese, and a generous serving of ranch dressing. Each ingredient is in complete harmony. This easy salad recipe is everything you'll need for a special family dinner or when entertaining!
Check out this recipe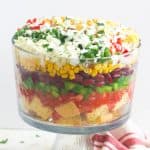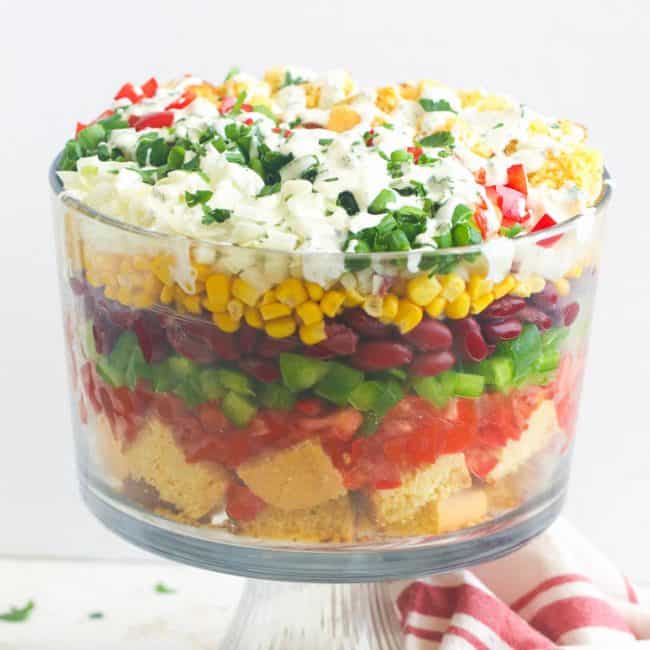 Other Amazing Chicken Wing Sides
9. Cajun Rice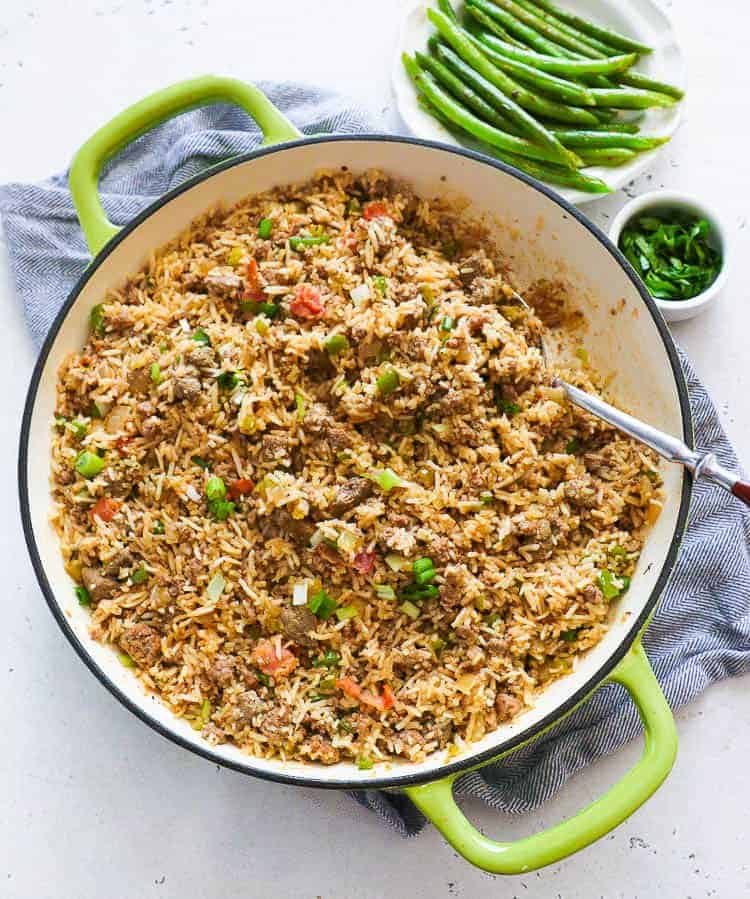 Rice, spiced up with homemade Creole seasoning, meat, and veggies, is hearty and delicious. Try it with baked crispy chicken wings seasoned with similar Cajun flavors, and you'll have a pairing to die for. 🤩
Effortless One-Pan Cajun Rice
Cajun rice – A one-pan meal filled with Cajun flavors that comes together in a mix of fragrant rice and perfectly browned meat. This recipe may look simple at first glance but, trust me, there's more to it than meets the eye. It's a super easy recipe you can make without the need for any exotic spices or flashy cooking methods.
Check out this recipe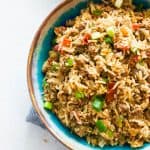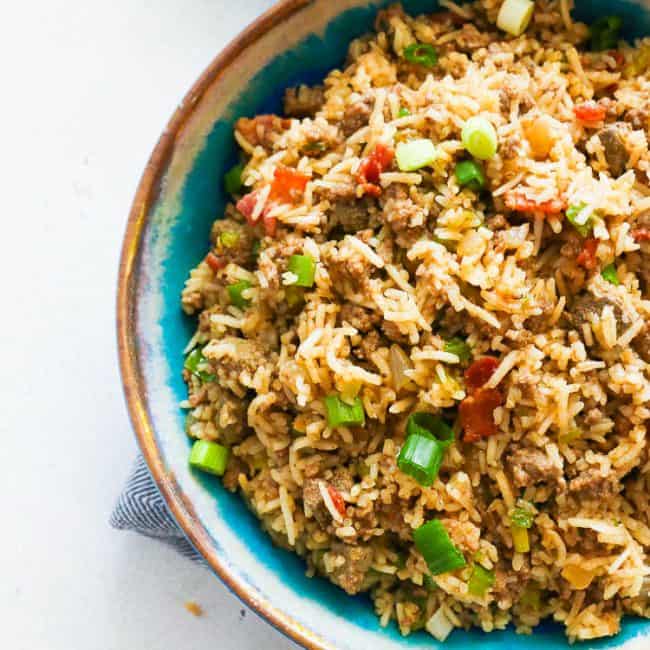 10. Cornbread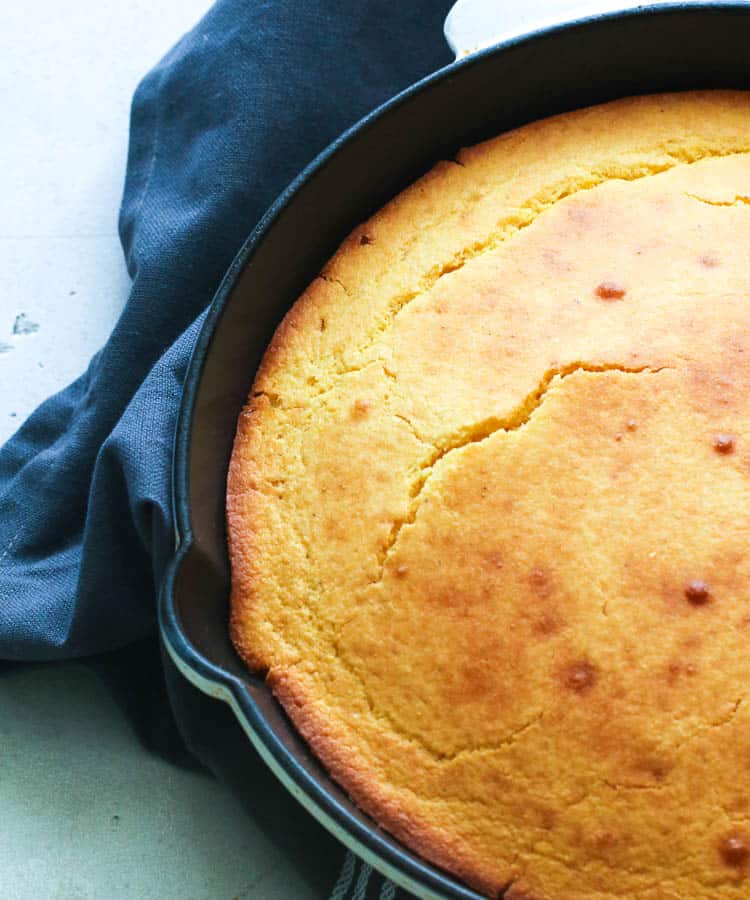 Southern-style cornbread made from scratch may not be your first thought when thinking about chicken wing sides, but believe you me, they go great together! Crumbly, moist, buttery, made-from-scratch cornbread is a must on my table, especially if we have fried chicken wings. Plus, it's quick and easy to make and always a crowd-pleaser. One try, and you'll be convinced cornbread and chicken (in all its forms) are always a good match.
Southern Style Corn bread
Southern Style Corn Bread – crumbly, moist and buttery Southern cornbread all made from scratch with cornmeal, flour, butter, eggs, buttermilk, and a little sugar. Makes a wonderful snack or side to your bean dishes, stews, soups and ribs. You can never go wrong with this quick and easy Southern classic!
Check out this recipe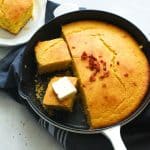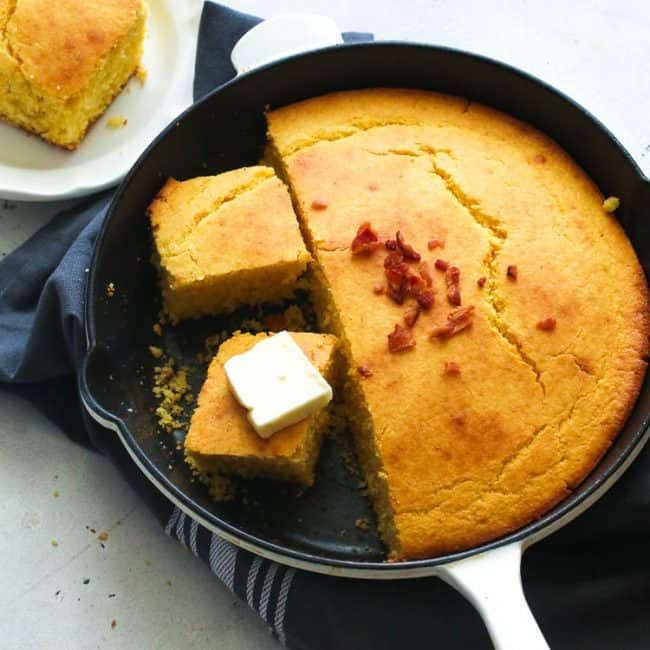 Beans and Salad
11. Bacon-Wrapped Green Beans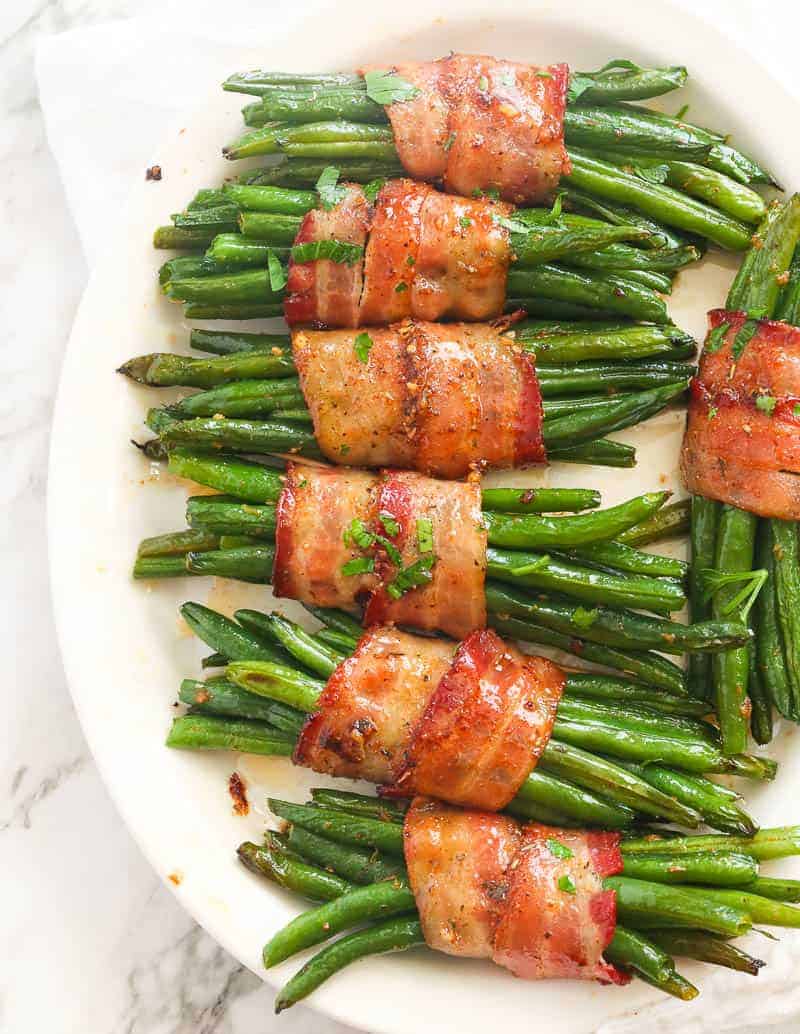 Tender green bean bundles wrapped in crispy, caramelized bacon…what could be better? 😋 These bacon-enhanced veggies go great with sweet, sticky, spicy chicken wings with an Asian flair. Green beans and Asian food are always good together, am I right?
Bacon-Wrapped Green Beans
Enjoy soft and tender green beans wrapped in crispy caramelized bacon, then tossed in a garlic tomato sauce with the perfect blend of Cajun flavors. An easy side dish yet fancy enough to serve on special occasions. And an ideal addition to your easy meal prep ideas, too. Absolutely healthy and entertaining!
Check out this recipe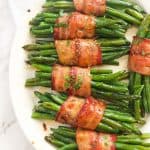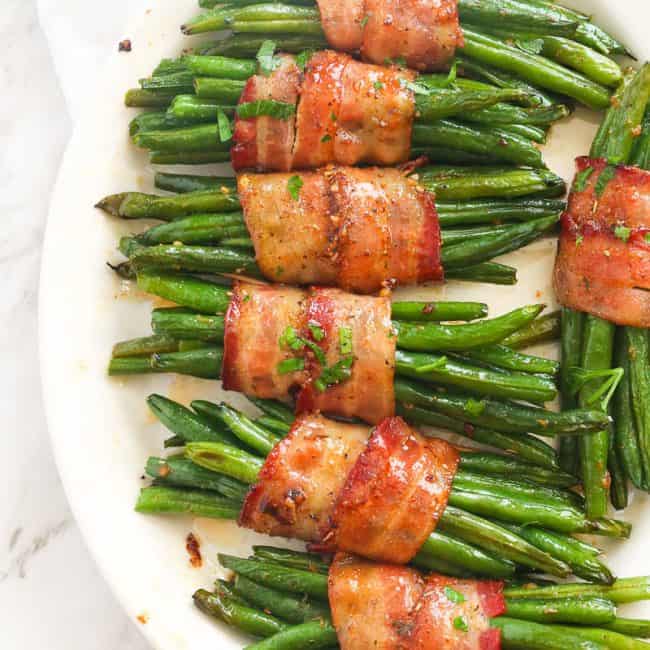 12. Caribbean Potato Salad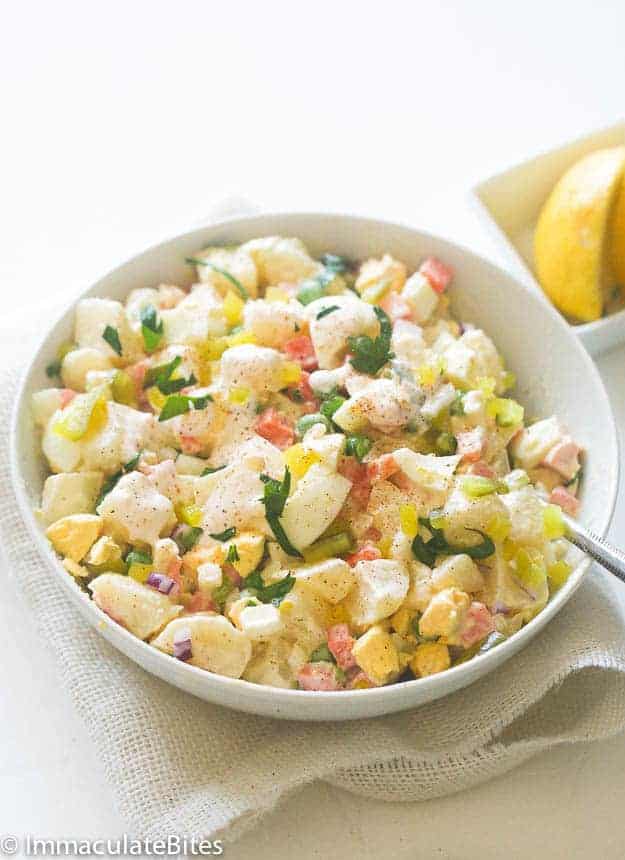 Potato salad, in general, is a good choice for a chicken wing side, but this Caribbean potato salad is a real showstopper. It's a super satisfying meal with jerk chicken wings. Try it alongside the grilled coconut corn, and you'll have an island-inspired meal worth celebrating. 🎊
Caribbean Potato Salad
Caribbean Potato Salad – This incredible potato salad is creamy, luscious, tasty, and chock full of vegetables.
Check out this recipe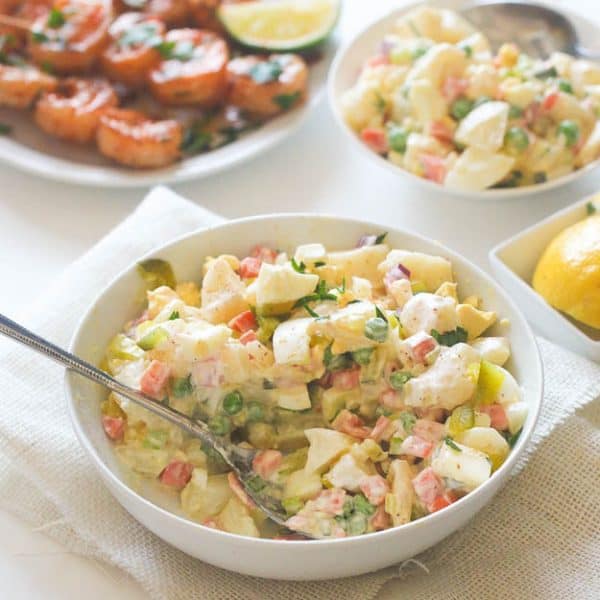 Conclusion
There are literally so many side dishes that go great with chicken wings. It was challenging to narrow this list down to just 12 of my favorites. What's your favorite chicken wing side? I'd love to hear in the comment section below!