9 Popular Greek Recipes You Should Try – Let me take you on a trip to the beautiful country of Greece with these quick and easy recipes. They deliver fancy restaurant-quality meals without the hefty price tag. From light and healthy appetizers to satisfying dinner meals that are sure to captivate you with their authentic Greek flavors. Something new and fresh, and definitely, one of the healthiest cuisines to try!
With our current situation, it's nearly impossible to travel for leisure and try other cuisines. But don't worry because I can take you to the sunny Island of Greece with these popular Greek recipes. And together, we will explore Greek cuisine and enjoy it in the comfort of our homes. And that without having to spend a fortune. Double win!
That said, you will absolutely love these recipes because they are not only straightforward to make, but they are also extremely healthy and undeniably delicious.
You already know my passion is making recipes simpler and fail-proof. And these Greek recipes are perfect for those who want to enjoy comfort food while eating healthily and without sacrificing the taste.
And it's really possible with these yummy Greek recipes. Yaaay!
Greek food is always packed with refreshing flavors because the cooks incorporate fresh herbs, such as mint, parsley, dill, and thyme. Other healthy additions include Greek yogurt, olive oil, and cheese. Ah! Cheese!
You'll learn more about these nutritious recipes as you read along. So, let's go!
FAQs
What are the most popular meats in Greece?
Actually, there's not much of a difference with other cuisines. The most popular meats used in Greek recipes are chicken, beef, pork, lamb, goat, fish, veal, and rabbit.
What foods are forbidden in Greece?
There are rumors that a type of ancient wheat called zea was banned in Greece during the 1930s. However, it is more likely that it was no longer profitable to farm because wheat was so much easier to harvest. That has changed in recent times, and zea is making a comeback because it's more nutritious than modern wheat.
Why is Greek food so healthy?
This may be because their food is usually linked to the Greek diet, aka the Mediterranean diet. Which includes fruits, vegetables, whole grains, yogurt, olive oil, beans, and legumes. They often refrain from eating highly processed foods, such as canned meats, soda, candies, hotdogs, bacon, and frozen meals with high sodium content. Plus, they love adding olive oil to their dishes, which is actually considered one of the healthiest oils because of its high omega-3 content.
1. Greek Salad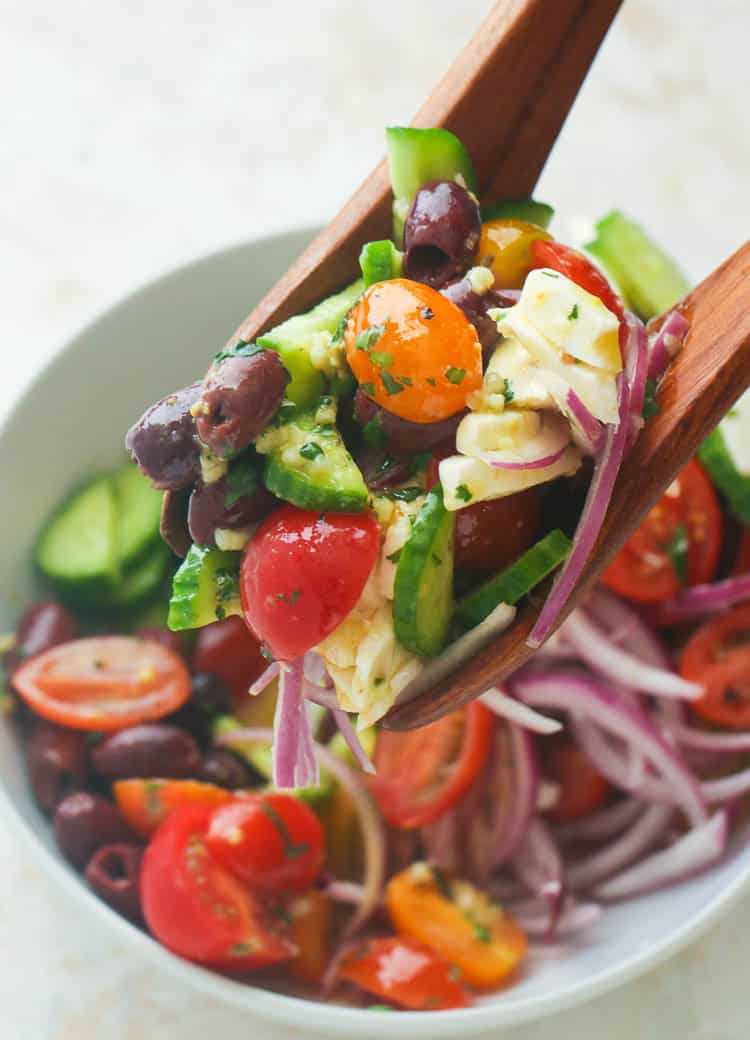 Let's start our Greek food escapade with this bright and refreshing salad with a twist. Oh yes! So, instead of the usual vinaigrette, this Greek salad is tossed in unique and sensational lemon-mint dressing. Plus, the addition of feta creates a wonderful flavor accent, too. ❤
I suggest pairing this alluring Greek salad with Pan Seared Salmon or Baked Cod for the perfect comfort food combo. Eating healthy food has never been this tasty!
And the best part is, you can make the Greek salad dressing in advance and store it in a glass jar in the fridge. It will come in handy the next time you want to throw a salad together fast for a quick salad fix. 😉
Greek Salad
GREEK SALAD – a healthy plate of Mediterranean masterpiece made with tomatoes, cucumber, onions, olives, and feta tossed in a simple olive oil lemon-mint dressing. Prepare your taste buds and let the flavors take you into the sunny islands of Greece. The best part about this is that it's a quick and easy recipe ready to be served in less than ten minutes.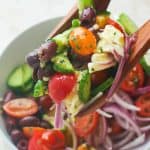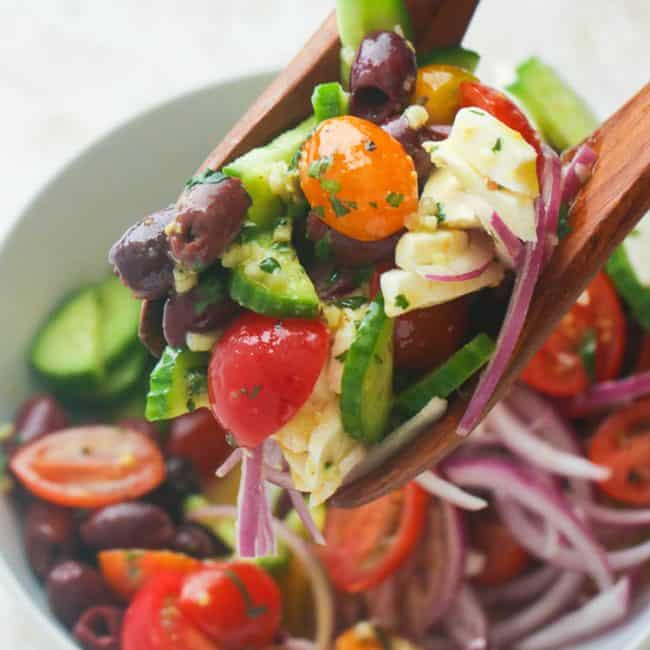 2. Greek Marinade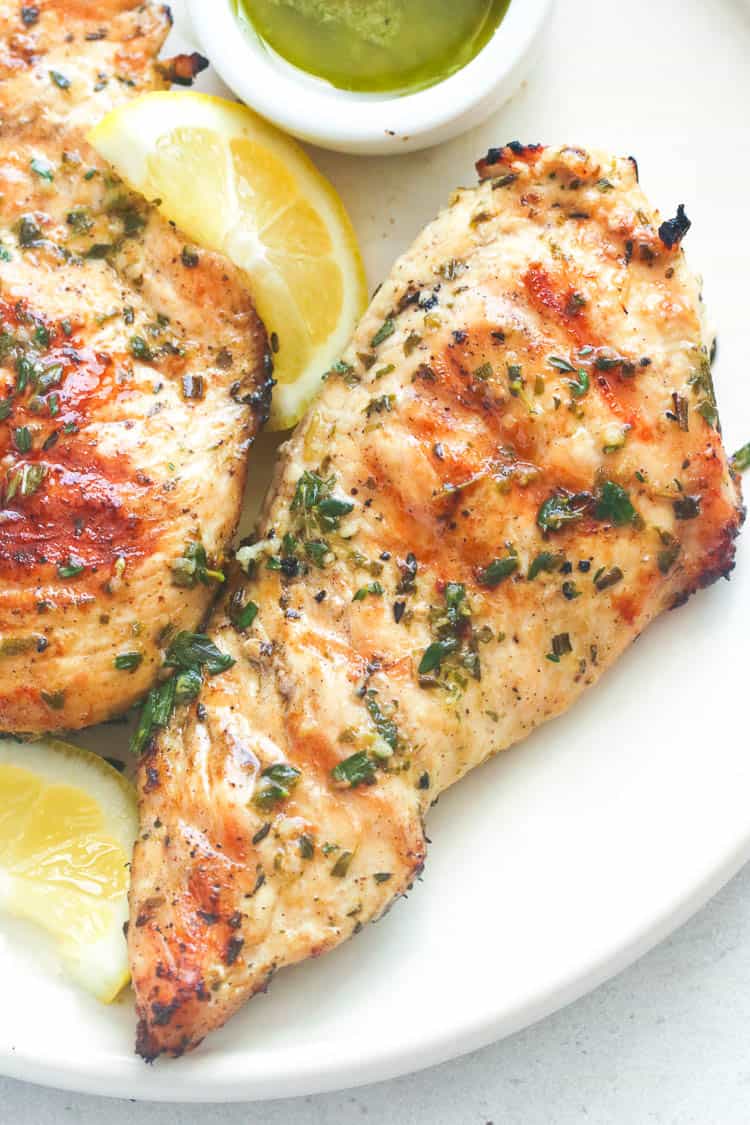 And, of course, you should try this Greek marinade, too. You'll love this even more because of its delightful lemony, herby, and garlicky flavor combination from lemon juice, minced garlic, and various herbs.
It also works great on more than chicken; it also works pretty well with any meat you prefer, such as lamb, pork, and beef. And with this, you'll have an instant Greek dish ready in no time. 😉
Aside from serving these marinated chicken breasts with rice or salad, you can also enjoy them as a filling for your tortilla wrap or burritos. Talk about an incredible Mexican and Greek fusion. 👌
Greek Chicken Marinade
This easy GREEK CHICKEN MARINADE will become your new favorite marinade. It yields an insanely flavorful, and tender marinated chicken that goes well with any salads, gyros, sandwiches, and even rice. And it only calls for just a handful of fresh basic ingredients!
Check out this recipe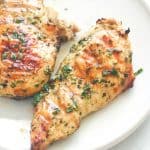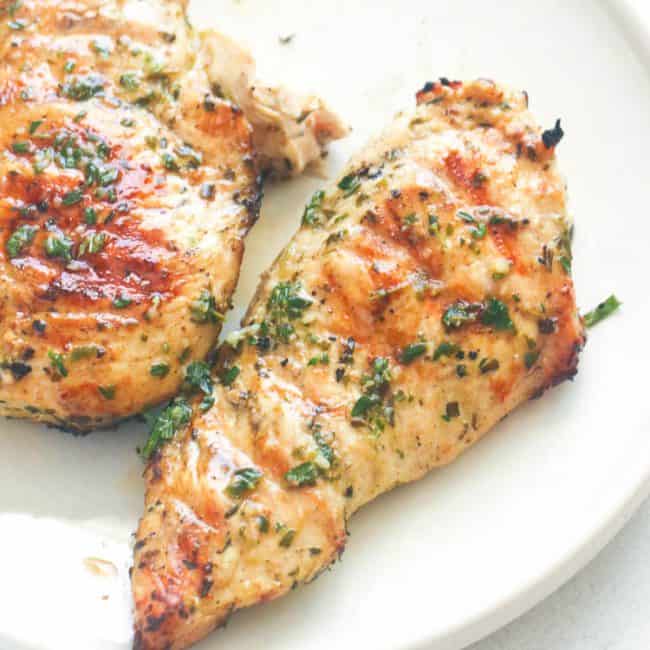 3. Chicken Gyros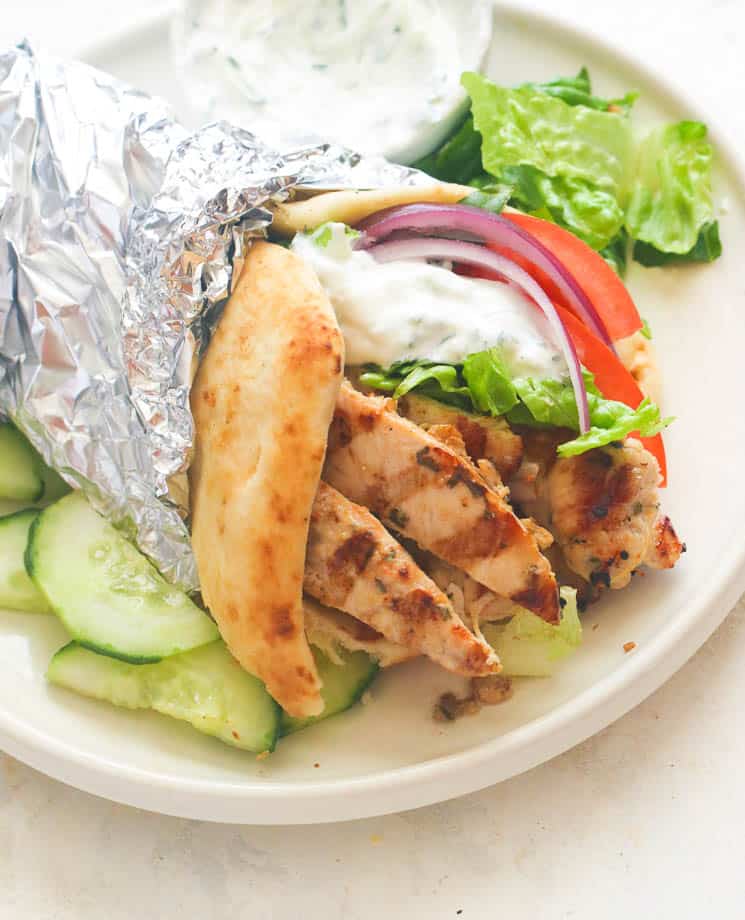 This easy Greek recipe is sure to dazzle you with the flavorful pan-grilled chicken breast fillet. It is even more delectable because it is marinated with herb-infused Greek yogurt with a lemony zing.
Beautifully wrapped in Pita Bread, then generously drizzled with rich and lip-smacking Tzatziki sauce. Did I mention it comes with crumbled feta cheese, too? Aah! Happiness really does come in packages.
To make it more filling and satisfying, I highly recommend having gyros with any of these 25 Quick and Easy Salad Recipes. Oh yes!
And, oh, you can also use your leftover chicken fillets to add to your Creamy Chicken Pasta Salad, Chicken Alfredo Pizza, or Pastitsio. Or just simply eat them with rice. Yum!
Chicken Gyros
Chicken Gyros is surprisingly easy to make at home! Made with yogurt-marinated chicken tenders that boast huge flavors all wrapped up in pita bread, along with a creamy tangy garlicky sauce and all the fixings you love. Every bit of this classic dish is messy good!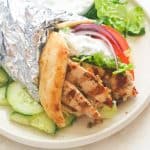 4. Moussaka Eggplant Recipe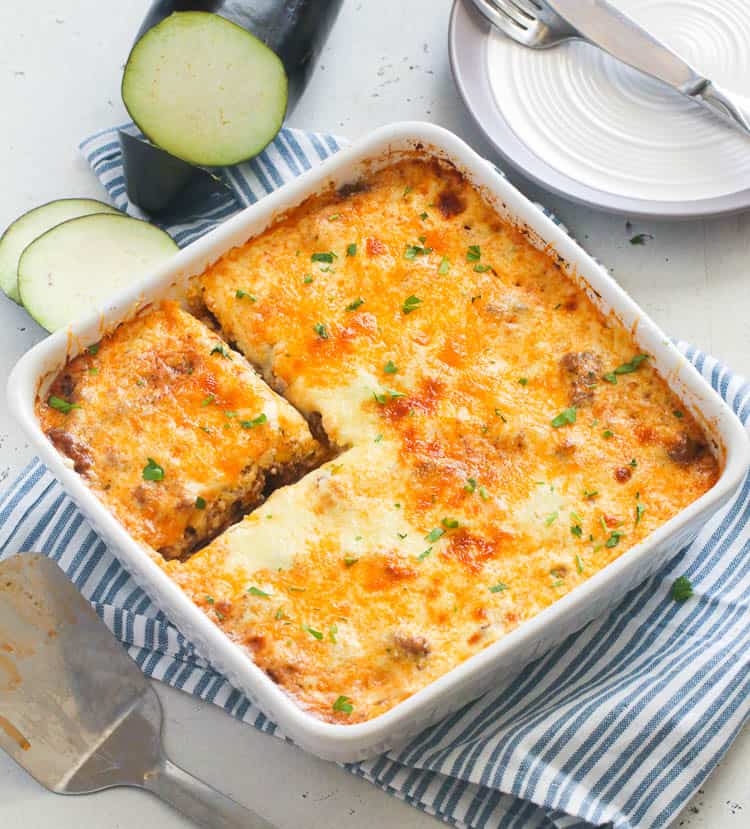 Our list of Greek recipes wouldn't be complete without this creamy and cheesy Moussaka.
It's a healthier version of the classic Lasagna because it's made with eggplants slices instead of lasagna noodles. Both have layers of meaty sauce and cheesy sauce that's screaming nothing but perfect indulgence. In fact, it's so good even your non-veggie eater kid won't mind the eggplants. Such a winner dish, indeed!
Although it's satisfying and filling on its own, I still love eating it with my Homemade Garlic Bread or Focaccia Bread. Who cares about carb overload? Naaah! That's only for the weak! ✌
Above all, this hearty Greek food Moussaka actually freezes well. So, you can make a big batch and pack them individually in single portions for easy thawing and reheating. Just pop them in the oven and reheat at 350F for 20-25 minutes or until warmed through.
Moussaka
Eggplant Moussaka Recipe – Our flavorful twist on a classic Mediterranean dish with layers of seasoned roasted eggplant, scrumptious meat sauce, and creamy cheese sauce. Full of flavor hearty dinner that's worth all the effort!
Check out this recipe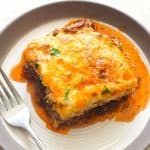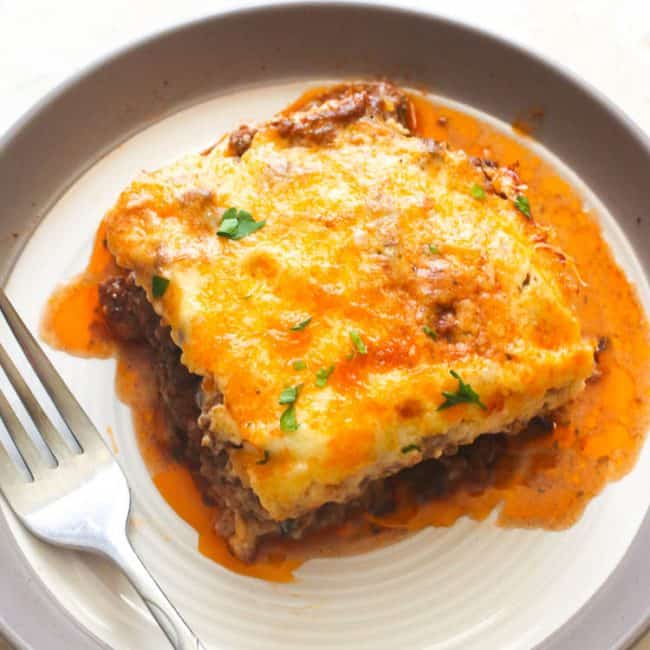 5.

Pita Bread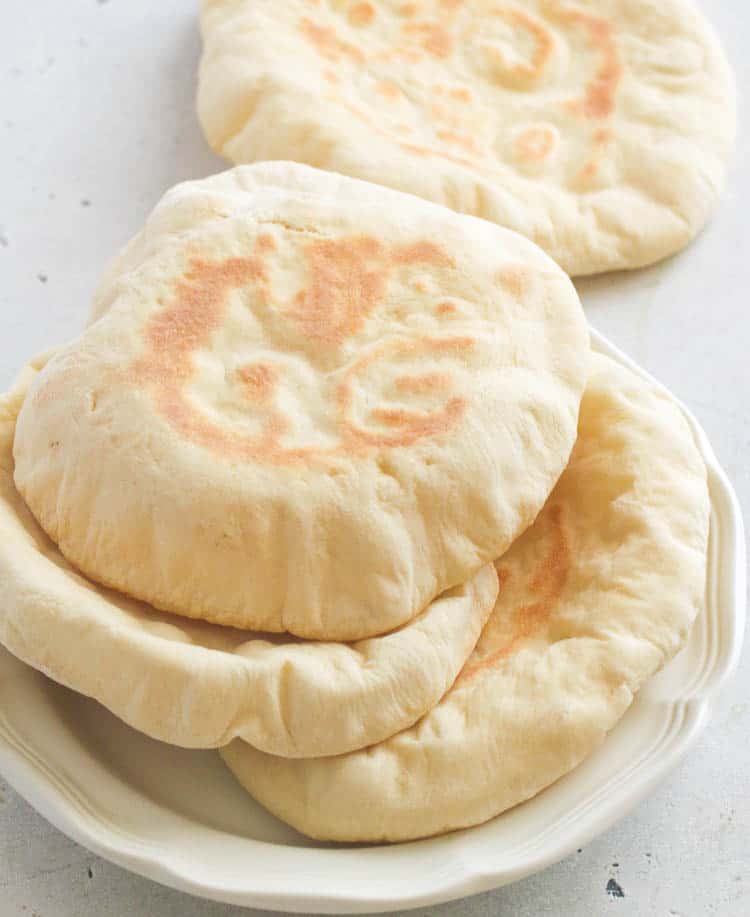 Aah! Nothing pairs as well with Instant Pot Curry Chicken and Hummus as humble pita bread.
It's so soft and slightly chewy because it's made with yeast. That and the other five simple ingredients, including flour and water (and a little bit of elbow grease), make this a terrific bread to have on hand.
You can either bake it or cook it in a skillet on a stovetop. It's simple and easy yet offers an authentic Greek food experience. 😉
To be honest, they are best eaten when they are fresh from the pan. However, making a big batch of these treats and freezing them for later saves time. Plus, they will be ready when you suddenly have a craving for Chicken Gyros, pita pockets, or some pita pizzas. Genius, right?
Pita Bread
Easy homemade PITA BREAD perfectly served with any saucy dish or as a light snack. One would never be enough, so grab another piece because this freshly baked good is all worth it. The best thing about this is that it saves a lot of food from being wasted coz you can pair it from veggies to meat, and even dips.
Check out this recipe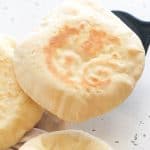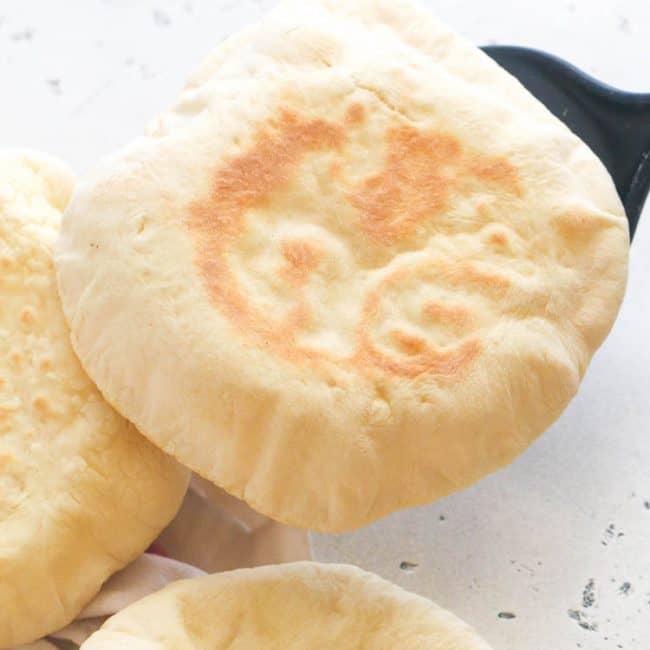 6. Pastitsio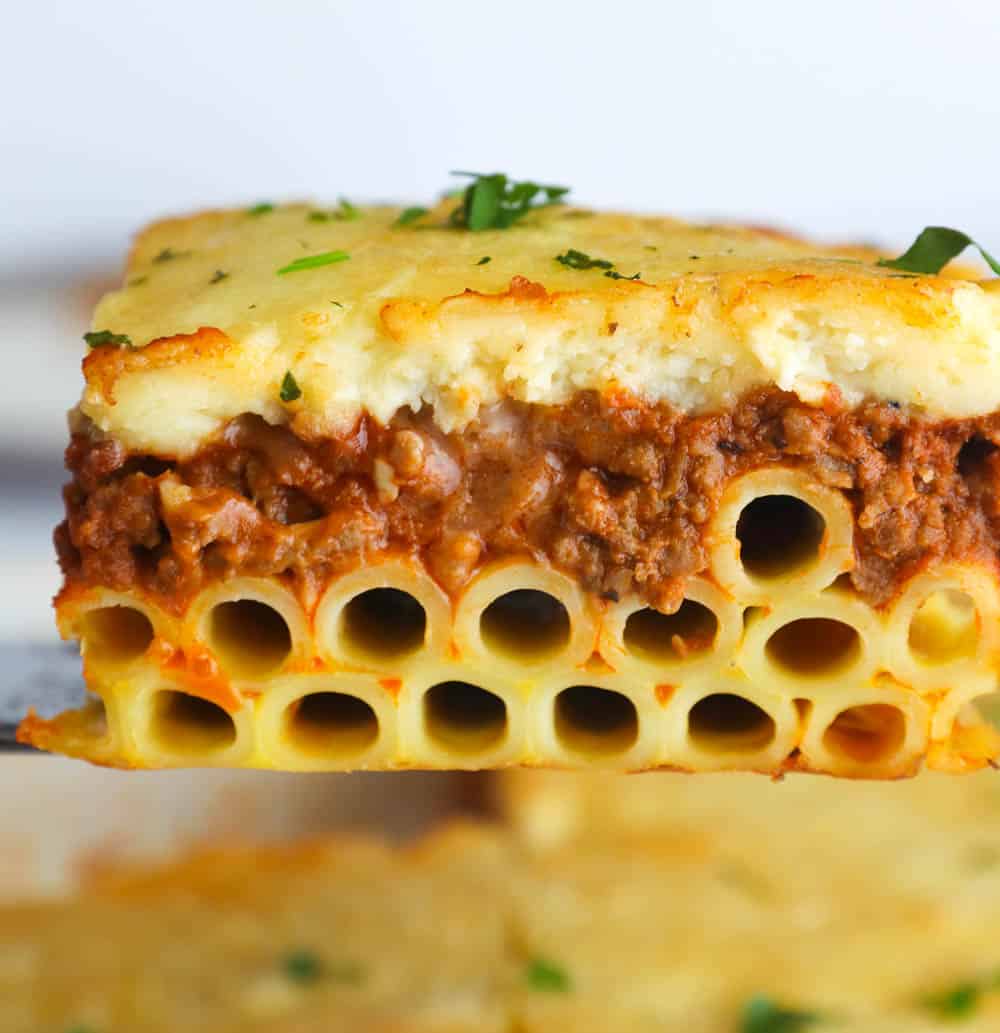 This fabulous recipe is another Greek recipe that is similar to Lasagna. But instead of lasagna noodles, it uses tubular pasta, aka Pastitsio.
Also, the layers of Pastitsio don't alternate like the usual lasagna. In fact, it is arranged as pasta at the bottom, meaty sauce in the middle, and thick cheese sauce on the top.
What makes this Greek recipe more interesting is adding the cinnamon stick to the meaty red sauce. While the white sauce is oozing with elegant flavors from a special Greek cheese called Kefalotyri. But of course, you can always substitute it with your favorite cheeses like parmesan, cheddar, jack cheese, or mozzarella.
I know this one is already a complete meal on its own but having it with a salad makes the experience even more delightful. So, if I were you, I'd have a Mediterranean Chickpea Salad or Watermelon Salad on the side. Simply fantastic! 🤩
Pastitsio
Pastitsio – Make weekends extra special with this authentic Greek lasagna made with amazing layers of cinnamon-infused and herby meaty sauce, bechamel sauce, and pastitsio pasta. Creamy, cheesy, and meaty – fully loaded meal with the perfect blend of glorious flavors. A festive family-friendly dinner you can make at home without breaking the bank. Yes!
Check out this recipe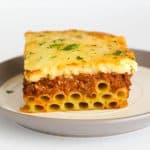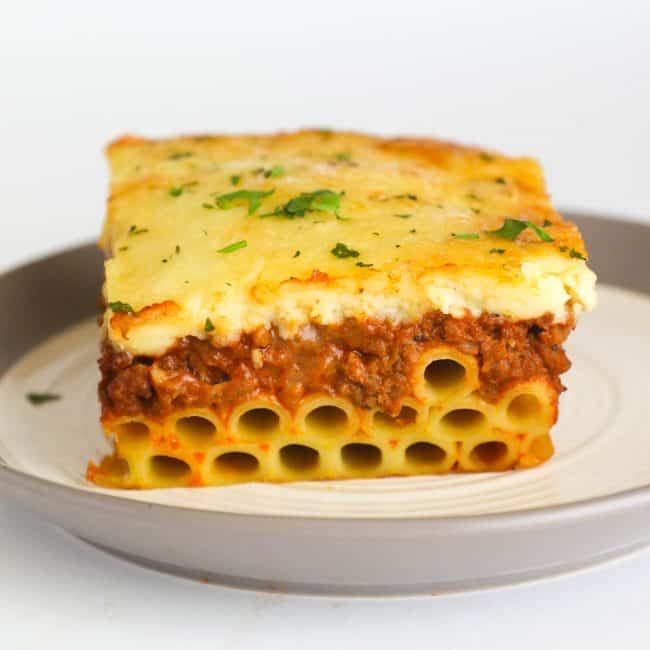 7. Greek Meatballs
Finally, an easy Greek recipe that you can enjoy gluten-free and guilt-free! Oh yes! You'll definitely love this meaty balls of happiness because it is bursting with savory flavors from herbs and spices.
Besides cumin, oregano, dill, and garlic, you can add more seasoning like Italian seasoning or Creole Seasoning to ramp up the flavor. And load it up with more pepper flakes and cayenne if you want to make them spicy. Taste the mouthwatering goodness in every bite!
These babies also make great appetizers and party snacks, especially when you serve it with our Greek dressing recipe, Tzatziki sauce. Or better yet, add them to your favorite salad to add some meaty goodness. And, of course, you can also add them to your yummy pita pockets. Woohoo! Party on!
Greek Meatballs
This recipe for flavorful juicy Greek meatballs filled with fresh herbs is a quick and easy recipe that is perfect for your weekly meal prep or a 30 minute weeknight dinner. The meatballs are baked in the oven and served with a cool creamy tzatziki sauce that you won't be able to stop eating. This is a recipe that everyone will love!
Check out this recipe
8. Spinach Pie (Spanokopita
)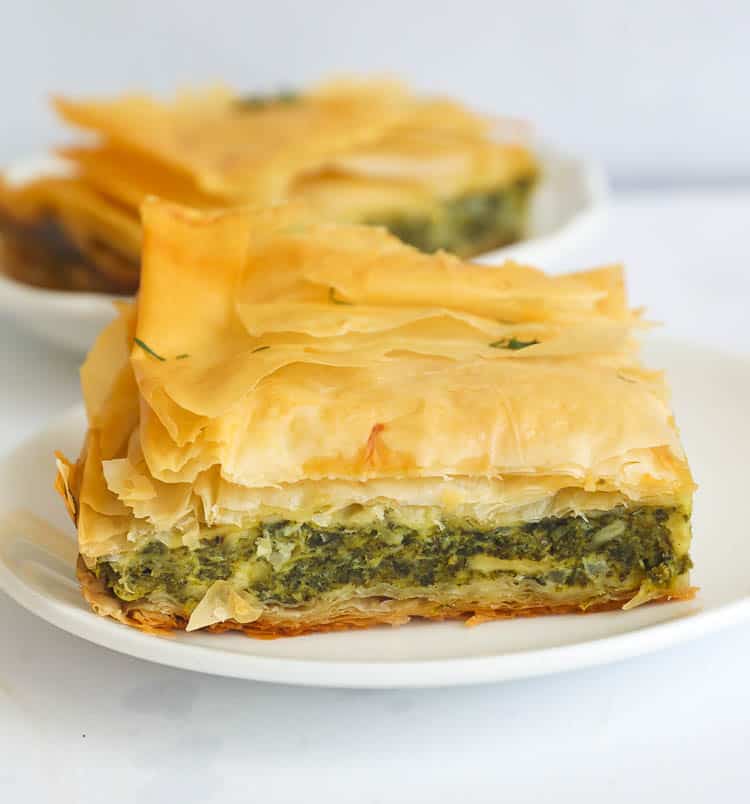 These are treats made with phyllo, the same pastry used for baklava, making them entertaining and impressive. But this recipe is a savory pie rather than a dessert.
As a matter of fact, it has a wondrous pie crust of phyllo dough and delicious feta-spinach filling. The added aromatic herbs such as dill weed, parsley, garlic, and onion make this dish even more flavorful and fancy.
This easy Greek recipe may not be low carb, but it is definitely filling and nourishing.
It can already stand alone as a main dish. However, you can go all out and serve this delectable side dish with Lemon Chicken or Grilled Lamb Chops. Such a heavenly meal pairing your family will surely love.
Spinach Pie
Spanakopita is a savory spinach pie with flaky phyllo crust filled with well-seasoned onion, spinach, eggs, and feta cheese. It's the ultimate in Greek comfort food. Not only is it super easy to make, but this spinach pie recipe is highly nutritious and delicious.
Check out this recipe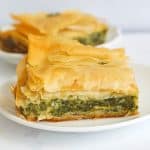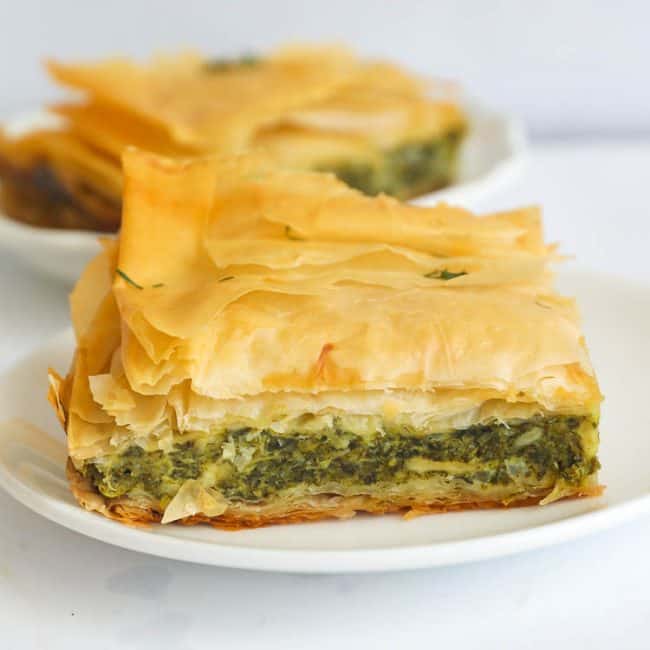 9. Tzatziki Sauce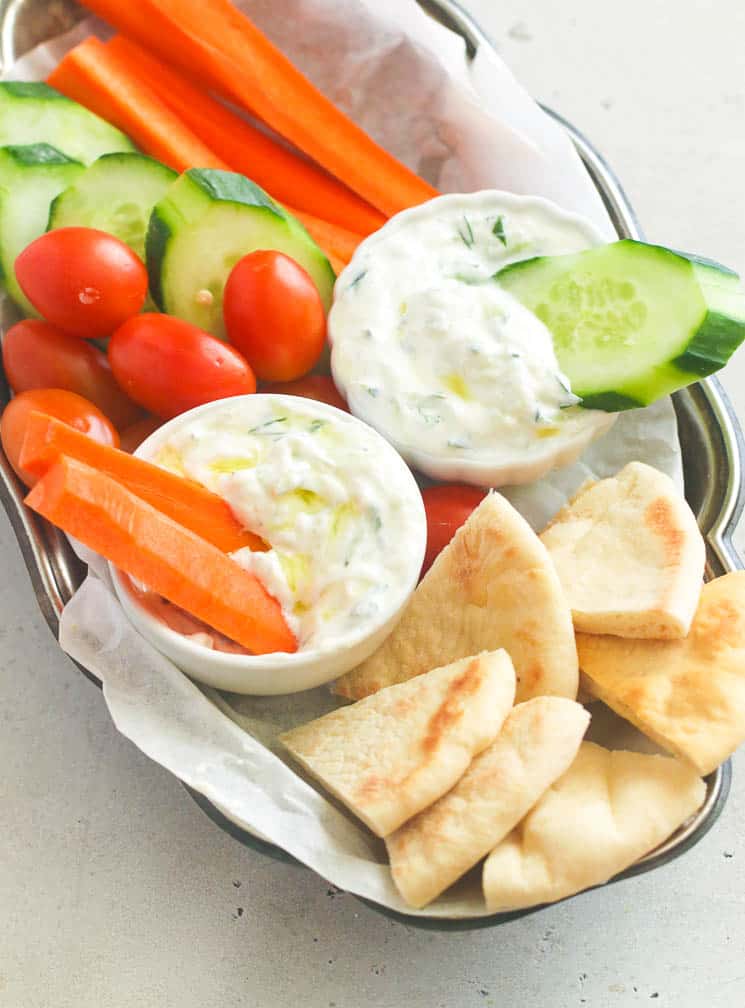 And to wrap up our Greek food recipe list, I'm gonna leave you here with astonishing and drool-worthy Tzatziki Sauce.
It's no ordinary sauce because it's made with grated cucumbers, Greek yogurt, and lemon juice. And for good measure, I've thrown in some zesty flavors from dill, garlic, and pepper.
It's a very versatile Greek dressing recipe that you can add to any fresh salad or use as a sandwich spread. It also doubles as a sauce or dip perfect for steamed vegetables, shawarma, kebab, and gyros. A versatile Greek recipe, indeed! 👌
Good news! You can make this sauce ahead and store it for later use. However, since we use fresh ingredients for this recipe, it's best used within four days, just to be on the safe side. You may notice the sauce separating over time, but that's okay. You just need to remix it, and it'll be ready to use in no time. Awesome!
Tzatziki Sauce
Tzatziki Sauce – creamy-white with a kick of light, tangy, and herby flavors. This dip can be easily made in your own kitchen. From veggies to meats and even on wraps, I'm sure your friends and family will crave more of this. It's affordable yet taste as good or even better than the bottled ones.
Check out this recipe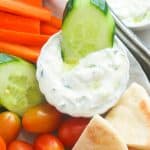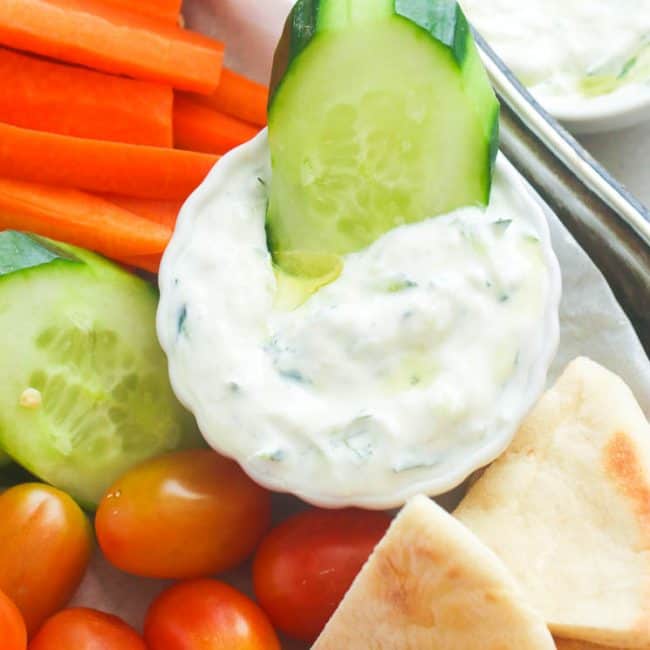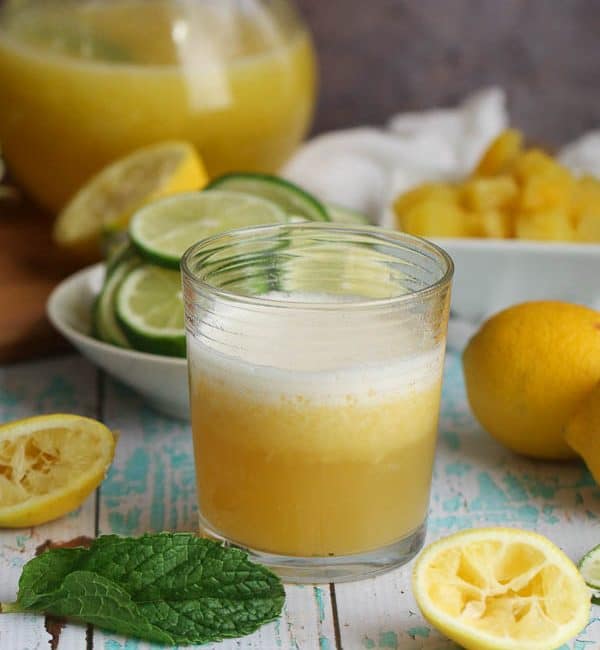 Print
Pineapple Lemonade
Pineapple Lemonade – It's sweet, It's fruity and makes a refreshing drink with an extra something' something' – You will want to drink more than one glass.
Ingredients
Simple Syrup
¾

cup

sugar

,replace with honey, or any sweetener

2

cups

water

mint leaves

, optional
Pineapple Lemonade
2

cups

chopped pineapple

½

cup

lemon Juice

2

tablespoons

lime Juice

cold water as needed

ice cubes

Moscato – Optional
Instructions
Simple Syrup
In a medium saucepan combine sugar and water. Bring to a boil, keep stirring, until sugar has dissolved- about 5-7 minutes. Throw in mint if using any. Let it cool
Pineapple Lemonade
Place chopped pineapple in a blender and blend until puree.

Pour pureed pineapple in a large pitcher, followed by lemon and lime Juice. Then add simple syrup to taste. Stir until everything comes together. Add sweet wine if including, adjust with cold water, if need be.

Chill or serve with ice cubes.
Tips & Notes:
You can use fresh pineapples or just grab fresh cut pineapples from the supper market, frozen will work as well. Then you put in the blender and pulse until puree.
If are press with time, you can sub with 100% pineapple juice.
You may use sweeteners to replace syrup.
Feel free to add moscato or sweet wine to the mix.
Nutrition Information:
Calories:
194
kcal
(10%)
|
Carbohydrates:
51
g
(17%)
|
Sodium:
8
mg
|
Potassium:
121
mg
(3%)
|
Fiber:
1
g
(4%)
|
Sugar:
46
g
(51%)
|
Vitamin A:
50
IU
(1%)
|
Vitamin C:
53.5
mg
(65%)
|
Calcium:
14
mg
(1%)
|
Iron:
0.2
mg
(1%)