Make eating fruits and veggies more enjoyable with these light but filling, quick, and easy-to-prepare summer salad recipes. Perfect as a snack, side, dessert, or even a meal on its own. Truly refreshing and satisfying!
Summer is the best season for harvesting fresh produce. Also, the season where tropical fruits and fresh vegetables are widely available in the market. The perfect time to take advantage of these overflowing fresh produce.
If you're a non-veggie and non-fruit eater, these recipes might convert you in an instant. And the best part is, these healthy salads are so easy to make with little to no cooking involved. Are you ready? 😉
Fruit Salad Ideas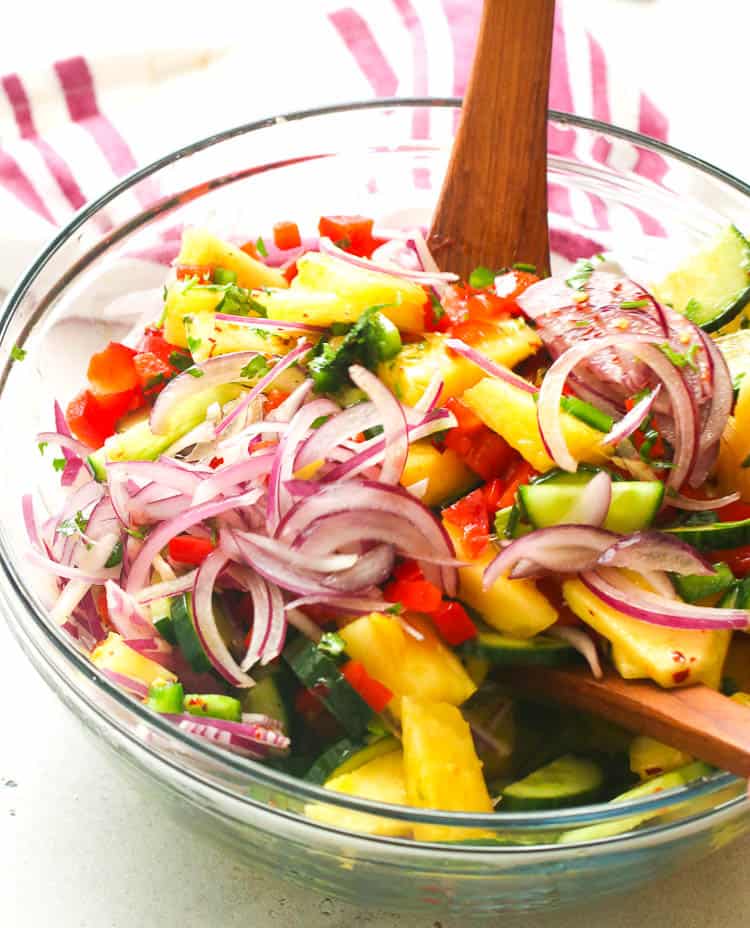 Jalapenos and pepper flakes to your salad? Why not? The result will surely amaze you!
The spiciness added another layer of deliciousness to this side salad recipe. The contrasting flavors of sweet, spicy, and tang will surely make you crave more.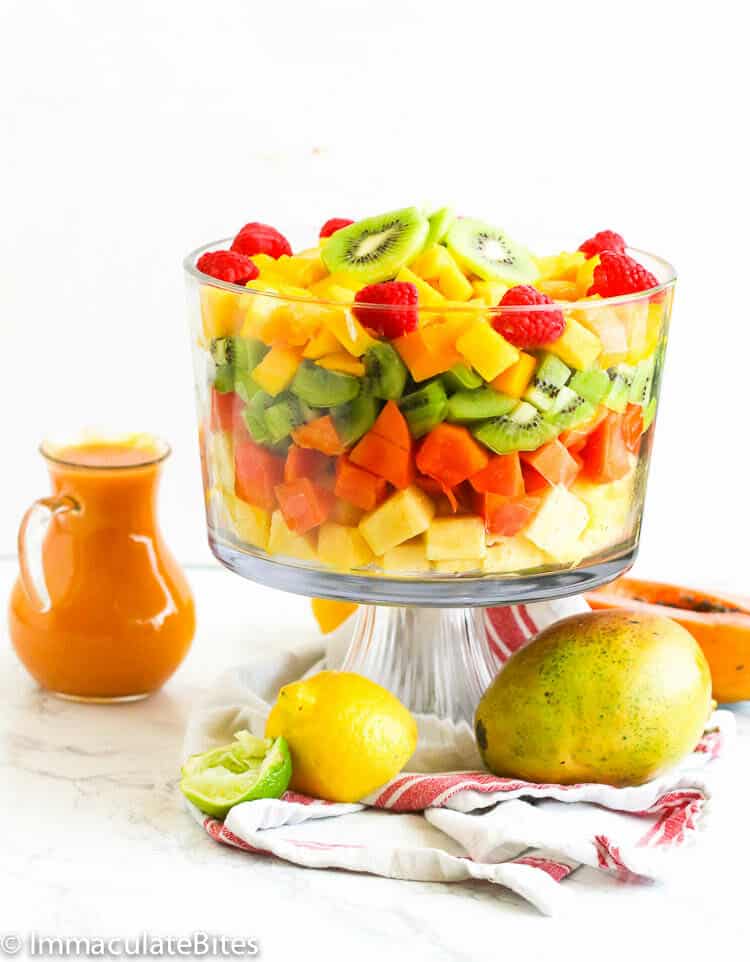 The perfect combination of summer tropical fruits featuring pineapple, mangoes, papaya, and kiwi in a simple and very refreshing tropical fruit salad.
One of the best summer salad recipes your family will surely enjoy all year round. And just look how pleasing they are to the eyes!
3. Mango Avocado Shrimp Salad and Mango Dressing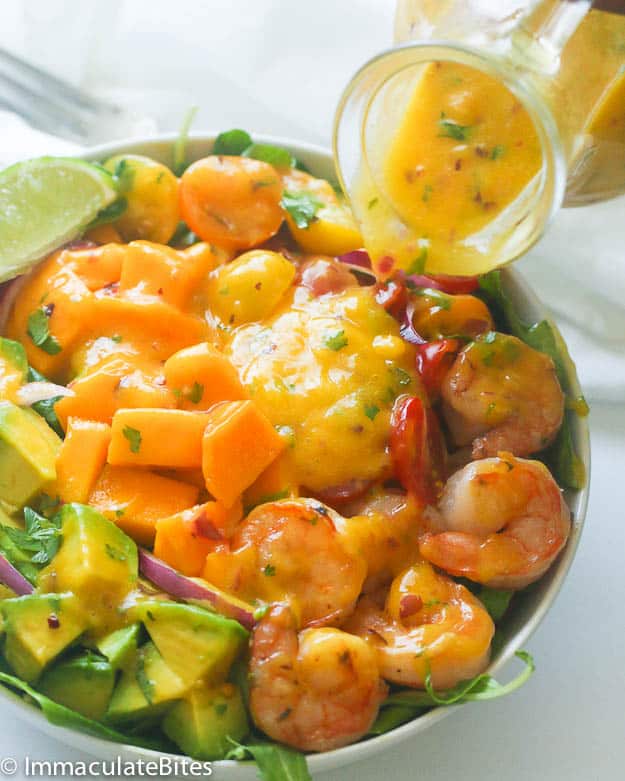 The contrasting sweet and spicy flavors from mango, orange, and sriracha are a real game-changer! It has just the right amount of heat without overpowering the creaminess of the avocado. All the flavors are in perfect harmony. Truly refreshing and tasty!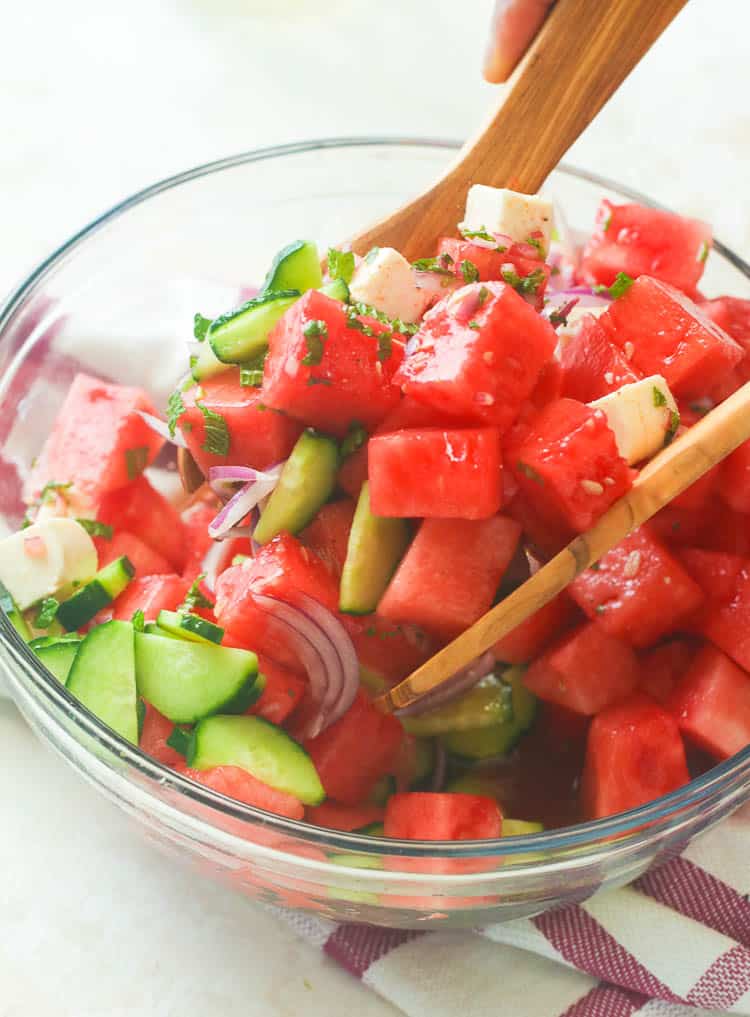 Don't you just love the bright and vibrant colors of watermelon, cucumber, red onions, mint leaves, and feta cheese? Wait until you get to taste this watermelon salad. Experience an explosion of sweet, tangy, and spicy flavors in every bite. Oh la la la!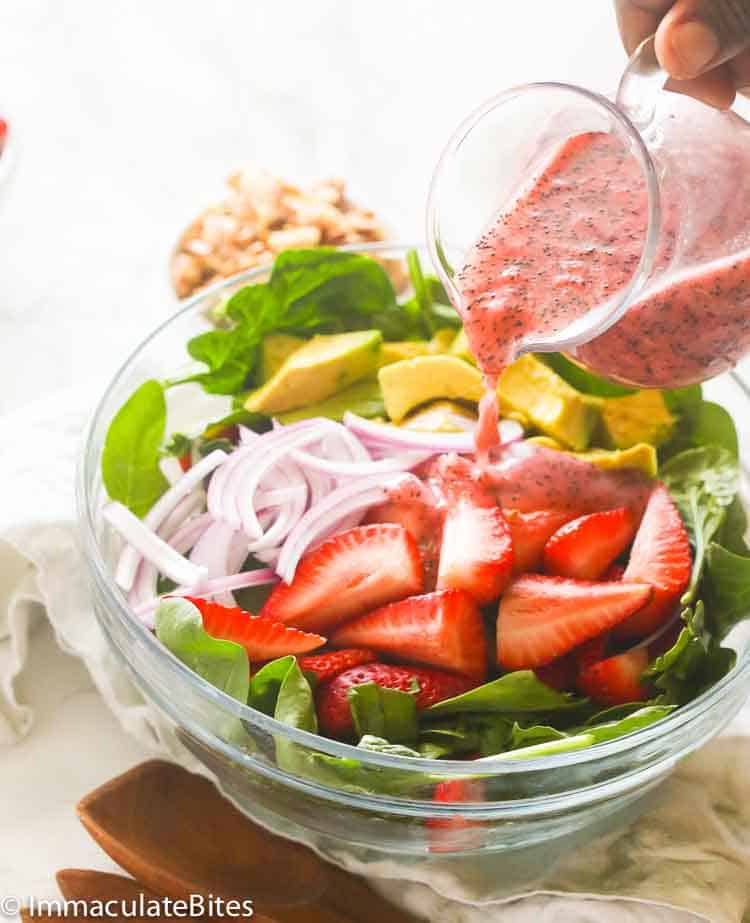 Ain't nothing more indulgent than a leafy spinach salad with luscious strawberries, buttery avocados, and crunchy candied almonds. Then coated generously with a delicious strawberry poppy salad dressing. Undoubtedly, a new crowd-favorite perfect for a summer picnic.
Vegetable Salad Ideas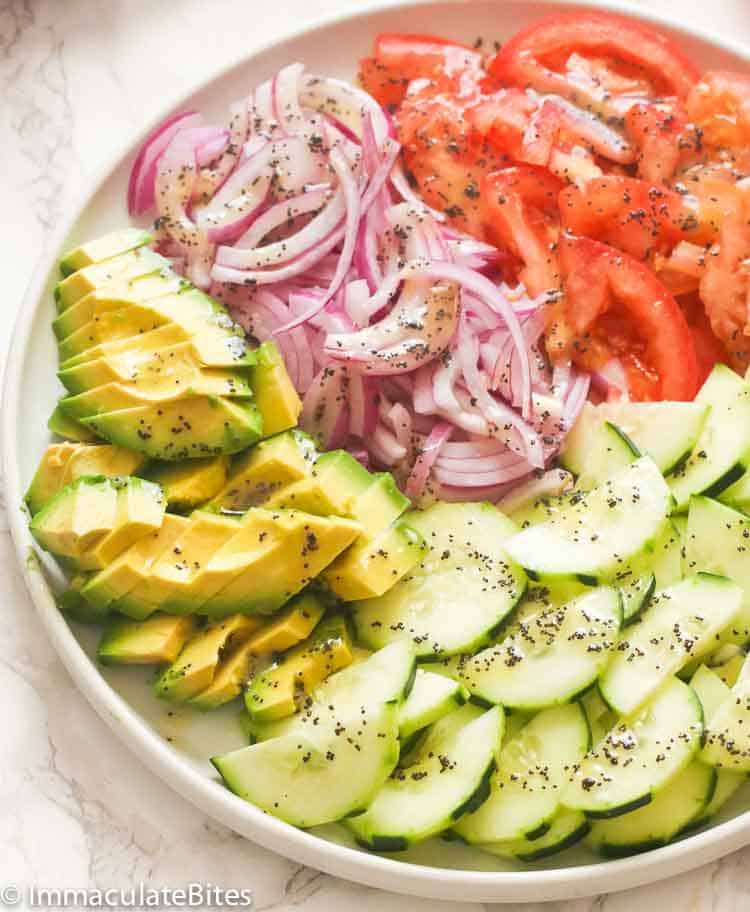 One of the healthiest and easiest salads to enjoy especially if you're vegan. It is made with cucumber, tomatoes, onions, and avocado tossed in sweet, garlicky, and tangy homemade dressing. Incredibly refreshing and satisfying!
7. Tossed Salad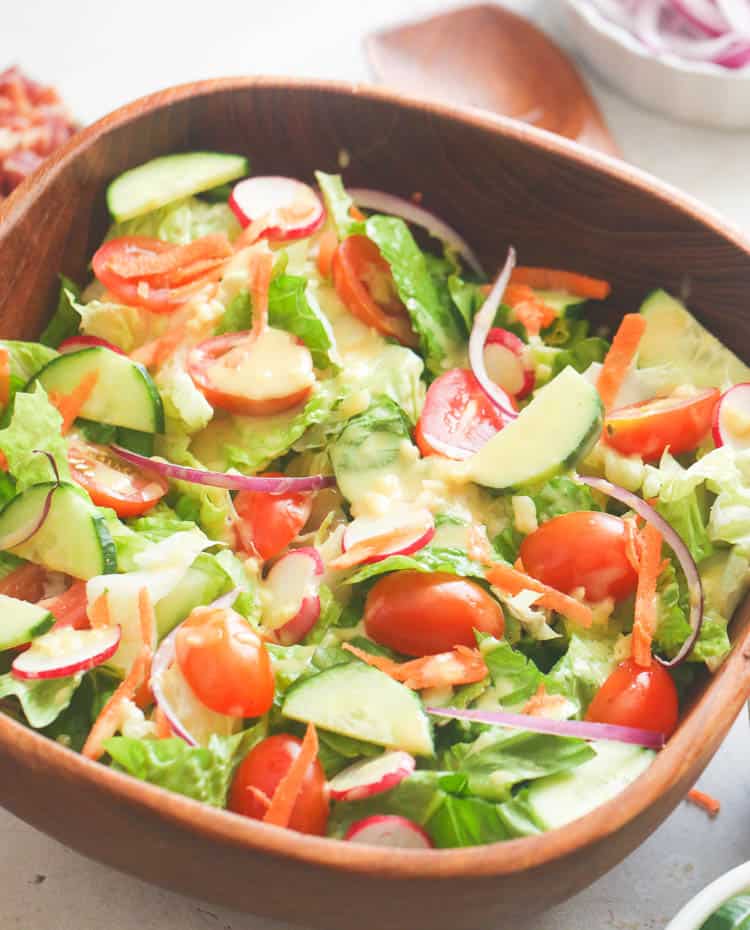 Don't you just love the many ways you can salads with cucumber? This time it's tossed with grapes, lettuce, onion, carrots, radish, avocado, and bacon. And the best part? You can serve it as is or with any of your preferred dressing. Easy peasy!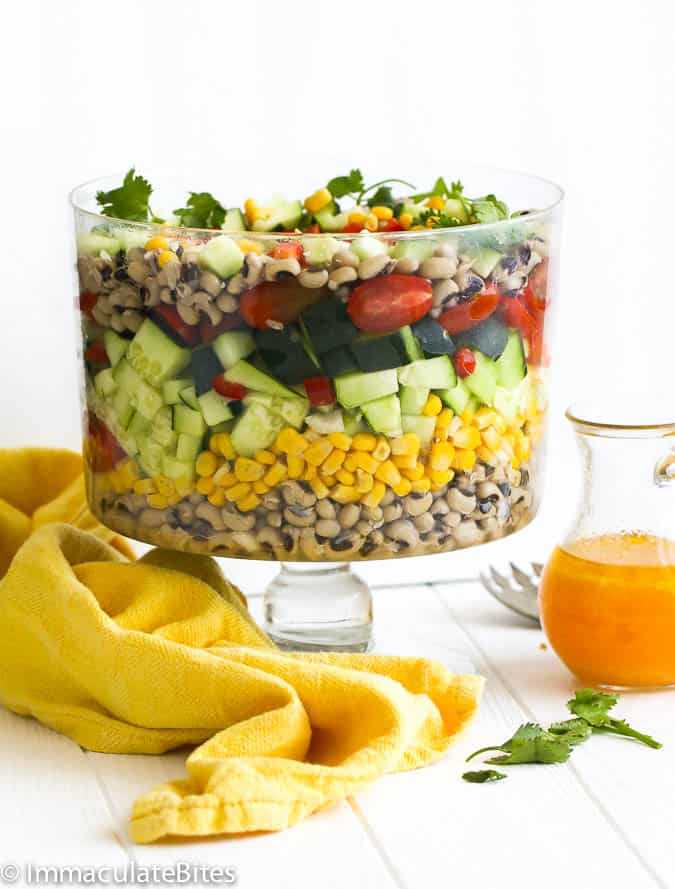 Protein-packed salad bursting with flavors from its "trio" citrusy dressing combo – lemon, orange, and lime.
I also love the combination of vibrant colors and various textures in this salad from black-eyed peas to corn and from cherry tomatoes to avocado. Very inviting and appetizing! Perfect for picnics, potlucks, and get-togethers.
9. Greek Salad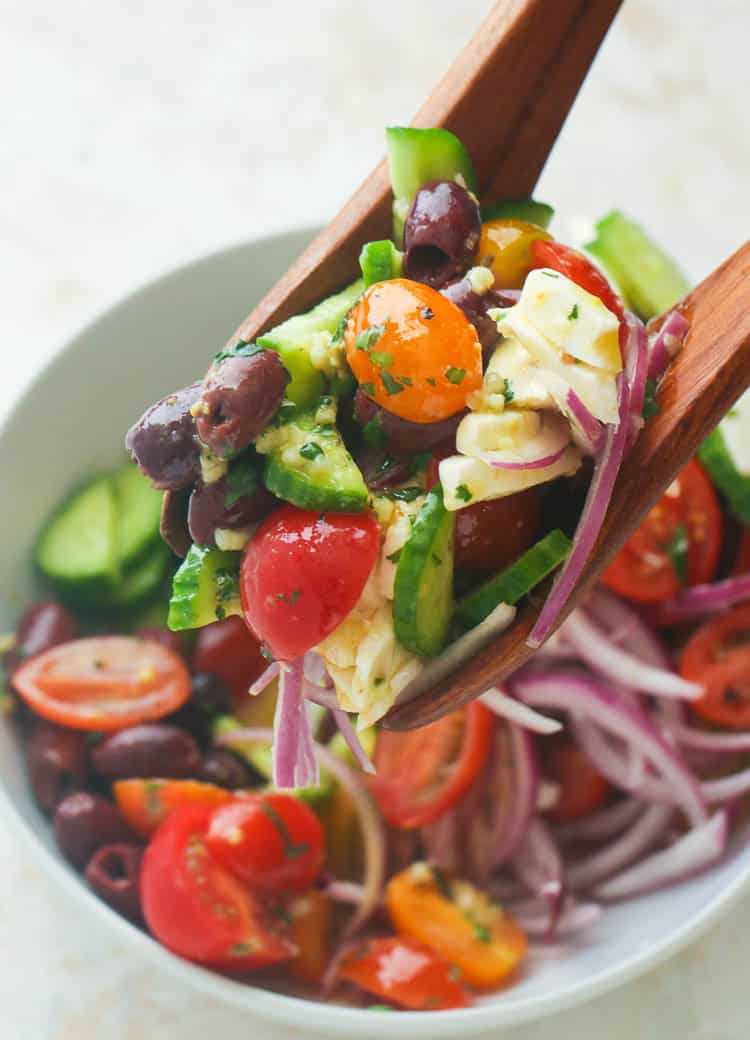 An amazingly easy Mediterranean salad made with tomatoes, cucumber, onions, and olives generously coated with lemon-mint dressing.
The addition of feta complements the whole dish. Aah! All these fantastic flavors in one bowl without breaking a sweat!
10. Kale Salad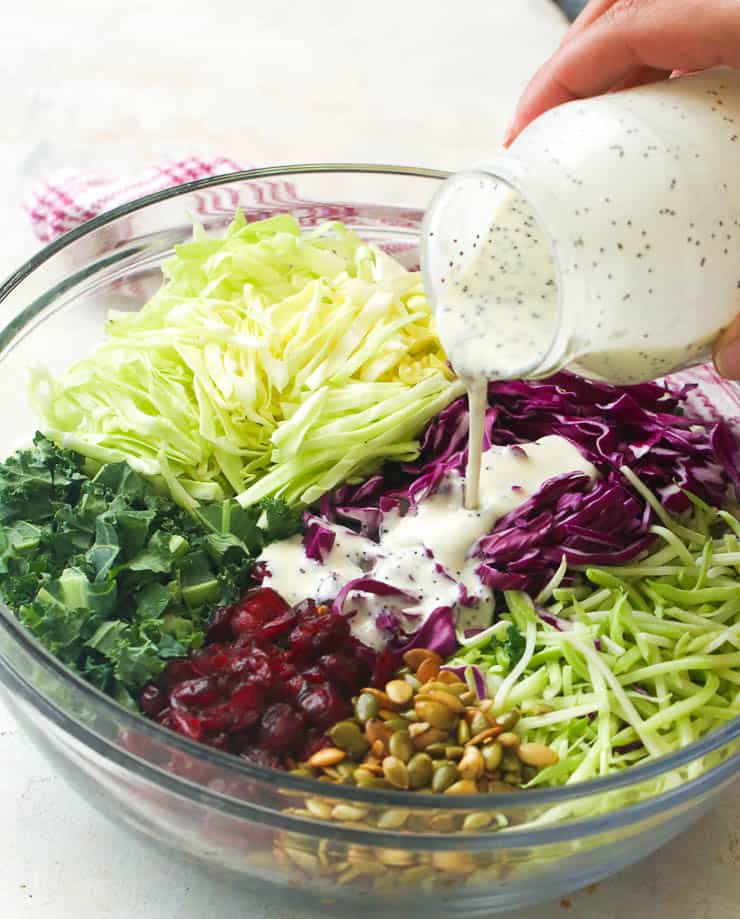 Superfood in a bowl with lots of healthy greens tossed in a creamy homemade Poppy Seed Dressing. You'll easily get hooked with this kale salad here.
A healthy and delicious lunch or dinner you can make in 20 minutes. Just use vegan-approved sweetener and yogurt to make it completely vegan.
11. Three Bean Salad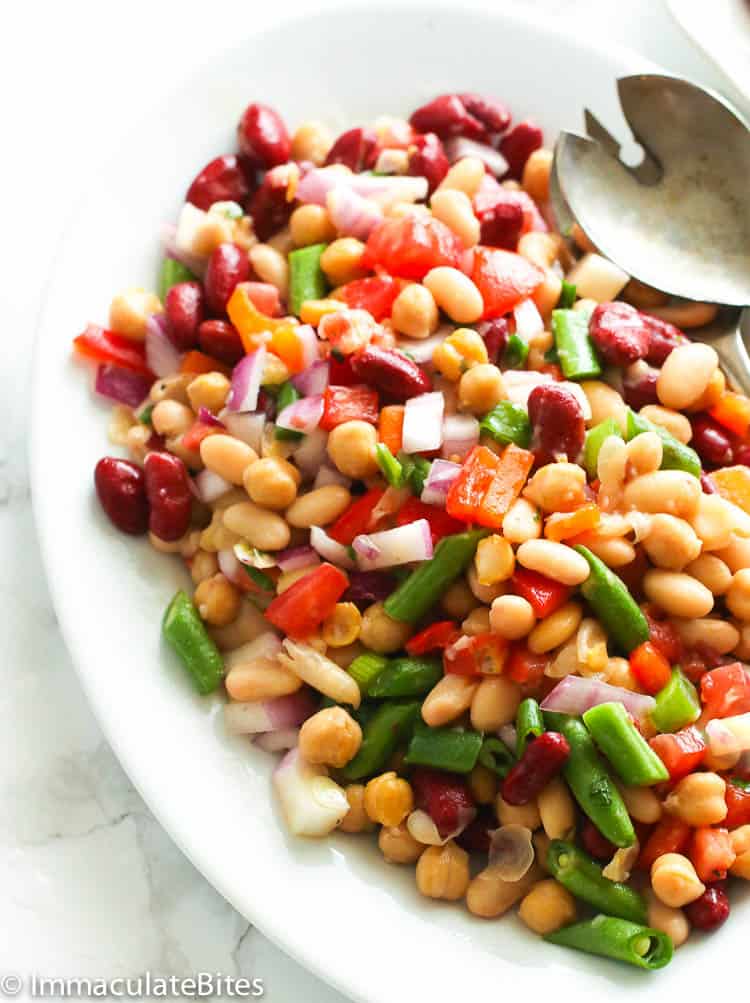 Another protein-filled dish and this time it's made with garbanzo, kidney beans, cannellini beans, and green beans coated in a vibrant dressing.
You can simply make this ahead if you plan to feed a crowd. This will surely be a hit! 😉
12. Chef Salad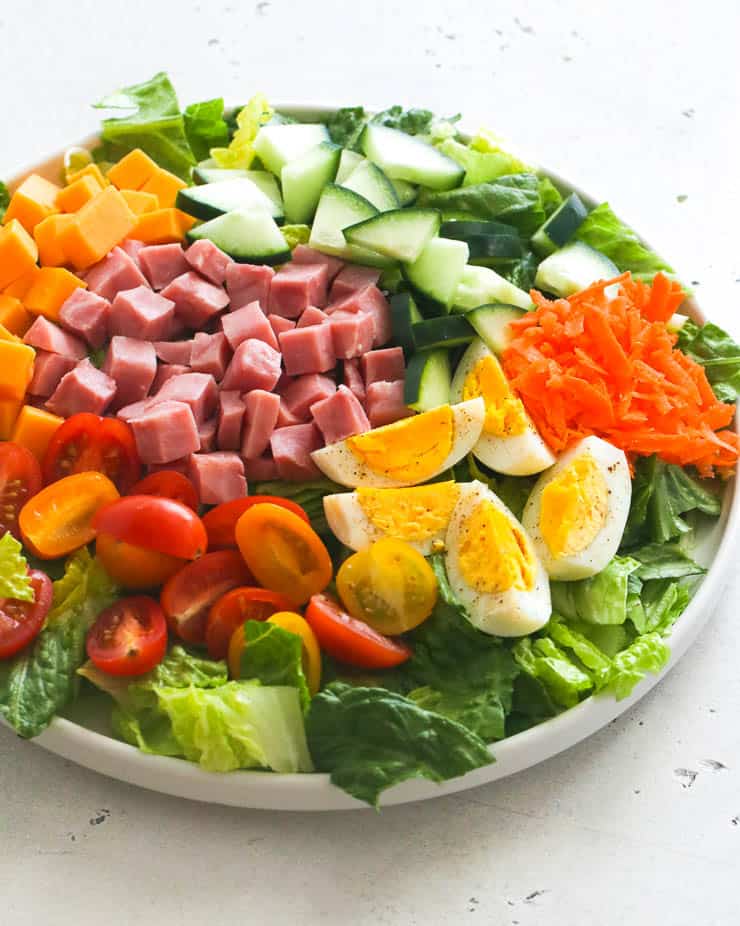 The best salads always include fresh fruits and vegetables like this chef salad. It's made with fresh vegetables, fruits (tomatoes are fruits, right?), hard-boiled eggs, ham, and cheese.
And not only that, they're wonderfully tossed in a creamy honey mustard yogurt dressing with citrus fruit notes from lemon and orange. What could be better than this?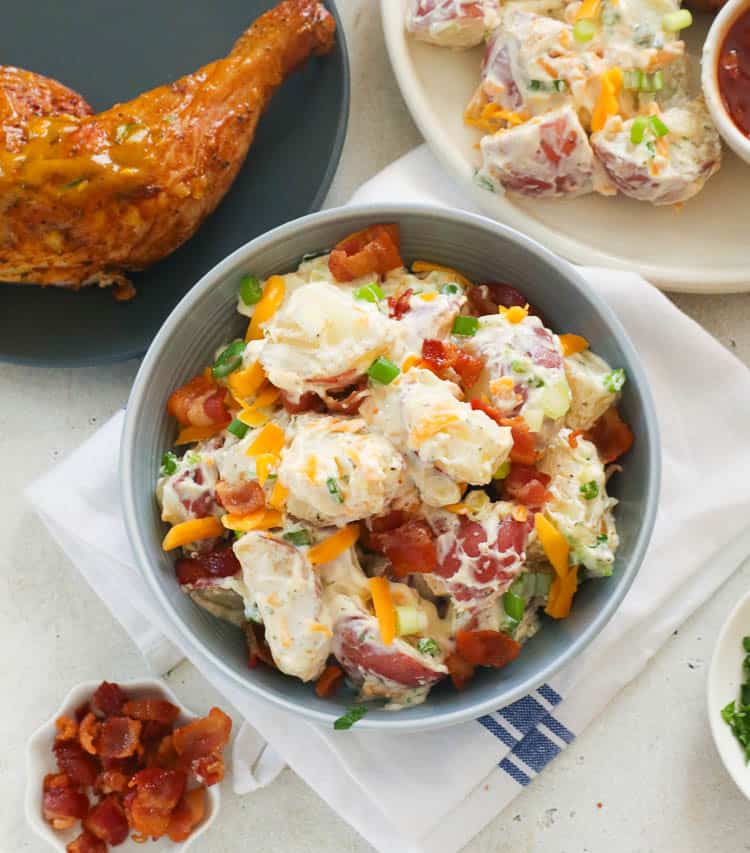 Another winning salad on the list. Fork-tender potatoes loaded with bacon and cheese in a creamy Ranch Dressing. Made even tastier and savory with the addition of Creole Seasoning. Certainly, a refreshing and enticing potato side to match any dish.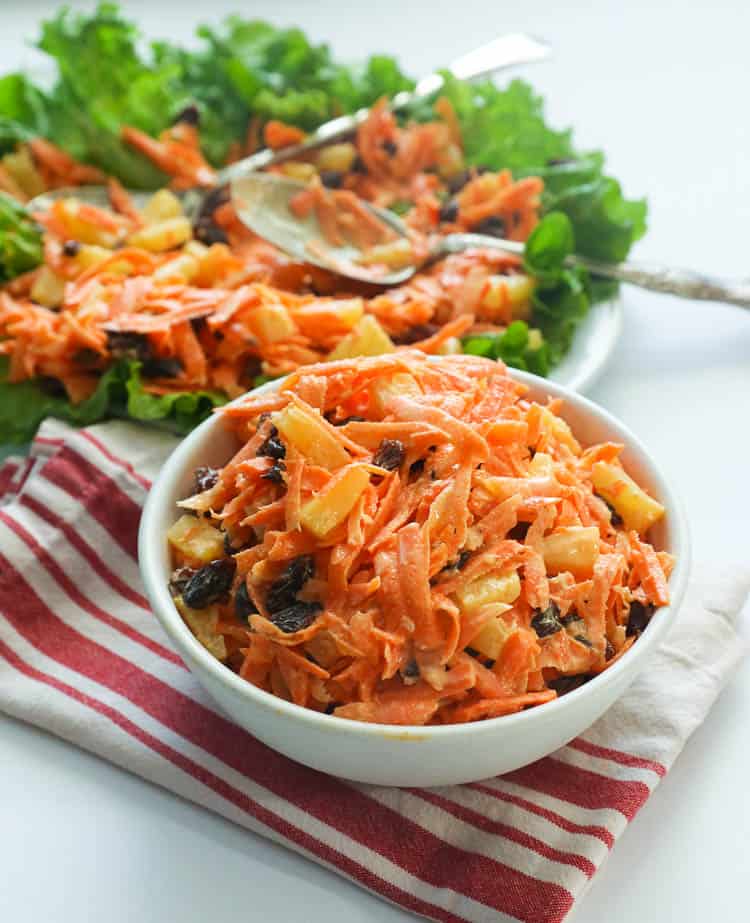 Carrots and raisins paired together and turned into a healthy side dish that doubles up as dessert. Wait, vegetable in a dessert form?
Yes! It's possible! Even the kids will surely love this 2-in-1 salad. Plus, the addition of pineapples gives its irresistible tropical taste.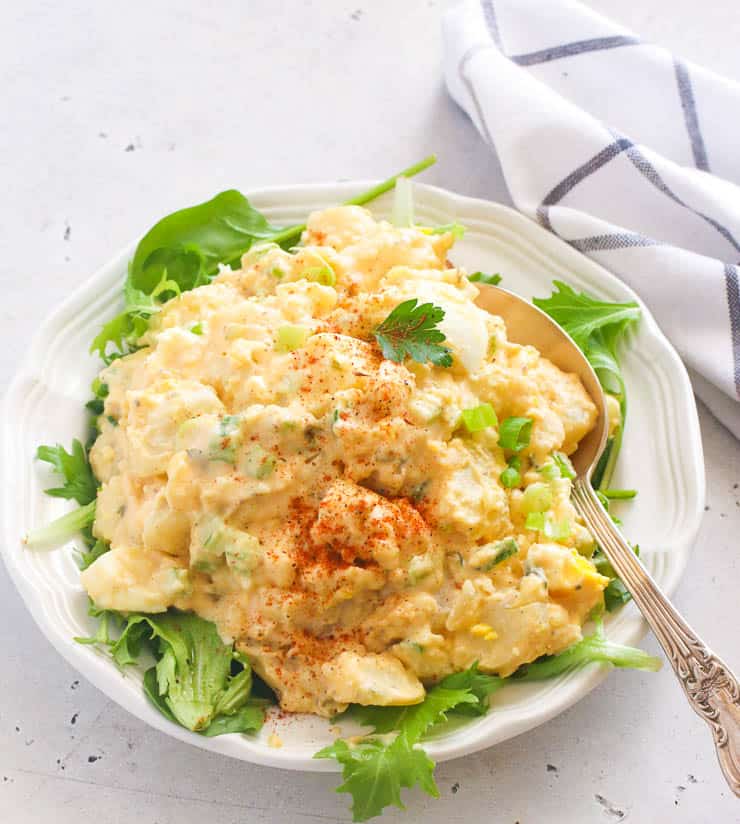 This creamy salad has the perfect ratio of sweet relish, celery, Dijon mustard, mayonnaise, and Creole Seasoning for its dressing.
It's absolutely delicious with a perfect balance of sweetness and tanginess. A classic southern salad perfect for potlucks and regular family dinners.
Seafood Salad Ideas
16. Nicoise Salad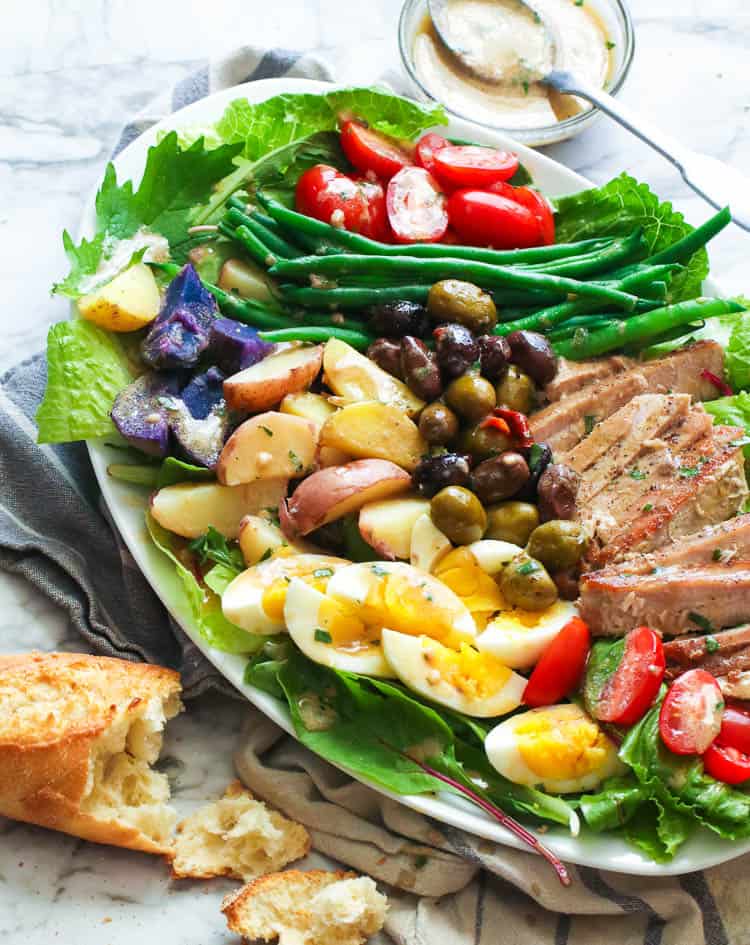 Treat yourself to this fancy French salad made of tuna, hard-boiled eggs, tomatoes, and veggies tossed in a wonderful balsamic red wine dressing.
Something light and healthy but very filling and satisfying. A highly indulgent dish that is super loaded with goodness!
17. Salmon Salad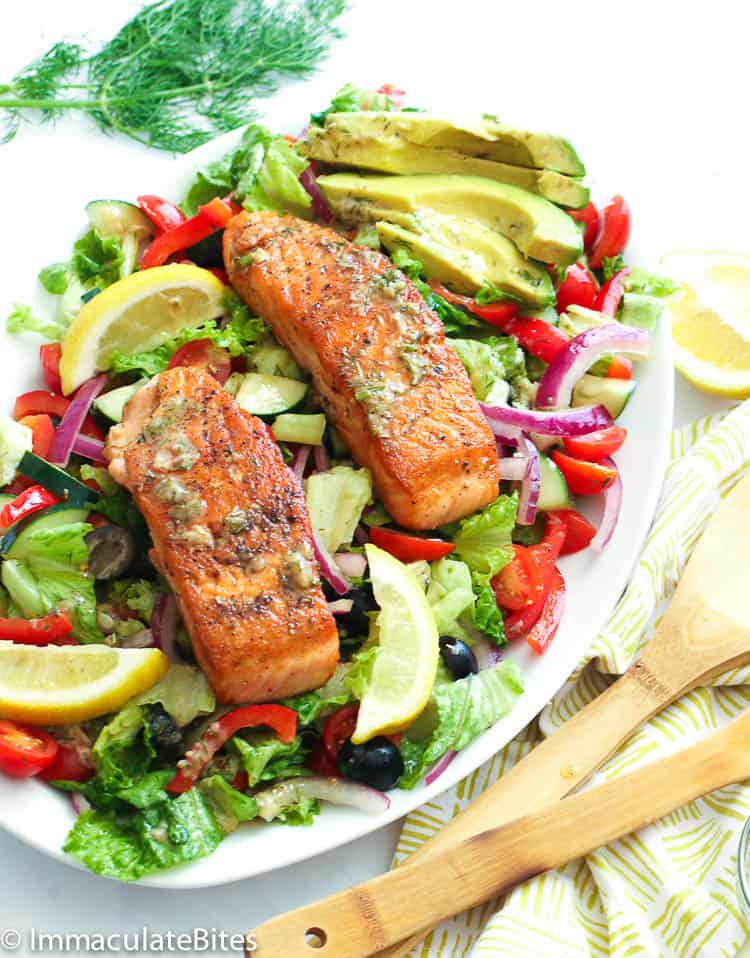 Looking for another seafood salad idea for dinner? You're in luck!
This salmon salad is a refreshing salad made with lettuce, avocado, bell peppers, cherry tomatoes, and onions tossed in an herb-infused dressing. Top it off with beautifully seared salmon fillets to complete this fancy dish.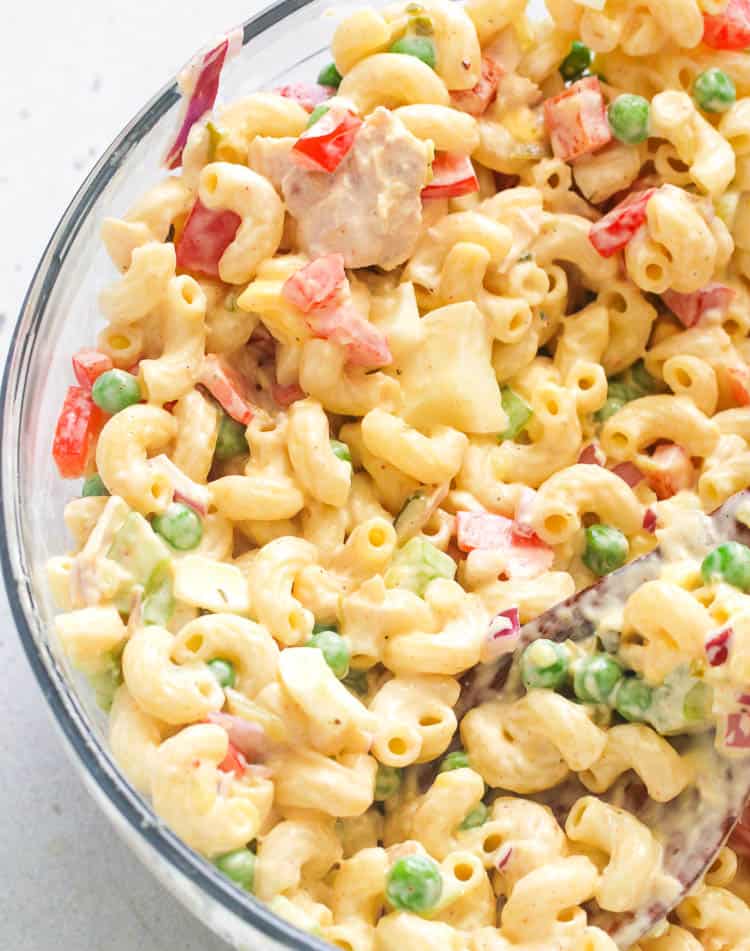 Aah.. this list of summer pasta and salad recipes won't be complete without this one.
The silky-smooth al dente macaroni all covered with a sweet and tangy mayo-based dressing will surely leave a wonderful lingering sensation to your taste buds.
19. Shrimp Salad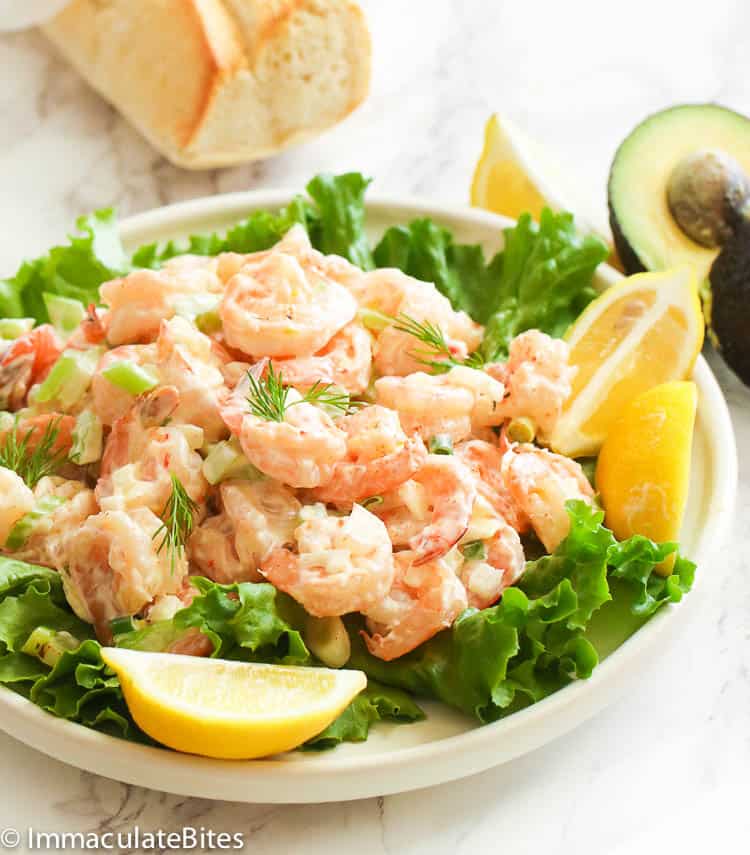 Incredibly tasty and outrageously delicious shrimp salad that can double up as filling to breads like croissants, baguettes, or Dinner Rolls. Or you can even enjoy it with lettuce wraps or Tortilla Chips, and it'd always come out great.
Chicken Salad Ideas
20. Creamy Chicken Pasta Salad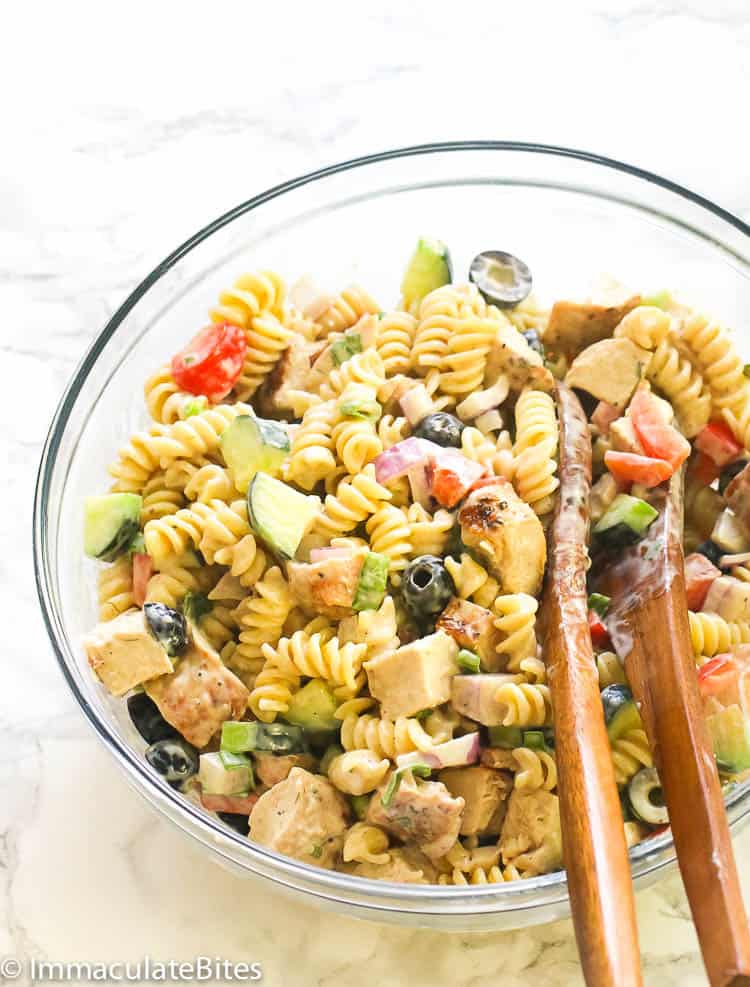 One of the best side salad recipes to try. So simple yet so filling and satisfying!
A fantastic dish loaded with great flavors from mayo and Ranch Dressing sweetened with honey. This classic pasta salad is family-friendly that can be served as a side or a complete meal on its own.
21. Macaroni Salad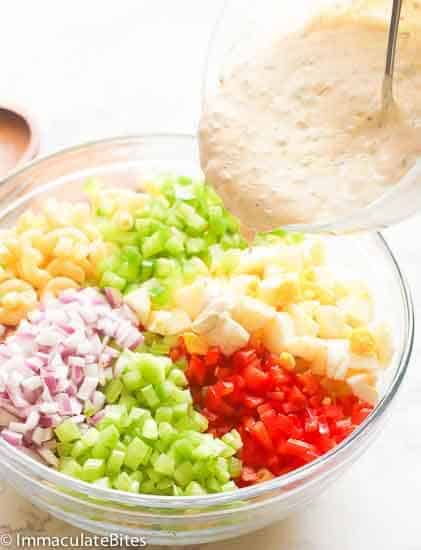 A must-have salad in every cookout, potluck, picnic, and barbecue. So easy to make yet delivers amazing flavors.
You can add bacon, ham, or Shredded Chicken to make it more filling and satisfying.
22. Cajun Chicken Avocado Salad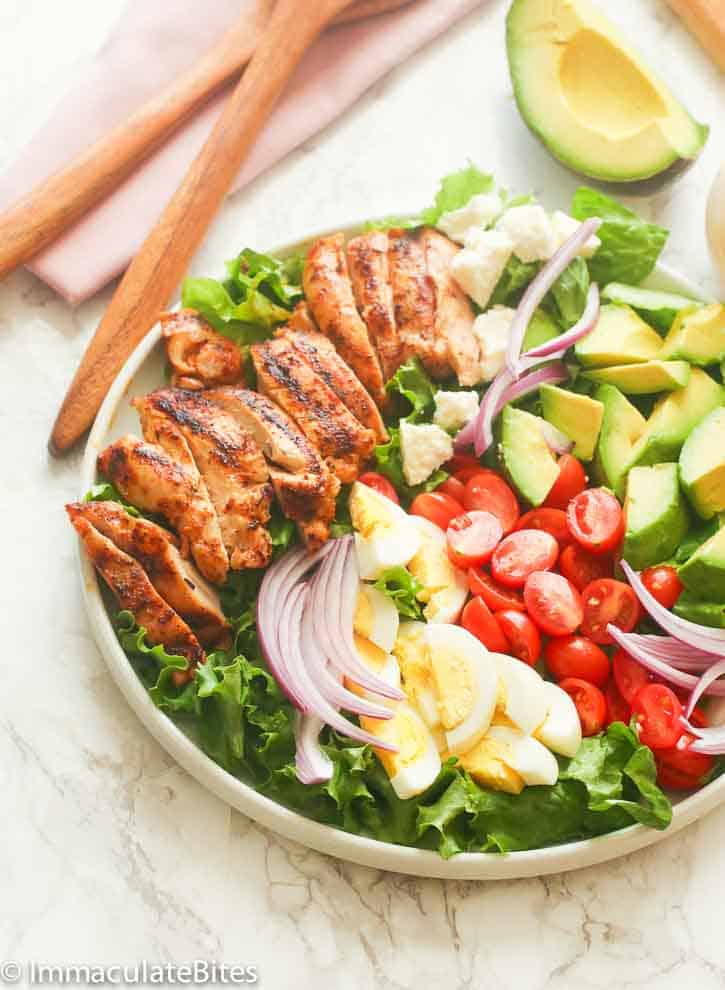 Creole Seasoning is the way to go for the best tasting Cajun chicken. Add a teaspoon of sriracha to the low-fat ranch dressing for a kick of heat.
Then throw in some avocados, onions, tomatoes, lettuce, eggs, and cheese and you have the formula for the best Cajun Chicken Avocado Salad.
23. Chicken Citrus Avocado Salad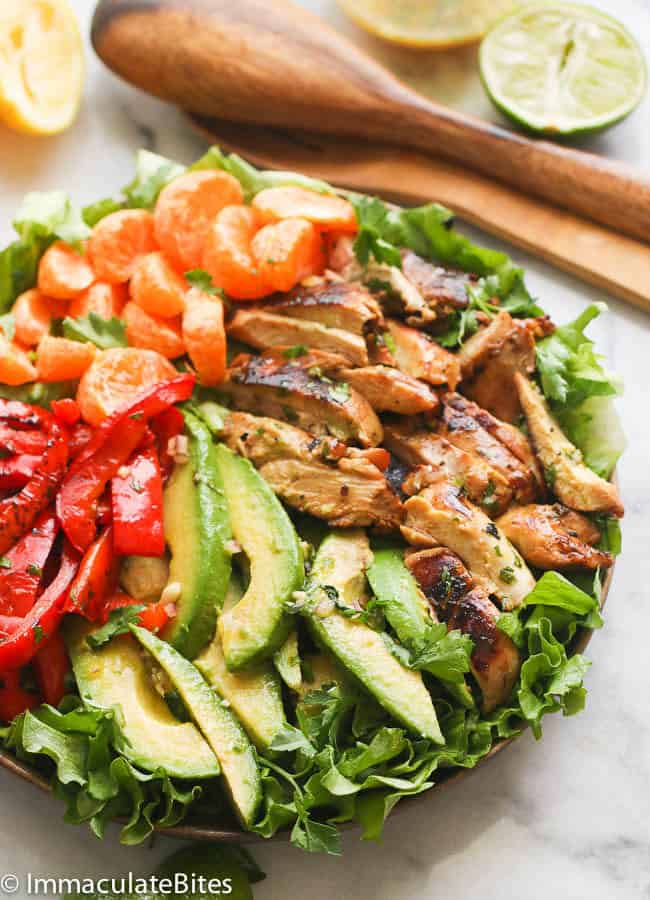 A citrusy chicken marinade that doubles up as a dressing is the "secret" to this recipe.
You'll fall in love with its citrusy dressing made with lemon, lime, and orange and seasoned with cumin and honey. An amazing flavor combination that goes really well with chicken, tangerines, bell peppers, and avocados.
24. Caribbean Grilled Chicken Salad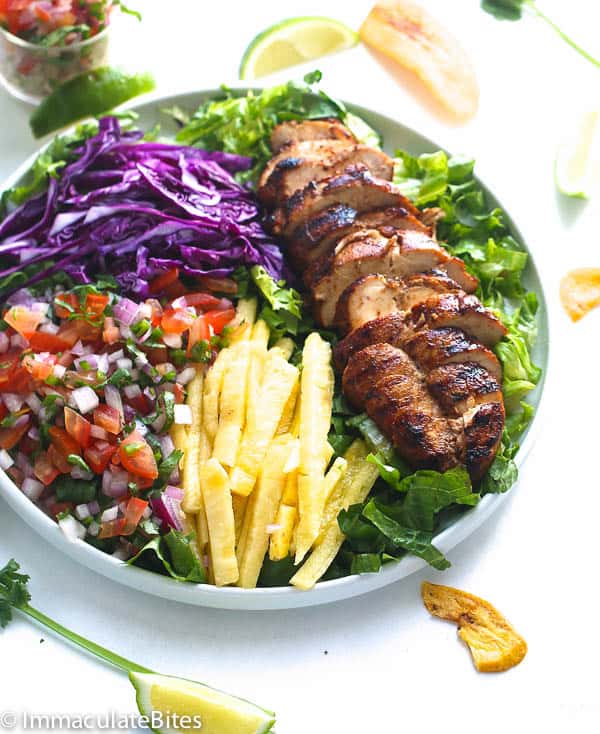 A vibrant and colorful salad that is equally delicious made with Pico de Gallo, honey-lime salad dressing, lettuce, cabbage, pineapples, chicken, and plantains.
With great savory flavors from Jerk Seasoning, teriyaki sauce, and pineapple juice, this chicken salad is an absolute keeper!
25. Thai Chopped Chicken Salad (Panera)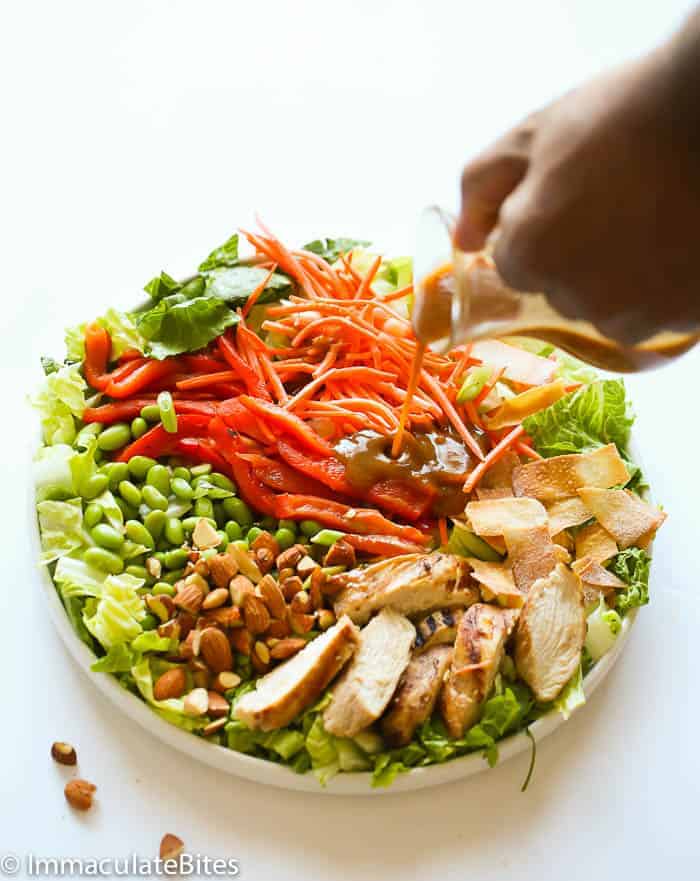 Made with guilt-free almond butter dressing and loaded with chicken, roasted veggies, and baked wonton wraps. Incredibly filling and indulgent salad with lots of colors, textures, and interesting flavors from honey and sriracha.
Fruit salad, veggie salad, dessert salad, and dinner salad – whatever kind of salad it is – summer won't be complete without them. You just have to be a little more creative with your sauce and dressings to go with your fresh produce. What a nice way to eat healthily and be fit. 😉