Talking about fruit desserts makes me excited! Oh, How I love love love desserts! Well, who doesn't? Right?
In fact, these 35 Fun and Easy Fruit Desserts are my top favorites. Yes! That many!
It was really hard to pick which ones are my favorite, hence the long list. I just love how they give me pure joy in every bite. Aaah!
Moreover, their natural sweetness and fruity goodness are truly indulging and refreshing.
Also, you can enjoy them along with these Dessert Drinks, and the party is definitely on! Or enjoy them with a cup of hot coffee or tea for a wholesome and mellow night.
Certainly, one of those moments that you'll say to yourself… This is life! While wiping the cake crumbs off your lips. 😉
Fruit Cakes
This peach cobbler and pound cake combined into one amazing dessert are among the tastiest fruits desserts of all time! All thanks to the bourbon-infused cinnamon sugar added to the batter. As a result, our pound cake became more intense and delectable. 😉
How can you say no to this lavish passion fruit dessert? Not only does the passion fruit add a nice flavor to this cake, but it also can make you healthier with its high vitamin A and C content. Furthermore, the light and airy cake in a pool of creamy custard-like sauce is very inviting.
Meanwhile, this humble pineapple cake always comes to mind when talking about easy fruit desserts. Why? Because aside from having a fair list of ingredients, it's also easy to make and is ready in less than an hour. You'll love it with or without the cream cheese frosting, too. 😉
Without a doubt, fruit desserts like this indulging Strawberry Pound Cake are always a winner at every family dinner. It screams nothing but pure happiness! Especially after you pour that succulent strawberry glaze on top. Simply amazing! ❤
If fruit cakes are too heavy for your tastebuds, then you might want to consider this light fruit cake here instead. It is made with light and fluffy Madeira cake and loaded with dried mixed fruits, too. Definitely, one of the best fruit dessert recipes to try this holiday season. 😉
This tropical cake has a touch of spiced rum, which definitely elevates this cake above the rest. Moreover, the combination of juicy tart pineapple, sweet caramel, and buttery cake blend together wonderfully. Thus, creating an indulgent fruit dessert perfect for the whole family.
7. Coconut Cake
Clearly, it's hard to look away from this stunning Coconut Cake, featuring light and airy yellow cake generously covered in decadent cream cheese frosting. A classic Southern favorite, indeed! Certainly, one of the fruit dessert recipes you won't want to miss.
Entice your tastebuds with the amazing ensemble of blueberries and lemon of this captivating fruit dessert. The perfect blend of sweetness and tartness is spot on! I highly recommend using fresh blueberries for this recipe, but frozen blueberries work well, too. 😉
Feel the holiday spirit as you take a bite of this crumbly Cinnamon Apple Cake. The added buttery pecans on top make a wonderful finish, adding a perfect crunch to this baked treat. It is certainly a must-try dessert to include in your fruit recipe collection.
Ain't nothing better than a cake made with fresh strawberries to add to your favorite go-to fruit dessert recipes. It's not only pleasing to the eyes but also equally delicious with its layer of yellow cakes filled with succulent cream cheese frosting. This beauty makes a gorgeous centerpiece at family dinners or parties. ❤
11. Orange Cake
Love oranges? Then you'll love this cake for sure! This humble fruit dessert here is made with fresh orange juice. Yes! And it's so easy to make with only 9 basic baking ingredients, such as cake flour, eggs, sugar, and butter. It's refreshingly light, buttery, and not too sweet. It's so good you won't even need to add frosting. 😉
This lovely ensemble of carrots and pineapple is beautifully executed in a stunning healthy fruit dessert. The result is a surprisingly delicious cake despite the contrasting flavors of carrots and pineapple. And the addition of nutmeg, allspice, and cinnamon made this cake even better. 😉
Fruit Pastries
13. Apple Turnover
Enjoy this classic fruit dessert in the form of an apple pie in a compact and hand-held version for a mess-free to-go snack. It's highly addictive with its buttery and flaky crust and generously filled with chunky apples in a buttery cinnamon filling. Absolutely, one of the best comfort food ever!
Just when you thought that empanadas are only for savory, meaty fillings… now here we are with pineapple empanada filled with crushed pineapples in buttery caramel sauce. The presence of pineapple in this fruit dessert is enough to convince you that it's gonna be a hit!
15. Apple Dumplings
Although this amazing fruit dessert looks too complicated to make, don't be discouraged just yet because it's actually not. It's basically an apple pie loaded with pecans in a fancy shape dough, baked to perfection in a pool of buttery apple syrup brimming with holiday flavors. ❤
16. Peach Cobbler
Another comfort food favorite to include on the list of easy fruit desserts. The luscious filling is made with fresh peaches and full of holiday flavors from cinnamon and nutmeg. However, you can easily make this with canned peaches, too. And, of course, the crusty, buttery biscuit-like topping adds to the greatness of this sweet treat as well. 😉
Munch on these delightfully sweet and rich bite-sized goodies to instantly brighten up your day with their slightly crispy exterior and soft, chewy center. This decadent dessert is made easy with few simple ingredients, such as sweetened flaked coconuts, condensed milk, and egg whites. You can enjoy them plain or drizzled with melted semi-sweet chocolate, too.
18. Lemon Tart
There are many ways to enjoy fresh fruit tarts, and this classic Lemon Tart is one of my favorites. Not only will you love its refreshingly sweet and citrusy lemon curd filling, but also its buttery, crumbly Tart Crust. Above all, it gives you bright and uplifting summery feels in every bite. What a sensational tart dessert, indeed!
19. Lemon Bar
Just like our summer favorite lemon tart, lemon bars are also made with lemon, sugar, and eggs. However, lemon bars use shortbread crust instead of Tart Crust. Either way, both are easy fruit desserts that you can make regularly. Most importantly, both will give you cheerful summer bliss in every bite. 😊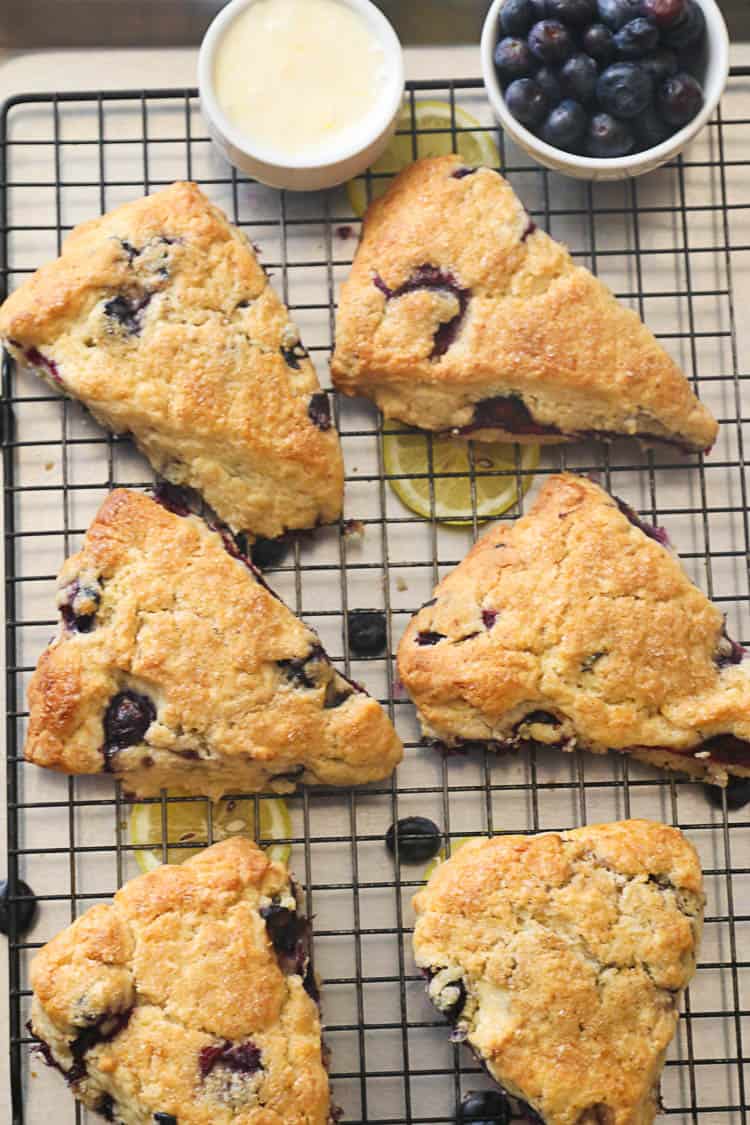 Kickstart your day with Lemon Blueberry Scones for breakfast that doubles as a dessert, too. Besides having a nice crunchy golden crust, these lovelies are packed with soft and buttery goodness as well. Definitely, one of the sensational fruit dessert recipes you can make regularly.
21. Guava Pastry
Despite the guava's grainy texture, you can still make a luscious filling because of its sweetness. And unlike our regular hand pies with buttery caramel filling, this one is like having a guava-flavored cheesecake and pie combined in one delicious snack! Oh yes! Another creative take on pastry fruit recipes you should really try! 😉
22. Fruit Tart
What could be better than this healthy fruit dessert loaded with different kinds of berries? Their bright and vibrant colors highlight the dessert tart as a whole and their fruity and refreshing flavors too. Not to mention its buttery crust and creamy custard filling to complete this lovely summer delight.
23. Fruit Pizza
Feast your eyes in this festive tart dessert made with a sugar cookie crust, cream cheese frosting, and tropical fruits. This one is unquestionably meant to satisfy all your sweet tooth cravings while enjoying the healthy benefits of fruits as well. Such a heaven-sent dessert, indeed!
Fruit Pies
24. Pineapple Pie
Obviously, an endless summer escapade is possible in this amazing fruit dessert. Not only is it filled with lovely tropical flavors from the pineapple, but it's also oozing with comforting flavors from cinnamon and nutmeg. Not to mention the added touch of rum to ramp up the flavor. 😉
25. No-Bake Key Lime Mango Coconut Cheesecake Pie
So, instead of having a plain key lime cheesecake, why not enjoy it more with mangoes and coconut, too? It will definitely be one of the most lavishing fruit dessert recipes you'll ever taste! Above all, its moist and creamy filling will give you a glimpse of heaven in every bite!
Resisting this fancy fruit dessert will be a challenge. So, forget about the diet and indulge yourself with a slice of this Coconut Cream Pie. As a matter of fact, a slice is not enough once you've tasted its incredibly thick and creamy coconut filling. Plus, it's flaky and buttery dought literally melts in your mouth. Hmmm-mmmm!
27. Apple Pie
It's true! Life is sweeter with a slice of warm homemade Apple Pie. The chunky apples in a lightly spiced filling sitting in a buttery and flaky Homemade Pie Crust is beyond compare. Also, I used different kinds of apples in this recipe, and as a result, I made the best apple pie ever!
28. Apple Galette
Get serious with fall baking starting with this crusty and juicy Apple Galette. If pies aren't your thing, then think of this galette here as a simplified version of an apple pie.
Fruit Salads
And of course, one of the best fruit ideas ever made is none other than Tropical Fruit Salad. It's so easy to make yet offers a refreshing combination of tropical flavors. More importantly, you can enjoy it guilt-free because it is made with fresh fruit! 😉
30. Ambrosia Salad
Marshmallows and pecans in a salad? Bring it on! Although it might sound weird for some, they are actually great additions to this sweet and tangy Ambrosia Salad. Aside from the summer fruits included in this salad, such as tangerines, grapes, pineapples, and coconut, the whipped cream definitely made it more divine. 😉
31. Grape Salad
Bring this Grape Salad to your next summer potluck or backyard barbecue, and you'll be a superstar in an instant! Although grapes are already enjoyable on their own, they'll be even more addicting if you toss them in a glorious yogurt and cream cheese dressing. This quick and easy salad makes a creamy side dish and doubles up as a fruit dessert, too!
Other Fruit Dessert Recipes
I don't know about you, but nothing can stop me once I start gobbling up this Strawberry Trifle. I just can't help it! Especially when it's made with fresh strawberries along with layers of vanilla cake filled with creamy homemade custard. Sinfully addicting!
33. Banana Foster
Step up your banana dessert, and make this fancy fruit dessert that's ready in 20 minutes! The bananas are bathed in cinnamon-flavored and rum-infused syrup, satisfying all your toothsome cravings. Plus, a scoop of vanilla ice cream on top makes a fantastic finish to this quick and easy dessert.
Another reason to stock up on bananas! This classic Homemade Banana Pudding is irresistibly good with its layers of vanilla wafers and banana slices filled with whipped cream and vanilla pudding. This concludes a no-bake dessert that you can enjoy all year round!
35. Rum Raisin Pineapple Ice Cream
You'll love this ice cream even more because of the harmonious flavor combinations of pineapples and raisins, along with condensed milk, whipped cream, and a splash of rum to ramp up the flavor. Also, since it's homemade, there are no preservatives added. Yaaay! Feel free to skip the rum to make it kid-friendly ice cream. 😉