It's hard to explain the inner coziness a good slice of pie creates, especially when topped with a dollop of ice cream and served with a cup of hot coffee. For me, it's all about the combination of flaky, buttery crust topped with a soft, sweet filling that is absolute perfection. These 15 easy pie recipes are some of my favorite go-to desserts (and sometimes breakfasts 🤫) because they are delicious and, excuse the terrible pun, easy as pie to make! 😜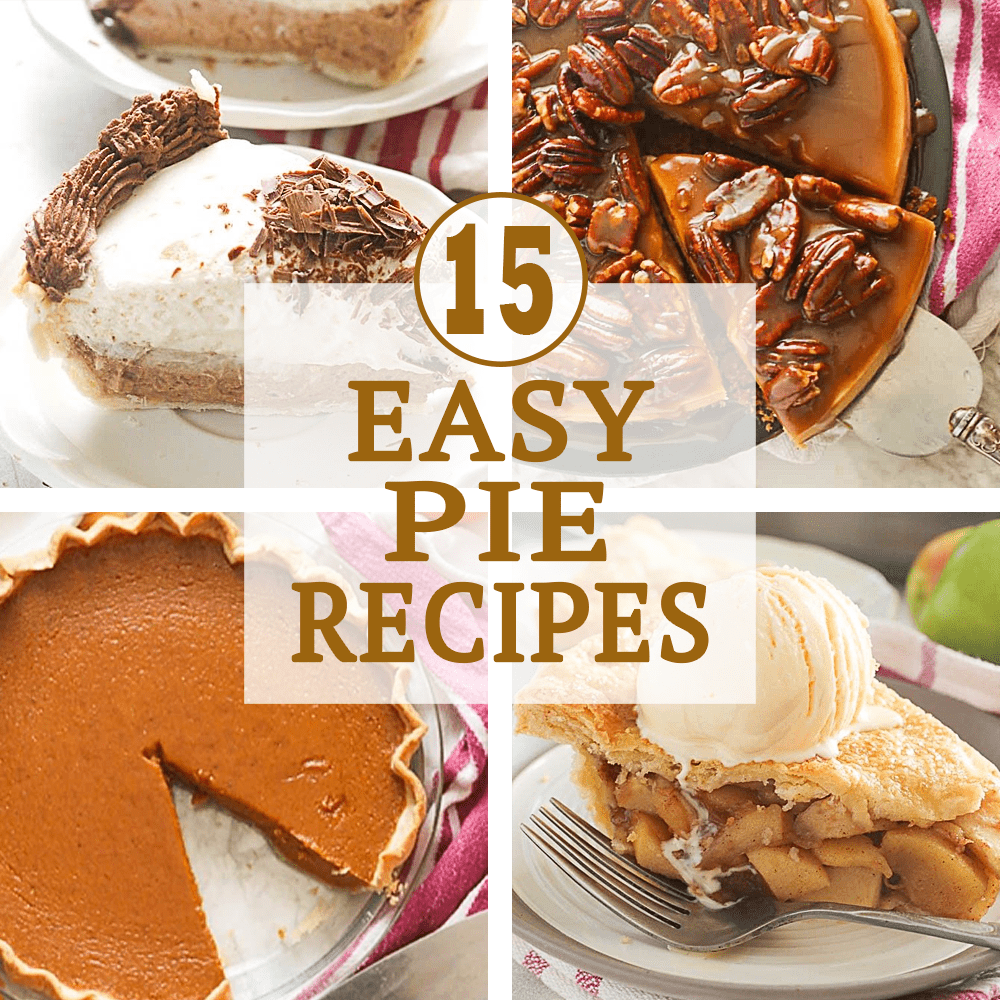 One of the greatest things about pie is that once you've mastered pie crust making (or the art of buying pie crusts at the store – no judgment here. You do you, my friend!), there are a million ways to fill them. In fact, it was tough getting this list down to just 15 pie recipes because there are so many pie fillings I absolutely adore. With so many ways to enjoy pie, there's definitely a pie for everyone on this list.
FAQs
What are the four types of pies?

Fun fact: There are indeed four kinds of pies. They are cream pies, fruit pies, custard pies, and savory pies. For this list, we've included several recipes for the first three kinds.
How do you make a pie without a soggy bottom?

There are a few ways to prevent a soggy bottom. Two of my go-to methods are (1) blind baking the pie crust (pre-baking the crust before adding the filling) and (2) sealing the bottom of the crust with an egg wash before adding the filling and baking the pie.
How do you make sure the bottom of the pie is cooked?

My first tip is to not be afraid of a little color on the top of your pie. Slightly darker than gold-colored won't affect your pie's deliciousness and will give the pie bottom more needed cook time. In fact, if there are any light or white spots on the top of your pie crust, keep it in the oven a little longer. If you are just getting started with pie baking, or your pie doesn't have a pie crust top, you could always use a glass baking dish so you can see the bottom. Shoot for a nice golden brown color for your pie bottom.
The Easy Pie Recipe Roundup
1. Pumpkin Pie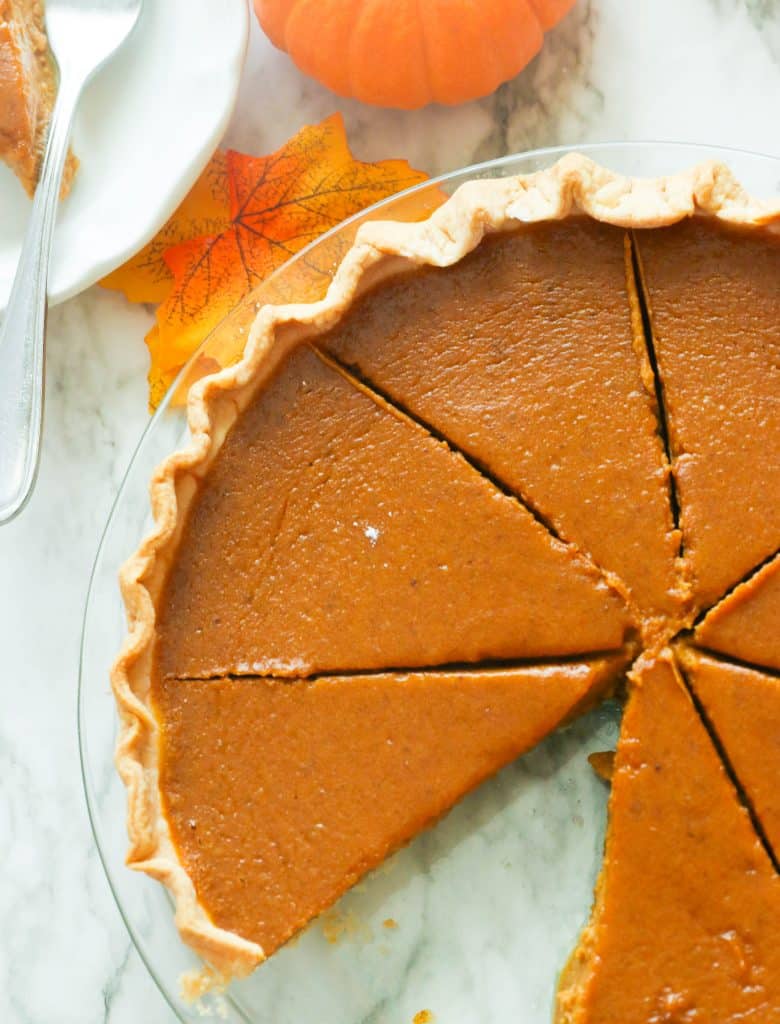 Pumpkin pie is always a classic. It's rich and creamy and a true celebration of fall. This pumpkin pie recipe is my family's favorite, with the perfect balance of creamy, spicy filling set atop a beautiful buttery crust.
Topping it with homemade whipped cream or vanilla ice cream makes this pie worthy of any and every special occasion. You could also fancy it up with some homemade cranberry sauce or some candied pecans. Both options look and taste amazing with pumpkin pie.
Since this pie has eggs in it, it's best to keep it stored in the refrigerator. Simply cover your pie or put it in an airtight container, and it will stay fresh for 3-4 days.
Pumpkin Pie
Pumpkin Pie is a rich and creamy dessert that celebrates fall in style. It's made even more delicious with a homemade pie crust and topped with whipped cream. No fall or winter holiday is complete without this traditional food for the soul.
Check out this recipe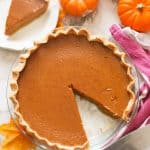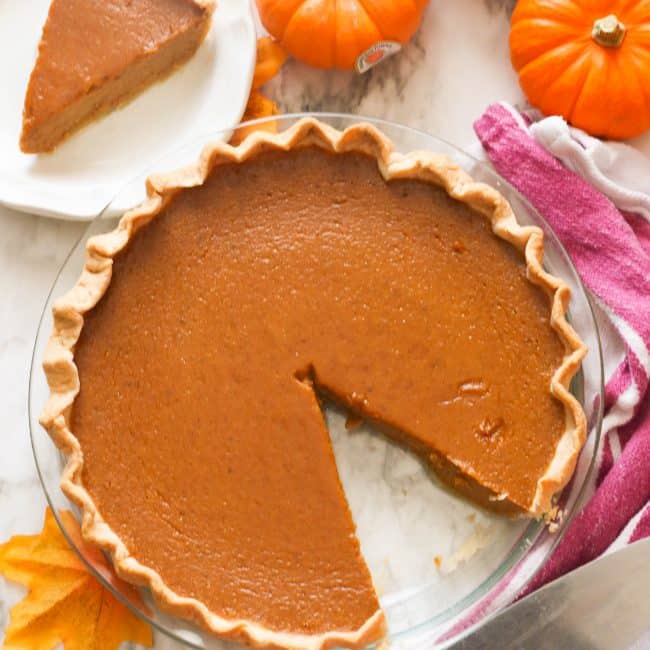 2. Chess Pie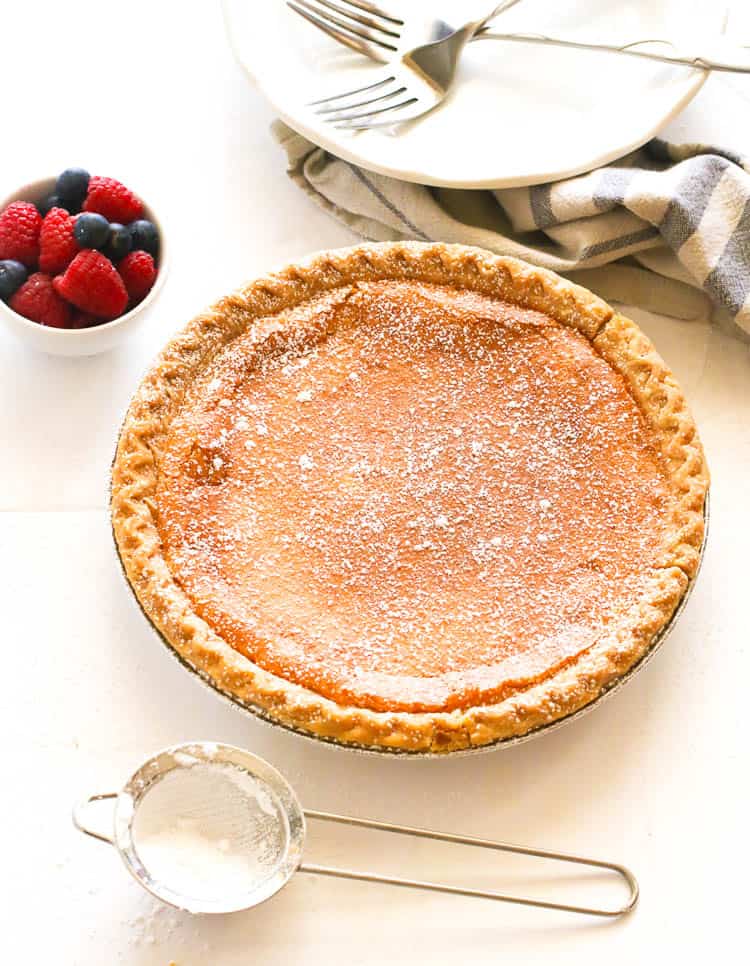 Chess pie is a Southern classic that is rich and decadent, which might surprise you, considering how simple the ingredients are.
This pie is unquestionably on the sweeter side (just what the sweet tooth ordered! 😆). But the sweetness balances out perfectly with buttermilk and lemon juice because these two ingredients give it just the right amount of tang.
Because it's extra sweet, I love to pair this pie with non-sweet hot drinks. A cup of coffee hits the spot, but ginger tea is beautiful with it too. If you're in the mood, a chai tea latte is a gorgeous complement to this pie as well!
Because of the high sugar content, this pie can stay good on the countertop for a day or two if properly covered. Personally, I like to extend its shelf life by storing it in an airtight container in the fridge.
Chess Pie
Chess Pie – classic Southern pie that is simple yet deliciously sweet. Made with pantry staple ingredients, this pie can be made in less than an hour while still giving you that wonderful sweet flavor with hints of buttermilk, vanilla, butter, nutmeg, and lemon juice. The easiest pie you can whip up for Thanksgiving Day!
Check out this recipe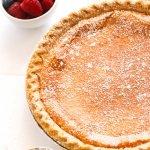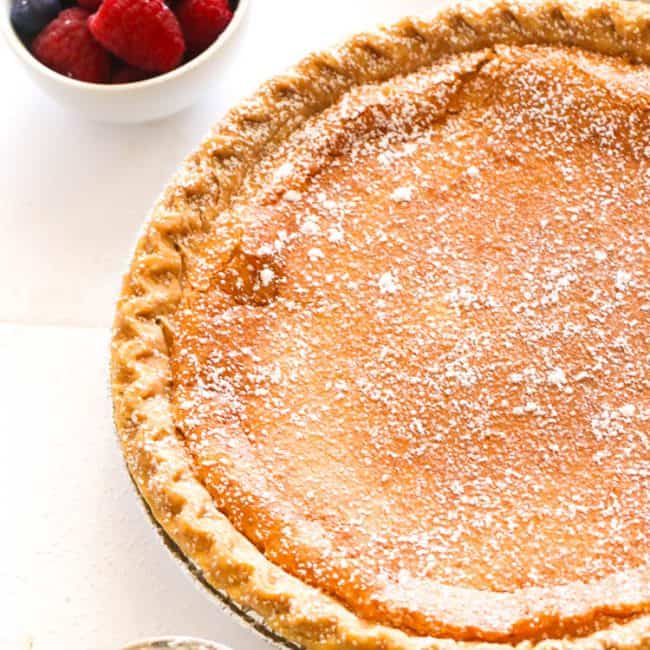 3. Chocolate Chess Pie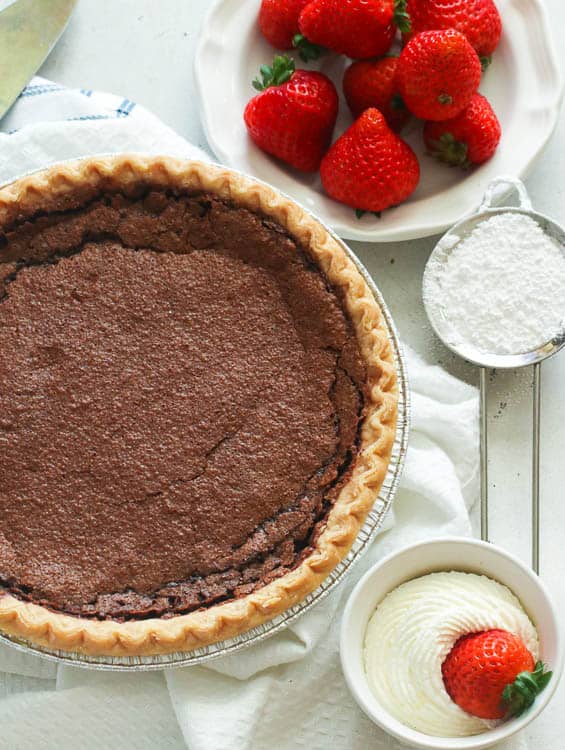 In an exciting twist on the classic chess pie, this pie recipe is equally rich and decadent but with enough chocolatey goodness to bring a tear of joy to any chocolate lover's face. The filling is luscious, the crust is flaky, and the sweetness is toned down just a bit thanks to the hearty dose of cocoa powder.
I love the fact that you can fancy this pie up with just about any toppings you can think of.
I love to sprinkle it with powdered sugar and serve chocolate-covered strawberries on the side, but the sky is the limit here, folks. A drizzle of homemade caramel syrup, whipped cream, chocolate swirls, any of these options would look and taste fabulicious piled atop this pie.
You can keep this pie out at room temperature or in the fridge. I prefer keeping it in the fridge because it tastes great chilled, and it lasts for 3-4 days that way, versus the 1-2 days it will keep at room temperature.
Chocolate Chess Pie
Chocolate Chess Pie – rich, wonderfully sweet, chocolatey Southern classic pie that will make you fall head over heels with its custard-like filling that has a crispy crackle on top. Easy chocolate baked treat just in time for Valentine's Day!
Check out this recipe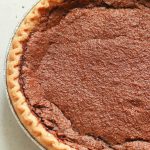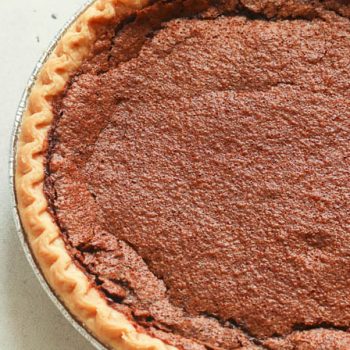 4. Sweet Potato Pie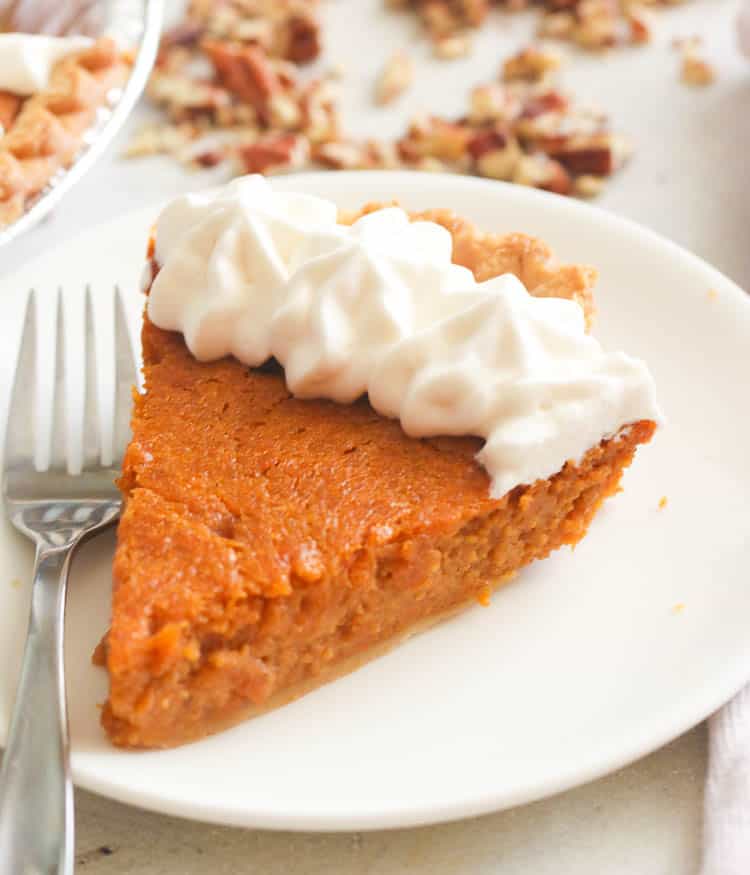 This pie recipe has that unique sweet potato flavor that pairs so well with warm spices and sweet sugary goodness. It's also easy and fun to customize. I love experimenting with different flavors to whip up a new version every once in a while – ginger-infused, smores, pumpkin-spiced, merengue-topped. This pie will pair with your most creative flavors.
This pie is always a hit after a hearty dinner of smoked turkey or any other smoked meat, for that matter. Depending on the occasion, it also goes down great with a glass of Southern sweet tea or homemade eggnog.
Store this pie in the fridge to keep it fresh for up to 4 days. You can also freeze leftovers for up to a month.
Sweet Potato Pie
Creamy, tasty, and insanely delicious SWEET POTATO PIE makes the holidays a lot better. This traditional southern masterpiece made from real sweet potatoes and an indulgent homemade pie crust take "desserts" to another level. Truly a crowd-pleasing comfort food you can easily make at home.
Check out this recipe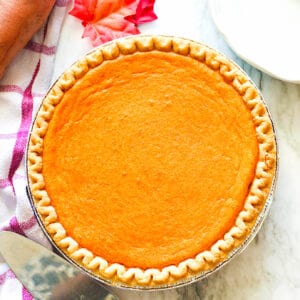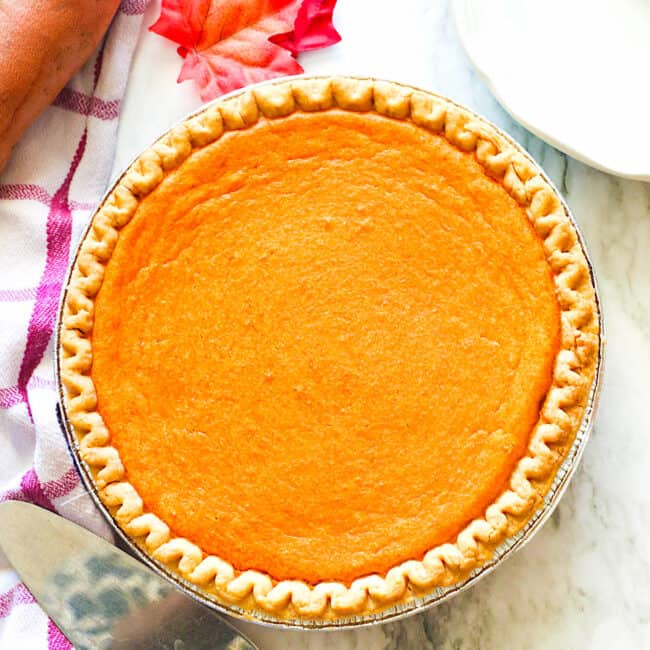 5. Pineapple Pie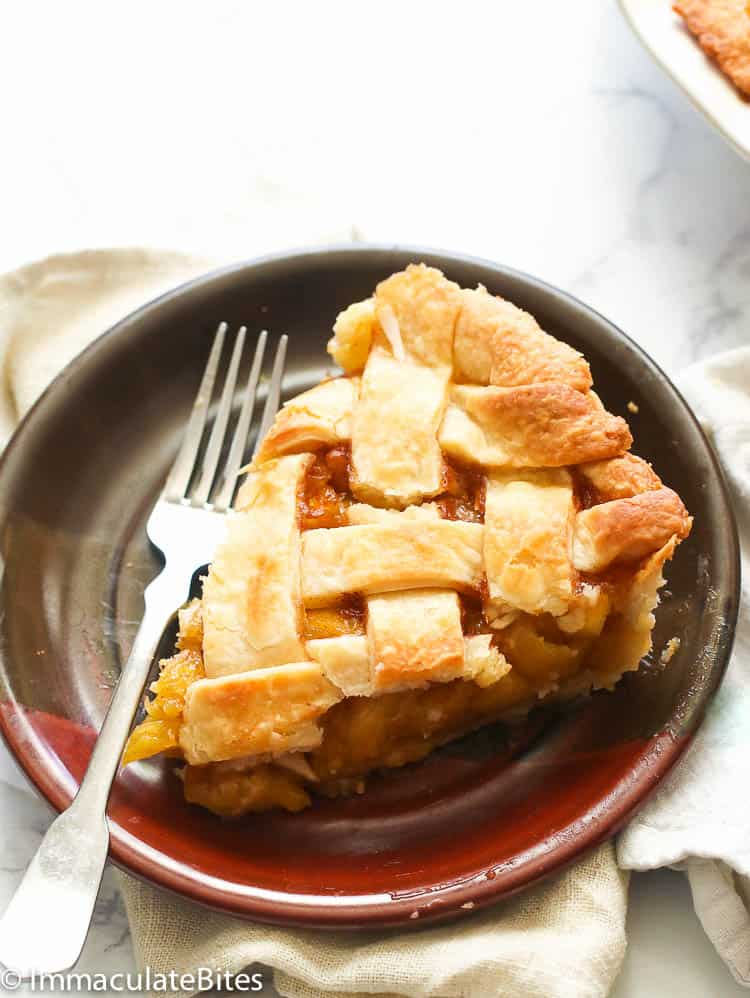 Where are my fellow tropical fruit lovers? 🙋🏽‍♀️ If you know me, you know how much I love tart and tangy tropical flavors, which is why I absolutely love this pineapple pie recipe.
Pineapple with cinnamon, nutmeg, brown sugar, and a touch of rum under a gorgeous pie lattice top makes me one happy camper, and it will make you one too.
Definitely serve this pie up with some rum raisin ice cream because rum plus rum equals yum! 😆 It also goes well with warm drinks, like a cup of ginger tea.
Store pineapple pie in an airtight container in the fridge. It will stay fresh for 3-4 days, but you'll have no problem finishing it off by then, believe you me.
Pineapple Pie
This tasty, filling pie boasting pineapple, cinnamon, nutmeg, brown sugar, and a touch of rum is insanely delicious. Plus, the spot-on crust blends perfectly with tropical fruit. A must-have on any occasion!
Check out this recipe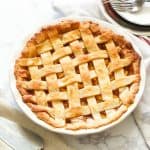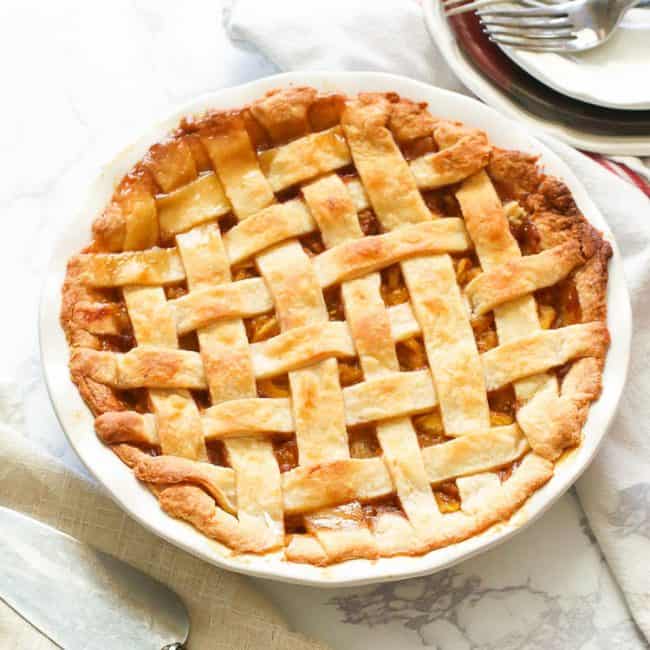 6. Egg Custard Pie
The real beauty of egg custard pie is in its simplicity. It's one of those basic recipes that doesn't need any tweaking. Its ultra-creamy, melt-in-your-mouth texture atop a flaky pie crust is pure perfection.
This pie is the ideal dessert after a dinner with strong flavors. The egg custard acts as a palate cleanser that removes any lingering taste of the main course and leaves a clean slate for the sweeter things in life.
When you're ready to serve this pie, you can make it extra pretty with a few simple toppings. Berries are a great choice, as is whipped cream or caramel drizzle.
Always refrigerate egg custard pie leftovers in an airtight container so they'll stay fresh for up to 4 days.
Egg Custard Pie
Simple, sweet, and silky smooth EGG CUSTARD PIE gives a superbly dreamy sensation in every slice. A creamy treat that brings a heavenly delight from crust to core made from simple ingredients. No need to worry because baking this delicious pastry is as easy as pie!
Check out this recipe
7. Pecan Pie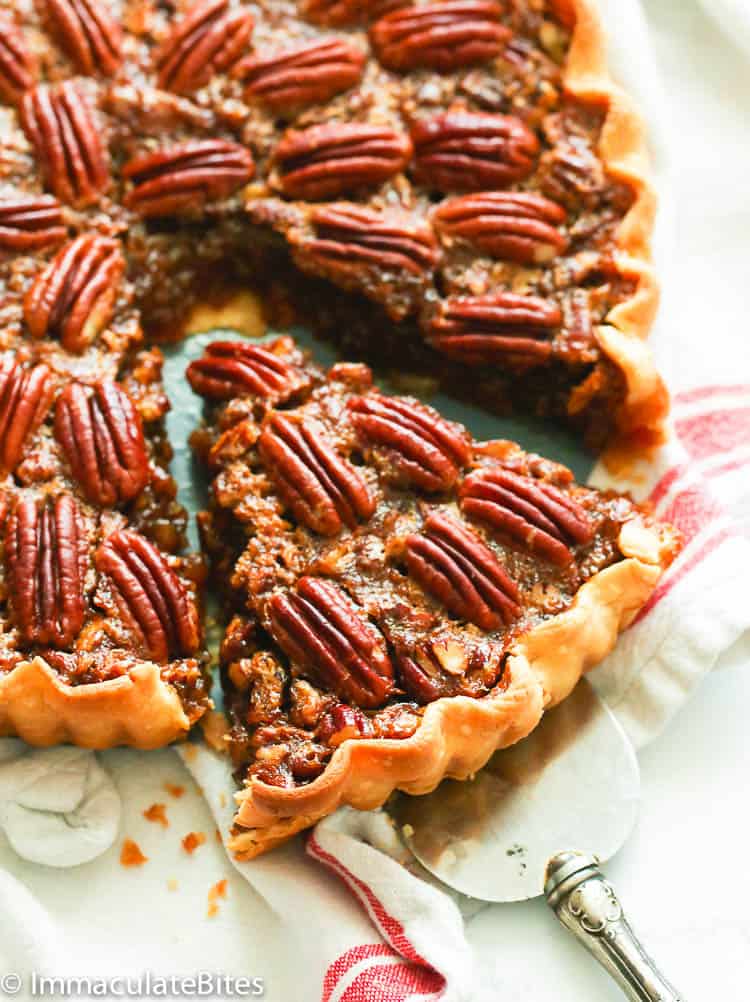 This recipe is one of those quintessential Southern pies that will forever be a classic in my book. Pecan pie combines a flaky, buttery crust with creamy custard and those incredibly crunchy pecans on top. The flavor is terrific, and the textures are beautiful too.
Serve pecan pie with a glass of Southern sweet tea y'all! It also pairs well with a scoop of vanilla ice cream and a cup of hot coffee – these are my two favorite pie pairings, in case you hadn't noticed. 😜
Cover your pie with aluminum foil or plastic wrap and refrigerate it for up to 3 days. You can also bake this pie ahead of time and freeze it for up to 2 months.
Pecan Pie
A Southern classic holiday dessert some have dubbed "The Mother of All Pies." That flaky, buttery crust with a custardy, crunchy pecan filling deserves the title if you ask me. Plus, this is one of the easiest pies you'll ever make!
Check out this recipe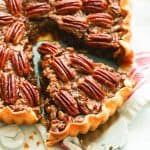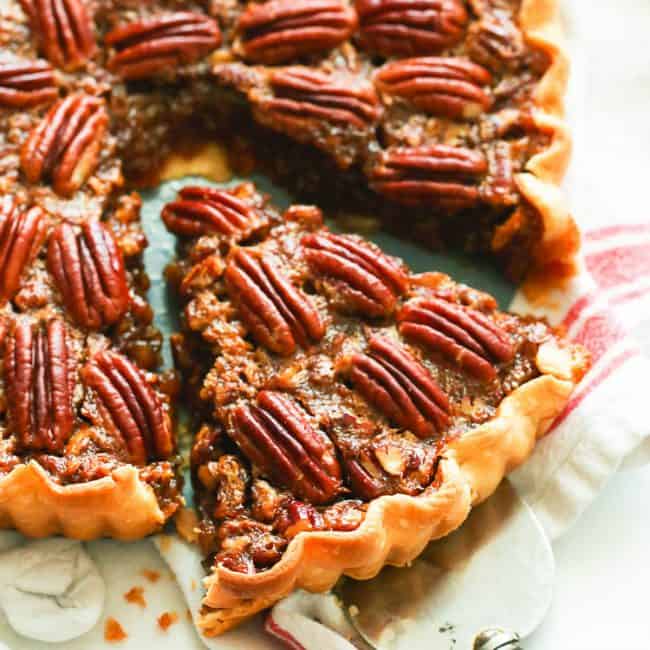 8. Chocolate Pecan Pie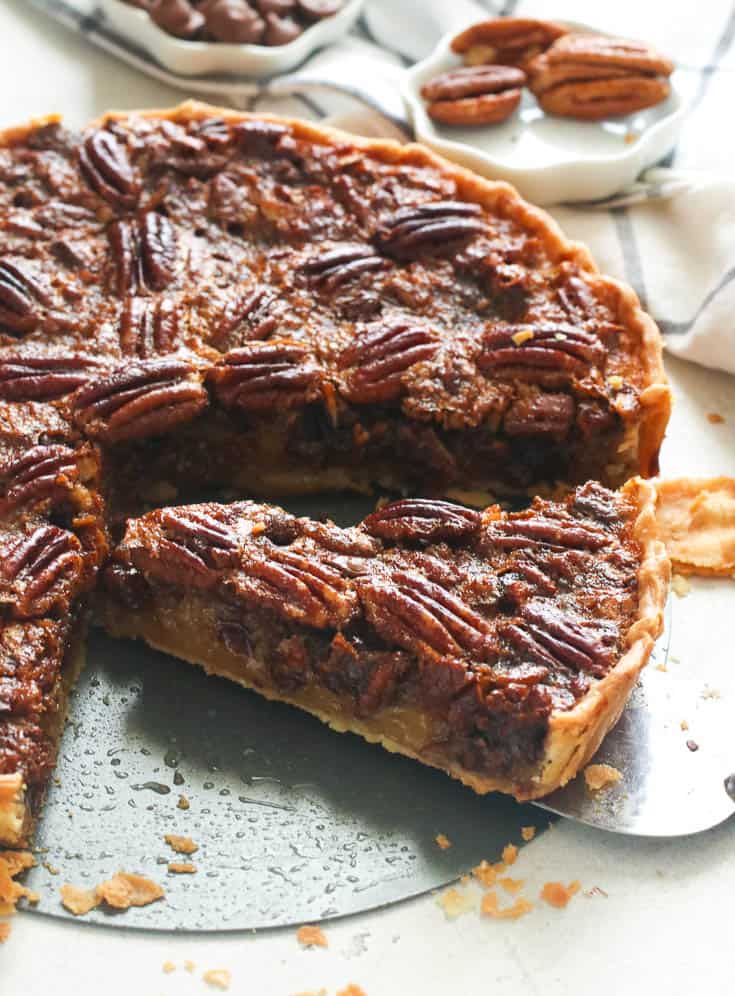 Up the pecan pie decadence by adding semi-sweet or dark chocolate chips. This pie recipe is also super easy to make and ultra-delicious. Honestly, chocolate pecan pie is so good it will disappear in a heartbeat.
Serve this pie with homemade eggnog or a chai tea latte. If you make it in the summertime, try pairing it with a cool glass of passion fruit juice or a peach bellini to keep things refreshing.
Cover your pecan pie with foil or plastic wrap and keep it in the fridge. It will keep for 3-4 days.
Chocolate Pecan Pie
Chocolate Pecan Pie – Take your classic Pecan Pie to the next level by adding semi or dark chocolate chips. With just 9 simple ingredients, you'll have one decadent dessert that's perfect for this Easter, winter holidays or when you need an easy sweet fix for your craving. This will easily sweep everyone off their feet!
Check out this recipe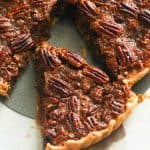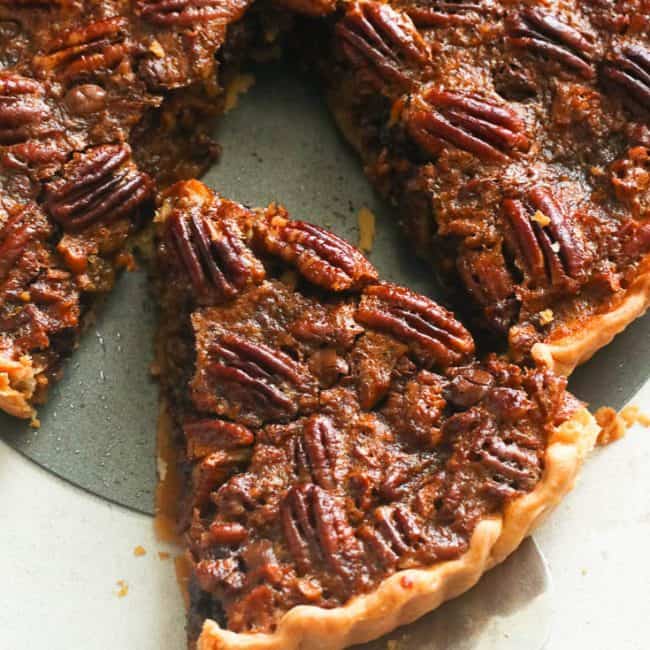 9. Apple Pie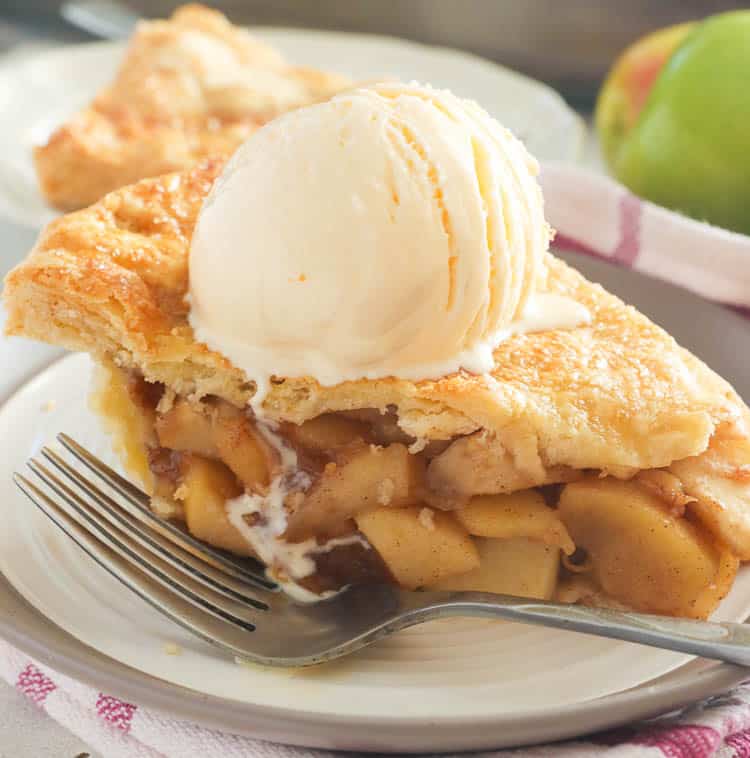 No baking repertoire is complete without a solid apple pie recipe. This recipe combines a mix of apples with a buttery homemade pie crust that is a delight to eat.
You'll also feel like a real domestic goddess (or god – I see you baking, fellas!) when you pull a piping hot apple pie out of the oven for your family to admire.
The best apple pie toppings are the most classic ones. With a scoop of delicious vanilla ice cream or a dollop of whipped cream and a drizzle of caramel sauce, these toppings will not disappoint.
Cover leftovers with foil or plastic wrap. Store apple pie for 1-2 days at room temperature or 3-4 days in the fridge.
Apple Pie
Made with lightly spiced apple filling, this APPLE PIE made with the best buttery-flaky homemade pie crust is a must-have on any family occasion! Use a mix of different kinds of apples to make the best homemade pie!
Check out this recipe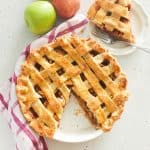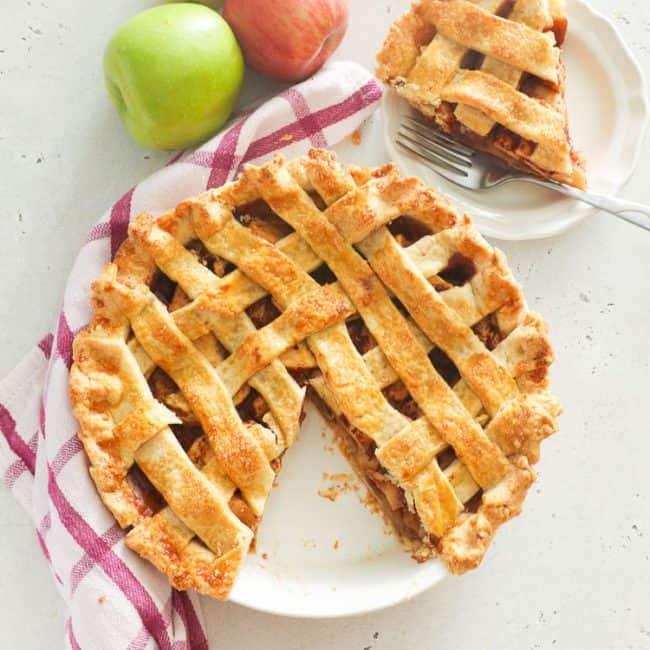 10. French Chocolate Silk Pie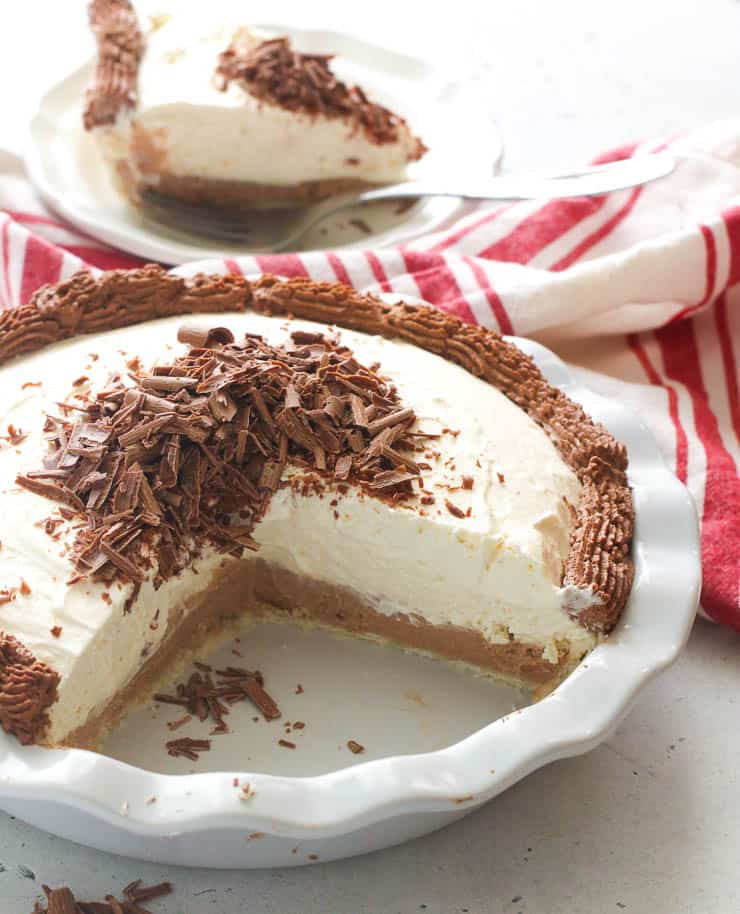 I mean, this pie recipe just sounds totally refined and elegant, doesn't it? It's light, decadent, and beautiful – perfect for your next family get-together. Plus, you serve this pie chilled, which means it's a breeze to make ahead of time and store.
I think the cool and light texture of this pie goes exceptionally well with silky, warm drinks. A chai tea latte is delicious here, but you could also serve it up with a rich chocolate cappuccino or a caramel latte. Top your hot drinks with some homemade whipped cream and a drizzle of caramel sauce to make your guests feel extra spoiled.
Store French chocolate silk pie in the fridge. You can cover it or keep it in an airtight container there for 3-4 days.
French Chocolate Silk Pie
French Chocolate Silk Pie – light and decadent chocolate filling in a delicious flaky crust, then topped with a generous amount of homemade whipped cream.Your tasty dessert fix fit for any season. Every bite feels like floating on a cloud of pure deliciousness. The best part about this is that it's served chilled! No need to reheat.
Check out this recipe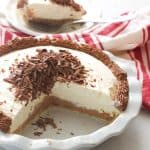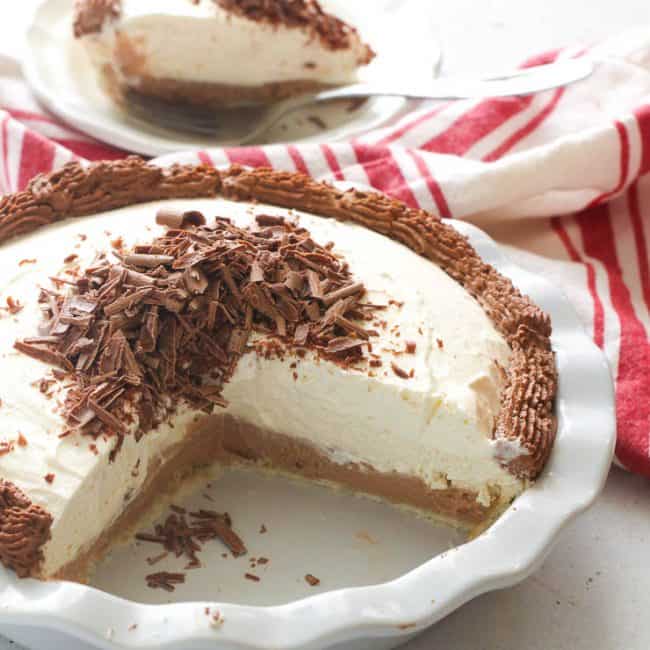 11. Buttermilk Pie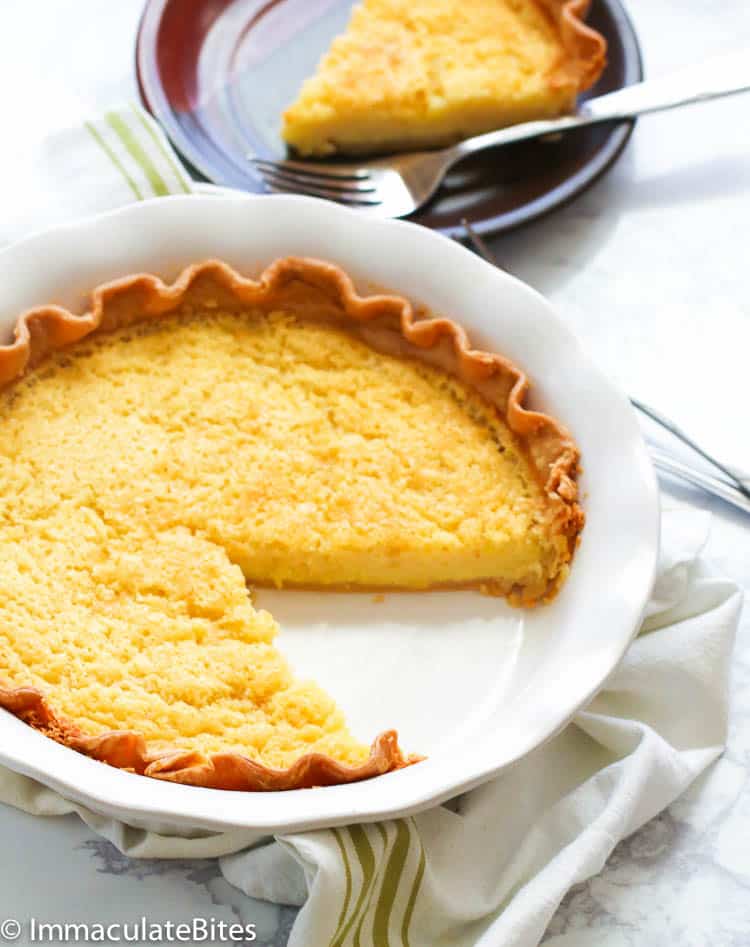 Buttermilk pie is a Southern treat that really shows how much you can do with so few pantry staples. It's great for special occasions, but it's just as good when you feel like baking a pie just because, which for me, is just about every weekend. 😆
Serve buttermilk pie with an ice-cold glass of Southern sweet tea whenever you need an extra dose of Southern comfort food. Top it with a dollop of homemade whipped cream and add a cherry on top for a pretty pop of color.
Store this buttermilk pie in an airtight container for 3-4 days in the fridge. Just make sure you let it cool down completely before storing it.
Buttermilk Pie
Buttermilk Pie – classic Southern pie recipe that comes together quickly and easily made from pantry staple ingredients. A light creamy custardy pie with a heavenly sweet and a little tangy flavor. Great for holidays or whenever you want to.
Check out this recipe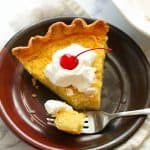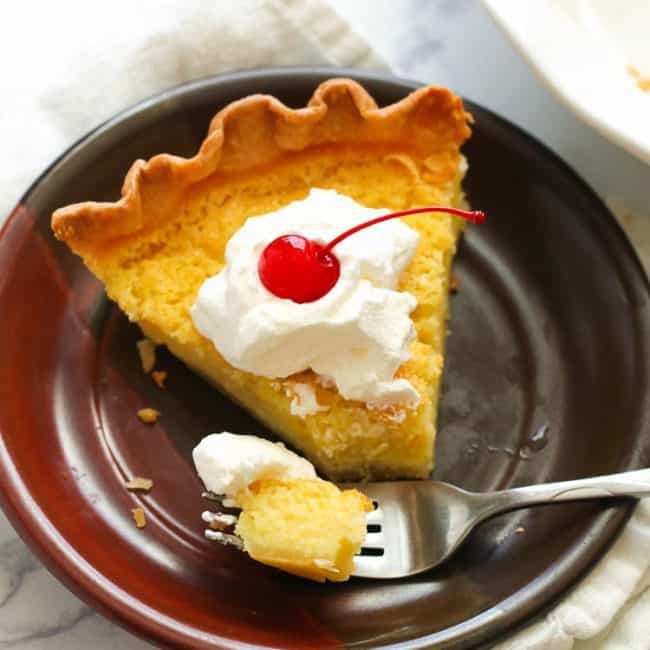 12. Coconut Cream Pie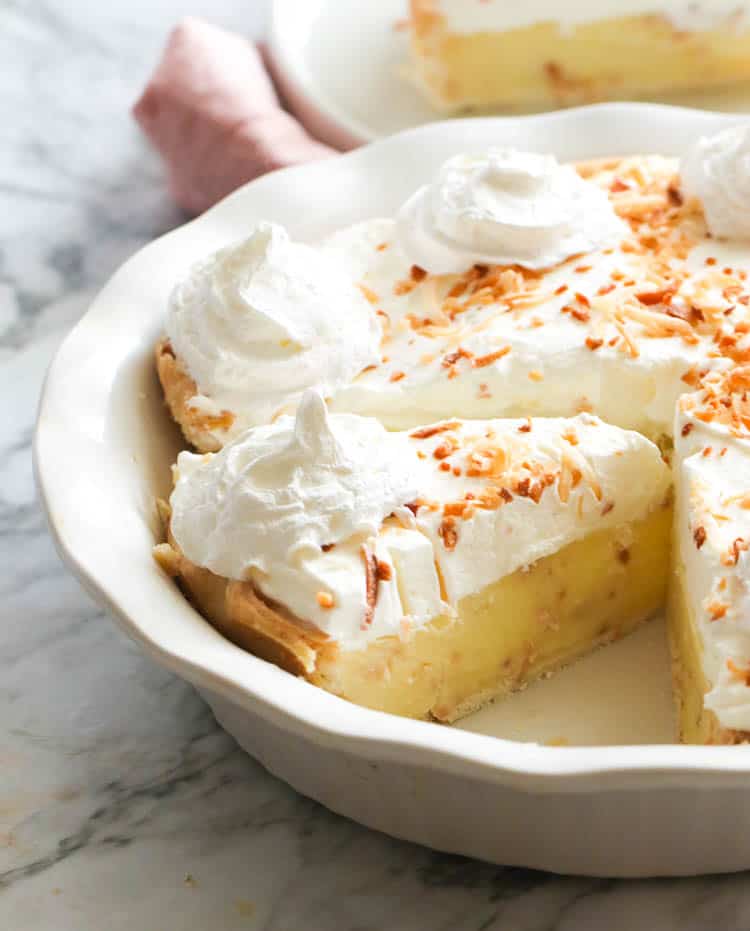 Ok, my mouth is watering just thinking about this pie recipe right now. Buttery, crispy pie crust filled with creamy coconut custard and topped with toasted coconut flakes and whipped cream – there's just so much to love about this pie.
If you are a die-hard coconut lover like me, you'll want to make an entire coconut dessert bar to go with this pie. Definitely include some coconut macaroons, Samoan coconut bread rolls, and a cassava coconut cake. Would it be going overboard to make sure guests have a pina colada in their hands too? Nah…
Store leftover pie in an airtight container in the fridge for 2-3 days. Wait, who am I kidding? Leftovers, yeah, right.
Coconut Cream Pie
Coconut Cream Pie – flaky buttery dough filled with a luscious, thick and creamy custard coconut filling with flavors from coconut milk and toasted coconut flakes then topped with whipped cream topping. It literally melts-in-your-mouth!
Check out this recipe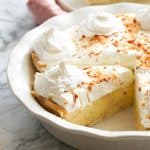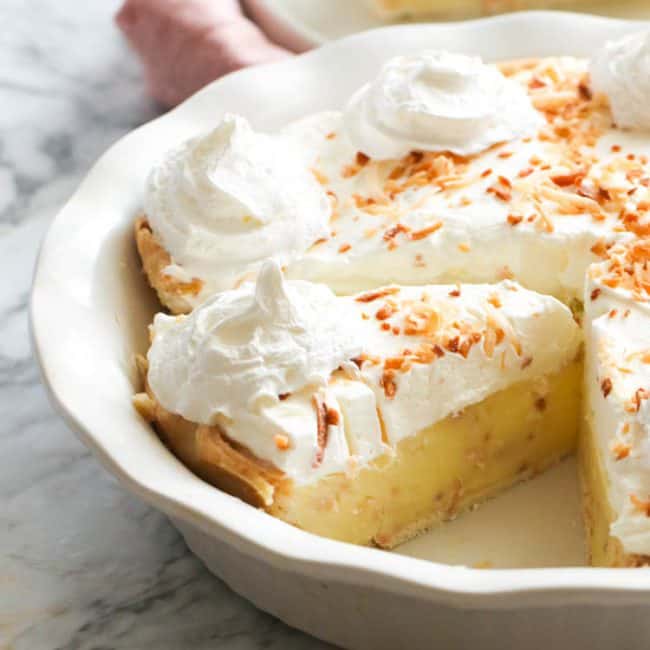 13. Pecan Pie Bars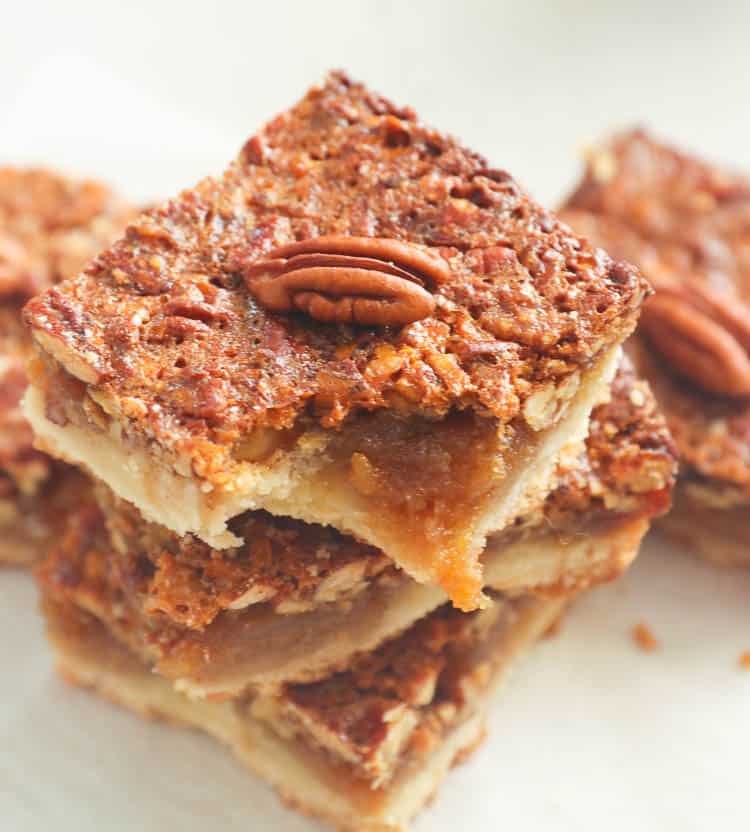 To get those sweet and earthy pecan pie recipe flavors in a handheld version, try these pecan pie bars. They are simple, delicious, and so easy to make. They might even disappear faster than an actual pecan pie, but don't tell pecan pie I said that. 🙊
Pair pecan pie bars (try saying that five times fast 😂) with a refreshing glass of sorrel juice for an exciting burst of flavor. You can also top these bars with vanilla ice cream, powdered sugar, or whipped cream.
Refrigerate pecan pie bars in an airtight container in the fridge. They'll last for up to 4 days.
Pecan Pie Bars
Make way for this irresistibly tasty and hassle-free treat with simple ingredients. A delicious snack you can serve as a special teatime dessert or everyday comfort food. An insanely delicious recipe you won't want to resist.
Makes 16 bars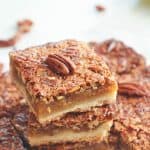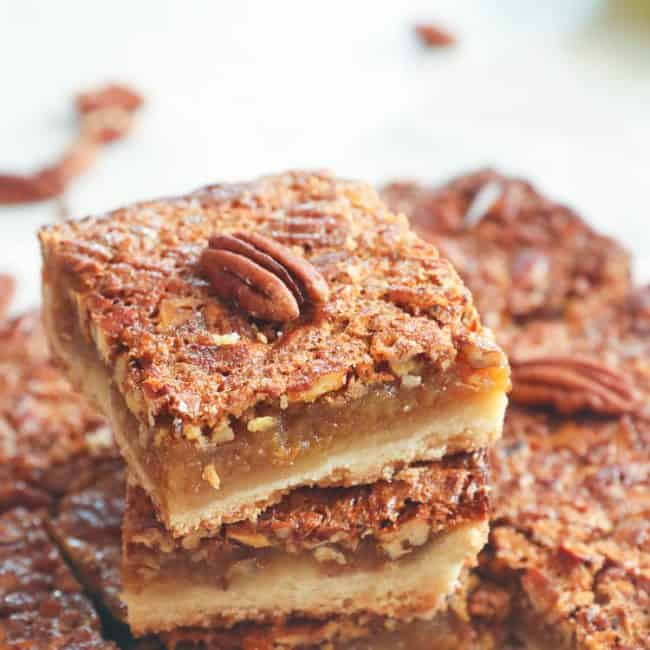 14. Pecan Pie Cheesecake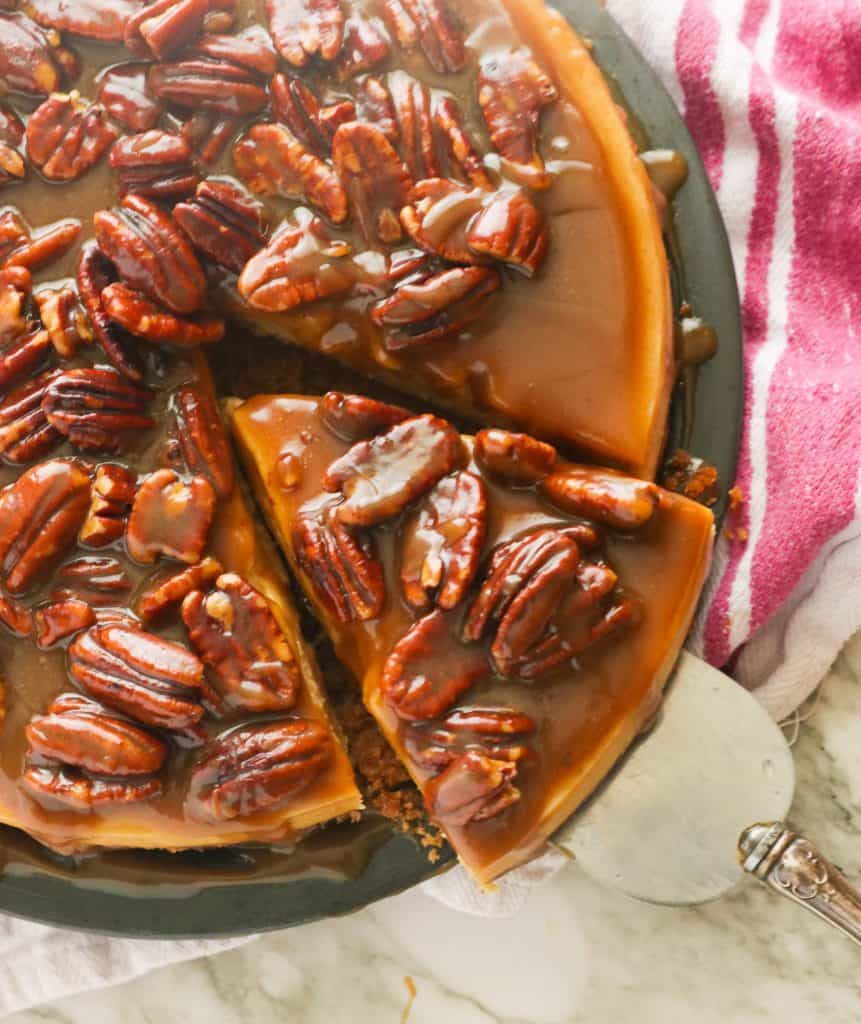 What could be better than these two desserts in one! This pie recipe always impresses my dinner guests, and it's so incredibly indulgent. You'll find yourself savoring every bite.
I actually love serving this pie with tropical drinks like a pina colada, strawberry daiquiri, or tropical sangria. I think it makes for an exciting and refreshing flavor combination. Of course, less sweet, hot drinks work well with this pie, too.
Let this pie cool completely before you store it. Cover it with plastic wrap or foil and keep it in the fridge. Leftovers stay fresh for 3-5 days.
Pecan Pie Cheesecake
Pecan Pie Cheesecake – Enchanting 2-for-1 dessert featuring Pecan Pie and Cheesecake together in one fabulous dessert. Offering a smooth, creamy, and rich decadent cheesecake topped with crunchy pecans in a lavish gooey caramel sauce. The perfect holiday dessert that truly impresses! Guaranteed to satisfy all your cheesecake obsession.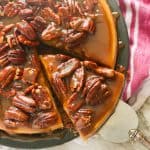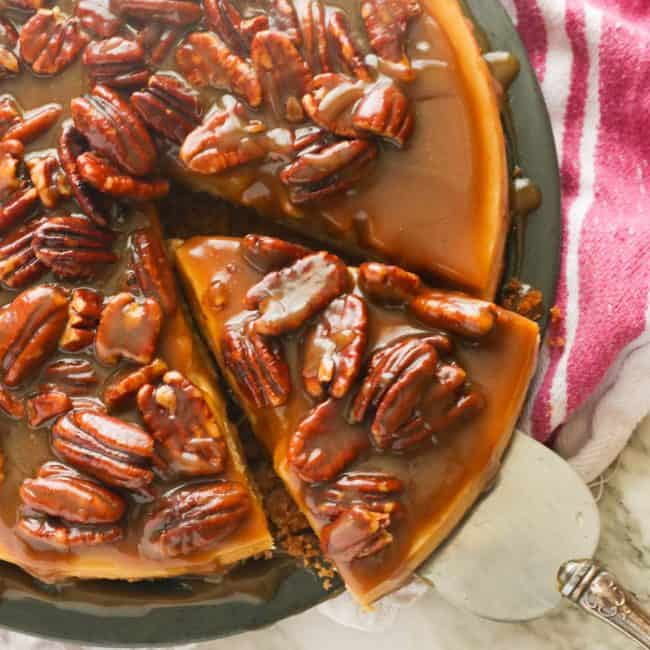 15. Bourbon Pecan Pie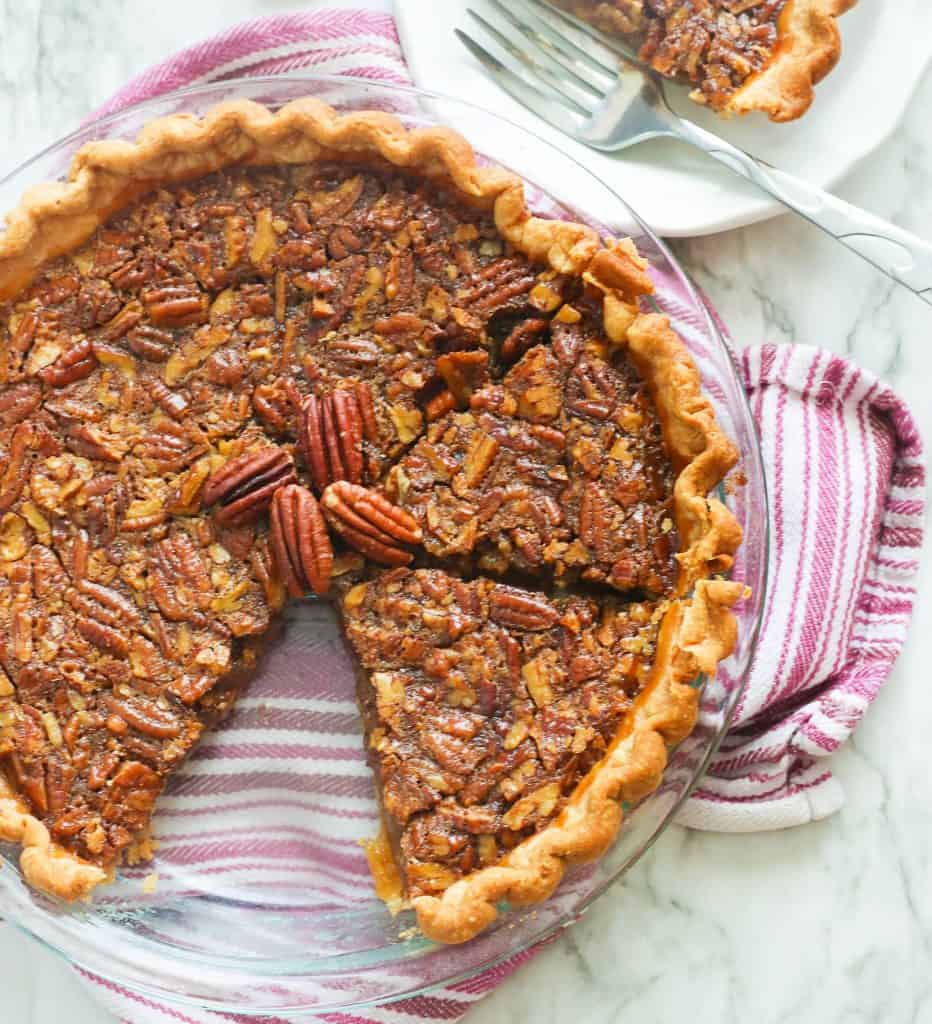 As soon as you've taken your first bite of this buttery, praline-flavored pie with a kick of bourbon, you'll be on cloud nine. This recipe is seriously one of the most flavorful pies out there. And did I mention it's easy to make, too?!
Serve this pie at room temperature. (Yes, I know it's hard; but after you take it out of the oven, you'll want to let it cool down before digging in.) Serve it up with vanilla ice cream, homemade whipped cream, and of course, a cup of coffee or hot tea.
Keep leftovers stored in an airtight container in the fridge. This pie will keep for 3-5 days, but I assure you, you'll finish it off long before then.
Bourbon Pecan Pie
What's better than a delicious Southern classic pecan pie? Adding a shot of bourbon for a Bourbon Pecan Pie! The buttery sweet pecan praline flavor ramped up with the South's favorite alcohol will take you to heaven and back.
Check out this recipe