These 12 Easy Sheet Pan Recipes are the dinner (or lunch) "cheat sheet" for fuss-free meal prep on busy weeknights. They offer mouthwatering dishes made healthier and simpler without sacrificing taste. And they are also perfect for beginners because they are easy to prepare with no special tools or skills required.
The beauty of sheet-pan recipes is that they are easily customizable with whatever you have available. It can be all veggies or protein, or both! Just arrange it all in a baking sheet with your favorite seasonings, herbs, and spices, and you're good to go. Plus, they make clean-up easier. Woohoo!
FAQs
Are sheet pan dinners safe?

Yes! As long as you use fresh ingredients and oven-safe pans, they are absolutely safe. In fact, they are also considered healthier because they are baked. 😉
One-pan dinner vs. a sheet-pan dinner

Both make delicious, mess-free meals. So, it really depends on your food preference. One-pan dinners are mostly stews and saucy dishes, while sheet pan dinners are mainly roasted protein and veggies baked with little or no sauce. One-pan dinners sometimes require sauteing and stirring. On the other hand, sheet-pan dinners don't need much attention because the oven does all the work.
What is the benefit of sheet pan meals?

Sheet pan meals are getting trendy nowadays because they are super easy. They also provide a healthier, flavorful, complete meal without sacrificing quality and taste. They are practically effortless because you just toss all the ingredients in the pan and pop them in the oven. Talk about easy clean-up. Yaaay!
Seafood Recipes
1. Cajun Salmon One-Sheet Pan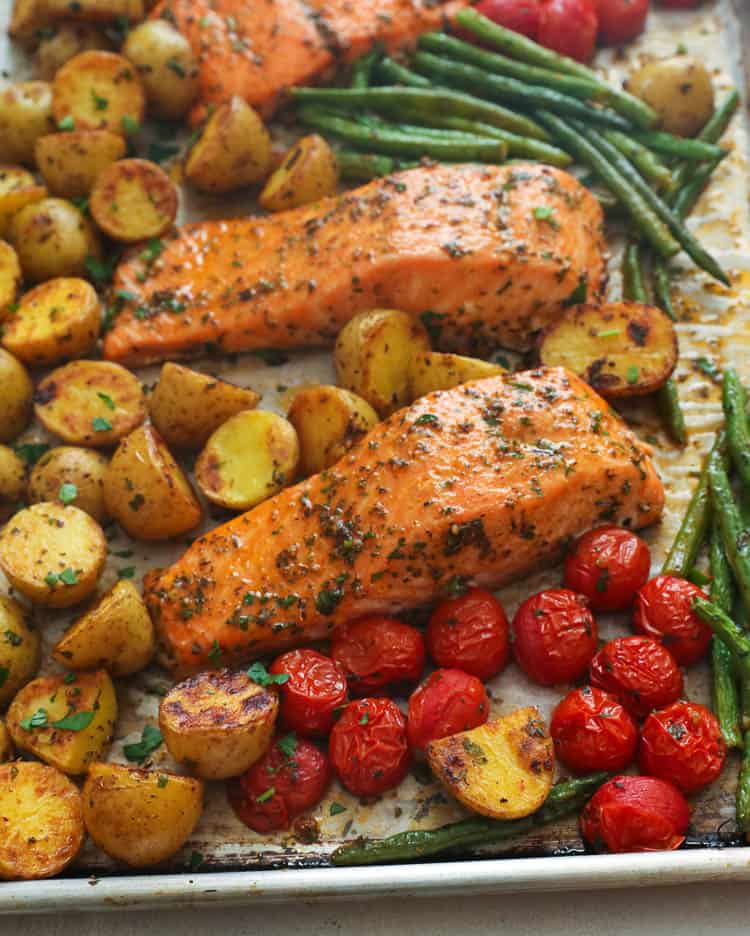 This sheet-pan recipe is especially for salmon lovers. It's so easy to make with fresh ingredients like green beans, baby potatoes, and cherry tomatoes. You'll definitely love the explosion of great flavors from fresh herbs such as thyme, basil, and parsley with the right amount of heat from Creole Seasoning and fresh garlic. Yum!
Cajun Salmon One Sheet Pan
Cajun Salmon One Sheet Pan – An easy no-fuss weeknight meal featuring moist and flaky salmon, green beans, baby potatoes, and cherry tomatoes. All of these are seasoned with exceptional flavors from herbs and spices and cooked on a single sheet pan. A fantastic low carb and keto-approved meal baked in a single pan ready in just 25 minutes!
Check out this recipe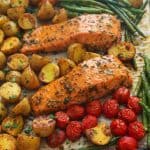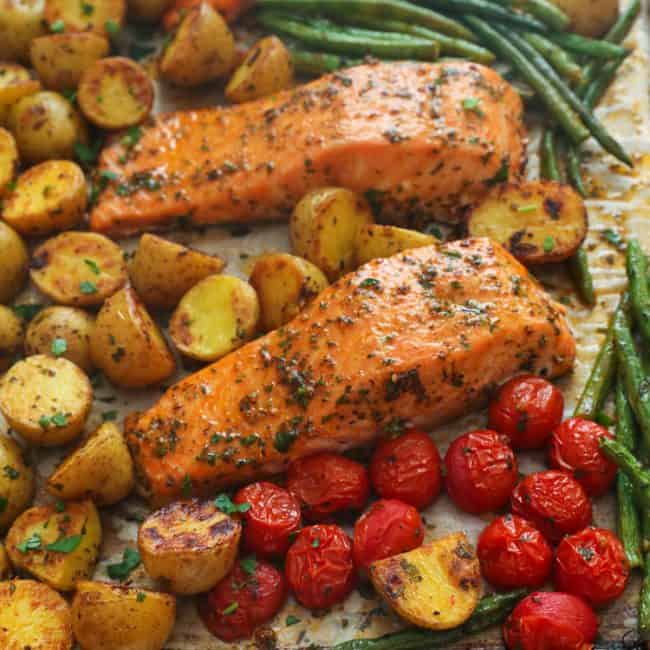 2. Cajun Shrimp Boil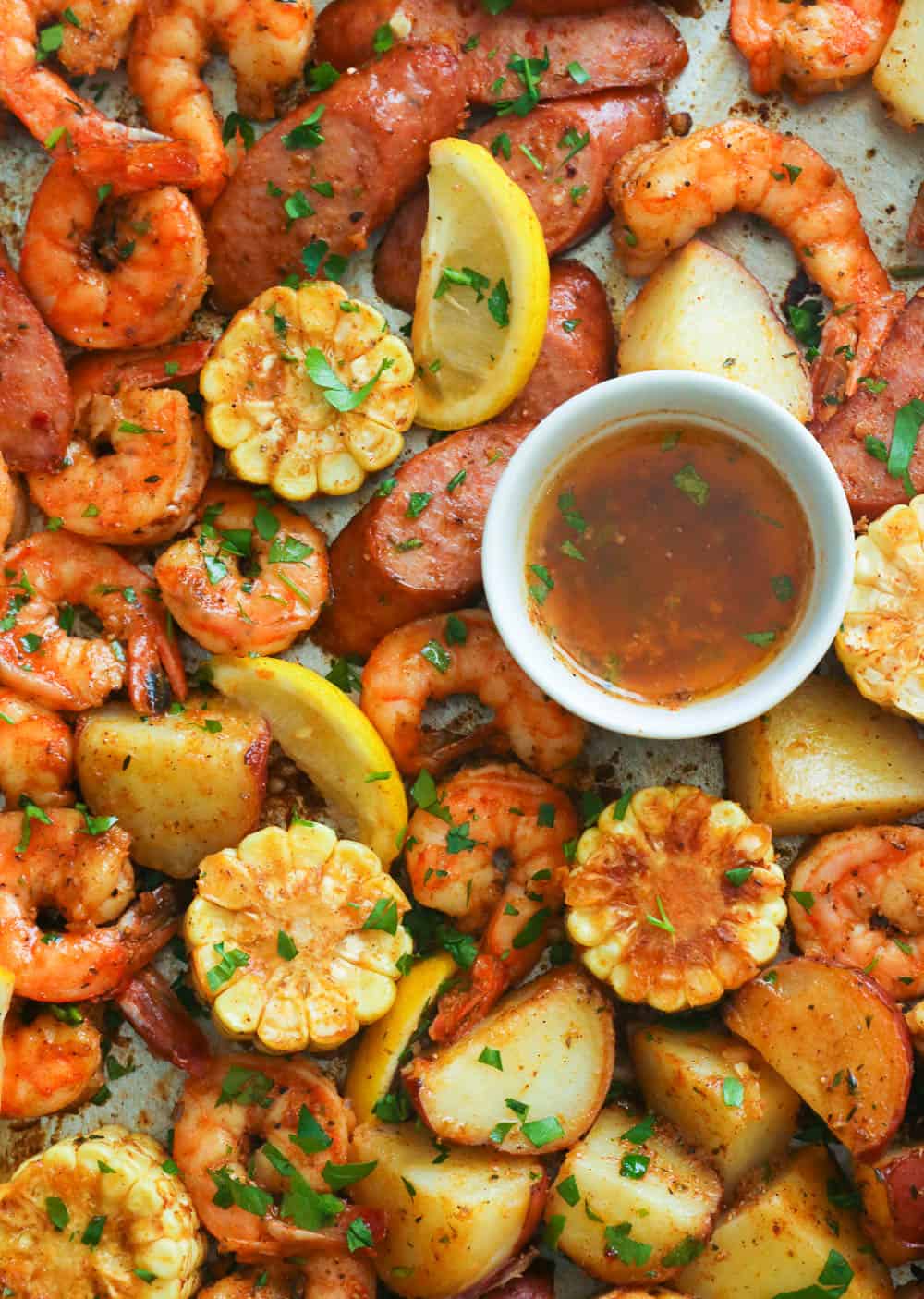 Shrimp, sausages, potatoes, and corn with sprinkles of Creole Seasoning, fresh herbs, and a kiss of lemon will surely make your weekend extra special. Such a quick and easy sheet-pan recipe you can make in less than an hour! Serve it with a slice of Cornbread or a bowl of Baked Mac and Cheese on the side to complete your Cajun-Style dinner combo. 😉
Cajun Shrimp Boil
An easy and tasty classic shrimp boil with baby red potatoes, corn on the cobs, and andouille sausages generously seasoned with creole seasoning and garnished with lemon for a fresh and vibrant summer outdoor meal ready in less than an hour.
Check out this recipe
3. Broiled Salmon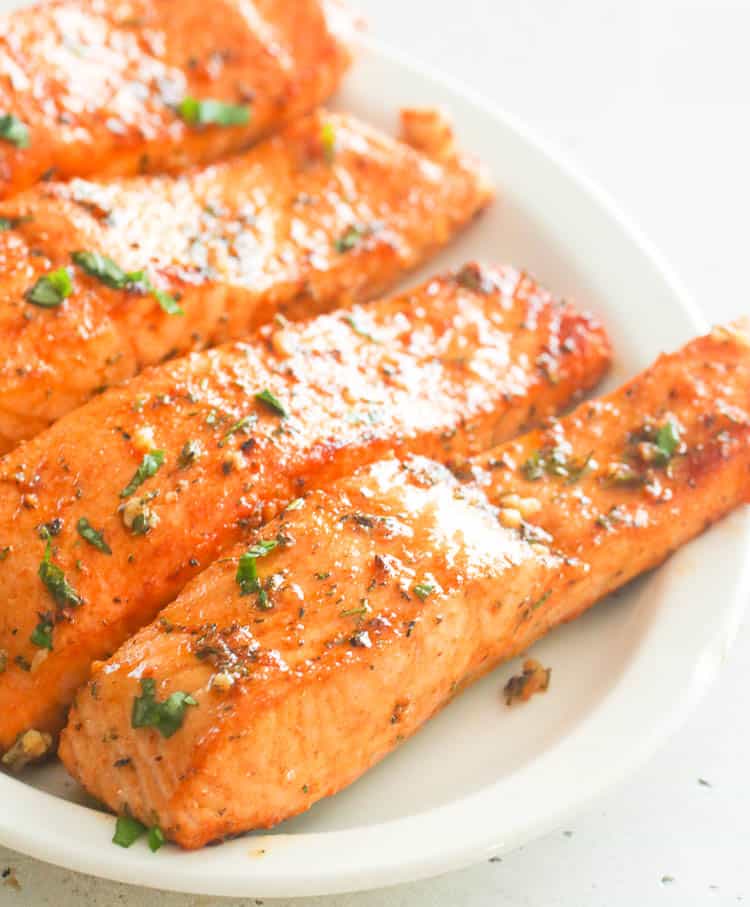 And, of course, nothing can beat our 20-minute sheet-pan salmon recipe here. I adore how the lovely flavors of butter, garlic, fresh herbs, and lemon melds beautifully. So simple, yet so tasty! Plus, it's absolutely guilt-free, low-carb, and keto-friendly! Oh yes! I bet you'll love it more when you pair it with this healthy Cucumber Tomato Salad. 😋
Easy Broiled Salmon
Naturally delicious salmon ramped up with a delectable mustard butter sauce is broiled for a fork-tender treat. Healthy eating has never been this delicious! And, like most fish, it cooks up quickly for a perfect busy weeknight meal!
Check out this recipe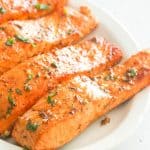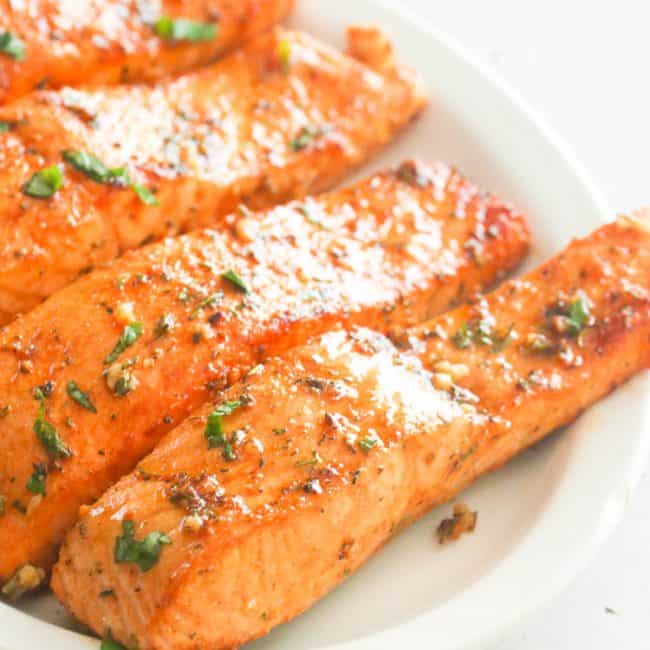 Sheet-Pan Chicken Recipes
4. Chicken Fajitas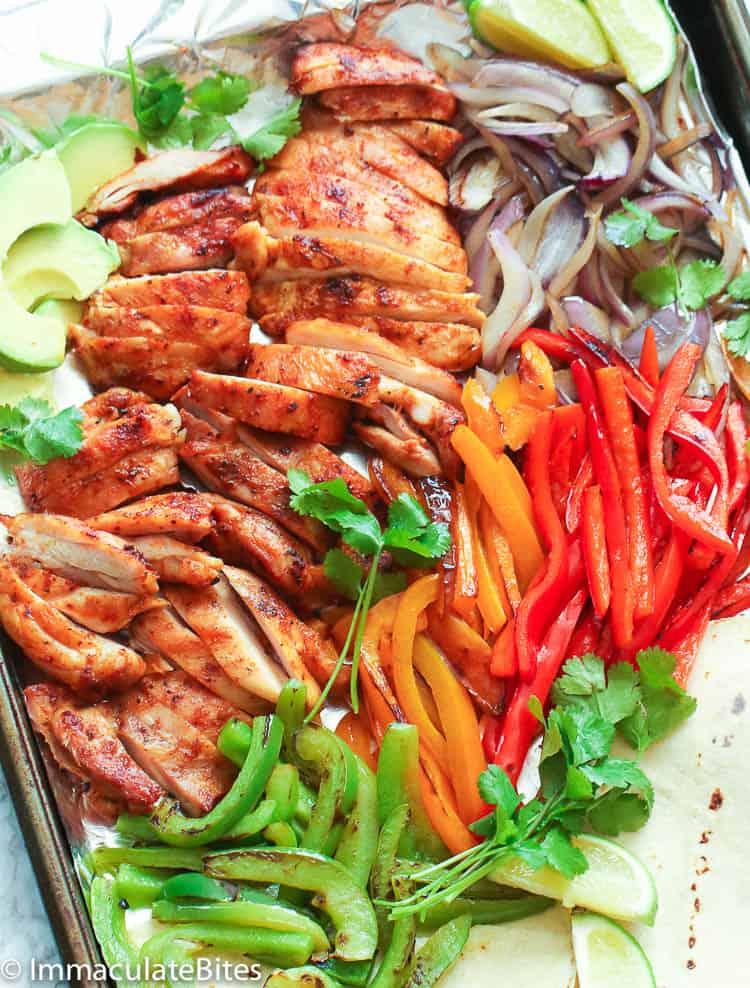 I'm over the moon with this yummy sheet-pan chicken baked to perfection, then topped with bell peppers, avocado, and caramelized onions. It's even more delectable with Taco Seasoning. You can also add a kick of heat with a dash of pepper flakes or cayenne pepper. Truly mouthwatering, indeed!
Chicken Fajitas
Chicken Fajitas – quick, easy, delicious and healthy meal that makes a great weekly rotation menu. Tender and juicy chicken thighs served with strips of colorful crisp-charred bell peppers, onions and avocado slices. A no-fuss complete meal!
Check out this recipe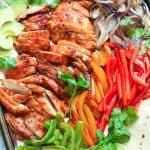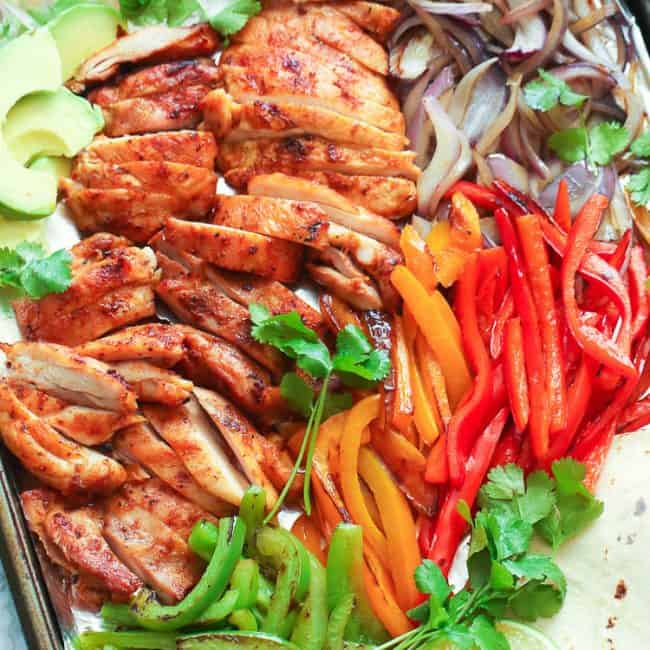 5. Chicken Tostadas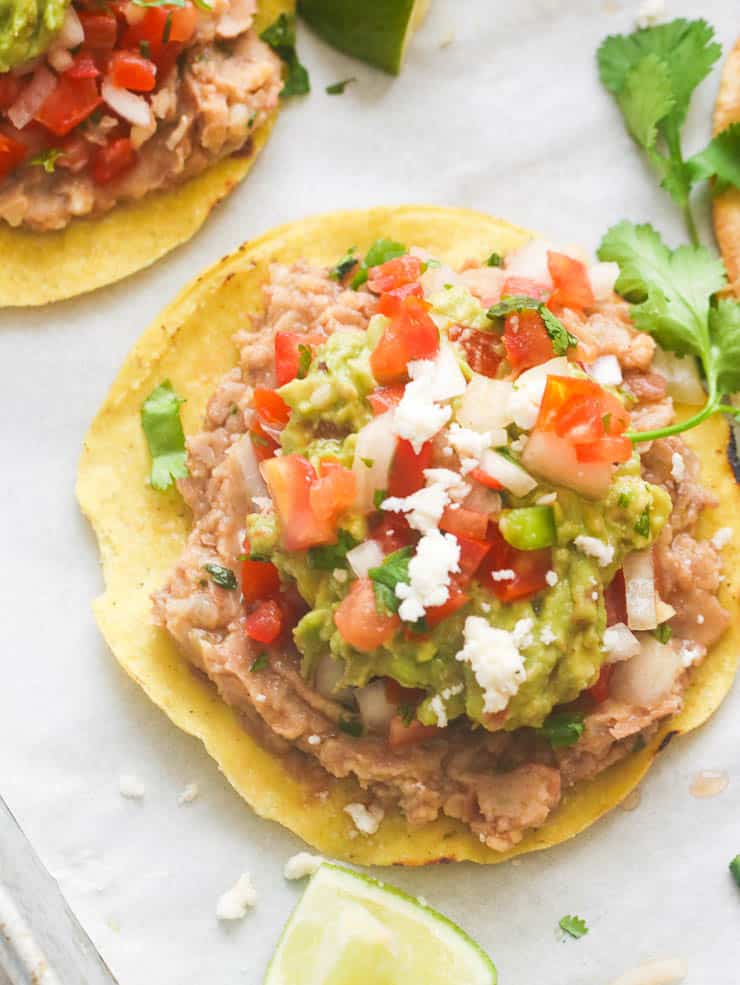 And yes, you can now recreate one of our Tex-Mex favorites, chicken tostadas, at home. And it's easily customizable with our favorite toppings. Mine always includes Refried Beans, Guacamole, Pineapple Salsa, and, of course, my Homemade Tortilla. And oh, don't ever forget the CHEESE to complete our chicken sheet-pan dinner.
Chicken Tostadas
These appetizing crunchy CHICKEN TOSTADAS are all you need to satisfy your Tex-Mex cravings. Mixing the salsa, guacamole, and cheese flavors perfectly complement the toasty tortilla and the tender flavorful shredded chicken. It's so easy and affordable to make, you can easily make some any time you want!
Check out this recipe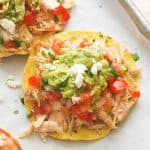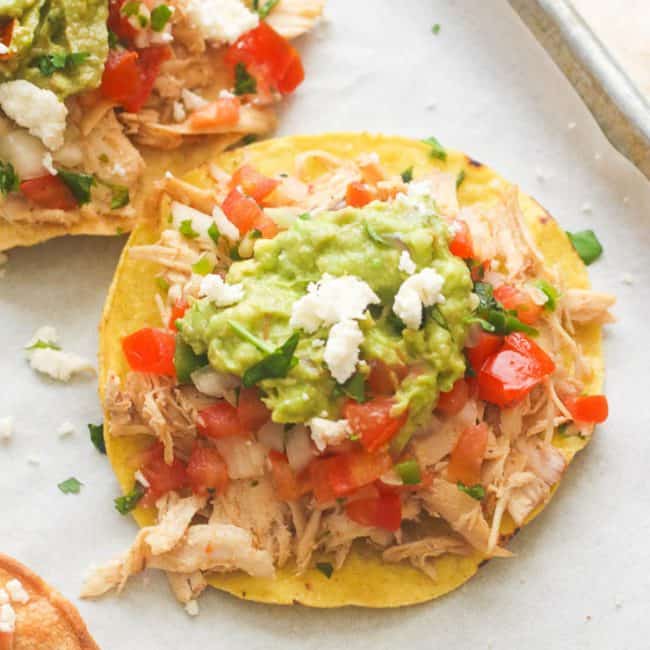 6. Chicken Taquitos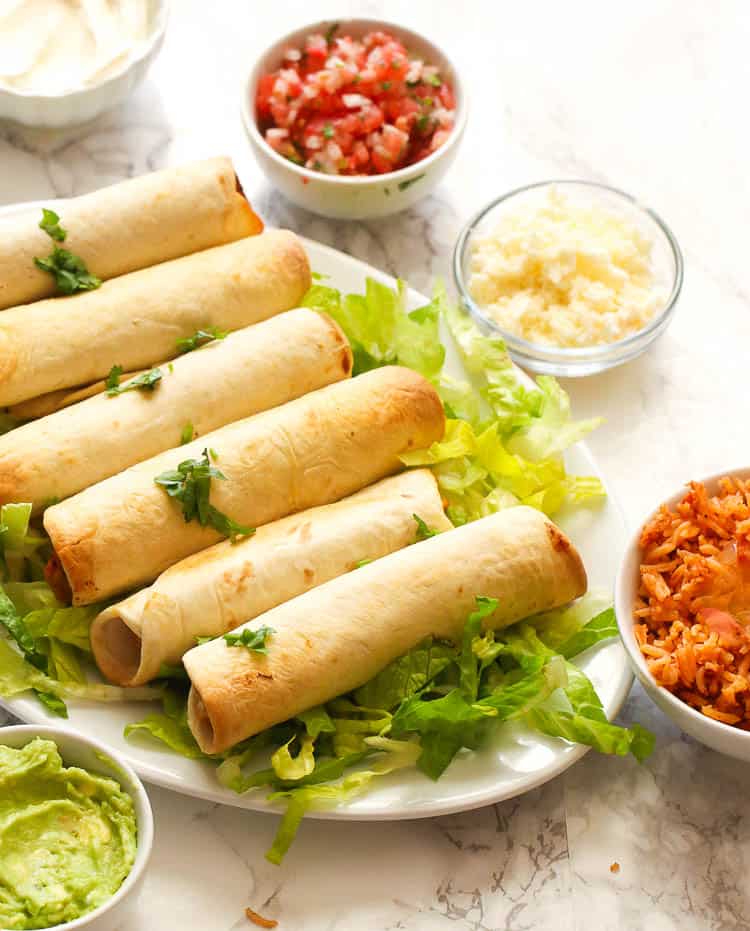 Sheet-pan fajitas make delicious appetizers or snacks perfect for weekend game days or a potluck. They are irresistibly creamy, cheesy, and brimming with savory Mexican flavors from Taco Seasoning and salsa. Depending on your palate, you can serve it with your favorite sides, such as Pico de Gallo and Black Beans and Corn Salad.
Pork Recipes
7. Oven-Baked Pork Chops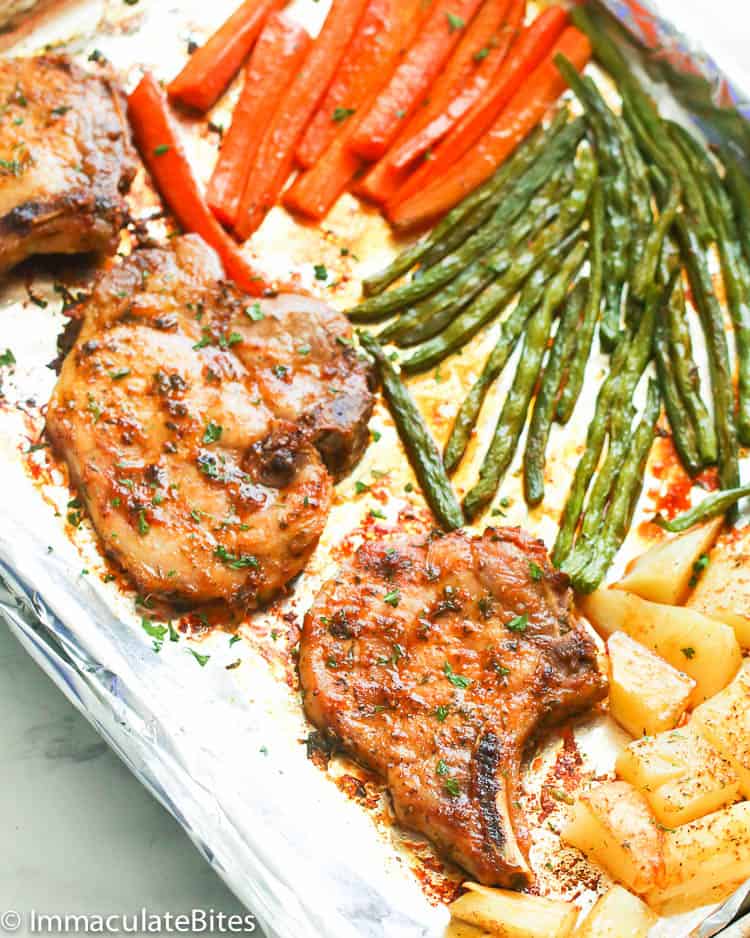 This sheet-pan pork chops recipe will surely satisfy all your comfort food cravings. Especially when you serve it with a cup of steaming Seasoned Rice or Cream Cheese Mashed Potatoes. They are absolutely a cinch to make with a reasonably short list of ingredients yet deliver a restaurant-quality dinner perfect for the whole family. ❤
Oven Baked Pork Chops
Oven Baked Pork Chops – easy one-sheet pan meal with juicy and tasty pork chops and roasted veggies on the side. A perfect family-friendly meal for a quick weeknight dinner!
Check out this recipe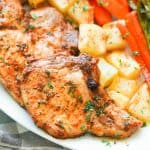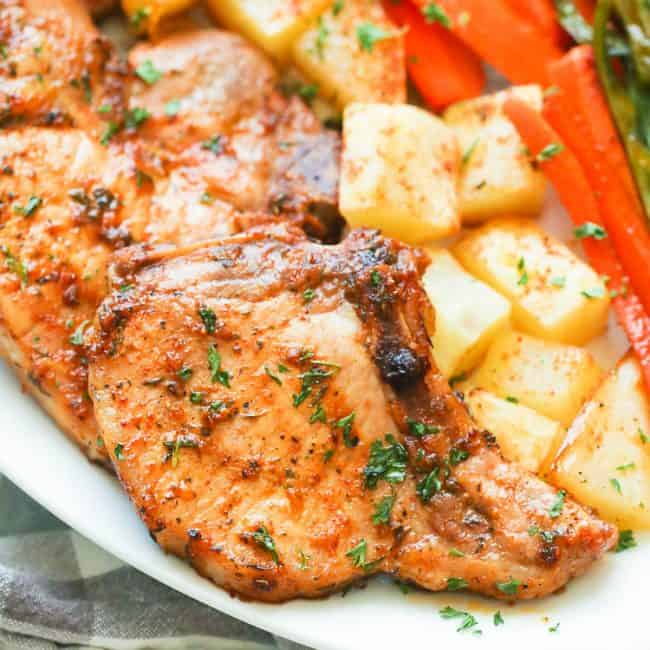 8. Breaded Pork Chops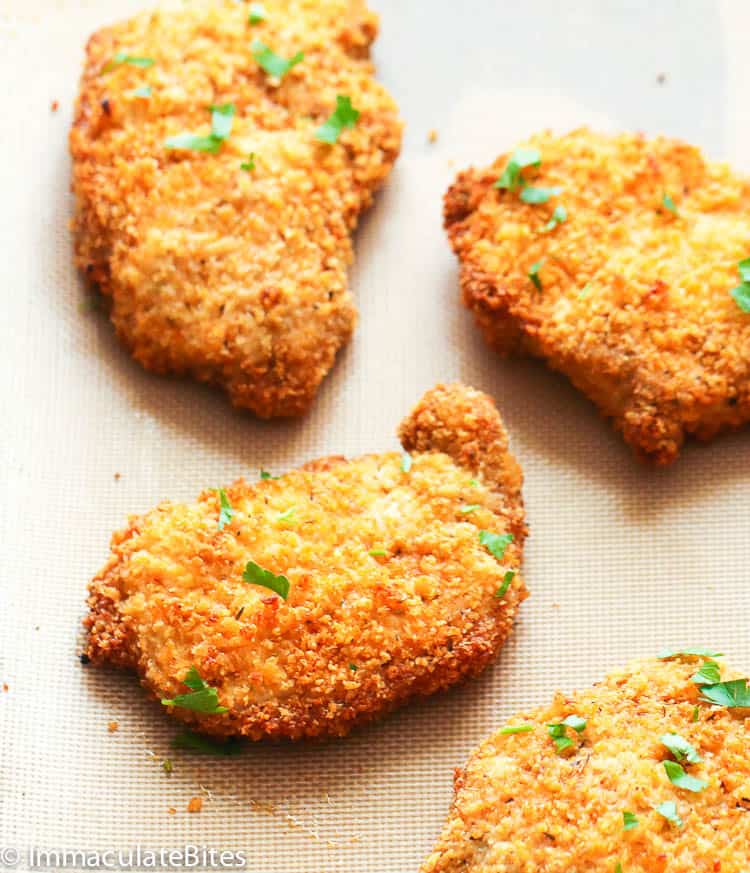 Without the unhealthy grease, how can you say no to these crunchy and crispy breaded pork chops? Oh yes! Absolutely guilt-free because they are baked! And the best part is that these babies are done in less than 40 minutes! They're also incredibly flavorful, brought about by Italian Seasoning, Creole Seasoning, and Parmesan cheese. 👌
Breaded Pork Chops
Breaded Pork Chops – juicy boneless pork chops coated with buttered and seasoned breadcrumb mixture and baked to golden perfection. This might be your new go-to dinner option. Easy, satisfying and they're baked!

Check out this recipe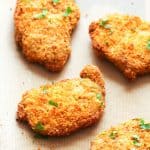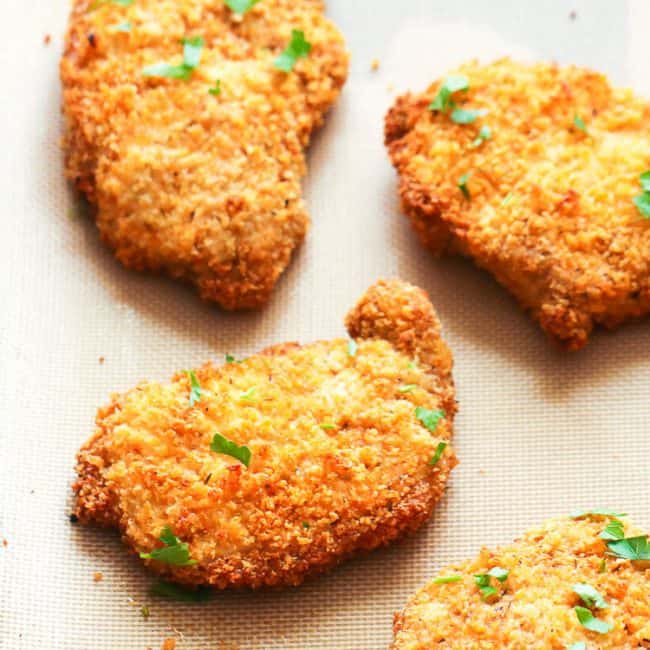 9. Bacon-Wrapped Asparagus
Even picky eaters will gladly eat these lovelies without complaint, especially when you serve them with sprinkles of parmesan cheese on top. I also love adding some pepper flakes and cayenne pepper to this sheet-pan recipe to amp up the flavor. Not only do they make fantastic appetizers, but they also make a decent low-carb and keto-friendly sheet pan meal. They're perfect for lunch or dinner. Awesome!
Bacon-Wrapped Asparagus
Crispy, savory, and oh-so-yummy, this bacon-wrapped asparagus is very quick and easy to make. Add these as a side to your favorite protein, or eat them as it is. Everyone will surely love this simple recipe!
Check out this recipe
Sheet-Pan Vegetable Recipes
10. Roast Potatoes and Carrots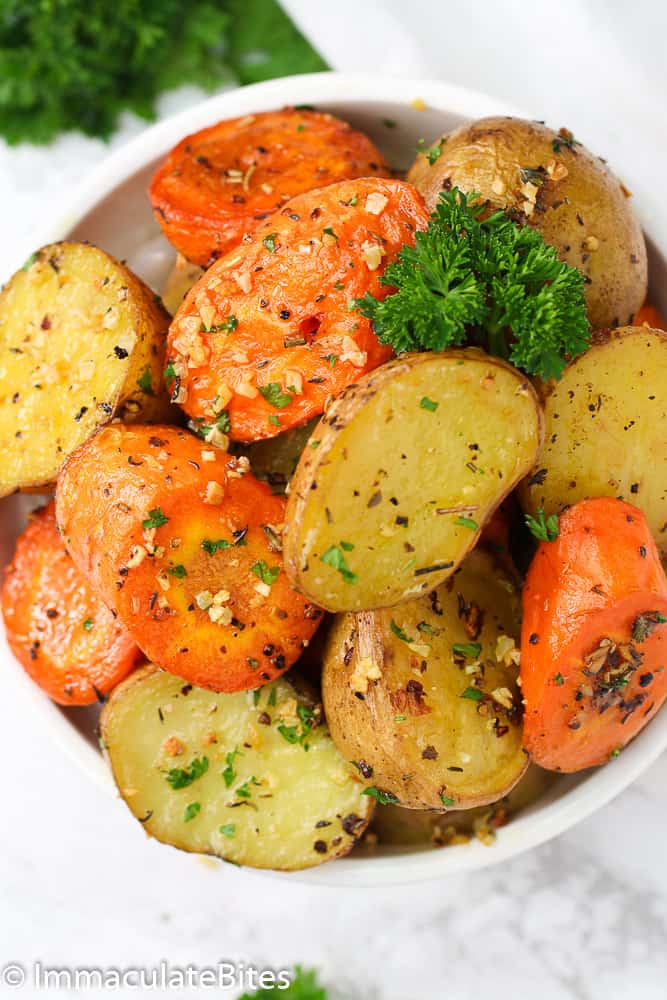 Nothing beats these Roasted Potatoes and Carrots when it comes to the battle of the ultimate sheet-pan side dish recipes. That's because they go well pretty much with everything, such as Pan-Seared Salmon, Pork Chops, and Steak. Above all, they are kid-friendly and highly nutritious because of their high fiber content, vitamins, and minerals.
Roasted Potatoes and Carrots
Roast Potatoes and Carrots – Most favorite, super easy, and a fuss-free side dish of all time! Take a bite on this crunchy goodness and soft melt-in-your-mouth potato and carrot recipe. Simply irresistible and flavorful infused with buttery herbs and spices.
Check out this recipe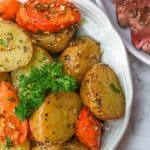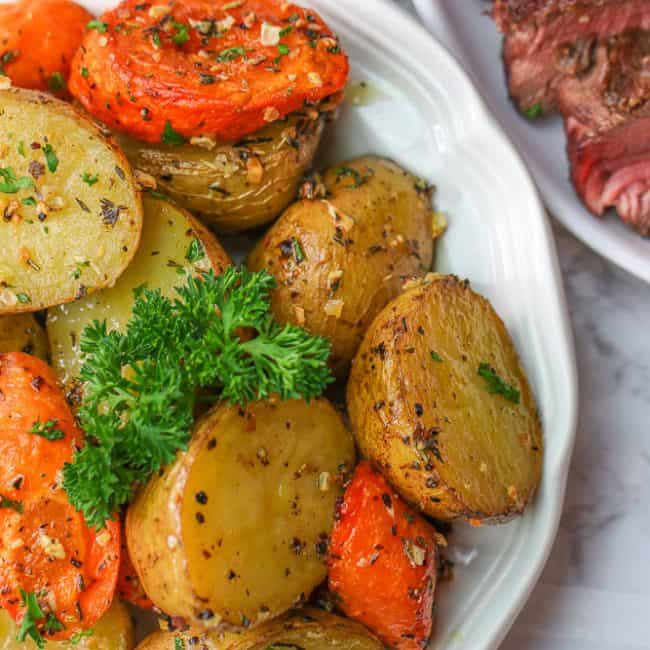 11. Parmesan-Crusted Baked Asparagus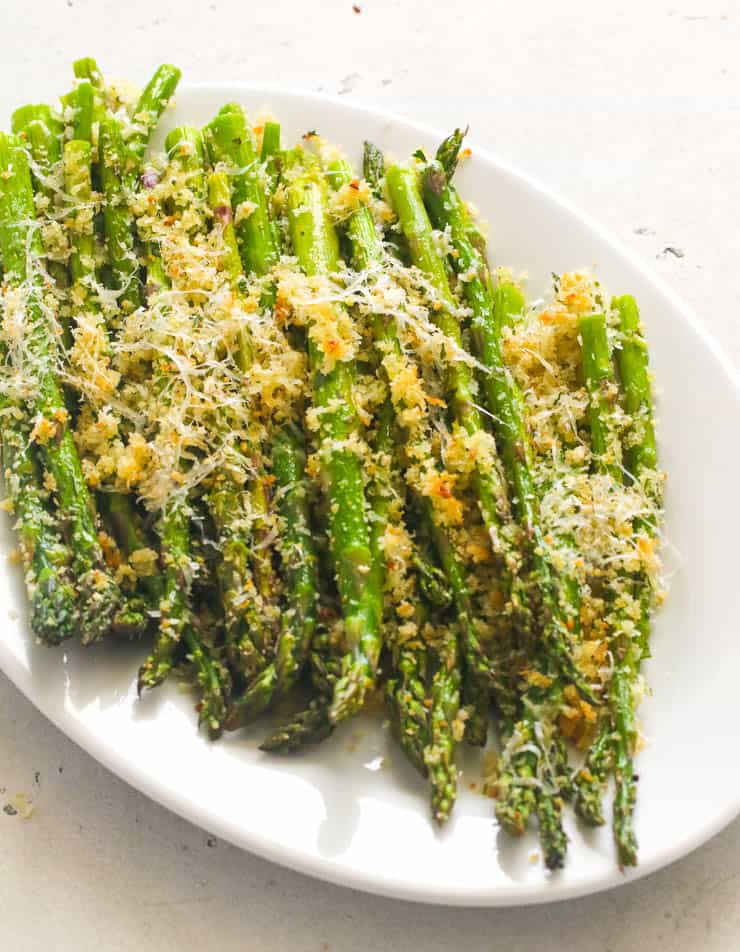 These asparagus bunches are already enjoyable to eat, especially with butter, garlic, and Italian Seasoning. However, a few tricks, such as adding parmesan cheese and breadcrumbs, will surely level up this sheet-pan dinner recipe in an instant. So easy to prepare yet so delicious! 👌
Parmesan Crusted Baked Asparagus
These Parmesan Crusted Baked Asparagus brings a nice flavorful twist to an already yummy vegetable. They're tender, cheesy, garlicky wholesome side dish that is a great accompaniment to any meal. Got any leftover? Serve it as a healthy snack or as add-ons to your salad and stir-fry. Now that's hard to beat!
Check out this recipe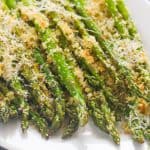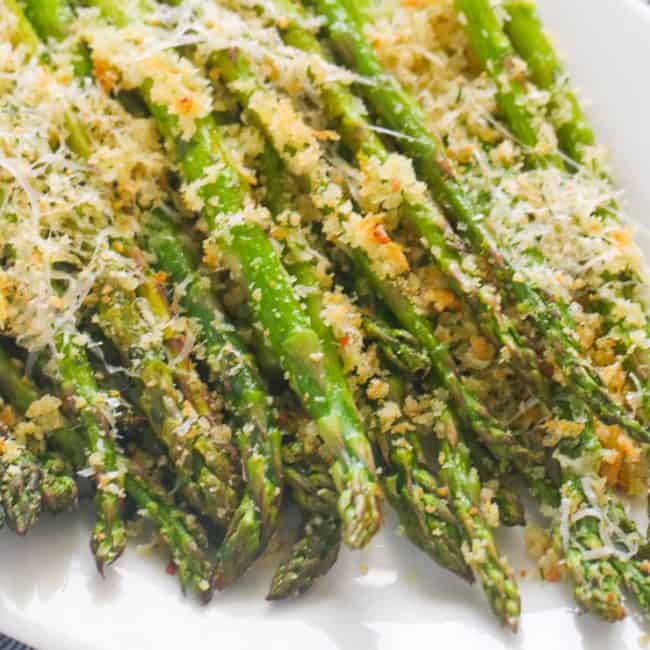 Sheet-Pan Dessert
12. Texas Sheet Cake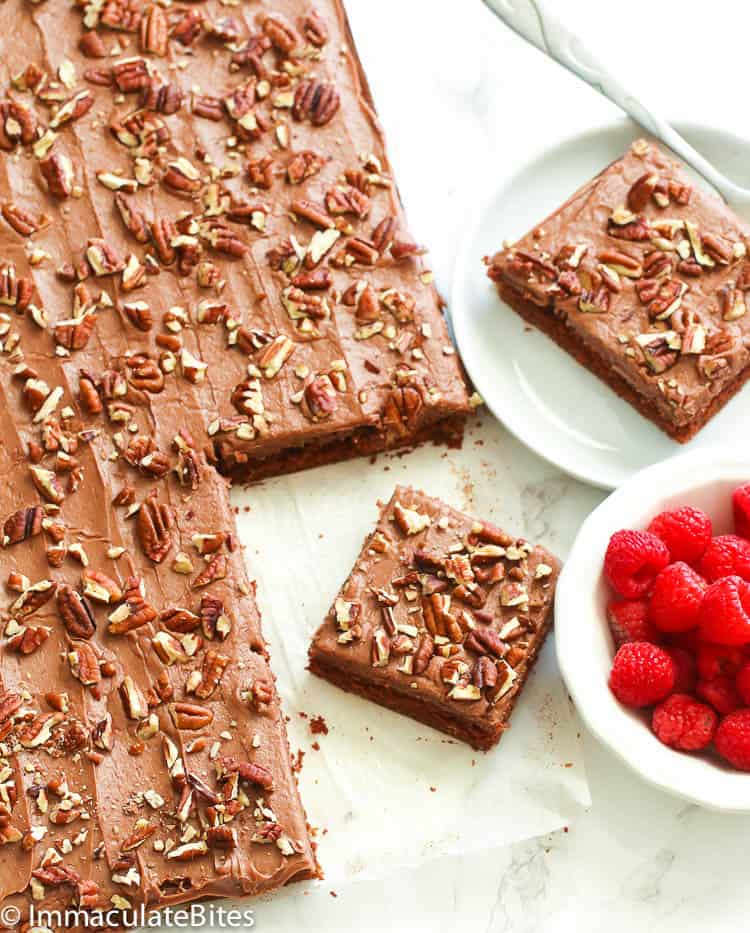 And to wrap our sheet pan recipes collection, I leave you with this super easy, decadent Texas Sheet Cake. It's moist, fudgy, and super chocolatey – everything you want in a chocolate cake plus loads of pecan nuts and luscious chocolate frosting. No particular skill is required because all you need is my chocolate cake recipe and a baking sheet, and you're in for a special treat. 😉
Texas Sheet Cake
A marvelous buttery, chocolatey, rich Texas Sheet Cake coated with a butter-cocoa frosting and topped with pecans. SUPER easy, decadent, and irresistible. You won't want to miss it!
Check out this recipe