Bringing in the New Year means it's time for an absolute feast. But what to make without a stress overload? Well, this list of 29 New Year's Eve recipes will help you create an unforgettable meal your guests will be talking about for the next twelve months, from appetizers and main courses to desserts and beverages.
I love New Year's Eve, and it's one of my favorite dinners on the calendar. New Year's Eve celebration is universal and super easy to celebrate, especially when getting together with your loved ones around the table. These are my favorite recipes for a great New Year's Eve dinner, and you can choose with your eyes closed because they're all wonderful!
FAQs
New Year's Eve Recipes for Appetizers
1. Spinach Artichoke Dip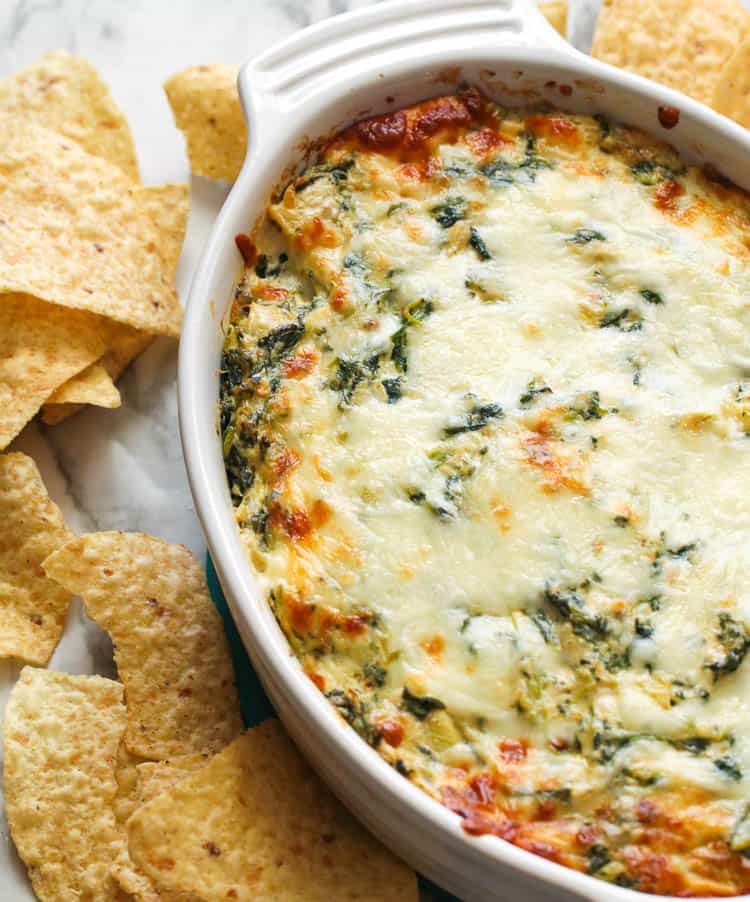 An artichoke dip is a great way to start the most memorable evening on the calendar. You can use with everything, from crackers to carrots sticks! Watch everyone dig in because this one's a crowd-pleaser! Cream cheese, sour cream, mayo, and seasonings all give ah-mazing flavor to already delicious artichoke hearts.
2. Cheese Ball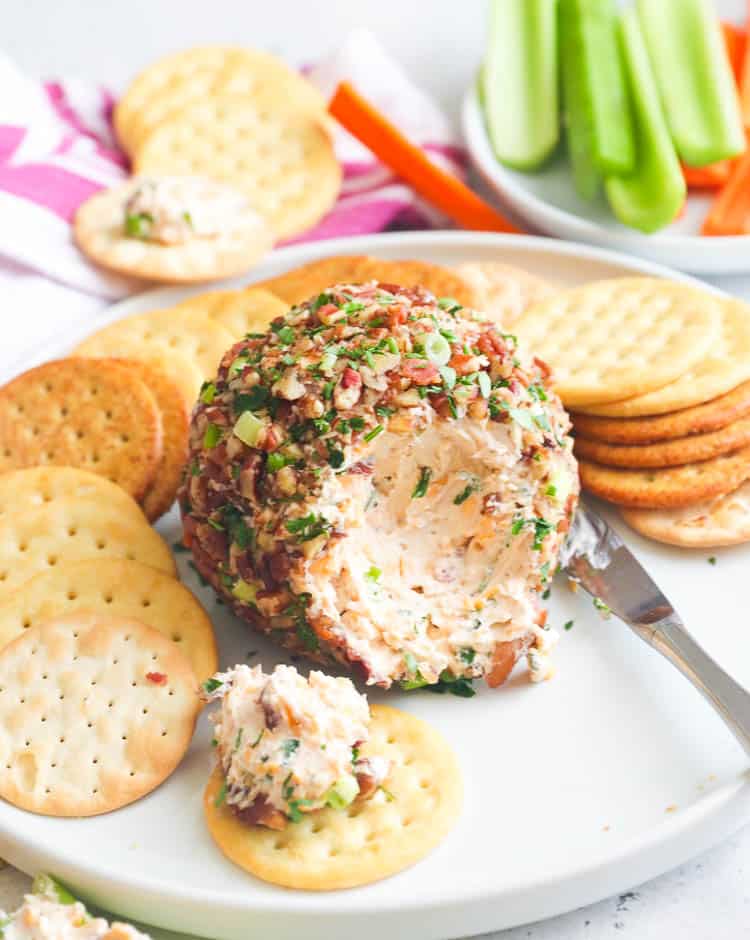 Cheese balls are so attractive and fun for a perfect starter. Think of your favorite flavors and textures merged into a creamy appetizer. Then make it the centerpiece with crackers, and let your guests knock themselves out. This super easy New Year's Eve recipe is all about bacon, pecans, parsley, and cheddar mixed with cream cheese and spices. Oh yeah!
3. Pigs in a Blanket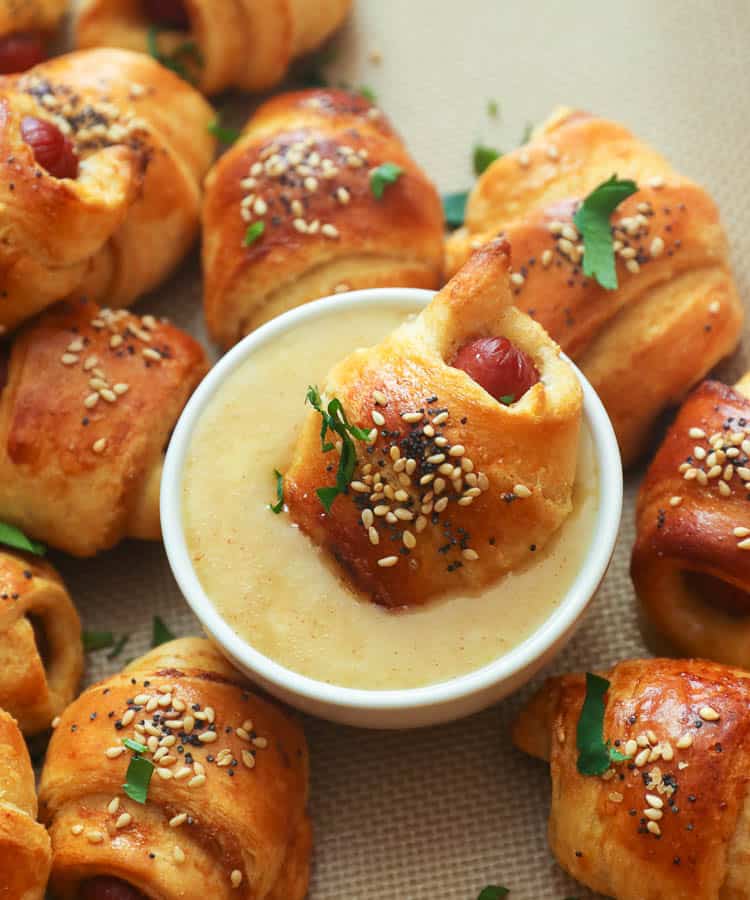 The kids' favorite, and you know you still love them. I know I do! They're also super easy to make. This New Year's Eve recipe is the perfect finger food if you ask me. Wrap a bunch of cocktail sausages with crescent roll pastry, and then you're good to go. Serve with a lovely honey mustard sauce.
4. Mac and Cheese Bites
Mac and cheese is fun, but when served as a bite-sized appetizer, it's even more delightful! These bits of cheesy heaven also have their place on the New Year's Eve dinner table. And they're so easy; just start with regular mac and cheese turn them into fantastic bites.
5. Sausage Balls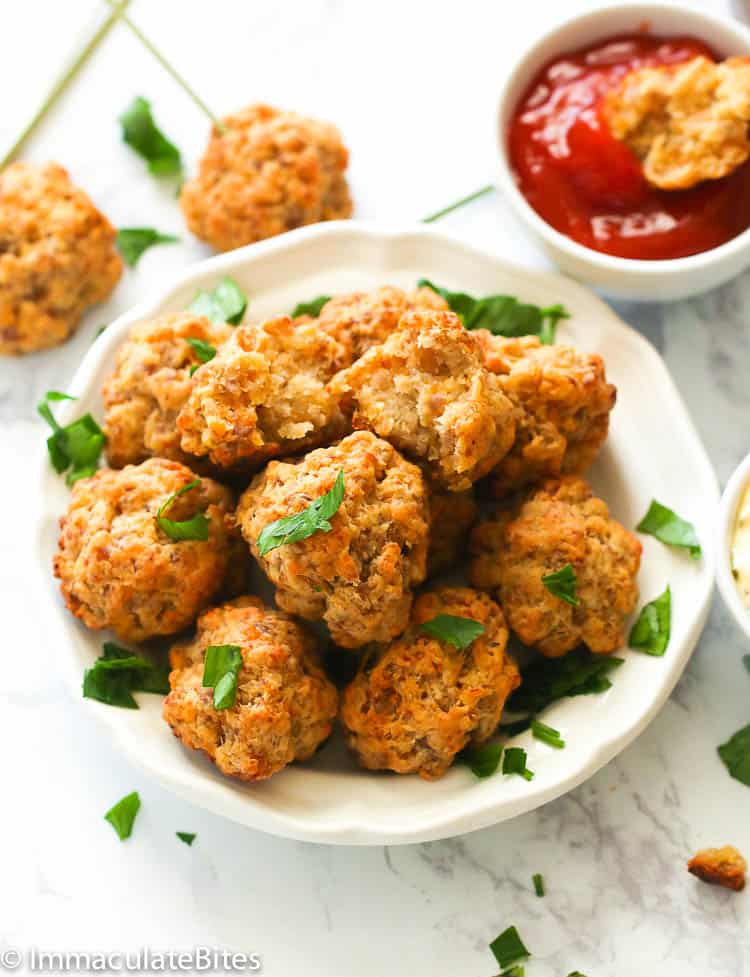 A crispier meatball; that's how I describe my sausage balls. They're meaty and hearty — they also pair perfectly with a wide variety of dips, like honey mustard, remoulade, or white BBQ sauce. Serve this recipe at your New Year's Eve party and make your family's meat lovers happy. Cream cheese and cheddar with breakfast sausages are meaty bites of heaven.
6. Little Smokies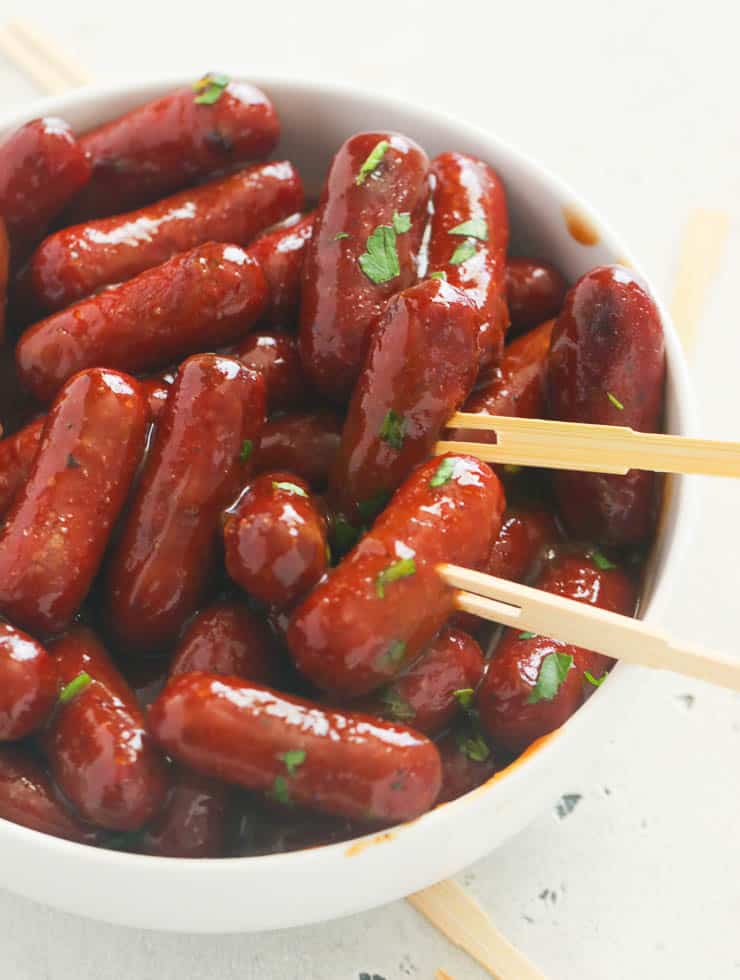 These smoky sausages are super easy to put together, and they're a great snack and appetizer. Just toss these little sausages with your favorite condiment — I use BBQ sauce. But, of course, there are many ways of making these smoky bites shine. It's so easy to toss these little smokies together with BBQ sauce, brown sugar, garlic powder, and Dijon and cook low and slow.
7. Pineapple-Glazed Meatballs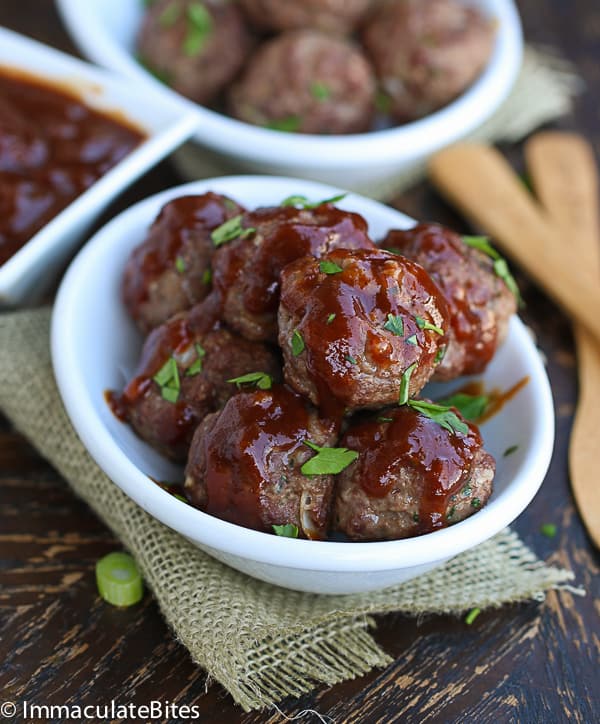 These tropical and sticky meatballs taste like a beach vacation, but they'll also keep you cozy on a chilly evening. This one is a great New Year's Eve recipe, especially if you're into tropical flavors. Ground meat, bread, milk, and a few tasty herbs make fabulicious meatballs. And the glaze is just two ingredients, so you'll love it as much as I do.
Main Course Recipes for New Year's Eve
8. Crab-Stuffed Salmon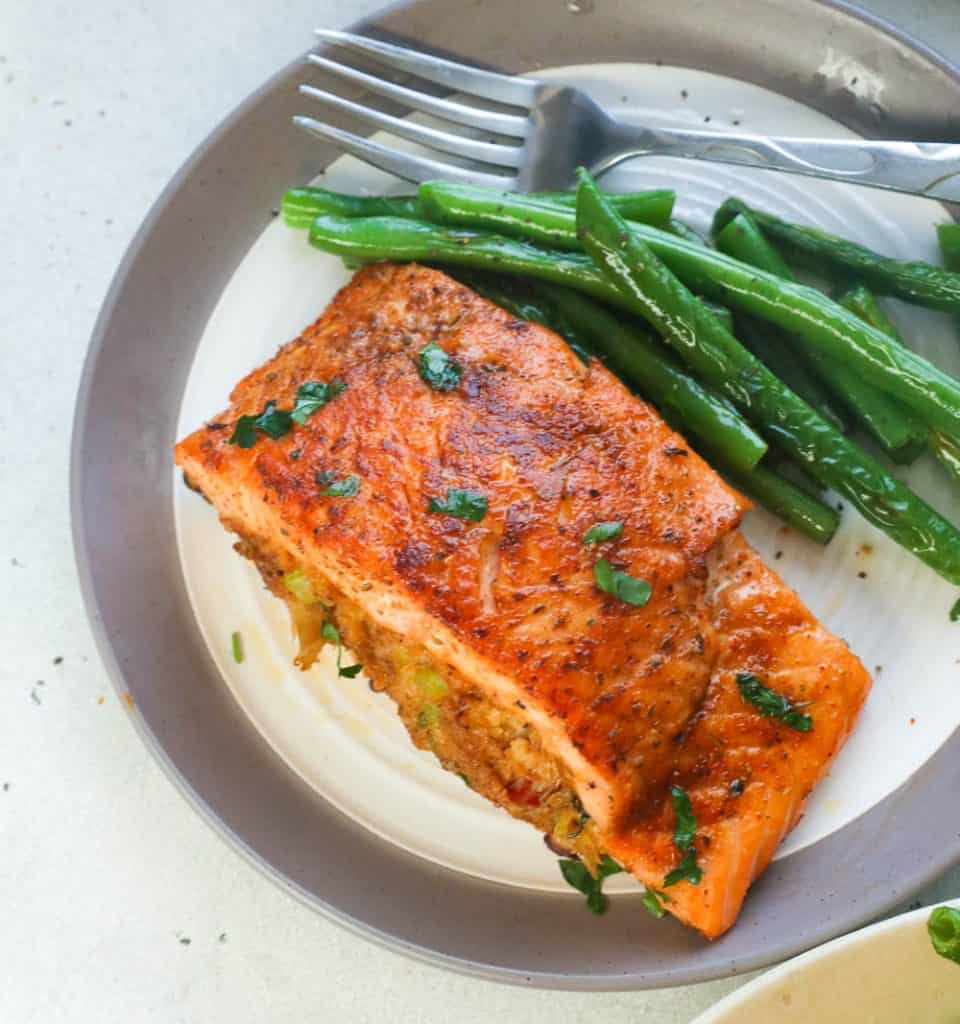 Now, for the main event, this crab-stuffed salmon is larger than life. It's two great ingredients merged into one lovely dinner. Flaky, buttery salmon stuffed with crab is a delight, especially when adding cream cheese. Yum! Panko breadcrumbs make it extra light, and cream cheese also ups the richness factor.
9. Swedish Meatballs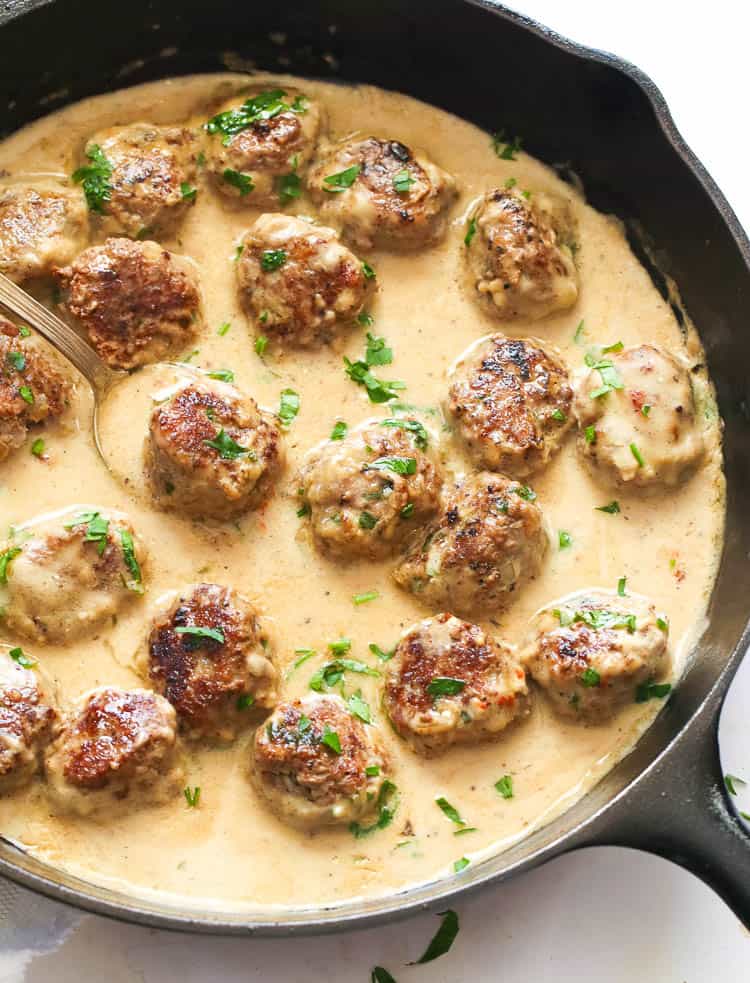 You probably met these babies at IKEA, but now you can make them at home. The creamiest Swedish sauce makes these meatballs a decadent meal hard to forget. There's no doubt the creamy sauce makes these meatballs unique — I guess the secret is the butter, that's enough for me. 😉
10. Easy Lasagna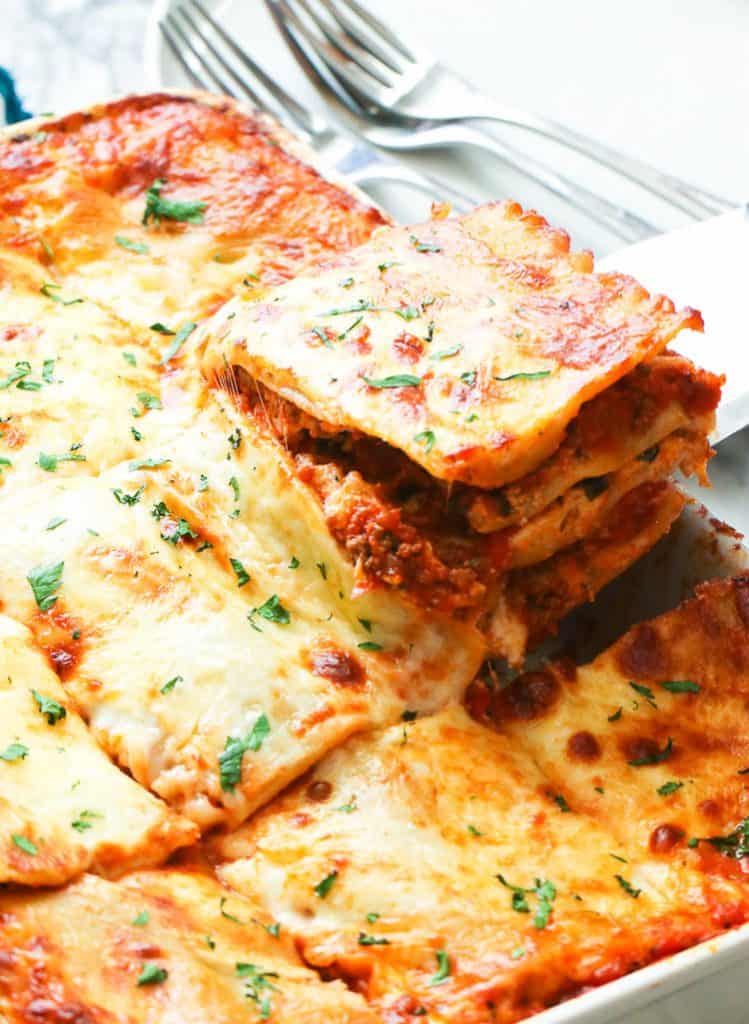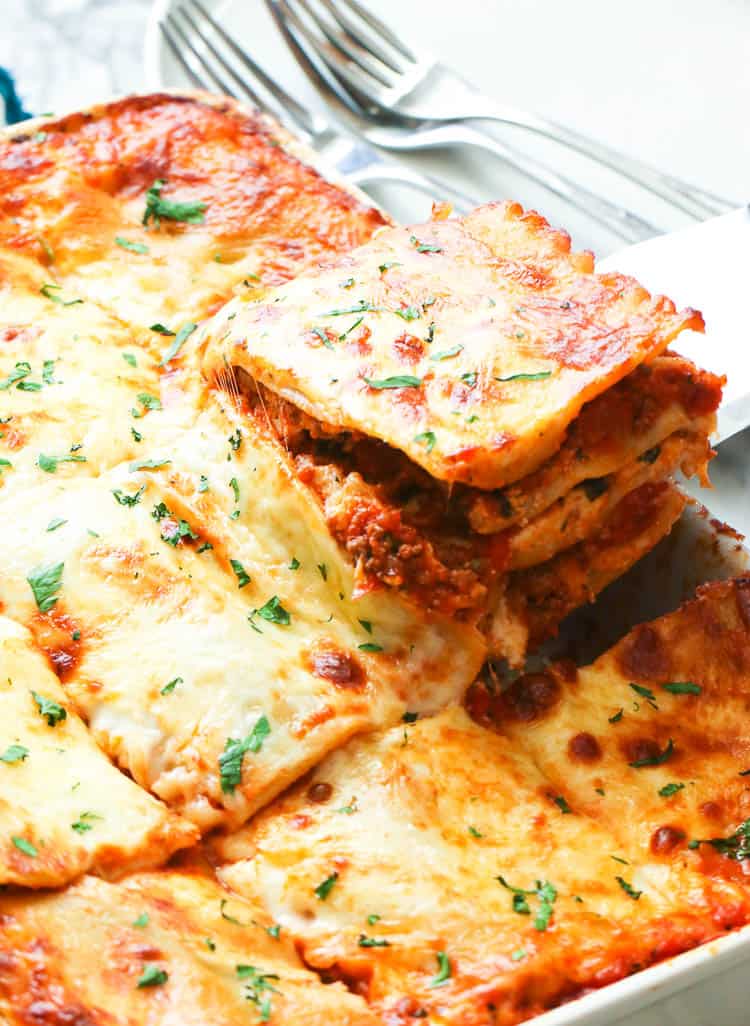 Lasagna is one of those New Year's recipes that everyone loves. And it's not as unconventional as you think because you just add some ham or Italian sausage, and you have your NYE pork dish. I must say, though, this recipe makes my type of holiday dinner. Pull out the canned tomatoes, ricotta, and lasagna noodles for a great New Year's Eve dinner. Yeesss!
11. Scalloped Potatoes and Ham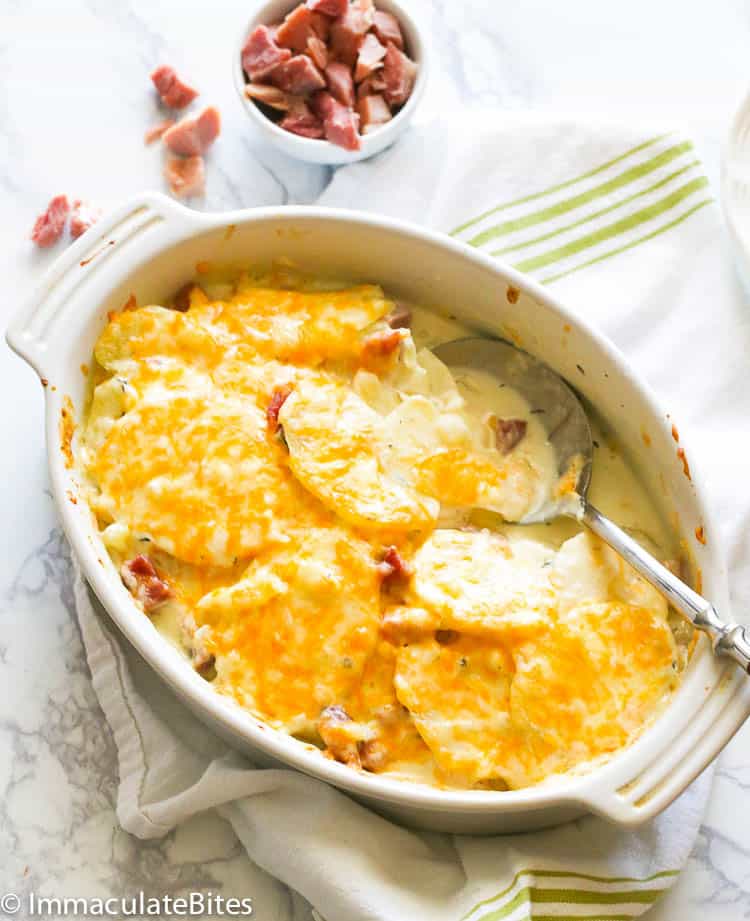 Here's another holiday classic, and it also takes care of the New Year's Eve pork dish. Starchy, sliced potatoes coated with a creamy sauce and layered with ham! Woohoo! And butter and cream make deliciously scalloped potatoes even better.
12. Oven Pot Roast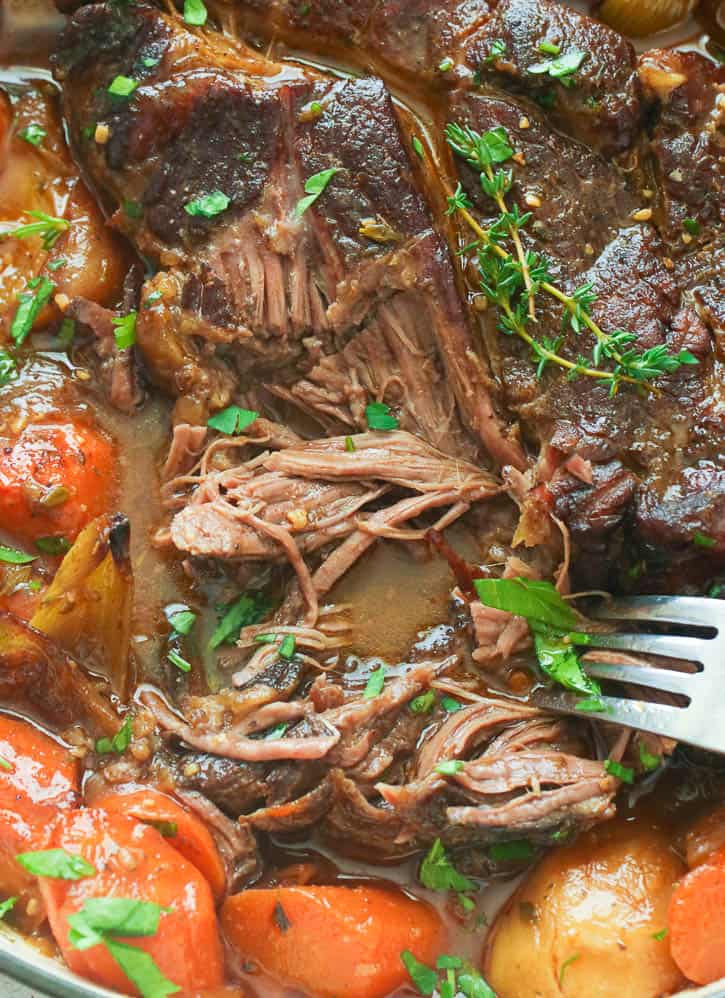 There's nothing like a good-old oven pot roast for an authentic holiday celebration. This one is so tender it falls apart! Cooked low and slow, you can pull this one off in a breeze. Rub a chuck roast with Creole seasoning and salt, sear it, and roast it, baby! After all, it's New Year's Eve!
13. Southern Black-Eyed Peas
My black-eyed peas recipe is one of my greatest hits on New Year's Eve. An authentic Southern classic comfort food at its finest. This gorgeous stew makes people happy because these babies are kicked up to the next level with bacon, sausage, onion, celery, garlic, and jalapeños. So good! Need I to say more?
14. Collard Greens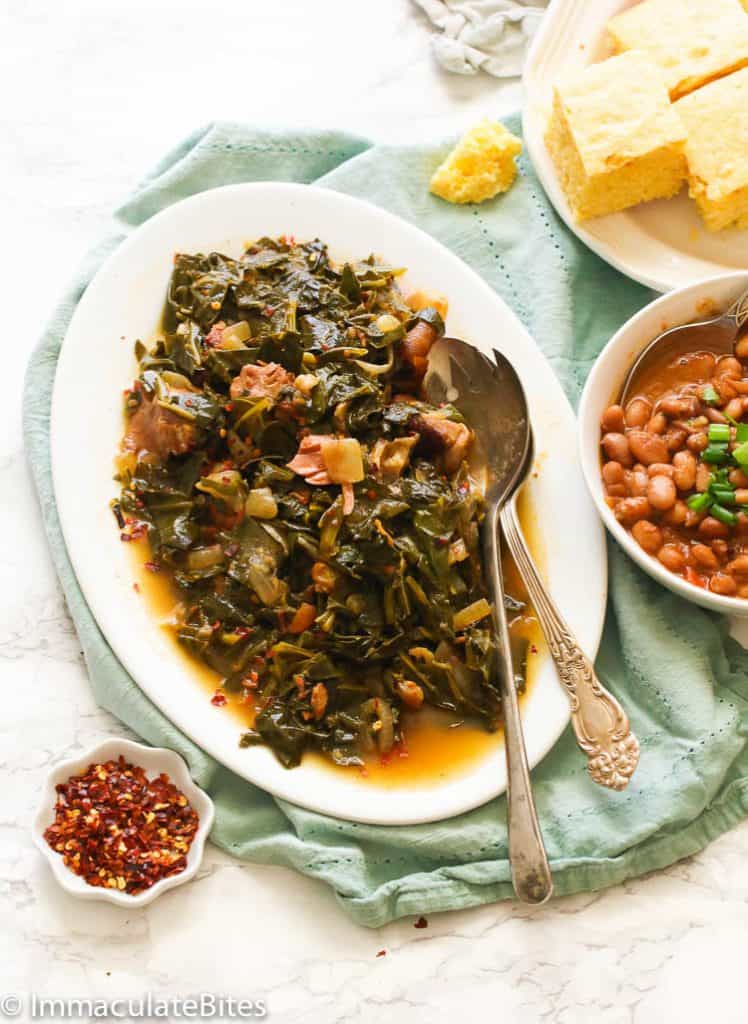 Southern-style collard greens are a must-have side dish recipe for New Year's Eve. These leafy greens are flavorful! Collard greens are related to kale and broccoli, but for me, they're a bit more sophisticated — they have that lovely bitterness! A few pounds of collard greens and some special Southern ingredients: ham hocks, paprika, and Creole seasonings, that's it! And you'll love it.
15. Skillet Cornbread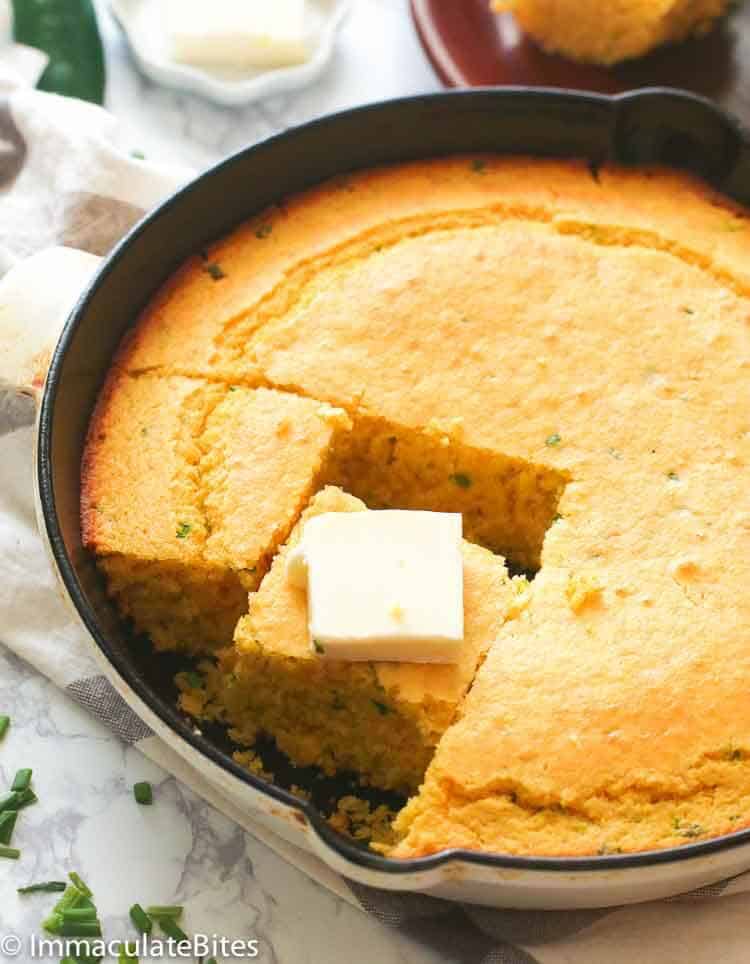 You'll have a great time watching this skillet cornbread turn the loveliest golden color in front of your eyes. It's so crumbly and warm! Cornbread is one of the traditional New Year's Eve recipes, and the skillet version is definitely the crispiest! You can also add jalapeños to spice this pretty cornbread a bit!
16. Slow-Cooker Pork Loin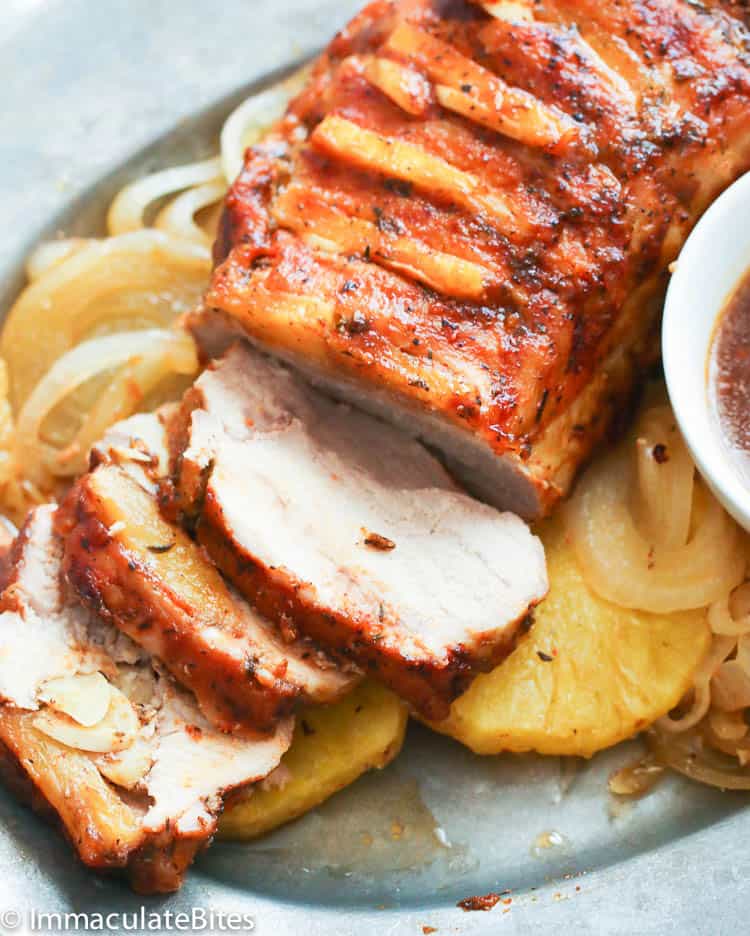 Cooked low and slow and covered with a smooth glaze, this is one juicy pork loin! This roast is also a great centerpiece, and it looks so impressive on the table. Fork-tender and melty, a proper pork loin is really the perfect holiday meal. Cook this one in a slow cooker with pineapple and glaze with brown sugar, balsamic, and soy sauce. Drooling!
17. Oven-Baked Salmon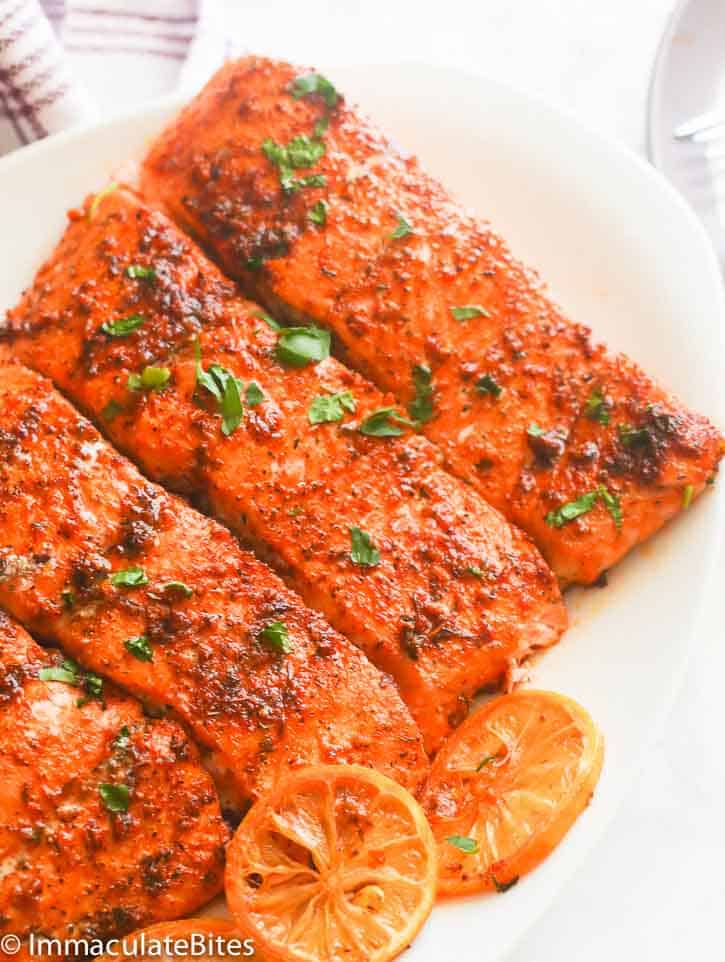 Salmon is fantastic all year round, but it's also worth being the main course at any holiday gathering. Baked salmon for a pink and flaky meal, especially tasty with a squeeze of lemon. We're spicing our salmon with spices, lemon juice, and coarsely chopped parsley. It's as mouthwatering as it is pretty!
18. Salmon Wellington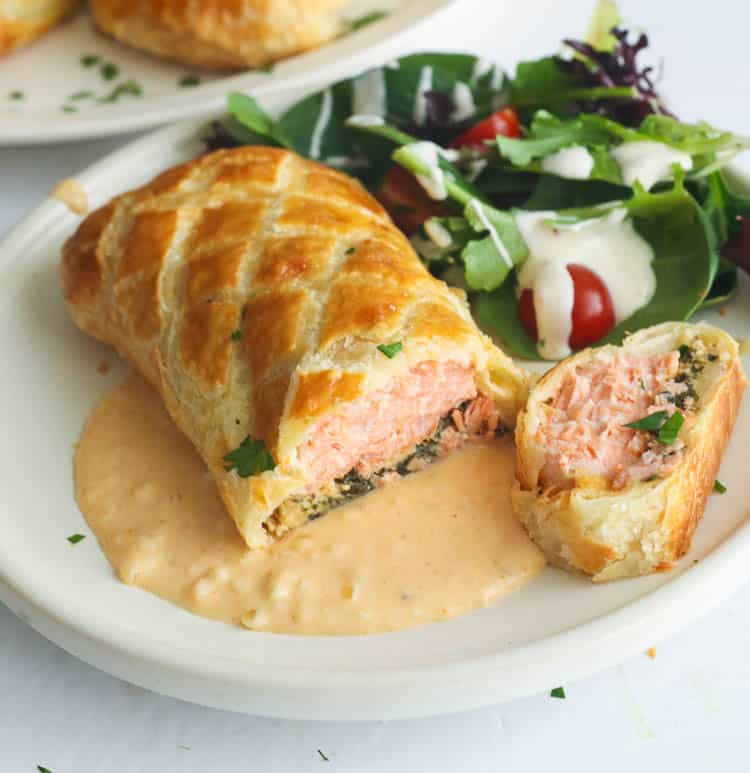 Flaky puffed pastry hiding a deliciously baked salmon fillet is my idea of a fabulicious New Year's Eve recipe. This sophisticated dish looks the part for unforgettable dinners! This one's a slight challenge, but it's incredibly rewarding. Don't rush this one, and your golden Salmon Wellington will be so gorgeous.
If this is your kind of New Year's Eve dinner, then you'd also love this Beef Wellington HERE.
19. Instant Pot Turkey Breast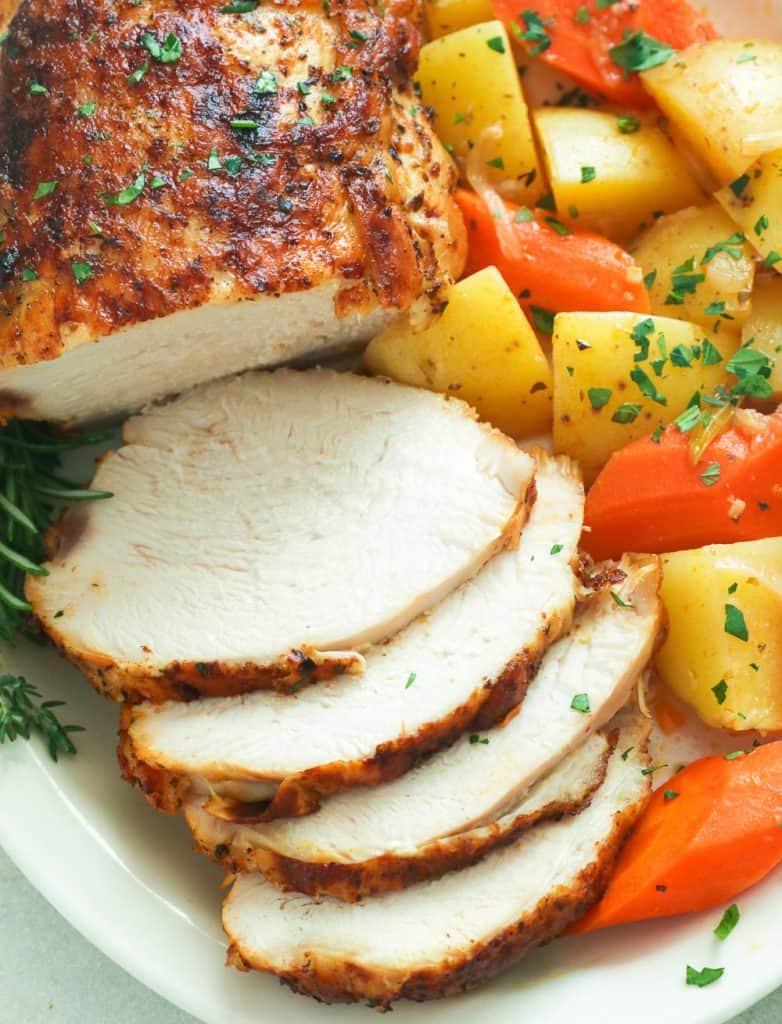 Of course, while not a traditional New Year's Eve, turkey can steal the show. So make this fantastically easy bird in your instant pot. It turns out juicier, and you don't have to worry as much about the oven's temperature. Let's just say it's easier than traditional turkey breast.
20. Hoppin' John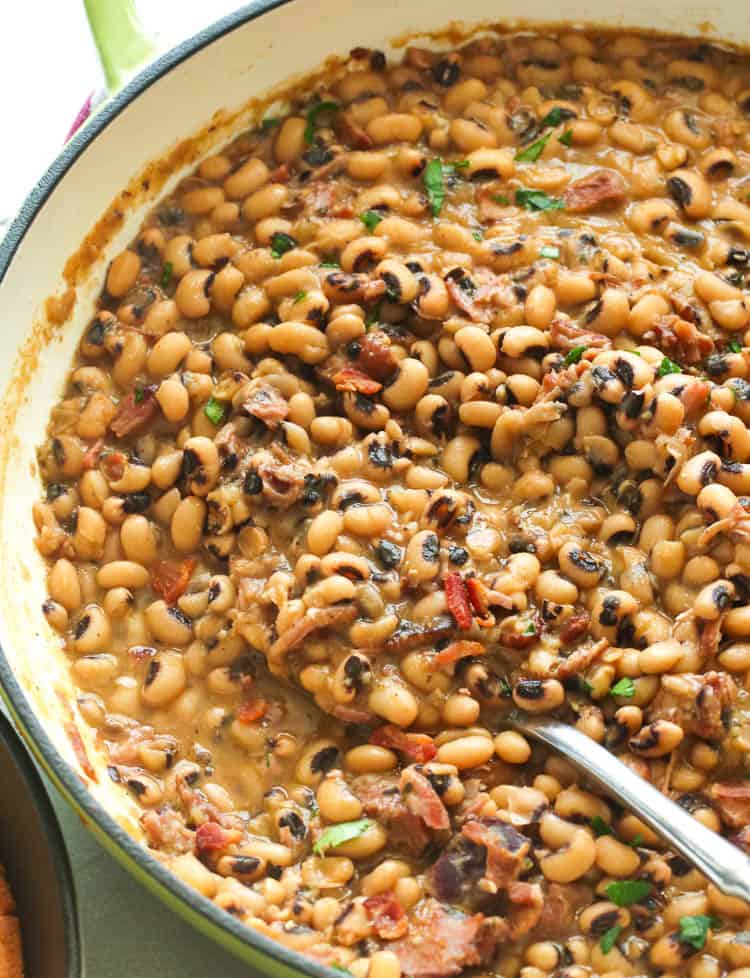 This recipe for a traditional New Year's Eve party is a great Southern dish, and it's incredibly festive! Comfort food is great for the holidays, and it just makes people so happy. Black-eyed peas are taken over the top with bacon, turkey, onion, celery, and herbs to flavor this fantastic dish.
21. Beef Tenderloin Roast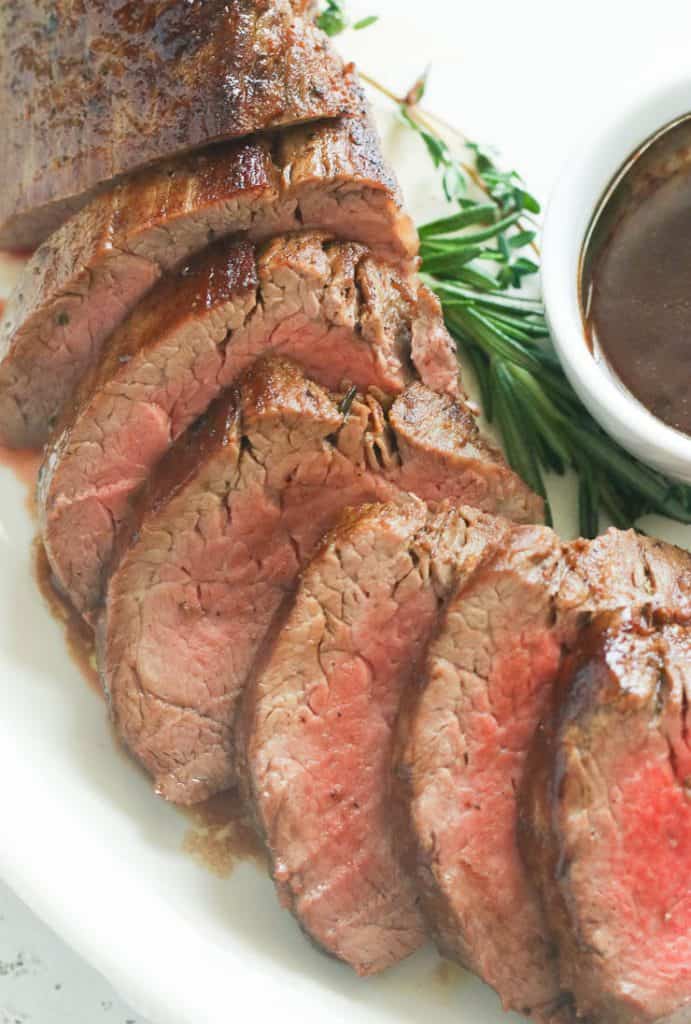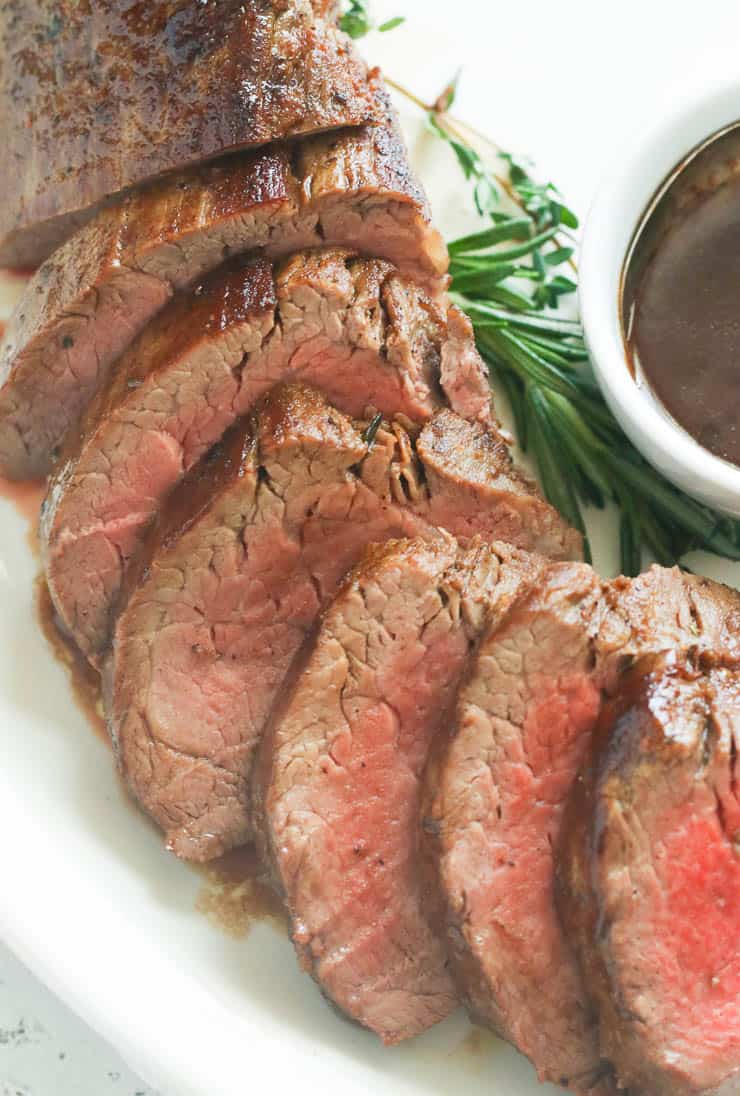 Beef tenderloin is one of the fanciest New Year's Eve recipes. Juicy and beautifully pink, this one caters to your meat-loving friends! The secret here is the rub; the meaty is lovely and all, but you need to infuse it with all those flavors! Rub salt and pepper on the roast with salt, also a bit of garlic and thyme. Then, make an awesome pan sauce.
22. Steak Tips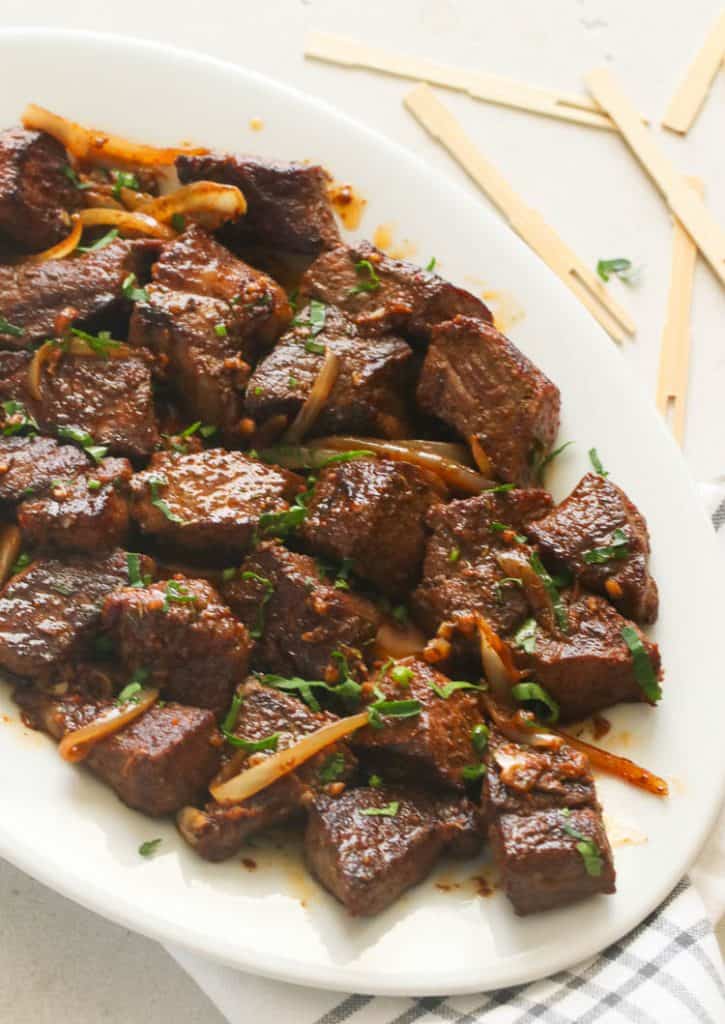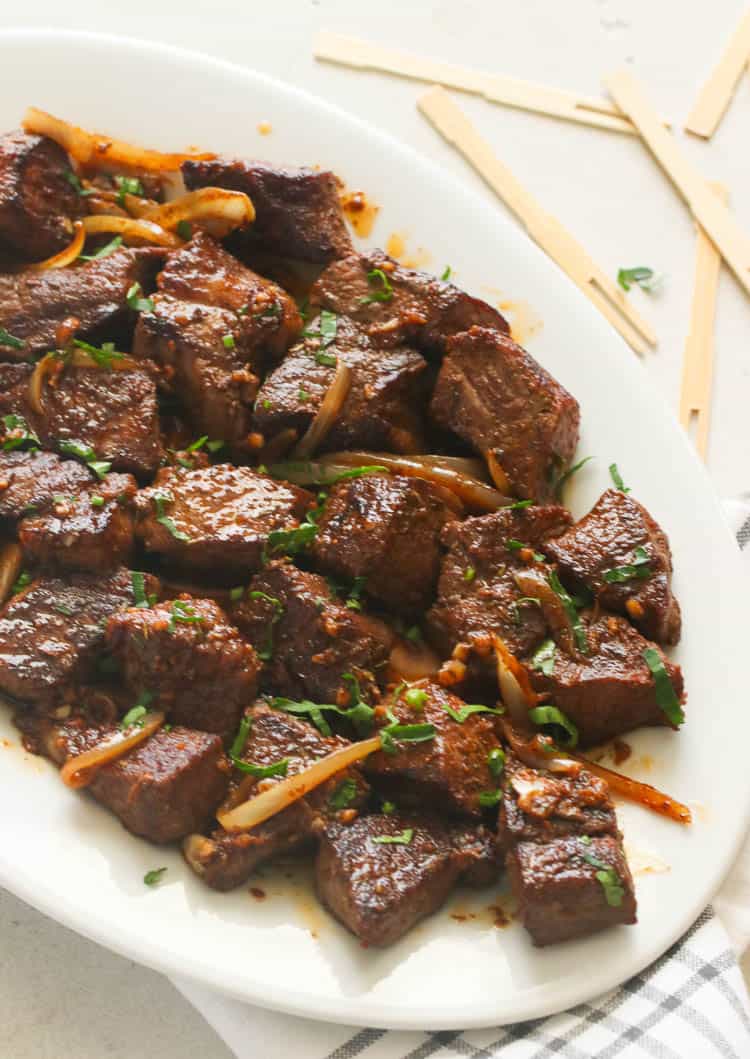 These meaty one-biters are fantastic because they're buttery, nicely seasoned, and fork-tender. Steak tips cook faster than regular steaks, and they're better for larger crowds. These pretty tips turn out super tender, by the way! To make these tasty steak tips, you only need sirloin steak, seasonings, butter garlic, and a dash of Worcestershire and soy sauce.
23. Mushroom Risotto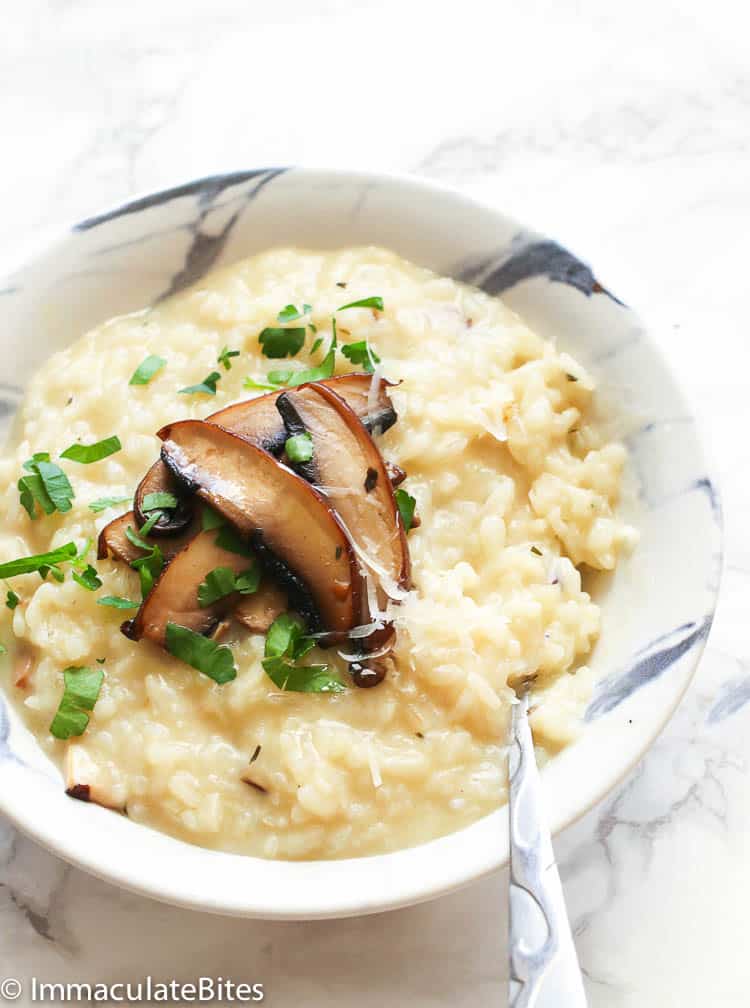 What a silky and creamy treat! Risotto is a beautiful dish for special dinners, especially because it's fun to make! Risotto is a Northern Italian specialty, and although comfy, it's super fancy! Butter and garlic are the most important ingredients here, and the arborio rice, of course. Have a splash of white wine in hand as well. So yummy!
24. Prime Rib Roast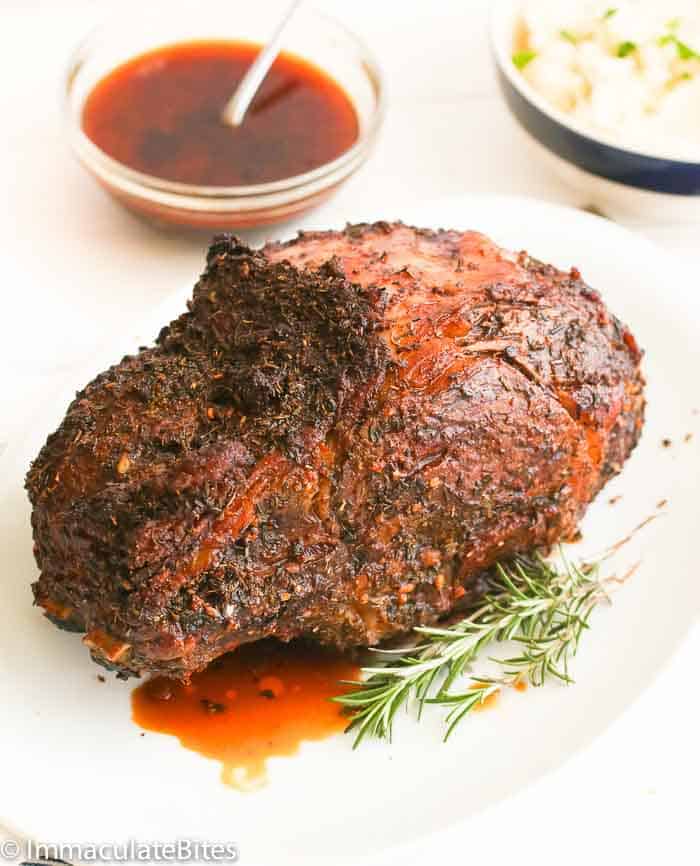 Prime roast done right is so tasty. This big boy meal will really take your New Year's Eve meal over the top. And that's just where you want it to be! Rub the prime roast with rosemary, thyme, cloves, paprika, and cayenne pepper. The rest is easy! If you have time, make sure to marinate it, though.
Dessert Recipes for New Year's Eve
25. Spice Cake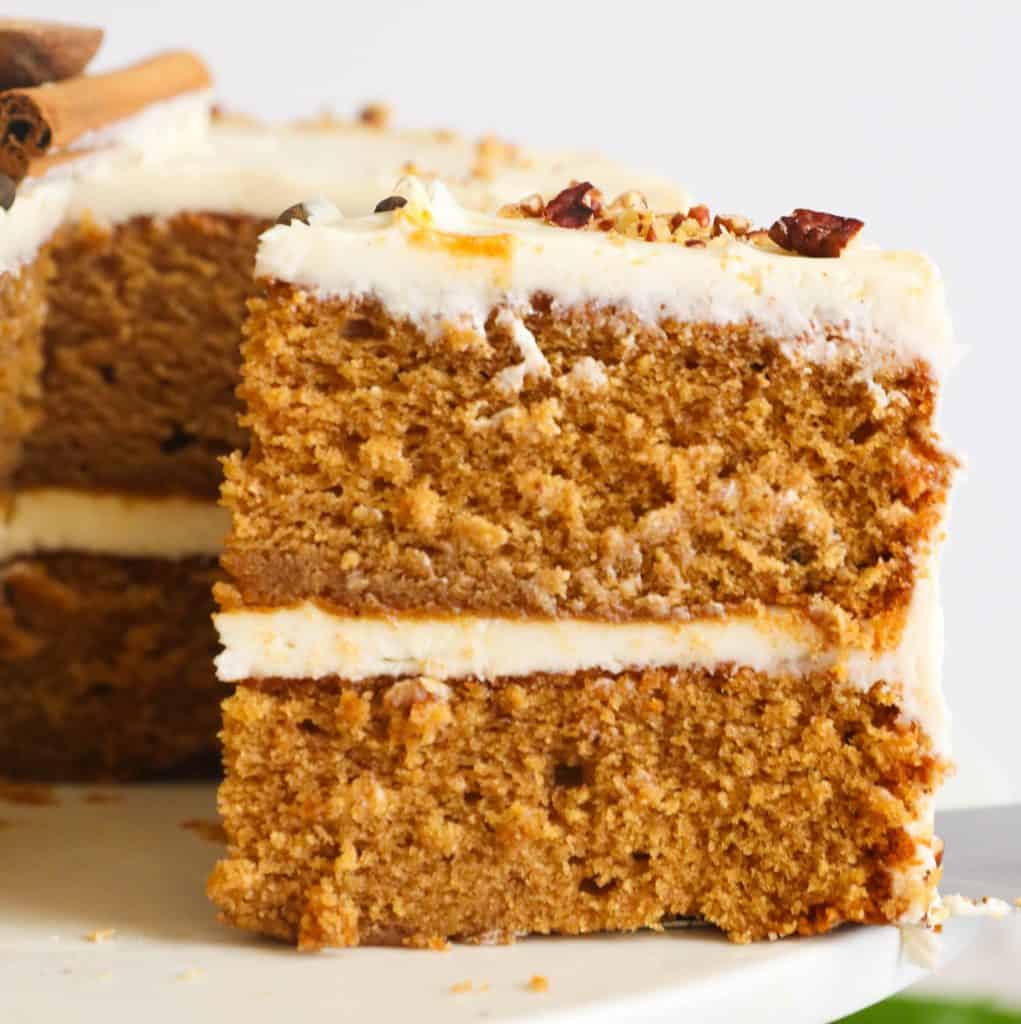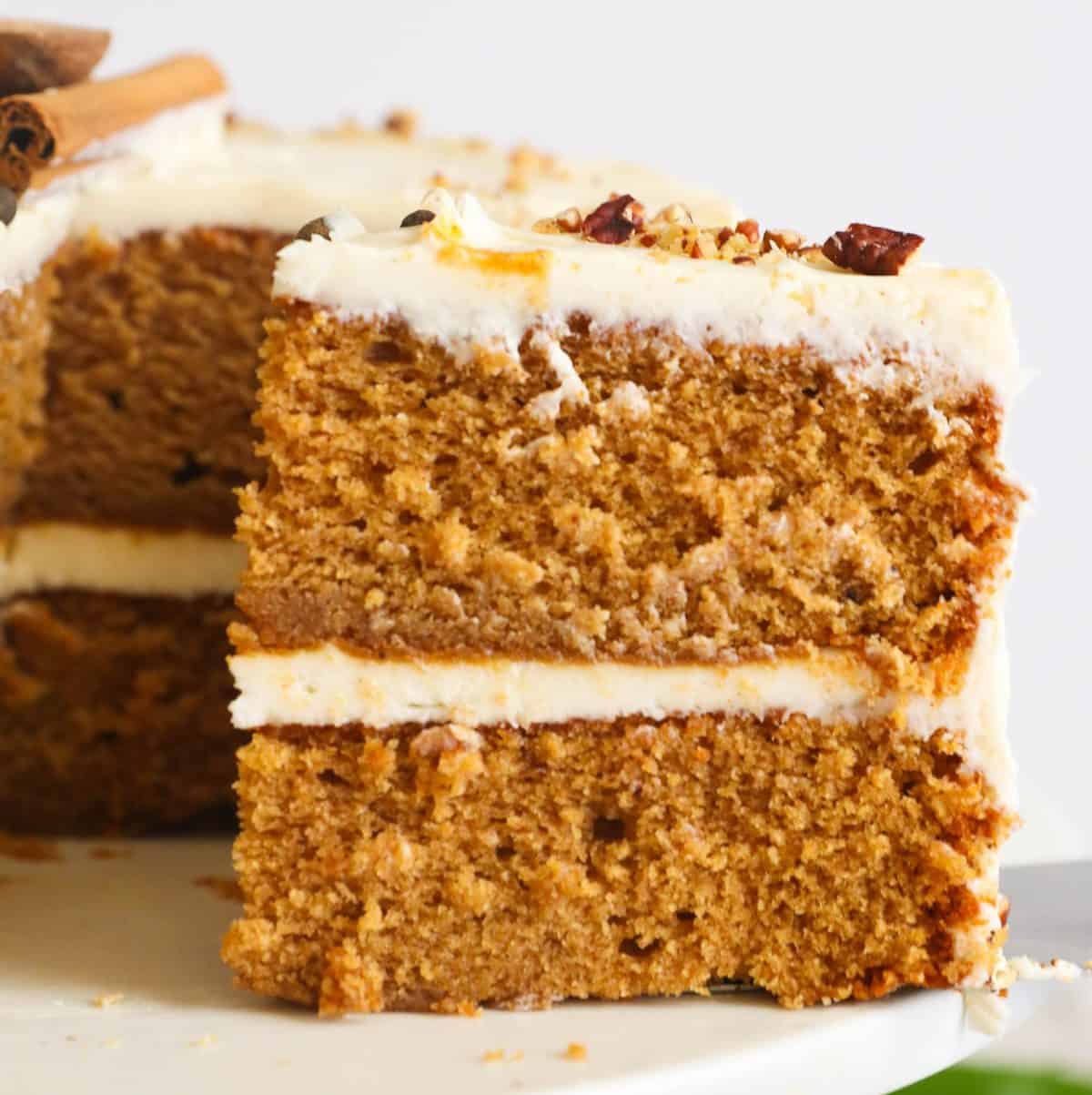 Spice cake definitely has its place on the New Year's Eve table. It's incredibly seasonal and comforting because of the holiday spices, sugar, and butter. What an excellent combo! Bring out all your favorite spices for this one because the spicier, the better.
26. Rum Cake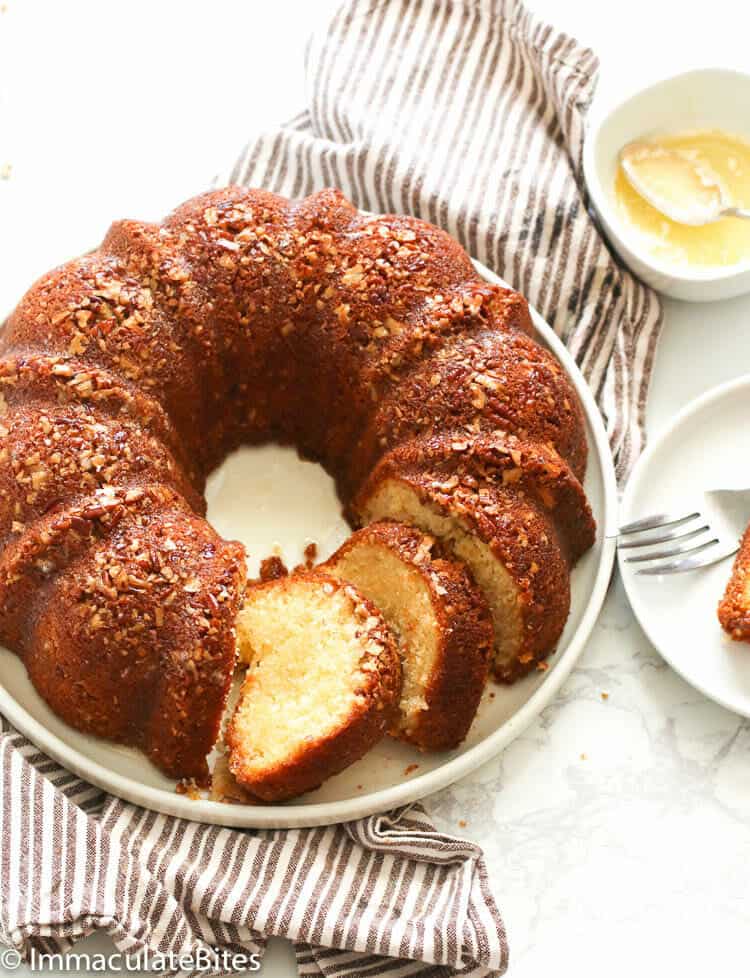 This boozy cake is a Caribbean specialty, so it will definitely add a tropical flair to your New Year's Eve menu. It's beautifully moist and fluffy, and it's so spicy and flavorful. It's also addictively moist! I think you'll love dark rum for this one because the rum glaze really takes the cake. Yay!!!
New Year's Eve Drinks
27. Mulled Wine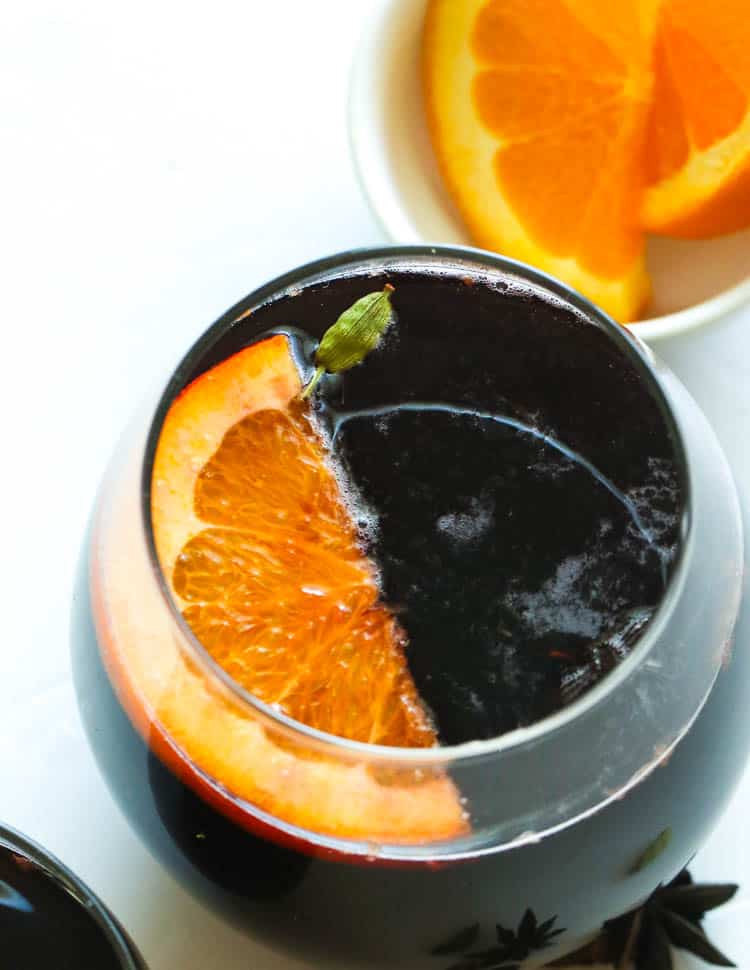 Make a batch of mulled wine and make it part of your holiday celebrations. This one truly tastes like the holiday season because it's cozy, fruity, and spicy. This mulled wine is a must this New Year's Eve. Apple cider, dry red wine, brown sugar, and spices are all you need to make this ah-mazing drink. And, of course, don't forget the citrus zing!
28. Hibiscus (Sorrel) Fruity Sangria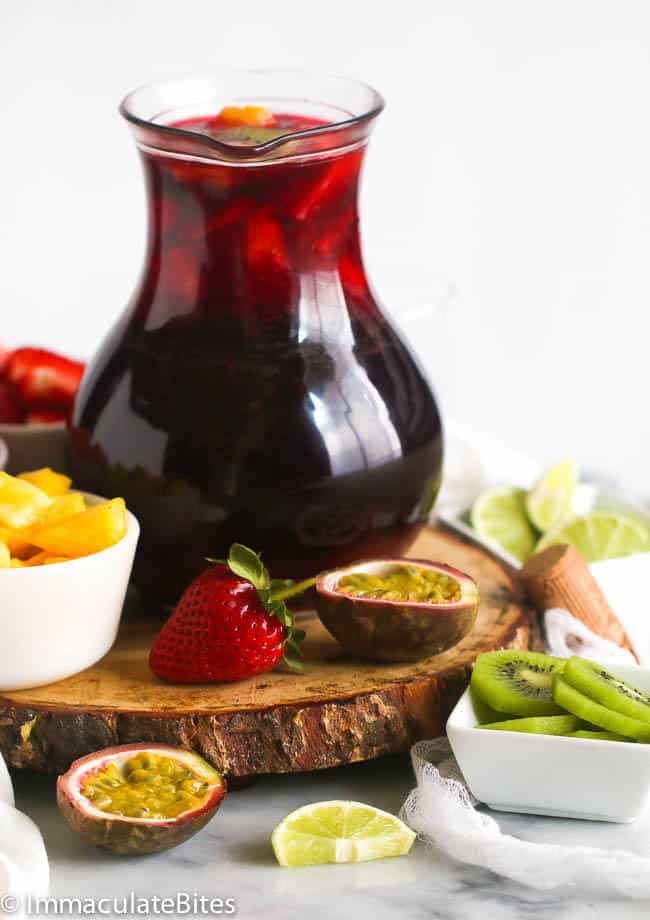 This one is as colorful as it is tasty. And, of course, it's deliciously refreshing. So this drink with fresh fruit, wine, and sorrel tang make this holiday sangria will surely be a hit with your guests. Sorrel or hibiscus gives color to this tasty drink, but it's the rum and the spices that make it so much fun!
Want a kid-friendly version of this one? Then try this Sorrel Juice Drink HERE.
29. Jungle Juice
I love this crowd-pleasing drink just because of its name.🤩 It's a free-for-all with your favorite fruits and juices, then spike it up with rum. Tropical drinks are great for cold weather, you know? They make you feel like you're on a warm tropical island. Hibiscus, ginger, white wine, fruit, and a variety of juice come together for this refreshing punch.