The holidays are a time for banquets and booze. Wine and beer are go-to drinks, but, honestly, nothing beats a good cocktail. Whether at a dinner party and or casual reunion, here are 8 Easy Cocktail Recipes that will get the party rolling!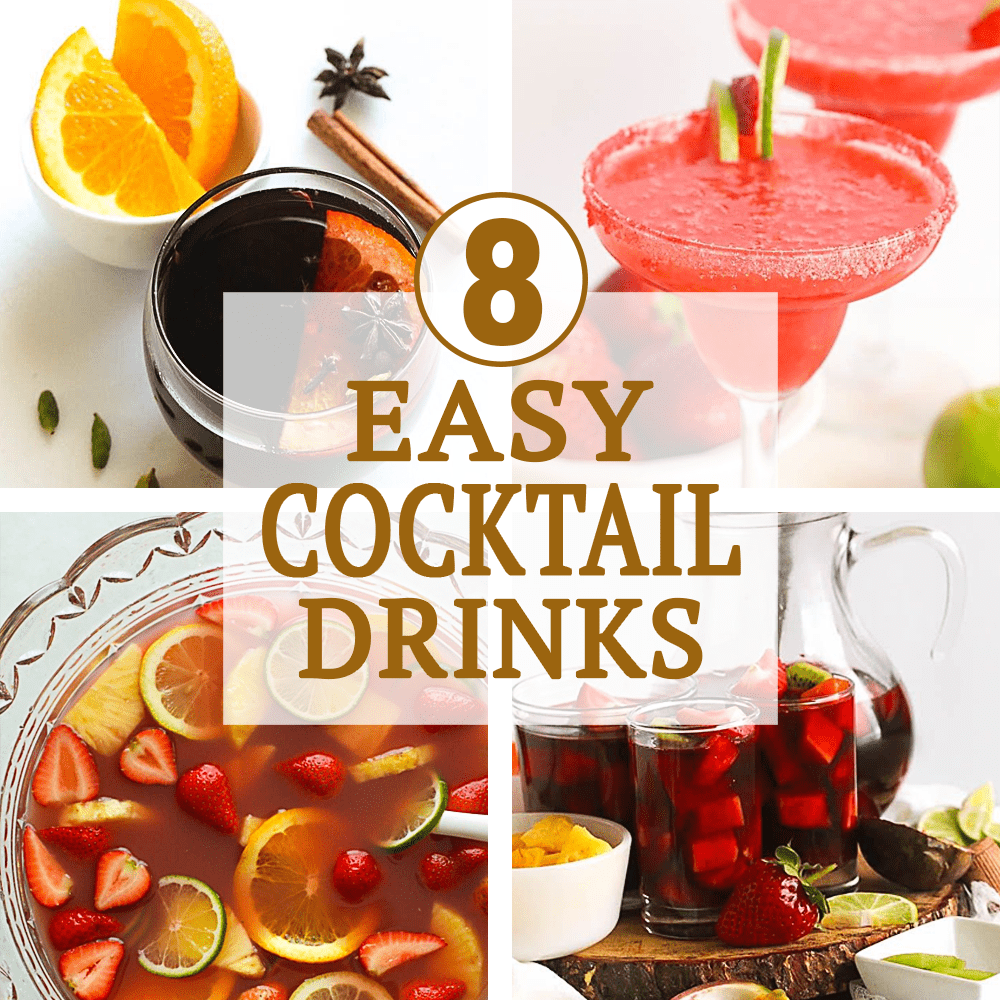 Mixed drinks are super fun to make. There's something so empowering about putting on your bartender's hat and shaking the night away, creating the most stunning boozy beverages. The right cocktail can turn any boring meeting into a party. Yay!!! While they may seem complicated, it's pretty easy to mix drinks. So try them all, and build your repertoire!
FAQs
Do I need special equipment to make cocktails?

Although having a stocked bar with all the equipment is an impressive sight, you can make these fabulous cocktail recipes with stuff you already have around. So, no, don't worry about needing any special equipment.
What should I buy to make cocktails?

If you want to make a few recipes for your drinking buddies, have a few hard spirits, including vodka, gin, and whiskey, around. Also, a few liqueurs, lemon juice, bitters, sugar, and sparkling water — those are the basics.
What are the easiest cocktails to make?

Some cocktails are super easy to make but delicious, like the Rum & Coke, Gin & Tonic, or a Screwdriver. You'll be ecstatic to see how many easy cocktails there are.
Make-Ahead and Storage
You can make your cocktails ahead for the big party. Yay! You just sterilize a glass bottle with a sealable lid and use it to store your ready cocktail mix.
A funnel makes it a lot easier to pour your drink into the bottle. It will last for three months as long as it has 25% alcohol by volume (ABV). Then when it's party time, you can pour it over ice, blend it with ice, or heat it, whatever you choose.
If your cocktail has less than 25% ABV, you can keep it in the fridge for up to four days.
The Lineup of Easy Cocktail Recipes
1. Mai Tai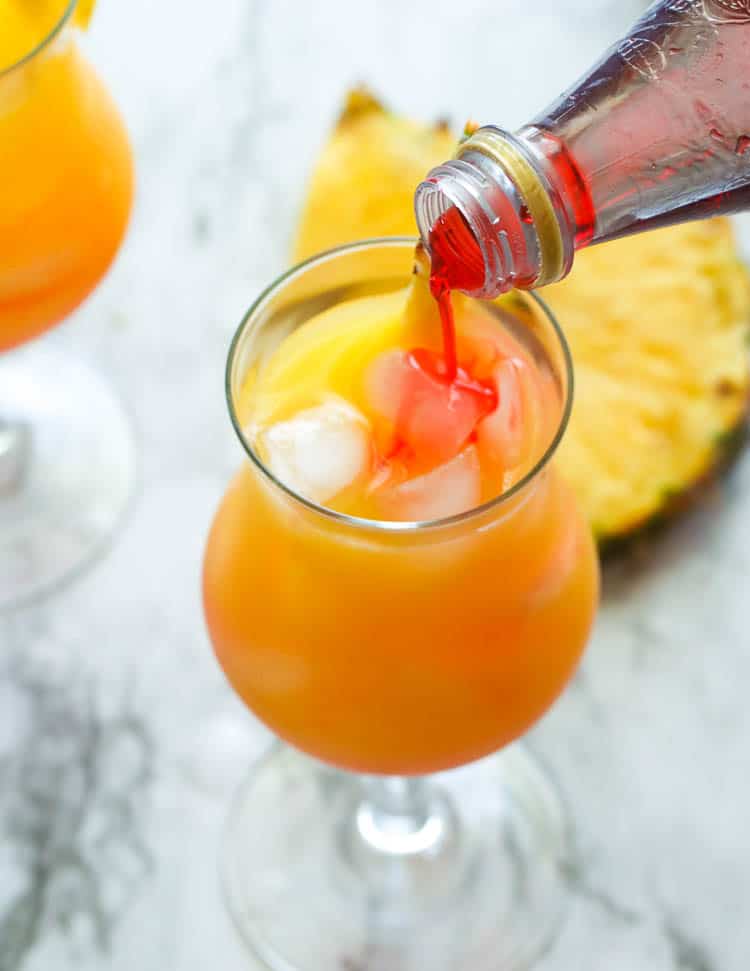 If you're into fruity, boozy drinks, then the Mai Tai is for you. It's also one of the prettiest drinks out there, that's for sure, and it's perfect for outdoor entertaining!
The combination of dark and light rum, along with orange and pineapple juices, orange liqueur, and lime juice, is simply exciting! Also, a splash of grenadine adds the loveliest sunset color to the tropical Californian drink.
This drink goes excellent with Caribbean food, like Jamaican Jerk Chicken, Coconut Rice, and Caribbean Coleslaw. Oh, and Cassava Cake is the perfect finish.
Mai Tai
Mai Tai – super refreshing, deliciously tropical, fun boozy and fruity drink that could light up any parties. A classic rum-based tiki-themed cocktail that screams nothing but happiness and celebration!
Check out this recipe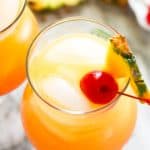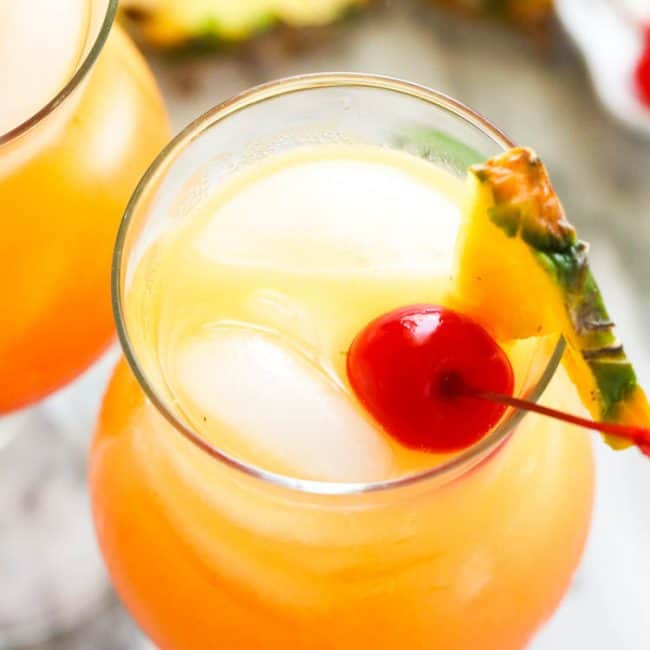 2. Jungle Juice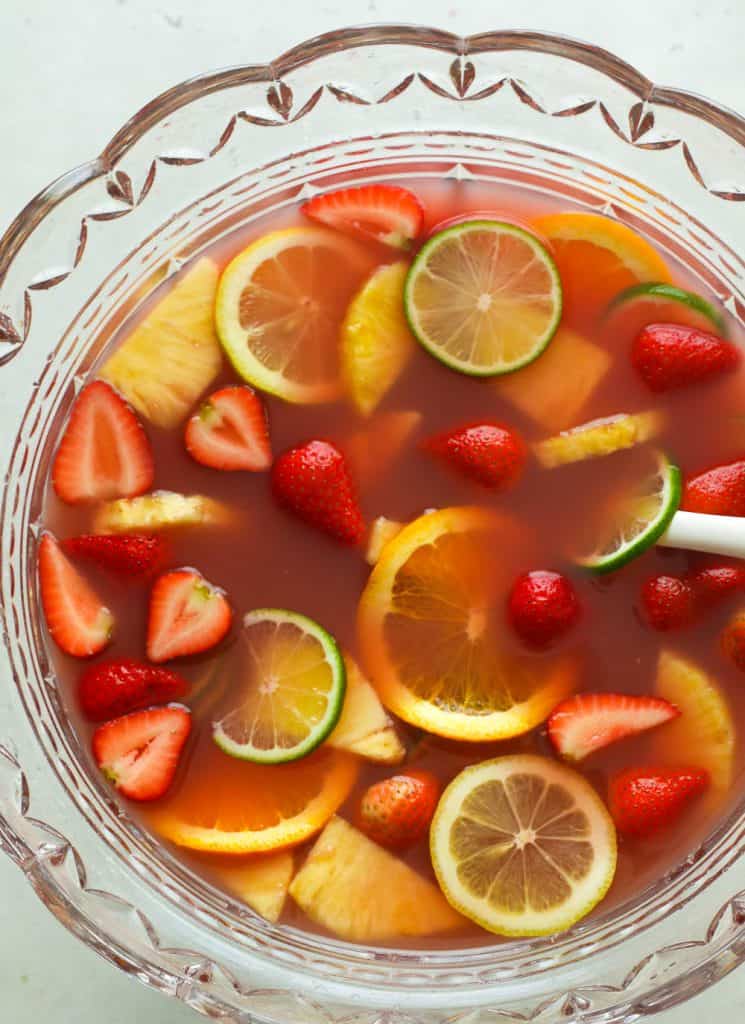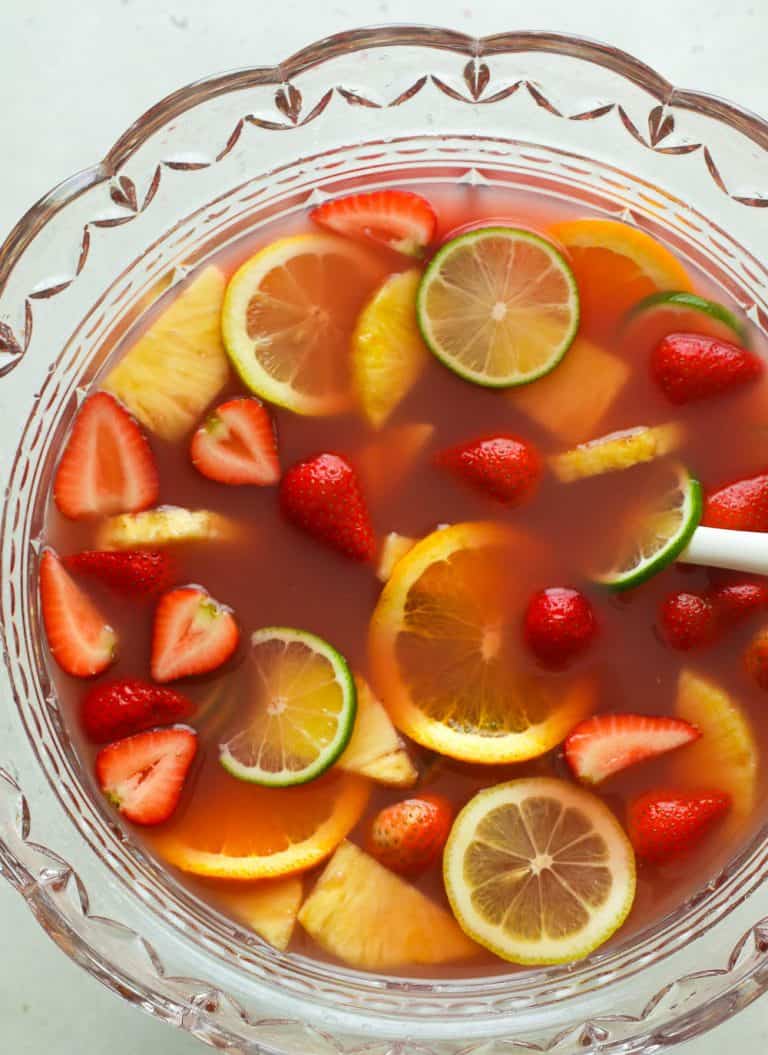 It's fast, easy, and inexpensive! What's not to love about the delicious party cocktail recipe? It's also super fun, colorful, fruity, and addictively tropical — just like going on vacation to a sun-drenched beach!
This drink is such a delectable mix of oranges, lemons, limes, strawberries, pineapples, and lots (and I mean lots) of different juices. Vodka, rum, and triple sec make it so potently delicious. But be careful because it's really boozy!
This recipe is my go-to cocktail when having a huge family gathering. Smoked Turkey, a massive pan of Baked Mac and Cheese, Baked Beans, and Easy Coleslaw makes a complete party menu.
Jungle Juice
Super easy Jungle Juice is a great way to take care of drinks at a big party. Not only is it easy, but it's also a cheap cocktail. Whether it's for the neighborhood cookout, Labor Day celebration, or a Super Bowl party, this delicious drink with chunks of fruit floating in rum, vodka, triple sec, real fruit juice, and soda is a winner.
Check out this recipe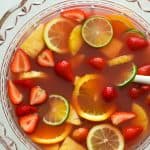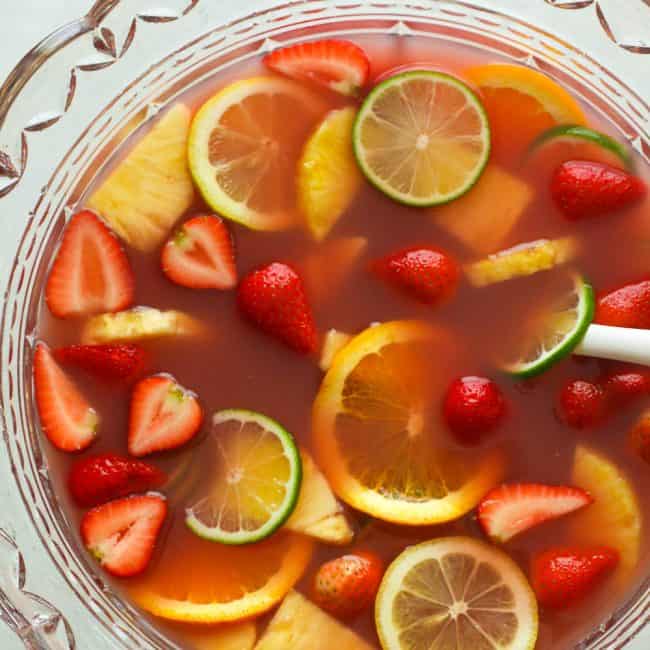 3. Peach Bellini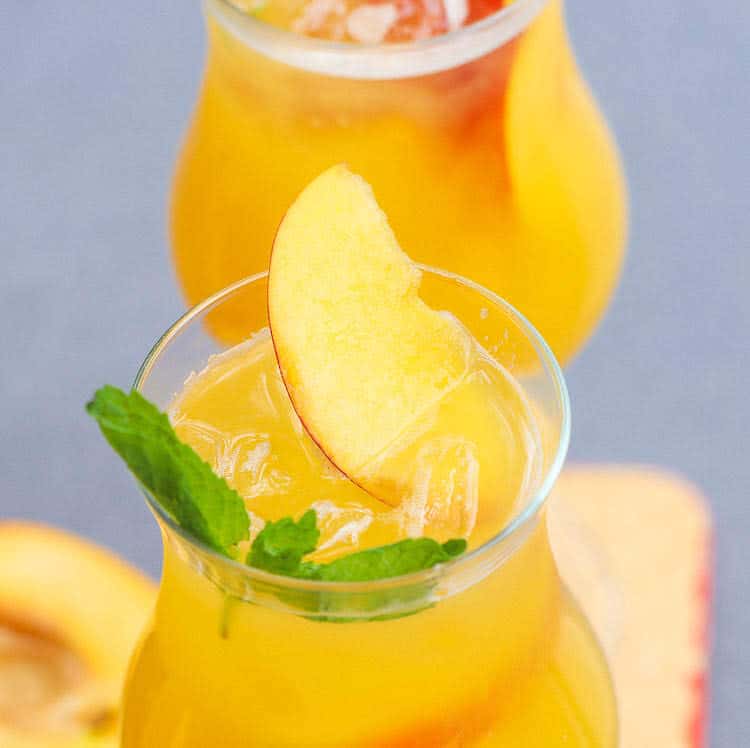 This cocktail has been around the block a time or two, but it's still trendy. I have to say; this is one of the most elegant cocktail recipes ever. And all you need are peaches, lemon juice, simple syrup, and sparkling wine. A few fresh mint leaves and peach slices also make it gorgeous!
Bellinis are so perfect for special-occasion dinners. Pair it with a Grilled New York Steak, Greek Salad, and Rosemary Roasted Potatoes, and you have elegance in a meal. You can also enjoy these poolside, thanks to their refreshing personality.
Peach Bellini
Peach Bellini – refreshingly sweet and light drink, made with fresh pureed peaches, sparkling wine, and a kiss of lemon. A simple drink yet makes an exciting fruity sparkling cocktail to kick off any parties! Perfect for brunch, dinner party, or a simple gathering!
Check out this recipe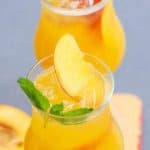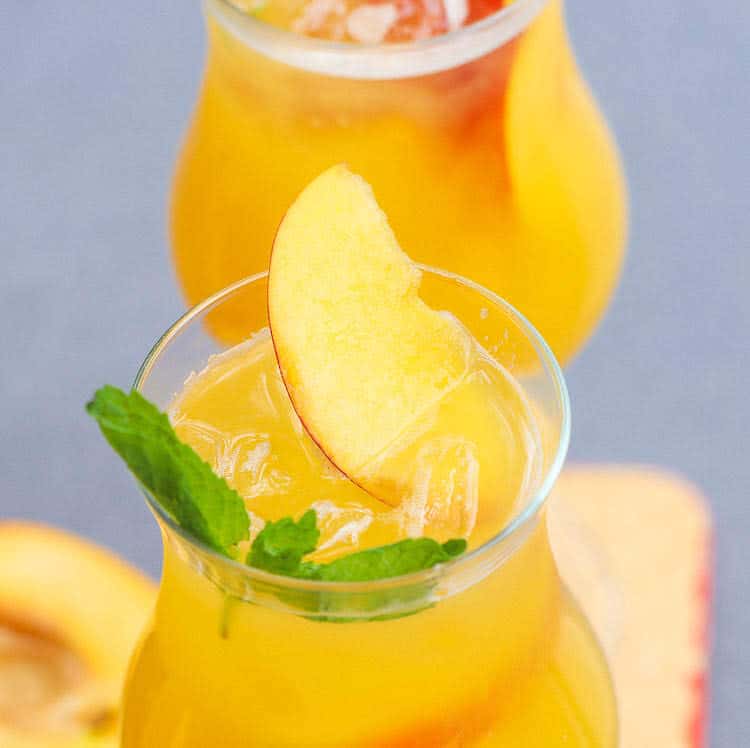 4. Mulled Wine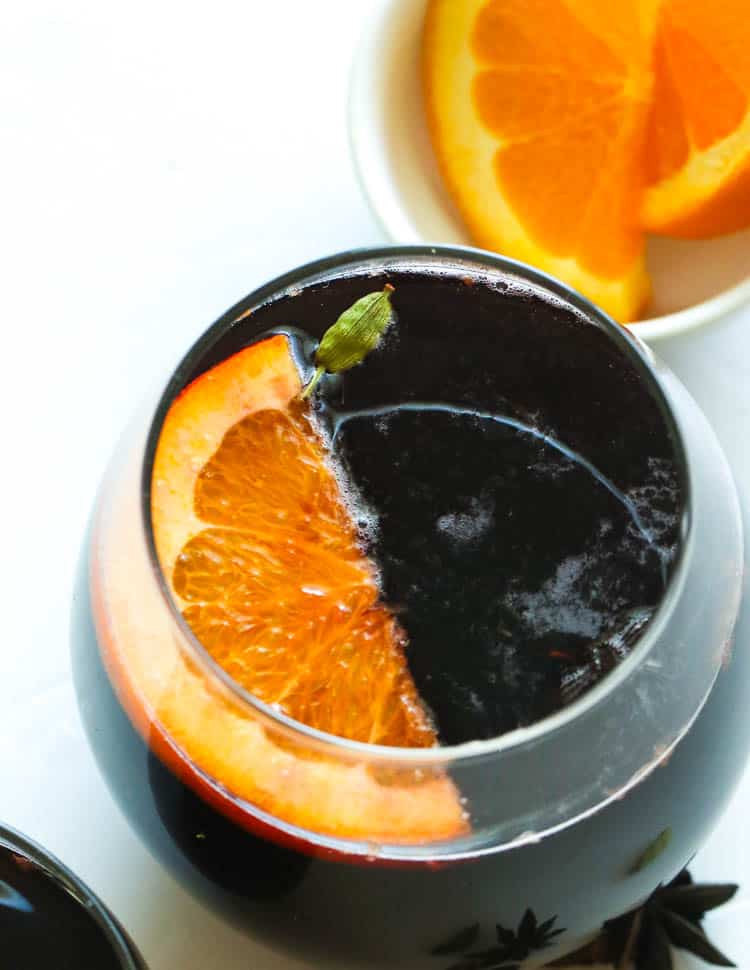 You might also know this seasonal specialty as spiced wine. Either way, this cocktail recipe is a holiday specialty enjoying red wine, apple cider, brown sugar, cinnamon, allspice, cloves, nutmeg, anise, and oranges. Oh yeah! You can also add some cardamom seeds for extra complexity.
Cheesy dishes go so well with wine. Yum! Try Scalloped Potatoes for a win. And, of course, red wine goes best with red meat. So a Tomahawk Steak and a Wedge Salad complete this drool-worthy meal. Oh, and don't forget homemade No-Knead Bread.
Mulled Wine
Mulled Wine – simple yet incredible homemade holiday drink spiced up with cinnamon, allspice, nutmeg, cardamom, orange, and star anise. A traditional red wine-based winter cocktail that is sure to warm you up from head to toe!
Check out this recipe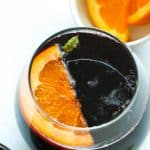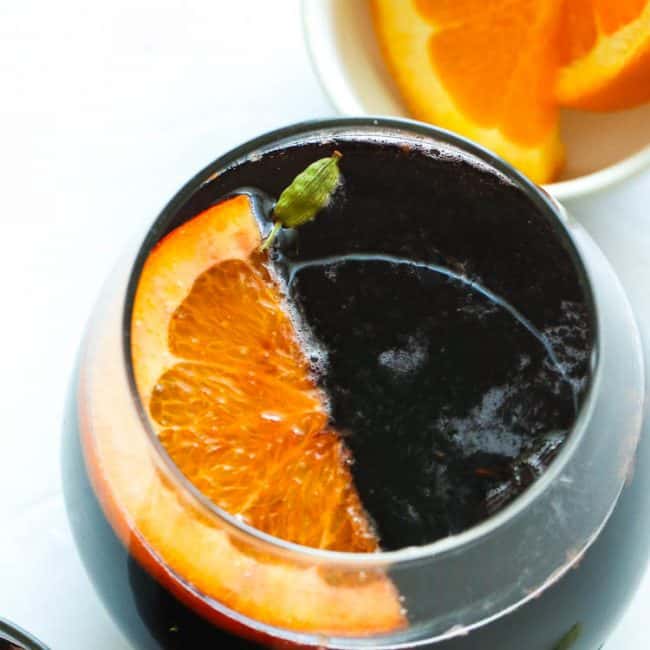 5. Coquito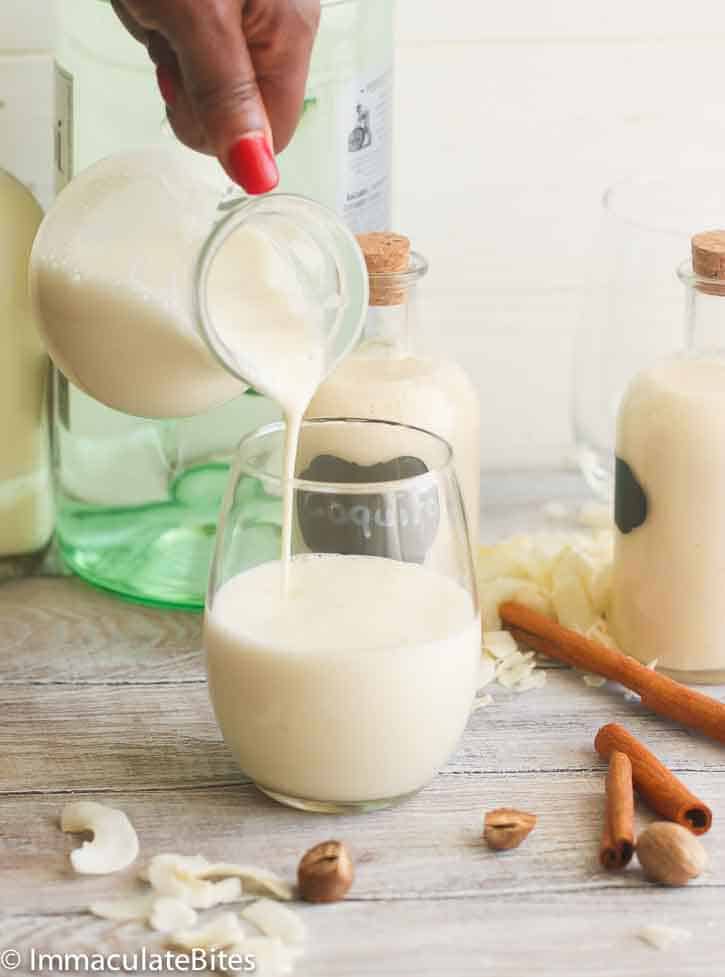 This one means little coconut, and it's a Caribbean specialty, especially in Puerto Rico. Think of coconut milk eggnog knockoff without the egg. Then add a splash of white rum, and you have a fantastic recipe for a holiday cocktail!
Condensed milk, coconut milk, evaporated milk, and holiday spices also bring it all together. And the crowning touch? Homemade vanilla extract.
For the entire Caribbean experience, try Arroz con Pollo, Fried Plantains, and homemade Coconut Bread. Oh yeah! My mouth is already watering. But topping it all off with a Caribbean Black Cake will take your tropical holiday meal over the top.
Coquito (Puerto Rican Eggnog)
Coquito, also known as the Puerto Rican Coconut Nog or Eggnog, is a thick, creamy holiday drink made primarily with coconut milk, sweetened condensed milk, evaporated milk, rum, and spices. This incredible recipe is like the sassy cousin of eggnog with a tropical flair. Deliciously creamy, rich, cozy drink!
Check out this recipe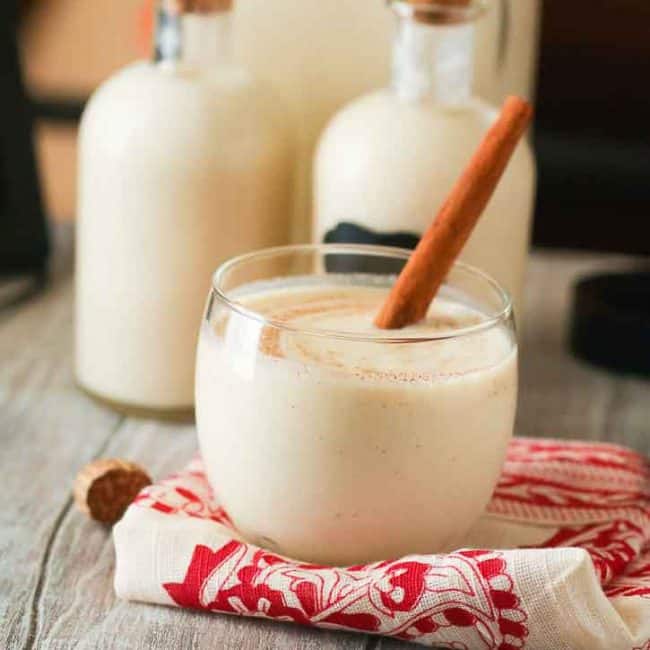 6. Strawberry Daiquiri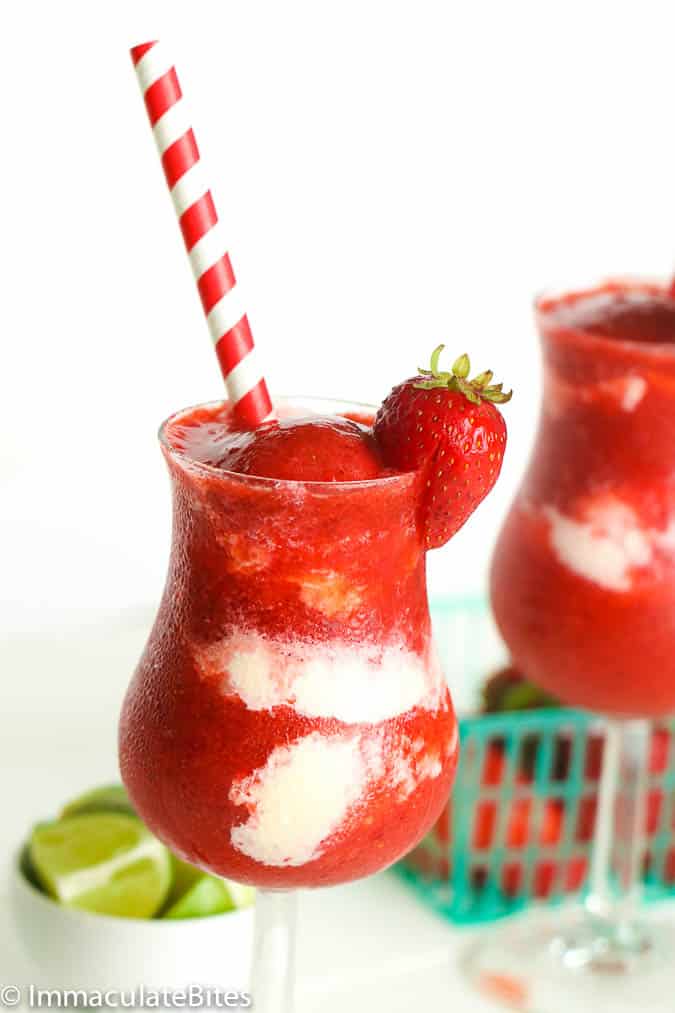 An authentic daiquiri enjoys lime juice, rum, and sugar. How easy is that for a quick cocktail recipe? Throw some strawberries in the blender, and you have a beautiful, deliciously boozy, and thirst-quenching cocktail.
White rum, frozen strawberries, lime juice, sugar, and ice make up your shopping list. Just between you and mean, I also love tossing in a scoop of vanilla ice cream for a creamy creation. 😉
Rum cocktail recipes complement a delectable seafood dinner. Drooling! Lobster tail, Red Lobster Cheddar Bay Biscuits, and a Tossed Salad make a divine date night. I know; who can afford lobster for every special occasion? So try my Coconut Shrimp for a more budget-friendly show-stopper.
Strawberry Daiquiri
A fruity cocktail with frozen sweet strawberries, white rum, lime juice, and some ice is a must-have for your list of classic daiquiris. Perfect for poolside, backyard gatherings, and even on holidays. A refreshingly good, impressive, vibrant drink!
Check out this recipe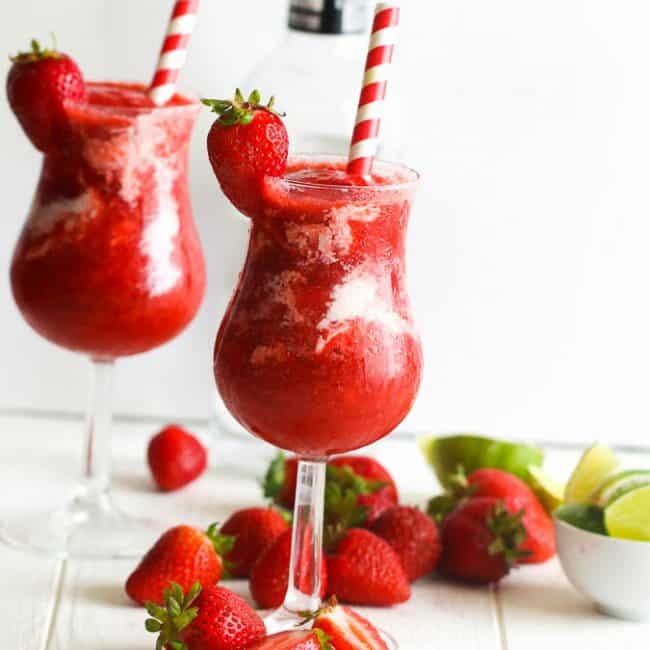 7. Strawberry Margarita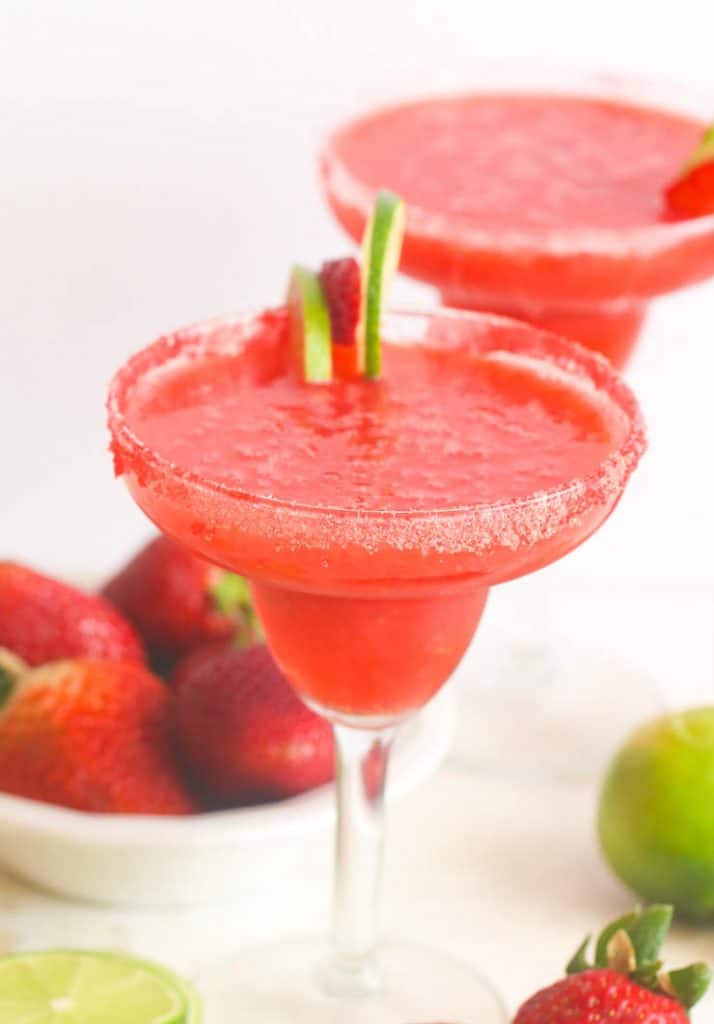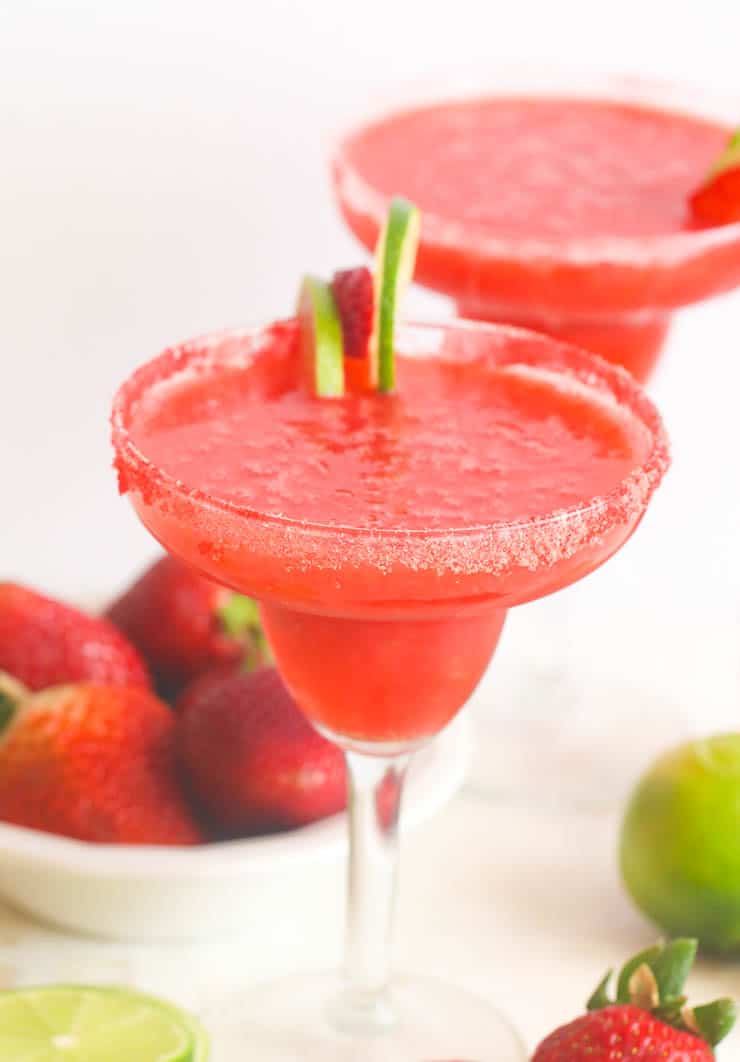 The margarita is the ultimate tequila cocktail, and it's also Mexico's flagship drink. However, the classic margarita is just tequila, orange liqueur, lime juice, and sugar. This strawberry variation is so colorful and, trust me; it's berry-licious!
I'll also show you how to make strawberry salt for the rim. Yay! All you'll need on your shopping list are ripe strawberries, lime juice, tequila, and triple sec. The simple syrup is, well, simple, and I'm sure you have ice in the freezer.
Mexican food is the perfect pairing for this decadent cocktail. My absolute favorite is tacos with Pulled Pork, leftover Baked Chicken, and even Grilled Salmon. Load up a Homemade Tortilla with your choice of meat and top it off with a scoop of Pico de Gallo, and your party is ready for the road. If nachos are your preferred snack with a margarita, you've got to try my Homemade Tortilla Chips and Guac.
Strawberry Margarita
This Strawberry Margarita is a perfectly balanced cocktail made with fresh or frozen strawberries, tequila, and a few other easy to find ingredients. Serve it on the rocks or frozen and rimmed (in white or pink). A refreshingly good drink for the warmer days with all your chips and salsa!
Check out this recipe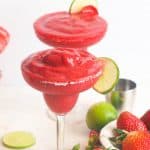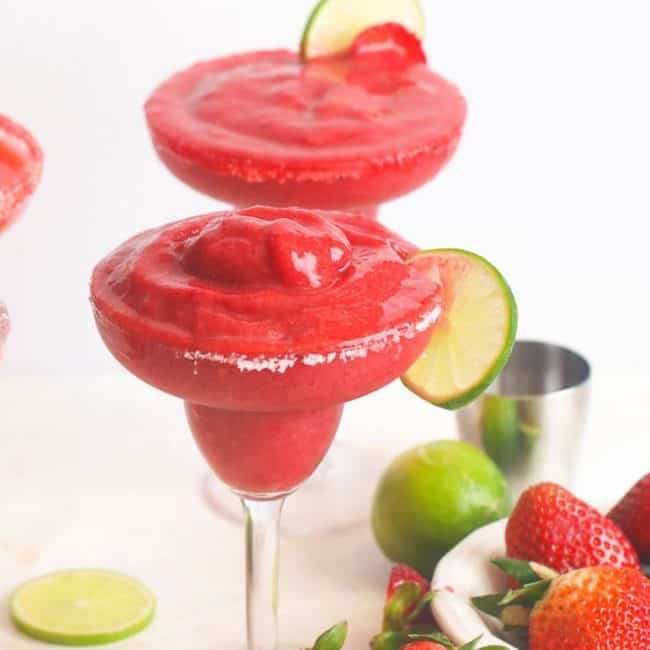 8. Hibiscus Fruity Sangria Cocktail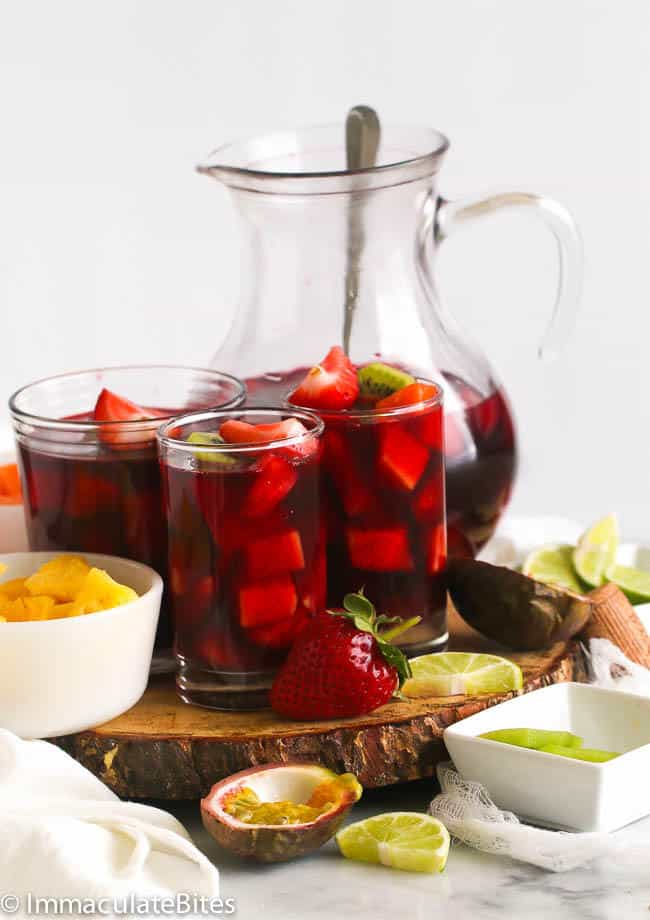 Cocktails can be single servings, or you can make them in batches. This cocktail will definitely quench your large crowd's thirst. Make a pitcher of fruity hibiscus sangria for your next party, and forget about making every single cocktail.
This crimson-colored drink is also fruity and spicy — it's simply perfect. I love to make this fruity hibiscus sangria with Moscato, chopped ginger, hibiscus buds, and all the fruit you like — get creative here. Sweeten to taste and enjoy! (Want a simple and non-alcoholic version of this? Check out my Sorrel Drink HERE)
This deliciousness goes excellent with cheese, seafood, and pasta. Oh yeah! Why not toss them all together in a Creamy Shrimp Pasta dish? Another option, Lobster Mac and Cheese with Red Lobster's Cheddar Bay Biscuits copycat recipe.
Hibiscus Fruity Sangria Cocktail
With summer on it's way and brunch season almost here, I thought this exotic Sorrel (Hibiscus) Fruity Sangria would be a great drink to spice it up during this period.
Check out this recipe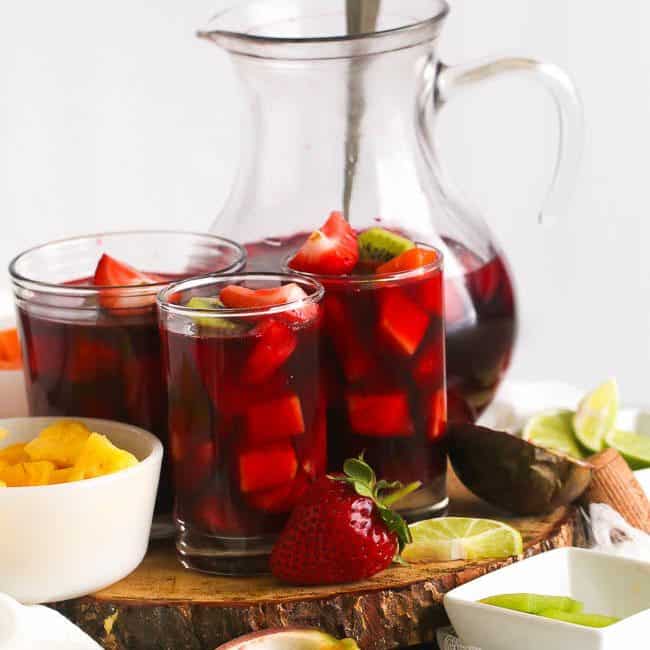 Happy New Year, everyone!Cheers! 🥂