Pineapples, what would we do without them? This spiny, tropical fruit is refreshingly sweet and tangy. Few fruits are as mouthwatering as these robust ambassadors of warm weather. Try out all the recipes on my list of 27 favorite pineapple dishes. Whether sweet, savory, baked treats, or drinks, these pineapple-based recipes are heaven-sent!
Pineapples are a ridiculously delicious fruit; their versatility is beyond compare. From pineapple bread to the famous upside-down cake, these are just a few recipes in the sweet department.
Main courses benefit from the sweet fruit as well! How does a pineapple casserole sound? Or how about juicy Hawaiian-style Huli Huli chicken? The truth is pineapple recipes are as varied as they come.
Below you'll find a mouthwatering collection of pineapple-inspired recipes I've collected and perfected throughout the years.
They all bring me fond memories, and many are traditional for my family and me. Create your own family traditions with these pineapple recipe ideas, and make the most out of this queen of tropical fruits!
Pineapple Dinner Ideas
1. Pineapple Chicken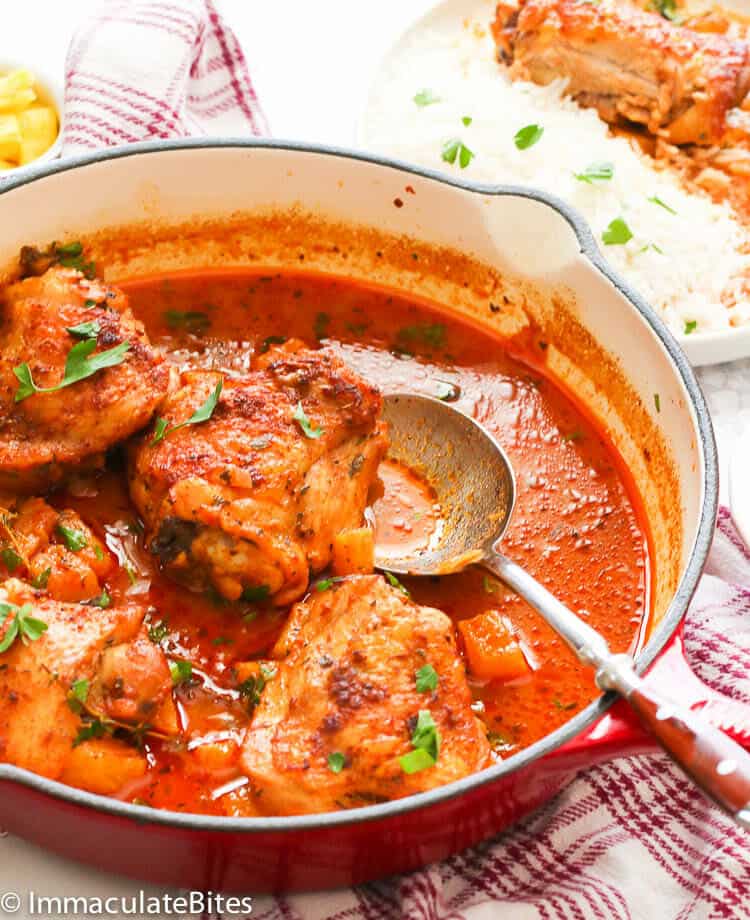 Oh, boy, if this isn't a crowd-pleasing meal, I don't know what it is! That's why I love pineapple recipes! Pineapple gives a lovely sweet tanginess to this colorful stew.
Rubbing the chicken with Creole Seasoning is critical here. Then you put together a drool-worthy pineapple glaze, and dinner is served.
2. Pineapple Honey-Baked Ham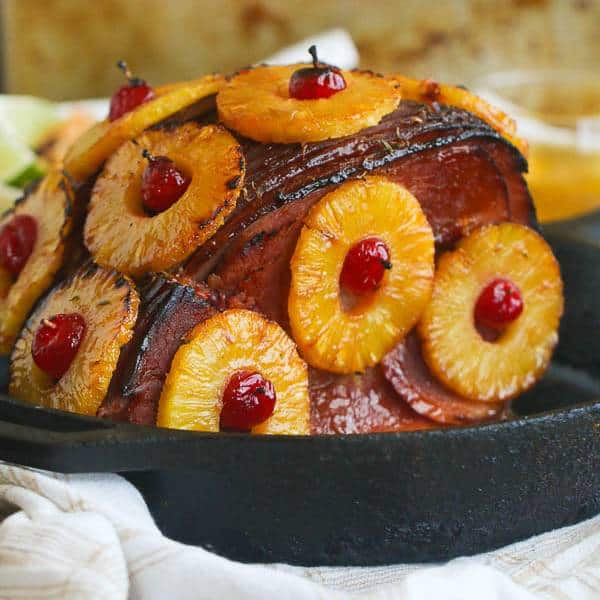 For a retro-style main course, how about surprising your friends with a classic pineapple honey-baked ham? Bright and tender, this is one of those recipes you must make at least once in your lifetime. Get your hands on a sugar-cured ham and turn it into a satisfying and celebratory pineapple recipe. Yum!
3. Pineapple Fried Rice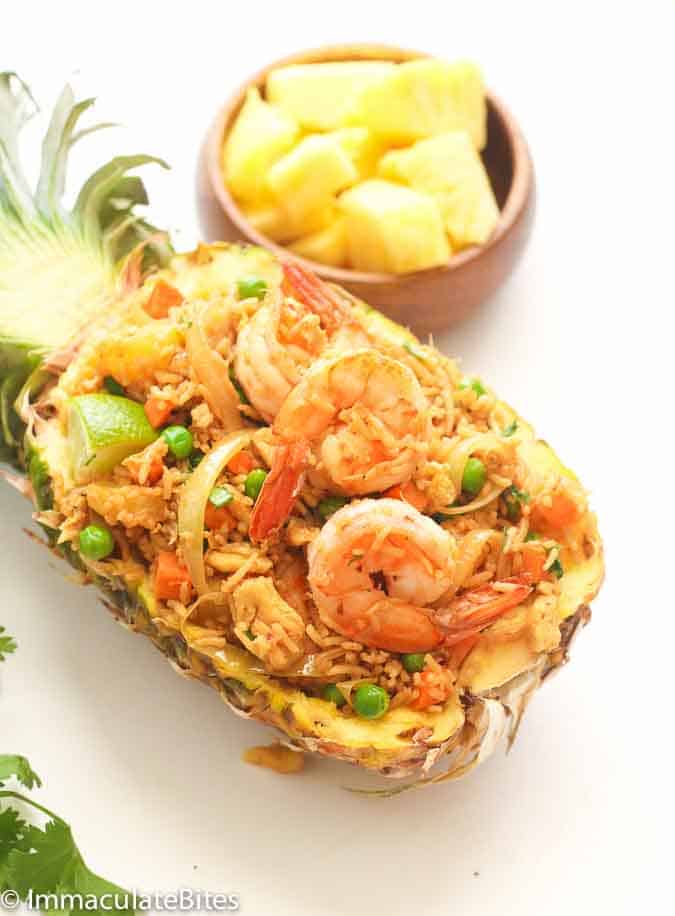 Yes, pineapple can make fried rice even tastier! It adds tropical layers of flavor to the classic takeout meal. Fresh pineapple together with all those delectable Asian flavors make fried rice intensely satisfying. Then a dash of Sriracha adds the finishing touch!
4. Pineapple Glazed Meatballs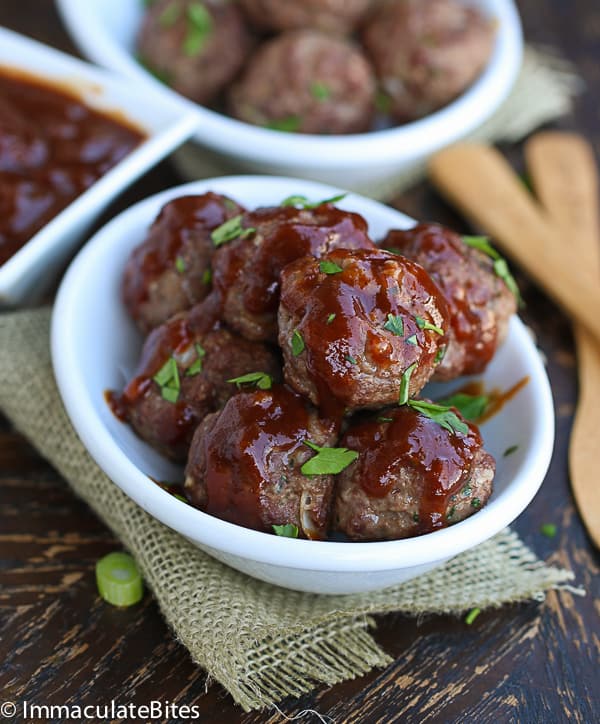 Meaty and addictively spicy, these sticky meatballs are fantastic beer snacks and lovely appetizers for a meal with friends. Make a large batch of these because everyone will want a second helping! It's the pineapple barbecue sauce; that's the gem behind this pineapple recipe.
5. Huli Huli Chicken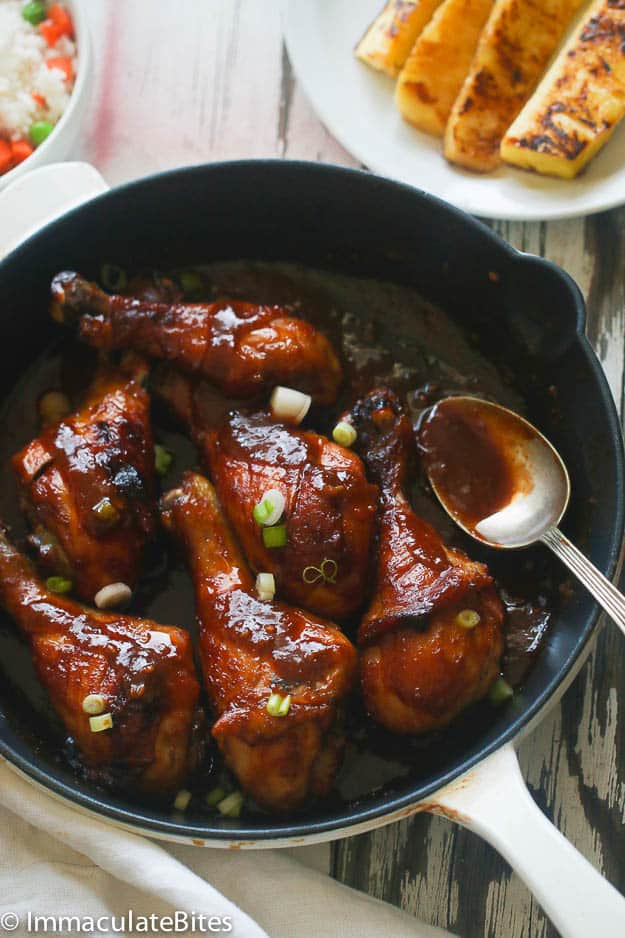 This pineapple recipe will be your new favorite dinner idea. Sticky, sweet, and addictively spicy, this Hawaiian specialty is everything we love about chicken and pineapples, of course.
We're using drumsticks for this one and a fantastic combination of herbs and spices held together by the sweetness of honey.
6. Hawaiian Grilled Chicken Thighs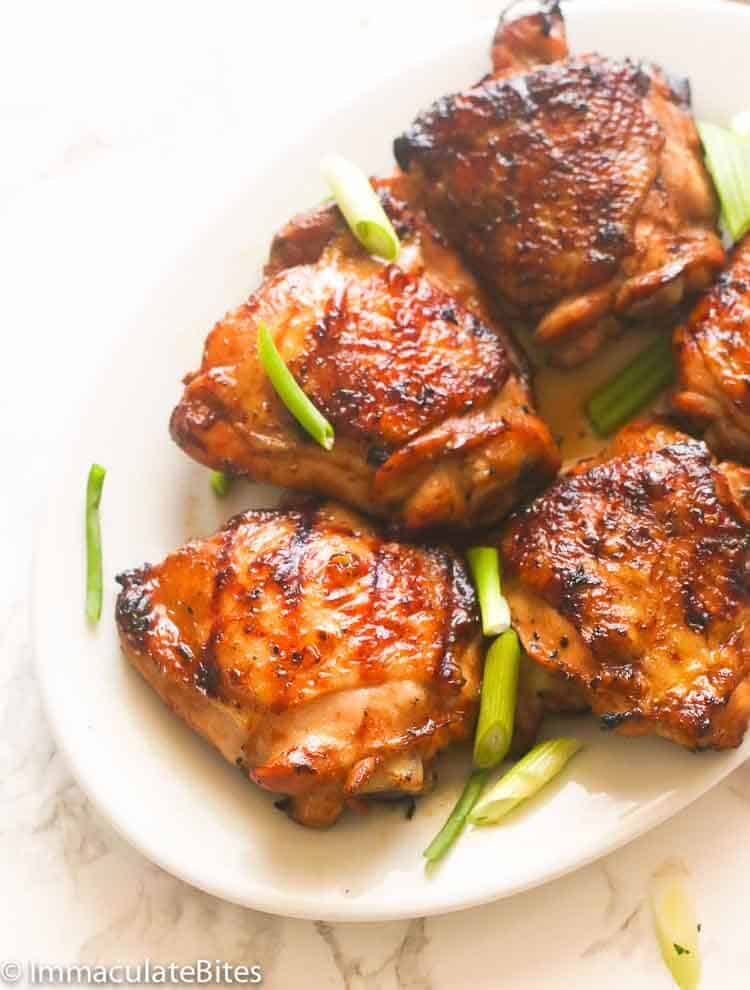 Of course, Hawaii knows what to do with pineapples. And that's grilling chicken thighs and smothering them with a finger-licking-good brown sauce.
Substitute pineapple juice for passion fruit juice for a different take on this Hawaiian comfort food.
Pineapple Side Dishes/Appetizers
7. Pineapple Cucumber Salad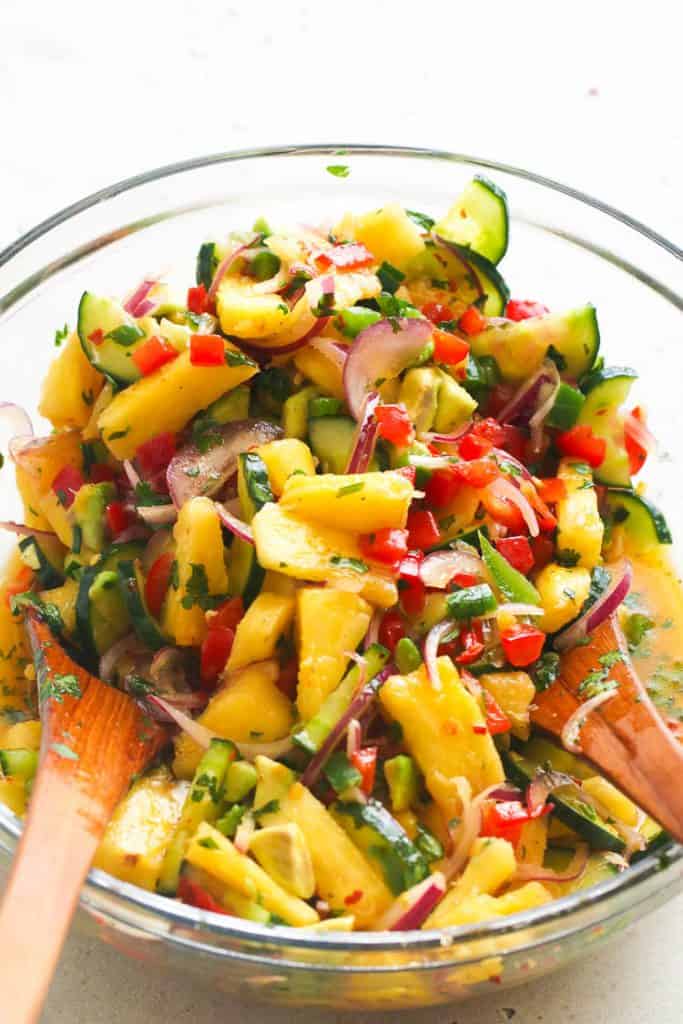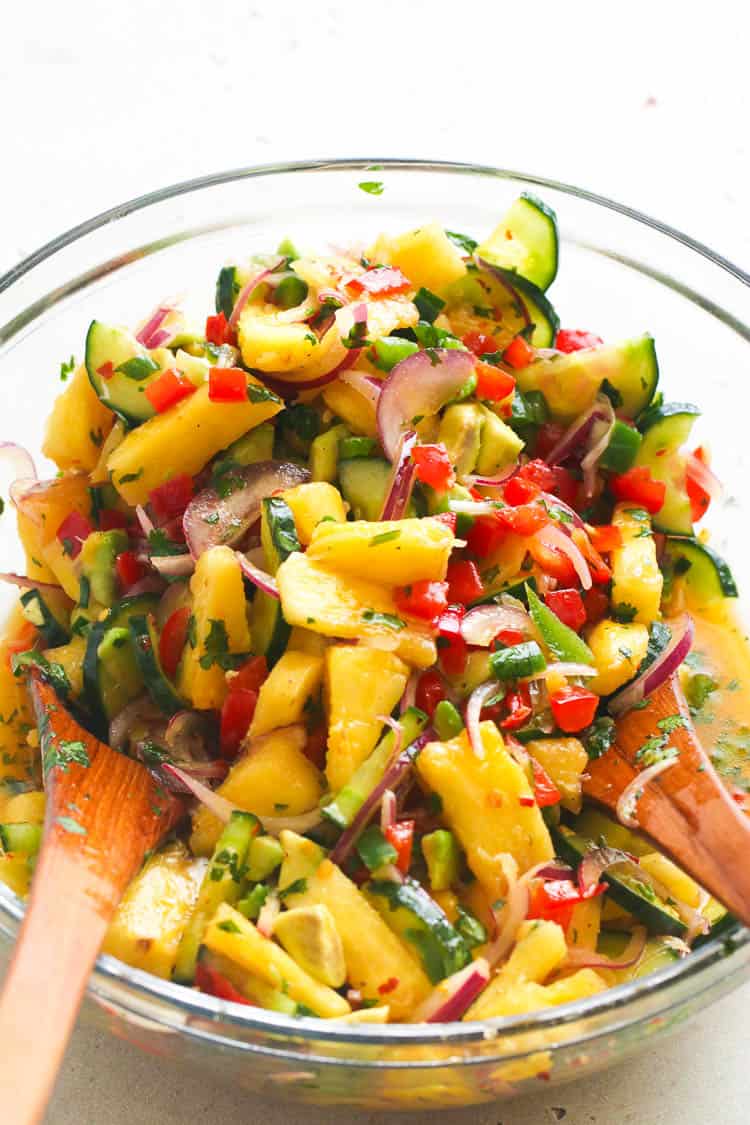 Add fruit to your salad and forget about boring starters. This colorful salad is as pretty as it is tasty! Diced pineapple, cucumbers, red onions, avocado, red bell peppers, and a spicy jalapeño make this salad a vibrant starter and side dish.
8. Pineapple Casserole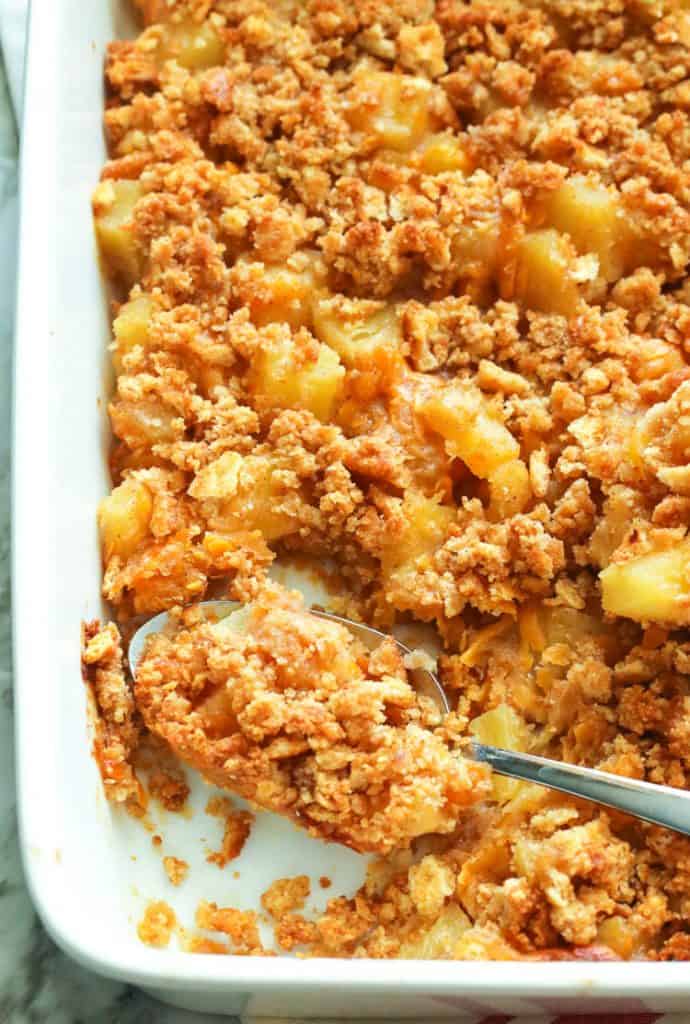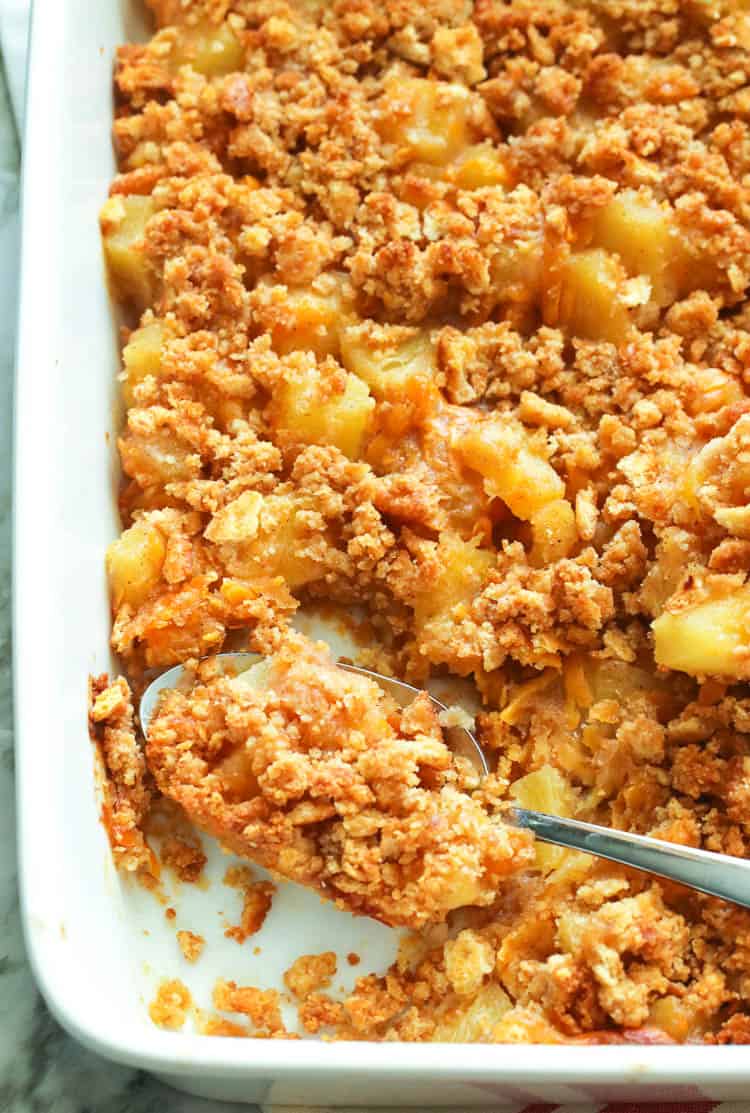 There's nothing like casseroles for an easy side dish to feed the entire family. And this pineapple recipe shows the tropical fruit can play a role next to the entree or double as a dessert.
Pineapple, brown sugar, and cinnamon are incredibly compatible with Cheddar and cracker crumbs for a sweet and savory casserole. That's the very definition of Southern food.
9. Grill Pineapple Black Bean Salsa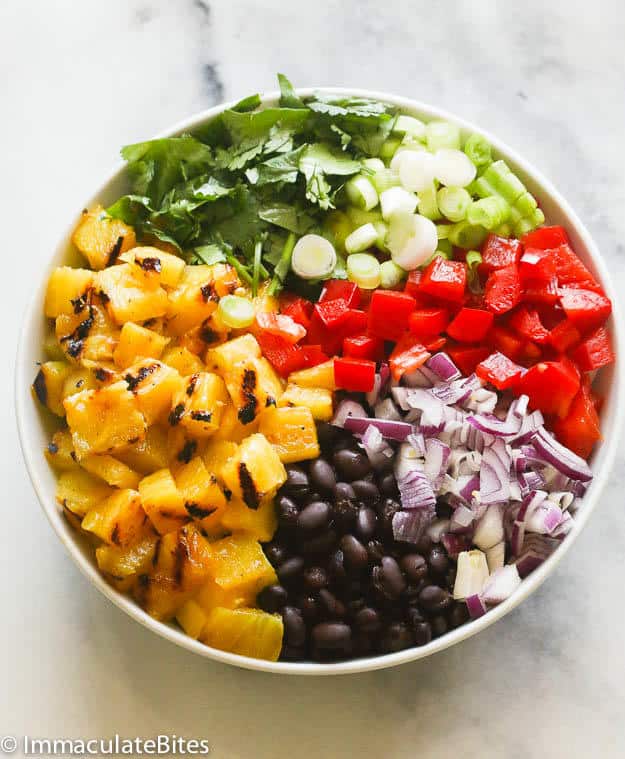 Grilled pineapples open a world of possibilities. This colorful salsa is perfect for backyard grilling parties!
Black beans, bell peppers, tomatoes, red onion, and grilled pineapple make for a magnificent salsa to nicely amp up tacos and South American food.
10. Pineapple Ginger-Glazed Carrots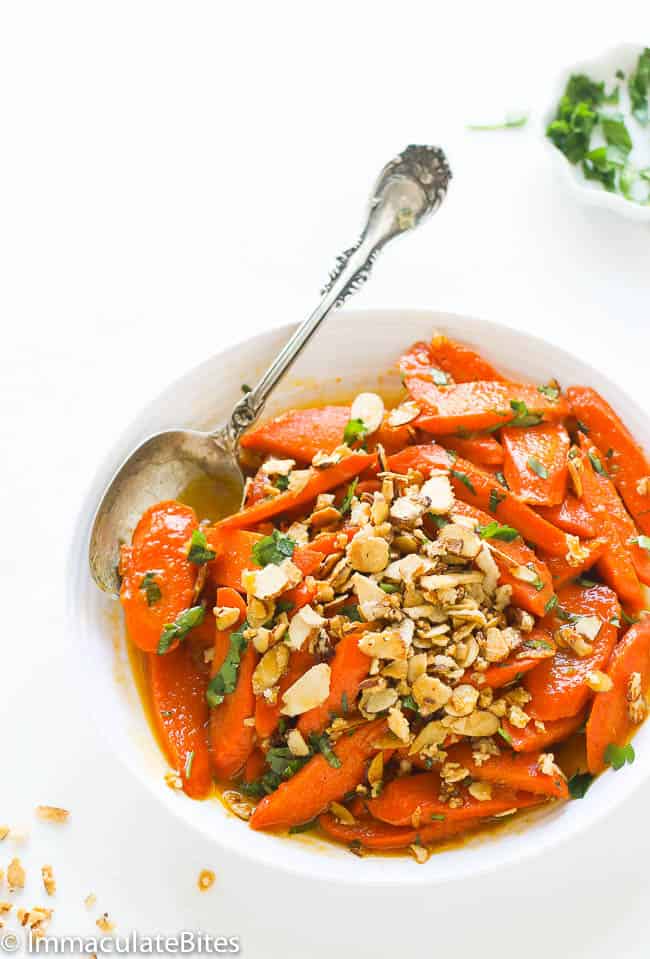 Here's the perfect vegetable side dish for your next holiday dinner party. These glazed carrots come to life thanks to minced ginger and pineapple juice. These super tender and sweet carrots are fantastic with roasts, poultry, and grilled meat.
11. Pineapple Salsa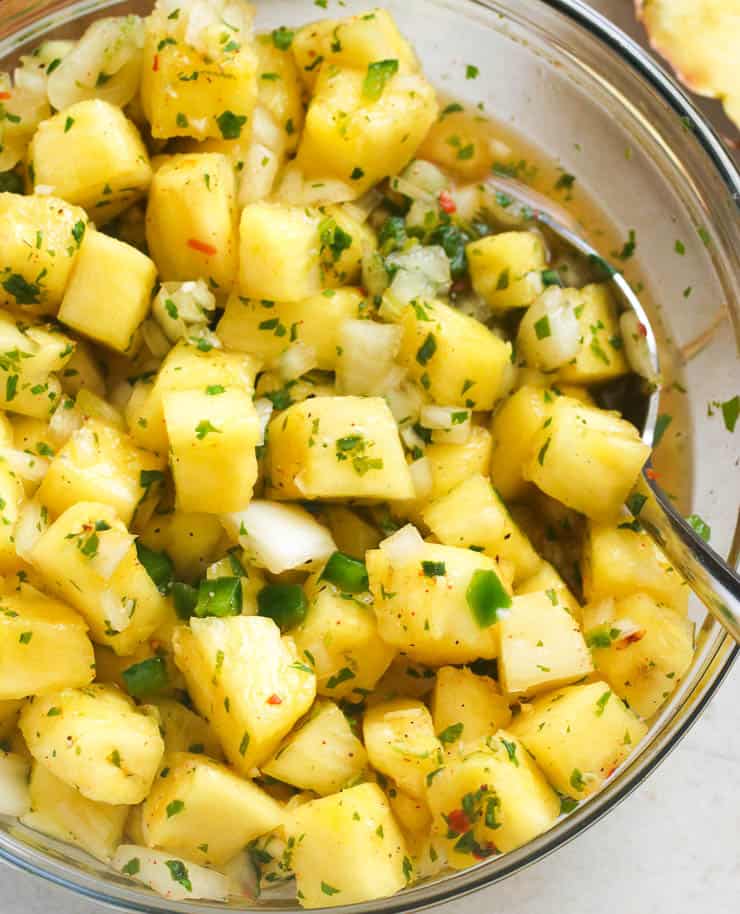 This colorful salsa will bring life to any Mexican-inspired feast. Pineapples and diced onion give a lovely crunch to this chunky salsa, but it's the jalapeño that makes it thrilling! It's spicy, sweet, and tangy all at the same time.
12. Rum Glazed Pineapple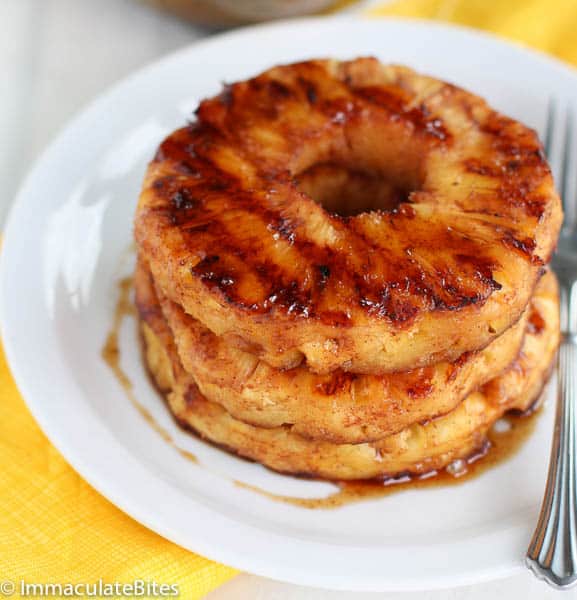 You don't need anything more than pineapple slices for an original dessert with the right recipe. And you'll love the boozy rum glaze! Five ingredients plus a scoop of vanilla ice cream is all you need to make this quick but gorgeous dessert.
Baked Pineapple Recipes
13. Pineapple Empanadas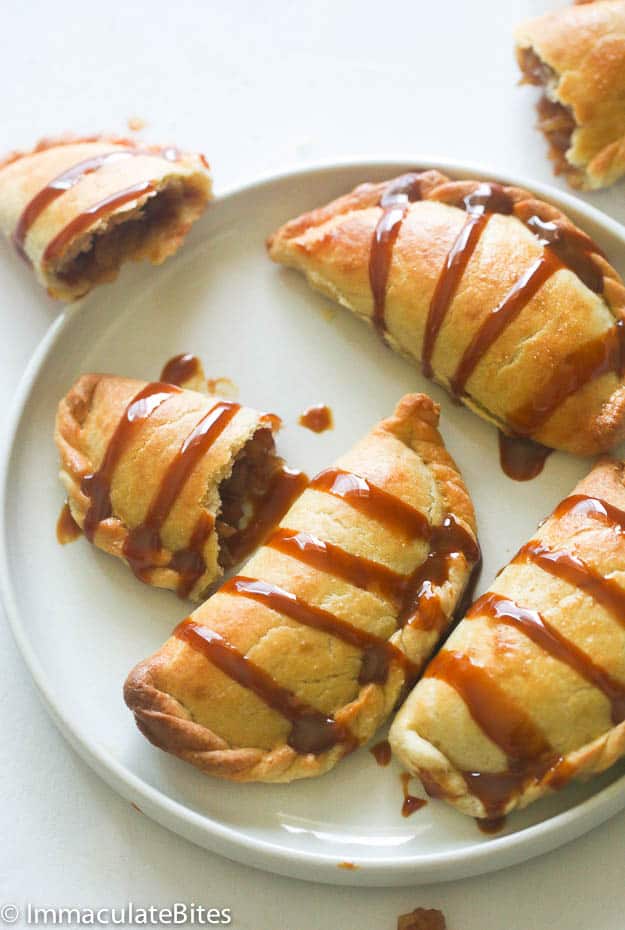 Empanadas can be both sweet and savory. In fact, flaky pastries are even better when filled with sweet treats like pineapple and delicious spices! These empanadas are a deliciously sweet lunch and a dessert in their own right. Learning how to make the dough is a lifesaver, by the way.
14. Pineapple Cake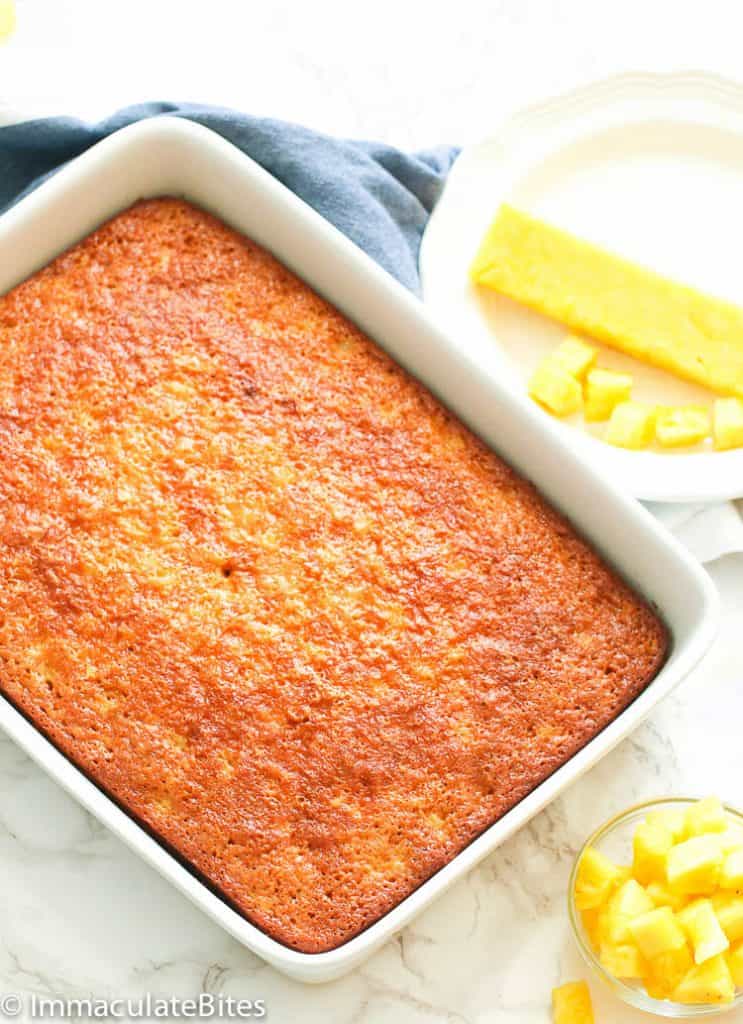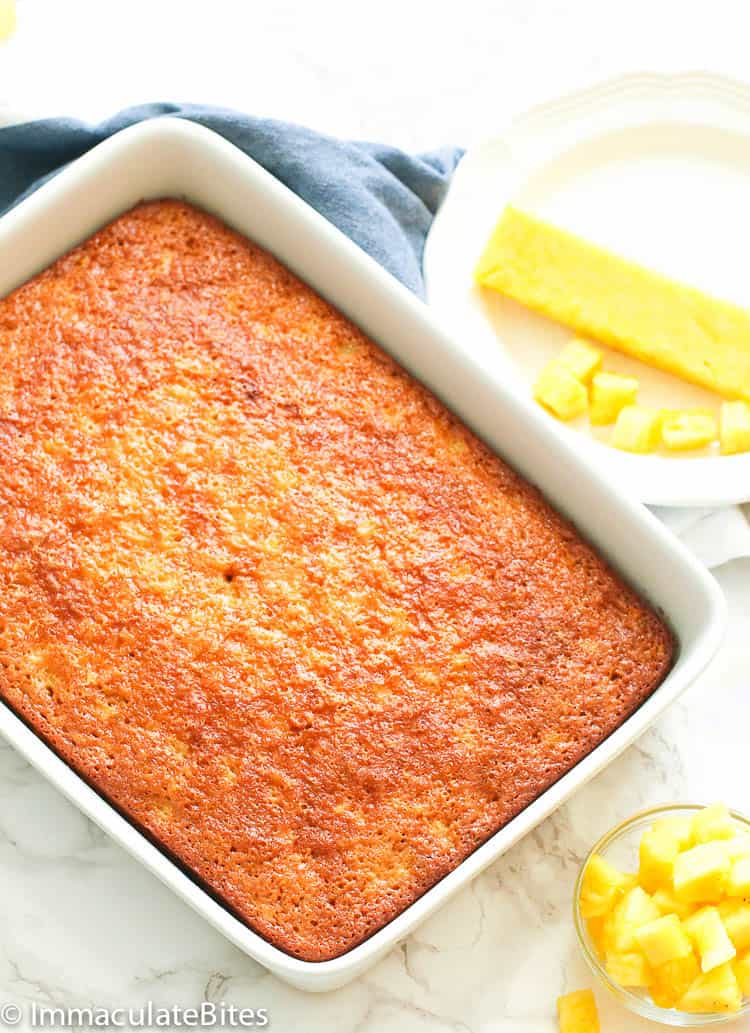 Now, let's get serious because this pineapple cake is insanely good. It's so moist and sweet! I make this one from scratch with fresh pineapple juice. Just a hint of vanilla and a kiss of lemon zest gives this moist pineapple cake a lively personality. What a beautiful pineapple recipe idea.
15. Banana Pineapple Bread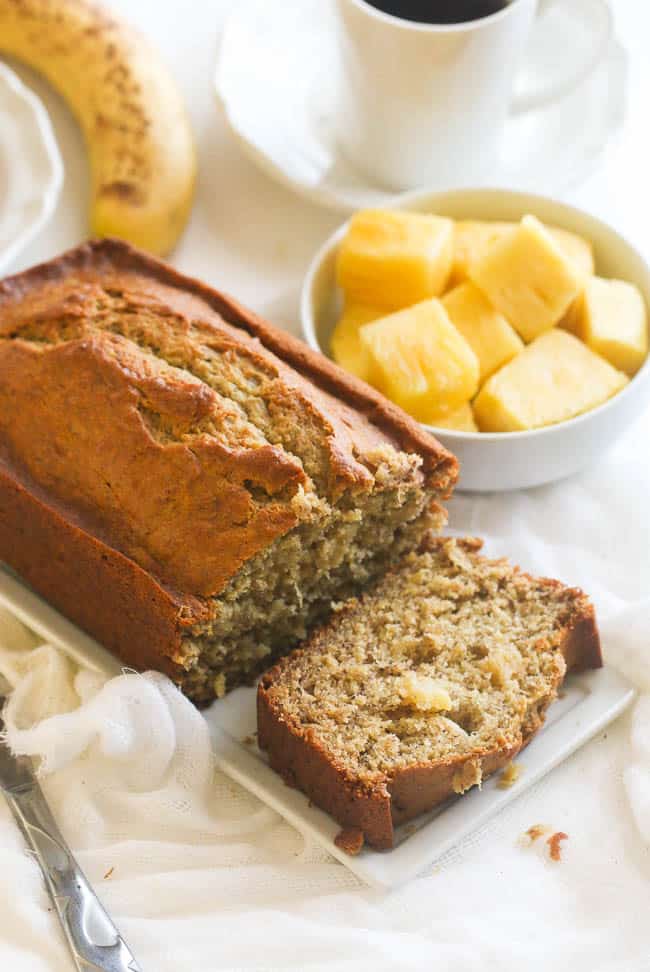 There are many types of pineapple bread, and this has invited bananas as a special guest. Beautifully crumbly and spicy, it's super versatile. You'll feel comfortable with this recipe even if you've never made bread before. Use fresh fruit, and you'll do great!
16. Pineapple Pie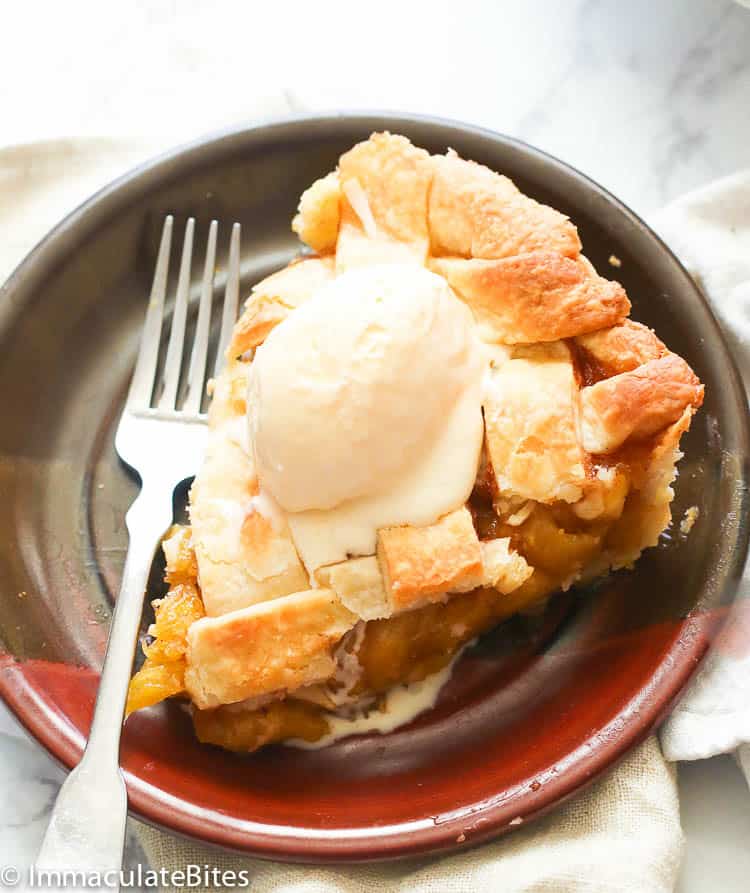 If you like apple pie, you'll absolutely love pineapple pie! Sweet and tropical with a golden, flaky crust, pineapple is pie material for sure, and it's perfect for warm weather.
You can make the pie crust from scratch and then fill it with sweet pie filling for this recipe. Use fresh pineapple for best results, but I won't tell anyone if you used canned.
17. Pineapple Upside Down Cake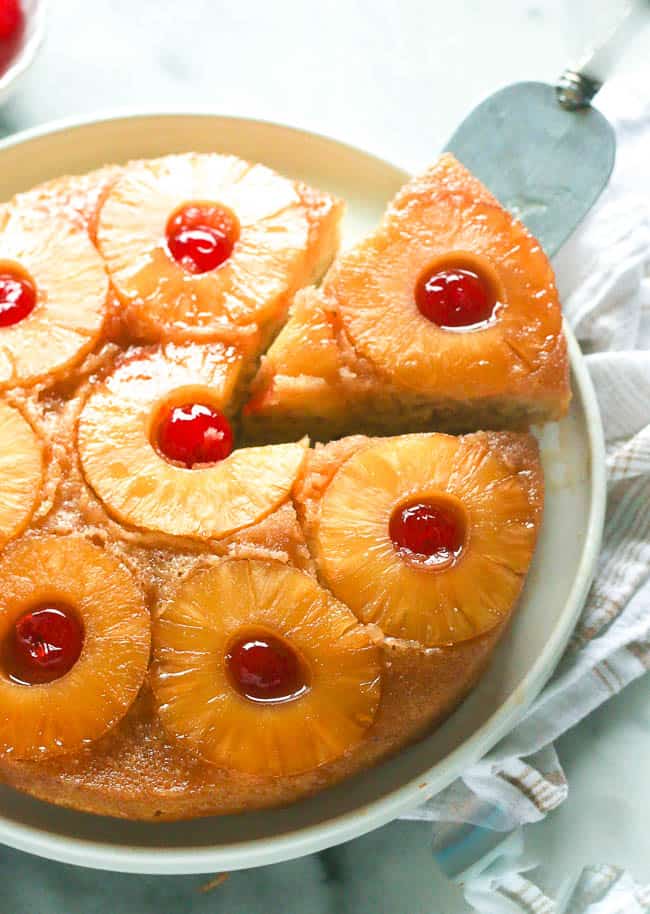 Here's another timeless classic. You know you're not a home-baking newbie when you master this tricky recipe. However, don't sweat it, even if you are a newbie. Making this cake is easier than it looks.
Those pretty pineapple wheels are the perfect garnish for this super easy cake that has it all. With this recipe, you'll end with a magazine-worthy cake, guaranteed.
18. Carrot Pineapple Cake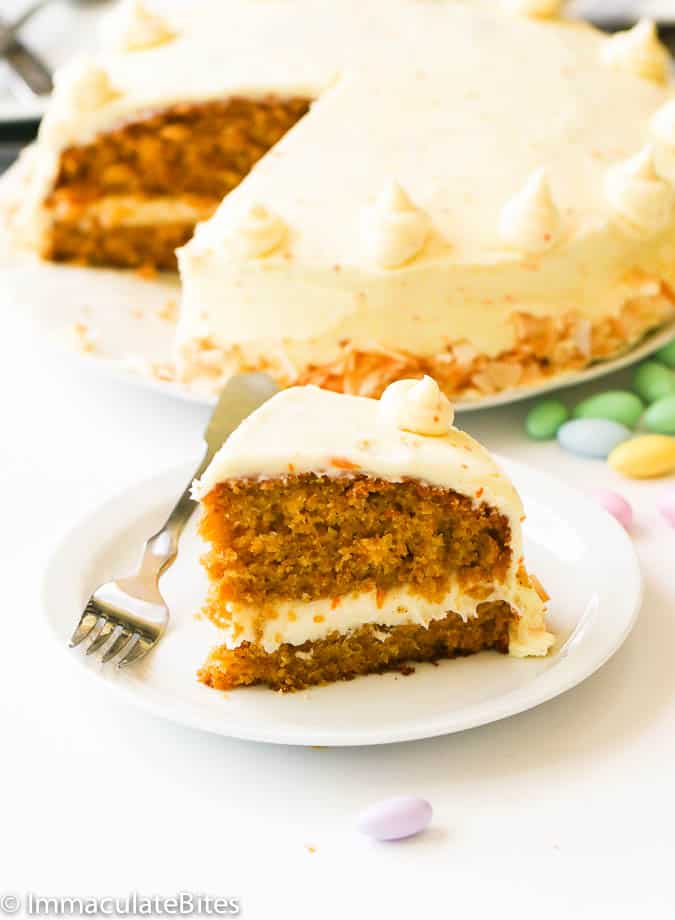 You can make this fantastic cake for special occasions; it's gorgeous! This is what all carrot cakes should be, and it's thanks to sweet pineapples. The grated carrots and crushed pineapples make this holiday spiced cake a seasonal classic that just tastes like fall.
19. Pineapple Jalapeños Corn Muffin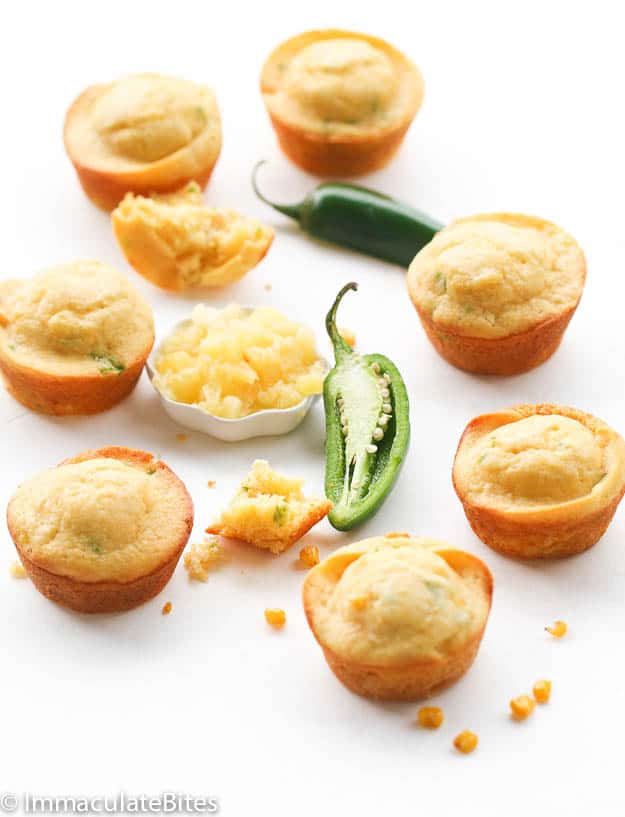 Spicy muffins? Count me in! I love these fluffy corn muffins with jalapeño peppers balanced by sweet pineapple. Even better, these muffins are ready in 30 minutes, from start to finish. You'll have y batch of spice muffins perfect for breakfast or lunch.
20. Pineapple And White Chocolate Scones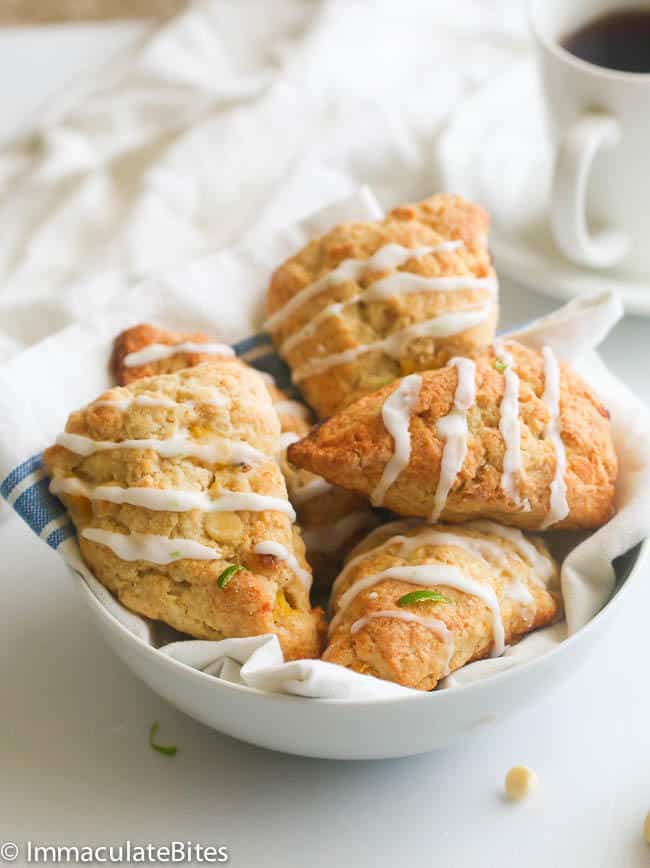 Perfect for teatime, these scones are truly bites of pure temptation. But they're so lovely you won't want to sink your teeth into them. Making scones is easier than you think. Good-old buttermilk and everyday baking staples come together for flaky scones with lots of flavors.
21. Sopapilla Cheesecake Bars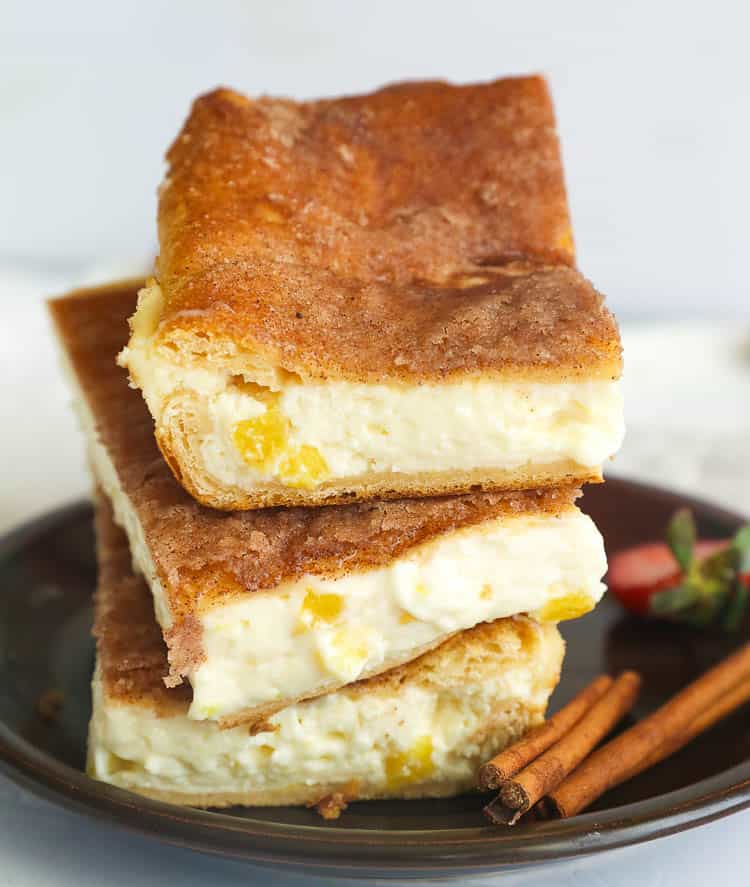 Creamy and crumbly, the sopapilla cheesecake is a tropical classic and one of the most decadent pineapple recipes ever. Cream cheese is the key ingredient here, flavored with a dash of almond extract and sweet pineapple chunks. This one's super easy!
Pineapple Drinks and Dessert
22. Homemade Pineapple Juice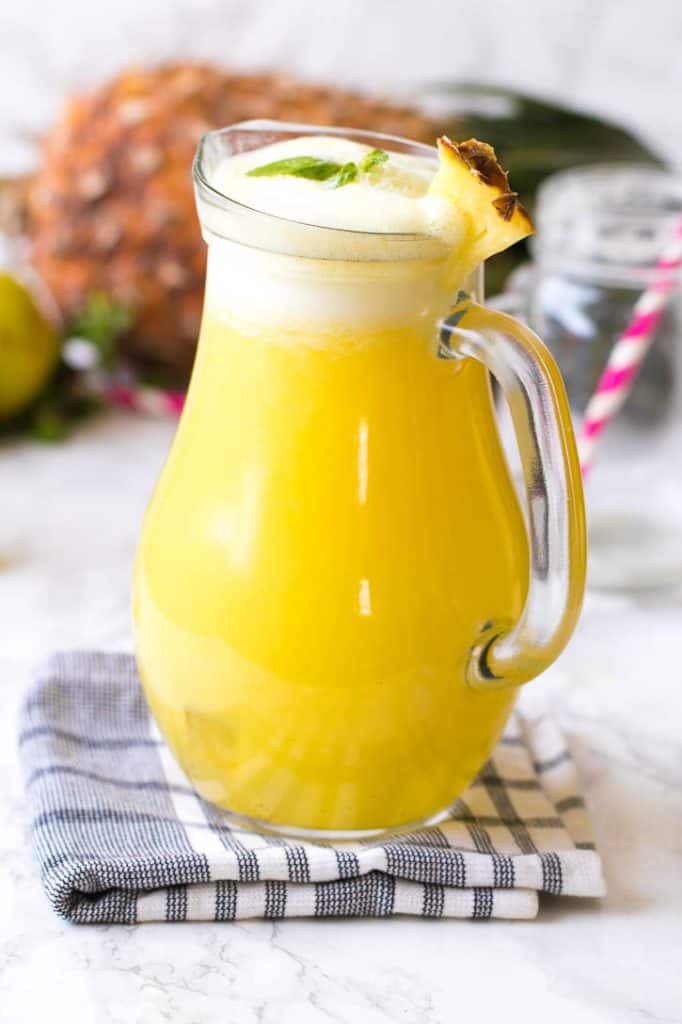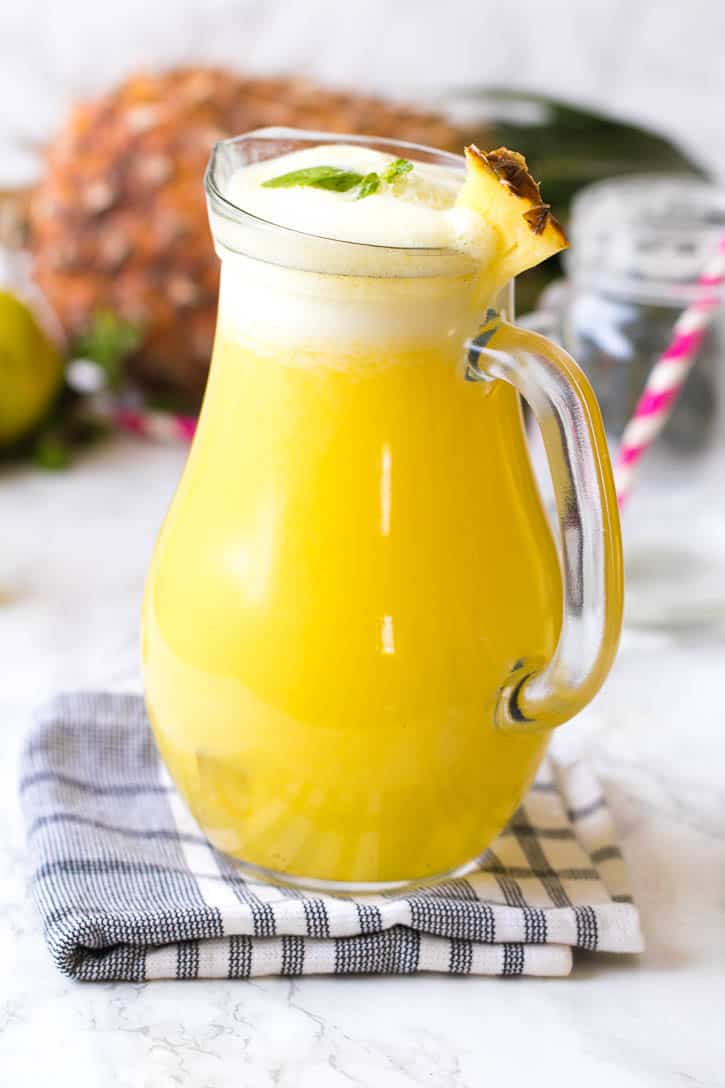 Freshly made pineapple juice. How hard can it be? Well, there are some tricks to get it right. Here's how I start my day — with fresh pineapple juice!
Ripe pineapples, water, and sugar with just a dash of lemon juice become a wonderful, thirst-quenching drink.
23. Pineapple Ginger Juice (West African)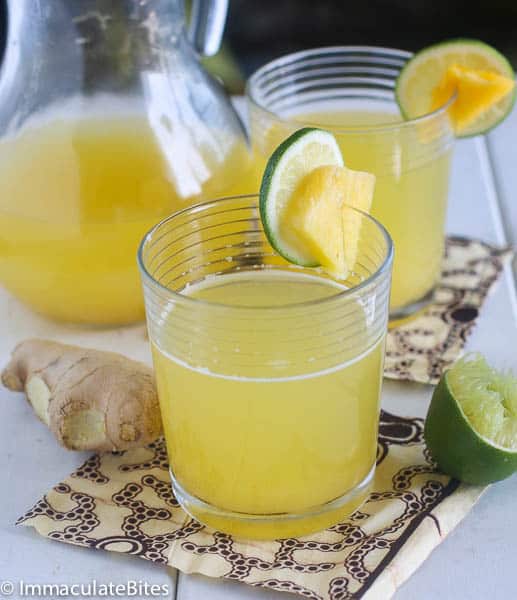 It's as tasty as good for you; this West African specialty is refreshing and super easy to make. Who knew pineapples and ginger were so compatible?
Get your hands on fresh pineapple juice, ginger, and sugar to make a pitcher of this on a hot summer day for true refreshment.
24. Pineapple Lemonade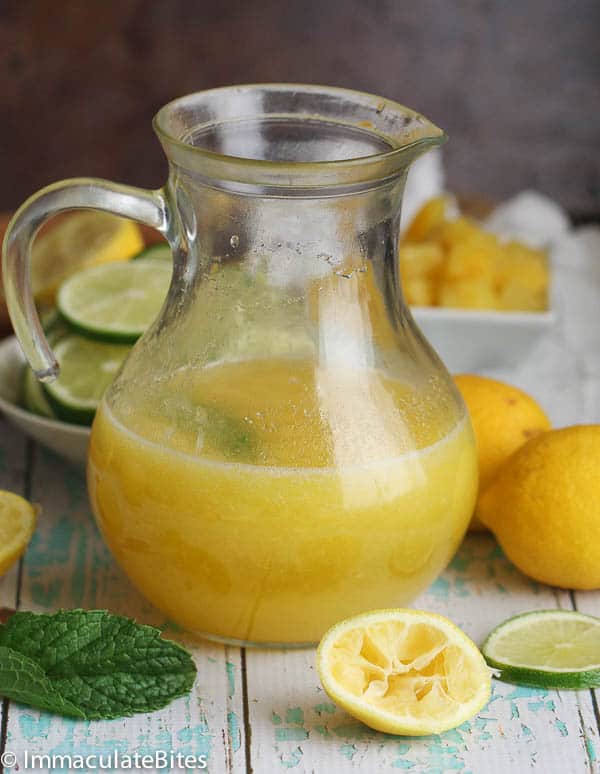 Not your regular lemonade, this one's much more exciting and so attractively tropical! Still, this pineapple recipe is comfortably familiar. You'll love it! Mint-flavored simple syrup elevates this lemonade to new, exciting heights.
25. Jungle Juice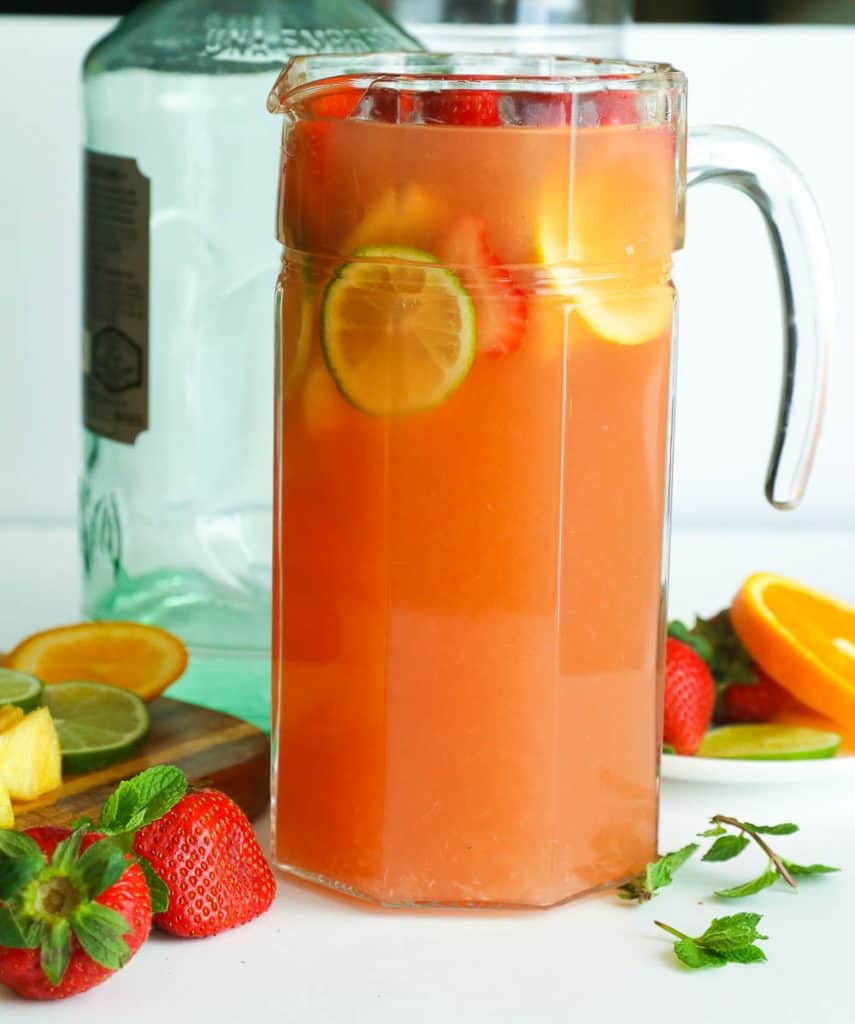 Throw a party together, go ahead — call everyone! This jungle juice is a crowd-pleasing party drink. It's all about fresh ingredients; that's the secret!
Oranges, lemons, limes, strawberries, and pineapple. That's all you need for this colorful punch.
26. Piña Colada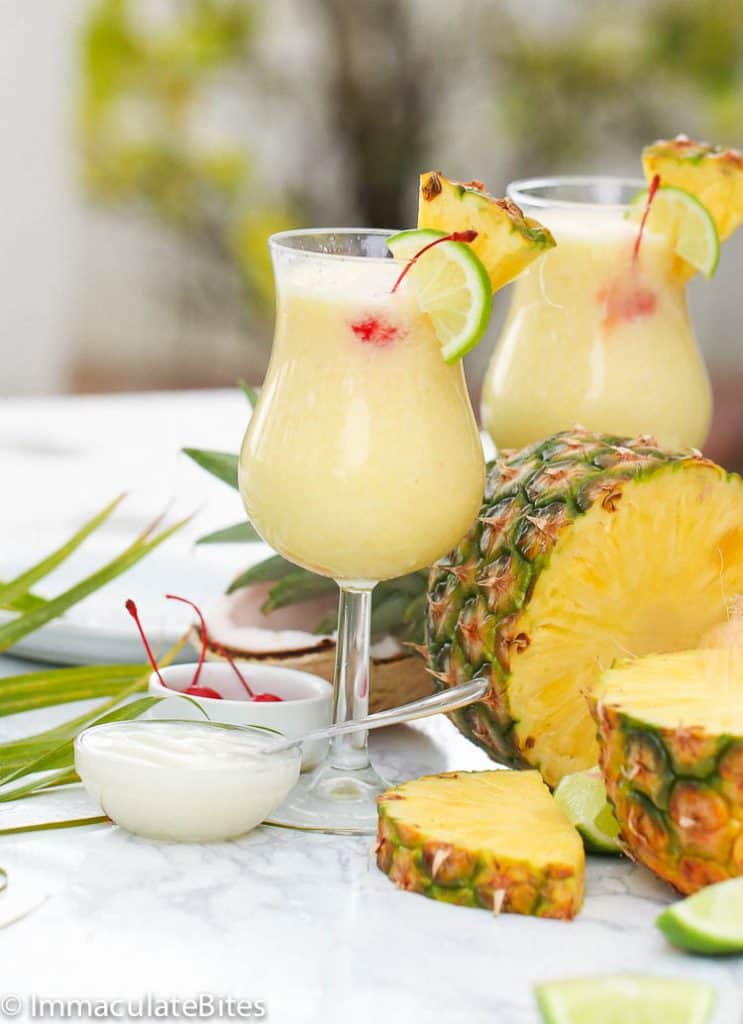 The queen of pineapple cocktails, this is one recipe you'll want to hold close to your heart. Who doesn't love piña coladas?
Puerto Rico's signature drink is one of my favorite pineapple recipes. It's made with sweet coconut cream and fresh pineapples, and, of course, a splash of rum as well!
27. Rum Raisin Pineapple Ice Cream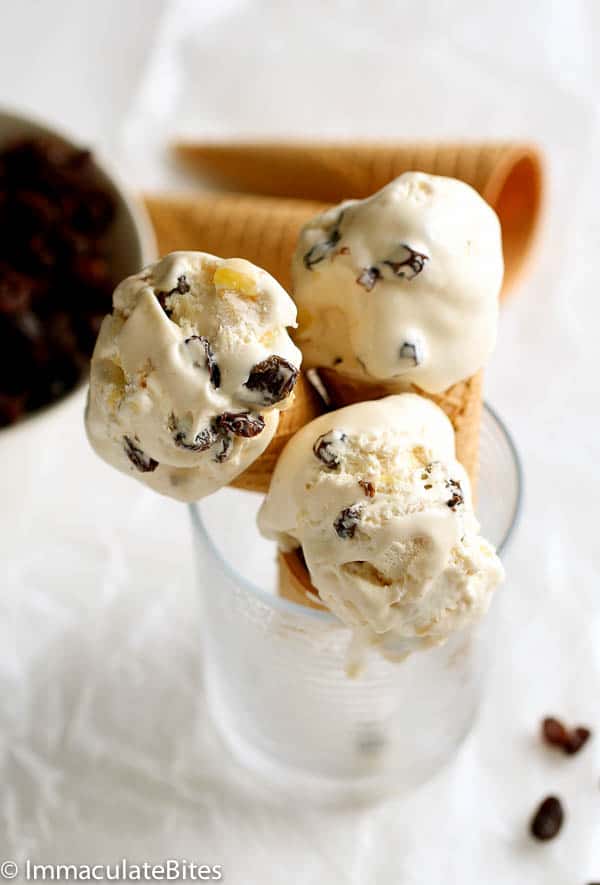 Now, this is a dessert everyone will love! Make your own no-churn ice cream and give it personality with raisins and chopped pineapple. Yum!
A dreamy dessert and a fun project at the same time. Making ice cream is as easy as mixing together whipped cream and condensed milk. Feel free to play with the flavors.