And to help you out, here is my collection of incredible beef recipes, from stews to grilled steak for every occasion and time of day.
If you need inspiration for using beef, you'll surely find it here. And the best part? Most of these beef recipes are super easy, so check all of them out! Because beef is always a good answer to what's for dinner!
FAQs
Beef Stew Recipes
1. African-Style Beef Stew
Let's start this list with a meaty and flavorful African-style stew. I love how so many spices come together in perfect harmony! You can use chuck or shoulder for this one and try not to skip on any herbs and spices because they all add a special touch to this stew.
2. Slow Cooker Jamaican Beef Stew
Jamaican stews are known for being rich, colorful, and a bit spicy. And this one is no exception. In fact, you can use beef ribs or beef tenderloin to give it variety. And don't be shy on the Scotch bonnet peppers if you want a delightfully spicy stew! This deliciousness is one of the heartiest one-pot meals I know.
3. Instant Pot Beef Stew
When I say instant, I mean it. Preparing this dish takes minutes, although you will have to let it simmer for a bit. This recipe is one of my favorites for weeknights when I'm feeling rushed. Moreover, beef chuck, beef ribs, or beef tenderloin will add lots of flavor to this aromatic and rich beef stew.
4. Vegetable Beef Soup
Beef is fabulicious, but you've got to eat your veggies too. So why not cook them together? This chunky soup is an entire meal all by itself. Additionally, corned beef and cabbage will give you a different take on this beef recipe. Even traditional beef ribs, carrots, and potatoes are fantastic. So soul-satisfying.
Beef Steak Recipes
5. Tomahawk Steak
This steak is one good dinner that will undoubtedly create an impact. Indeed, for all you die-hard meat lovers out there, there's nothing like a colossal Tomahawk steak; it's so primal. This perfectly grilled steak boasts a beautifully charred exterior and juicy pink interior. The secret to this beauty is marinating it before cooking.
6. Swiss Steak
Although not from Switzerland, this recipe has an Old-World feel. This dish is so deliciously tender and coated with the most colorful and vibrant sauce, making it perfect for special occasions. Also, top round or bottom steaks work best for this recipe. The tomato-based sauce seasoned with garlic, onion, herbs, and Cajun spices is pure heaven.
7. Hamburger Steak And Gravy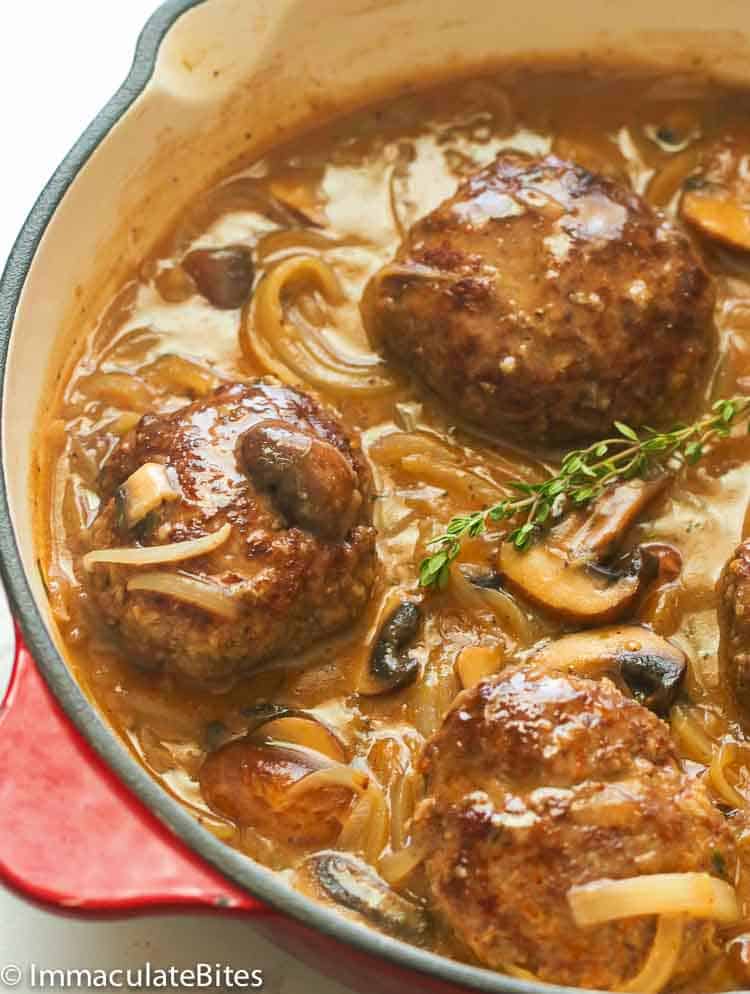 This extraordinary recipe calls for ground beef because we're making an old-fashioned hamburger steak. Yum! The mouthwatering sauce over beef tenderloin works as well! Truly, this scrumptious brown gravy is the perfect topping for meaty chunks of tender ground beef. In addition, the impressive combination of meat, breadcrumbs, onion, and garlic is blessed with a handful of earthy mushrooms. Drooling!
8. Pan-Seared Oven Roasted Steak
You don't have to grill your steaks because you can roast them in the oven! Lightly seasoned, you don't need much time to cook this one. That's how you get moist, tender, and beautifully pink meat. You can use a boneless steak for this recipe and season it with salt and pepper. And, of course, butter and a few garlic cloves will bring it all home.
9. Steak Diane
You might already be familiar with this smoky beef steak made with a creamy flambéed spiced rum sauce. Even though top-loin strips work best for this beef recipe, a lean tenderloin is nice too. On top of that, the sauce is tomato paste, cream, seasonings, and a splash of rum. What a delight! Indeed, this all-American classic will give you a restaurant-quality meal without breaking the bank.
Other Beef Recipes
10. Beef Liver and Onions
Some people really love liver, others not as much. But when it's cooked right, there's no doubt it's mouthwateringly delicious! The key is seasoning the liver properly, cooking it to the right point, and serving it with caramelized onions. Make sure you season the flour with garlic powder, onion, and paprika to give it some personality.
11. Macaroni Beef Casserole
I call this one chili mac — it's cheesy and comforting like macaroni & cheese, but beefy and flavorful like a beef stew. For creative one-pot meals, this one's a charmer. And it's so easy with a Dutch oven to combine lean ground beef, beans, tomato sauce, and macaroni pasta. Oh, and live a little, go crazy on the spices.
12. African Meat Pie
Empanadas are crispy and flaky two-biters that you can fill with anything. My favorite is a ground beef filling flavored with tomatoes, onions, garlic, and fresh parsley. These are excellent starters and delicious grab-and-go lunches. Learn how to make homemade empanada dough. And feel free to experiment with other fillings when you make these babies.
13. Mongolian Beef
This sticky, Asian-inspired beef stir-fry is what I call authentic comfort food. Sweet, savory, and intensely flavorful, few ways of cooking are more creative. You can use flank steak or beef tenderloin for this beauty. Brown sugar and soy sauce are essential here, along with ginger and garlic. Serve this beef recipe with rice.
14. Caribbean Corned Beef And Cabbage
This delicious corned beef and cabbage recipe is a twist that reminds me of warm Caribbean flavors. Rich and meaty, this easy recipe is just festive! Authentic corned beef is critical here. Along with onion, and a few Caribbean specialties, including allspice and Scotch bonnets, this dish comes together beautifully. Try this beef recipe at your next outdoor party and impress your guests.
15. Corn Beef Hash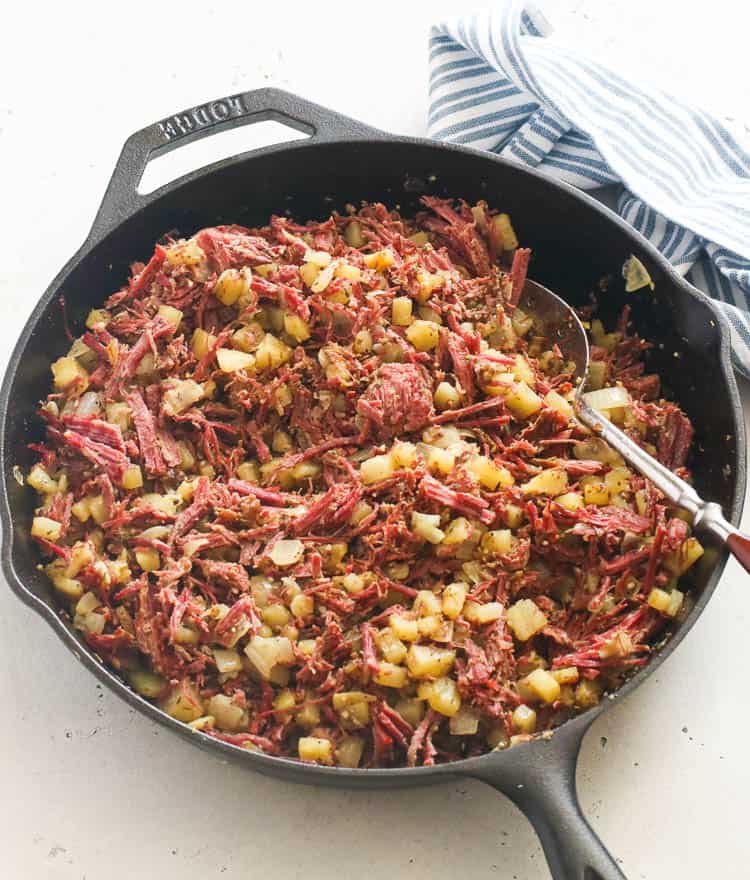 While we're talking about corned beef, you can't miss this one-pot stir-fry. It reminds me of St. Patricks' Day, where it's a must-have. Season the corned beef with brown sugar, apple cider vinegar, herbs, and brown mustard. The rest is easy! Just stir away in a hot pan. What a perfect lunch or dinner!
16. Jamaican Brown Beef Short Ribs
You know I love Caribbean flavors, especially when they involve beef. From my favorite Jamaican beef recipes, this rich stew is unique; it's a beauty. Use beef ribs for this one and throw in a bay leaf, paprika, onions, thyme, and your favorite spices. Don't forget to add bell pepper for color!
17. Beef Stroganoff
Beef and pasta are a match made in heaven. This classic recipe is up there with the most famous dishes on the planet, and it's easy to see why. A cream sauce brings beef and pasta together for a larger-than-life dining experience. Use beef sirloin steak and cut it into strips instead of cubes. At least that's how I like my stroganoff.
18. Beef Broccoli Stir Fry
Everyone's favorite takeout dish of Chinese influence, make beef and broccoli at home. It's super easy — and yes, it tastes better than takeout! Marinate the beef overnight for the best results. Only then will you get that rich flavor that makes this dish so unique.
19. Smoked Beef Brisket
When brisket is cooked low and slow, it just melts in your mouth. Indeed, this incredible dish is blessed by smoke and fire gives you an authentic piece of American history. Of course, you can use your favorite smoking method and wood flavor to provide the brisket with your signature flavor.
20. Beef Wellington
I won't lie; making Beef Wellington is a bit complicated, but it's so gratifying. However, this challenge is the kind I love. So you'll have tons of fun with this one! For the beef, use center-cut beef tenderloin, and for the sauce, heavy cream, Dijon mustard, spices, and wine. The sauce comes together with fresh mushrooms and butter. And the result is gorgeous — you just can't beat this flaky-crusted beef filet.
21. Beef Empanada
These South-American-inspired empanadas are treats you can serve along with the most beautiful grilled meat extravaganzas or asados. And, of course, they're lovely starters for grilling parties. You can either make your own empanada dough or use store-bought. The filling is relatively straightforward; just make sure you use high-quality ground meat for the best results. Not too lean, not too fatty.
22. Beef Tenderloin Roast
This beef tenderloin is fantastic not only because it tastes great. It also brings people together. And, of course, this recipe is perfect for those holiday meals for a huge dinner party. And you know what? It's easier to make than you think because cooking this tenderloin is pretty straightforward. What's truly exceptional is the pan sauce — butter, shallots, garlic, herbs, and beef broth become a rich sauce to round up the beef's intense flavor.
23. Ground Beef Curry
Fragrant and beefy, this colorful stew is one of my favorite curry dishes. Everyone loves chicken and curry together, but wait until you try this beef recipe. Of course, ground beef, potatoes, peas, and curry powder make this dish an authentic rainbow of exotic flavors.
24. Steak Tips
And the last one on the list, let's just say that these one-bite steak bits smothered in a savory garlic and butter sauce are one mean way of enjoying steak. They're perfect for a quick meal to put together in minutes. Honestly, the Creole seasoning and a splash of Worcestershire give a vibrant touch to these tender top-sirloin bites.
👉 Also check out my Easy Ground Beef Recipes HERE and Best Steak Dinner Ideas HERE.