Why go out and buy a rotisserie chicken when you can make a whole chicken yourself for less? Cooking a whole chicken isn't as difficult as you may think. And these whole chicken recipes will feed the family and leave you with tasty leftovers you won't mind eating the rest of the week. From whole smoked chicken to Instant Pot whole chicken, these recipes are a must-try for any home cook that loves serving up juicy, tender, and flavorful chicken dishes for dinner.
Cooking the whole bird can make life so much easier. After all, what's better than having leftovers? Not just for a Chicken Alfredo Pizza or that luscious Chicken Lasagna, but also an incredible chicken broth. Take off all the meat from the bones and save for tacos, put the bones in a big pot and cover with water and simmer for a couple of hours and you have an incomparable chicken broth. Nothing you get in a cube or can compare.
FAQs
What's the average time to cook a whole chicken?
If you have a 3-pound chicken, it will take about 1-1¼ hours to roast your chicken in the oven at 375F. Bigger chickens will take longer (4 pounds at 1¼ to 1½ hours; 5 pounds 1 ¾ to 2 hours). An Instant Pot can shorten this to an hour, depending on the size of your chicken.
Is it hard to cook a whole chicken?
Not at all! In fact, it's even easier because it takes a short prep time, and the rest is waiting for it to cook.
Should the whole chicken be at room temperature before cooking?
Yes, you can let it sit at room temperature for about 30 to 45 minutes. Otherwise, it may cook unevenly if it goes from the fridge and into the fire, so to speak.
The Whole Chicken Recipe Lineup
1. Instant Pot Whole Chicken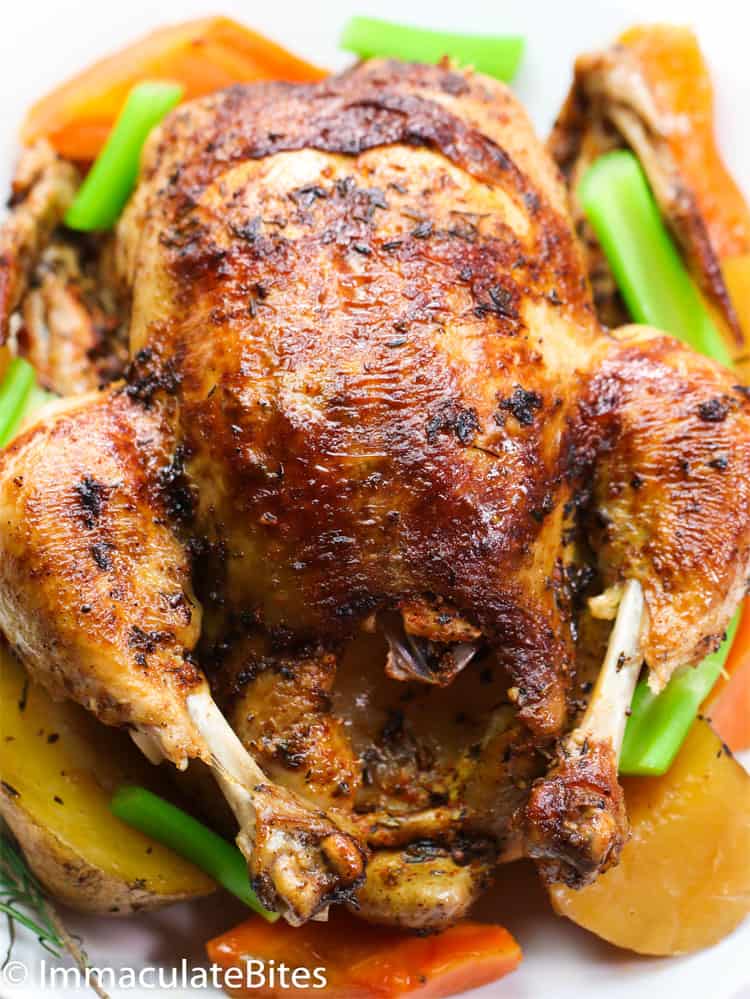 If you have an Instant Pot, this recipe will give you perfectly tender and juicy meat. Best of all, it's on the table in less than an hour! Additionally, Creole seasoning, thyme, and rosemary come together to make the chicken, potatoes, celery, and carrots in this recipe really sing.
You can round out the meal with fluffy Texas Roadhouse Rolls and slightly spicy southern Collard Greens. Or make it for Thanksgiving will all the same sides if you can't find that turkey, then everyone will be impressed.
Just wrap it up tightly or put it into an airtight storage container in your fridge, using it within three days or freezing for later.
Instant Pot Whole Chicken
Perfectly juicy, tender, and packed with flavors, this Instant Pot Whole Chicken is a fantastic hands-off dinner for Sundays or the holidays. Plus, it comes ready in less than 60 minutes!
Check out this recipe
2. Cajun Whole Roast Chicken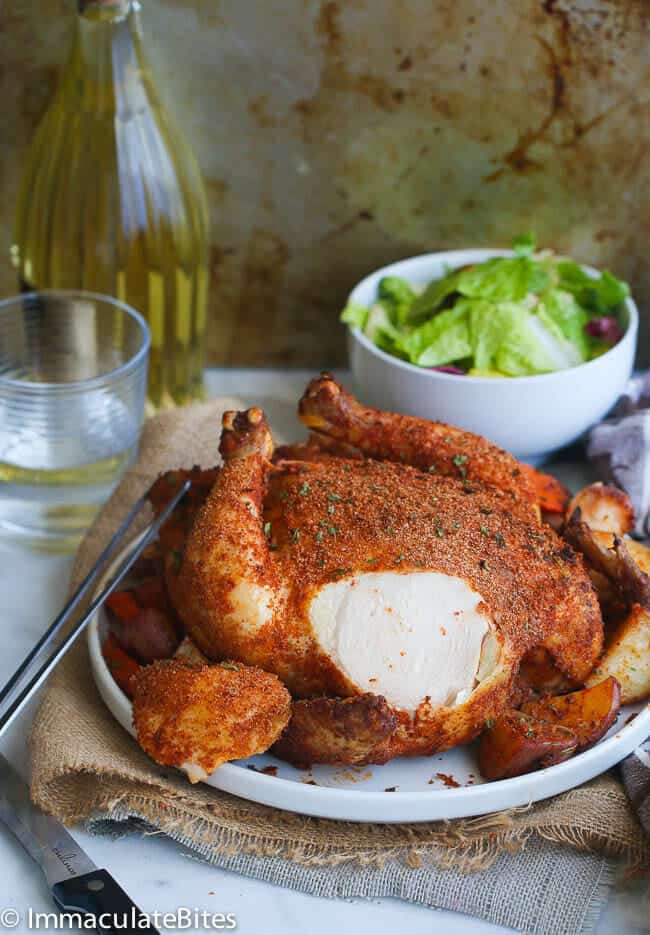 Let's get bold and spicy with this roasted chicken recipe. It's baked on a bed of tasty potatoes and veggies and tastes like a rotisserie chicken. It also satisfies all the textural elements with a crispy exterior and a juicy interior with minimal prep.
Hoppin John would go great with this meal, as would crispy Air Fryer Hush Puppies.
After enjoying these savory flavors, be sure to store leftovers properly. Never leave it out at room temperature beyond 2 hours, and store it in your fridge to enjoy for up to 4 days.
Cajun Whole Roast chicken
Whole chicken roasted with spicy Cajun seasoning on a bed of potatoes and carrots for a crispy, juicy, and super tasty bird with minimal prep.
3. Slow Cooker Whole Chicken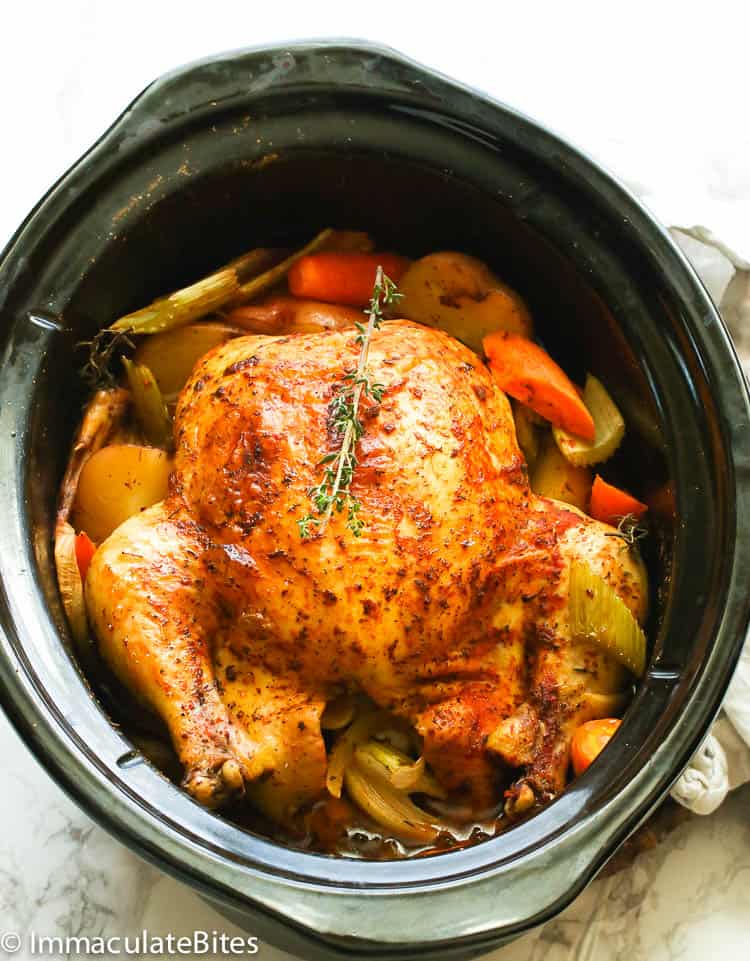 Most people don't realize they can put a whole chicken in the slow cooker. But you can! You get tender, juicy meat through and through with the flavorful drippings permeating the veggies. Thanks to lemon, thyme, Creole seasoning, and bay leaves, you get a wonderful savory flavor all over.
Try this deliciousness with cheesy Creamy Orzo and a Kale Salad full of fresh, crispy veggies and an amazing poppyseed dressing.
Like other whole chicken recipes, you'll want to put any leftovers in an airtight container and keep them in your fridge. You can freeze it, too, if you remove it from the bones.
Slow Cooker Whole Chicken
A completely easy meal with tender, juicy chicken on a bed of flavorful drippings and vegetables, all cooked in a crockpot. Way better than any store-bought rotisserie chicken you'd ever have!
Check out this recipe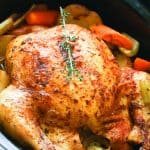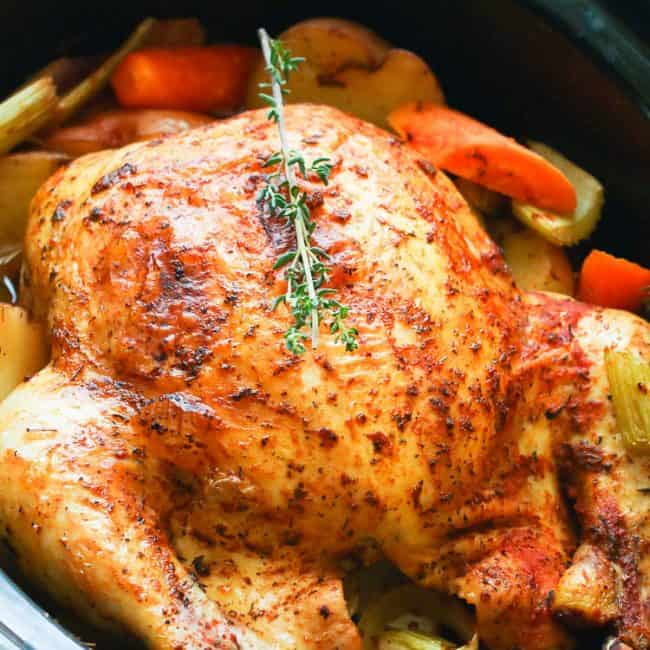 4. Smoked Beer Can Chicken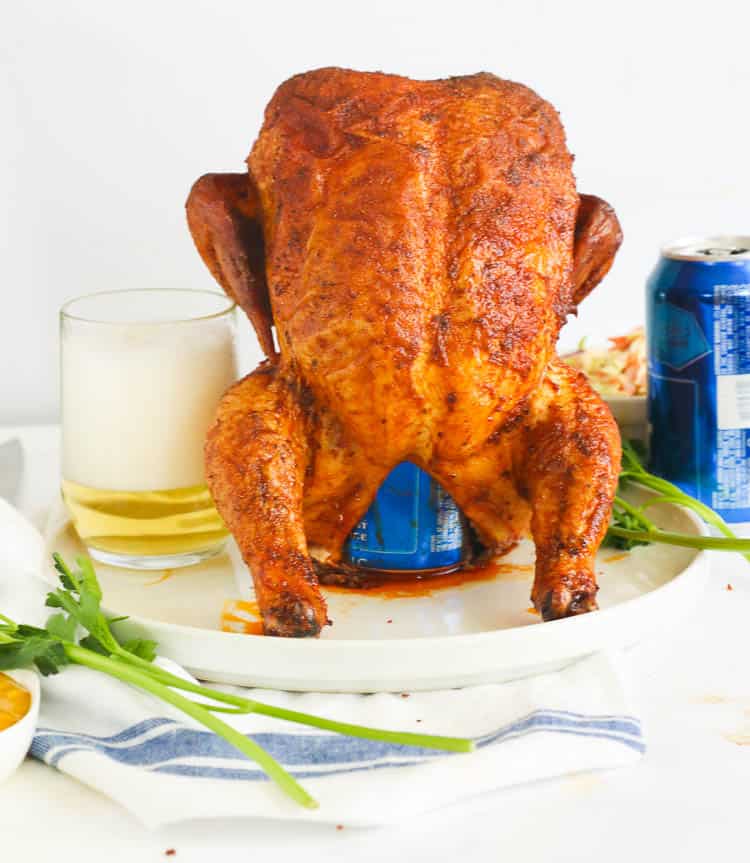 The cheerful color of this smoked beer can chicken makes it one of the best smoked chicken recipes there is. Just bring this one out for company, and you'll hear your guests singing your praise. You need a can of beer, garlic, bouillon powder, paprika, white pepper, and thyme to bring the flavors of this smoked chicken dish to life.
Serve it with cheery Pineapple Cucumber Salad, Oven Roasted Corn on the Cob, and Caribbean Rice and Beans. Yum!
After everyone enjoys their fill, make sure you store your whole smoked chicken in the fridge. Separating the meat and freezing it makes an easy way to meal prep too.
Smoked Beer Can Chicken
Perfectly seasoned Smoked Beer Can Chicken is set to give your taste buds an experience of a lifetime. This super easy whole chicken recipe serves as a great party center piece even if it's not the holidays. Just a slice of this amazing dish packs a great deal of flavor that goes well with many side dishes.
Check out this recipe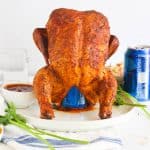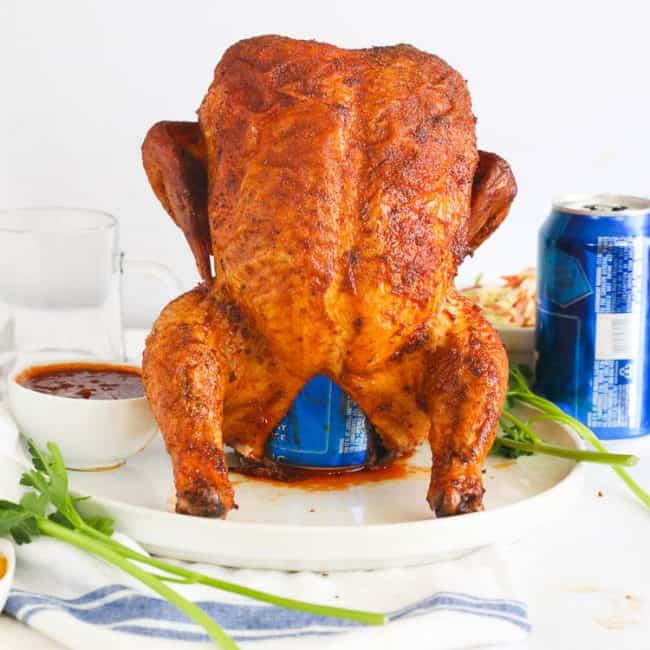 5. Blackened Spatchcock Chicken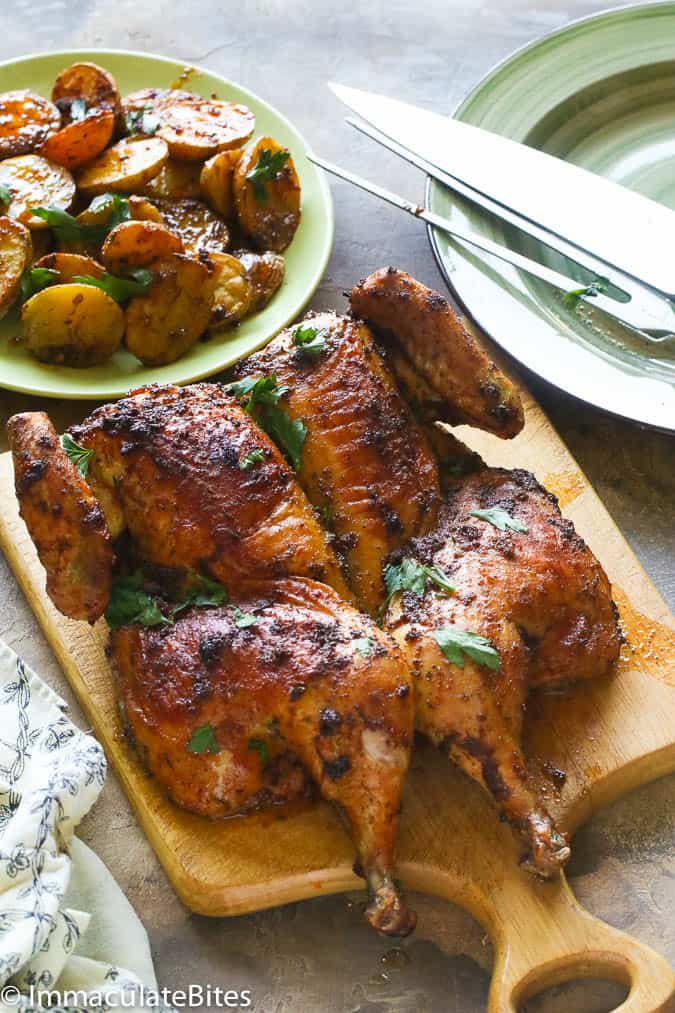 You can have this whole chicken recipe on the table to serve to your family and loved ones in less than an hour. And only 10 minutes to prep!
"Spatchcock" refers to the cooking technique where the chicken's backbone is removed to make it open and flattened before cooking, making for juicy meat.
You'll love it with creamy Tomato Basil Soup, Parmesan Crusted Baked Asparagus, and crispy Potato Croquettes. Yum!
Perfect for any night, you'll love it if you have leftovers to enjoy the next few days. Just keep them in your fridge and use them quickly for the best taste!
Blackened Spatchcock Chicken
Blackened Spatchcock Chicken – a mouthwatering, super easy chicken dish that is infused with Creole seasoning and roasted to perfection. Perfect for regular days or holidays!
Check out this recipe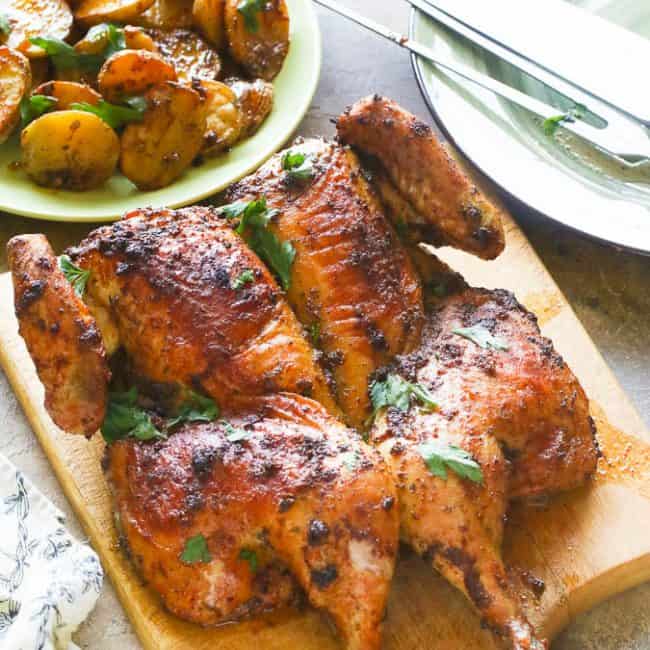 6. Smoked Chicken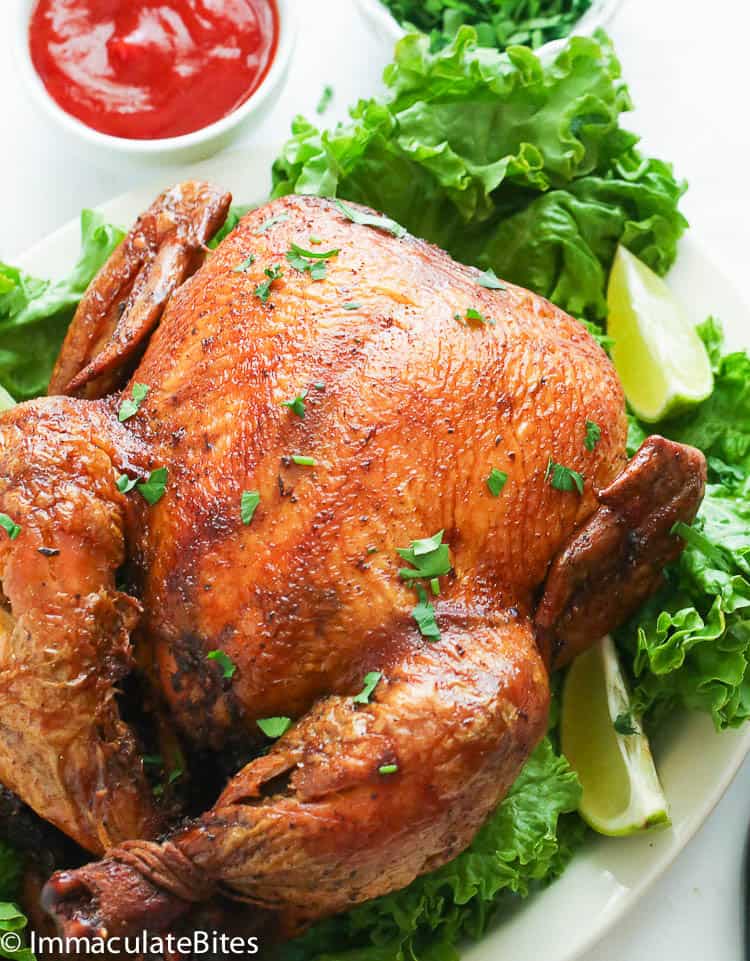 You don't have a smoker but wanna smoke a whole chicken? Then it's your lucky day! With just four ingredients to make a rub, you wind up with some of the most delicious chicken around.
This marinated whole chicken recipe goes great with refreshing Shaved Brussels Sprout Salad and Roasted Fingerling Potatoes.
Once you have this made, you can enjoy the leftovers for a few days in the fridge. Savor it for longer by wrapping it well and putting it in the freezer to save dinner on a busy night.
Smoked Chicken
Smoked Chicken – tender juicy and delightfully flavorful whole chicken coated in a 4-ingredient homemade rub and slow smoked to perfection. The easiest yet most flavorful whole chicken you could ever have!


Check out this recipe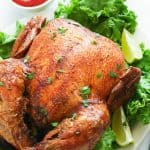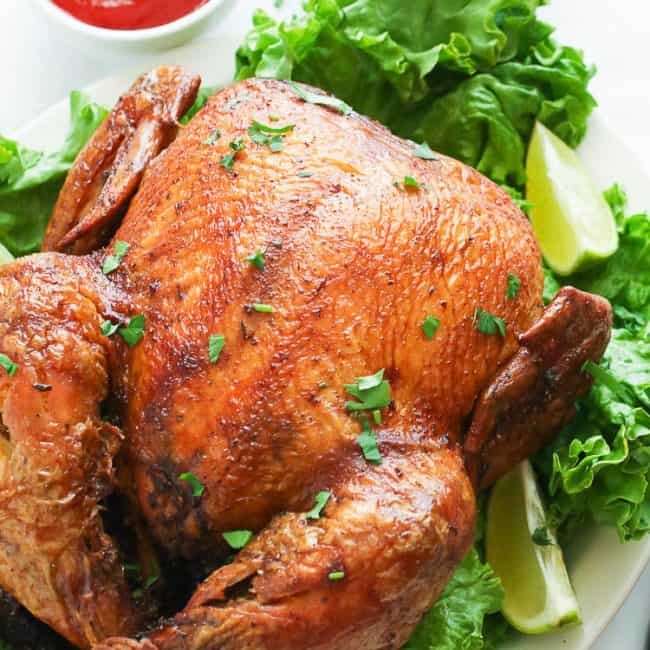 7. Ashanti Chicken Whole Deboned Chicken Rice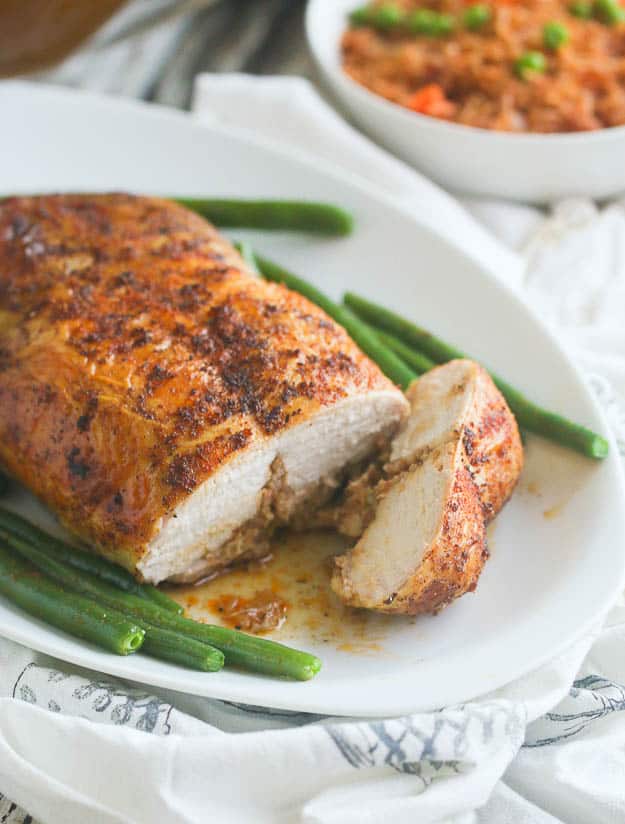 For something more original, try this Ashanti chicken. It's a deboned roast chicken seasoned with thyme, garlic powder, cayenne pepper, and bouillon powder stuffed with spicy Jollof rice, a traditional African dish. It will impress your guests with its elegance and flavor.
Throw in some Rosemary Roasted Potatoes and a gorgeous Greek Salad to add to the table for a complete meal.
If you have any leftovers, store them in the fridge and use them within a few days. And if you make extra, it will keep in your freezer for three months, too.
Ashanti Chicken( Whole Deboned Chicken With rice)
Ashanti Chicken- Whole Stuffed Deboned Roast Chicken- stuffed with Jollof rice paired with gravy from drippings
Check out this recipe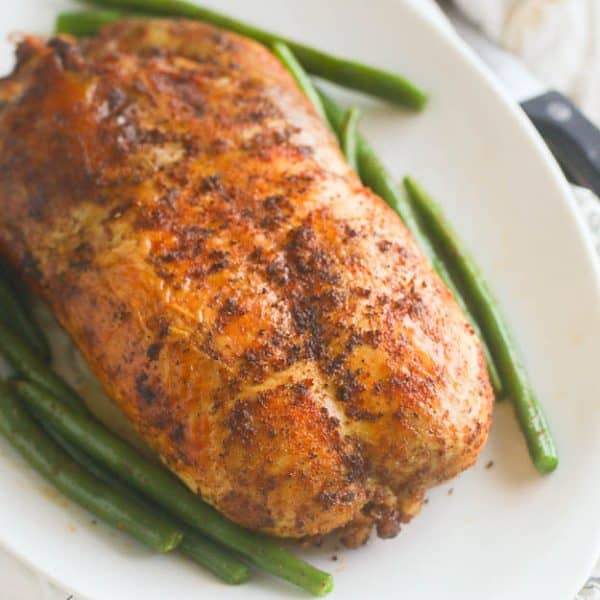 8. Chicken With East African Flavors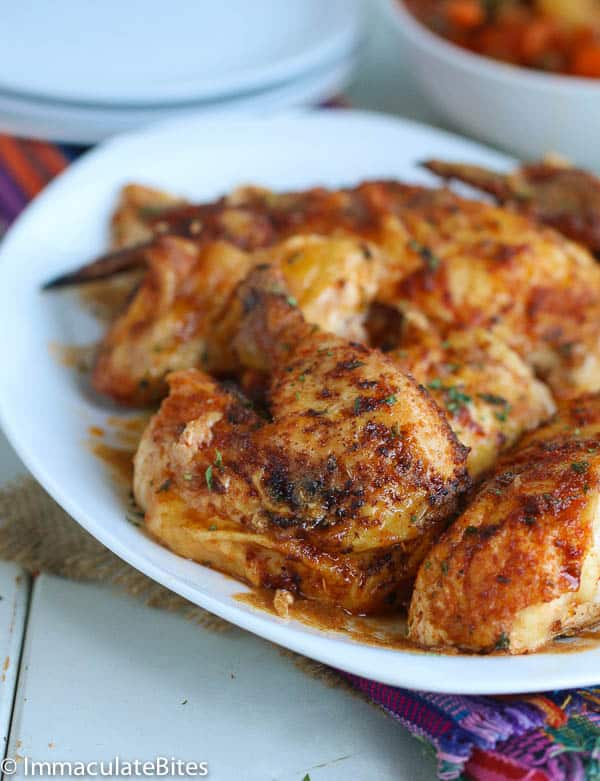 Cumin, cardamom, and chili pepper combine with other spices to reveal this crispy yet tender roasted chicken that bursts with flavor. Just 10 minutes is all you need for prep!
This mouthwatering chicken creates a memorable experience. It goes beautifully with Sauteed Kale and Black Beans and Rice.
You can use coconut oil in place of the butter if you wish, but whatever you do, remember to store this in the fridge when you're finished with dinner. And use up those leftovers within a few days if not freezing them!
Chicken With East African Flavors
Roast Chicken with East African flavors – It's unbelievably crisp-tender and packed with so much flavor! With less than 10 mins prep tops!
Check out this recipe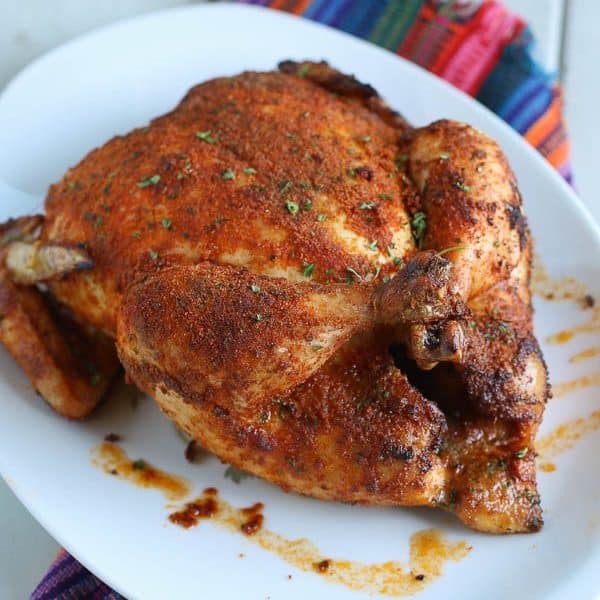 9. Roast Cornish Hens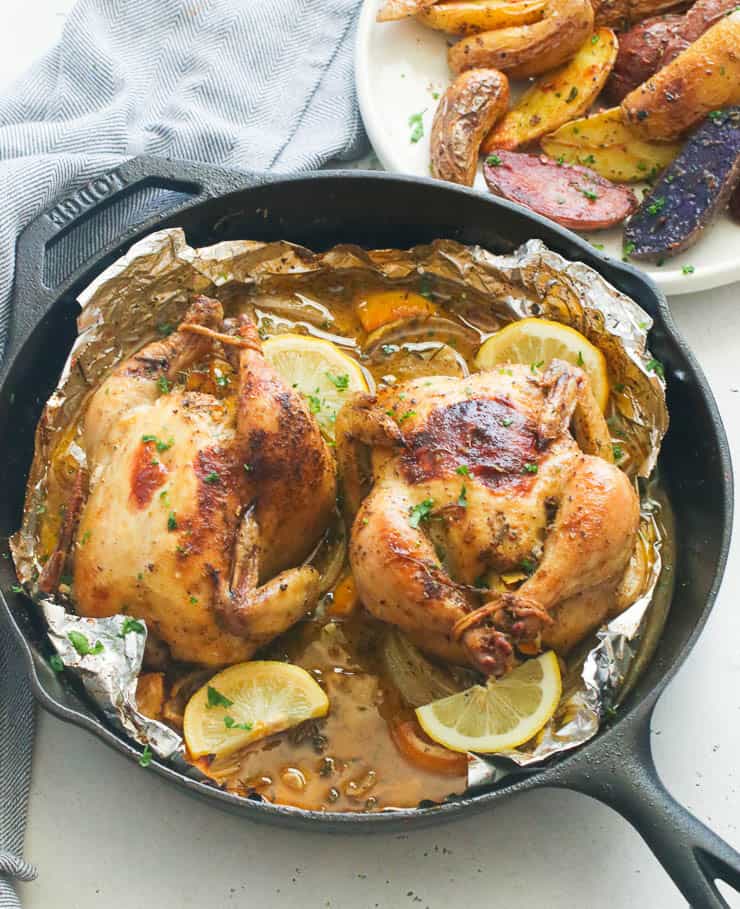 When you want to make an unforgettable impression for a special occasion, perhaps an anniversary date night, Cornish roast hens are packed with flavor. Plus, the meat just falls right off the bone.
With no need to carve these smaller birds, the elegant flavors of this recipe could do with some lovely sides. Duchess Potatoes look gorgeous with these hens, plus a little green from Sauteed Spinach will round out your meal.
Never forget to wrap your leftover Cornish hens properly. Finish them within three days or freeze them for up to a month.
Roast Cornish Hens
Perfectly tender and juicy, savory with a touch of boldness, roasted Cornish hens are sure to become the new family favorite! This flavorful dish packed with fresh herbs and seasonings is simply unforgettable.
Check out this recipe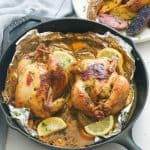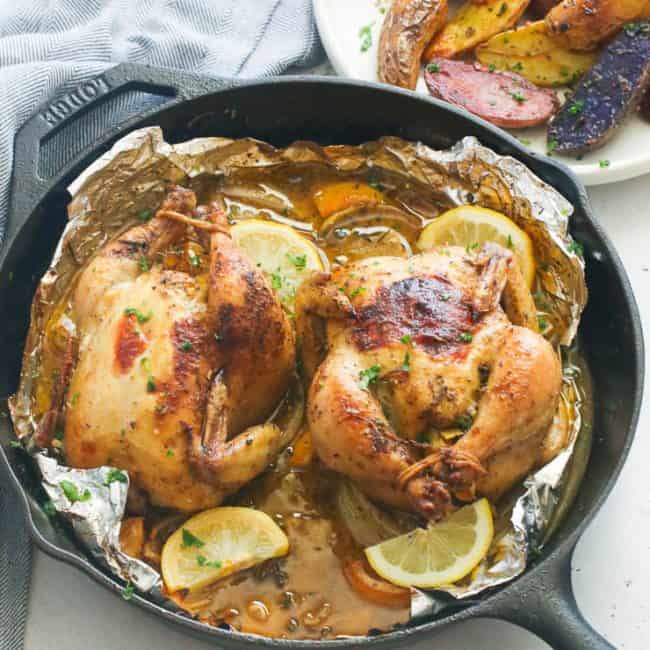 For any of these nine recipes you choose, you'll discover new ways to bring out the best taste for whole chicken!