Chicken legs and thighs are economical and easy to prepare. They're easy to keep in the freezer and cook up at a moment's notice. These 9 amazing chicken leg recipes will save the day, whether you want them fried, baked, smoked, or grilled. And these guys are packed with flavor, so no boredom here.
I ain't gonna lie. Well, there's no need, actually, because drumsticks are cheap and mouthwatering. Okay, so I love, love, love having a good selection of chicken leg recipes on hand. First, because drumsticks are so juicy. And second, to get me out of the rut of, "What am I going to cook tonight?".
FAQs
How long does it take chicken legs to cook?
That depends on the size and cooking method.
They take longer to simmer (about 45 minutes).
Baking or frying is a little faster (about 35 minutes) because you can turn up the heat.
Braising combines panfrying first, then finishing them off in the oven (covered with a bit of liquid). You can have them on the table in about 30 minutes.
You can cook them faster by turning up the heat, but you also risk burning them.
How many drumsticks are a serving?
Everyone is different. That said, I figure on two chicken legs per person. I don't mind making three per person because I love leftovers for recipes that ask for cooked chicken.
Why do chicken legs take longer to cook than the breast?
Chicken legs have more fat and moisture than the breast. The meat is also denser and requires more time. However, that is a good thing. It's tough to overcook and dry out the legs, while the breast can turn dry in a heartbeat.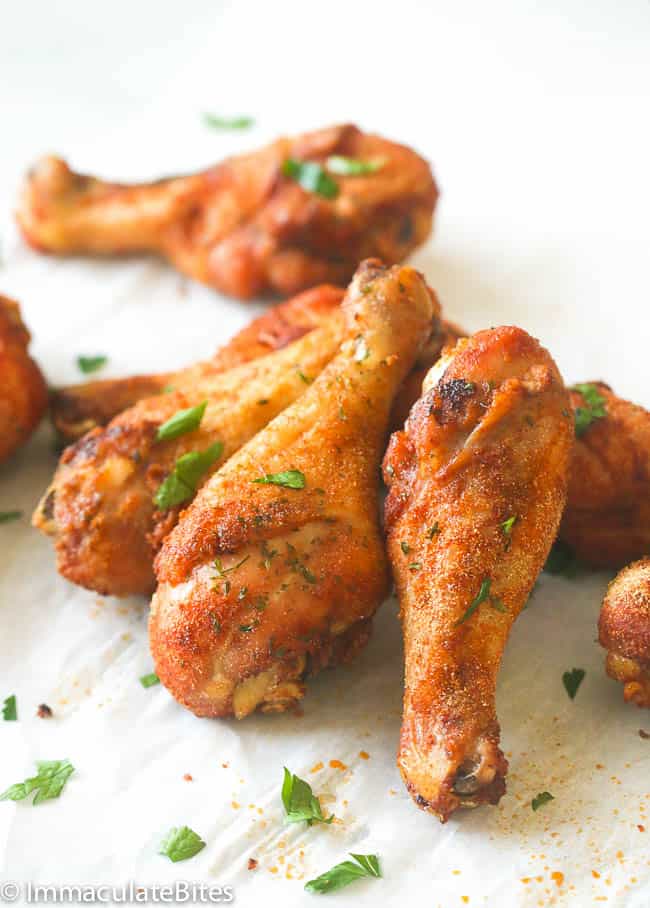 I love crispy Chicken Wings, but they have become popular enough to drive the price up. So I decided to try the same baked crispy technique on chicken legs. And guess what? They are divine!
One of my go-to sauces to serve with this delicacy is African Pepper Sauce. When I make it for dinner, we like to have Roasted Red Potatoes and Sauteed Brussells Sprouts.
Since these babies are crispy, I like to put a paper towel in the bottom of the storage container and another one on top of the chicken legs. Then reheat them in the oven to crisp them up again. They'll last for a couple of days in the fridge.
Baked Crispy Chicken Legs
A few simple tricks make these chicken legs crispy on the outside, tender and juicy on the inside, and ridiculously flavorful. It's quick, easy, paleo, gluten-free, and only requires 10 mins prep.
Check out this recipe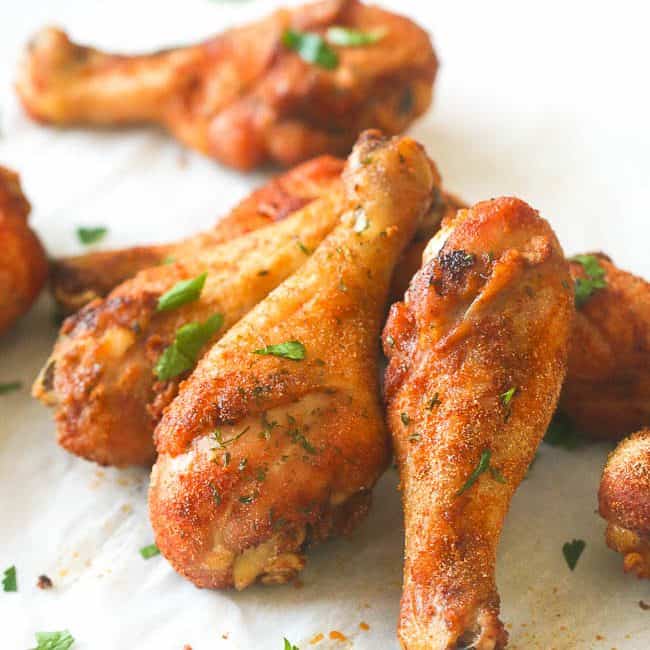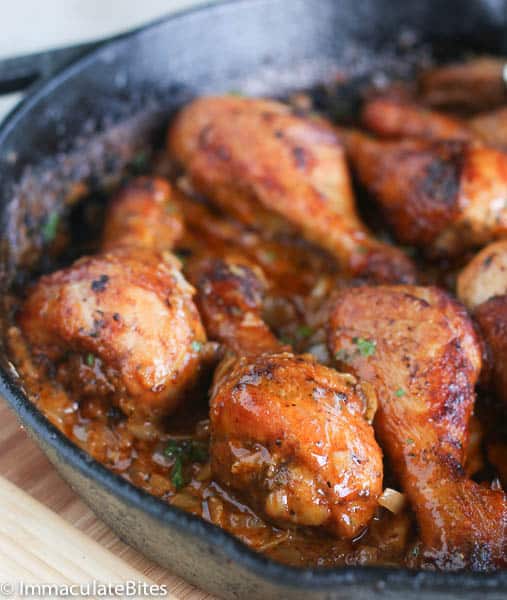 Baking chicken legs is so much easier than watching them to keep them from burning on the stovetop. I adore the robust flavors and a creamy sauce that can be in the oven in just 10 minutes of prep time, not to mention the intense and pleasurable flavors from herbs, onion, garlic, and of course, cream.
Mashed potatoes go great with these, as does a good salad, like a Greek Salad. Yum! There's something about a salad that is so refreshing.
I store these creamy baked chicken legs in an airtight container with the sauce. It lasts about three days in the fridge when properly stored.
Spicy and Creamy Baked Chicken Legs
Baked Chicken Legs (Creamy and Spicy) — a creamy baked chicken that has robust flavors and a creamy sauce with just 10 minutes prep time. Perfect for busy weeknight meals or gatherings!
Check out this recipe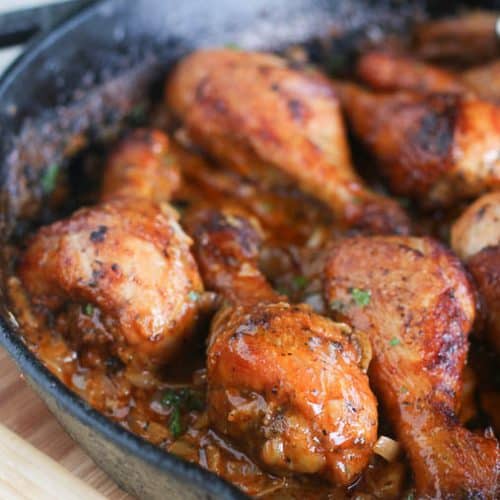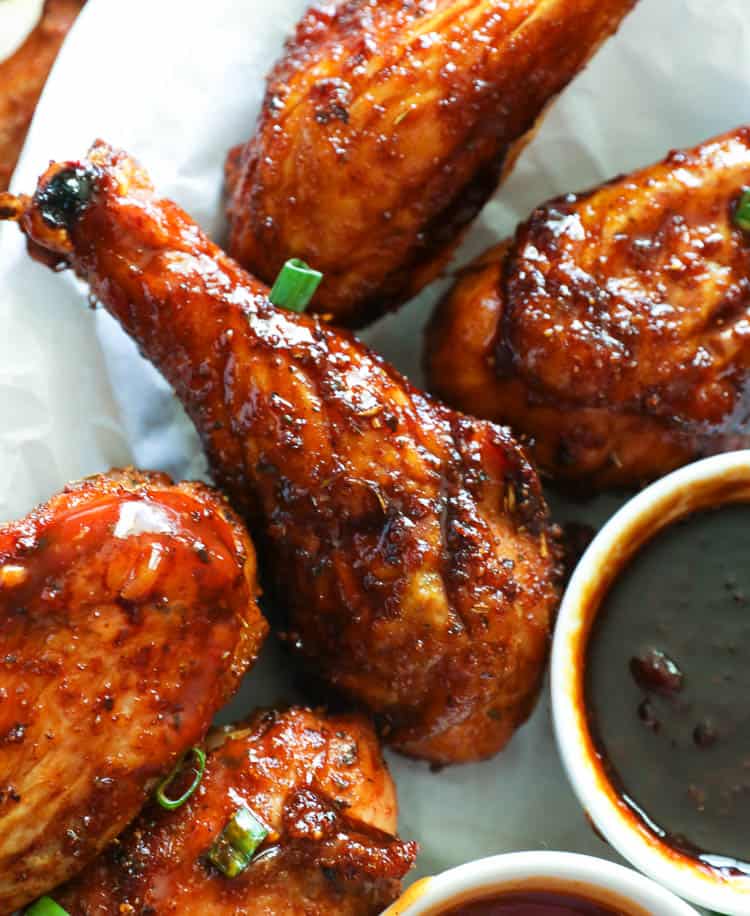 Smoking enthusiasts almost everywhere love to smoke chicken legs. The smell alone will have you drooling. It's also one of the easiest ways to make a fall-off-the-bone meal! And, frankly, I like that the smoky aroma and flavor go down to the bone.
The smoked chicken legs already have a mouthwatering sauce. So I like to serve Seasoned Rice and perfectly balance the smokey flavor with a Carrot Raisin Salad.
Smoked chicken legs can last up to four days in the fridge when properly stored. You can reheat them in the oven by loosely covering them with foil and baking them for about half an hour at 325℉/162℃ for about 20 minutes or until heated through. Or you can put it in a microwave-safe container and nuke it (less than ideal because you can't guarantee it will get hot all the way through).
Smoked Chicken Legs
It's not surprising that smoked chicken legs are a fan-favorite comfort food for smoking enthusiasts almost everywhere. Today, I'll show you a super easy way to prepare your favorite poultry part without the messy splatters. The juicy meats and the crispy skin simply spell out deliciousness with aroma you simply couldn't resist.
Check out this recipe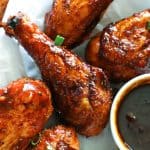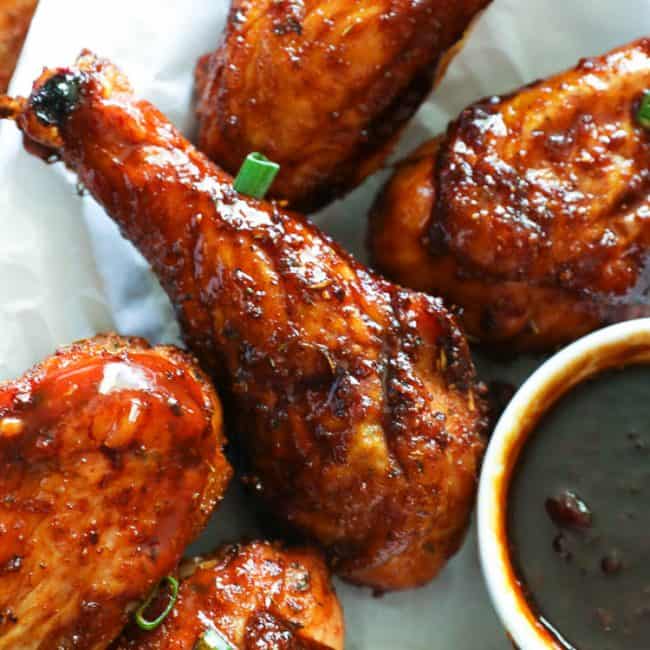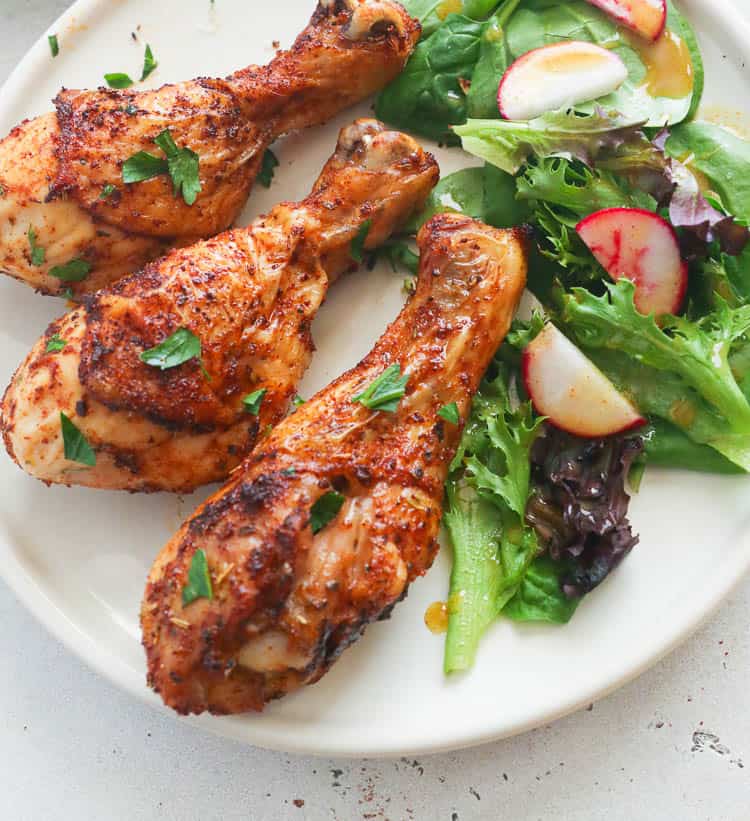 Fried chicken is popular Southern comfort food that makes a huge mess when you make it—air fryer to the rescue. Not only is it just as delicious as its fried friend, but it's also healthier.
Well, you can already tell I love to serve a good Tossed Salad with this tasty dish. A side of Rosemary Roasted Potatoes is another family-pleaser that perfectly pairs with these juicy legs.
When I have leftovers, which is rare, I try to keep them as crisp as possible by lining the container with a paper towel to soak up the extra juice. Then I reheat them in the air fryer or oven. They'll last properly stored in the fridge for three or four days.
Air Fryer Chicken Legs
Juicy, tasty, and lip-smacking good chicken legs oozing with natural flavors. This air fryer chicken dish takes away the messy and oily spills in cooking your favorite comfort food. Now you don't have to worry about hurting yourself with oil splatters or those extra calories from oil!
Check out this recipe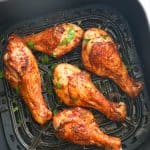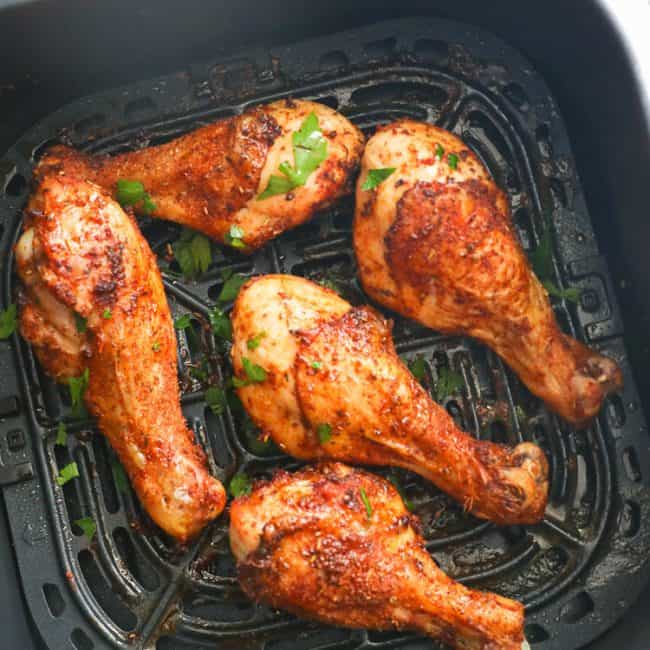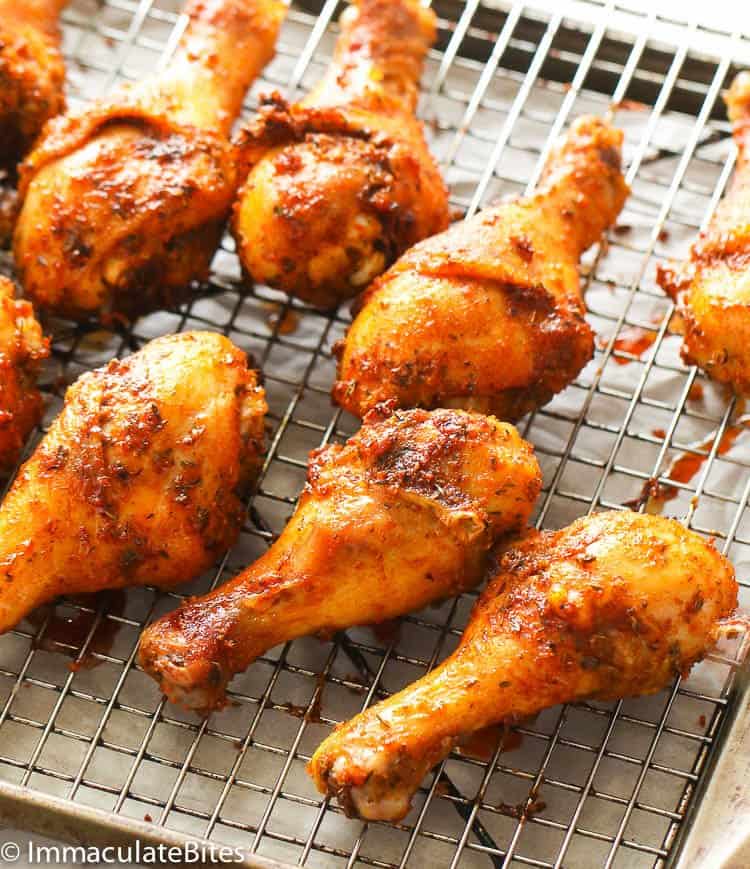 So how many ways can you eat chicken legs until you get tired of them? Keep changing out the spices, and hopefully, that will never happen. One example of that is garlic and paprika. I don't think I could ever get tired of either one. Even better, these babies are so quick to make.
An elegant pairing for this delicious recipe is Roast Fingerling Potatoes. I like to make Parmesan Crusted Baked Asparagus too, for a spectacular dinner for a special occasion.
These crispy baked chicken legs do best when stored in a paper-towel-lined storage container. They'll last for three or four days that way. You can either reheat them in the oven or take the meat off the bone and use it in a recipe that calls for cooked chicken, like Chicken Lasagna.
Paprika Chicken Legs
Paprika Chicken Legs – Resist the temptation of cooking the same thing over and over and make this Baked Garlic Paprika Chicken Legs. It's packed with great flavors from garlic, onion, cayenne pepper, herbs and, of course, paprika. It'll be a new family favorite easy dish!
Check out this recipe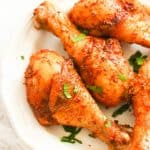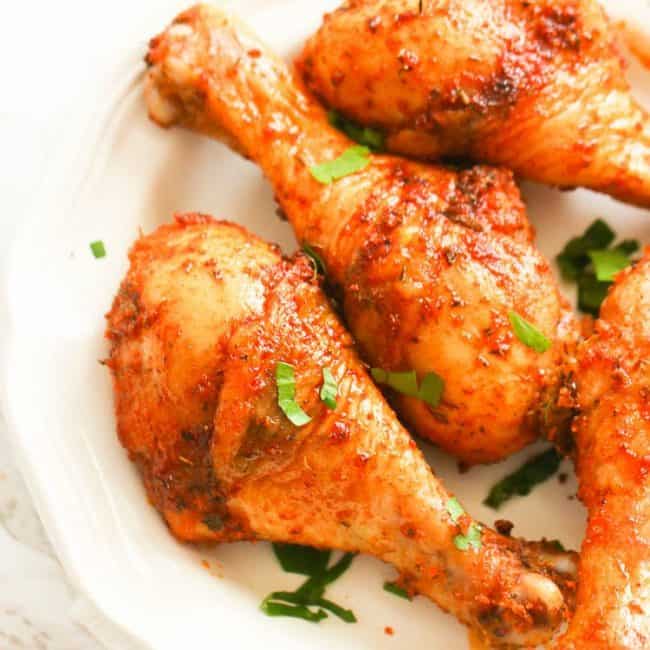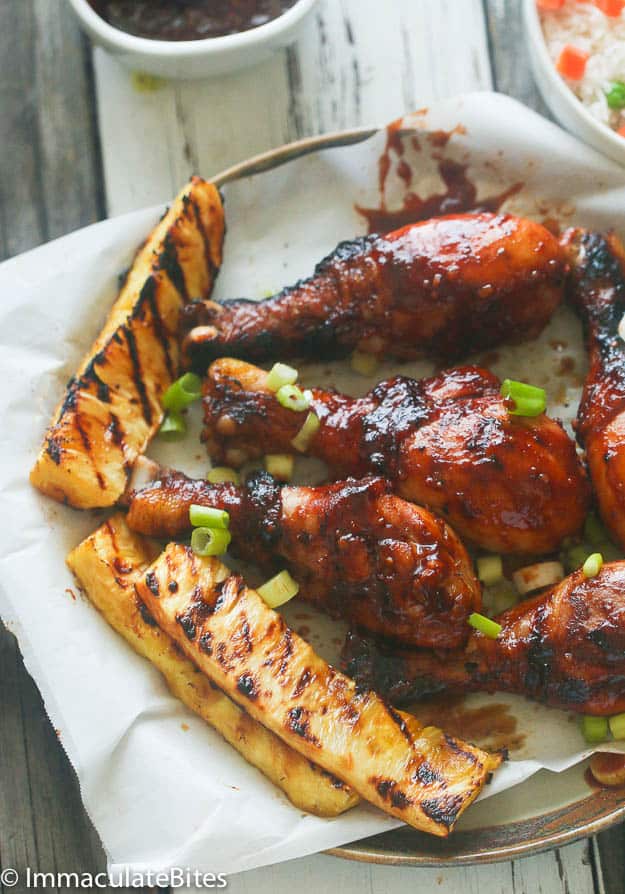 Sweet pineapple, ginger, garlic sauce make deliciously sweet and sticky chicken legs. And it's even better on the grill. Have you tried grilled pineapple? The smoky char on the chicken and pineapple are heavenly.
I know you may think this is a lot of pineapple in one meal, but I love the tropical flavor in Pineapple Cucumber Salad. Baked Yuca Fries complete the tropical-flavored meal.
Since these mouthwatering pineapple-spiked chicken legs have a finger-licking-good sauce on them, you can store leftovers in an airtight container in the fridge for three or four days.
Huli Huli Chicken
Huli Huli Chicken – Grilled or Baked Hawaiian Chicken Drumsticks marinated in a sweet pineapple, ginger, garlic sauce. Sweet, Sticky and Sweet.
Check out this recipe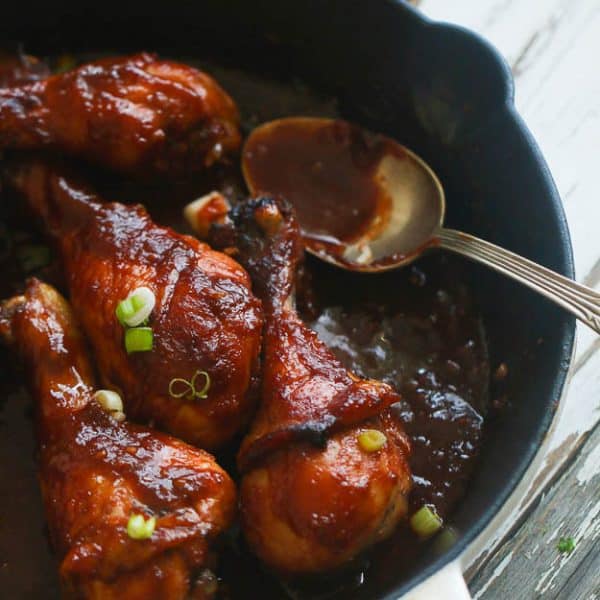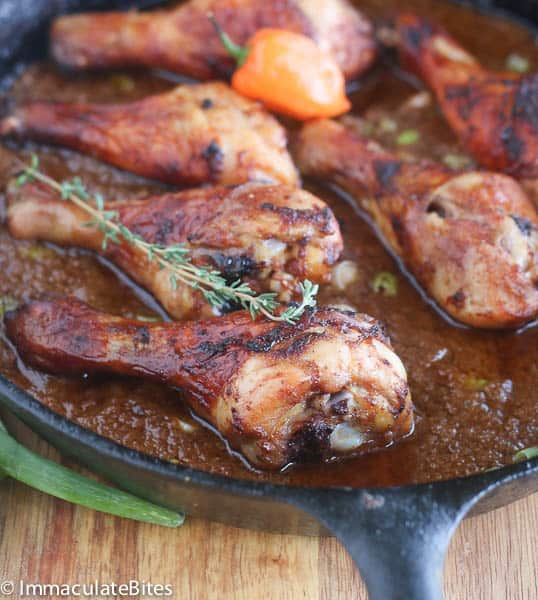 This spicy Jamaican jerk sauce is super easy to make and will give you an unforgettable tastebud explosion! It can be a really spicy dish. However, you can adjust the heat. If you are a heat seeker, you can definitely add more Scotch bonnet.
Jamaicans like cabbage, so I serve it with Fried Cabbage. And no Caribbean experience would be complete without Jamaican Rice and Peas.
If I have leftovers (and that's a big IF), I store the chicken legs with the scrumptious sauce in an airtight container in the fridge for three to four days.
Oven Baked Jerk Chicken
Crispy, Moist, Flavorful chicken smothered in spicy jerk sauce easy to make and a taste bud explosion! A Caribbean vacation right out of your oven.
Check out this recipe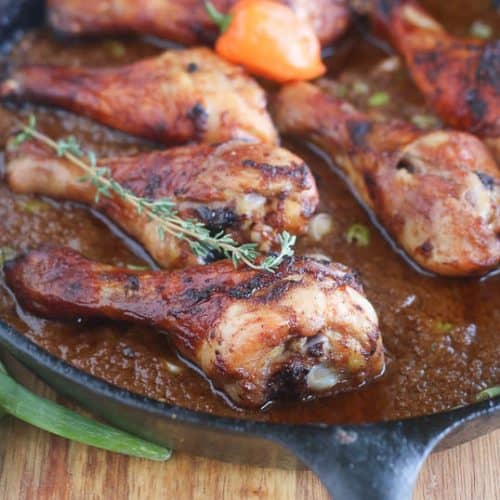 BBQ chicken legs are a weakness of mine. This finger-licking-good homemade BBQ sauce is worth the time it takes to make. Yum!
This has to go with Southern Potato Salad or Easy Coleslaw. Take your pick or fix both.😉
These scrumpdillyicious drumsticks store in the fridge in an airtight container for three or four days. You can freeze them, too. They keep that way for up to three months.
Sticky BBQ Air Fryer Chicken Legs
These air fryer chicken legs are so simple to make with just 3 ingredients! Perfect to serve as an appetizer or part of a main meal, they require very minimal prep and are ready to serve in about half an hour. Deliciously sticky and made with my homemade BBQ sauce.
Check out this recipe
There is little more gratifying than coming home to dinner already done. Slow cookers are one of my favorite kitchen tools, especially if I have to be out all day. Coming home to the mouthwatering aroma of teriyaki chicken wafting through the air makes even the toughest day better.
Asian-style food definitely goes with rice. My go-to recipe is Egg Fried Rice, and I love to have a salad, too. This Light Chinese Chicken Salad, for example. When serving it with chicken, I leave the chicken out of the salad. It's the dressing that makes it so delectable.
In the unlikely case you have leftovers, you can store these chicken legs in an airtight container for three or four days in the fridge or three months in the freezer.
Slow Cooker/Instant Pot Teriyaki Chicken Legs
Using a homemade sauce, these family friendly teriyaki chicken legs are a crowd pleaser. Make this easy low-carb, paleo, whole30 chicken recipe in your slow cooker or Instant Pot.
Check out this recipe
Flavor-Packed Chicken Leg Seasonings
The key to finger-licking-good chicken drumsticks is the seasoning. I tell you, you can take the same ol' ingredients, change out the spices, and you have a brand-spankin'-new recipe. The following are just a few of my go-to spice mixes.
You can take a couple of tablespoons (or how much you want) and mix it with a tablespoon of olive oil, and you have a marinade. Rub it all over those legs (the chicken's, not yours), allow it to sit for about an hour, and then throw those babies in the oven. That's how easy it is.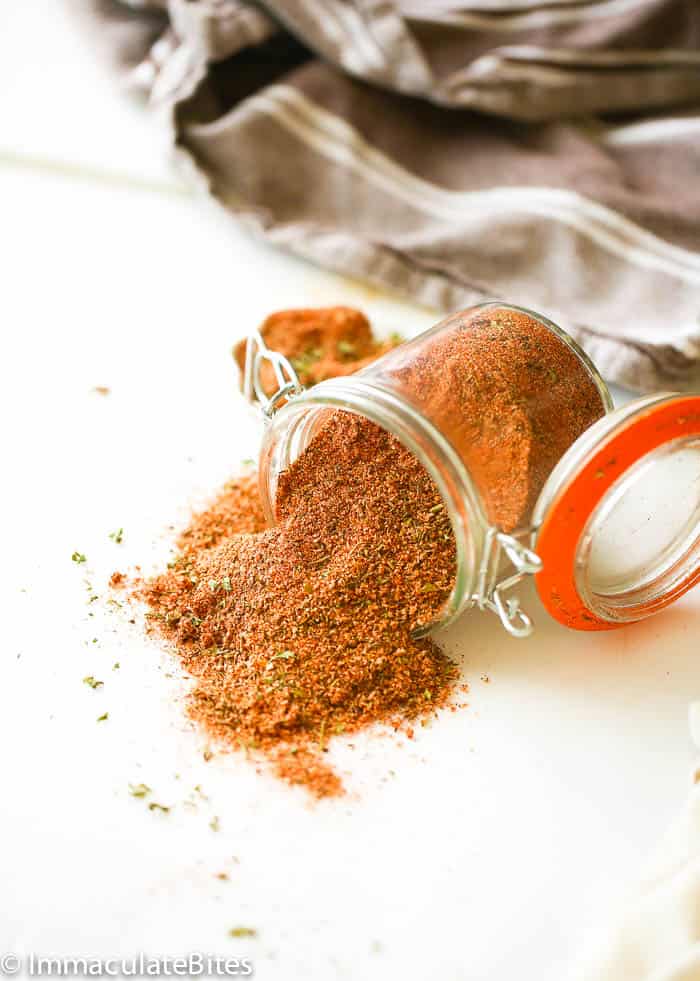 This incredible spice mix has become really popular in the last decade. And I get it! What's not to love about garlic powder, onion, black pepper, paprika, and cayenne pepper? Making your own allows you the freedom to adjust the ingredients to what you like best.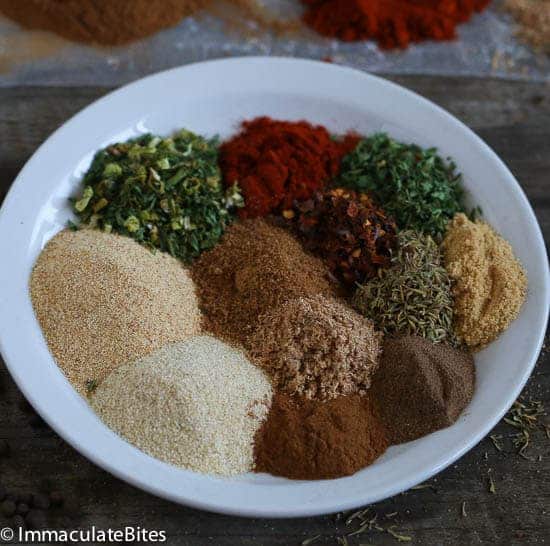 Who would have thought that the spices we usually use for desserts would really amp up a savory dish? Garlic, onion, and thyme accompanied by cinnamon, ginger, nutmeg, and allspice are an incredible combination.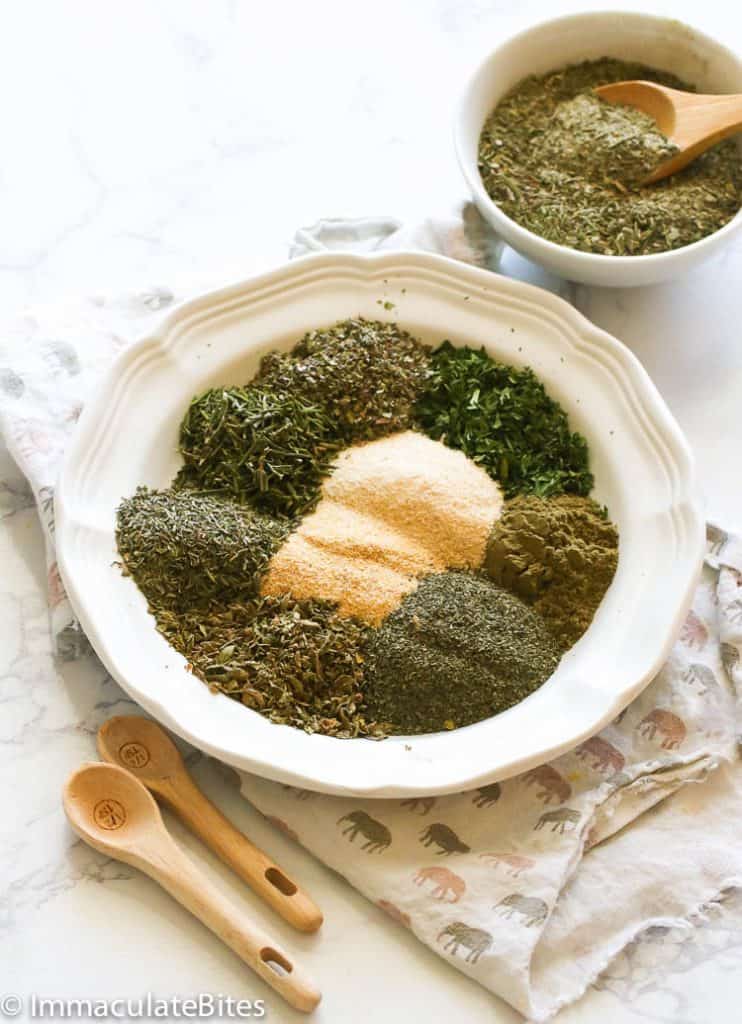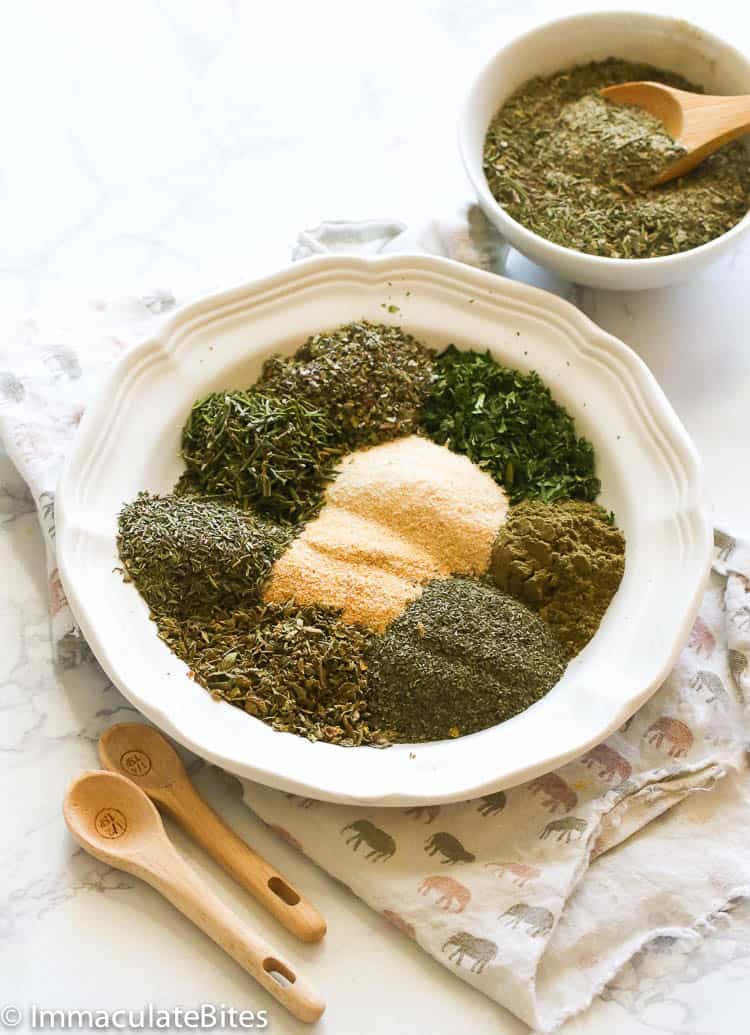 I consider this basil, oregano, rosemary, and thyme seasoning a pantry staple. Not only does it go great in Pizza Sauce and Easy Homemade Lasagna, but it makes an awesome rub for chicken legs. Like I said before, mix a couple of tablespoons of this fantastic blend and mix it with a tablespoon or two of olive oil, and you are good to go.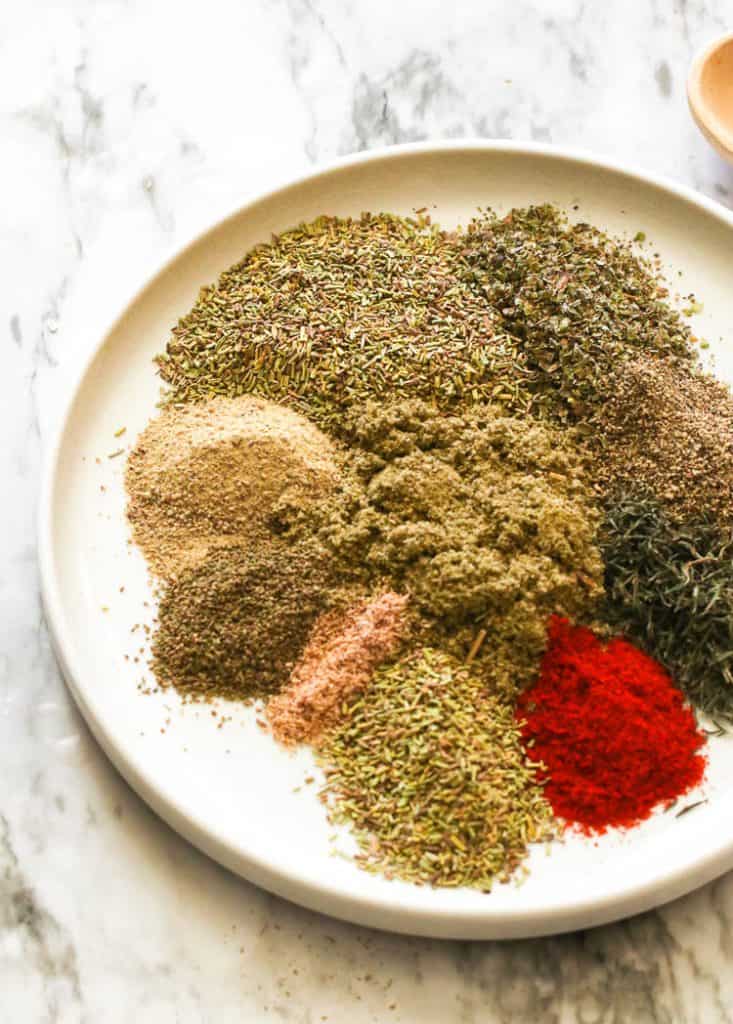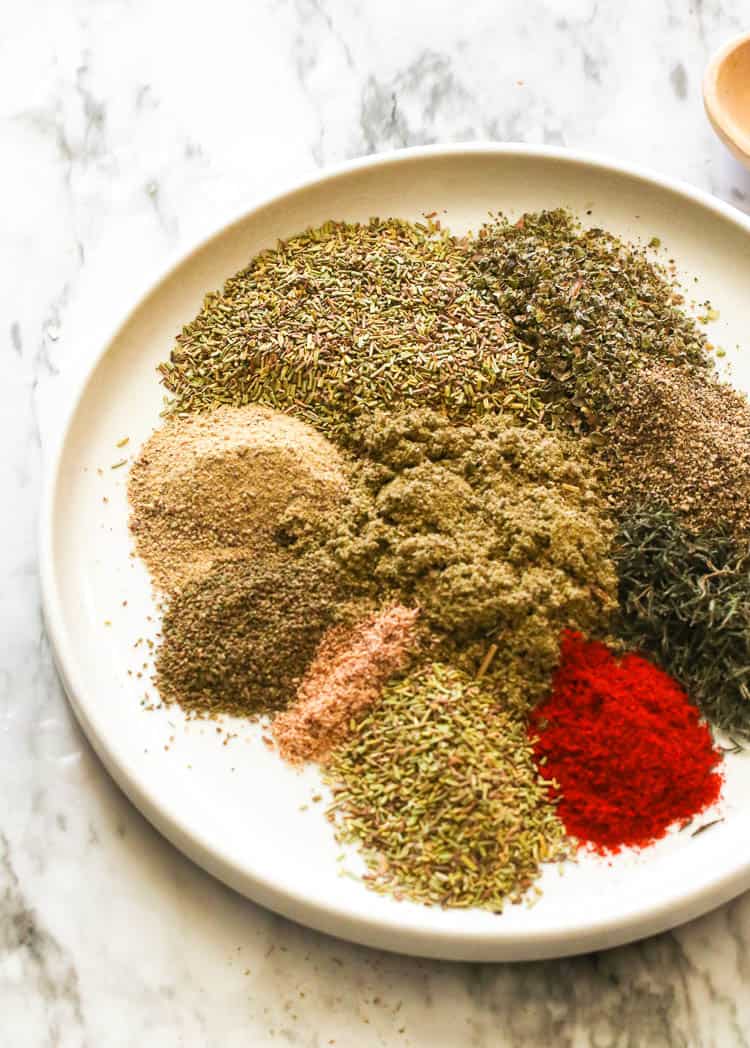 Well, what do ya know? A seasoning blend that was created just for chicken and all its cousins. Sage, thyme, rosemary, marjoram, and black pepper are typical ingredients. But there are also blends with celery flakes, ginger, cayenne, and allspice. This wonderful mix is easily adjusted to personal tastes. This mix is perfect for Roast Turkey, too.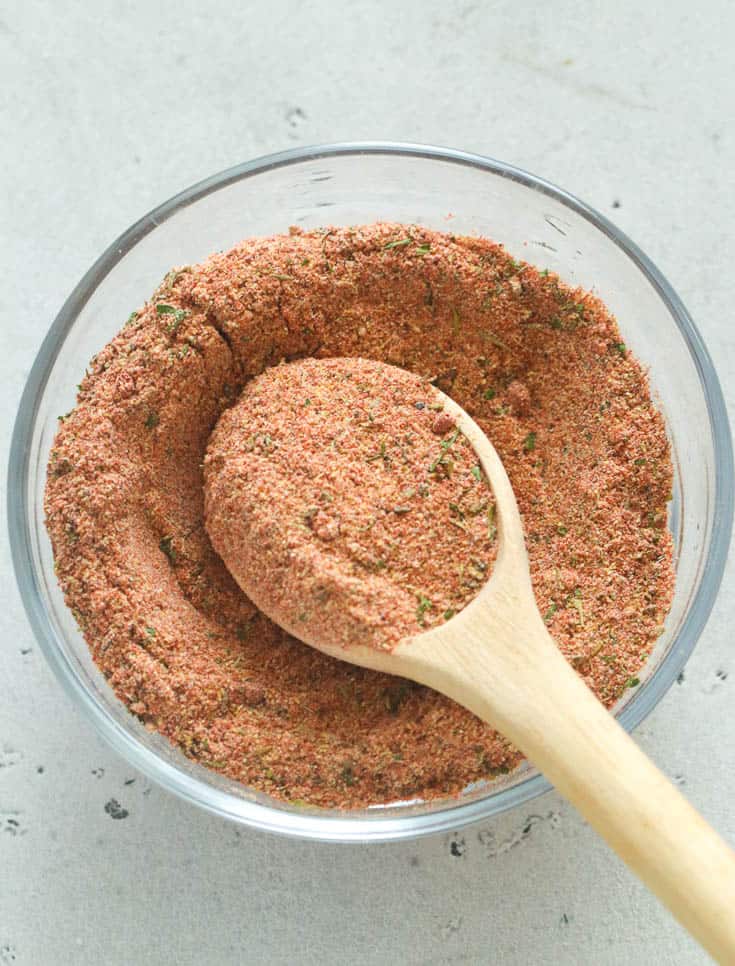 I think one of the reasons I love this spice mix is because it's similar to my beloved Creole Seasoning. It enjoys the kick of paprika, oregano, parsley, cayenne pepper, and other spices. Not to mention, it's an essential ingredient in Blackened Salmon and Blackened Shrimp and Pasta.