Everything you need for your Thanksgiving turkey is consolidated into this one handy-dandy little cheat sheet. From choosing the perfect turkey to what sauces should go with it; I got it all covered for you.
As the holidays get closer, we're all thinking about family gatherings and what we will do. Are you starting to get nervous about getting your traditional Thanksgiving dinner together?
After all, the turkey (or ham) is the centerpiece and main attraction. It would be wonderful to have a ready-made list of everything you need for your Thanksgiving turkey.
If not the biggest, Thanksgiving is one of the biggest days of the year, and you want to do it right. Being in charge of making the Thanksgiving turkey can be intimidating. I hear ya!
However, there are things you can do now to reduce or even eliminate the stress.
Take for example…some love cranberry sauce, while others despise it. I think it's just because they've only had it out of a can. I agree with yuk! 😅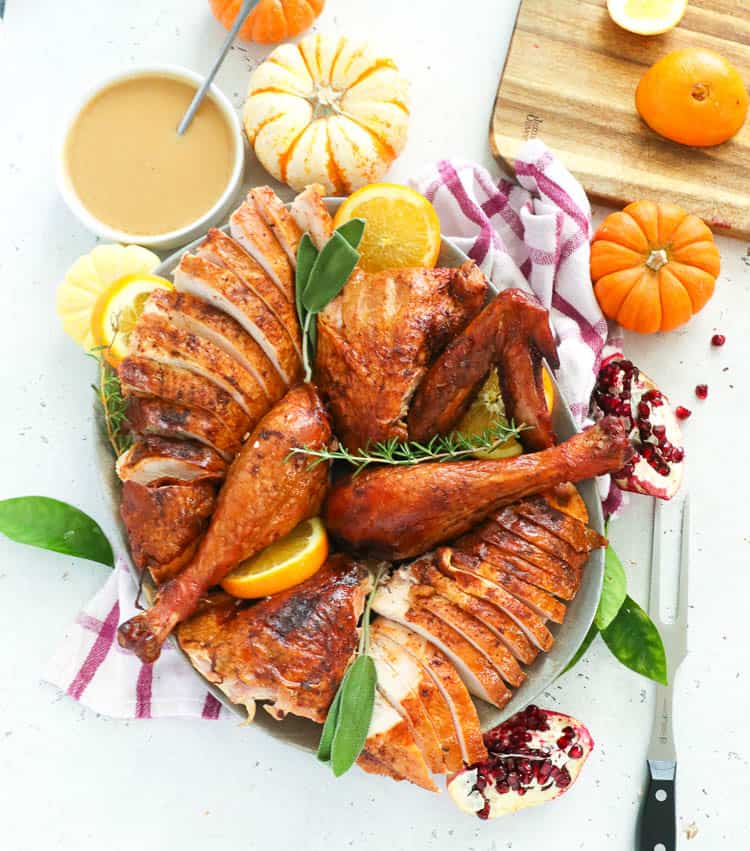 If you make homemade cranberry sauce with real cranberries, I think you convince them otherwise.
The first step is to decide whether you want a traditional Thanksgiving or if your family wants to try some non-traditional dishes.
My suggestion is to mix the two. The turkey is typically the centerpiece around which all the side dishes revolve.
The second step is to decide how you want to cook the iconic turkey.
I'm seriously thinking about smoking a spatchcocked turkey. A traditional dish cooked in a novel way. Yum!
There may be some that prefer ham. I'm not here to judge; do what makes you happy.😉
Thanksgiving Turkey Cheat-Sheet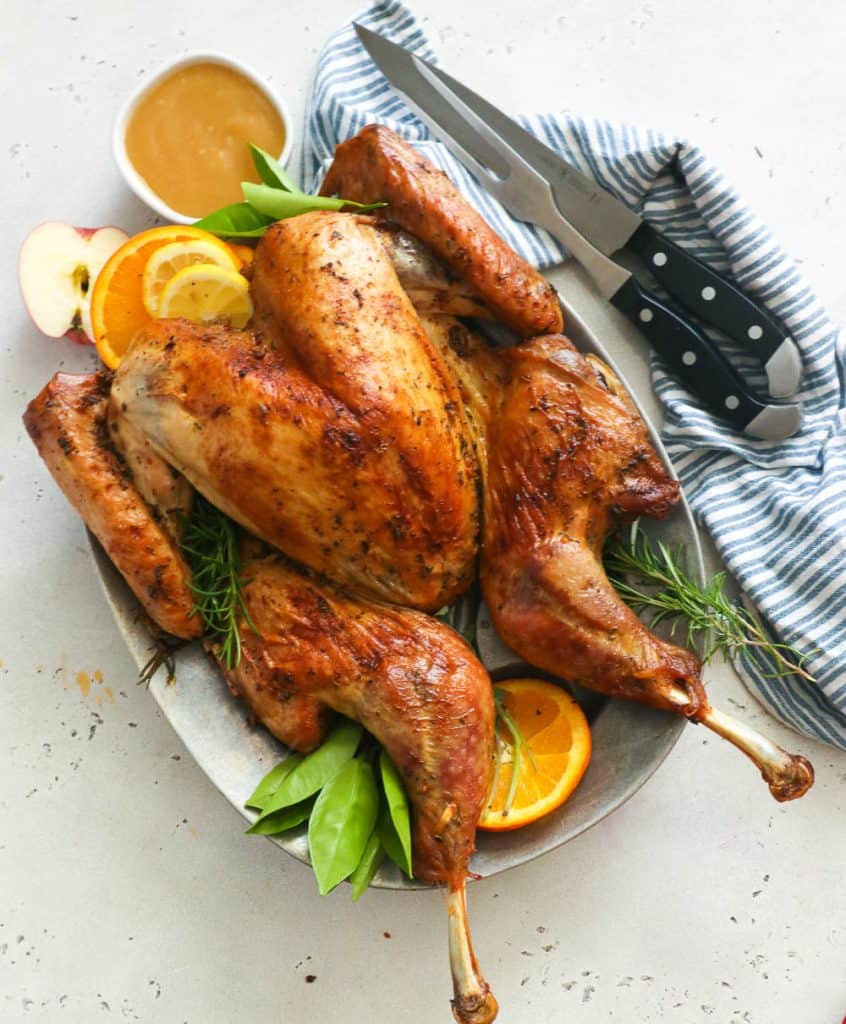 Let's get down to the nitty-gritty. Then we can go into more detail further down. Here's the down and dirty on everything you need for your Thanksgiving turkey.
Size of the bird. How many people are coming for dinner equals how many pounds you'll need. If you want to be sure to have leftovers, multiply it by 1.5.
Cook time. 10-13 minutes per pound for just the turkey at 350℉/176℃. Allow about 15 minutes for every pound of turkey if you want to stuff it. It will take about 30 minutes per pound if you smoke it at 250℉/120℃.
For example, a 16-pound turkey without stuffing can take 2 ½-3 ½ hours.
The best temperature. Preheating the oven to 450°F will keep the temperature from dropping too much when you open the door and put the turkey in. Then reduce the temperature to 325°F after you close the door.
When it's done. The bird is done when the instant-read thermometer reads at least 165℉/73℃ in the thickest part of the thigh.
Let it rest. After taking it out of the oven, let the turkey rest for about 15-30 minutes before carving.
How to Choose a Turkey
First, you need to know how many people and what kind of appetite they carry with them.
I like to calculate approximately one pound of turkey per person. I know that sounds like a lot, but remember, there's a lot of bone.
There are funny songs about all the dishes you can make with leftover turkey. But honestly, I look forward to Thanksgiving leftovers, so I usually get a turkey that is a pound or two more per person.
Then, there are a few things to think about before making your important purchase.
Fresh or Frozen
If I can get a fresh turkey, that's what I get. However, frozen is just as good. A fresh turkey should be prepared a day or two, at the most, after you get it home.
Tip: If it's going to be three days before you can pop that thing in the oven, keep it in the coldest section of your fridge.
The advantage of frozen turkeys is that they are usually flash-frozen to sub-zero temperatures right after processing. That means that a frozen turkey can actually be fresher than a fresh turkey.
Make sure the packaging isn't damaged and check the expiration date. I keep track and cook the turkey in less than two months after buying it.
How I do it…
The quality is another thing to think about.
Organic, heritage, free-range, or natural turkeys are a bit more expensive. That said, they also have more flavor than a commercially-produced feedlot turkey. They also have firmer flesh and a better texture. And they are more likely to have been treated well and have a healthy, happy life.
Kosher just means that it meets the Jewish standards of acceptable foods. It also means the sellers brined it already, so that saves you a step.
NOTE: I try to avoid self-basting turkeys because they've been injected with flavor-enhancers and liquids that I may not want in my body.
How to Thaw a Turkey
It is safest for you and your family to completely thaw the bird before cooking. The best way is to let it thaw in the fridge.
Put it on a baking sheet (still in its wrapper) to catch the juices that will come out and put it in the refrigerator.
It takes about 24 hours for every five pounds, so don't decide to do this the day of.
How to Prepare a Turkey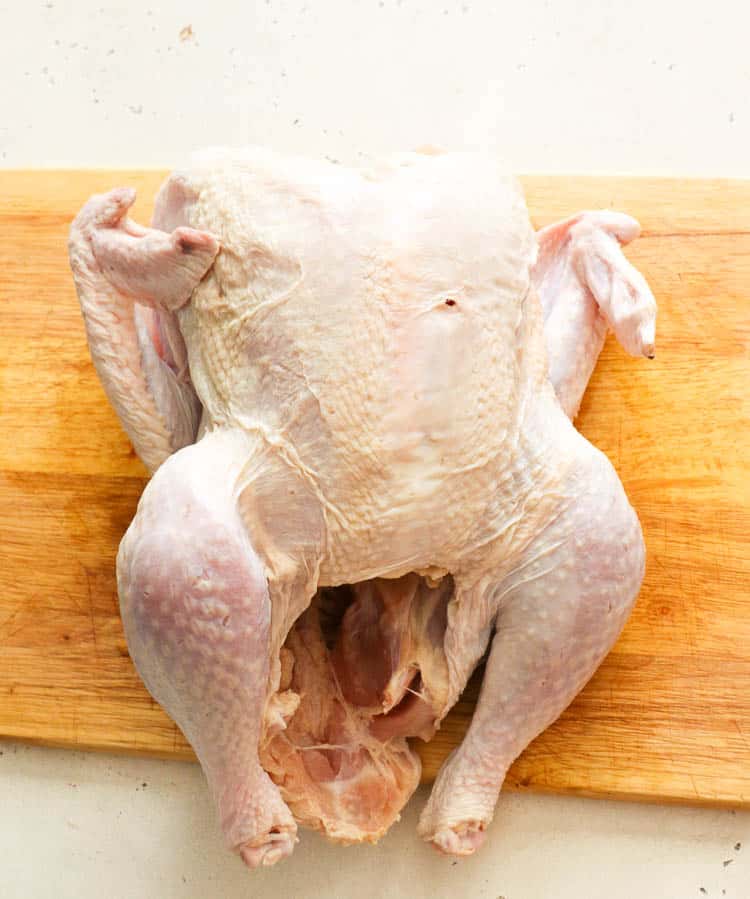 I can't begin to count how many people I've spoken to that have never roasted a turkey because it's just too scary. But I understand; I still remember how nervous I got the first time I did it. But once I tried it, I realized that it was the easiest part of the dinner. So relax and go for it.😉
1. Remove the turkey. First, remove the turkey from the fridge about an hour before you want to cook or roast it. That will help it cook more evenly. Set that baby on your largest roasting pan.
2. Cleaning it. Clean the turkey and remove the giblet bag. But don't throw it away! The contents of that strange-looking bag make the best gravy.
If you see part of a feather quill, now is the time to pluck it out. I can usually get them out with my fingers, but a pair of needle-nose pliers will do the job, too.
3. Brining time. Now, it's time to brine that bad boy. Unless it's a kosher turkey, generously sprinkle salt and pepper inside the cavity and on the skin. About a tablespoon of salt and 1/2 teaspoon black pepper for every 4-5 pounds of turkey. (If it's kosher, it has already been brined.)
4. Stuff it or not. You may decide to stuff the bird, but my experience has taught me that it's a good way to overcook the meat. It's hard to get a safe internal temperature on the stuffing before the meat gets dry. I prefer to make dressing and bake it at the same time.
5. Stuffing it. If you really want to stuff it, do it right before it goes in the oven because it will reduce the opportunity for the harmful bacteria to grow.
And don't overstuff it. Just loosely fill the cavity, starting with the neck cavity and finishing with the body.
6. Tucking the Wings. Now, to keep the wingtips from burning, tuck the wings behind the shoulders. That will also help stabilize the bird.
7. Securing it. Then tie the legs together using cotton twine, cord, or thread. Wrap the string around the ends of the drumsticks so they won't move and secure it with a knot.
Now on to the fun part!
8. Seasoning the turkey. It's fine to season the turkey the night before. You can even do it a couple of days ahead. Salt is a given, but other seasonings ramp up the flavor nicely. My personal favorite is my Creole seasoning.
How to Season Your Turkey
1. Dry rub and brining. I start out with a dry rub or seasoned dry brining mix. It's so easy to customize the blend to your tastes.
After salt and pepper, sage, oregano, thyme, Creole seasoning, and cayenne are all good choices.
2. Fat. Butter is my favorite fat, and you can carefully slide little pats of butter under the breast skin.
It will moisten and flavor the meat as it melts. Rubbing the skin with seasoned butter (see my garlic butter HERE) is another way to kick up the flavor. It also makes beautifully crispy skin.
3. Basting. The second way you can ramp up the flavor in turkey is by basting it with broth, beer, or dry white wine.
A little goes a long way, and as soon as drippings from the turkey start collecting in the bottom of the roasting pan, you can use those.👌
How to Brine a Turkey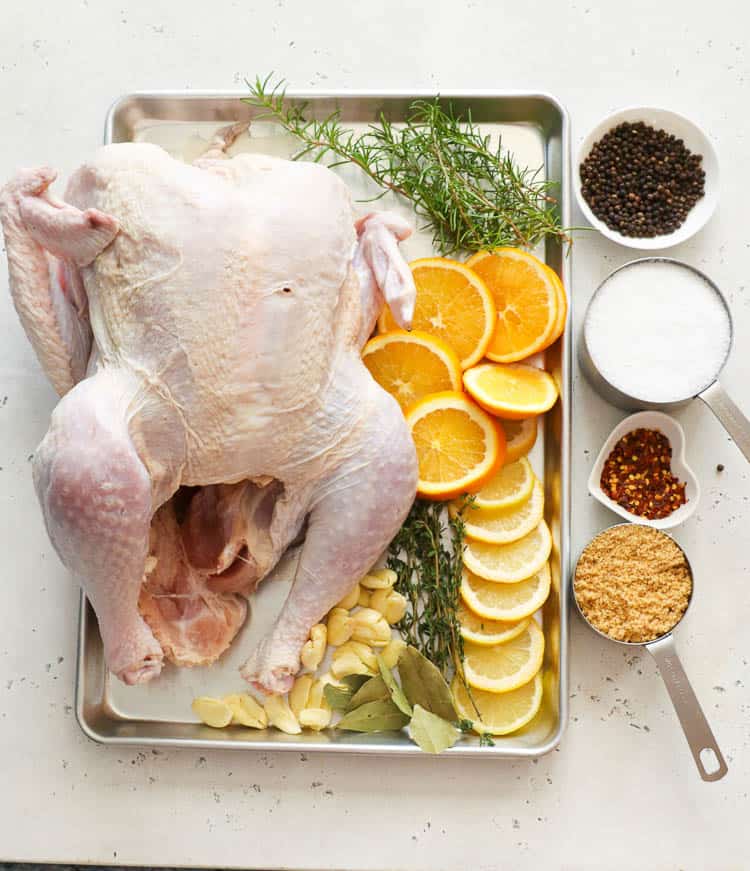 Turkey is one of the leaner and drier poultries, especially the breast. So to help it out and keep it moist, I always brine it.
Brine is an easy solution of water and salt. And it does a fantastic job of keeping your Thanksgiving dinner from choking you up.
There is a scientific explanation for what salt does for meat.
First, it draws out moisture (counterintuitive, right?). But then it somehow puts it back in with extra flavor and tenderizes it in the process. 😮 How cool is that?
What's more, if you accidentally leave the turkey in the oven a little longer than you should have, the brine will save the day.
Brining a turkey a day or two ahead of time will make it much better. It's not necessary, but oh, what a difference it makes.
Brining Choices
There are two choices, wet and dry. (Just a note: I have used the vegetable crisper in the bottom of my fridge to do this job. Not my idea, but I loved it.😉👍)
Wet brine. Mix 1 1/2 cup kosher salt with a gallon of filtered water and stir until the salt has dissolved. You can go that simple route or add layers of flavors to your brine using this recipe here.
Then put the turkey and the brine in a sealable baking bag or pot that it all fits, make room for it in the fridge, and chill it overnight or 24 hours.
Dry brine. Dry the turkey, take about three tablespoons of kosher salt mixed with about a tablespoon of your favorite herb or spice mix, and rub it carefully under the skin of the breast, in the cavity all over the back, thighs, wings, and legs.
How to Cook or Roast a Turkey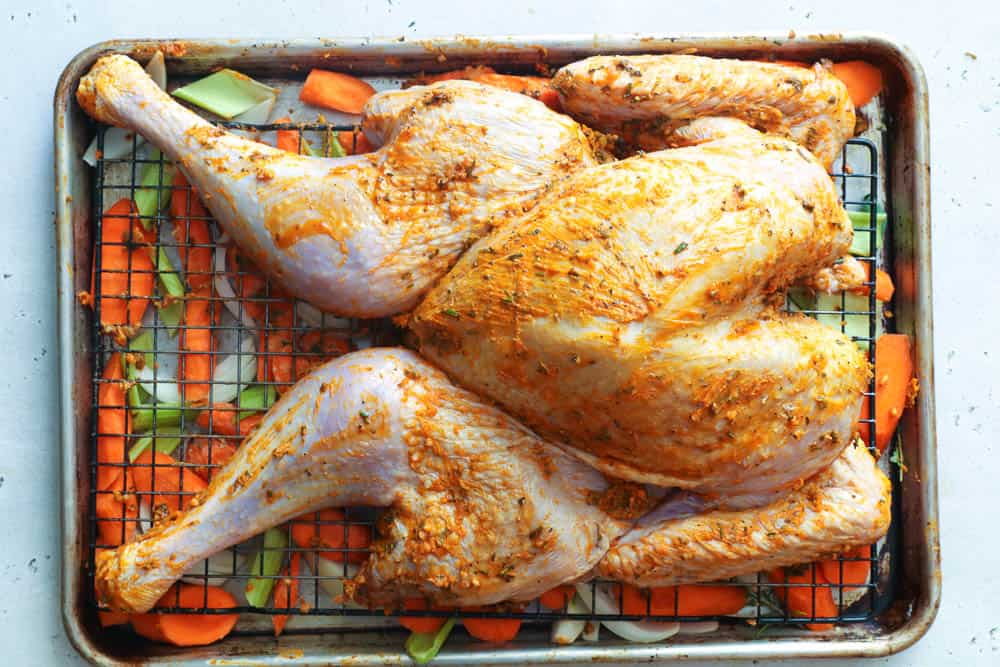 This is the easy part. Place it breast-side up on a roasting pan and pop it in a preheated oven.
But before you do that, you may want to cut up some potatoes and carrots, along with other veggies, and put them underneath the grating in the bottom of the pan. Then put the turkey on top of the grating and bake.
The drippings from the turkey will flavor them nicely, and it's a way to take advantage of an already hot oven.
To get you started, here is a list of my go-to turkey recipes:
Which Sauces Go Great with a Thanksgiving Turkey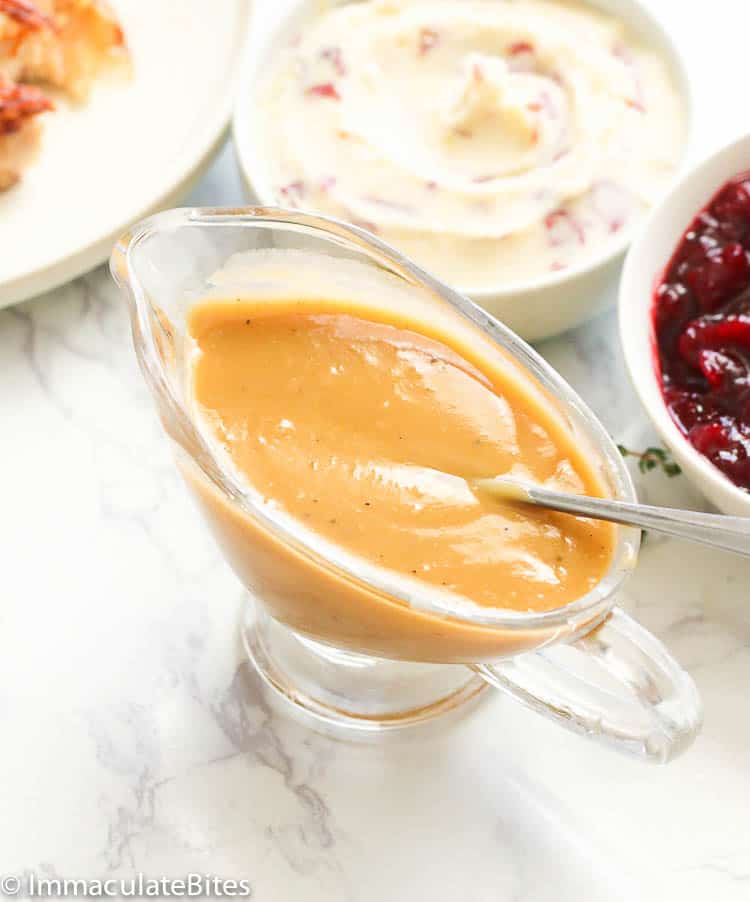 Everything you need for your Thanksgiving turkey has to have a good gravy or sauce recipe. Here are my super easy and fabulous picks.
How to Use Leftover Turkey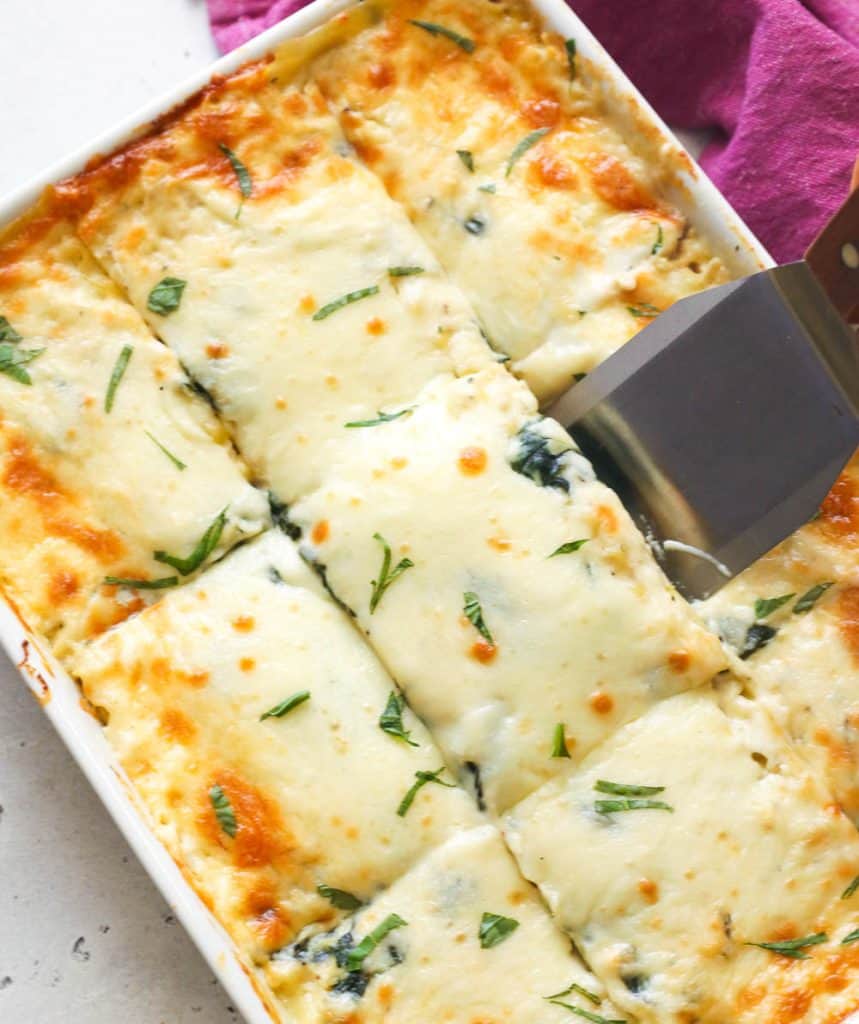 The fun part! There are so many creative ways to use leftover turkey 😍. I deliberately make extra, so I can make white lasagna with turkey instead of chicken. And, of course, everything you need for your Thanksgiving turkey includes incredible recipes for the leftovers.
I have made a complete list for you, but below are my faves.
More Thanksgiving Recipe Collections
There you have it. I hope that with this turkey cheat sheet, you'll be able to make the most out of your Thanksgiving Day celebration rather than worrying if the turkey is cooked through or not. Happy Thanksgiving, everyone!🙂