What Goes Well With Shrimp?
Shrimp and rice were made for each other. Gumbos and creoles are amazing, and dirty rice is definitely tasty with shrimp. But pasta and au gratin potatoes are incredibly delicious with grilled shrimp.
And regarding other sides, Greek salad, easy coleslaw, or a tossed salad is always perfect. Of course, roasted veggies, like parmesan-crusted asparagus, sauteed Brussels sprouts, and broccoli salad, ramp up any delectable shrimp dinner.
Can I Use Frozen Shrimp?
Absolutely! Fresh is nice, but I usually use frozen because I stock up when it's on sale. And they're so small you don't even need to thaw them. While it's best to thaw chicken and meat before cooking, shrimp are so tiny that throwing them in frozen helps them stay nice and juicy.
Super Easy Grilled & BBQ Shrimp Recipes
1. Grilled Shrimp Kabobs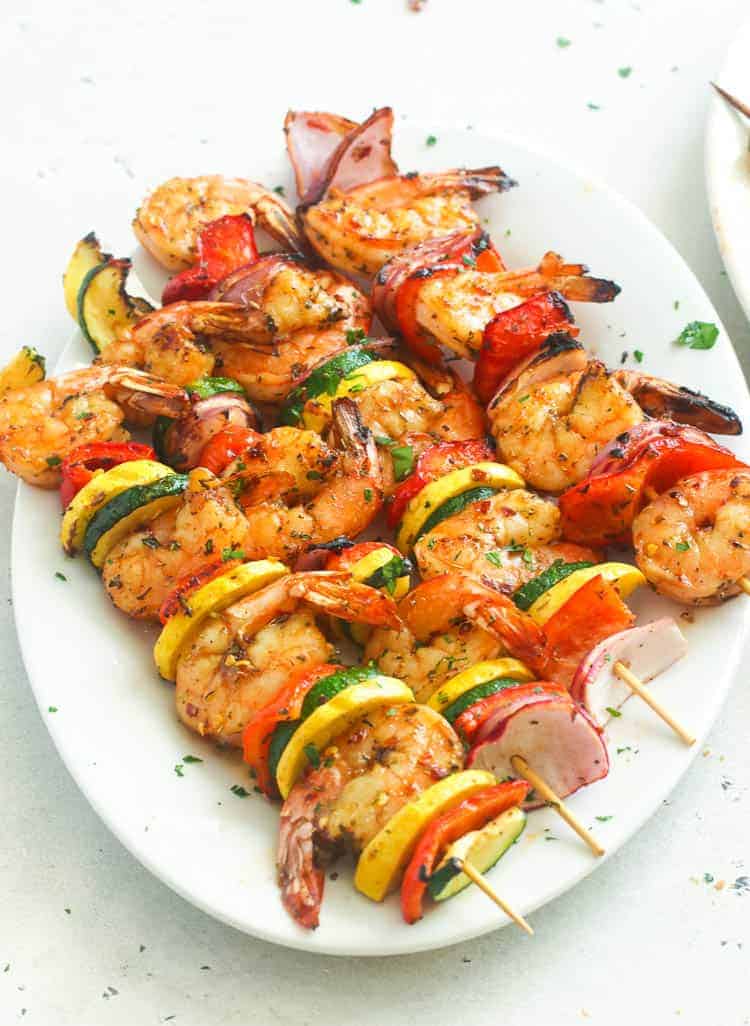 Juicy shrimp is marinated in a drool-worthy mix of cumin, Italian seasoning, lemon, garlic, pepper flakes, and fresh herbs. Then it's threaded between vibrant veggies for a flavor explosion that will make the family happy. This quick and easy recipe is perfect for a busy weeknight meal, and you can easily customize it!
2. New Orleans BBQ Shrimp
The incredible New Orleans flavor wrapped around this shrimp with its rich buttery sauce, amazing herbs, and spices is excellent for finger-licking good time. While BBQ implies throwing it on the grill, you can sautee this super-easy shrimp recipe just as quickly.
3. Marinated Grilled Shrimp
Out-of-this-world shrimp is extremely quick and easy. Honestly, this dish is perfect for entertaining because these jumbo shrimp are ready in 30 minutes or less. The marinade is a fantastic mix of sweet (honey) and sour (lemon). Then it's kicked up a notch or two with garlic, cumin, and the perfect amount of cayenne.
4. Grilled Caribbean Coconut Shrimp
Craving time to fire up the grill? Then pay attention to this flavorful grilled coconut shrimp seasoned with garlic, coconut milk, and thyme. Quick and easy, it's excellent as an appetizer too!
Shrimp Gumbo & Etouffee Recipes
5. Chicken Shrimp & Sausage Gumbo
Rich and flavorful gumbo is one of my favorite comfort foods. Bursting with authentic flavors and loaded with chicken, shrimp, crab legs, and sausage, this recipe is a family gathering must-have.
6. Shrimp Étouffée
Juicy shrimp smothered in a rich and flavorful roux made with rich, authentic southern flavors from the traditional holy trinity. The homemade seafood broth also makes it better for a foolproof recipe with big, intense flavors!
7. Shrimp Creole
This comforting dish of goodness with succulent shrimp simmered in a perfectly seasoned tomato sauce is as easy as it is tasty. The best part is how fast it comes together, in just 30 minutes. And, if you have gluten-free Worcestershire sauce, it's a fantastic recipe for those on a gluten-free diet.
Delicious Shrimp Recipes for Soups & Stews
8. Jamaican Curry Shrimp
With its bold flavors, coconut milk, and the herbal flavors of thyme and bell peppers, Jamaican curry is an intense and delicious stew that is also incredibly easy to make.
9. Cajun Corn Shrimp Soup
A Cajun classic made with a savory combination of tomatoes, shrimp, and corn makes the perfect soup for a chilly day! And don't worry if you don't have fresh corn because canned or frozen will also work.
10. Shrimp Bisque
Let's just say shrimp bisque is a fancier, more elegant version of chowder or soup. It's smooth and thick with a velvety texture fit for a king. So if you're planning to surprise your loved one with an exquisite dish, this is it! 😉
11. Spicy Shrimp Spinach Pasta
This easy 30-minute weeknight spinach spaghetti dinner with my preferred kind of seafood delivers a massive punch of flavor with no cream and just a handful of ingredients. It is one of my favorite fast dinners that always save me time without compromising taste.
12. Cajun Shrimp Boil
A tasty and straightforward classic shrimp boil with baby red potatoes, corn on the cob, and Andouille sausages generously seasoned with Creole seasoning and garnished with lemon make for a vibrant summer meal. Ready in less than an hour, and all you have to do is season, mix, and cook for a beautiful dinner.
Amazing Shrimp Pasta Recipes
13. Creamy Shrimp Pasta
Pasta smothered in a cream sauce infused with garlic and herbs, then topped with juicy shrimp for a delicious dinner in 30 minutes or less. And this rich and elegant weeknight meal is good enough for a celebration with friends.
14. Creamy Bacon Fettuccine Shrimp Scampi
You don't have to leave home or pay a hefty price to enjoy this wonderful restaurant-quality meal. Bacon, shrimp, cream, and Parmesan Reggiano cheese in one meal ready in 45 minutes or less will have you dreaming of an Italian vacation.
15. Blackened Shrimp Pasta
This shrimp recipe is an utterly satisfying combination of blackened shrimp and pasta in a spicy sauce. It's ready in 30 minutes, and every bit of it is as good as what you'd get in a restaurant. That makes it great for busy weeknights and a dinner date night with your partner.
16. Shrimp Alfredo
This surprisingly easy and comforting fettuccine dinner in a creamy, garlicky, rich homemade Alfredo sauce tossed with Cajun-seasoned juicy shrimp can be ready in 30 minutes! Perfect for a weeknight meal or special date night.
Incredible Main Course Recipes
17. Shrimp Stir Fry
If you're looking for a quick and easy shrimp dinner ready in 20 minutes, this is it. This healthy Asian-inspired shrimp recipe with honey, soy, and garlic-based sauce and vegetables is perfect any time! Serving it over rice is so tasty.
18. Creamy Tuscan Shrimp
This quick and easy one-pan shrimp meal with sun-dried tomatoes, spinach, and grated Parmesan offers a harmonious blend of spices and seafood in every bite. Succulent and perfectly cooked shrimp smothered in garlic butter sauce will make your day.
19. Jamaican Cabbage & Shrimp
A super-fast stir-fried cabbage seasoned with aromatic spices and topped with tasty sautéed shrimp creates a delicious main dish. You can serve it over rice or with a side to accompany any meal.
20. Garlic Butter Shrimp
This quick and easy weeknight shrimp recipe is loaded with fresh herbs, paprika, garlic, lemon, and Creole Seasoning. Pile it on top of pasta, rice, or crusty bread for an incredibly flavorful meal. And the juicy, buttery, garlicky, and lemony main dish is ready in just 15 minutes from start to finish!
Delicious Shrimp Lunch Recipes
21. Shrimp Po'Boy Sandwich
Almost every culture has a taco version. For example, in New Orleans, tacos are called a Po'Boy sandwich. Crispy delicious shrimp piled mile-high on a buttered, toasted French roll, stuffed with crunchy cabbage and fresh tomatoes, then drizzled with a lip-smacking homemade remoulade sauce. You'll feel like you went to heaven.
22. Black Folks Shrimp & Grits
Creamy, easy-to-make grits piled with Cajun-seasoned shrimp deliver bold and spicy flavors. This heavenly classic Southern comfort food is guaranteed to please the entire family!
23. Shrimp Risotto
This creamy shrimp recipe garnished with parsley and grated Parmesan is a meal all by itself. The arborio rice cooks up creamy and delicious, so don't let risotto's reputation scare you on this one.
24. Baked Shrimp
I was speechless the first time I tried this juicy, delicious shrimp dinner. The delightful crunch and savory, garlicky, lemony, buttery sauce all in a dish that's ready in less than 30 minutes. Yeah!!! And if you're a busy mom like me, it's a win-win!
25. Southern Cornmeal Fried Shrimp
Level up the regular fried shrimp with a combination of cornmeal and flour for an extra rich-tasting breading. These shrimp make a decent dinner or appetizer perfect for the whole family. You can also add it to your salad for extra flavor and texture. 👌
26. Crab-Stuffed Shrimp
Make way for the best seafood combo of all, crab-stuffed shrimp. It's loaded with cheese, egg, mayo, cream cheese, and a bunch of seasonings, creating a festival of exciting flavors. This dish is a dream come true for seafood lovers! 😍
Refreshing Shrimp Salad Recipes
27. Shrimp Salad
The amazing dressing makes this incredible salad an absolute winner. Creamy mayo and a touch of Dijon mustard ramped up with my blend of Creole seasoning go great on more than just shrimp (chicken salad😉 for example). This easy shrimp salad boasting the best summer flavors is perfect for a BBQ party, picnic, potluck, or light dinner.
28. Mango Avocado Shrimp Salad
A healthful and tasty tropical salad with summer fruits and vegetables smothered in a creamy, spicy mango dressing. Not only is this versatile dish super delicious, but also healthy and naturally gluten-free. Omit the honey for paleo.
29. Shrimp Ceviche
A refreshing seafood recipe ready and on the table in minutes. This tantalizing shrimp ceviche is a fantastic appetizer, especially on summer days or at parties. The juicy shrimp is marinated in a vibrant citrus blend. And then mixed with tomatoes, cucumber, jalapeño, onion, mangoes, and cilantro.
30. Pickled Shrimp (Southern-Style)
Oh, you're definitely going to love these cooked shrimp soaked in a spicy vinegar brine with lots of onions and fennel. They are enjoyable on their own, but pairing them with fried chicken or fried fish will add an exciting twist to your meal. 😉
Appetizing Shrimp Appetizers
32. Baked Coconut Shrimp
Need an exotic tropical vacation but don't have the time or money? This decadent recipe for fresh shrimp dipped in coconut batter, then rolled in an aromatic combination of coconut flakes, breadcrumbs, and spices, is your ticket.
33. Air-Fryer Coconut Shrimp
This shrimp recipe's crisp coconut coating is irresistibly sweet, crunchy, and juicy. When shrimp is cooked in an air fryer instead of deep-frying, they're better for you😉. The homemade sriracha dipping sauce makes it a perfect party appetizer or game-day food.
34. Fried Shrimp
Fresh and juicy shrimp drenched in buttermilk and then coated in highly-seasoned breadcrumbs for a light, crispy, and finger-licking good appetizer. Serve them with a mouthwatering remoulade sauce for a guaranteed family pleaser.
35. Bang Bang Shrimp
A sizzling shrimp appetizer that's crispy and spicy with a ridiculously mouthwatering sauce that will have you craving more. This is the one for you if you are a fan of spicy and creamy. Even if heat isn't your thing, you can adjust it to your tastes.
36. Bacon-Wrapped Shrimp
Bacon and shrimp is a combo you never knew you needed until you taste them. It's super easy and simply customizable to your palate. Replace honey with sugar-free substitutes like sucralose or stevia, and you'll have a tasty low-carb and keto-friendly appetizer in no time.
Conclusion
Shrimp make the best-est affordable elegant dishes. And they are naturally scrumptious, making every dish effortlessly delicious. Which recipe in this list is your fave? Let me know in the comments!
This blog post was originally published in August 2021 and has been updated with new recipes.