Spice up your favorite chicken recipes with a dash of pepper flakes, cayenne, hot sauce, or pepper sauce to make your dining experience more exciting and enjoyable. Just like these spicy chicken recipes below that will surely impress everyone at the table.
Incredibly quick and easy to make, not to mention affordable, and perfect for everyday meal prep. Oh yes!
FAQs
What do I use to make chicken spicy?
Well, it's no secret that spicy chicken is soaked in a spicy marinade or rubbed with spicy seasonings. It usually includes pepper flakes, chili paste, cayenne powder, hot sauce, or sriracha.
Do we eat male or female chickens?
Technically, both male (roosters) and female chickens (hens) are edible. And for the meat industry, both are used. That means that by the time it gets to the grocery store, we don't know which gender it was. However, hens are the obvious choice if producing eggs. 😉
Hot and Spicy Chicken Recipes
1. Sweet Sticky Spicy Chicken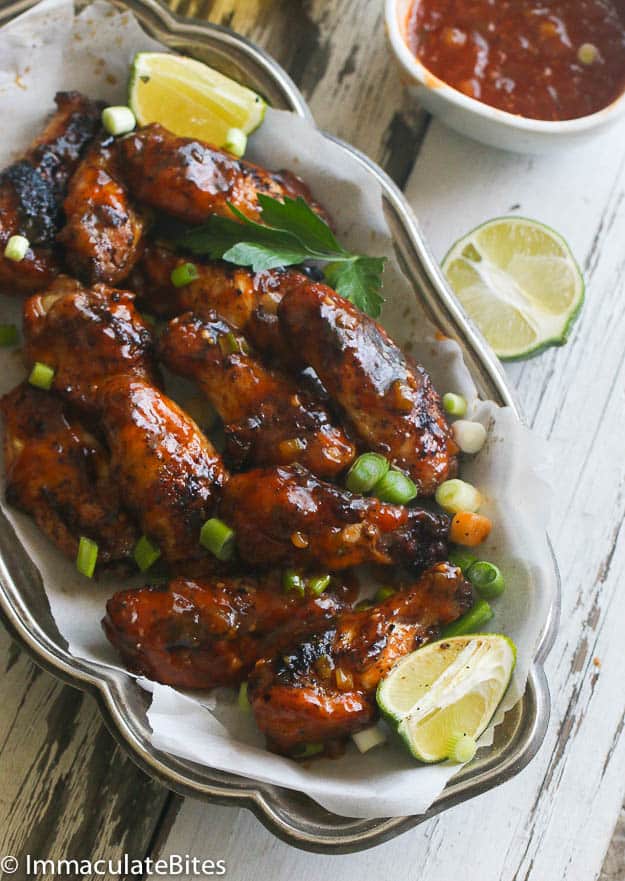 Experience an explosion of sweet, spicy, and savory flavors in this amazing Sweet Sticky Spicy Chicken. It is made with honey, ketchup, Caribbean pepper sauce, and pineapple juice. Aah! It's so good you'll be licking your fingers with every piece. Serve it along with a beer for the perfect comfort food combo. 😋
Sweet Sticky Spicy Chicken
This outrageously delicious SWEET SPICY STICKY CHICKEN is everything you want sticky wings to be. It's full of flavors, a little spicy, sweet, and super easy to make either on a grill or in the oven. Just a great balance of sweet, salty, and spice. You won't mind licking your fingers!
Check out this recipe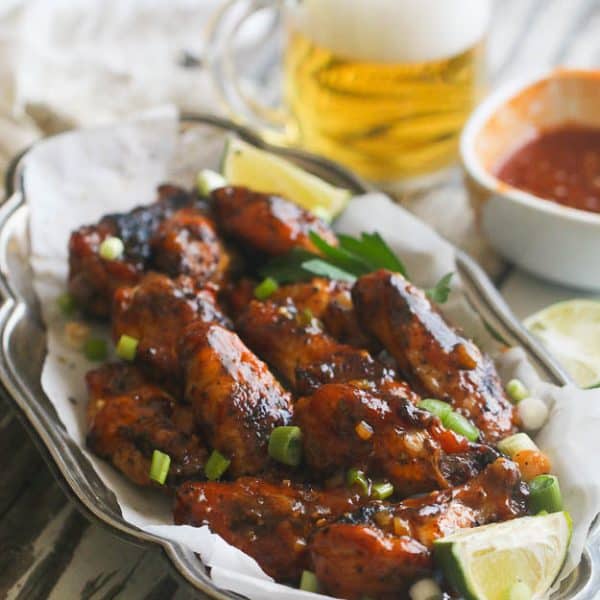 2. Nashville Hot Chicken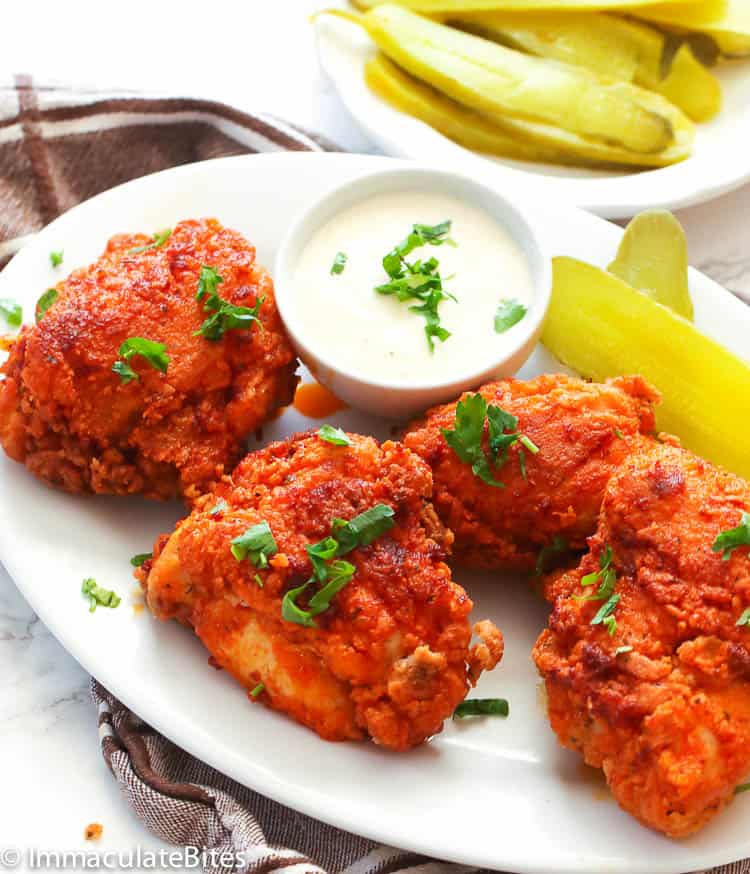 This one is a spicy take on our usual crispy fried chicken. Aside from the spicy marinade with Creole Seasoning and hot sauce, the flour coating is loaded with cayenne pepper and paprika. And it's made even spicier by brushing the chicken with Nashville hot sauce for a fantastic finish. Certainly, one of the best spicy chicken recipes you'll ever try!
Nashville Hot Chicken
Nashville Hot Chicken – juicy, crunchy, crazy delicious fried chicken brushed with a sweet and spicy Cayenne-based sauce for an explosion of flavor! You'll be clamoring for more!
Check out this recipe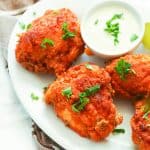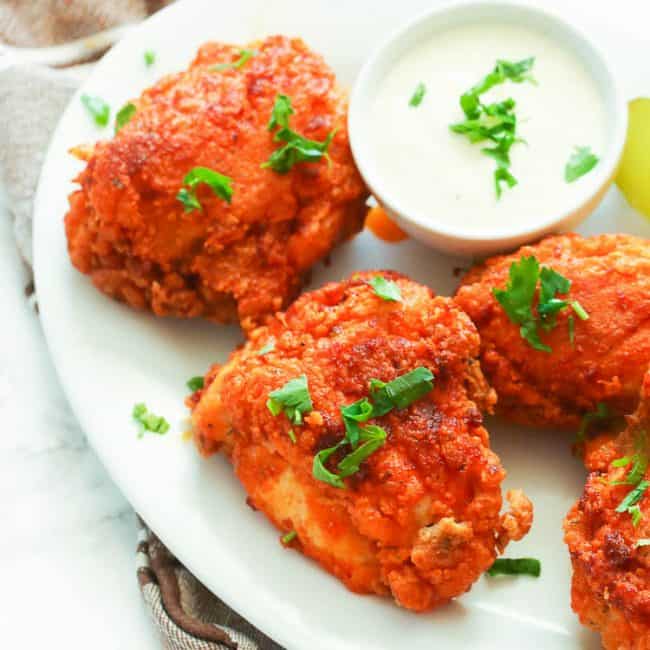 3. Paprika Chicken Legs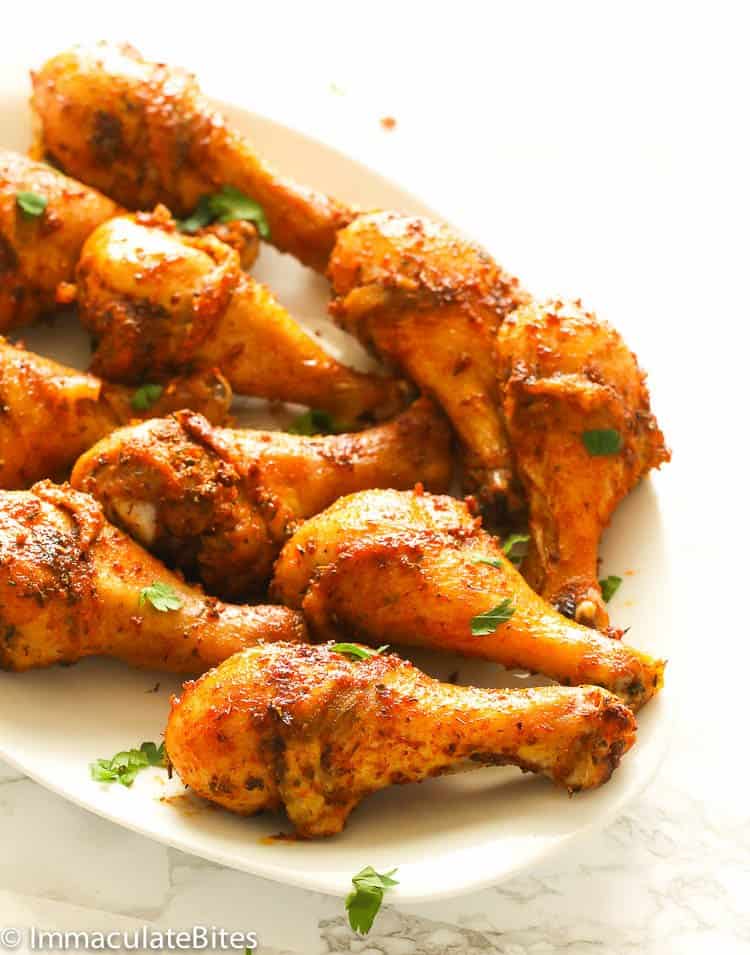 It's hard to stop munching on these babies once you start, for sure. Good thing this chicken leg recipe is guilt-free, gluten-free, and keto-friendly, too! And best of all, they're baked for that perfectly crisp and flavorful skin. It's so easy to make yet full of great flavors, thanks to paprika, cayenne, and fresh herbs such as thyme, oregano, and parsley. Oh yes!
Paprika Chicken Legs
Paprika Chicken Legs – Resist the temptation of cooking the same thing over and over and make this Baked Garlic Paprika Chicken Legs. It's packed with great flavors from garlic, onion, cayenne pepper, herbs and, of course, paprika. It'll be a new family favorite easy dish!
Check out this recipe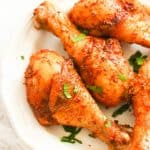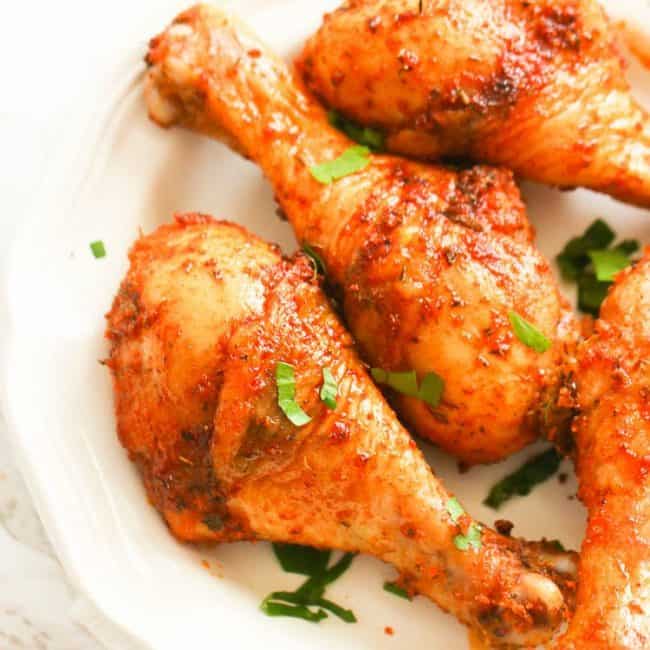 4. Buffalo Wings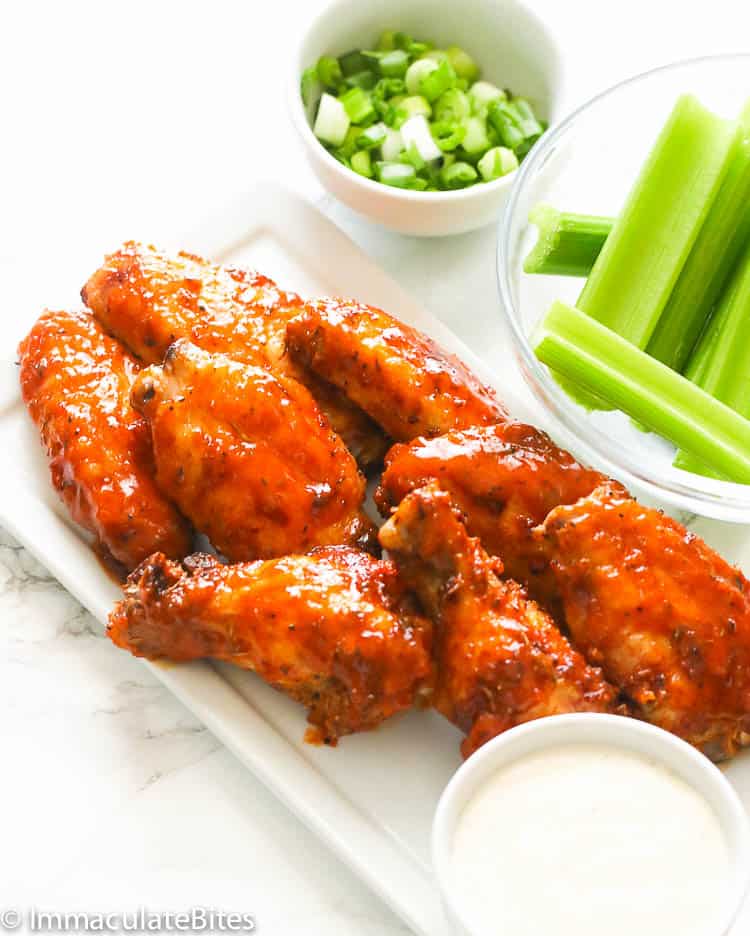 You'll hear nothing but praise when you serve your guest these saucy, crispy chicken wings. It is simply irresistible with its lavish spicy sauce perfectly seasoned with Creole Seasoning, hot sauce, cayenne, and Worcestershire sauce. Not only do these babies make great party appetizers, but they also make a satisfying dinner perfect for the whole family. 😉
Buffalo Chicken Wings
Enjoy these crispy, tender Buffalo chicken wings tossed in a classic spicy sauce with butter, Creole Seasoning, and Frank's hot sauce. And they're baked! Makes 20-25 Buffalo Chicken Wings.
Check out this recipe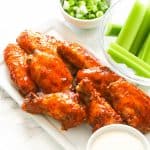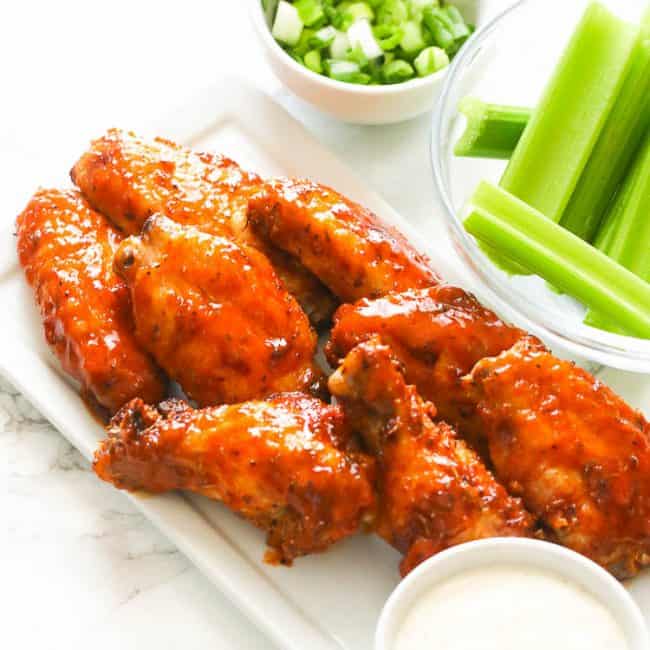 5. Baked Jerk Chicken Wings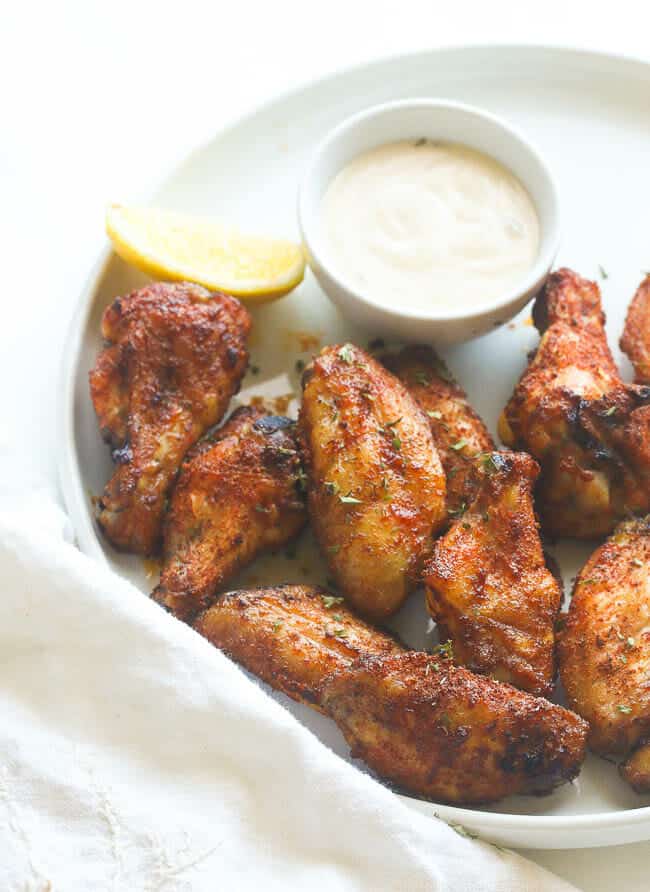 But of course, you'll love our Jerk Chicken Wings, too! They are baked, making them easier to prepare than my Grilled Jerk Chicken, unquestionably filling and satisfying without the guilt because they are absolutely gluten-free and keto-friendly. Aah! What's not to love? And don't forget the Remoulade Sauce to add more wow factor to our classic comfort food. 😉
Baked Jerk Chicken Wings
Baked Jerk Chicken Wings- Baked to crispy perfection with all the bold flavors of Jerk Spice rub- 10 minutes prep is all you need!!!
Check out this recipe
Spicy Grilled Chicken Recipes
6. Peri-Peri Chicken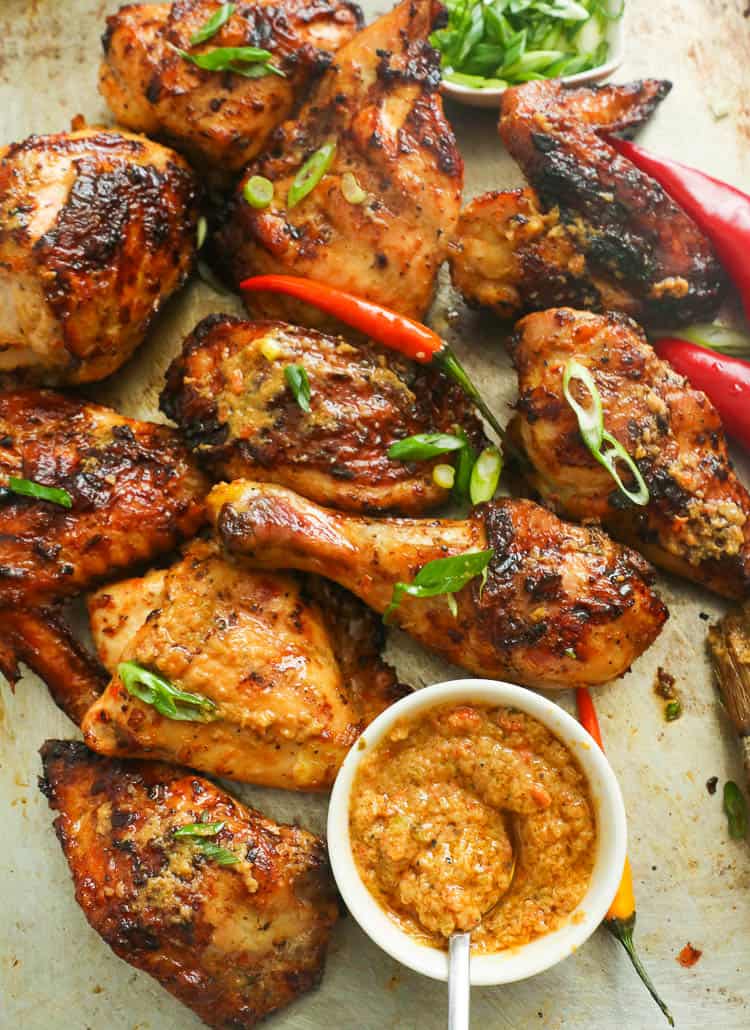 Let me excite your tastebuds with this mildly spicy and juicy chicken dish bursting with sensational complex flavors from Peri-Peri Sauce, Creole Seasoning, lemon, and herbs. So crank up the heat with more chili pepper flakes or hot sauce, and you'll really enjoy its lip-smacking goodness. Indeed, an amazing spicy chicken recipe whether it's grilled or baked.
Peri Peri Chicken
Peri Peri Chicken – a mildly spicy luscious chicken legs bursting with interesting complex flavors from Peri Peri Sauce, Creole Seasoning, lemon, and herbs. Grilled to perfection until tender and juicy and served with a special Peri Peri sauce. Certainly, a mouthwatering chicken recipe that is amazingly good whether it's grilled or baked.
Check out this recipe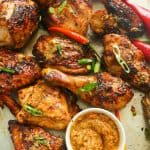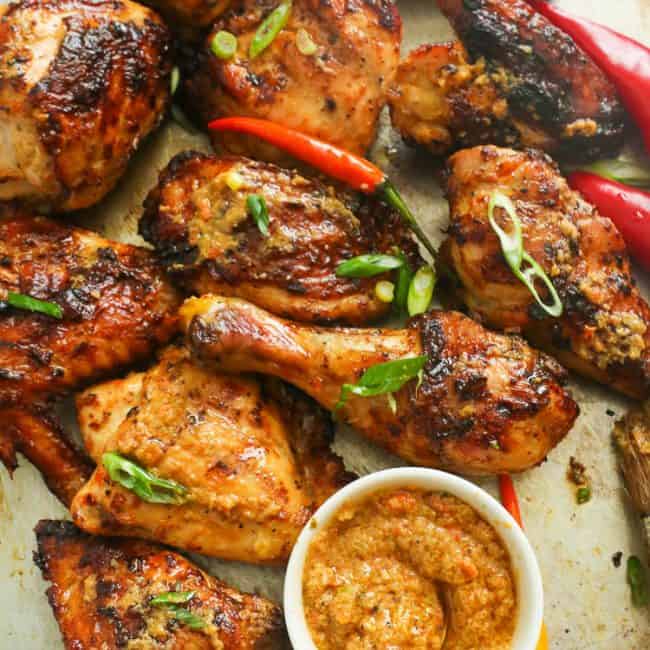 7. Jamaican Jerk Chicken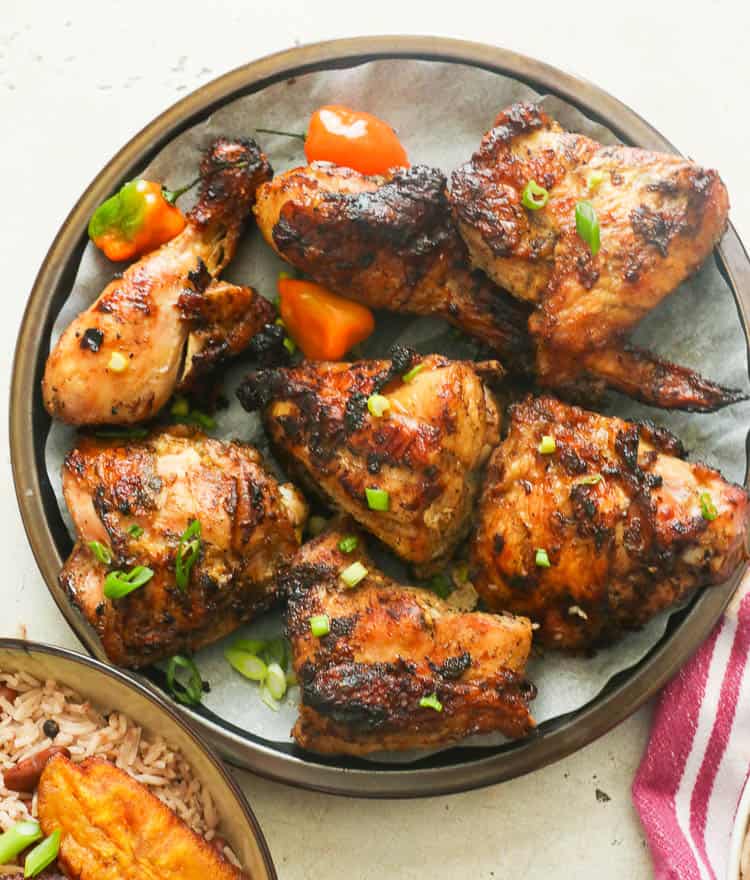 You'll be surprised how easy to prepare this moist and tender Jerk Chicken Recipe. I bet you will really enjoy its perfect balance of heat and sweetness, especially with my homemade Jerk Seasoning and marinade made with habanero peppers, thyme, onion, garlic, and pineapple juice. Such an easy dish that will surely impress!
Jamaican Jerk Chicken
This well-seasoned grilled chicken with Jamaican jerk marinade has the perfect balance of heat and sweetness. Amazingly tender, moist, and juicy chicken bursting with savory flavors on every bite. You'll want to make this all year round!
Check out this recipe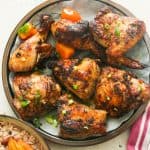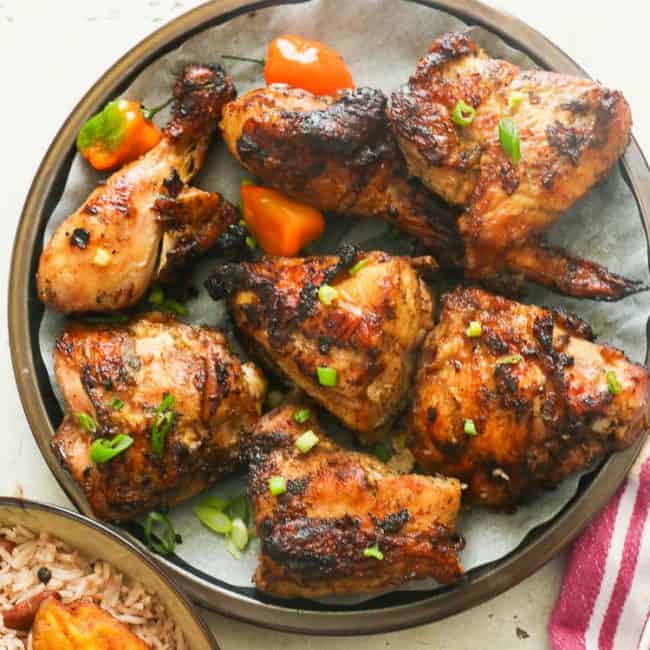 8. Chicken Shawarma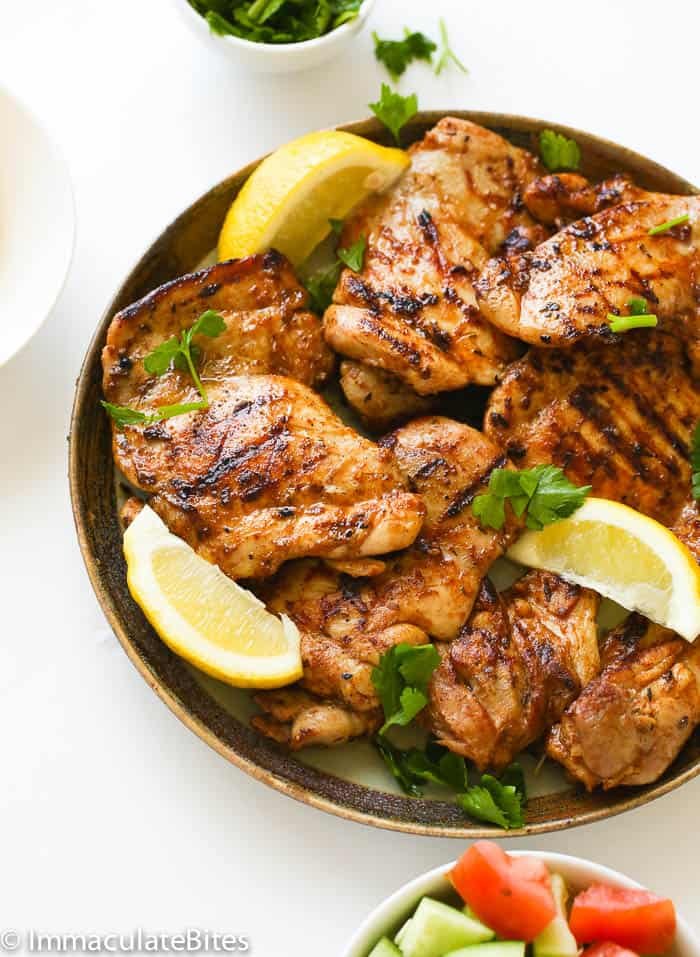 Indulge yourself with this mouthwatering Chicken Shawarma beautifully wrapped in soft and chewy flatbread or chapati. And, of course, don't forget to serve it with an enticing, spicy mayonnaise sauce along with fresh veggies, such as cucumber, lettuce, and tomatoes, to complete your crave-worthy Mediterranean delight. Additionally, a handful of grated cheddar cheese will surely take this chicken recipe up a notch.👌
Chicken Sharwama
Chicken shawarma- Incredibly flavorful chicken marinated in aromatic yogurt marinate that is bursting with Middle Eastern Flavors. Paired with Chapati .
Check out this recipe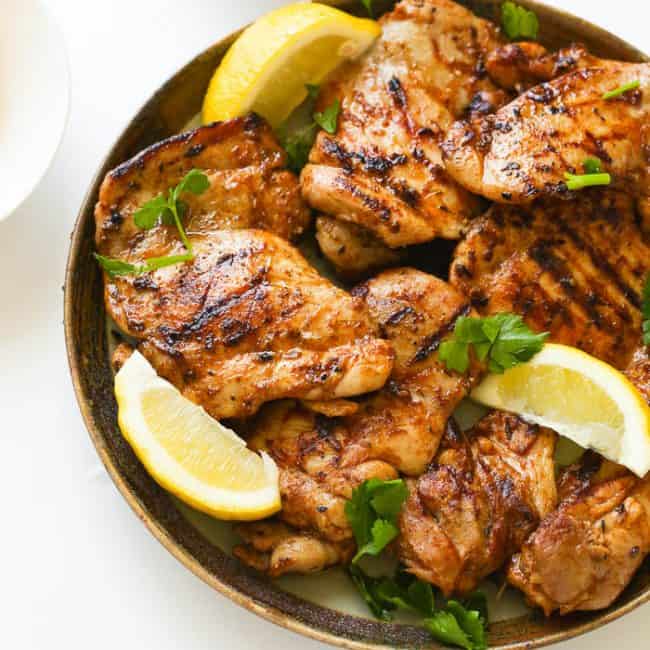 9. Suya Chicken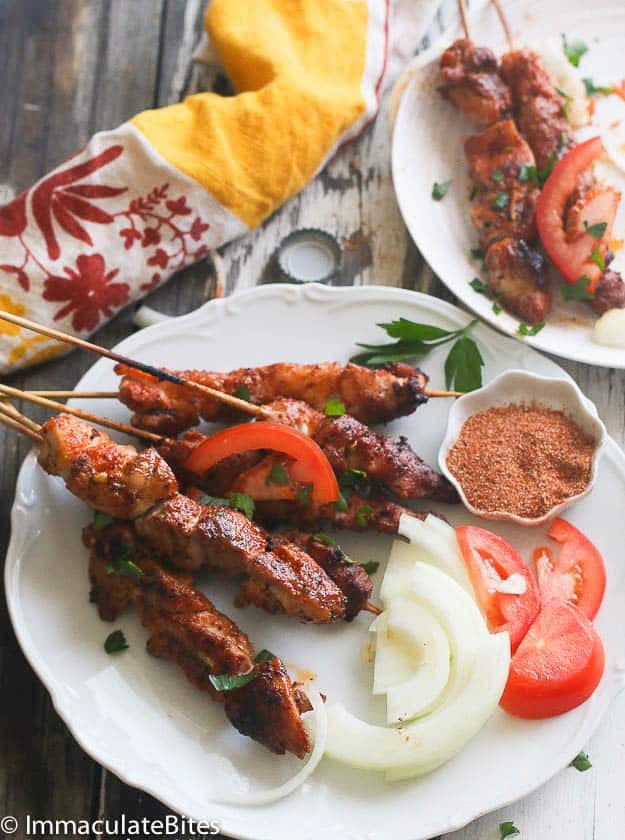 Skip the sugar and crank up the heat to enjoy this spicy chicken in a delectable peanut butter sauce. Yes! You read it right, peanut butter! The remarkable flavor twist perfectly complements our hot and spicy chicken. So go crazy with the pepper sauce and cayenne; I won't stop you. Just be careful about setting your mouth on fire, though. 😉
Chicken Suya
These African-style chicken satays are smothered in a spicy, flavorful peanut butter sauce, then baked to juicy, crispy perfection. They're ideal for snacks, summer picnics, or even a main dish. Amazingly good!
Makes 11-12 skewers
Check out this recipe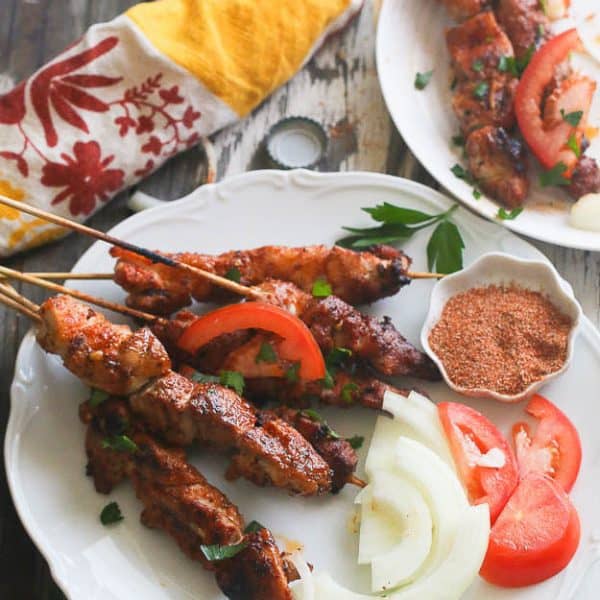 Spicy Chicken Stew Recipes
10. Baked Chicken Legs (Creamy and Spicy)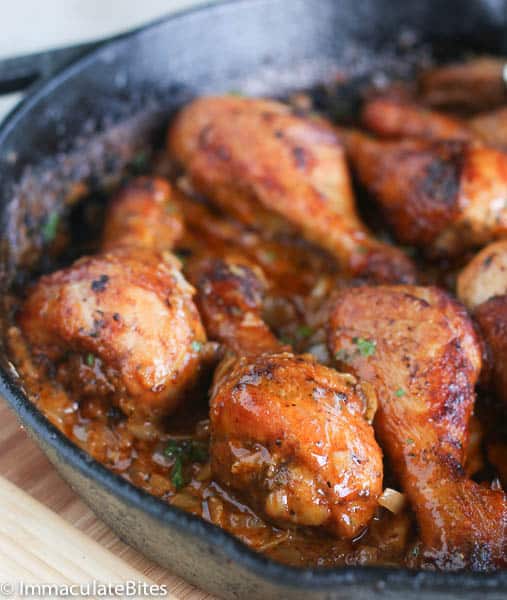 Spicy and creamy make such a perfect combination to grace our favorite chicken dish. You'll love it even more seasoned with wonderful spices such as Italian Seasoning and Creole Seasoning or Seasoned Salt, then baked in a creamy tomato-based sauce. And with less than 10 minutes of prep time, you'll be making this chicken leg recipe all the time. For sure!
Spicy and Creamy Baked Chicken Legs
Baked Chicken Legs (Creamy and Spicy) — a creamy baked chicken that has robust flavors and a creamy sauce with just 10 minutes prep time. Perfect for busy weeknight meals or gatherings!
Check out this recipe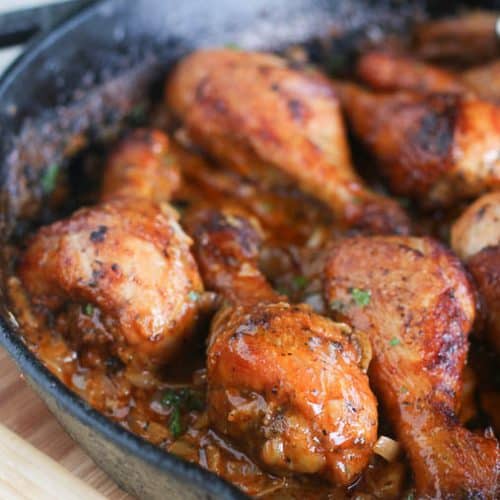 11. Doro Wat – Ethiopian Chicken Stew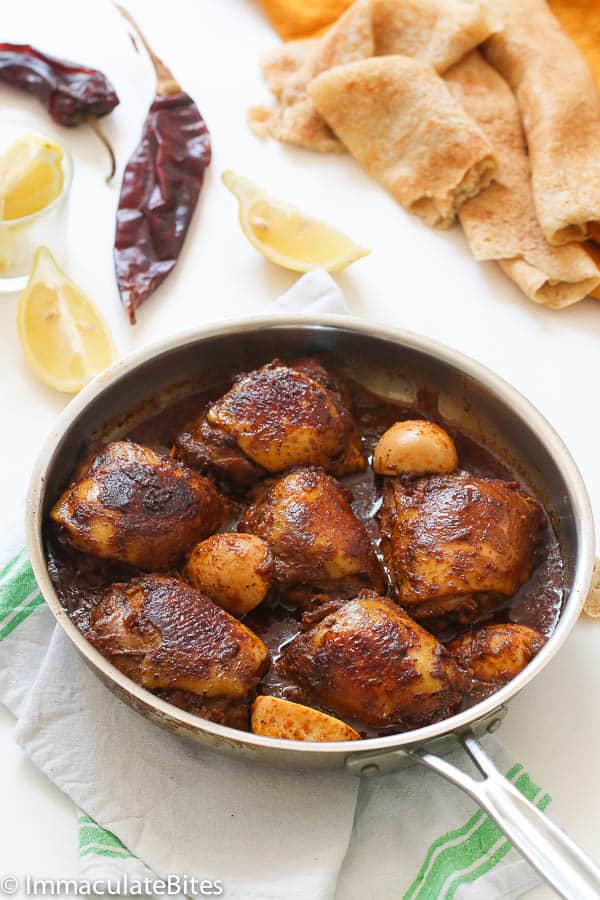 Have you ever heard of Doro Wat? If not, then let me introduce you to this Ethiopian delicacy, also known as Doro Wot, featuring chicken and boiled eggs. And all you need is some homemade Berbere Spice, Spiced Butter, paprika, basil, and lemon to enjoy its authentic flavors with incredible depth of flavor. What a great addition to your spicy chicken recipe collection! Awesome!
Doro Wat Ethiopian Chicken Stew
This spicy, mouthwatering, and comforting one-pot chicken stew is slowly simmered in a blend of robust spices. This delightfully delicious chicken dinner is super easy! Pair it with injera and Ethiopian collard greens to complete your iconic Ethiopian experience.
Check out this recipe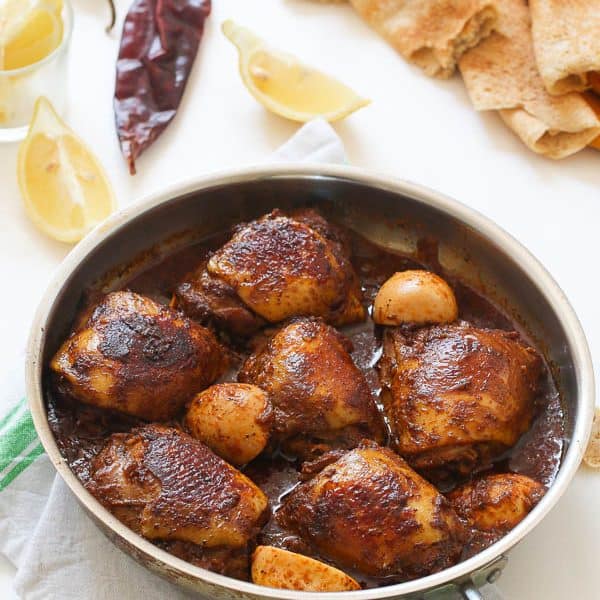 12. Chicken Curry Recipe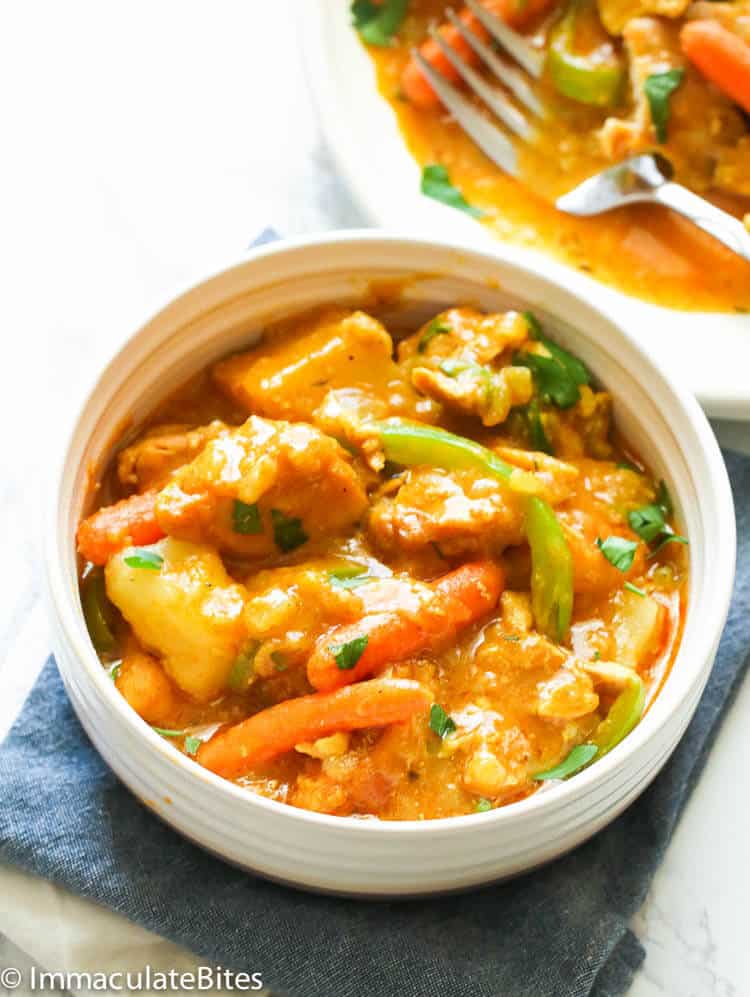 As soon as I start feeling a little under the weather, I always crave this scrumptious Chicken Curry here. Its mildly spicy and savory flavors are like a warm hug on a winter day, especially when I eat it along with a cup of steaming rice. It's even more delightful with its creamy sauce brimming with amazing flavors from curry, paprika, and thyme. Aah! Genuinely comforting, indeed!
Jamaican Curry Chicken
This easy one-pot meal is bursting with flavor. Homemade curry powder, aromatic garlic and onion, and luscious coconut milk take this hearty recipe over the top. I guarantee this is one curry stew you'll want to make over and over again.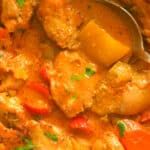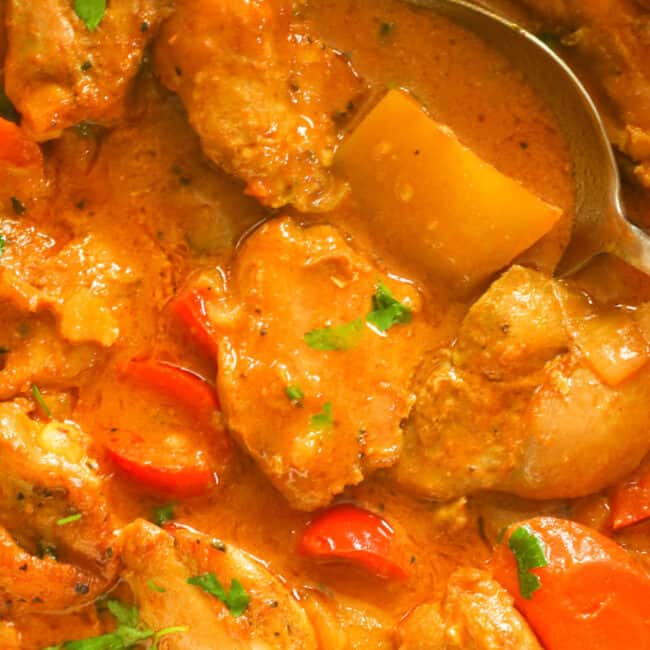 13. Trinidad Chicken Roti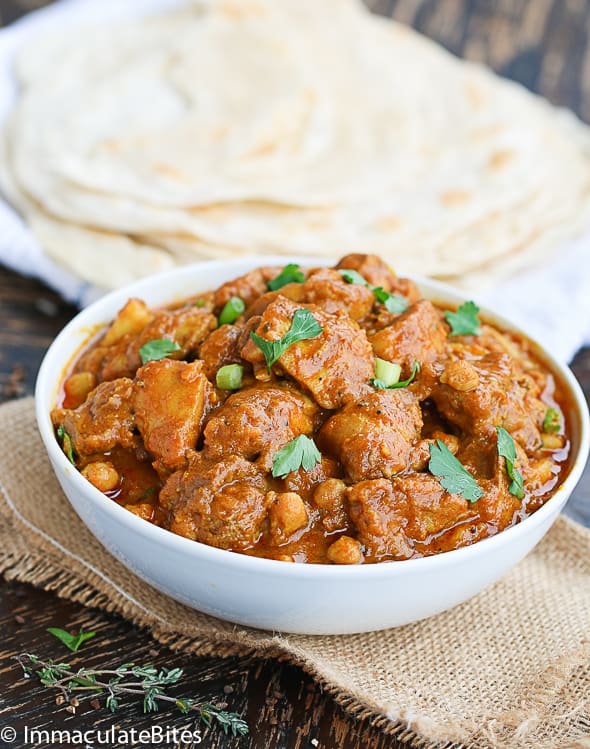 Well, this spicy chicken recipe is incredibly rich and full of indulging goodness from curry, cumin, paprika, and thyme. And it's utterly filling too with chickpeas and potatoes. Not only does this chicken recipe is easy to make, but it will surely give you an unforgettable taste bud explosion as well. Aside from roti prata, it also goes pretty well with a cup of steaming rice. Yum!
Chicken Roti
Trinidad Chicken Roti- An incredible chicken meal that would excite your taste buds. Rich in spices, chickpeas and potato-So easy to make and comes together quickly.
Check out this recipe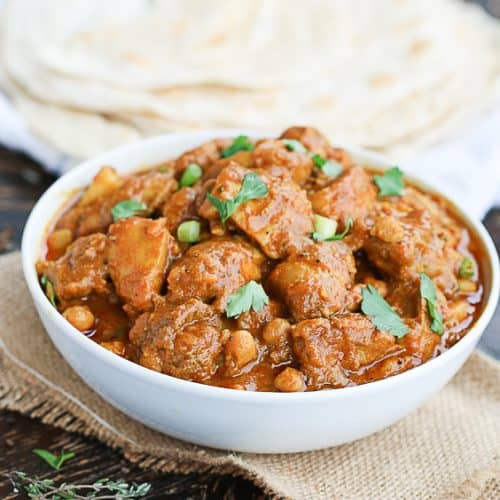 Which spicy chicken recipe do you want to make first? If you're not a fan of anything spicy, you can check out these Baked Chicken Recipes or this collection of Best Chicken Breast Recipes.