Here are 40+ Game Day food ideas to make you feel like you're right in the stadium, center front row. Let's face it; the right finger food makes even the least exciting game more enjoyable. But when a good game is on, food makes for an extra thrilling experience!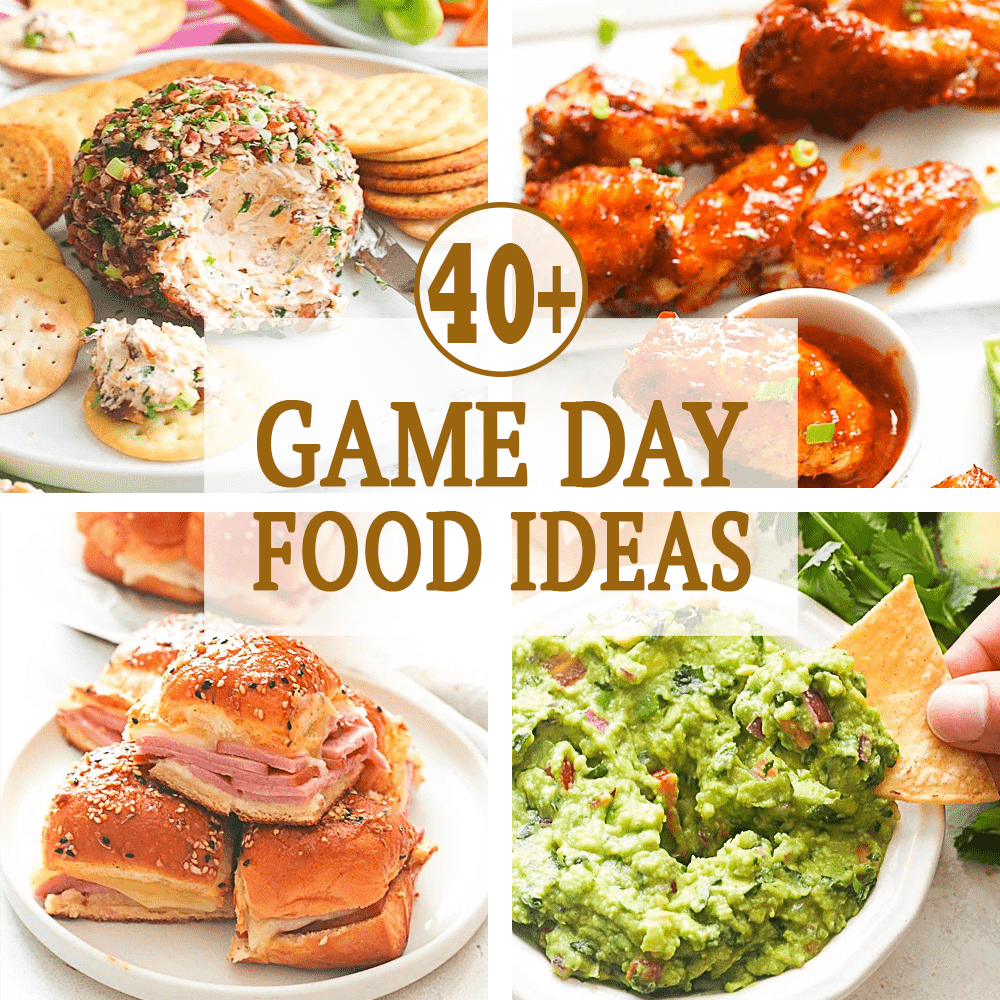 Are you having friends over to watch the game, or will you enjoy the match with your family? Either way, the right game-day food will make it much more satisfying, especially if you make your own snacks and appetizers. Cooking up your own menu offers a whole different way of enjoying the pre-game excitement.
Game-day food is so colorful, flavorful, and super easy to make. It also comes in many shapes and sizes! Check out my favorite game-day recipes for appetizers, snacks, and drinks. There's something here for you, guaranteed.
Frequently Asked Questions
Game Day Chicken Snacks
1. Buffalo Chicken Wings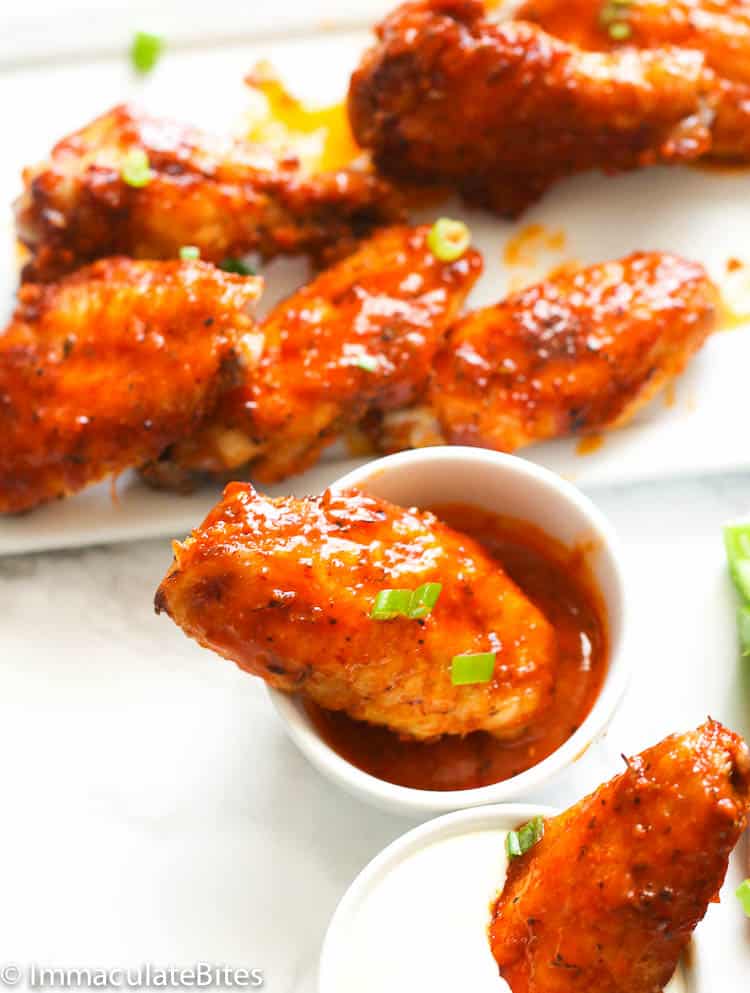 Chicken wings are the classic game-day snack invented in Buffalo, NY. Nibbling on these tender and spicy treats is just so delightfully primitive! And it really gets you in the mood for watching a close game. Oh yeah!!!
2. Chicken Samosas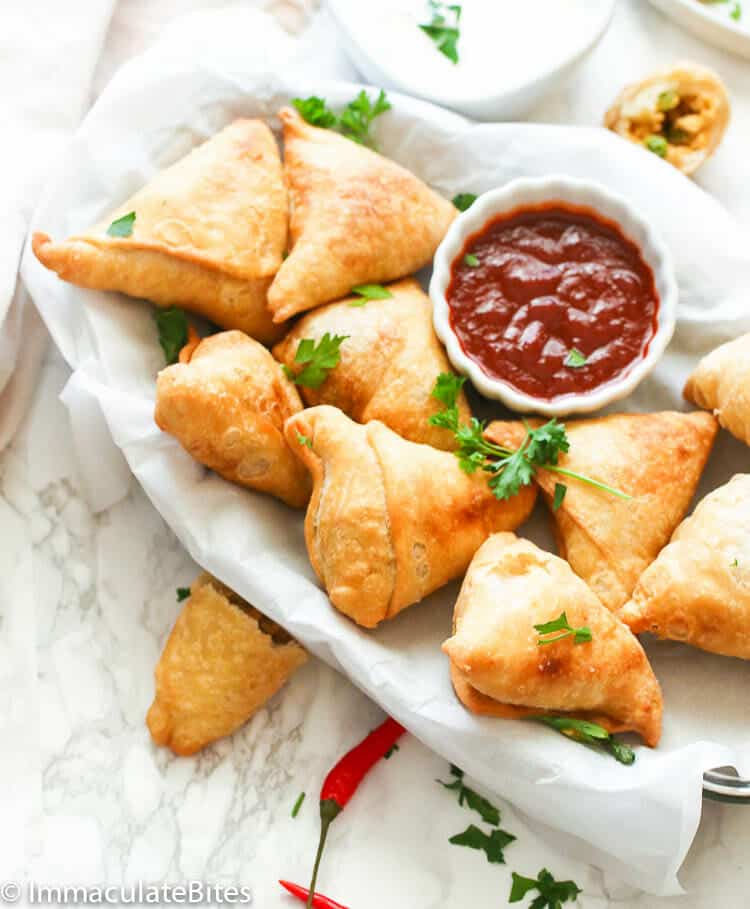 Samosas are crispy one-biters with a gorgeous golden color, wonderful crunch, and soul-satisfying filling, in this case, seasoned chicken. Finger food is the perfect game-day snack; who needs a fork anyway? Serve these tasty treats with your favorite dip for a complete experience.
3. Baked Jerk Chicken Wings
Elevate your wing game to the next level with these fantastic wings seasoned with spicy jerk mix and baked to tender perfection. These take just a few minutes of prep work, and they're ready to go into the oven. You can make these finger-licking-good snacks ahead and pop them in the oven when you're ready to go. You may want to also check out my Air-Fryer Chicken Wings recipe!
4. Baked Chicken Tenders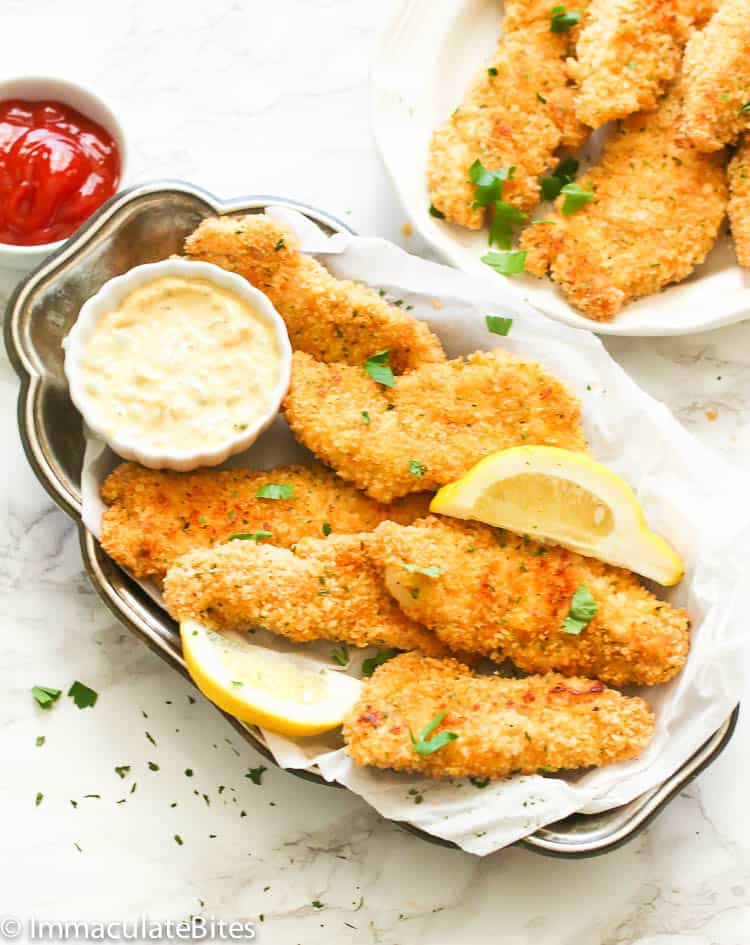 Tender is an excellent way of describing these crunchy, juicy, boneless chicken breasts. Forget about frozen tenders; these end up super crunchy and juicy—courtesy of a splash of buttermilk. We'll also season the flour and breadcrumbs for a flavorful game-day recipe. Yum!!!
5. Buffalo Chicken Dip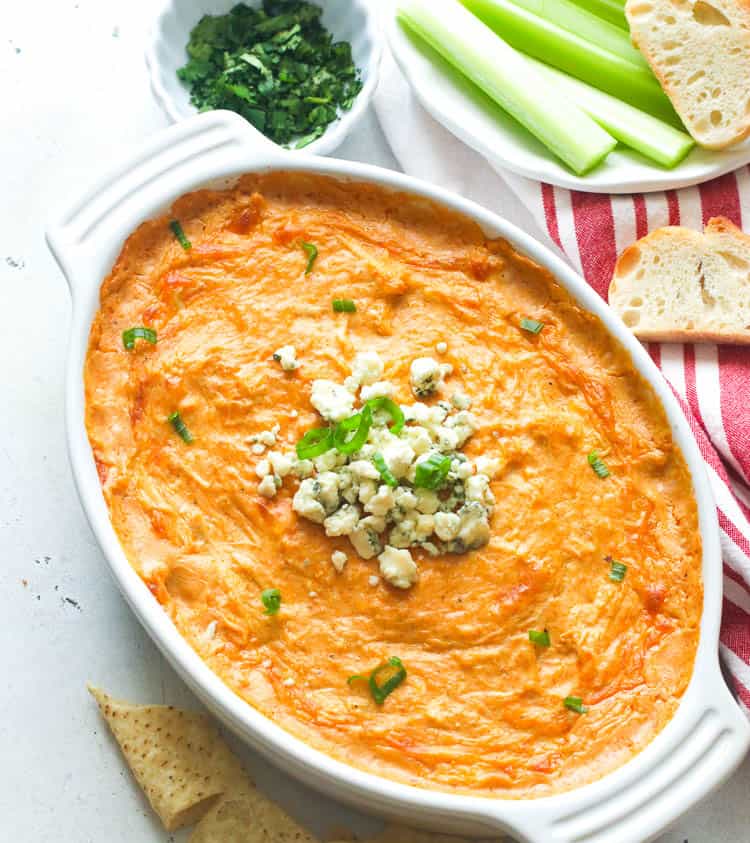 Of course, no game-day extravaganza would be complete without a few dips! After all, dipping anything from fries to tortilla chips is an irreplaceable tradition. Well, this buffalo chicken dip has tons of flavor and the most luscious creamy texture. No, there's no chicken in this recipe, but it's the perfect dip for Buffalo wings!
6. Chicken Tortilla Pinwheels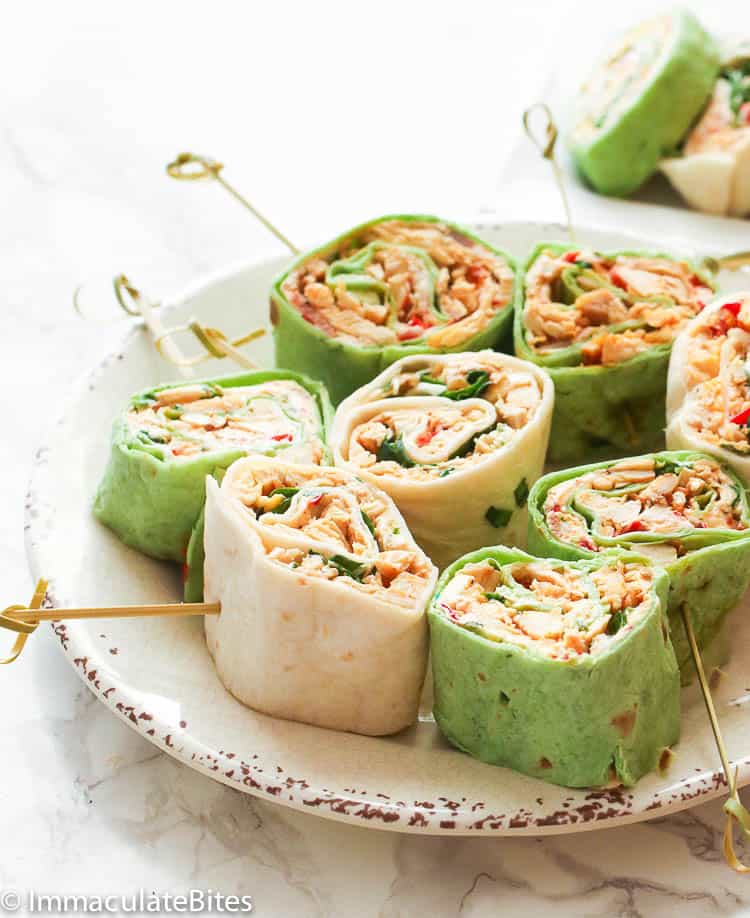 These rolled chicken wraps are not only delicious, but they're also pretty healthy! And they're not your average game-day snack. The cream cheese, spices, and flour tortillas make these pinwheels so attractive. And you can enjoy these hot or cold; they're fantastic either way.
7. Chicken Tostadas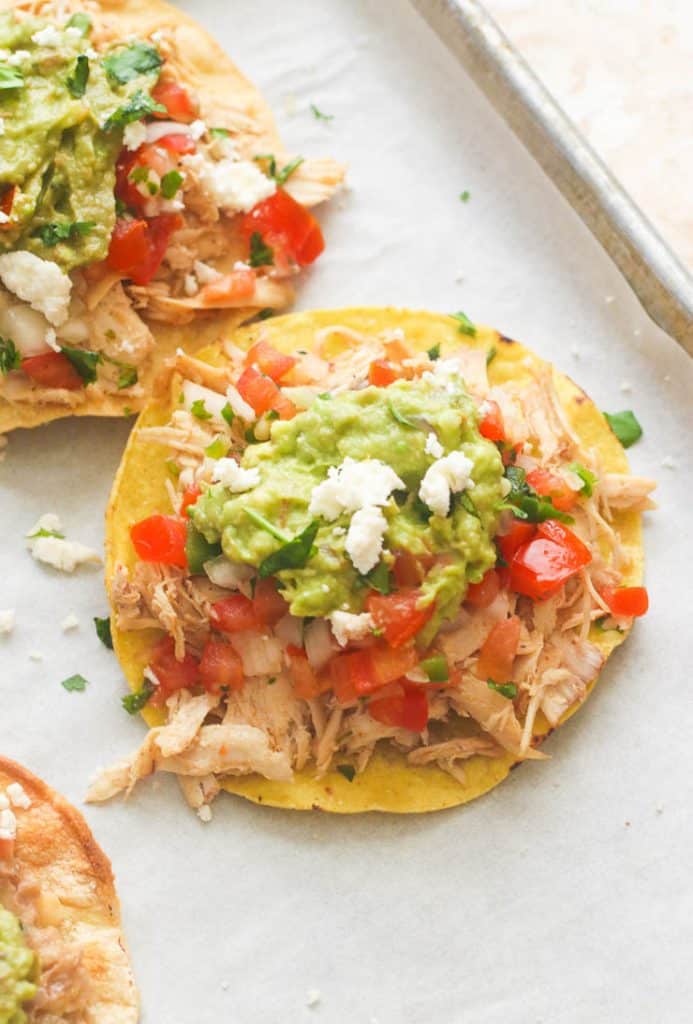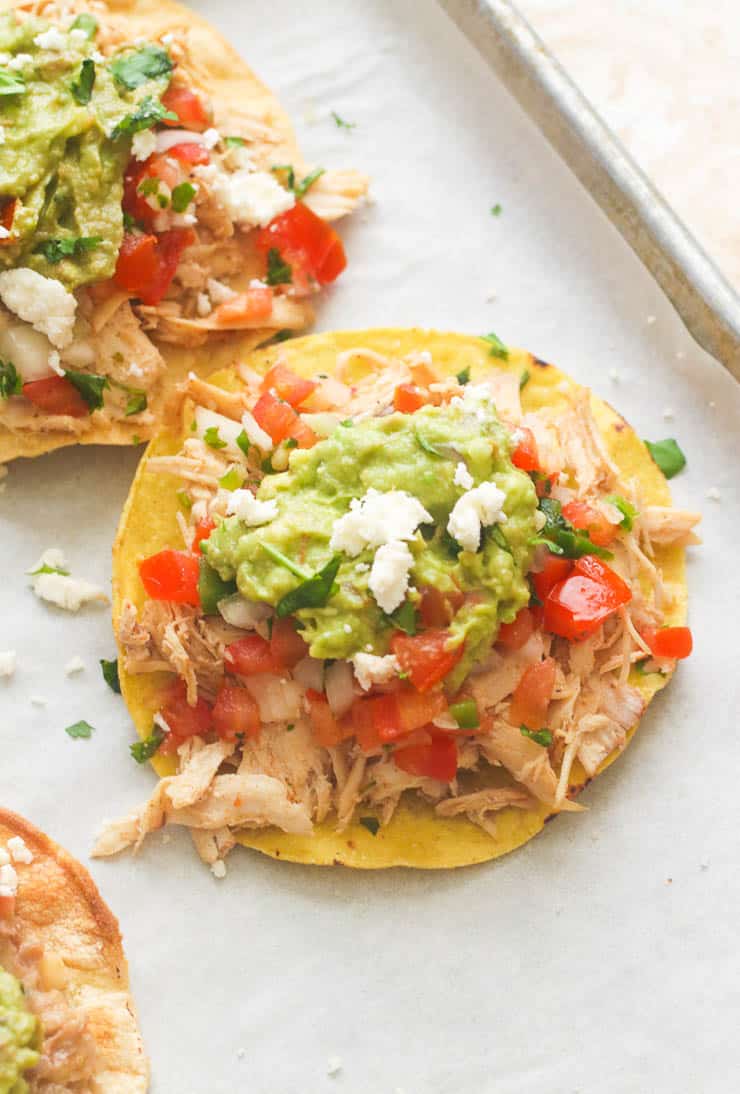 Tostadas are way underrated. Crispy tortillas are the perfect base for any tastiness you want! Of course, chicken is the classic tostada topping, especially if you follow it with homemade guacamole, salsa, and cheese. Oh yeah! And the best part? Assembling your chicken tostadas literally takes less than a minute.
8. Sweet Sticky Spicy Chicken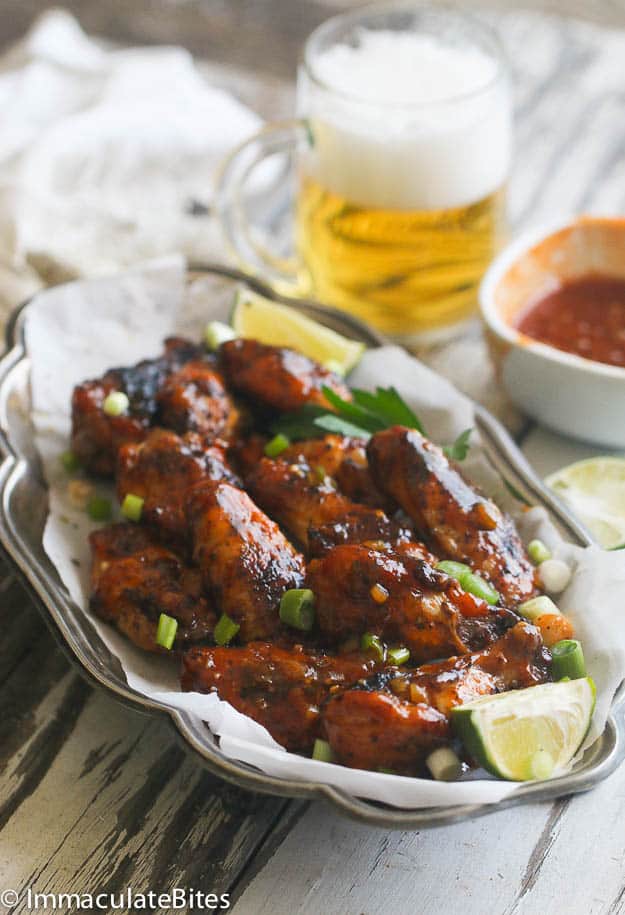 You can never ever have too many chicken wing recipes; they're perfect game-day snacks and come in so many delectable flavors! These sticky chicken wings come together in the oven, but the secret is the homemade sticky sauce. Let me tell you; these are addictive!
Other Game Day Snacks
9. Cajun Baked Sweet Potato Fries
Regular fries are all right, but you can do better. And these Cajun-baked sweet potato fries are the perfect way to do it. These fries are a little bit sweet and crunchy, and they're more colorful, flavorful, and attractive than regular store-bought fries. Should I mention they're also good for you? Win-win! And you only need six ingredients.
10. Fried Gizzards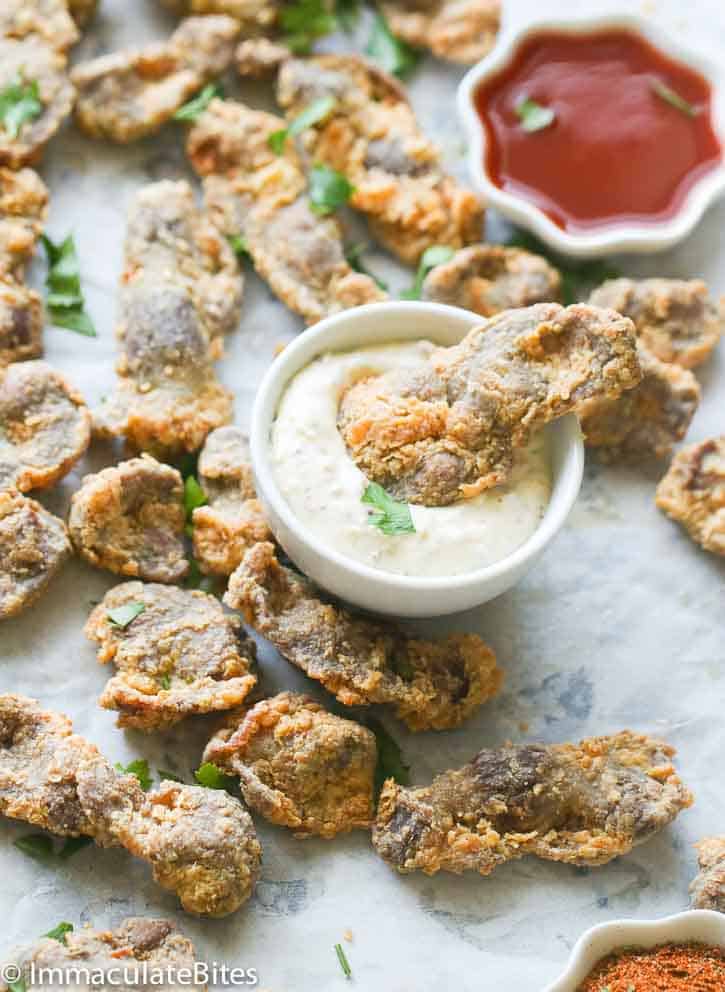 Gizzards may not be as popular as wings, but they are every bit as delicious. These chicken bites are much cheaper than breast, thighs, or even wings, so they give you a bigger bang for your buck! When coated with seasoned flour, they are so mouthwatering. Oh yeah! Try gizzards once, and you'll be hooked for life.
11. Remoulade Sauce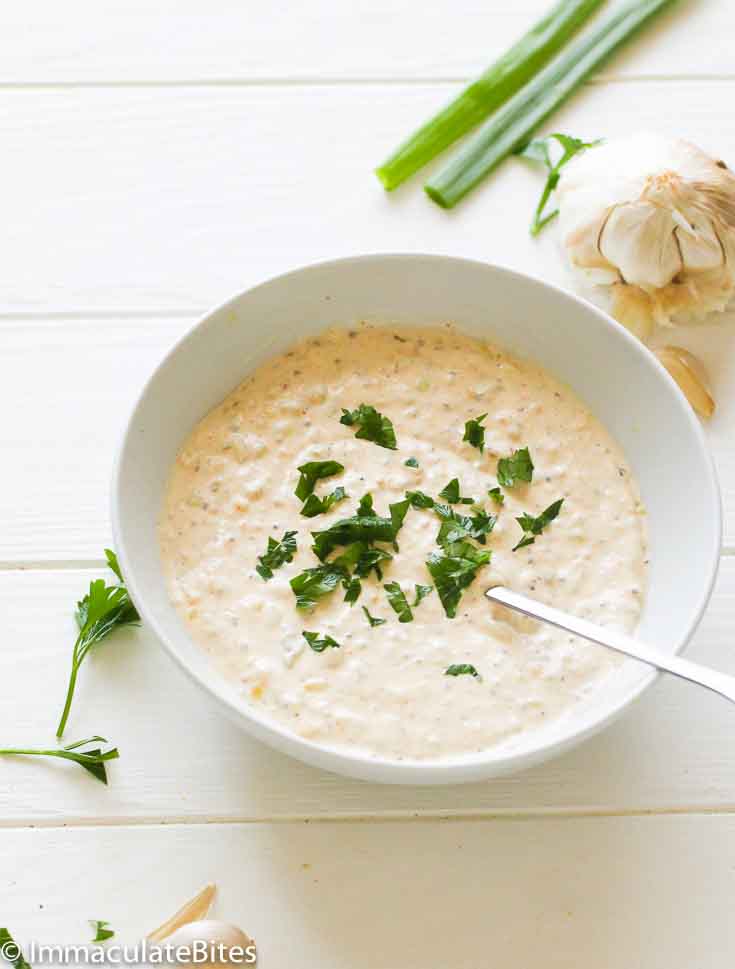 Remoulade is a French sauce or dip that goes great with many foods, especially fried finger food. Drooling! This creamy, tangy, and savory classic goes great on the fanciest dinner tables, but it's also superb for casual get-togethers (aka game day). Instead of buying a bottle of premade dip with who knows what on the ingredient list, make this super easy remoulade — it goes great with fried catfish, shrimp, and smoked chicken wings!
12. Jamaican Meat Pie (Jamaican Beef Patty)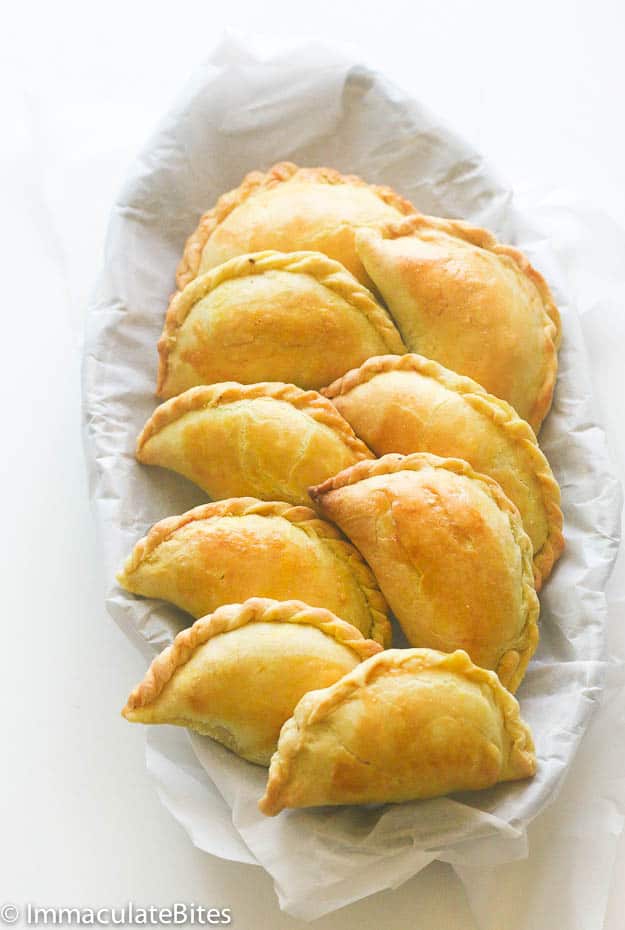 These Caribbean meat pies make a great game-day recipe, and it's because you don't need a fork and knife, or even a plate for that matter. Just grab a meat pie and chow down. But don't let their simplicity fool you; the filling is anything but ordinary. Garlic, onion, paprika, chili powder, and a few spices give this snack the perfect zing.
13. Marinated Grilled Skirt Steak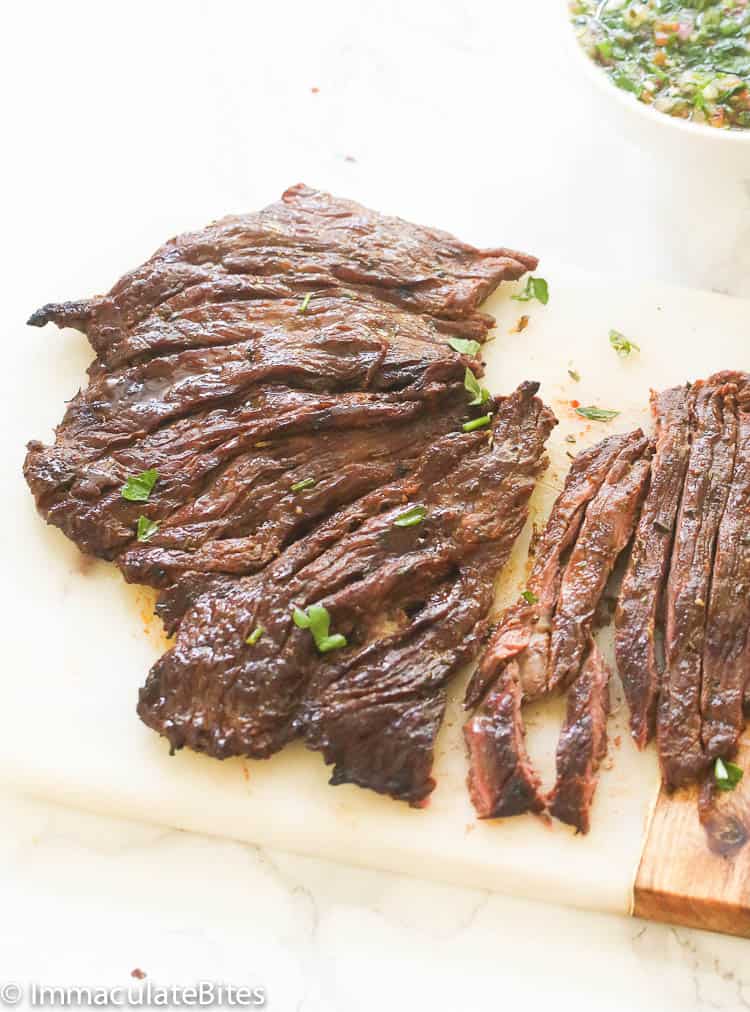 Who said you can't have a tender, juicy steak on game day? Skirt steak is perfect for casual get-togethers because it's inexpensive and exceptionally delicious, especially if marinated and cut against the grain. I marinate these in soy sauce, pineapple juice, a dash of lime juice, and a few spices. Grilling these gorgeous steaks is a ton of fun! They're so festive!
14. African Pepper Sauce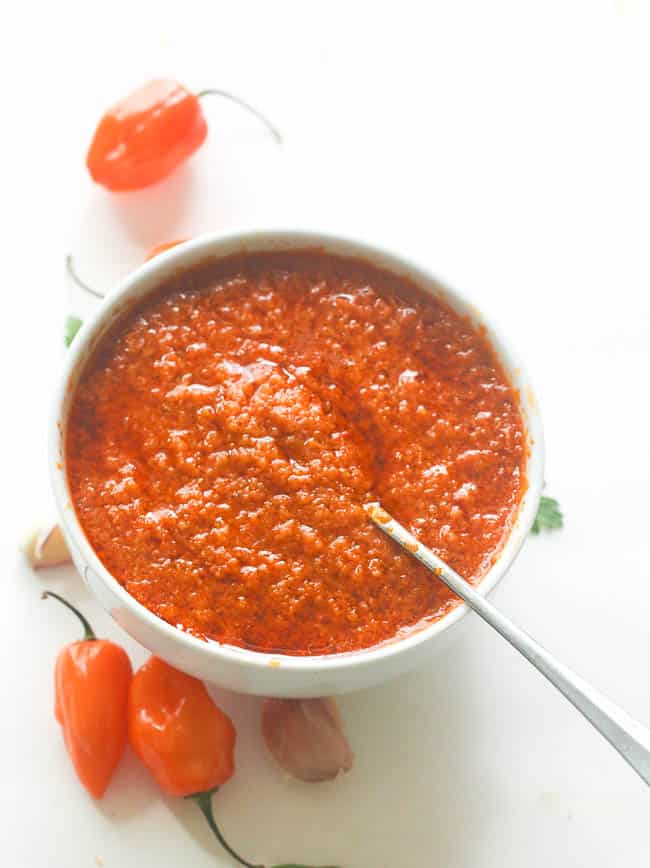 This homemade African pepper sauce is colorful, aromatic, and spicy. I love making it for meaty snacks, like steak tips and meat pies. If you want a really spicy sauce, use habaneros or Scotch bonnets, and jalapeños will give you a slightly milder version. This one's ready to go in half an hour, and it's ten times better than store-bought hot sauce.
15. Spicy Sausage Rolls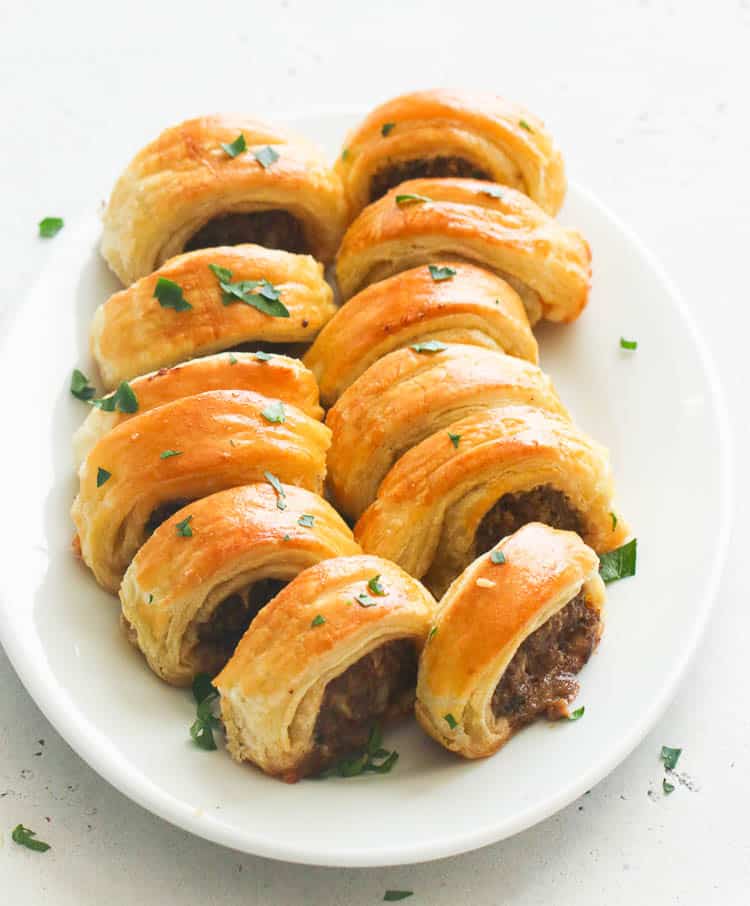 What I love about these sausage rolls is the buttery puff pastry infused with the rich, meaty filling! Combine sausage meat with breadcrumbs, garlic, and your favorite spices to customize these rolls. Needless to say, these are more than just tasty game-day snacks; they're super filling too!
16. Cuban Sandwich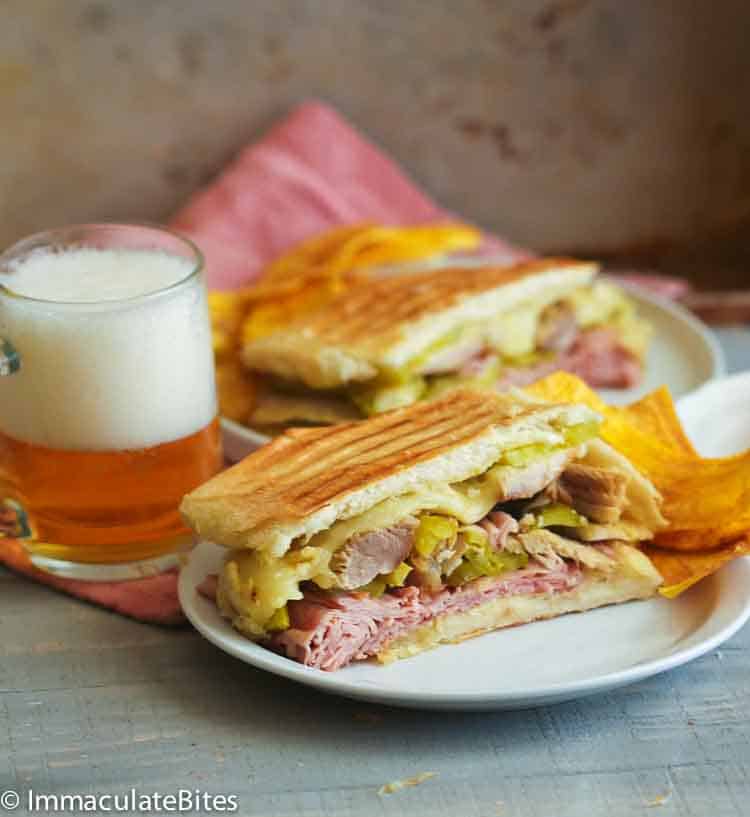 Forget about your ordinary ham and cheese sandwich; make Cubans for the perfect hero of the stadium. The secret here is the roast pork, cheese, and a few tangy dill pickles. It's exploding with flavor in every bite for a touchdown!
17. Baked Meatballs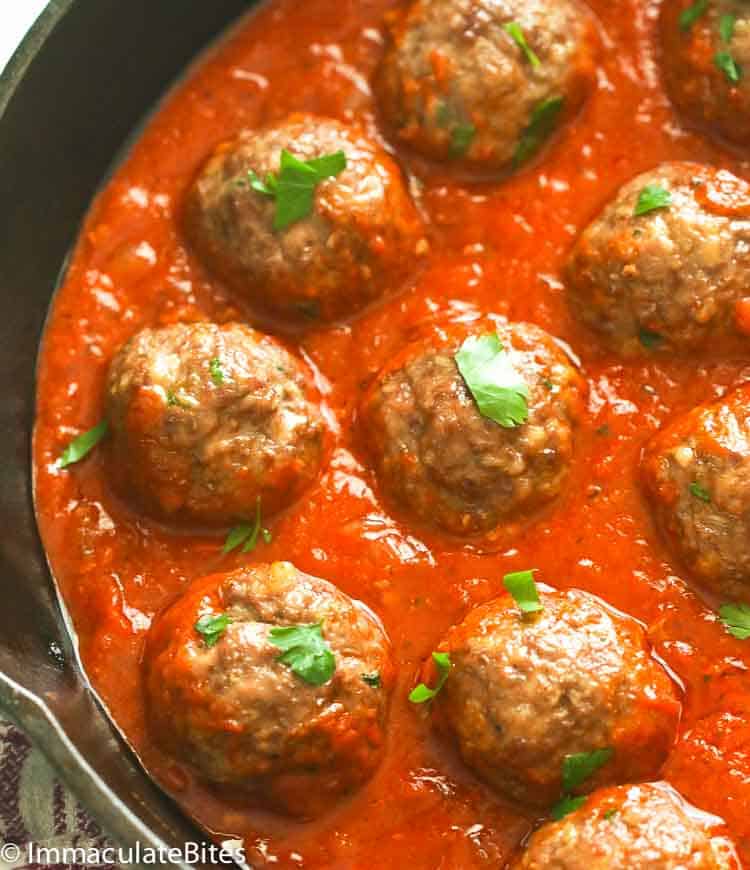 Meatballs are not only an easy weeknight dinner idea, but they're also perfect for game day. Meatballs are juicy and tender, especially when drowned in homemade tomato sauce. Have them ready to pop in the oven, then bring them out steaming hot just in time for kick-off. Oh yeah! There are also many ways to customize them, so you can make your own special game-day recipe!
18. Steak Tips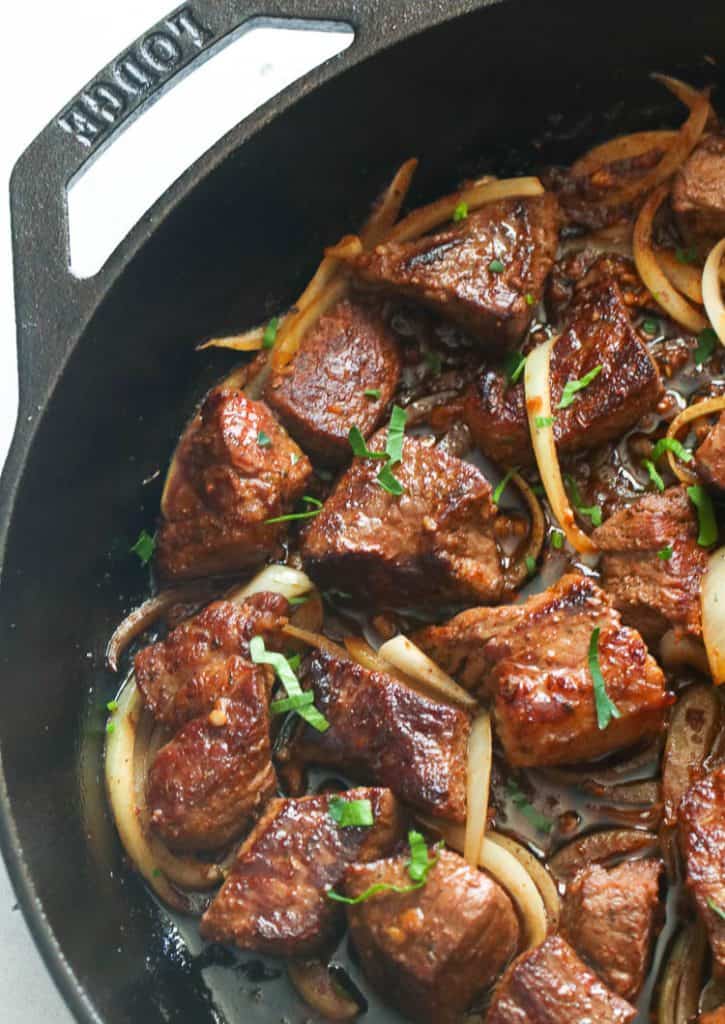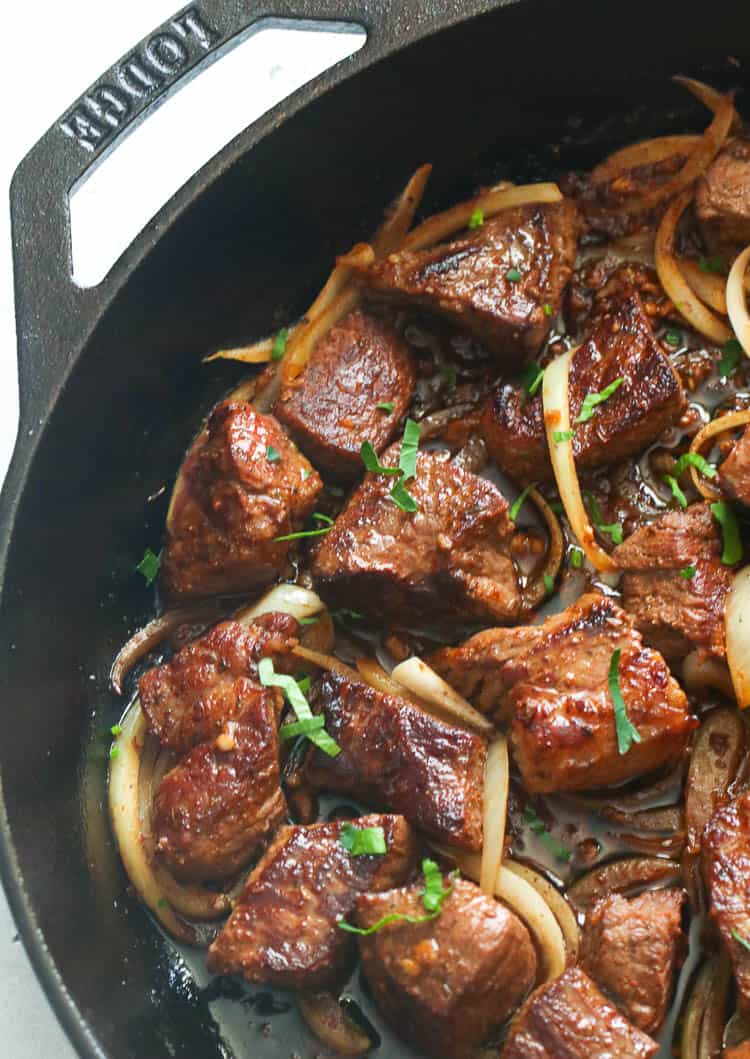 Steak is much more enjoyable when cut into small bites, and when done right, the meaty tips just melt in your mouth! This quick-fix calls for sirloin steak and spices; that's it. And let me tell you, Worcestershire and soy sauce are my secret ingredients! These steak tips will surely become your new favorite game-day snack!
19. Pigs in a Blanket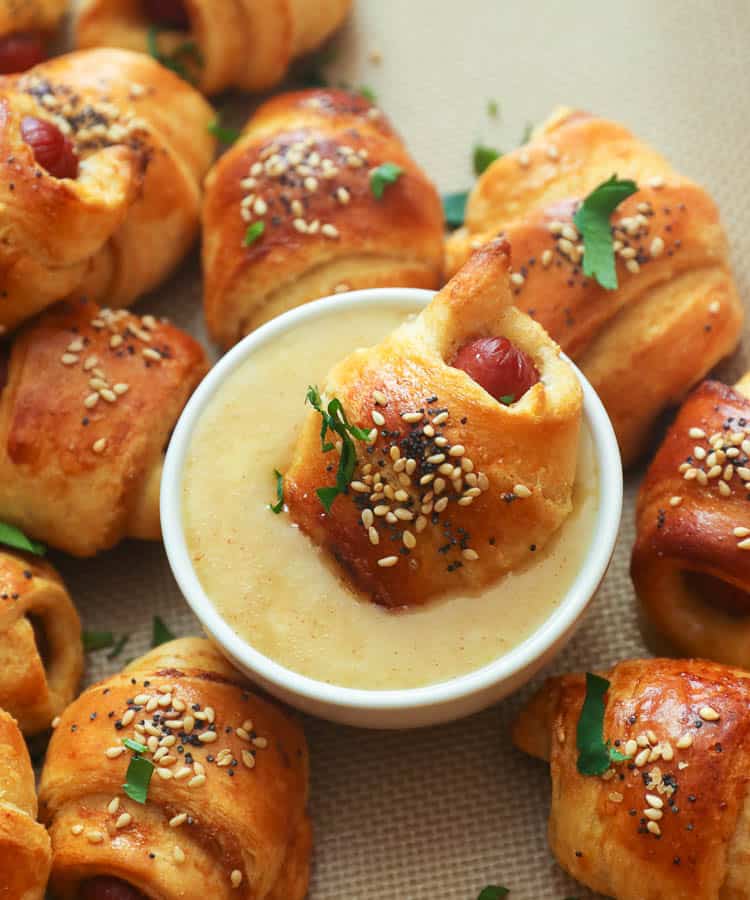 Let's go back to the classics! And what's more classic than pigs in a blanket? Crescent roll dough and a few fatty sausages are all it takes to make these soul-satisfying bites, then choose your favorite dips and sauces to go with them. I serve mine with a quick honey mustard dip!
20. Pulled Pork Recipe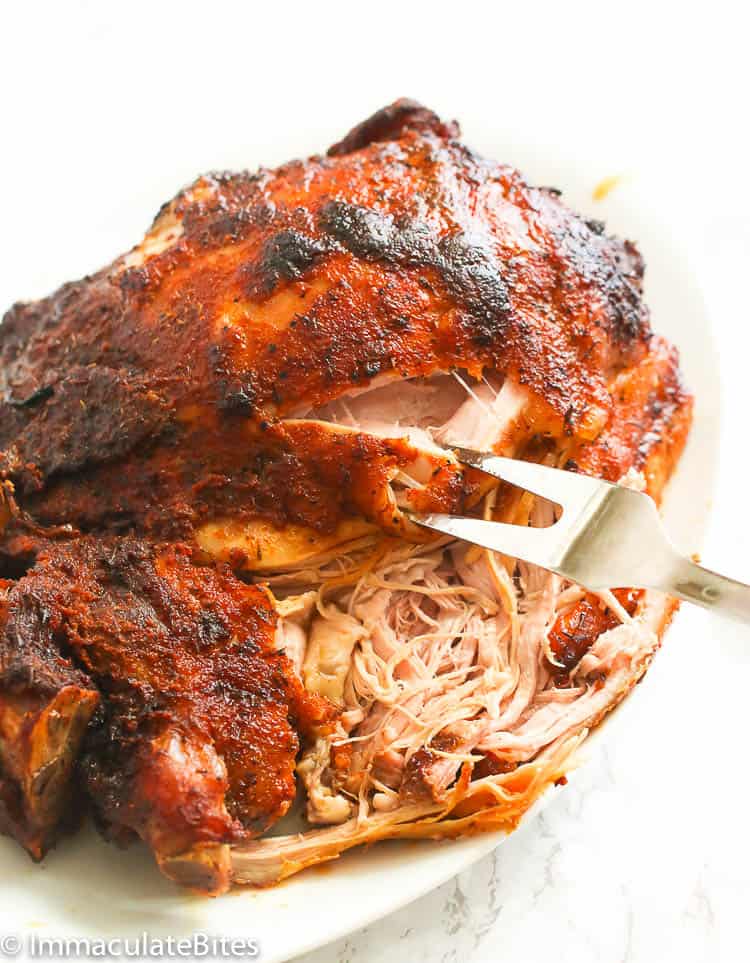 This one's reserved for the most memorable playoff games and, of course, the big game at the end of the season. Pulled pork is more than just a meal; it's a celebration. Think of fork-tender, juicy meat loaded up on a crusty bun and topped with homemade BBQ sauce. Oh yeah! It only takes ten minutes to prep this game day recipe, but you'll want to put this one slow roasting in the oven early in the morning! And it's the perfect filling for Pulled Pork Egg Rolls.
21. Pimento Cheese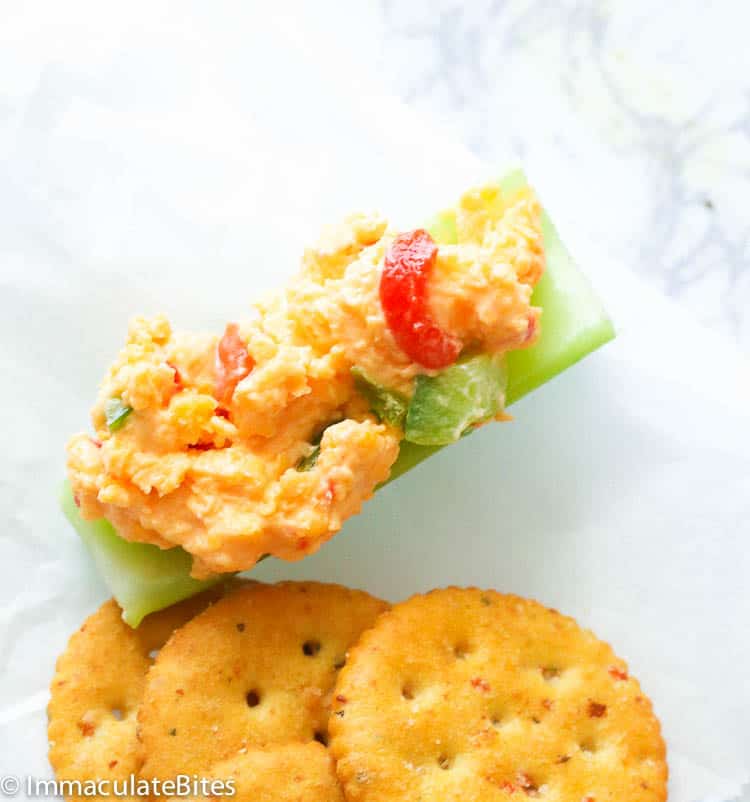 For a dip or spread with substance, pimento cheese is the one for you. This cheesy, spicy, and colorful spread is lovely on crackers but also with carrot or celery sticks. Creamy and slightly sweet, this is one of the dishes I brought from my trip to South Carolina. Of course, it became an instant classic at my house, especially on game day.
22. Cheese Ball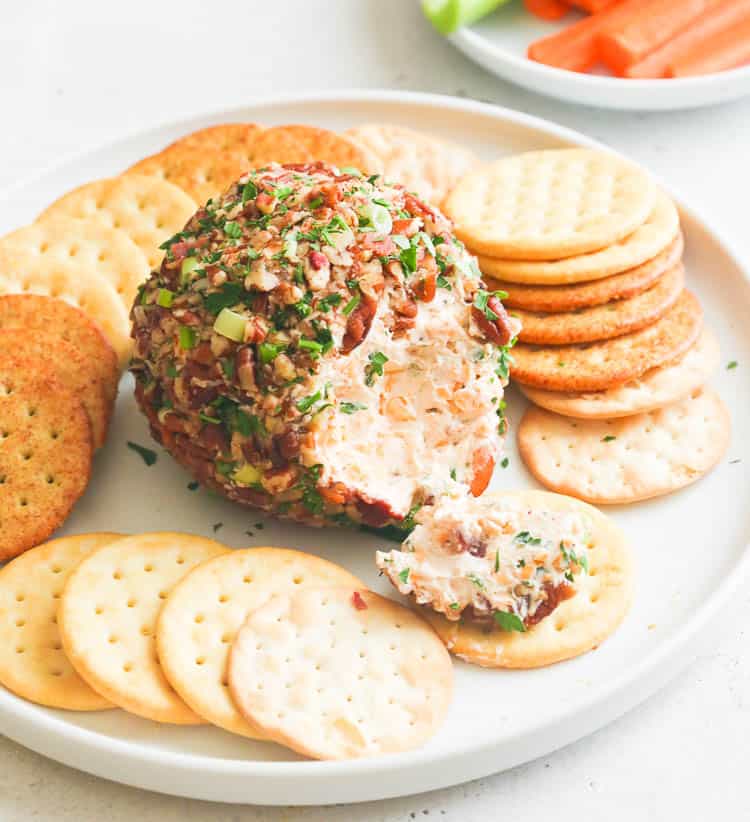 This is another quick and super easy spread and appetizer. Even your kids can pull this one off, so put those little rascals to work! 😉 No, really, all it takes is cream cheese, a bit of mayo, and some more tasty stuff, and you'll end with a cheeseball with infinite layers of texture and flavor.
23. Ham and Cheese Sliders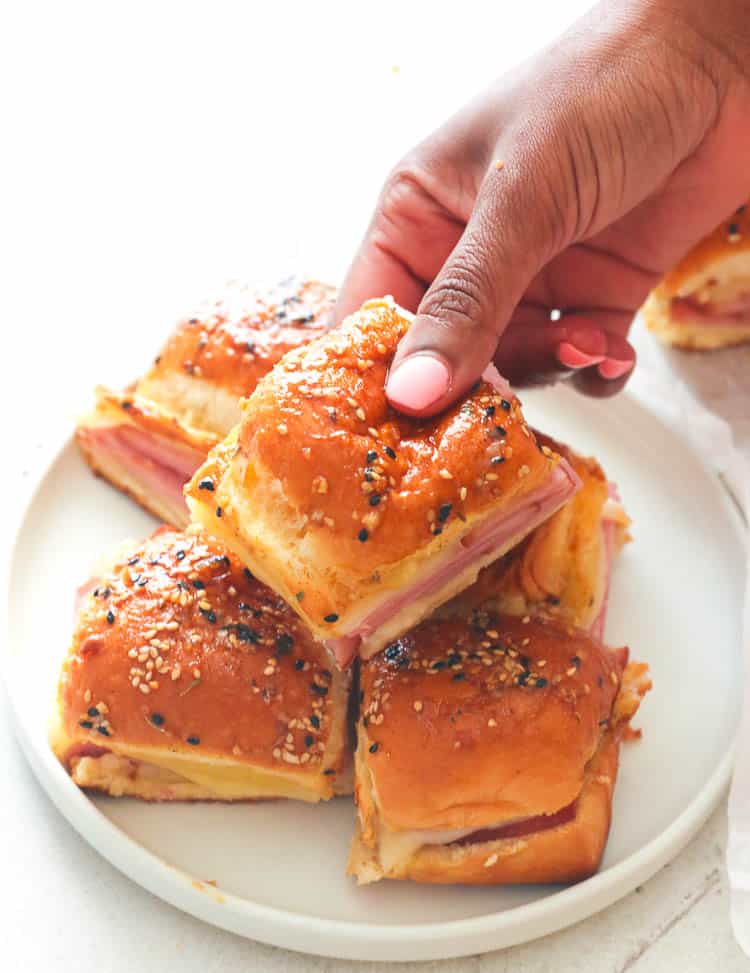 Did someone say ultimate comfort food? These super easy ham and cheese sliders are the perfect game-day recipe. For starters, they're super easy to make, and you can really dress them up with Dijon mustard, honey, butter, and hot sauce. It's worth a visit to your local deli to get the good stuff; sliders are not just for kids anymore!
24. Beer-Battered Onion Rings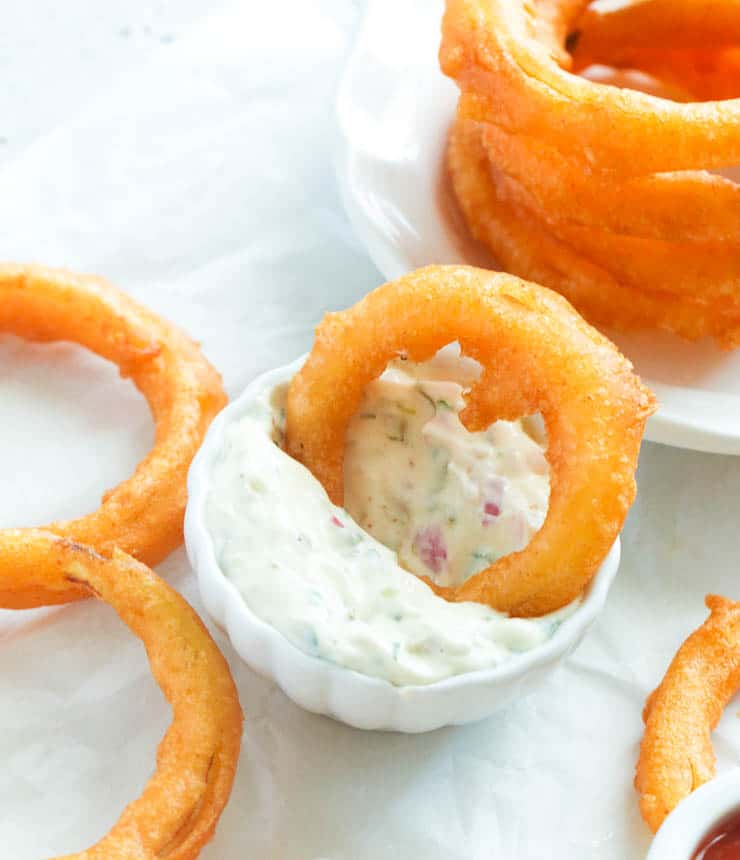 There's no need to buy frozen onion rings ever again; make your own — they're crispier, healthier, and much more flavorful. And don't get me started on that delicious crunch! Indeed, I promise you'll have a batch of onion rings on the table in half an hour, and we're making everything from scratch. Amp up the batter's flavor with paprika, cayenne, and garlic powder — these onion rings are definitely on another level!
25. Little Smokies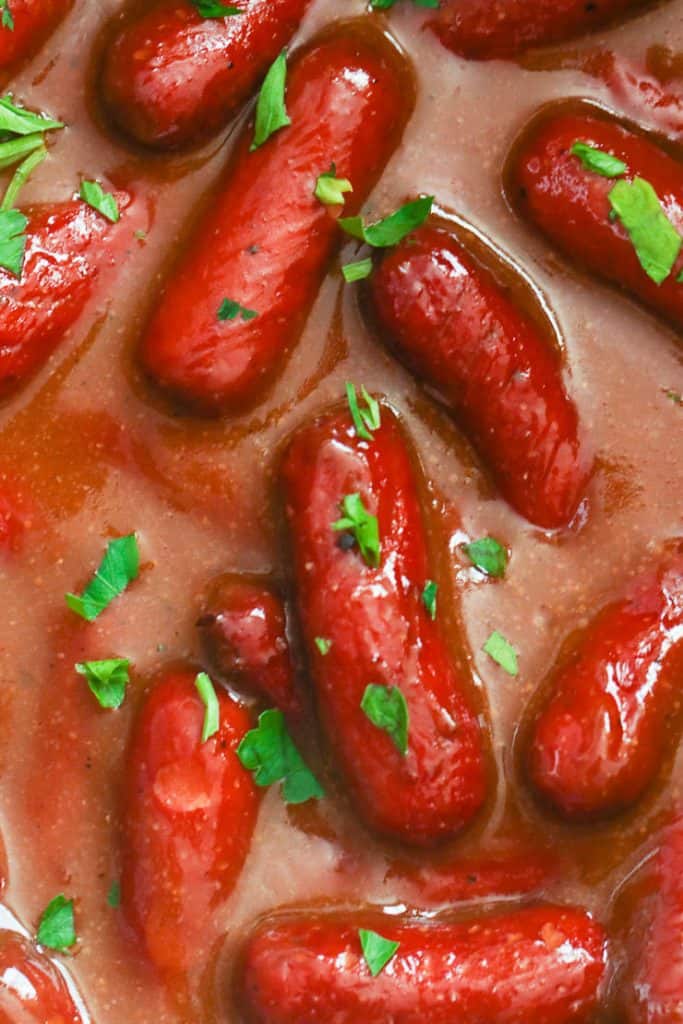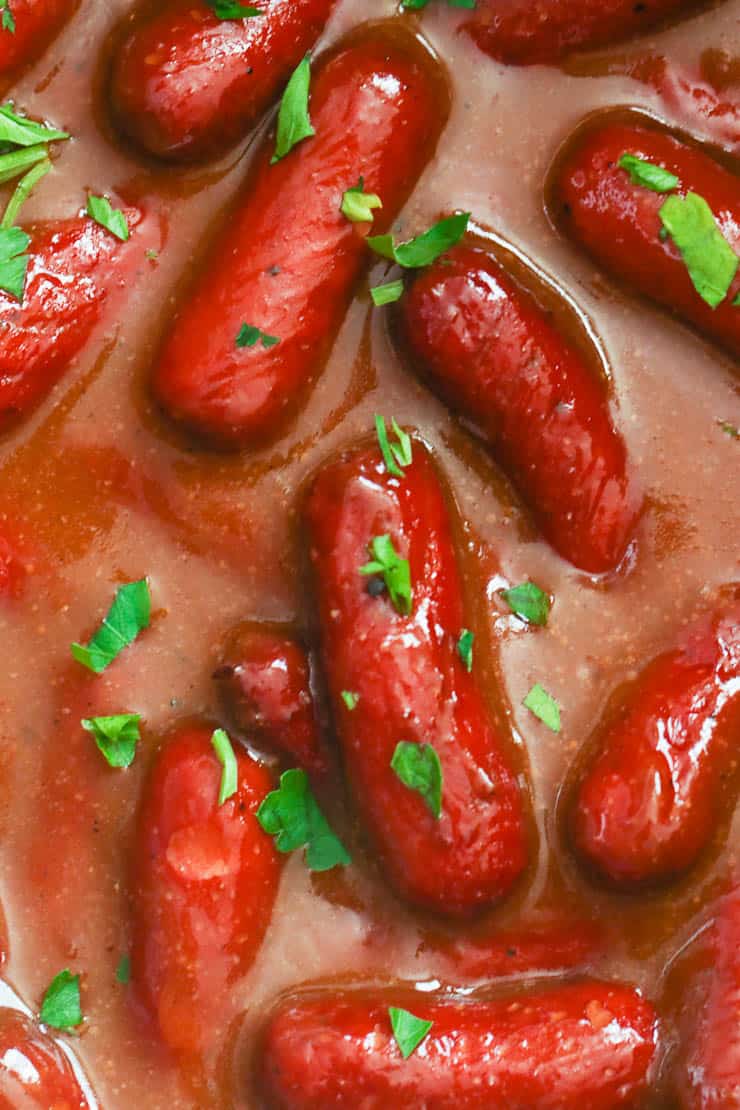 This 5-ingredient party starter is so easy to put together you won't miss a second of the action. You can even throw them together during the halftime show, and you're all set for a delicious second half. I use homemade BBQ sauce for my smokies but use your favorite brand. Smokies are super tasty on their own; we're just spicing them up even more!
26. Easy Guacamole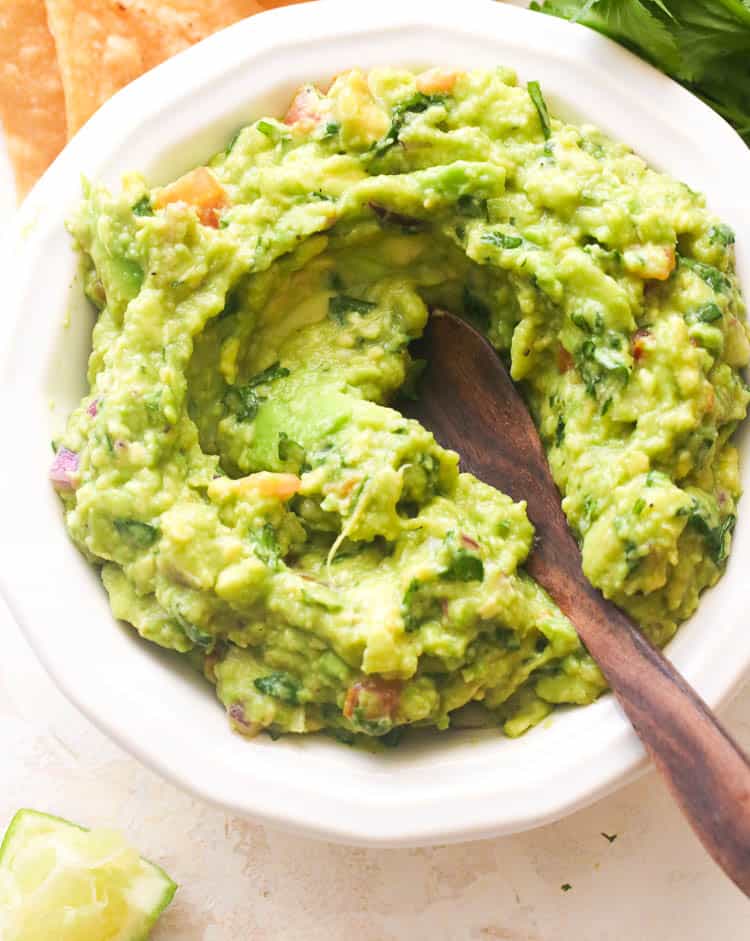 For many of us, game day just isn't the same without a big bowl of guac. The healthiest game day snack is also the easiest to make — just mash a few avocados with lime juice, diced tomato, and onion, and you're good to go. Of course, a few spices help! Get your hands on a bag of tortilla chips and dip away — as soon as the whistle blows, it's guacamole time!
27. Pico de Gallo + Homemade Tortilla Chips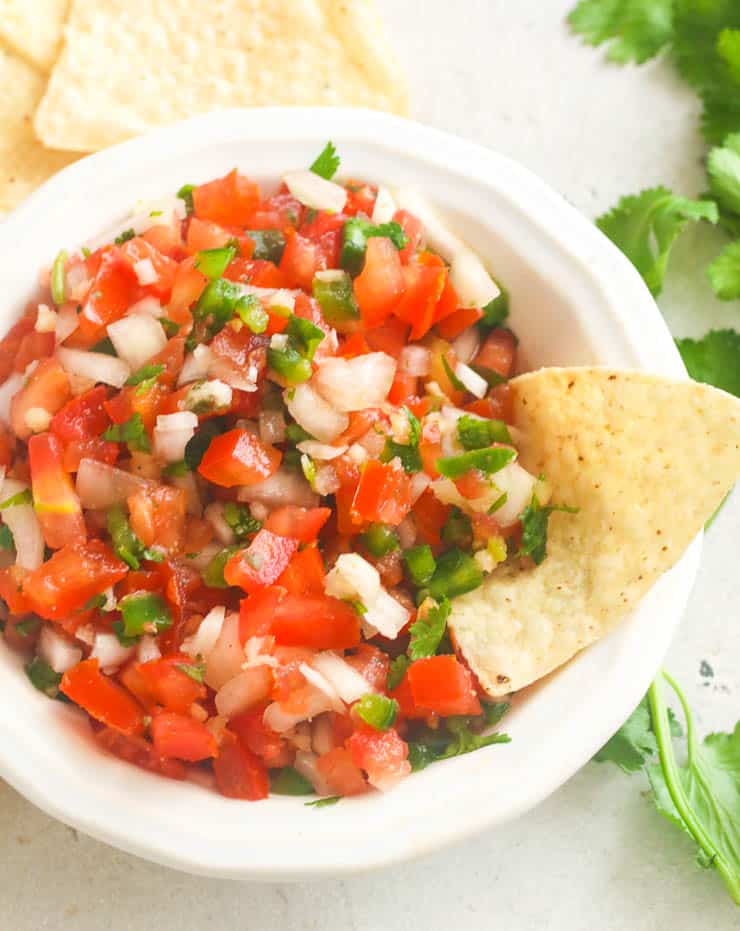 And if you like guacamole, you'll love pico de gallo, an all-natural, refreshing salsa to give life to any snack. In fact, pico de gallo is a terrific snack in its own right, especially if served with homemade tortilla chips. Chunky salsas are indeed the best!
28. Easy Deviled Eggs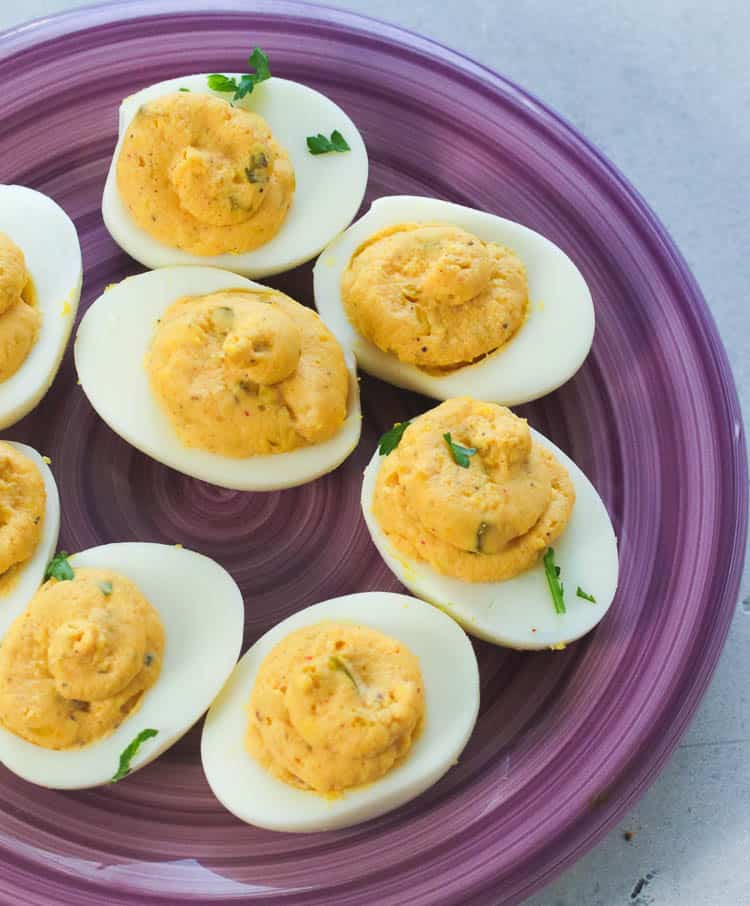 Sweet pickle relish turns a few hard-boiled eggs into delightful bites that show you don't need carbs to have a good time. The devilish classic goes back centuries, and it's still the perfect snack for game day or any other day of the week. These are ready in twenty-five minutes, and you only need a few pantry-staple ingredients.
29. Pizza Rolls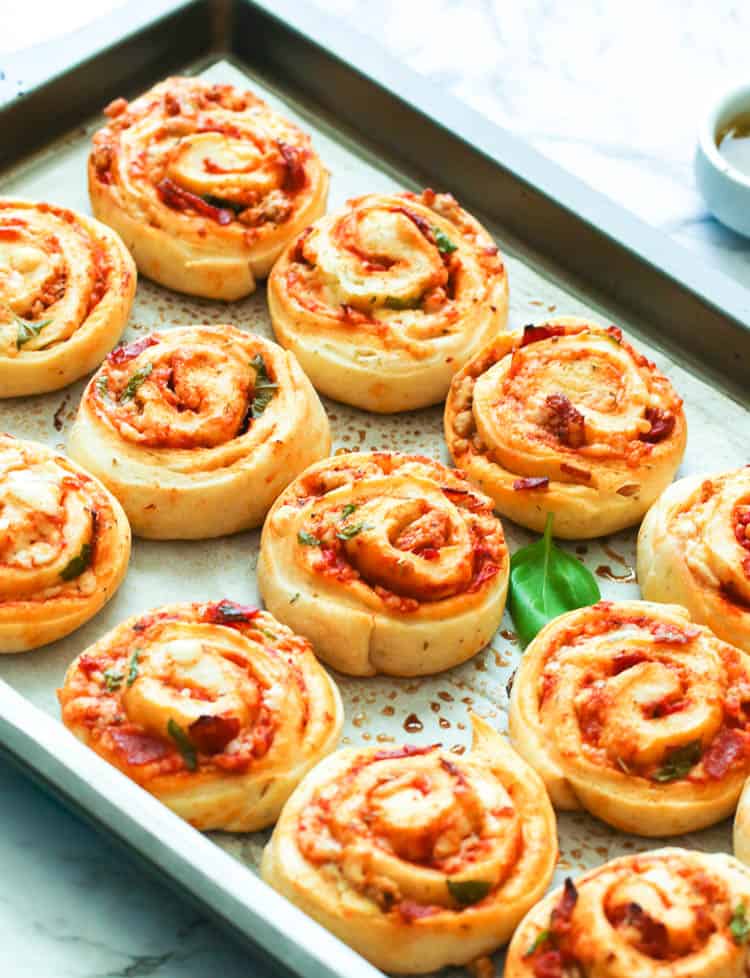 If you don't feel like cooking on game day, you could always order pizza. However, these pizza rolls are super easy if you want to take your experience to the next level. Pizza and snacks on the same platter. How cool is that? You can make up to thirty rolls in thirty minutes; that's way faster than most pizza delivery.
30. Spinach Artichoke Dip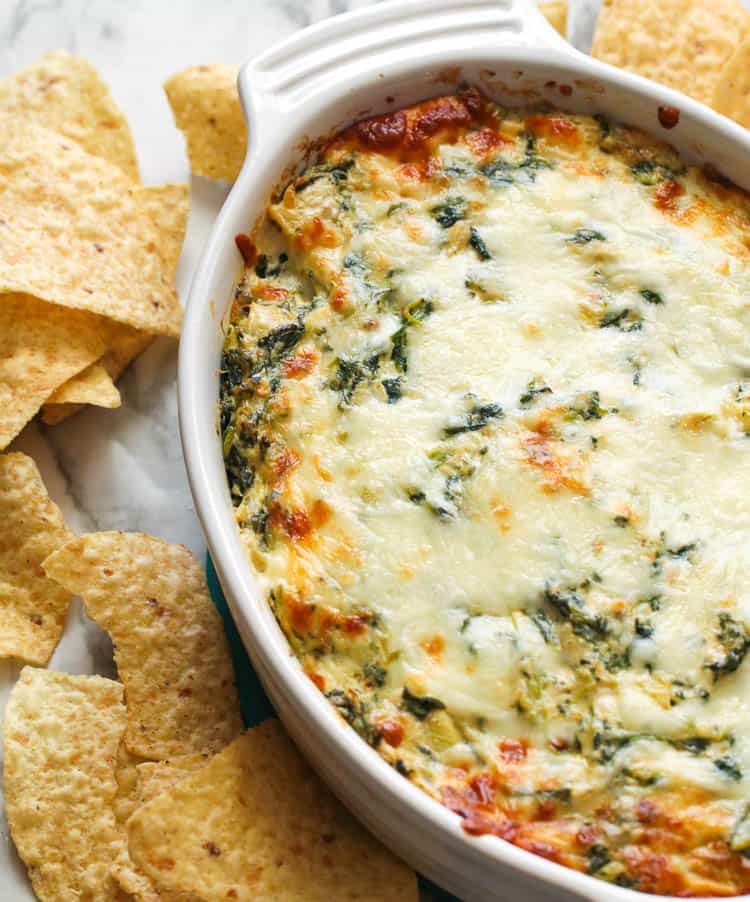 You've gotta eat your veggies, right? What better way than with this fantastic dip! So don't worry; this one's absolutely delicious. The greens also add incredible flavor to this creamy, cheesy dip. Dip pita bread or tortilla chips in this one and enjoy the game; oh, and add some extra garlic for a burst of flavor!
31. Jalapeno Poppers
These j-poppers are the real deal, and they're a thousand times better than those sad jalapeños that come frozen in a bag. We're making these babies from scratch! Cream cheese, gouda, and breadcrumbs come together to give these spicy snacks the creamiest filling!
Gameday Fish and Seafood Snacks
32. Fish and Chips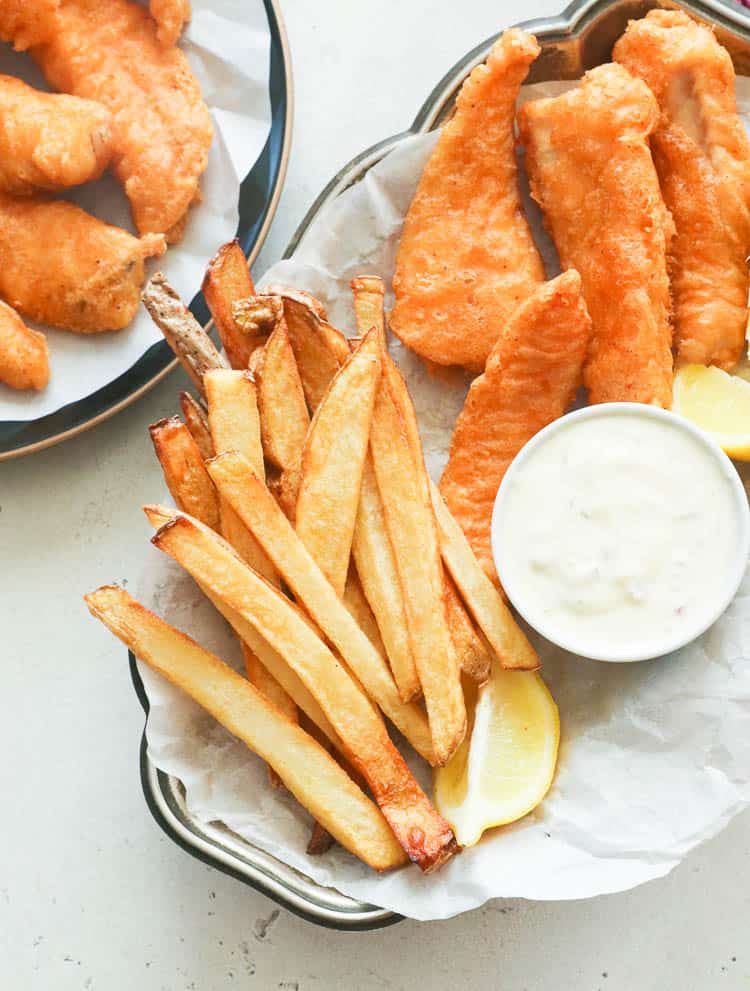 Fish and chips are a game-day classic, and the ultimate street food snack is also an easy recipe to make at home. The secret is in the batter, and to guarantee that it sticks, we use both flour and cornstarch — now you know my secret. Making the chips, aka fries, from scratch is easy; russet potatoes give you the best results.
33. Shrimp Po'Boy Sandwich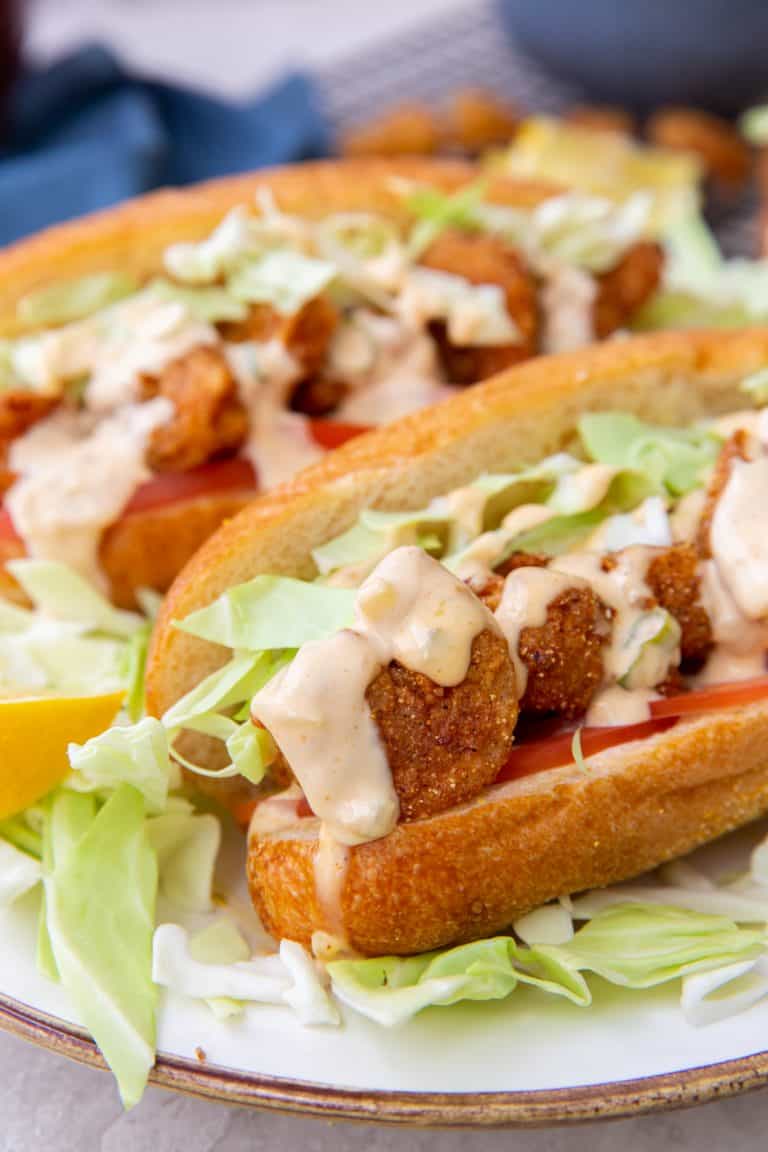 Southern food is super compatible with game day. Everything is crowd-pleasing delicious! And my favorite? A freshly made shrimp po'boy. Batter and fry the shrimp until golden without overcooking them, and the rest is easy. Hoagie and French rolls work equally well, and, as for the toppings, let your imagination fly! Oh, and don't forget the remoulade sauce!
34. Crab-Stuffed Shrimp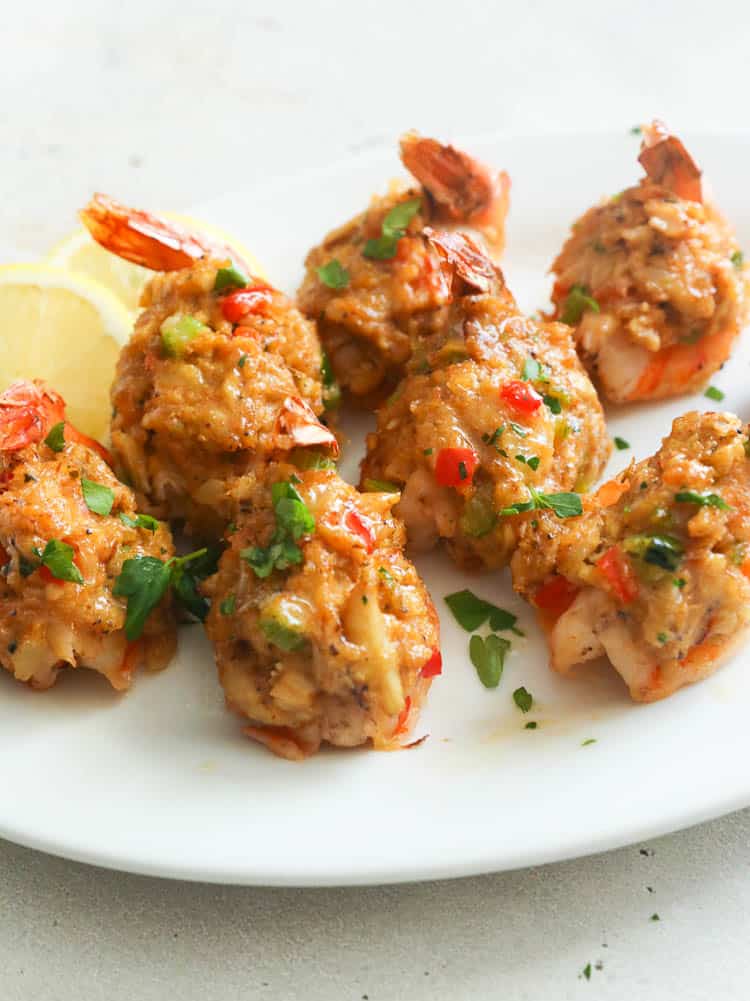 Crabmeat, Creole seasonings, egg, mayo, and cream cheese come together for a spicy mixture to fill a few fat, juicy shrimp. If you thought shrimp was already delicious, wait until you try them with this creamy filling! Once assembled, bake them for twenty minutes and voilà! Crab-stuffed shrimp are ready to be served. Add a few lemon wedges and enjoy the game!
35. Salmon Croquettes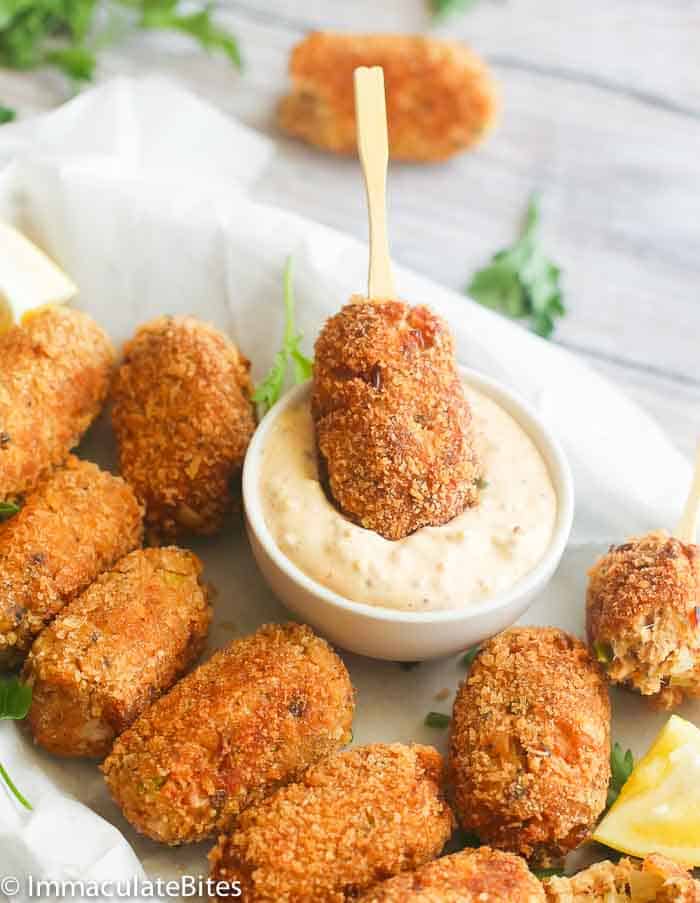 Make good use of those cans of salmon you have in the pantry and make a fresh batch of crispy croquettes. These are pretty easy to make with simple ingredients, so I'm sure you already have all you need in your pantry. My secret is a pinch of Creole seasoning in the breadcrumb mixture, and it makes all the difference! Yum!
36. Baked or Air Fried Coconut Shrimp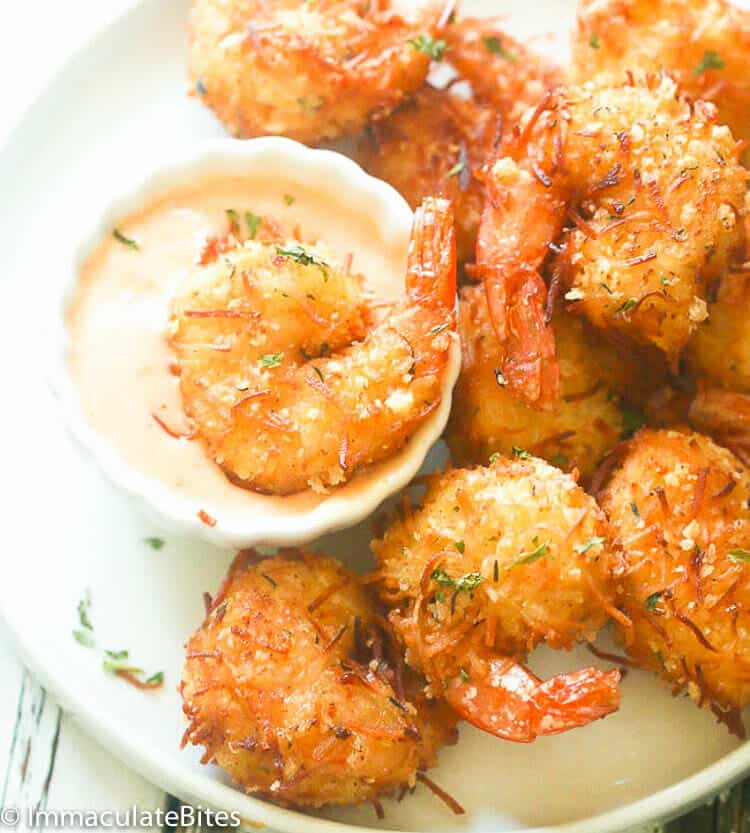 Who would have thought shrimp is so heavenly with coconut? This tropical delight is also a great way to give variety to your game-day snacks. I'll also share my air-fryer coconut shrimp recipe with you — it's so mouthwateringly crispy! Shrimp just makes any game-day party better. Serve these with your favorite dip!
37. Beer-Battered Fish + Homemade Tartar Sauce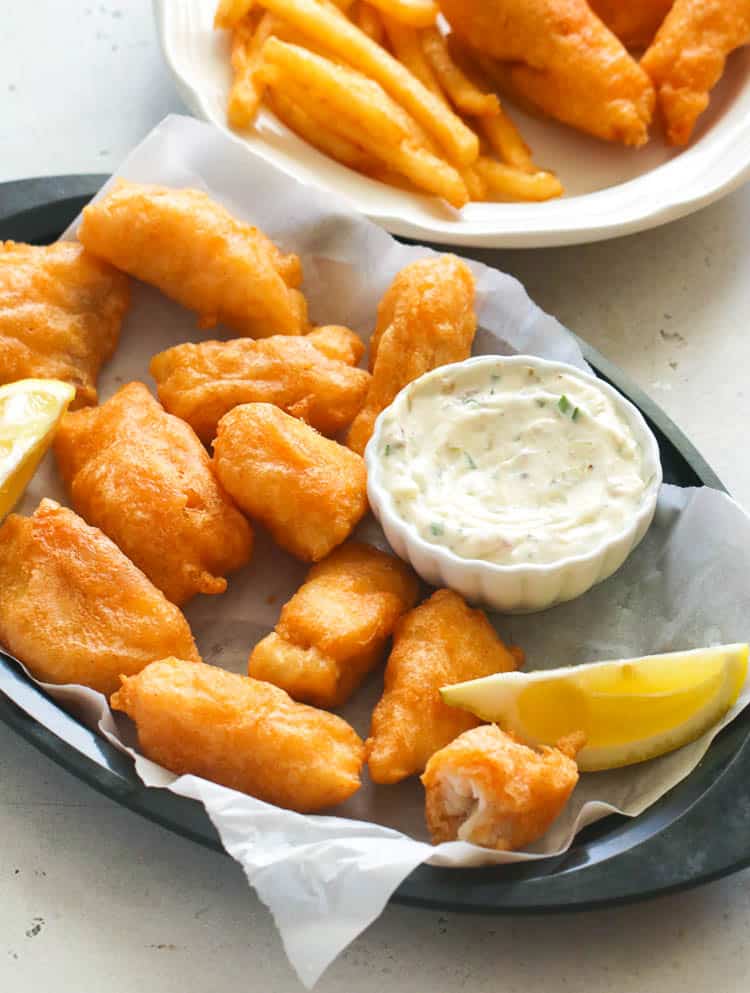 We can't forget beer-battered fish for game day. Crispy and deliciously flaky and super fresh — that's homemade battered fish, and it's so much better if you serve it with your very own tartar sauce! I like cod for these, but your favorite whitefish will work great. Who's up for some fish and chips?
38. Tuna Melt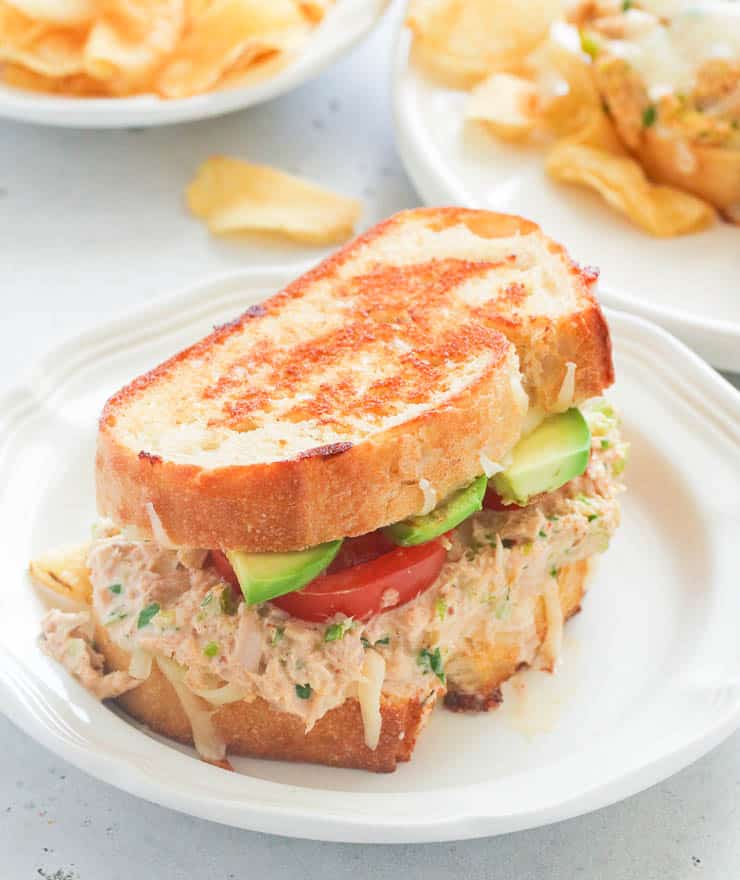 This summer sandwich is so light and flavorful. You don't have to work hard at all to put together a game-worthy feast. Good-old tuna salad and a few slices of bread — it doesn't get any better than that! Mayo, lemon juice, fresh onion, celery, and garlic. And don't forget the avocado! This is a satisfying seafood melt.
Game-Day Drinks
39. Mai Tai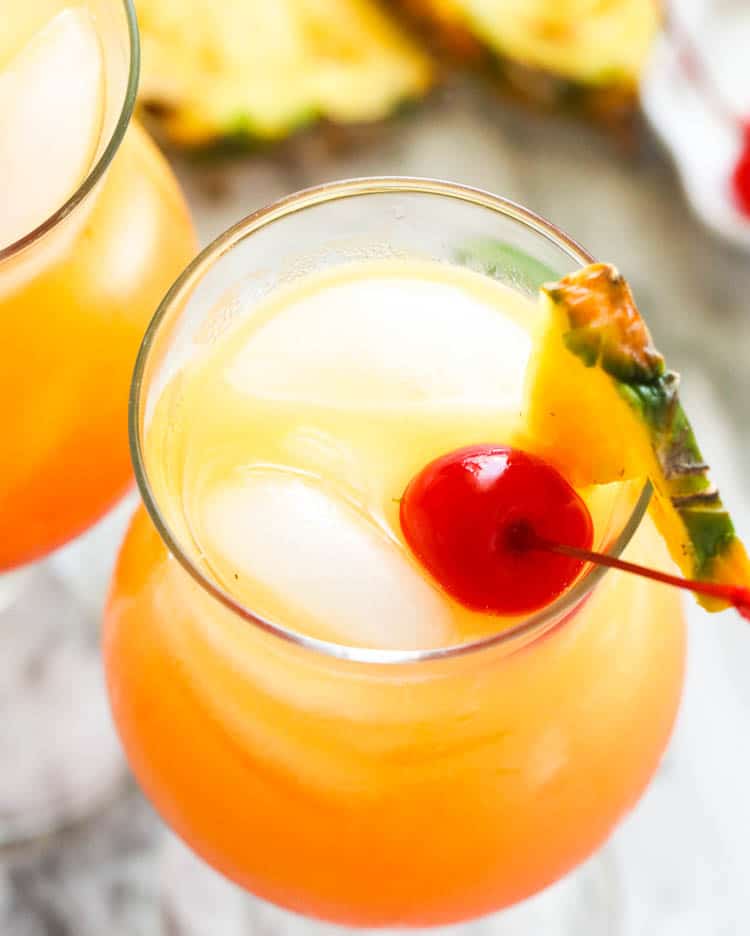 Now, for the perfect game day drink, how about a Tiki classic? The Mai Tai is refreshing and colorful but also boozy. It will feel like the Superbowl on the beach. So bring out the rum, and let's get the party started! This tried and tested recipe is all you need to celebrate a big win.
40. Lemonade (in 3 Ways)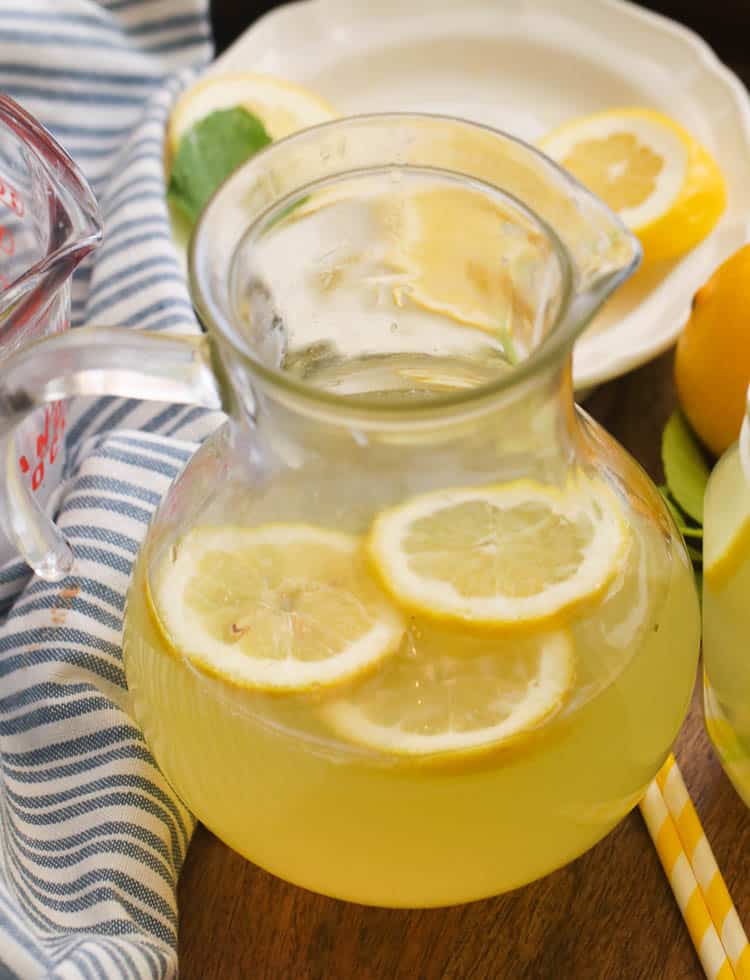 Anyone can make lemonade, but the perfect lemonade requires a special touch! So HERE'S my recipe for a three-way lemonade with all-natural ingredients, including a few exotic fruits! This super easy lemonade is perfect for summer, and it's as thirst-quenching as it is tasty! This recipe is a lifesaver.