These healthy, hearty, and tasty bean recipes are a great meal on their own. It's actually amazing how you can use them in so many ways – soup, salad, stew, and dips! And they're very budget-friendly, too. All the more reason to stock up on beans!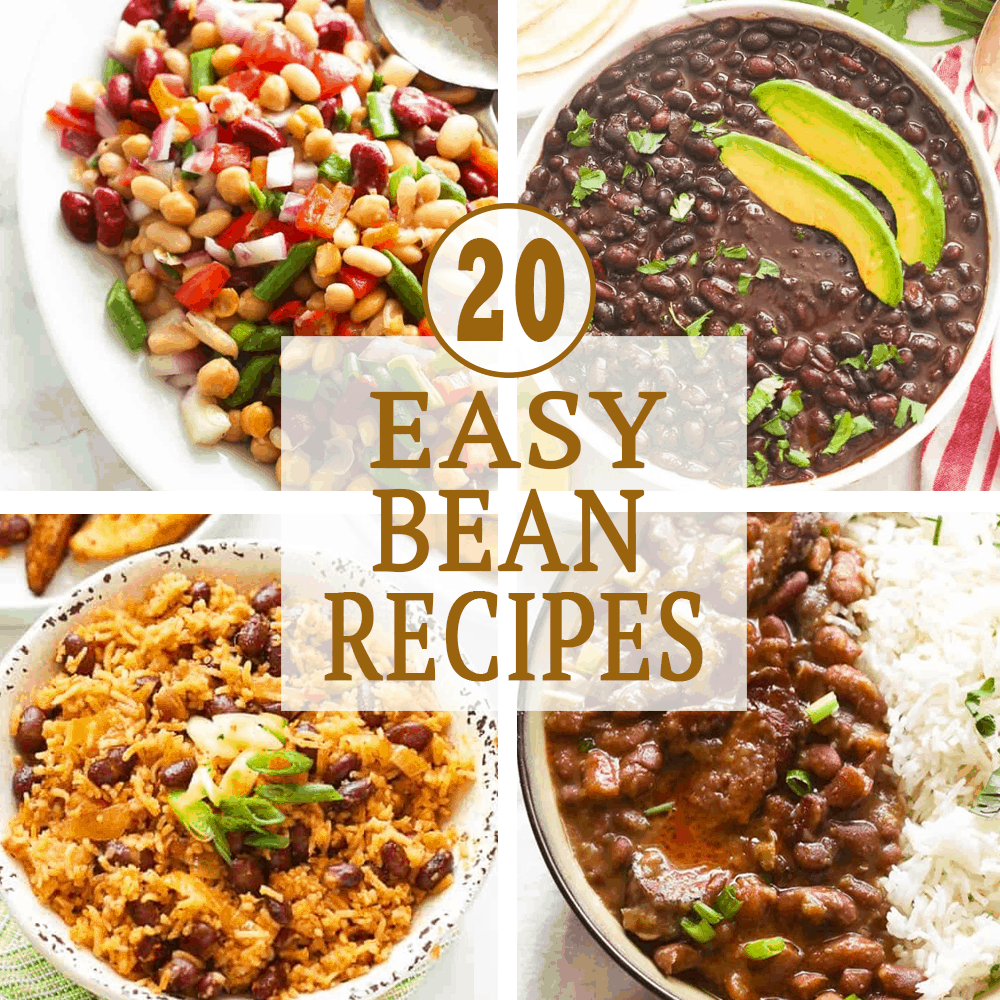 Beans are generally nutrition-packed goodies. They are high in protein, fiber, folate, and antioxidants. Plus, they are so cheap and tasty! Way to go, beans!
I love them in stews and soups coz' they absorb flavors really well – adding a more flavorful sensation as you enjoy your soup.
They also add nice textures and colors when you put them in salads and dips. And they are very economical, too!
You can buy loads of them, stock up on them, and prepare them in so many ways!
With that said, here are 20 easy bean recipes to get you started and plan your weekly meal, on a budget! 😉
Rice and Beans Recipes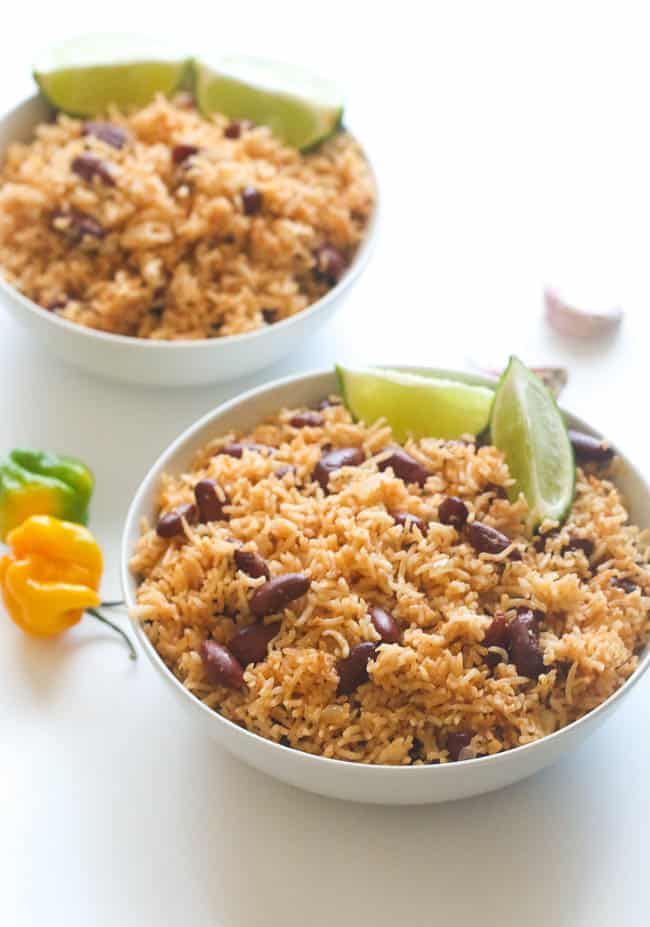 Spice up your dinner with this classic red beans and rice recipe you can cook in less than 1 hour. Featuring rice, canned red kidney beans, and Scotch bonnet peppers cooked in coconut milk and broth; generously seasoned with Creole Seasoning, thyme, and paprika. So simple and easy to make, yet brings a lot of fantastic flavors.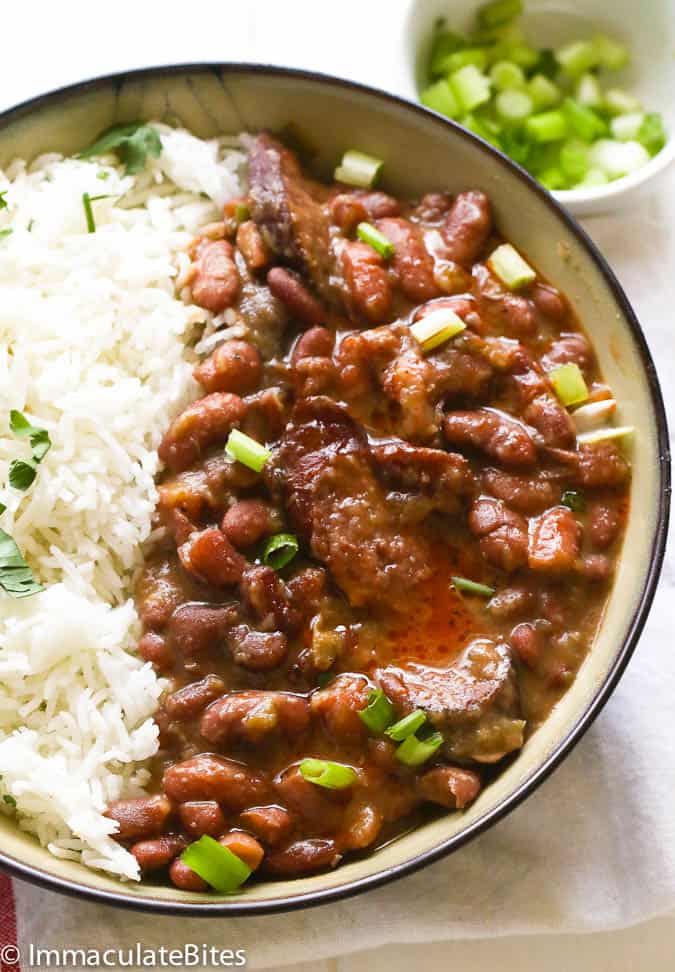 There's nothing more comforting than a warm bowl of this delicious ham and beans recipe paired with steamed rice. Full of delightful complex flavors brought about by Andouille sausage, ham hock, and smoked turkey. Made more special with the addition of various herbs and spices. Ahh! Truly filling and satisfying!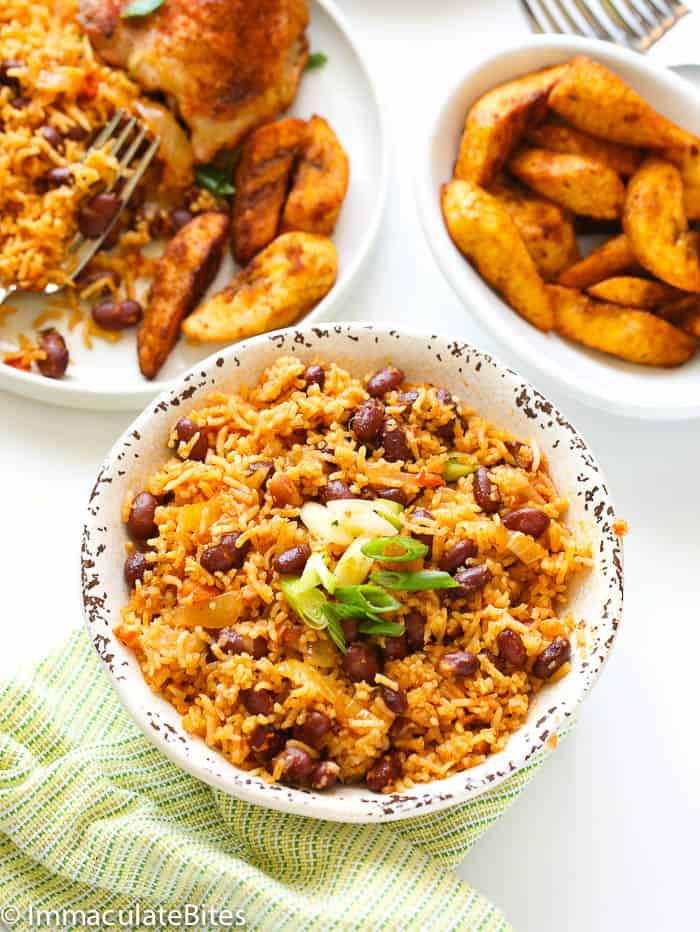 This beauty right here is guaranteed to sweep you off your feet with its deliciousness. Easily customizable with your favorite cooked beans, herbs, and spices. I'll crank up the heat and add more meaty goodness from crayfish or leftover ham if I were you. Truly one of the easiest bean recipes you can try. 😉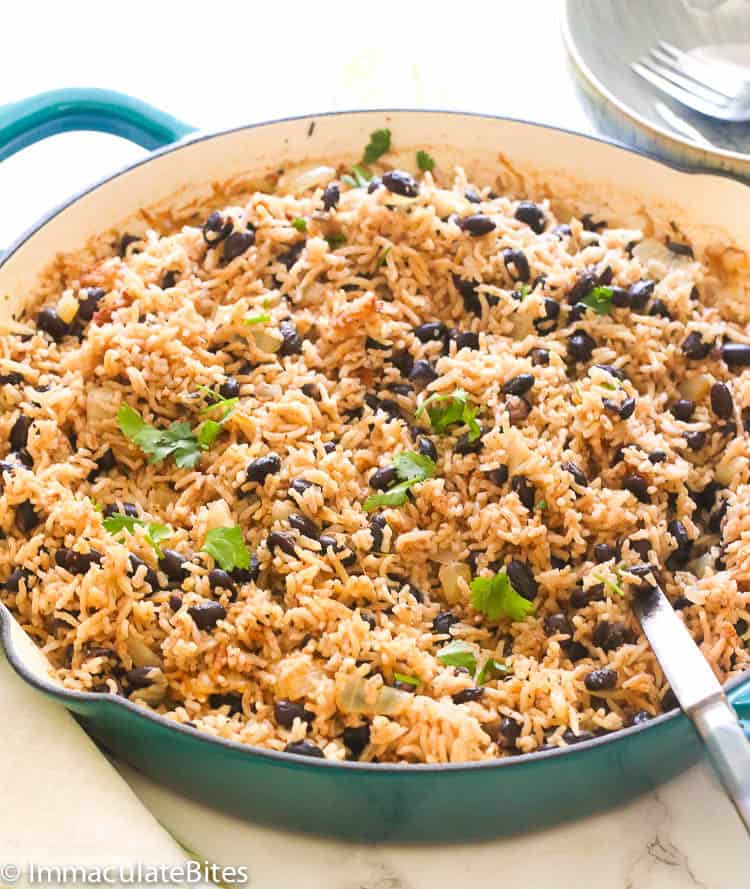 Looking for a quick canned black beans recipe? Look no further coz' this one really hits the spot. I love it Cajun-flavored with Cajun/Creole Seasoning. And you'll certainly love the Mexican-inspired version too with Taco Seasoning. Serve it with Jerk Chicken or Oven Baked Pork Chops for a fantastic dinner combo.
Beans Stew Recipes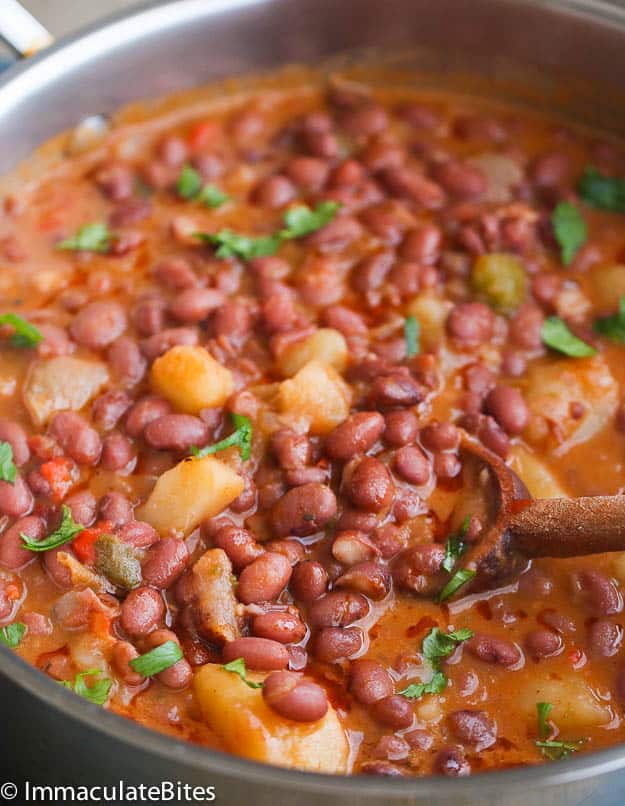 Enjoy a bowl (or two!) of this hearty vegetarian bean recipe that's perfect for chilly weather. More satisfying and filling with the addition of bell peppers and potatoes cooked in highly seasoned tomato sauce and broth. A quick and easy dish that will surely warm your body and soul. ❤
6. Slow Cooker Chicken and Bean Stew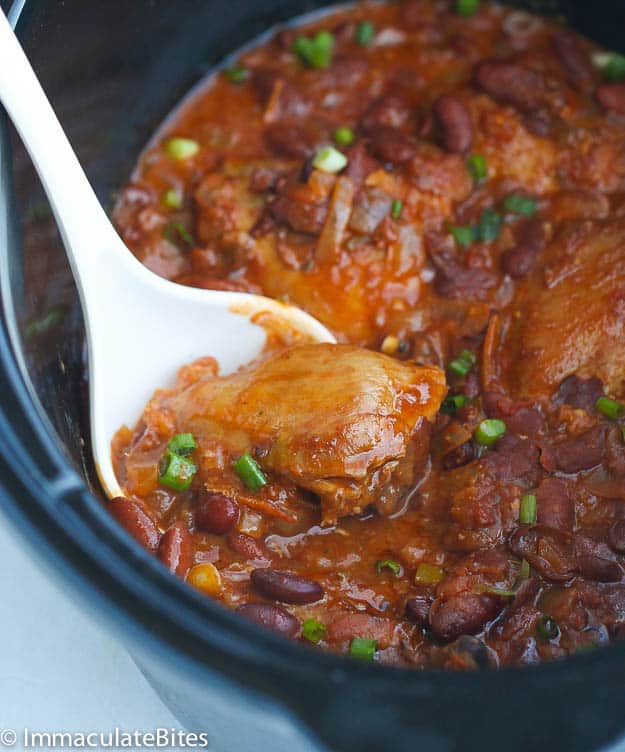 Time to use that slow cooker to make this delicious comfort food, chicken and bean stew, effortlessly. Just load it up with tomatoes, chicken, jalapenos, and canned beans along with allspice, thyme, cumin, and paprika, and let the slow cooker do all the work. Perfect for busy peeps who still want to enjoy an exquisite meal. 😉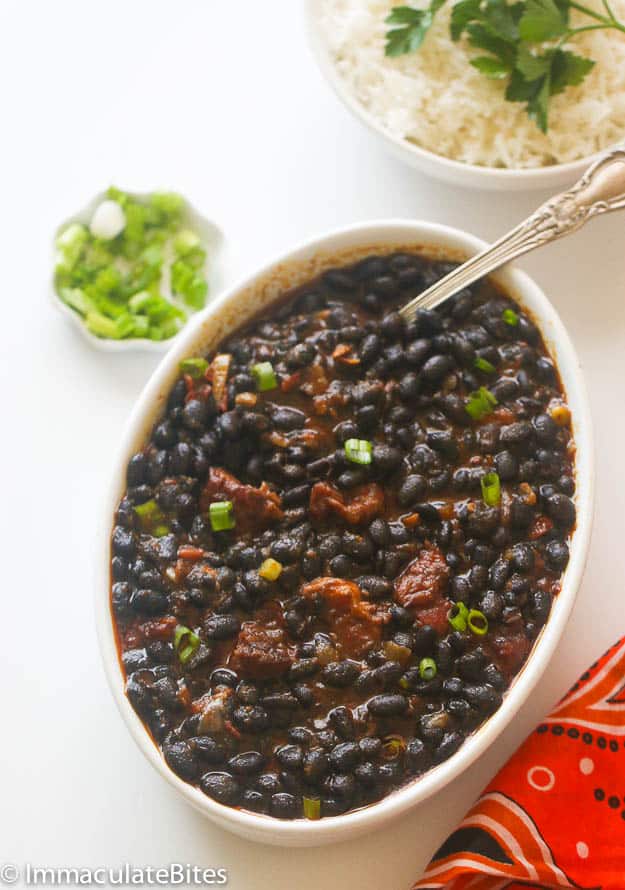 Definitely, one of my favorite go-to canned black beans recipes because it comes together quickly. With the simplest pantry staples, leftover smoked turkey or chicken, and some tomatoes, you're minutes away to enjoy this overly comforting stew. Quick, easy, and simply irresistible!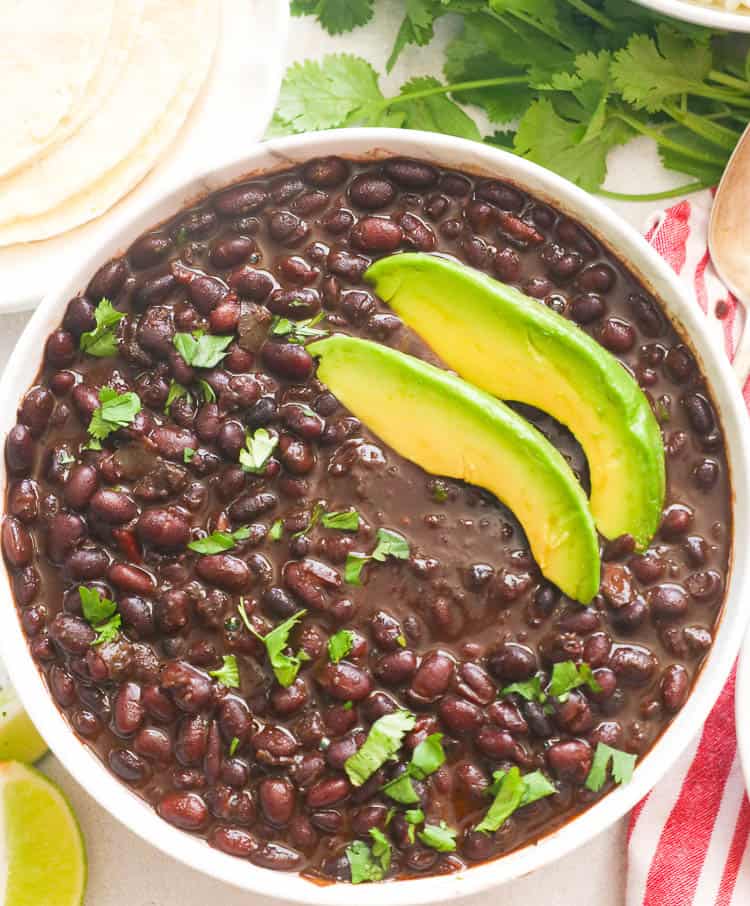 Your favorite comfort food is made simpler and easier with an instant pot. No more soaking required! Oh yes! You can now enjoy a succulent and rich black bean recipe filled with lovely Cajun flavors in a snap. And the best part is, it's completely vegan! Yaaaay!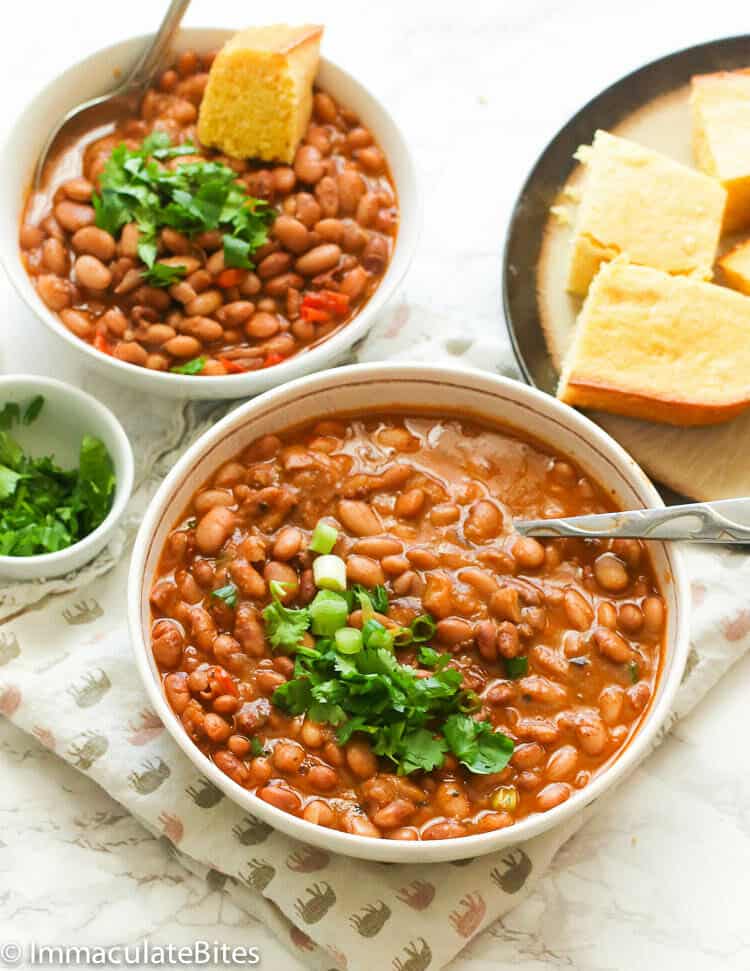 Level up your Mexican favorites – burritos or tacos, and wrap them up with the addition of this luscious Pinto Beans Recipe. Smoky and hearty with the right amount of heat from smoked paprika, jalapenos, and chili powder. Feel free to add more if you want it extra spicy. Oooh! Mouthwatering goodness in every bite!
Beans Soup Recipes
10. Black Bean Soup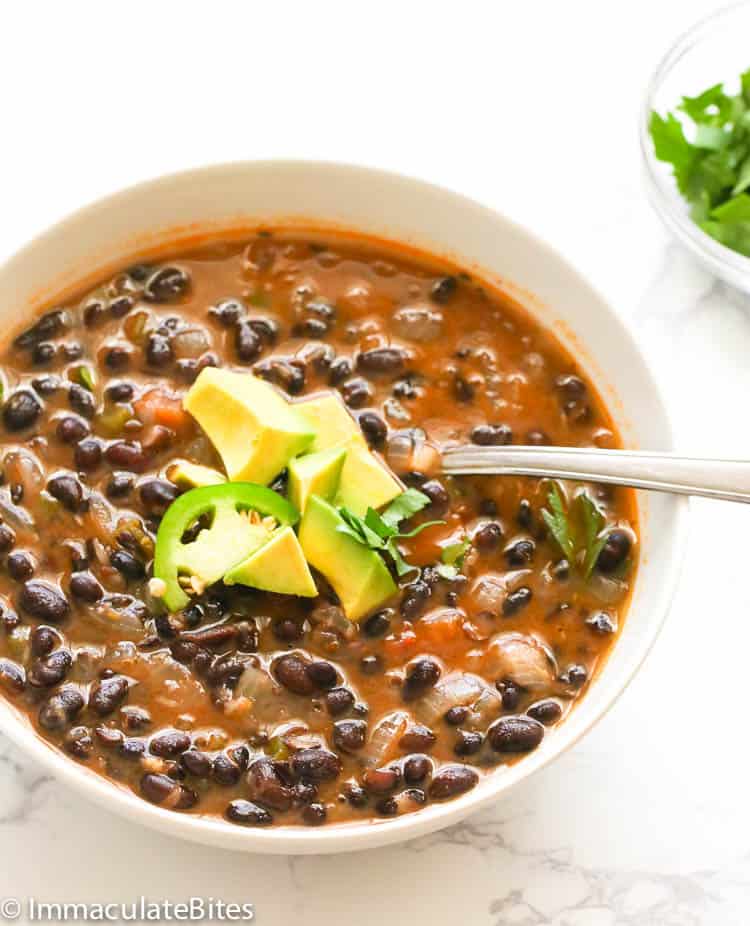 Can't get enough of black beans? Enjoy them more with this comforting black bean soup that will surely bring you pure joy in every spoon. Packed with potatoes and various spices for the wonderful lingering flavorful sensation. Another must-try black bean recipe to add to your vegan list. 😉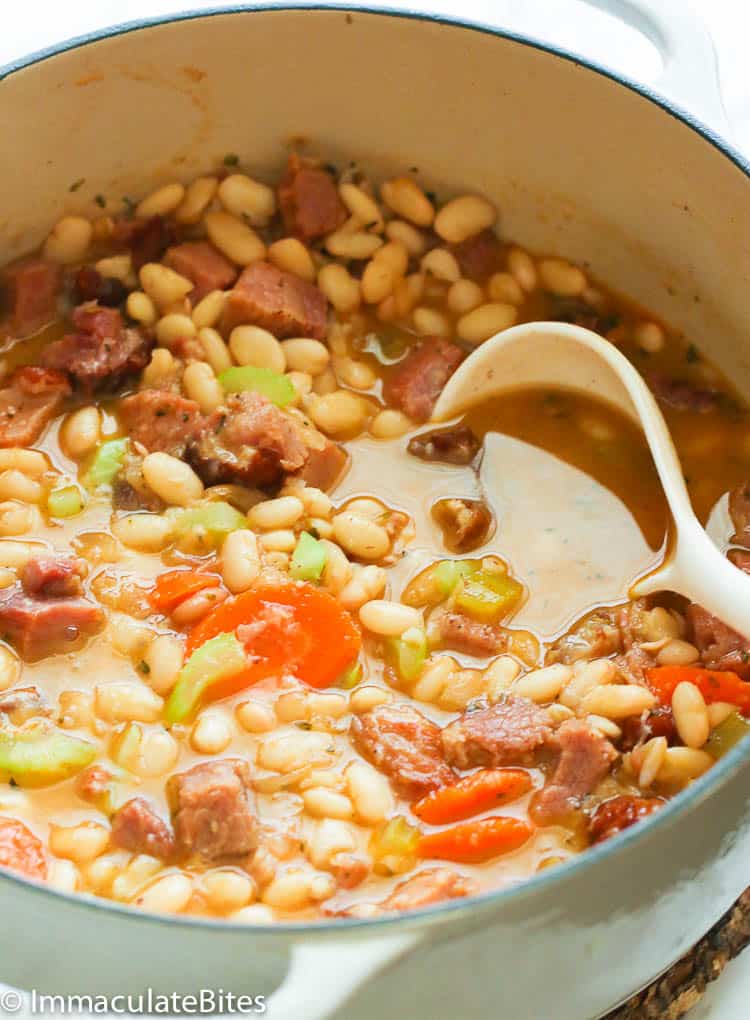 A great way to repurpose your leftover ham and turkey from Thanksgiving dinner. Just throw in some fresh veggies like carrots, celery, and a good dose of white beans and you're in for a healthy, hearty, and delicious soup that will surely remind you of home every time. Aah! So meaty-liciously good!
Bean Salad Recipes
12. Three Bean Salad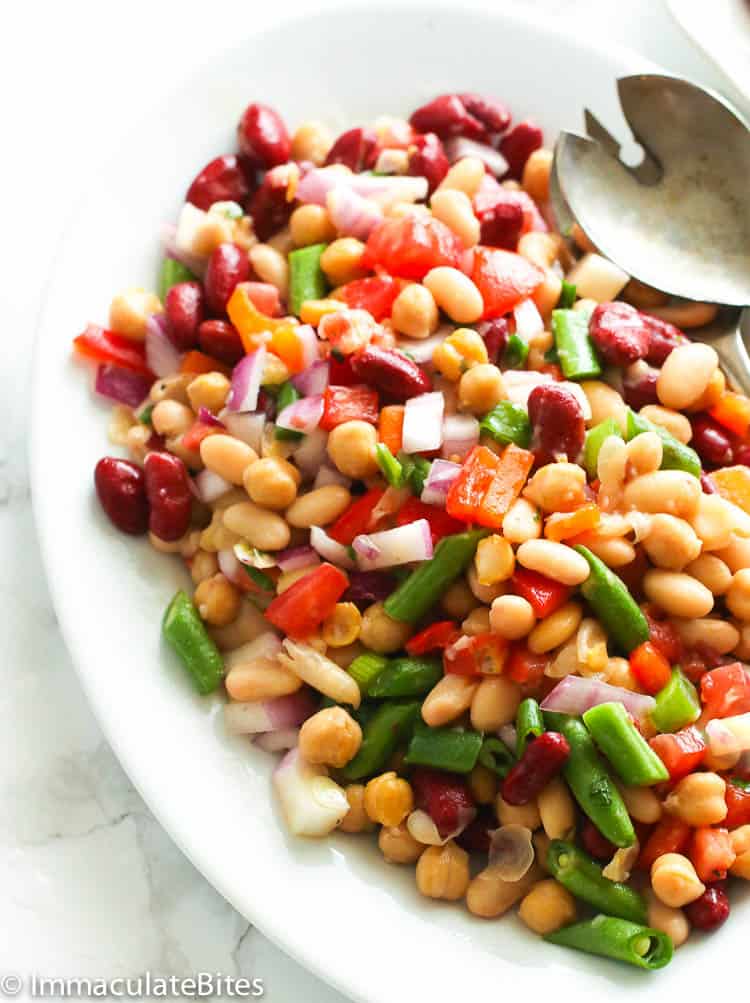 Fancy a garbanzo bean recipe other than stew? You're in luck in this refreshing three-bean salad made with garbanzo, cannellini beans, and kidney beans. A classic favorite salad loaded with bell peppers, onions, tomatoes, and green beans tossed in a sweet and citrusy dressing. The best summer side dish to bring on your next summer escapade.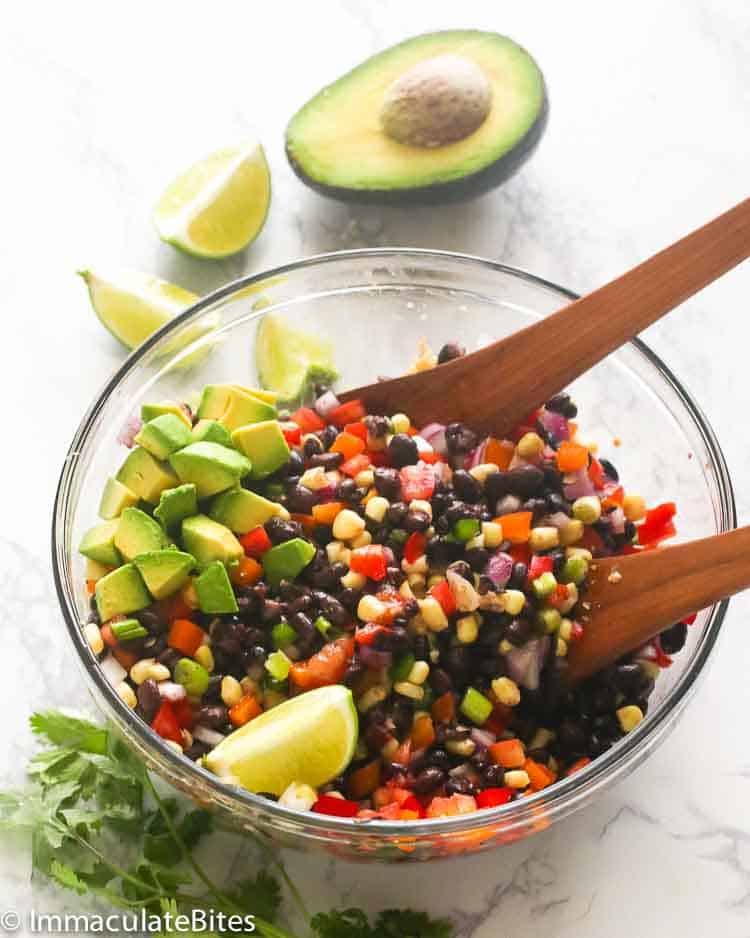 This black bean and corn salad is truly entertaining with its interesting flavor combinations and vibrant colors. Truly addicting with the added kick of heat from minced jalapenos and cumin. Plus, the addition of corn and avocado slices complement the whole dish making it more delectable and fancier. Awesome!
Bean Dip Recipes
14. Refried Beans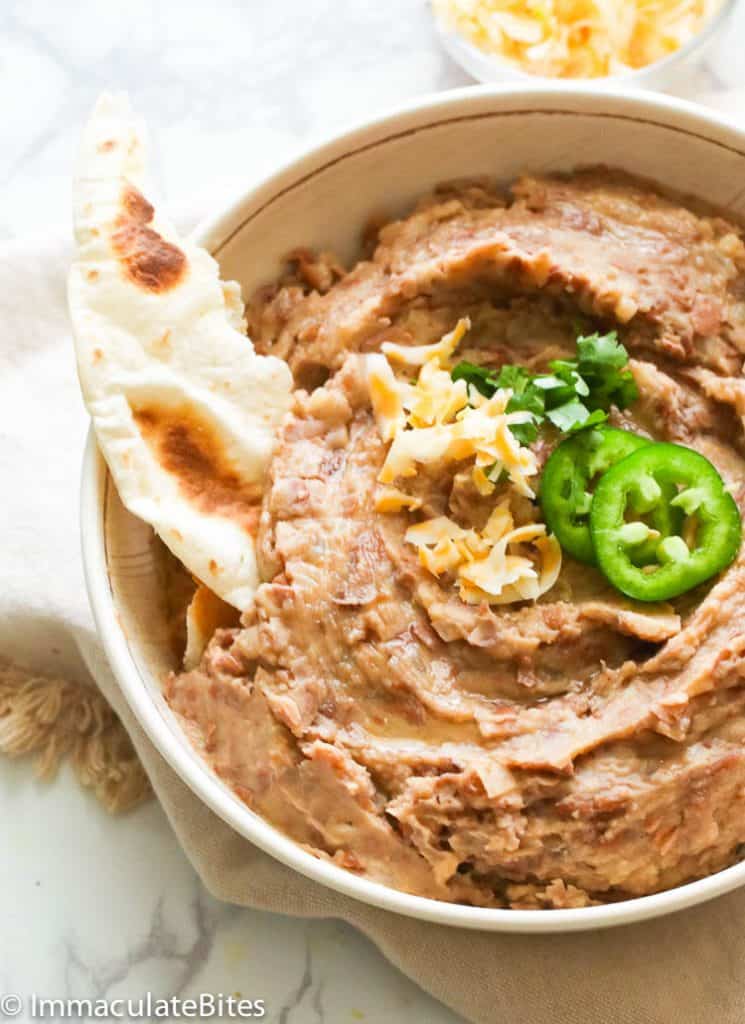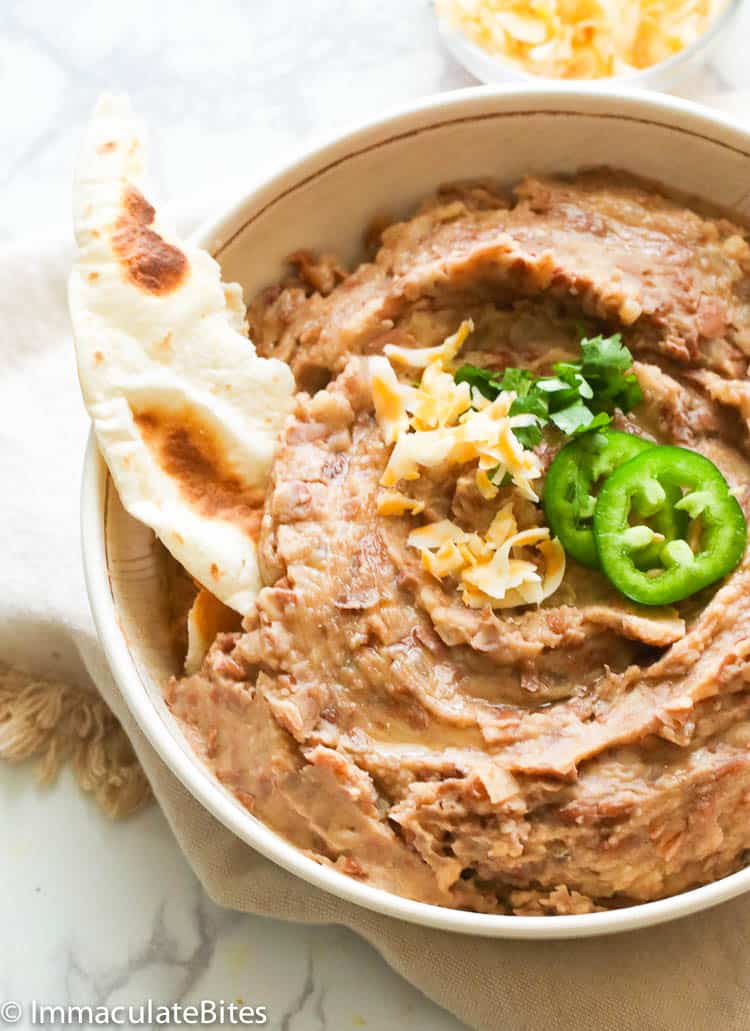 You can't go wrong with this chunky, smooth, and luscious refried beans recipe. The beans are cooked, mashed, and seasoned with bacon drippings, cumin, and chili for a wonderful finish. Serve it along with enchiladas, tacos, and burritos to complete your Mexican delight. 😉
15. Grilled Pineapple and Black Bean Salsa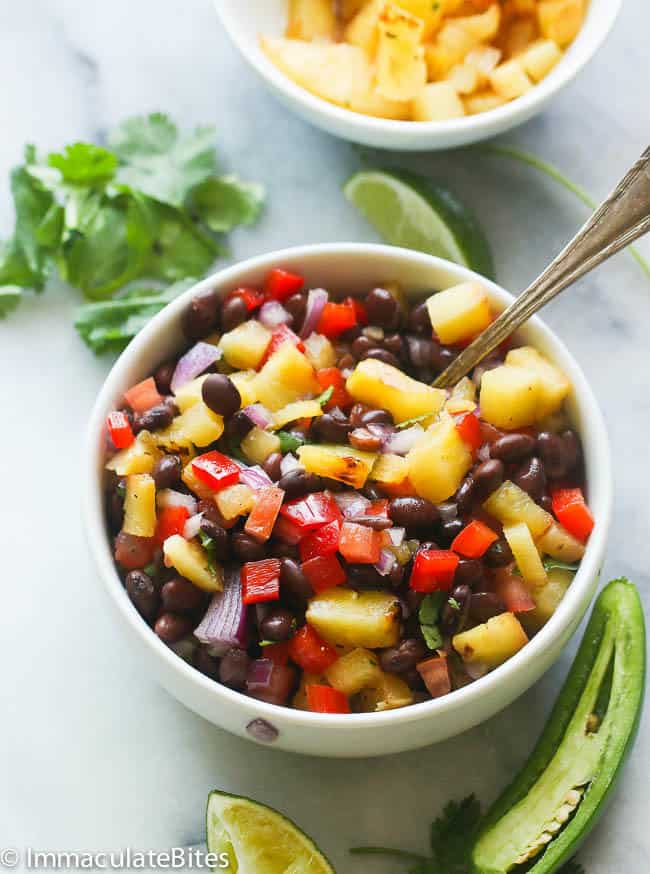 How about adding a tropical twist to your usual black bean recipe? Sure! Sizzling and sassy grilled pineapple to add to your black bean salsa is truly impressive. The contrasting flavor combinations of sweet and spicy with a little tang will surely get the party started in no time!
16. Bean Dip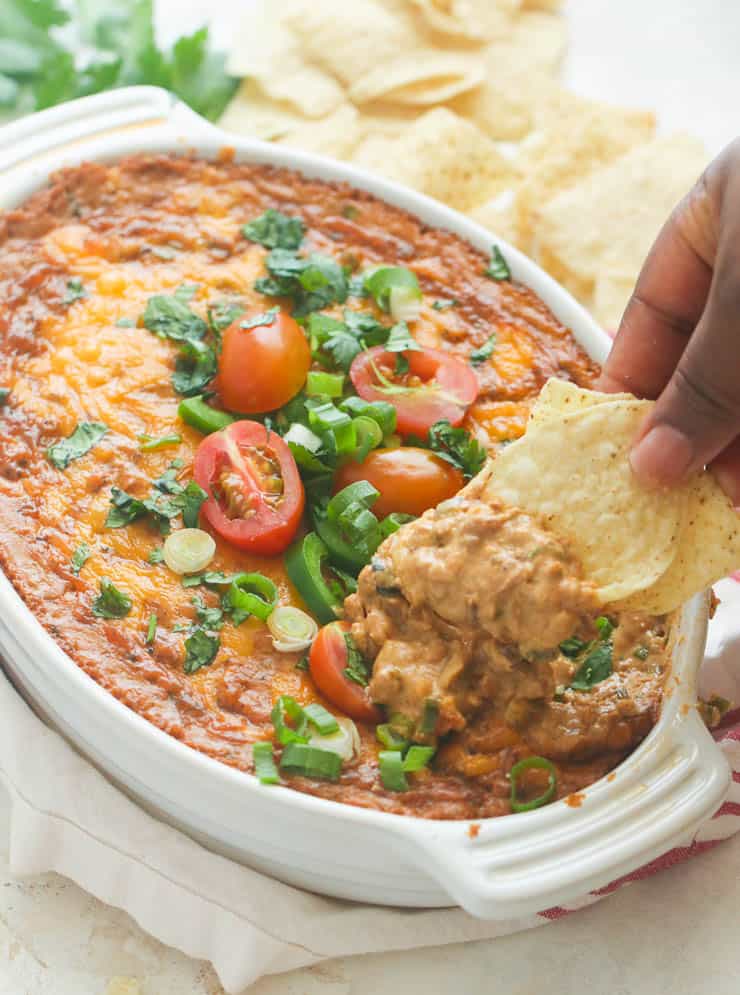 Take your refried beans to a higher level with this cheesy bean dip that you can make in 30 minutes. Made even creamier with the addition of yogurt and sour cream. A perfect dip to match our favorite tortilla chips, breadsticks, and chicken wings! An absolute crowd favorite that won't disappoint.
More Savory Bean Recipes To Try
17. Caribbean Quinoa and Beans Bowl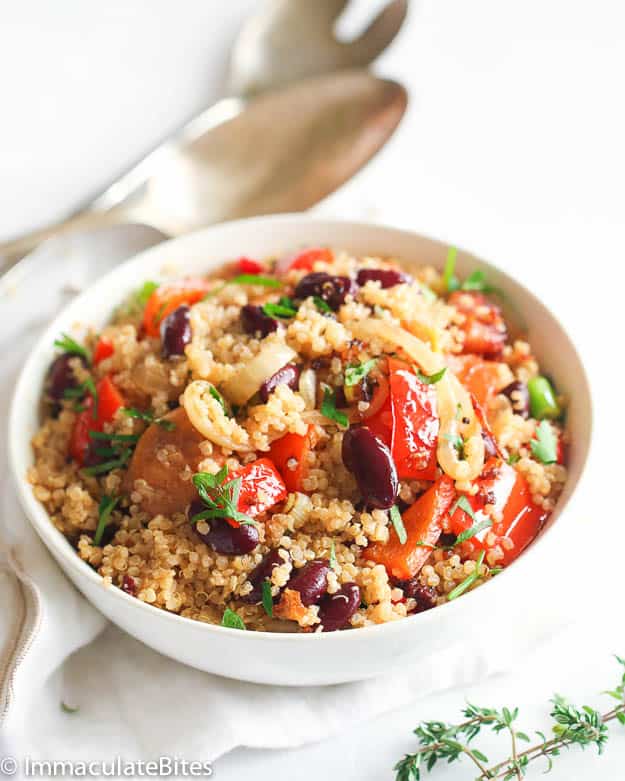 A healthier take on the classic red beans and rice recipe with the use of protein-rich and high-fiber quinoa. Cooked in creamy coconut milk and broth loaded with umami flavors and herbs. Certainly, a mouthwatering dish you can easily customize according to your palate. 😉
18. Southern Baked Beans with Bacon
Aah! Look at those inviting gorgeous big chunks of bacon. Every bite of this saucy baked beans with bacon is a complete definition of comfort food. Certainly makes a wonderful side dish to pair with Grilled Chicken or Coleslaw. Truly satisfying to the core!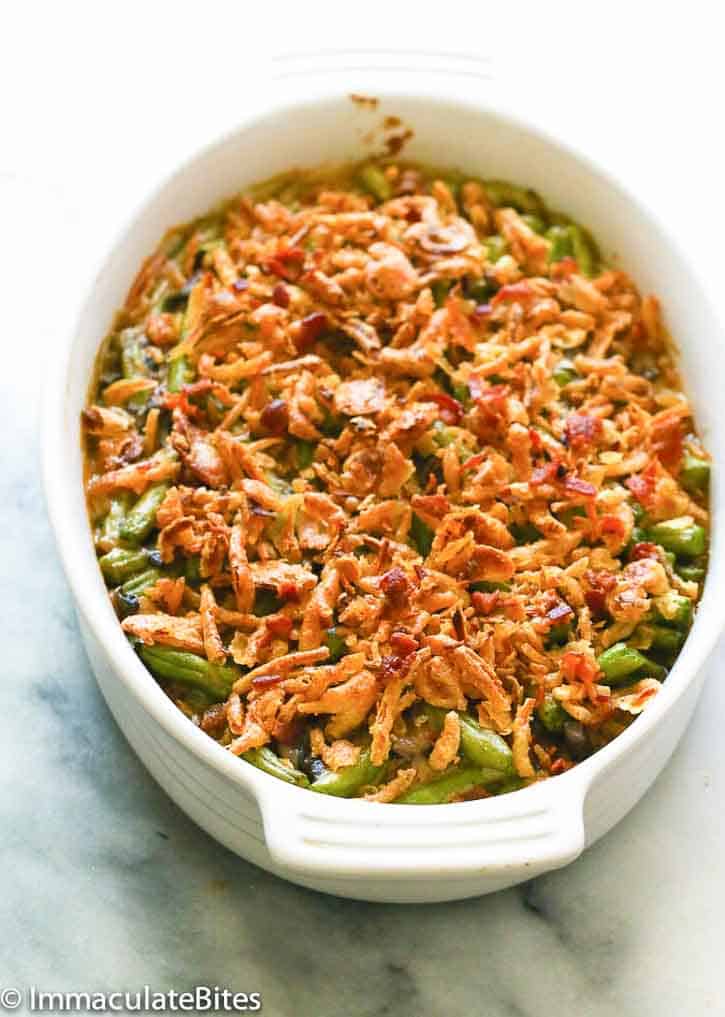 Grace your table with this Green Bean Casserole made from scratch to complete your holiday menu. An extraordinary dish made with green beans and homemade cream of mushroom soup topped with crispy fried onions that will surely impress everyone at the table. Certainly, one of the best green bean recipes you'll ever make!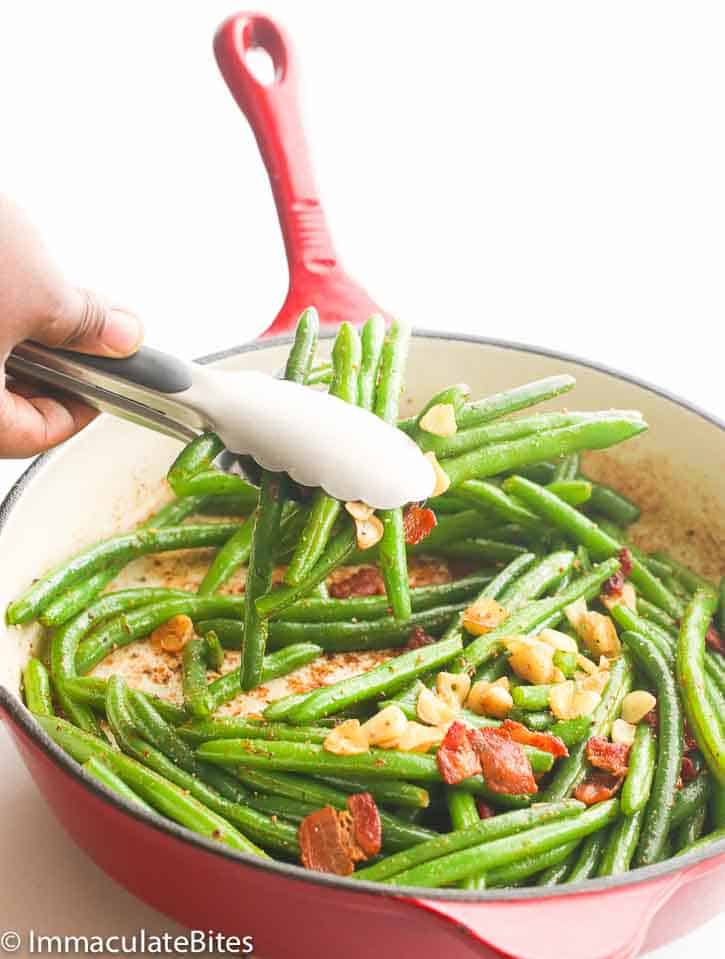 A simplified green bean recipe made with only 6 ingredients and ready in 20 minutes from pan to table! How cool is that? A quick and easy dish, yet it makes an excellent flavorful side or a complete meal on its own. Feel free to add more bacon bits and garlic to amp up the flavor. Yaaaaay!
Print
20 Easy Bean Recipes
These healthy, hearty, and tasty bean recipes are a great meal on their own. It's actually amazing how you can use them in so many ways – soup, salad, stew, and dips! And they're very budget-friendly, too. All the more reason to stock up on beans!
African, American, Caribbean, Jamaican, Southern